New Age Islam News Bureau
22 March 2022
• 'Hellish Existence' For South Sudan Women and Girls, New UN Report Reveals
• The Anti-Feminist Hijab Verdict Will Push Muslim Girls into an Education Emergency
• Ukraine's Women Fighters Reflect a Cultural Tradition of Feminist Independence
Compiled by New Age Islam News Bureau
URL: https://www.newageislam.com/islam-women-feminism/honour-killing-iraq-kurdistan-patriarchal/d/126630
--------
Worrisome Increase of "Honour" Crimes in Iraqi Kurdistan, A Conservative and Patriarchal Society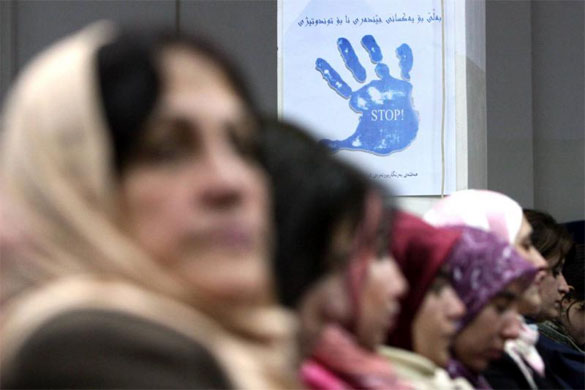 A file photo of Iraqi women attend a conference on violence against women in the northern Kurdish city of Erbil, some 350 Kms from the capital. (AFP)
-----
21/03/2022
SULAIMANIYAH, Iraq-
A woman burned alive by her husband, others shot dead by a father or a teenage brother, bloody violence against women has spiked in northern Iraq's Kurdish region.
The autonomous area, keen on projecting an image of a relative haven of stability and tolerance in war-battered Iraq, has seen a sharp rise in femicide, killings motivated by gender.
"In the past two months, there has been an increase in femicide compared to the previous year," said Hiwa Karim Jwamir of the Kurdish General Directorate for Combatting Violence against Women.
In the first two months of 2022, 11 women were killed in autonomous Iraqi Kurdistan, most of them shot, said the official based in Sulaimaniyah.
Forty-five women were killed in 2021, up from 25 the previous year, said Jwamir.
On a Friday before dawn, a 15-year-old teenager was fatally wounded by six bullets fired by her father in the village of Soran. The man told police his daughter "went out with two boys late at night", according to a domestic violence unit which also records so-called "honour killings".
Across Iraq, gender-based violence rose 125 percent to over 22,000 cases between 2020 and 2021, says the UN children's agency UNICEF, which has also pointed to "a worrisome increase in depression and suicide among women and girls".
Last December, a 16-year-old girl was disfigured with acid in Baghdad by an adult who wanted to marry her but had been rejected.
For years, activists have denounced violence against women and forced marriages in Iraq, which remains a conservative and patriarchal society.
"Cases of violence against women are on the rise," said long-time Kurdistan activist Bahar Munzir, director of local group the People's Development Organisation.
"Most of the women who are killed are victims of a family member."
"honour killings"
A few days before International Women's Day on March 8, the body of a 20-year-old woman was found on the side of the road in Erbil, the capital of Kurdistan.
Maria Sami, the victim, was known on social networks for her feminist speeches.
The following day, on March 9, Kirkuk police announced the arrest of the killer, her 18-year-old brother.
While he was still on the run, he spoke by phone to a Kurdish television channel and tried to justify the killing by charging his sister had failed to obey the family.
In February, mother-of-two Shinyar Huner Rafiq died in hospital, five days after being admitted with serious burns.
"Her husband had come home one evening in a state of intoxication," Shinyar's father, Huner Rafiq, told AFP.
"He doused her body in gasoline and set it on fire."
After the father reported the killing, police arrested the husband.
"Before dying, Shinyar told us the facts," said the bereaved father. "We recorded it and we submitted the video to the investigators."
Kurdistan's Prime Minister Masrour Barzani denounced the "horrific case", saying he was "deeply troubled" by the spate of violent attacks against women.
The government must impose "the heaviest possible penalty on perpetrators", he said in a statement.
"There is no honour in honour killings."
"I'm determined to protect every woman, girl and child from abuse ... This scourge must end."
- Climate of impunity -
In early February, Dohuk police said they had found the corpse of Doski Azad, a 23-year-old transgender woman who had been ostracised by family members.
An arrest warrant was issued to find the suspected murderer: the victim's brother, who had in recent years been living in Europe.
He had called his family to inform them of his crime and of where the body was, according to police.
The murder was condemned by the UN mission in Iraq and the consulates of Western countries in Erbil.
The news provoked a torrent of hatred online, against the victim, even though some voices defended minorities' rights.
In June 2011, Kurdistan passed a law criminalising domestic violence and female genital mutilation.
The law, which threatens life in prison for "honour" crimes, was hailed by non-governmental groups as a major step forward.
But the law's enforcement is hampered by a climate of impunity and a common fear of speaking out.
"When a woman is killed, the procedures of the security services are not the same as when it's a man, the trial is not the same," said Munzir, the activist.
"Some cases don't even make it to court. They are subject to tribal resolution between the man's family and that of his wife, the victim."
Source: The Arab Weekly
https://thearabweekly.com/worrisome-increase-honour-crimes-iraqi-kurdistan
--------
'Hellish Existence' For South Sudan Women and Girls, New UN Report Reveals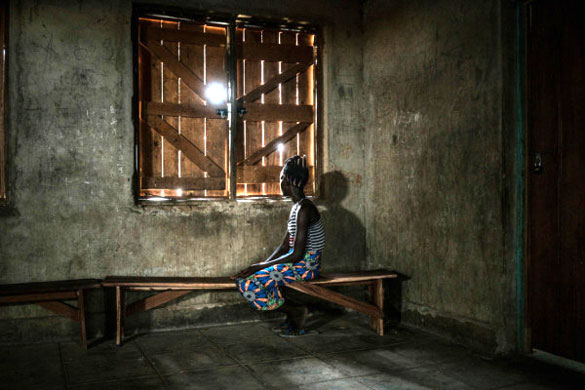 Photo: African Business
-----
March 22, 2022
JUBA — Widespread sexual violence against women and girls in conflict is being fueled by systemic impunity, the United Nations Commission on Human Rights in South Sudan said on Monday.
The Commission's new report, based on interviews conducted with victims and witnesses over several years, describes a "hellish existence for women and girls", with widespread rape being perpetrated by all armed groups across the country.
According to the UN Commission, sexual violence has been instrumentalized as a reward and entitlement for youth and men participating in conflict.
The goal is to inflict maximum disruption of the fabric of communities, including through their constant displacement, the report continues.
Rape is often used as "part of military tactics for which government and military leaders are responsible, either due to their failure to prevent these acts, or for their failure to punish those involved", the Commission advanced.
"It is outrageous and completely unacceptable that women's bodies are systematically used on this scale as the spoils of war," declared Yasmin Sooka, Chair of the UN Commission.
Calling for urgent and demonstrable action by authorities, Ms. Sooka said: "South Sudanese men must stop regarding the female body as 'territory' to be owned, controlled and exploited."
Sexual violence survivors have detailed "staggeringly brutal and prolonged gang rapes" perpetrated against them by multiple men, often while their husbands, parents or children have been forced to watch, helpless to intervene.
Women of all ages recounted being raped multiple times while other women were also being raped around them, and a woman raped by six men said she was even forced to tell her assailants that the rape had been "good", threatening to rape her again if she refused.
The resultant traumas "ensure the complete destruction of the social fabric", the UN Commission said.
"Anyone reading the details of this horrific report can only begin to imagine what life is like for the survivors. These accounts are unfortunately just the tip of the iceberg. Everyone, inside and outside governments, should be thinking what they can do to prevent further acts of sexual violence and to provide adequate care for the survivors," said Andrew Clapham, member of the Commission.
A woman described her friend being raped by a man in the forest who then said he wanted to continue to 'have fun' and further raped her with a firewood stick until she bled to death. Teenage girls described being left for dead by their rapists while bleeding heavily.
Medical personnel also report that many survivors have been raped multiple times throughout their lifetime.
The report also describes women often bearing children as a result of rape, and notes that in many cases, survivors have contracted sexually transmitted infections including being infected with HIV.
Following rape and pregnancy, women are often abandoned by husbands and families, and left destitute. Some of those raped while pregnant, have suffered miscarriages.
Husbands searching for abducted wives and daughters often spend years not knowing their fate, with some learning they were abducted by men from rival ethnic groups and forced to bear multiple children – one such man was so traumatized, he wanted to take his own life.
The Commission reported that these attacks were not random opportunistic incidents, but usually involved armed soldiers actively hunting down women and girls, with rape carried out during attacks on villages, systematic and widespread.
The Commission said the failure of political elites to deal with security sector reform, and to provide for the very basic needs of armed forces on all sides, continues to contribute to a permissive environment in which South Sudanese women are regarded as currency.
With near-universal impunity for rape and sexual violence, perpetrators avoid accountability.
Calling on the Government of South Sudan and its obligation to end impunity for serious crimes, the Commission noted the recent Government initiatives to address sexual violence in conflict, including establishing a special court and holding military justice proceedings.
While welcoming such measures, the Commission also said, "they remain woefully inadequate given the scale and extent of crimes".
"It is scandalous that senior officials implicated in violence against women and girls, including cabinet ministers and governors, are not immediately removed from office and held accountable.
To address this pervasive violence in conflict and other contexts, those in positions of command and other authority must promptly and publicly adopt a 'zero tolerance' policy towards sexual and gender-based violence." said Barney Afako, member of the Commission.
To grasp the full impact of conflict-related sexual violence, it is also necessary to understand the social and cultural context in which sexual violence occurs, under patriarchal systems based on domination and gender discrimination.
Half of all South Sudanese women are married off before they reach 18, and the country has the highest maternal mortality rate in the world.
Sexual and gender-based violence is also common outside of conflict, affecting women and girls amongst all segments of society.
The Commission is calling on the authorities in South Sudan to take the necessary steps to stop sexual violence against women and girls, by addressing impunity and the drivers of conflict and insecurity.
The UN Commission on Human Rights in South Sudan is an independent body mandated by the UN Human Rights Council. It was first established in March 2016.
The Commission is mandated to investigate the situation of human rights in South Sudan, and to determine and report the facts and circumstances of human rights violations and abuses, including by clarifying responsibility for violations and abuses that are crimes under national and or international law. — UN News
Source: Saudi Gazette
https://saudigazette.com.sa/article/618458/World/Africa/Hellish-existence-for-South-Sudan-women-and-girls-new-UN-report-reveals
--------
The anti-feminist hijab verdict will push Muslim girls into an education emergency
Nisha Abdulla
MARCH 21, 2022
It is exam season in India but there are hundreds of Muslim students in Karnataka who have been unable to write their preparatory exams and are also worried about their final exams later this month. These students had been expecting the Karnataka High Court to back their fundamental right to education, their fundamental right to liberty, and their fundamental right to religious expression. What they got instead was a 129-page judgement that can only be read as an abdication of the court's responsibility towards this role.
The judgement says that school managements and CDCs (College Development Committee) can decide the dress code for all students in these institutions. The education of the girl child has always been a national priority and so it's fair to demand the same reasonable accommodation allowed to the turbans, the bindis, the sindoors, and the bangles thus far, is ensured for the hijab too. It's important to point out here that many institutions already recognised the hijab in prescribed colours as acceptable uniform and it is imperative that no outside force places pressure on these institutions to change this existing rule.
The hijab is many things to many women. It represents complex constructs of gender, identity, faith, choice, and liberation all at once. Muslim women everywhere have varied and often changing relationship with this piece of cloth throughout their lifetimes. It is surprising to me that the court has weaponised the hijab itself and denied basic rights under the assumption that every woman who wears it is a victim of compulsion. The court must recognise that to coerce these students into removing the hijab to continue their education is as vile as coercing any woman into wearing one. The court seems to have backed itself into a strange anti-feminist judgement as a result of which hundreds of women have been left in a state of educational emergency.
Many students, including the petitioners themselves, are unwilling to choose between the hijab and their education. They have pinned their hopes on the Supreme Court, and in doing so they have clearly demonstrated that they do not want to depend on CDCs to be unbiased in their approach to the hijab. They would rather have a clear and loud declaration of the right to education and personal liberty no matter what their choice of attire. But what happens in the interim? The High Court has not mandated all CDCs to ensure that exams can be taken unhindered. Neither has it mandated that the impacted institutes ensure compensatory classes or a way to take preparatory exams again. Many students have spoken passionately about their dreams in the last month. They consider education as their weapon of choice to access greater independence. Are their dreams less important because they assert their legitimate right to wear a hijab?
Others are reluctant to shed the hijab, but are willing to do so to ensure their education can get back on track. They are likely to face indifferent or even hostile responses from their college mates – we've already seen numerous videos of their peers policing and threatening them at college gates. This has been in full view of media cameras recording the act. When such incidents have gone unpunished and when harassers have the full backing of supremacist groups it's easy to assume that much worse is likely to occur.
What becomes of their relationship with the educators themselves in these colleges? Many educators and administrators made their bigoted discrimination against Muslim students and their prejudices about the hijab clear – again videos of incidents and student testimonials of these are easily accessible. This is in no way an atmosphere conducive to learning. Has the court in its wisdom ensured protection against further discriminatory practices by educators who have abdicated their primary role as protectors of student rights?
It's important to remember that what began as eight women and their parents waiting to discuss one Principal's sudden and unexpected objection to the hijab disintegrated into public harassment of students and teachers all over the state. Colleges that had never prescribed uniforms to students, and teachers who did not come under the purview of the interim order that was passed, were all fair game. The entire drama that played out live on our television and mobile screens is a sign of worse things to come. The very same supremacist groups who orchestrated the distribution of saffron scarves to teenagers and incited them to go against their own classmates, now stand vindicated in their despicable acts. It's not difficult to see that any and all hijabi women on the street, in offices and institutional settings, in banks, hospitals, or anywhere else now becomes fair game too. We have already seen videos to this effect. We can expect to see more.
The students and their parents have had tremendous scorn sent their way in the last two months from commentators and 'well-wishers' who claimed this whole situation could have been sorted out at the local level. And that the situation spiralled only because of the involvement of Campus Front of India, a socio-religious student organisation. Today there is lot of grandiose advice going their way again – to remember what is at stake in terms of their future and to not give up on their education. In a blinding and unpardonable appeasement of majoritarian politics, these secular parties abdicated their role too as protectors of minority rights and organisations like CFI stepped in. Alienated politically, a traumatised community struggles now to navigate a hostile social environment. Many questions arise about the future – which part of our identity will we need to step up to protect next?
The High Court judgement also mentions unseen hands at work to engineer social unrest and disharmony. So the court is cognisant of these politicised actions by Hindutva supremacist groups. This entire game that was orchestrated was never about the hijab. It has always been about cleansing public spaces of Muslimness and cornering Indian Muslims into giving up their legitimate rights as equal citizens. The window of opportunity to set this travesty right is fast closing. The onus of arresting this basic and most sacred social contract from disintegrating further is strictly on secular forces and democratic institutions in the country.
Nisha Abdulla is an artist and educator based out of Bengaluru.
Source: The News Minute
https://www.thenewsminute.com/article/anti-feminist-hijab-verdict-will-push-muslim-girls-education-emergency-162125
--------
Ukraine's women fighters reflect a cultural tradition of feminist independence
March 21, 2022
Mia Bloom
Sophia Moskalenko
Tens of thousands of Ukrainian women have taken up arms during the war sparked by Russia's invasion. According to media reports, women constitute as much as 15% to 17% of the Ukrainian fighting force.
In the first two weeks of the conflict, social media was replete with images of Ukrainian women training for combat. On March 15, CNN reported that after dropping off their parents and children in the border town of Przemysl, Poland, some Ukrainian women are turning around to go back to the fight.
"They view returning home to a war zone as an act of symbolic resistance to Russian aggressors," CNN reporters Ed Lavandera and Cristiana Moisescu wrote.
As experts on women and extremism, we believe Ukraine offers a unique insight into the roles that women can play in defending the nation and as leaders in their own right.
Distinctly Ukrainian feminism
Ukrainian women have historically enjoyed independence not common in other parts of the globe.
One reason for this is Ukraine's geography. A temperate climate and fertile land combined to enable independence for hardworking people. Fathers didn't need to trade their daughters for dowry to till the land, nor were they indebted like serfs to wealthy landowners. A widow could remain unmarried if she chose to and thrive by cultivating her garden and tending to her animals. In Ukrainian folklore, there is a recurrent character of a single woman, often a widow, who can survive and thrive without a man.
No doubt, the real life of Ukrainian women was no fairy tale, and their experiences might not universally fit into this narrative. However, from a diversity of human experience, a culture retains those stories that resonate with most of its members as an ideal upon which they can agree. In Ukraine, this ideal includes fiercely independent women.
Ukraine's geographic circumstances also gave rise to a feminist culture in which women had a say in marriage, rather than being "given away" by their fathers or male relatives.
In the fall, when marriage proposals were traditionally delivered via "svaty" – a delegation from the groom's family – the bride could refuse the offer by giving the family a pumpkin as a consolation prize. The Ukrainian phrase "to catch a pumpkin" means to be rejected by a woman. A Ukrainian girl's beauty was sometimes gauged as having "a closetful of pumpkins," implying she could expect to have many suitors.
Such narratives have shaped Ukrainian cultural psychology and, as a result, attitudes toward women.
Since the beginning of the 2022 Russian invasion, the internet amplified several remarkable videos depicting Ukrainian women opposing armed Russian soldiers. One woman was famously shown offering sunflower seeds to the troops, instructing them to "at least put these seeds in your pockets, so sunflowers will grow when you all die here."
Another video showed a woman yelling at a heavily armed Russian soldier atop his tank in Konotop, "Don't you know where you are? You're in Konotop. Every other woman here is a witch. You'll never get an erection, starting tomorrow."
There are videos from towns all over occupied Ukraine where women yell at Russian soldiers, shame them and tell them to "think about their mothers and wives." Who can forget the story of Olena in Kyiv, who reportedly took down a drone by throwing a jar of her homemade canned tomatoes at it?
Grandmothers making flak jackets
Ukrainian women who are not already in the armed forces or confronting Russian soldiers with sharp tongues or tomatoes have been volunteering on the front lines.
This volunteering practice traces its roots to the 2014 Revolution of Dignity, when volunteers created a de facto "second state" while the official state failed, crippled by Russian-led corruption and cronyism.
In 2014, female volunteers delivered meals, clothes and fuel to the men who defended Maidan – Kyiv's Independence Square, which became the stage for monthslong protests against riot police and pro-Russian mercenaries employed by the government of then-President Viktor Yanukovych. Volunteers supplied hospitals and ambulances with medicines; they assembled rapid-response defense teams to shield locations where attacks were imminent; women wove camouflage nets and hid the wounded from persecution.
In 2022, some of the same Ukrainian women stepped into what are now familiar roles, working day and night to address the needs of the army and of the volunteer Territorial Defense Forces, stranded civilians, the disabled and elderly, medical practitioners and even abandoned pets.
Grandmothers are using their sewing machines to make flak jackets and military uniforms. A joke on Ukrainian social media is: "If you tell Ukrainian volunteers that a nuclear warhead is needed, it will take them about two hours to put one together and deliver it to the specified address. Along with tea and cookies." While not every volunteer in Ukraine is a woman, for the tasks of supplying food, clothes, medicines, protective gear, identifying and helping vulnerable individuals, women reportedly form the majority of the volunteer force.
On a more serious note, the official Facebook account of the Ukrainian military's head of defense posted a note of gratitude to the volunteers, which reads in part:
"Thank you, our VOLUNTEERS. Yes, today the Army is much better equipped than in 2014. But First Aid kits, bulletproof vests, helmets, medicines, hygiene products are always needed. But most important for us is to know that you exist. 24/7. You call, write, offer help, bring something, create, support us, joke with us. You make us feel our unity and invincibility. To feel that there is a nation, that you are among yours and for them you hold this country on your shoulders. … Together to victory!"
As with the Kurdish women known as the "Daughters of Kobani" who fought in Syria and Iraq, there are powerful psychological effects when women take up arms.
Soldiers who perceive they could lose against women might feel emasculated, which was the effect of YPJ, the Women's Protection Units of the Syrian Democratic Forces, on Islamic State group fighters 2014-2016. Like Ukrainian women now, those women rose to the occasion. They were courageous and deadly effective.
The famous saying goes, behind every successful man is a woman. The Ukrainian war reveals that, perhaps, behind the success of the Ukrainian army is an army of Ukrainian women.
Source: The Conversation
https://theconversation.com/ukraines-women-fighters-reflect-a-cultural-tradition-of-feminist-independence-179529
--------
URL: https://www.newageislam.com/islam-women-feminism/honour-killing-iraq-kurdistan-patriarchal/d/126630
New Age Islam Islam Online, Islamic Website, African Muslim News, Arab World News, South Asia News, Indian Muslim News, World Muslim News, Women in Islam, Islamic Feminism, Arab Women, Women In Arab, Islamophobia in America, Muslim Women in West, Islam Women and Feminism