New Age Islam News Bureau
11 May 2012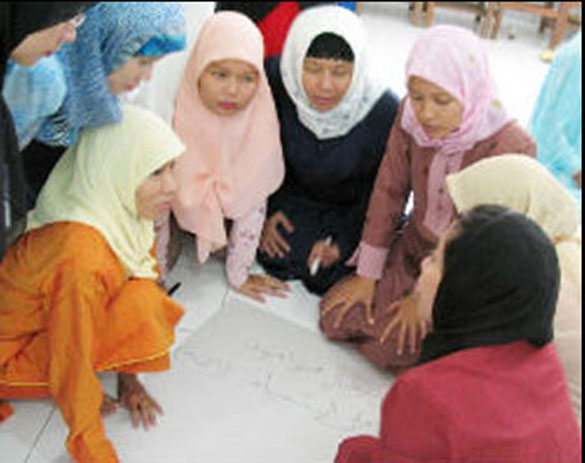 • Israel: H C confronts Sharia Court over ban on female attorneys
• Afghan women fade from White House focus as exit nears
• Improved links between Pak, Indonesian women stressed
• Egypt's Women Keep Showing Power in Protest
• 28 percent Saudi women are unemployed
• The Muslim women who are excelling at top-level sport
• School girls win top prize in geriatric care competition
Complied by New Age Islam News Bureau
Photo: Islamists take arms against Indonesian gender equality bill
URL: https://newageislam.com/islam,-women-and-feminism/new-age-islam-news-bureau/worlds-largest-muslim-majority-nation-slow-to-grant-woman-equal-rights/d/7290
-------
World's largest Muslim majority nation slow to grant woman equal rights
11 May 2012
Indonesia is the world's largest Muslim majority nation, with 80 percent of the population adhering to Islamist ideals. A gender equality bill, which seeks to grant more rights to women there has come under fire by no less than six major Islamic groups.
LOS ANGELES, CA (Catholic Online) - Organizations opposed to the bill include the influential Indonesian Ulema Council, the Indonesian Consultative Council for Muslim Women Organizations, Aisyiah, Hizbut Tahrir Indonesia (HTI) and the Islamic Community Party.
According to Iffah Ainur Rochmah, spokeswoman for HTI the gender equality bill and policies that encourage women to seek employment could only lead to conflicts within marriages.
Rochmah says that divorce rates among female teachers were high because "wives with better earnings may feel superior to men leading to conflict."
In addition, the bill goes against the grain of the Islamic Shariah law on inheritance which favors males. The bill also allows a man or a woman to freely choose a marriage partner -- regardless of religious persuasion and seeks to legalize homosexual or lesbian marriages.
The international Women Against Shariah organization has been accused of muddying the notions about the place of men and women in Indonesian society.
According to the organization, Shariah law imposes second class status on women and is incompatible with the basic principles of human rights that include equality under the law and the protection of individual freedoms.
"Indonesian women have no problems with men, but there is a tiny group of people which is out to create problems," Salwa Amira, a young Muslim woman says..
Amira said feminist groups and non-governmental organizations were promoting the bill. "These are small groups of women who talk a lot," she said. "Their campaigns attract some women who happen to be going through some crisis."
"Yes, some Indonesian women are excluded from job positions, but so are men," Muhammad Abas, a regional head of the country's religious affairs department says. "Sexual abuse, trafficking and labor conditions are not problems of gender, but of the law," he added.
Some analysts believe the bill will shortly become law. There is no official word on when it will be taken up again in parliament.
"The Indonesian government has already ratified CEDAW as government regulation in 1984," Nining Widaningsih, a well-known commentator on women's affairs says. "The bill is meant to amend this regulation, which still leaves a lot of disadvantages for women."
The 2011-2015 United Nations Population Fund's program in Indonesia has plans to address gender-based violence "through improved policies and social protection systems, in alignment with the CEDAW, the International Conference on Population and Development's program of action and national legislation."
http://www.catholic.org/international/international_story.php?id=46148
-------
Israel: H C confronts Sharia Court over ban on female attorneys
By Jack Khoury
11 May 2012
Muslim woman petitions High Court of Justice after Sharia courts refuse her request for female arbitrator.
The High Court of Justice on Monday asked the Sharia Court of Appeal to explain why it would not allow a female arbitrator to represent a Muslim woman in divorce proceedings.
The woman petitioned the High Court about a year ago, after the appeals court upheld the ruling of a lower Sharia court, according to which only men may serve as arbitrators. The sharia courts are Muslim religious courts that are Israeli state institutions.
Article 130 of Ottoman Family Law, which is applied in Israel's Sharia courts, specifies that when a couple files for divorce each party is asked to choose an arbitrator to represent them. If the arbitrators cannot effect a reconciliation they recommend that the couple be allowed to divorce.
All of the Sharia court arbitrators in Israel are male. In this case, 18 months ago the woman asked her local Sharia court for permission to hire a female arbitrator.
The court turned down the request, citing interpretations of religious law to that effect by the Maliki, Hanbali and Shafi'i schools of Islamic jurisprudence that guide Israel's Sharia courts.
The Sharia Court of Appeal upheld the lower court's ruling and rejected the plaintiff's request for a female arbitrator.
In his petition to the High Court the plaintiff's lawyer, Victor Herzberg, argued that the Sharia courts had exceeded their authority in disqualifying the female arbitrator out of hand and had violated Israel's laws on sexual equality.
Claim of discrimination
The Arab feminist organization Kayan recently asked to join the petition. Kayan told the court that according to the Hanafi school of Islamic jurisprudence, which Sharia courts accept on other matters, woman can be arbitrators.
Attorney Shirin Batshon of Kayan's legal department said the position of the Sharia courts compromised gender equality, the right of women to hold public positions and the right of women in divorce proceedings to hire female arbitrators.
"We believe this is an opportunity for the High Court of Justice to end the continued discrimination against women in the Sharia courts and to declare that women can serve in influential public positions," Batshon said.
The Sharia courts administration and the courts' legal adviser said they will respond in the High Court of Justice.
http://www.haaretz.com/news/national/high-court-confronts-religious-panel-over-ban-on-female-attorneys-1.429589
-------
Afghan women fade from White House focus as exit nears
11 May 2012
Shortly after sending US troops to Afghanistan in October 2001, President George W. Bush focused so intently on freeing Afghan women from the shackles of Taliban rule that empowering them became central to the United States' mission there.
More than a decade later, as his successor Barack Obama charts a way out of the unpopular war, Afghan girls are back in school, infant and maternal survival rates are up and a quarter of the parliament's seats are reserved for women who at least on paper have the same voting, mobility and other rights as men.
But Obama rarely speaks about that progress, delegating discussion of women's rights to his secretary of state and other top diplomats so he can focus on narrower goals for Afghanistan: uprooting the militants there and getting out.
Obama's lack of overt attention to Afghan women has led many to fear their hard-fought gains will slip away as the United States hands off security responsibility to Afghan President Hamid Karzai, with ever-present Taliban leaders still holding sway in much of the countryside.
Women's issues are not on the formal agenda at the Nato summit the United States will be hosting in Chicago later this month. Afghanistan is poised to send an all-male delegation.
Suzanne Nossel, executive director of Amnesty International USA, said it was "really worrying" that Obama only made a passing reference to women on his trip to Afghanistan last week, when he affirmed a general need "to protect the human rights of all Afghans — men and women, boys and girls."
Obama's choice of words also was noticed in Afghanistan, which remains a conservative and male-dominated Islamic country. Gulalai Safi, a female member of parliament from northern Balkh province, said it was "somewhat of a shame" that he did not use the visit to underline women's rights.
Amnesty is calling on Obama to spell out a plan to preserve the gains for women since the fall of the Taliban, which from 1996 to 2001 barred Afghan girls from schools and kept women from working and from leaving their homes unless they were accompanied by a male relative or spouse and were covered in a head-to-toe burqa.
For more than a year, the White House has been pursuing, with little success, reconciliation talks involving the Islamist group that could give it a share of power in Kabul.
"When you are negotiating with the Taliban, ensuring the rights of women is not a simple matter," Nossel said. "In that sense you can understand why they are not talking about it but that is why it is doubly worrying."
Women as barometer
Bush did not mention Afghan women when he launched the war a month after the September 11, 2001, attacks that were orchestrated by al Qaeda militants based in Afghanistan.
But he soon broadened his rhetoric, saying that empowering women was essential to strengthen Afghan society and prevent al Qaeda from keeping a foothold there.
His wife, Laura Bush, also made Afghan women one of her signature issues. In November 2001 she delivered the weekly presidential radio address "to kick off a worldwide effort to focus on the brutality against women and children by the al Qaeda terrorist network and the regime it supports in Afghanistan, the Taliban."
The former schoolteacher visited Afghanistan three times to support educational projects and efforts to tackle infant and child mortality rates, then the highest in the world next to Sierra Leone, and to inform women about their legal rights.
"Her effort really helped to sell to the American people why we needed to do what we were doing," said Anita McBride, former chief of staff to Laura Bush.
Today's White House has a more limited definition of that purpose, one that eschews his predecessor's "nation-building."
In February, White House spokesman Jay Carney stated that US troops were in Afghanistan to root out al Qaeda militants and their training camps, accusing the previous administration of adopting a mission that was "muddled and unclear."
The Obama administration says women's rights remain an important goal, even if not the focus of its public rhetoric.
"That refocusing of our efforts is reflected in our public messaging. When we talk about the US mission in Afghanistan, you will hear us speak to that core goal," said Caitlin Hayden, a National Security Council spokeswoman. But she said there was "absolutely no lessening of our attention or support to Afghan women from this administration."
Gayle Tzemach Lemmon, an Afghanistan expert with the Council on Foreign Relations, said the American public was so tired of the war that today's White House was reluctant to dwell on what is at stake with the US departure.
"Now the question is how to get out, not to explain why we got in," Lemmon said. But she stressed the risks of seeing women "as a pet project instead of a barometer for the society's health."
"How the war ends really does matter. The question is, will a Somalia be left behind in Afghanistan? And if it is, women will be the first to suffer," she said.
Discouraging headlines
Obama often jokes that he is surrounded by women, sharing the White House with his wife, two daughters and mother-in-law and working closely with female advisers and cabinet members including Secretary of State Hillary Clinton.
He created the first White House Council on Women and Girls shortly after taking office to make sure the US government "considers the needs of women and girls in every decision we make." In December he signed an executive order and action plan telling US diplomats to work to empower women as "equal partners" in conflict prevention and peace-making.
But neither he nor first lady Michelle Obama has used their tremendous attention-generating power to stress the needs of women outside the United States, including in Afghanistan.
That work has mainly been left to Clinton, herself a former first lady, who has visited Afghanistan three times as the United States' top diplomat. Melanne Verveer, US ambassador-at-large for global women's issues, has been to Afghanistan twice.
In an interview, Verveer acknowledged the American public had lost track of the advances for Afghan women amid "discouraging" headlines about acid attacks on girls in school and violence against women that the United Nations has said remains at "near-pandemic levels."
"But it is important to see just so much has been achieved, that there should not be a reversal in the investments and the progress that has been made, because that would be to the detriment of Afghanistan's future," she said.
Asked why Obama has not spoken more directly about the need to protect Afghan women, Verveer said the president had made clear he wants US diplomats and military personnel to focus on women's issues on the ground as they prepare for the transition.
'No support'
In the talks with the Taliban, which are currently suspended, the White House has said it would only accept a reconciliation deal that requires respect for the Afghan constitution, which codifies equal rights for men and women.
But in Afghanistan, many women fear that Karzai could trade away their freedoms as he seeks to curry support in conservative parts of the country, including in rural areas where female illiteracy remains above 90 per cent and child marriages are still widespread despite being illegal.
In March, Karzai backed recommendations from powerful clerics to segregate the sexes in the workplace and allow husbands to beat their wives under certain circumstances.
Last year he sacked the deputy governor of southern Helmand province after two women performed without headscarves at a high-profile concert.
"This is a green light paving the way for extreme figures, including the Taliban, to come forward," said Fawzia Koofi, a female member of parliament who has said she plans to run in the country's 2014 presidential elections.
Senior Afghan peace negotiators have said the Taliban is now willing to soften its hardline ideology to regain a share of power. But a spokesman for the Taliban, Zabihullah Mujahid, said this week that "it is too early to discuss" whether the group now supported girls' education.
Another Afghan lawmaker, Shukria Barakzai, said the shift in attention from the White House had decreased the pressure on Afghan leaders to take the status of women seriously.
"We are now getting the sense that in order to achieve women's rights, we have to act alone…we feel like we have no support," said Barakzai, who met Laura Bush during one of her trips to Afghanistan.
On a trip to Washington, Afghanistan's health minister Suraya Dalil said women in the country were ready to stay politically active to prevent backsliding in health and other areas with the political changeover.
"Being a woman in Afghanistan today is different from being a woman in Afghanistan 11 years ago," the Kabul-trained surgeon and mother of three girls said in an interview. "We want to be engaged in the peace process, in the transition, and decisions about the future of Afghanistan. In all of this we want to be engaged and we want our voice to be heard."
There are also grassroots women's movements emerging in Afghanistan and signs of change in the capital's streets.
Kabul is now full of beauty parlors for women, unheard of during Taliban times, and girls in their white hijab and black uniforms are seen going merrily to and from school every day.
But there has been a dramatic spike in reports of violence against women, and very few perpetrators are getting punished for crimes including beatings, torture and brutal killings.
Over the past year, the volunteer group Young Women For Change glued more than 700 posters around Kabul showing a woman's veiled face that read: "don't grab my hair/don't throw stones in my face/I can stand on my own two feet/I can build this country with you together."
Almost all the posters were torn down within days.
http://dawn.com/2012/05/11/afghan-women-fade-from-white-house-focus-as-exit-nears/
-------
Improved links between Pak, Indonesian women stressed
11 May 2012
ISLAMABAD, (SANA): Madam Batur Latuconsina, Chairperson Indonesian Women Association on Thursday said women entrepreneurs of two countries need to cement ties which will help economies of both the brotherly Islamic countries.
She said that she appreciates the resolve and skills of Pakistan businesswomen who are second to none.
She said this while speaking at a reception held in the honour of Samina Fazil, founder President, Islamabad Women's Chamber of Commerce and Industry (IWCCI).
Latuconsina said that there is a need to improve linkages between the business communities of the two countries to improve understanding, trade volume and cooperation.
The Chairperson Indonesian Women Association said that PTA has already been signed while Pakistan Indonesia Business Forum has also been formed but, she stressed, we have to go a long way to realise the real trade potential.
She asked the members of IWCCI to forward proposals aimed at strengthening ties and bolstering trade.
Madam Batur Latuconsina, Chairperson Indonesian Women Association said that Indonesia values its relations with Pakistan and desires to further strengthen the existing relations.
She said that Indonesia is a very promising market for Pakistani importers and exporters.
Speaking on the occasion, Samina Fazil said that it is encouraging that Pakistan has offered 216 tariff lines to Indonesia while the later has offered 287 tariff lines.
Underlining the need for frequent exchanges of business delegations Samina said that it would ensure mutual benefit and opportunities of better understanding.
Business community of two countries should try to jack up the volume of two-way trade to $ 5 billion.
She invited Indonesian businesswomen to Pakistan to have first-hand knowledge on business opportunities.
More should be done to improve relations between largest Muslim country by population and world second largest Muslim country, said Samina.
http://www.sananews.net/english/improved-links-between-pak-indonesian-women-stressed/
-------
Egypt's Women Keep Showing Power in Protest
By Jessica Gray
May 11, 2012
Egypt's revolution is now often described as hijacked and women's legal rights are seen as vulnerable to an Islamic-style promotion of marriage and family. But in a show of their own force, women keep braving the deadly dangers of street protests.
CAIRO, Egypt (WOMENSENEWS) --Female protesters continue to participate in pro-democracy demonstrations that remain deadly more than a year after President Hosni Mubarak was overthrown.
Primary school teacher Reham El Hakim, for instance, was on the front lines on May 5 when the 12th person was killed during demonstrations against the military government in Abbasaiya in front of the Ministry of Defense. Hundreds were detained and although many have been released, Associated Press reports paint a grim picture of the harassment, molestation and threats of increased sexual violence these men and women faced in custody.
El Hakim wasn't among the detained, but still felt fear in her heart when she saw tear gas and water cannons and heard gunfire rip into the crowds. She said it was her duty, though, as an Egyptian and a woman to be part of the movement against the military.
Full report at:
http://womensenews.org/story/equalitywomen%E2%80%99s-rights/120510/egypts-women-keep-showing-power-in-protest
-------
28 percent Saudi women are unemployed
May 11, 2012
Unemployment among Saudi women has reached 28 percent, while their representation does not go beyond 1.2 percent in the Kingdom's 5,214 factories, according to a senior official of the Labor Ministry.
Addressing a workshop in Dammam on Wednesday, Assistant Secretary of the Ministry of Labor for development Fahd Al-Tikhaifi revealed that the ministry had about 1.6 million CVs of women looking for jobs, including holders of doctorate and master's degrees.
Al-Tikhaifi was speaking at the workshop at the Chamber of Commerce and Industry under the title "Feminizing and Saudizing Industrial Jobs."
He said the current manpower in the factories in the Kingdom is 678,000, of which only 14.1 percent are Saudis.
Al-Tikhaifi revealed that Saudi women no longer needed the consent of their father or custodian to be employed. "The new labor laws have canceled this condition," he pointed out.
Full report at:
http://arabnews.com/saudiarabia/article631765.ece
-------
Muslim women who are excelling at top-level sport
Farah Jassat
11 May 2012
There are many barriers facing women from ethnic minorities from becoming involved in sport - but that is all now changing
On a recent weekday evening at London's Wembley Stadium, half a dozen Muslim women, some wearing headscarves, were taking it in turns to flip over some male opponents with impressive shoulder-height kicks.
These women, demonstrating Safari Kickboxing's female-only Muay Thai Kickboxing classes, were taking part in a ground-breaking celebration of Muslim women in sport. Pioneered by the Muslim Women's Sports Foundation (MWSF) and supported by the FA, the evening's Ambassador Awards showcased the diverse sporting talent of Muslim women across the UK and abroad.
"I cannot think of a better backdrop to these inaugural awards than Wembley," says the FA's chairman David Bernstein. "It is a stadium synonymous with achievement, excellence, inclusivity, variety and success … I've seen what Muslim women have achieved – it will be an inspiration for the wider community."
With awards ranging from UK Sportswoman of the Year to Volunteer of the Year, the MWSF is keen to recognise different forms of sporting success – both at professional and grassroots levels. The organisation strongly believes that faith and sport for both genders are entirely compatible and that the culture of sport is an essential part of Islamic history. Since its establishment in 2001 it has been at the forefront of encouraging physical activity amongst women from British ethnic-minority communities, particularly focusing on the cultural sensitivities of Muslim women.
Full report at:
http://www.guardian.co.uk/lifeandstyle/the-womens-blog-with-jane-
-------
School girls win top prize in geriatric care competition
11 May 2012
MUSCAT — Three Omani school students, all girls, have won top prizes in a competition on the topic of geriatric care organised by the World Health Organisation (WHO).
They were presented with the WHO awards by Dr Ali bin Ja'afar bin Mohammed, Adviser for Health Affairs at the Health Ministry, at a ceremony at the ministry in the presence of Dr Jihan Taweelah, WHO Representative in the sultanate.
The contest was organised to mark 'World Health Day 2012', which falls on April 7 every year. This year's theme was 'Good Health Adds Life to Years'.
Many students from the Middle Eat took part in the competition.
http://www.khaleejtimes.com/kt-article-display-1.asp?xfile=/data/middleeast/2012/May/middleeast_May138.xml&section=middlee
-------
URL: https://www.newageislam.com/islam,-women-and-feminism/new-age-islam-news-bureau/world-s-largest-muslim-majority-nation-slow-to-grant-woman-equal-rights/d/7290