New Age Islam News Bureau
30 Dec 2018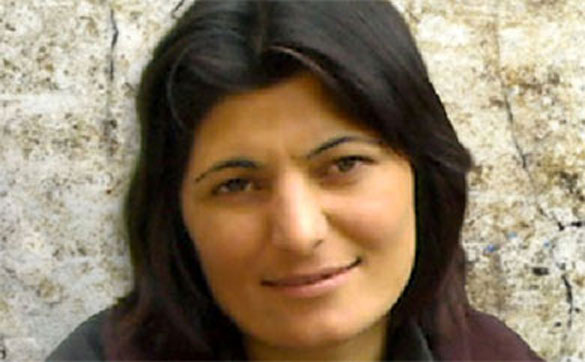 Iranian Female Political Prisoner Zeinab Jalalian
------
• Iranian Female Political Prisoner Zeinab Jalalian Is Denied Family Visits
• Women Chant Slogans against Zardari At Benazir's Mausoleum
• Muslim Woman in Fray for Post of Panch Upends Communal Narrative in Indian Punjab
• Saudi Women Win New Hyundai Kona SUVs
• Chief Justice of Pakistan Orders Extension In Marriage Hall Timings For 'Dressed Up Women'
• Active Participation of Women In Protest Rallies Across Iran
• Female Teachers in Isfahan Brave Savage Crackdown, Continue Protests
Compiled by New Age Islam News Bureau
URL: https://www.newageislam.com/islam-women-feminism/wont-let-triple-talaq-bill/d/117307
--------
Won't Let Triple Talaq Bill Be Passed In Rajya Sabha: Congress Leader
December 30, 2018
Congress MP and AICC general secretary K C Venugopal on Saturday said the party would not allow the passage of the triple talaq Bill in its present form in the Rajya Sabha. The party would join hands with those parties which it can ally with to defeat the Bill in its present form, he told reporters here.
The Lok Sabha had on Thursday passed the Muslim Women (Protection of Rights on Marriage) Bill, 2018. It is expected to be considered by the Rajya Sabha next week.
The Alappuzha MP said there is no confusion either in the UPA or UDF (the Congress-led coalition in Kerala) over the Bill. "The Opposition parties are against the passing of the Bill in its present form. When the Bill was introduced in the Lok Sabha, the 10 Opposition parties had objected to it and wanted that the Bill be left to the perusal of the standing committee. But the government did not heed the Opposition's demand. Even AIADMK, which had supported the NDA on several issues, and TMC, have come out against the Bill," he said.
"The criminal provision in the Bill that has envisaged three-year jail term for the husband would not lead to women empowerment. Instead, such a provision would only weaken the women,'' he said.
He said the Bill was earlier passed in the Lok Sabha but could not be cleared in Rajya Sabha due to the stand of the Congress. "That is why the same Bill was presented in the Lok Sabha as an ordinance. The Congress would take a strong stand against the Bill in the Rajya Sabha. There is no confusion over it," he said.
Meanwhile, several Muslim organisations in Kerala have criticised Indian Union Muslim League (IUML) MP P K Kunhalikutty over his absence in the Lok Sabha on the day the triple talaq Bill was passed. IUML is a Congress ally.
Indian National League, an ally of the CPI(M) in Kerala, said the absence of the IUML MP amounted to cheating the Muslim community.
Kunhalikutty said the controversy over his absence was unfortunate. "I have given an explanation to the party over the incident. It is not true that I kept away from voting to attend a marriage. There was a crucial meeting regarding the party newspaper Chandrika," he told the media.
https://indianexpress.com/article/india/wont-let-triple-talaq-bill-be-passed-in-rs-congress-leader-5515352/
--------
Iranian Female Political Prisoner Zeinab Jalalian Is Denied Family Visits
29 December 2018
Female political prisoner Zeinab Jalalian has been deprived of her weekly family visits since December 24, 2018.
In addition to the pressure and denial of medical treatment, the prison authorities recently rejected Zeinab's request for medical treatment outside of prison.
Female political prisoner Zeinab Jalalian is a Kurdish woman sentenced to life imprisonment in Khoy Prison.
She was transferred to the prison's infirmary last week due to severe kidney pain. Doctors said she should receive medical treatment outside prison due to a lack of sufficient medical facilities inside the prison. However, her transfer was objected by prison authorities.
The Kurdish female political prisoner has been on a medicine strike for a year in protest to the lack of medical treatment in prison, and is in critical condition.
Last August, in an open letter about being denied medical care and access to medical facilities, Zeinab Jalalian wrote, "First, my eyes became weak, and afterwards my kidneys, my lungs, my blood pressure, and then my mouth began foaming, and eventually my teeth were damaged and infected. I have been forced to endure intense pain. As a political prisoner, I have no rights."
She added, "I knew that if I requested treatment, I would not receive any answers, just like now. No one and nothing is strong enough to prevent me from achieving my goals. On my own, I will be stronger than ever and I will continue my path."
Female political prisoner Zeinab Jalalian is also constantly being harassed. On Wednesday, November 28, 2018, several of the Khoy Prison agents went into the women's ward and, without any explanation, inspected the bed of political prisoner Zeinab Jalalian. They then seized all her personal belongings, including blankets, clothes, books and manuscripts.
In a call for urgent action on June 15, 2018, Amnesty International said Zeinab Jalalian is being subjected to torture by blocking her access to medical care.
https://women.ncr-iran.org/iran-women-news/5661-female-political-prisoner-zeinab-jalalian-is-denied-family-visits
--------
Women Chant Slogans against Zardari At Benazir's Mausoleum
December 30, 2018
Angry female supporters and workers of the Pakistan People's Party (PPP) on Friday chanted slogans against former president Asif Ali Zardari at the mausoleum of Benazir Bhutto in Garhi Khuda Bux.
According to a video that is making rounds on social media, disenchanted PPP supporters gathered around the grave of Benazir to voice their concerns against the party leadership. They chanted slogans against PPP Co-chairman Asif Ali Zardari while observing Benazir's 11th death anniversary.
Speaking mostly in Sindhi language, these women blamed Zardari for the problems faced by the PPP.
On Saturday, former president Zardari visited Benazir's mausoleum and offered fateha at her grave. Sindh Chief Minister Murad Ali Shah was also present on the occasion.
Former president Zardari and PPP Chairman Bilawal Bhutto Zardari on Friday said that the party's leadership would not be threatened or "brought down" by political pressure.
On Thursday, the former president's name was placed on the Exit Control List (ECL) along with the names of his son Bilawal and sister Faryal Talpur by the federal government following a joint investigative report as part of a mega money-laundering probe.
Addressing a political gathering in Ghotki, Zardari said that a nation aware of its [constitutional and human] rights could not be threatened, assuring his supporters that they have no reason to be afraid in light of the turn of events as the PPP leadership does not bow down easily.
Zardari began his speech with a jibe aimed at the federal government. "I am speaking in Urdu because those who reside in Islamabad appear to be deaf and blind," he said.
Referring to the 18th Amendment, the PPP co-chairman said that the 18th Amendment granted autonomy to provinces. He said that the PPP government had given provinces their due right in natural resources.
"The law was passed unanimously by the Parliament. Punjab, Khyber Pakhtunkhwa (KP) and Balochistan have the same rights as Sindh," he added.
"The gas and gold mines do not personally belong to me. We have chartered public-private partnerships. PPP's philosophy stands for the rights of poor people," he said.
https://www.pakistantoday.com.pk/2018/12/29/women-chant-slogans-against-zardari-at-benazirs-mausoleum/
--------
Muslim Woman in Fray for Post of Panch Upends Communal Narrative in Indian Punjab
Dec 27, 2018
Nathowal (Jagraon): In a unique example of communal harmony and tolerance, a Muslim woman was elected panch in a village where the community constitutes less than 10% of the population. She is in the fray for the post of panch from ward 5 of the village again and is getting support from residents across community lines.
"The fact that a Muslim woman is Panch in a village with around 95% Sikh population shows how much she is respected. It also highlights the level of communal harmony in the village. This is a manifestation of Punjabiyat, where people are not discriminated against on the basis of religion and a daughter is considered a daughter irrespective of the religion she belongs to. I feel proud to be from this state," said Nazira.
She said she won the election for the post of panch in 2013 and is contesting for the post again. "During my last tenure, I, along with other panches and sarpanch conducted extensive development work in the village, including construction of roads, drains, water tank, gym for men and women," she said.
Listing her priorities, Nazira said her focus would be on women's education. "Our daughters have to go to distant areas for higher education, so we will try to get a college built in the village. We will also try to upgrade the middle school to the level of Class XII so that our daughters have a separate senior secondary school. This is very important for the progress of the village.
Apart from this, we will construct a proper drainage system, community hall and better roads," she said.
Nazira has studied up to Class X and has also taught at the local private school for seven years. "It was social work that prompted me to contest elections. I get great support from my husband Mushtaq Ali, who is a government employee, my son Muhammad Saleem Malik, who studies in Canada and my daughter Naseem Akhter," she said.
Community members say they cherish brotherhood in the backdrop of polarization. "For us, every community is important as we believe all humans are equal. We are proud of the fact that we elect panches and Sarpanch on the basis of their good work for the humanity and the village," said Manpreet Singh, whose wife is the outgoing sarpanch.
He added, "Nazira Ji was in our team and she worked tirelessly for the village during her last term". He said the village has a population of around 3,800. Hindu community members also vouch for communal harmony in the village.
"There is no division of villagers on the basis of religion and we value good people irrespective of their religion. Though we live in another ward but we do respect Nazira Begum for a good human and leader," said Aman Kumar, a village resident.
https://timesofindia.indiatimes.com/city/chandigarh/muslim-woman-in-fray-for-post-of-panch-upends-communal-narrative/articleshow/67262037.cms
--------
Saudi Women Win New Hyundai Kona SUVs
December 30, 2018
Three talented women have won brand-new cars in a contest held by Hyundai to celebrate Saudi Arabia's female motorists.
The Kona Color Drive competition invited women to create customized exterior designs for the stylish sub-compact SUV.
"To celebrate the recent ruling that permits women in the Kingdom to drive, Hyundai decided to work with its official distributors in Dammam, Jeddah, and Riyadh to give away a brand-new car," said Mike Song, head of Hyundai Middle East and Africa.
"We received many wonderful entries and wish to thank everyone who took the time to produce them, plus the distributors whose support helped to make this promotion such a remarkable success. The Kingdom is clearly awash with artistic talent."
The Hyundai Kona is a stylish premium sub-compact SUV that was launched in the Saudi market earlier this year. For their chance to win one, women logged into a campaign microsite equipped with digital "paint" and graphic design tools. After viewing a short video highlighting the Kona's key features, entrants were tasked with flexing their creative muscles to come up with a colorful bodywork look by selecting shades, special effects, and various pen, brush, and spray tools. Entries were shortlisted by Hyundai product design experts, who deferred to the marque's three official distributors to make the final decision. They looked for designs that were creative and well balanced, and their adaptability to the 3D Kona bodywork.
Salma Ahmad Mahmoud, the overall winner, was handed keys to her new Kona. The Saudi national, who lives in Jeddah, impressed the judges with her red and black design, its boldness softened with a white floral pattern. The first runner-up was fellow Saudi national Sara Ahmed, from Dammam. Her entry featured an ombre-effect background of pinks and purples adorned with geometric patterns. Also opting for a girly theme, this time rose and white, was Riyadh resident Hajjer Al-Hanini.
Ahmed and Al-Hanini received 25 and 10 percent respectively off the price of a new Kona, or equivalent-value discount off a different Hyundai model of their choice. All three winners were honored on Dec. 23 in a ceremony at Park Hyatt Jeddah's Lazurde Ballroom. Each finalist's work is also on display at her respective region's showroom and was exhibited at the Saudi International Motor Show, which ran from Dec. 16 to 20 at Jeddah Center for Forums and Events.
The campaign ran from Sept. 23 to Nov. 25. More than 230,000 people visited the competition web pages and 6,134 from across the Kingdom submitted artwork.
http://www.arabnews.com/node/1427681/corporate-news
--------
Chief Justice of Pakistan Orders Extension In Marriage Hall Timings For 'Dressed Up Women'
December 30, 2018
Chief Justice of Pakistan (CJP) Mian Saqib Nisar has directed to increase the time limit of marriage halls across Lahore, a private media outlet reported Friday.
According to reports, the chief justice during the hearing of a case asked lord mayor as to why did he not extend the limit by an hour.
"Marriage halls are allowed to host wedding functions from 8 to 10 pm. Well-attired women spend so much time getting ready and later remain stuck in traffic during these peak hours. Upon reaching the venue they find the hall management switching off the lights," the top judge remarked.
He then told the mayor to look into the matter and extend the limit by changing it to 9 to 11 pm instead.
After being informed that the authority in this regard lied with the deputy commissioner, who was also present on the occasion, Justice Nisar told him to do the same.
It merits a mention here that the time limit for marriage functions was set during the previous Shehbaz Sharif-led provincial administration.
The Punjab government has been clamping down marriage functions violating the ban regarding time limit described in the standing orders issued by the then chief minister.
The district administration has become rather infamous for raiding marriage halls that remain open later than 10 pm and arresting the management as well as the groom and his father.
https://www.pakistantoday.com.pk/2018/12/28/cjp-orders-extension-in-marriage-hall-timings-for-dressed-up-women/
--------
Active Participation of Women In Protest Rallies Across Iran
29 December 2018
On December 28 and 29, 2018, several protest rallies were held with the active participation of women in various cities across Iran, including Tehran, Mashhad and Ahvaz.
On Saturday, December 29, 2018, the retirees of the University of Medical Sciences in Mashhad held a protest rally in protest to the non-payment of their wages, with active participation of women.
A large number of retirees of the University of Medical Sciences in Mashhad have so far received no end of service fees. The protesting retirees said, "If they pay the end of service fees at the time of retirement, then we can invest it for our own and our children's future. But when they pay the amount with years of delay, then there is no use of it for us because the money unit constantly loses its value." (The state-run ILNA news agency – December 29, 2018)
At the same time, a group of family members of the detained Ahvaz Steel workers held a protest rally in front of the Governorate of Khuzestan in protest to the continued imprisonment of the arrested workers. Here too, the active participation of women and girls was a feature of the protest.
Bus syndicate declared support for imprisoned workersOn Friday, December 28, 2018, the Syndicate of Workers of Tehran and Suburbs Bus Company announced its support for the Ahvaz Steel workers, Haft Tappeh workers and the imprisoned teachers.
On Friday, December 28, 2018, a group of staff and faculty members at the Azad University of Meybod held a protest rally. They gathered in front of the Governorate in protest to the non-payment of their wages and salaries.
On Friday, December 27, 2018, on the 9th anniversary of the martyrdom of Mustafa Karim Beygi, one of the martyrs of the 2009 uprisings, a ceremony was held at the Karim Beygi family's house, where his family were accompanied by a group of civil activists to commemorate him.
December 28 also marked the anniversary of the PMOI political prisoner Ali Saremi who was the first prisoner to be executed following the 2009 uprising. His family and a number of civil activists attended by his grave site and commemorated him.
https://women.ncr-iran.org/iran-women-news/5662-active-participation-of-women-in-protest-rallies-across-iran
--------
Female Teachers in Isfahan Brave Savage Crackdown, Continue Protests
29 December 2018
The brave teachers and educators of Isfahan, with remarkable participation of female teachers, gathered in large numbers outside the Department of Education and held a protest on Thursday, December 27, 2018.
State Security forces and intelligence agents had been stationed in the area since early morning. Police officers, including plainclothes agents, had been sent from all over Isfahan Province to identify the protesting teachers.
A number of female agents of the State Security Force were in the scene to attack the female teachers. They dragged the protesting women teachers into SSF cars. Female agents went among the female teachers and sprayed pepper in their eyes and faces.
However, these brave women put up an impressive resistance by continuing their chants despite being pepper sprayed.
large number of female teachers gathered in Isfahan to protestSSF women attacked some of the female teachers who were wearing chadors, trying to take off their veil to identify and arrest them. One of their tactics was to snatch the purses of female teachers and run towards the police vans. In this way, they made the purses' owners run towards the van, pushing them into the van and forcefully arresting them.
The regime had also hired a number of thugs to snatch the purses of female teachers to identify them in this manner.
A number of teachers fainted during the attacks due to old age or physical weakness and a number of them had nausea and fell to the ground.
The teachers resisted with bare hands but faced brutal attack by the State Security Force. Teachers and in particular the female teachers did not surrender, and after the initial attack by the State Security Force, they continued their protest in Raja'i Park where the anti-riot forces attacked their gathering and made dozens of arrests.
Isfahan Province in central Iran has been the scene of major anti-government protests since last year when the Iranian people's uprising began.
https://women.ncr-iran.org/iran-women-news/5663-female-teachers-in-isfahan-brave-savage-crackdown-continue-protests
--------
URL: https://www.newageislam.com/islam-women-feminism/wont-let-triple-talaq-bill/d/117307
New Age Islam, Islam Online, Islamic Website, African Muslim News, Arab World News, South Asia News, Indian Muslim News, World Muslim News, Women in Islam, Islamic Feminism, Arab Women, Women In Arab, Islamophobia in America, Muslim Women in West, Islam Women and Feminism