New Age Islam News Bureau
6 Jan 2020
• 'Won't Go Back a Millimetre': Shaheen Bagh Protesters to Home Minister of India
• Saudi Arabia to Host First Women's Golf Tournament In 2020
• 'Bring Our Daughters Home': The Tribal Women of Thailand Fighting Tradition, Violence and Rejection
• YouTube Series 'Aya!' Follows the Fashion Exploits Of an All-Female Arab Cast
• Female Fugitives: Why Is 'Pink Collar Crime' On The Rise?
• Pakistan Women Cricket Continues To Grow In 2019
• Portlander Charged With Hate Crime for Ripping Off a Muslim Women's Hijab
• Kuwaiti Beauty Influencer Defends Controversial Blackface Pictures As 'Art'
Compiled By New Age Islam News Bureau
URL: https://www.newageislam.com/islam-women-feminism/wont-go-back-millimetre-shaheen/d/120720
------
'Won't Go Back A Millimetre': Shaheen Bagh Protesters To Home Minister of India
Jan 06, 2020 09:45 IST
HT Correspondent
Hindustan Times, New Delhi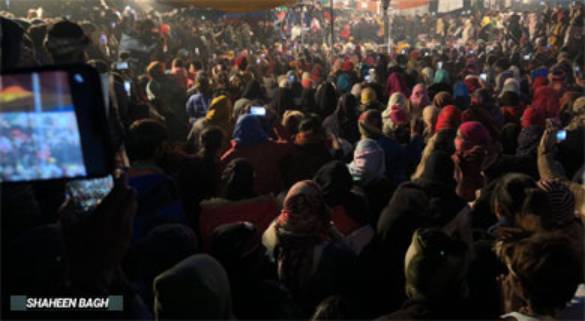 The protest at Shaheen Bagh area of south Delhi continued for 23rd day on Sunday as elderly women sitting on the road day and night.
-----
The protest at Shaheen Bagh area of south Delhi continued for 23rd day on Sunday as elderly women sitting on the road day and night.
There were unconfirmed reports that police is forcefully evacuating the protesters but that did not deter the women in Shaheen Bagh. The rumour spread after the police removed one of the barricades. While cops said it was to resolve a dispute between shopkeepers and protesters, those demonstrating said it may have been to disperse the protesters.
Volunteers are frisking the people coming in to avoid entry of trouble-makers and ensure that the protest remains peaceful.
"We have put volunteers at all entry gates and we are frisking everyone so that nobody comes with stones or any weapon and creates ruckus in our protest which is going on peacefully," said one of the volunteers.
The organisers have also called for a press conference at 2 pm against the violent attack on students and teachers of Jawaharlal Nehru University on Sunday evening.
"After JNU, we got to know a mob had reached nearby locality of Sarai Jullena. We sent our people there are saw around 60-70 people were there. The goons looked like they were from right-wing groups. We feel that they may attack Shaheen Bagh as well since civil society members had gathered at JNU and ITO," said Abid Sheikh, one of the residents of Shaheen Bagh.
He added that with stricter vigilance, the protesters are alert about what may ensue. "We caught people with stones in their bags on Sunday night. We have to be alert to ensure no violence hampers our peaceful protest," he said.
The protest at Shaheen Bagh continued on Sunday night with songs of resistance. It has drawn a huge crowd with scores of social activists coming to express solidarity with the protesters who have been agitating against the Citizenship (Amendment) Act or CAA.
"We don't want to get disturbed by miscreants as a peaceful protest is hitting international headlines... if the Home Minister says he cannot retreat one inch, so he should not expect us to go back a millimetre," said Zulqarnain, who has been sitting on the protest from the first day.
(With agency inputs)
https://www.hindustantimes.com/cities/won-t-go-back-a-millimetre-shaheen-bagh-protesters-to-home-minister-amit-shah/story-0WhhLYxwEnqBBnVdTFScQJ.html
------
Saudi Arabia to host first women's golf tournament in 2020
Fri 13 Dec 2019
Saudi Arabia is poised to make sporting history with the announcement of a fully sanctioned Ladies European Tour event set to take place in the kingdom next year.
The tournament, which will carry a $1 million prize fund, will be staged from March 19-22, 2020 in collaboration with Golf Saudi and the Saudi Golf Federation.
The event is a watershed moment for the country where until recently women were not allowed to drive, and will mark the first time that professional female golfers have played competitively in the kingdom, breaking new ground in its ongoing transformation as part of Vision 2030, a statement said.
The 72-hole stroke play competition, which will be broadcast domestically and to more than 340 million homes across more than 55 countries worldwide, will see a field of 108 professionals compete at Royal Greens Golf & Country Club, near Jeddah.
Yasir Al-Rumayyan, chairman of the Saudi Golf Federation and Golf Saudi, said: "We are delighted to be creating history by hosting the inaugural ladies professional tournament in March. I hope the tournament will inspire many women to take up the great game of golf and awaken their interest in this wonderful sport. We warmly welcome all the players to the kingdom and wish everyone a rewarding experience in our magical country."
Royal Greens Golf & Country Club, which is set within King Abdullah Economic City, also plays host to the European Tour's Saudi International which made its debut earlier in 2019.
"I am incredibly excited by this announcement and it is an honour for the Tour to be part of history in bringing the first-ever professional women's golf event to Saudi Arabia," said Ladies European Tour CEO, Alexandra Armas.
"Confirmation of adding Saudi Arabia to our schedule for 2020 is an exciting prospect for everyone at the Ladies European Tour and having seen the quality of the event staging for the Saudi International, I am sure this will be a fantastic experience for our players."
Golf Saudi also announced it is working with several female golfing stars to promote golf to domestic audiences and to enhance the visibility of Saudi's golf development programme and its golf tourism offer internationally.
The UK's Carly Booth, Amy Boulden and Rachel Drummond, and Swedish pair Camilla Lennarth and Isabella Deilert will each wear the Golf Saudi logo as ambassadors of the programme.
https://www.arabianbusiness.com/sport/435397-saudi-arabia-to-host-first-womens-golf-tournament-in-2020
------
'Bring our daughters home': The tribal women of Thailand fighting tradition, violence and rejection
04 Jan 2020
CHIANG MAI: Even when Ngamjit Thanomjitdee's husband fired his gun to threaten her, she did not leave him. Even though she was being physically beaten by him on a daily basis, she stayed put.
The repercussions in her community of getting a divorce were worse than the abuse, she reasoned.
Ngamjit is an ethnic Hmong, living in the hills outside Chiang Mai in northern Thailand. Just an hour's drive from the modernity of urban life, women in Mae Sa Mai village are wrapped in the constraints of long held traditions centred around marriage. Here, behind the idyllic facade of rural life, hangs the persistent threat of violence, neglect and abandonment.
A group of self-empowered women, weary of being treated as inferior and in grief over the dislocation, suffering and suicides in the Hmong community, which has a population of about 150,000 in Thailand, has been pushing for change.
"When Hmong women are married, they move into the husbands' houses. When their husbands beat them, torture them or use violence against them, they must tolerate it. When they come back to see their parents, the parents will tell them to go back," said Naengnoi Sae-seng, a local villager and a member of the Hmong Women Network of Thailand.
"They see us as useless wives and useless daughters. I want to see Hmong women stand up and become the leaders of their clans, to be the leaders of their communities," she said.
Since 2013, Naengnoi, 57, has assisted in the implementation of the Bring Daughter Home project, using Mae Sa Mai as a pilot village for the initiative. Its aim is to allow divorced women to return to their family home - a fundamental change in tradition.
In Hmong culture, women who divorce their husbands are all but mandated to become pariahs in the community. Their spirits are considered to be left in limbo and the women are not permitted to attend ceremonies or celebrations. They are considered bad omens who can bring great misfortune to their family.
"They believe that if the daughter comes back home chickens will die, pigs will die, horses will die and cows will die. They don't know the cause but they think it is because of their daughter. This is what makes them unhappy," said Yua Thanom-rungruang, a village consultant.
Some are not permitted to live inside the home of their parents or siblings and are left to dwell in separate small buildings. The women can be ignored or ostracised. The network has recorded seven suicides in the past three years of women who had reached out directly for marriage help.
"If we are very ill and too ill to go to hospital, they will leave us outside the house. If we die, they will leave our body outside the house without any ceremony and bury the bodies. The children of the daughters will face the same thing," Naengnoi said.
In Hmong culture, immense value is placed on a person's spirit, a belief tied to a person's life and death. When a woman is married, her spirit is believed to separate from her family in order to join the clan of her husband. Not only is the woman herself now considered a possession of the man, her spirit too is bound to his. It has always been an irreversible ritual that occurred during marriage.
Naengnoi, herself a divorcee after being snatched to become a man's second wife, researched a way to reintroduce lost sisters and daughters. She estimates there are about 100 exiled women from Mae Sa Mai and a neighbouring village, with a combined population of only 2600 people. Across the country the problem is widespread.
She says many women are known to have fled their Hmong heritage and moved to urban areas where risky jobs at karaoke bars are a common path. But her success in convincing Hmong elders to allow a unique "coming home" ceremony called Phu, means 13 women have been reintroduced to the Mae Sa Mai community this year alone.
"Imagine this, if your parents are having a new year ceremony and giving the blessing to every one of their children except you, what would you feel? You will feel sad because you aren't included. You feel banished. This is what Hmong women feel."
"I feel very depressed when I see women aren't accepted back to their homes. It feels like my own suffering. If I was put into that situation, I would be so outraged but these women just cry," she said.
The Phu ceremony involves a woman's family - especially its male members - reaccepting her. But it remains controversial and many women remain outlaws in their own home. Patriarchal dominance means there are many families unwilling to embrace cultural change or any kind of redesign of womens' traditional roles in Hmong society.
After suffering years of abuse Ngamjit Thanomjitdee finally made the decision to divorce her husband, a drug addict who is now in jail. The turning point came when, in front of her, he held a symbolic ceremony to burn her spirit.
"He burnt those papers as if I was a corpse. By burning them, it was like I am dead to him. Since I am dead, he and I should no longer be together," she said.
Despite all she had endured, Ngamjit, a mother of four, was blamed by her family for the marriage failing. She has still not been accepted back by her father or brother, the decision makers in the family. She has been denied access to the Phu ceremony.
She lives in a dark annex attached to the side of her parents' house. Inside, she sleeps in a tent to try to stay warm in the concrete shell. Her children are now in institutional care.
"My elder brother said that if I broke up with my husband and lived in his house, I would offend the spirits," she said. "Just because I am here, I am already their burden. Living next to them, I already cause them discomfort. They only give me a temporary place to stay. I have to move out when I can find a new place.
"My mother told me to convert to Christianity. When something happens to me and nobody takes care of me, at least Christians will pray for me."
For some women, like Ladda Yunegyongkeereemart, 42, ceremonial acceptance has brought more closure to a distressing part of her life. Like many Hmong women, education was denied to her and she was forced to marry young - at just 16.
"I was a mistress. I was forced. Back then, men could do the wife snatching. I was snatched," she said "I did not want to get married but if I escaped and came back home, my reputation would be smeared. I did not love the man I married at all. I was very very sad."
After her first husband died, she married into an abusive relationship, which almost saw her killed. She faced the shame of contending with another divorce. "People kept saying that I am a bad woman because I am divorced twice. Some people blamed me when their chickens died," she said.
When she fell sick, the elders of the community were persuaded to re-admit Ladda back to her family so she could be looked after. "For me, coming home... I will have people to look after me and my spirit. My ancestor spirits will know that I am their descendant again. After the ceremony, I was over the moon. I cried," she said.
While the Bring Daughter Home project has had some successes, it is a starting point in efforts to promote some form of gender equality. Men still dominate the community, and despite wider education opportunities, the role of women remains strictly defined.
Even among men who accept the Phu ceremony, there is little appetite for more equal rights for women, even those that are afforded to and expected by women in general Thai society.
"For Hmong people, if a woman does not listen to anyone, is very self-willed or does whatever she wants, Hmong will view her as worthless," said Yua Thanom-rungruang, the village consultant and former deputy head.
"We believe they cannot be a leader. They have to listen to the husband all the time. In fact, for me, I think it is impossible to give women more rights than men."
Naengnoi says progress gained momentum once the network began working more closely with men and conveying to them "womens' suffering and pain". Yet she still sees the younger generation facing the threat of domestic violence and social exclusion. An old Hmong saying that is taught to young boys still rings true in the community: "When chilli is hot, use salt. When the wife is stubborn, use your foot".
A 20-year-old woman working in the village has fled her husband after he repeatedly beat her. But she still wants to return to him,
"He was doing the thing that Hmong men normally do. He still lives his life in the old traditional Hmong way," she said. "I am considering going back. He beats me but he loves me. I want my daughter to have a full family."
Naengnoi shakes her head as she listens to the woman speak. Gender roles are still deeply ingrained and her brand of feminism still meets resistance from all sides.
"Hmong women don't love themselves and do things for themselves," she said. It is disheartening sometimes. The biggest challenge is to change the mindset."
She remains steadfast, dressed in a t-shirt with the slogan, "If women stop, the whole world stops". It is clear that she does not intend to.
https://www.channelnewsasia.com/news/asia/thailand-hmong-women-tradition-divorce-domestic-abuse-12178534
------
YouTube series 'Aya!' follows the fashion exploits of an all-female Arab cast
Janice Rodrigues
Jan 6, 2020
It's no secret that people are increasingly reliant on screens for entertainment – post-work and weekend Netflix-ing is the new normal and social media is regularly used as a news source. Arguably, in the future, entertainment may not be sought on traditional TV channels at all, but via platforms such as YouTube. It's this thought process that led to the creation of Aya!, an Arabic YouTube series produced for Generation Z viewers in the UAE, Saudi Arabia and other parts of the Middle East.
Aya!, which is set to launch on Friday, January 24, translates to "wonderful" from Arabic, and that's what it hopes to be for young Arab women everywhere.
Meet the hosts
Under producer Reim Al Houni, the show is by youngsters, for youngsters, and will trace the fashionable adventures and exploits of four women through 20-minute episodes on a weekly basis. Yara Algain, 26, Reem Al Hammadi, 22, Haya Al Yassin, 18, and Assia Mezyaine, 25, were hand-picked after a series of casting calls and auditions in the UAE and Saudi Arabia, hugely popularised through social media, of course. Fashion influencers such as Nesma Hendawy, Wafaa Carneiro and Reman Ali added to the online storm by judging the casting process to find four fun young women who got along well, yet represented different styles, personalities and parts of the Middle East.
Of the four hosts, Algain is a Saudi Arabian beauty professional with a background in media and advertising; Al Hammadi is Emirati and has a love for adventure; Al Yassin is a Syrian journalism student at the American University of Sharjah; and Mezyaine is from Morocco, with a background in IT and property. "We wanted to have four very different personalities, so that the audience would be able to relate to at least one of them," says Al Houni. "But at the core, there needs to be a passion for fashion. We were looking for women who have a unique style."
The reason that the four hosts' fashion sense is such an important part of the show is because of its format. The women will take on style-related challenges every week, in keeping with a reality-television-show format. In that sense, the quartet is still as much in the dark regarding Aya!'s content, is the rest of the audience. Al Houni does reveal one titbit, though. "Our first episode had a red-carpet theme; the challenge was to put together a glamorous look, but using items that could only be found in Dubai's Naif Souq. So we dropped the girls there with a set budget, and reviewed how well they did and how they could have done better. There's usually a celebrity coach or influencer to help them out and judge [their progress]."
Al Hammadi, who comes from Abu Dhabi, describes her style as modern and experimental (she has a fondness for socks and collects them). Al Yassin's look is bright, peppy and bold, while Algain declares that her style sense is "very dark".
"I don't think I could pull off anything bright; it's just not me," she says. "I prefer block colours and ripped denim. I'd say my style is classy with a hint of rock 'n' roll."
Meanwhile, Mezyaine, who moved to the UAE a few months ago, showcases modestwear that goes beyond the hijab. "I want to show young women everywhere how to be fashionable in a modest way. I think whether someone is wearing a hijab or not, they could still relate and appreciate my sense of dressing," she says.
Passion for fashion
In the first show, the women must work in pairs to win. "You can expect a lot of competitiveness, but also lots of love and friendship," says Al Yassin. "We're friends in real life and I hope people can see elements of that through the show."
The hosts also aim to shine a light on their respective countries and cultures through their fashion choices. "Each of us has a very different style – and that's OK," says Al Yassin. "If there's someone out there who has always wanted to dress a certain way but is scared to, we hope this inspires them to be themselves."
While Aya! is largely fashion-focused for now, Al Houni hints that it will deal with other themes, from beauty to cyberbullying, in the future. The medium that has been chosen to showcase the series is seen as the best to get such issues heard. When asked whether they think YouTube is the future of entertainment, there is resounding agreement from the women. "In my home, the television is for PlayStation and Netflix. We don't really watch anything else. If I hear people talking about a cool show, I check YouTube first," says Mezyaine.
"With all respect to the TV, YouTube has become so big, it's an industry in itself," adds Al Yassin. "There are a lot of people watching it, especially because tablets are so accessible these days. The best thing about it is that you can watch it from anywhere in the world."
The show also aims to use the power of social media to draw in viewers. According to Al Houni, after an episode is aired, viewers will be invited to take part in the same challenges and share the process online, with prizes up for grabs.
"At the end of the day, it's an easy watch. We hope it's something people will sit down to watch and laugh at," says Al Yassin.
https://www.thenational.ae/lifestyle/fashion/youtube-series-aya-follows-the-fashion-exploits-of-an-all-female-arab-cast-1.960171
------
Female fugitives: why is 'pink collar crime' on the rise?
Mon 6 Jan 2020
Rene Chun
Men commit more crimes than women do. A lot more. This holds true over time and across cultures. In America, the incarceration capital of the world (over 2 million detainees), males comprise 93% of the prison population. Men also account for 73% of all arrests and 80% of those charged with violent crimes. This disparity between the sexes is particularly stark when it comes to murder: 90% of the time, the ones who do the killing are men.
All these numbers add up to what criminologists call the "gender gap". But read enough academic journals and government crime reports, and some curious facts emerge: while crime rates in the western world have steadily declined over the past three decades, the number of young women being convicted for violent crimes in some western countries has increased significantly; law enforcement records indicate the opposite is true for their male counterparts. In other words, the gender gap is closing.
In some UK cities, the number of female arrests increased by 50% from 2015 to 2016. That's more than a blip. A 2017 report by the Institute For Criminal Policy Research at Birkbeck, University of London came up with this sobering data point: the global female prison population has surged by more than half since the turn of the century, while the male prison population increased by just a fifth over that same period. Women and girls may account for only 7% of all incarcerated people today, but their numbers are now growing at a much faster rate than at any time in recorded history.
Kelly Paxton, a Portland, Oregon-based private investigator known to news producers as the Pink Collar Crime Lady, says she isn't surprised that female arrest rates are going up: "Women suddenly have the financial pressures that men have had for decades. They're the breadwinners in 40% of all households. If these women can't pay the bills, some will resort to committing crimes."
The new crime trend hasn't gone unnoticed. The National Herald ran this story last month: Greek cops nab teen girl pickpocket ring in Athens. And here's a recent BBC News headline: Sharp rise in women caught carrying knives (up 73% in the past five years). Even InSight Crime, a not-for-profit that studies organized crime in Latin America and the Caribbean, is all-in. One of their recent reports sounds like a Netflix elevator pitch: Female prisoners in Venezuela become cell block bosses to survive.
What's really cemented this pulpy women-behind-bars image in the collective conscious, though, is Crime Has No Gender, a controversial Europol campaign that launched last August. "Are women equally capable of committing serious crimes as men?" reads the news release. "The female fugitives featured on Europe's Most Wanted website prove that they are."
To show that women can be vicious sociopaths too, Europol asked 21 of the 28 EU member countries to select a single fugitive for their campaign. The methodology may have been flawed, and the sample size small, but the gimmick worked. The bad girls theme was reflected in the head count: 18 females, three males. Elena Puzyrevich (Russia), who trafficked nine young women into Spain and forced them to work as prostitutes, made the list. So did Dorota Kazmierska (Poland), a 44-year-old femme fatale who killed her husband by shooting him in the head. Then there's Zorka Rogic (Croatia), a blonde desperado who works in sales: narcotics, "psychotropic substances", firearms, munitions and explosives.
Documenting the rise in female crime is one thing. Explaining it is quite another. Cesare Lombroso, the Italian physician known as the "father of modern criminology" (he invented the first lie detector) also wrote the first book about women and crime, La Donna Delinquente in 1893. He concluded that women who broke the law exhibited crude male traits. The profile was simple: short, lusty, vulgar and prone to wrinkles. They also had darker hair and smaller skulls than "normal" women. A Lombroso dating tip: beware of girls with prominent lower jaws – they're likely to commit crimes of passion.
Freud also thought criminal women were more like men. Sort of. He blamed female crime on a "masculinity complex", which could be traced back to (of course) penis envy. Most women resolved this complex and developed into law-abiding citizens. Others, however, fared worse. Instead of embracing femininity, these women over-identified with males and coveted their floppy organs. Think of a woman who smiles while she stabs her husband to death in bed, and later cleans the sheets.
Biology and psychology theories are still discussed in criminology classes today. Studies that link the menstrual cycle to female crime have persisted for decades. According to the three female authors of The Curse: A Cultural History of Menstruation, the 19th century axe murderer Lizzie Borden butchered her family because "her period coincided with an epileptic attack". Psychology models, of course, continue to be popular. Behavioral theory suggests that becoming a criminal requires conditioning, a form of learning that involves positive reinforcement: rob a bank, spend the money, rob another bank.
Increasingly, though, many of today's gender gap theories focus on external factors, like tougher drug sentencing laws (25% of women in US state prisons have been convicted of a drug offense, compared to 14% of male prisoners) and the proliferation of violent female gangs (the Bad Barbies, an all-girls "sister gang", with chapters in Harlem and Brooklyn, have pulled off multiple revenge murders). There's also the post-conviction barriers that uniquely affect women and lead to recidivism: prison guard abuse, few mental health services and a lack of job training. Police, lawyers and judges being less protective toward women is another reason criminologists believe the gender gap is shrinking.
We should've seen this coming. In 1975, the famous criminologist Freda Adler trumpeted this warning in her bombshell book Sisters In Crime: The Rise of the New Female Criminal: "In the same way that women are demanding equal opportunity in the fields of legitimate endeavor, a similar number of determined women are forcing their way into the world of major crimes."
Forty-five years later, Adler's feminist manifesto still resonates. Just try finding a criminologist who doesn't own a dog-eared copy. Critics may argue that her prediction was wrong (the '70s women's lib movement didn't breed a vast army of females toting guns and flashing armpit hair), but Adler was onto something. More women are committing violent crimes. It just took longer than she expected.
The most intriguing academic paper that explores the women behaving badly phenomenon is the 2017 essay The Gender Gap In Crime Is Decreasing, But Who's Growing Equal To Whom? Rejecting Adler's gender equality theory, the authors offer a reverse hypothesis: the real reason that the gender gap is shrinking isn't because women are copying the behavior of men and committing more crimes – it's because men are copying the behavior of women and committing fewer crimes. The idea that feminism might be making our mean streets safer may sound absurd to a beat cop, but the theory is being hotly debated among criminologists and gender studies scholars at liberal arts colleges.
The Pink Collar Crime Lady has her own gender gap theory, and it doesn't have anything to do with feminism, chivalrous judges or menstrual cycles. "Women nurture and raise us. We love and trust them," explains Kelly Paxton. "So being a female crook is the perfect cover." Then she shares some insider wisdom: "The first thing I tell clients is never underestimate a woman. They're ruthless."
https://www.theguardian.com/us-news/2020/jan/06/female-fugitives-women-crime-rates-rise
------
Pakistan women cricket continues to grow in 2019
31 Dec, 2019
LAHORE - Women's cricket in Pakistan continued to grow in 2019 and Pakistan's national women's team reached new heights as the Pakistan Cricket Board undertook major initiatives to promote the game amongst young potential cricketers.
Pakistan reached the fourth spot in the 50-over ICC Women's Championship after securing the astonishing series win against West Indies women earlier in the year and securing a 1-1 tie against South Africa in an away series.
Their year had started off by hosting West Indies in Karachi for a three-match series and later in the year Bangladesh women toured Lahore for three T20Is, which Pakistan won 3-0, and a two-match ODI series that ended in a draw.
Pakistan hosted England women in Malaysia for the seventh round fixtures of the ICC Women's Championship and three T20Is. Though, the Bismah Maroof-led side lost both series, the team showed marked improvement in their performances in all three facets.
The PCB awarded better-paying and improved central contracts to women cricketers to narrow the gap between men and women cricketers. In a bid to take women's cricket to every corner of the country, the PCB continued to expand the network of girl's academies across the country, while organizing domestic tournaments regularly to gauge the talent pool.
The PCB, for the preparation of the ICC U19 Women's T20 World Cup in 2021, staged Skills 2 Shine U18 Women's Cricket T20 Championship and a pool of best performing 25 players is undergoing an academy programme in Karachi.
Pakistan national women's team captain Bismah Maroof, while reviewing her side's performances, said here on Tuesday: "Overall, it has been a very good year for women's cricket in Pakistan.
Our year started off by hosting West Indies in Karachi for a T20I series. There were some nerves because we hadn't played in our own country for a long time and we couldn't put up a good show in the first T20I".
"We sat as a group and discussed how important it is to put up good performances to enhance the profile of women's cricket, which resulted in outstanding performances", she said.
"The South Africa tour was a confidence booster for the whole side. We performed in both batting and bowling departments and tied the ODI series there", she added.
"We hosted Bangladesh in Lahore and did brilliantly in that series. Our year concluded with the England series in which we did not put up a good show. But, we have shown a lot of improvement in this series.", she said.
"And, that we are currently ranked fourth in ICC Women's Championship is because of the hard work our team has put in, she asserted. "We play T20 World Cup next year and we are hopeful that we will be able to end in top four.", she further added.
Asmavia Iqbal, member national women's selection committee, said, "There have been a lot of positives both on and off the field in women's cricket this year.
The PCB has undertaken many development programmes and the team has also shown marked improvement in performances.
"The zonal academies have started to function regularly because of which our girls are practicing round the clock. The girls now have separate facilities where they are getting nurtured under top coaches and undergo the training the same as the Pakistan national women's team, which has enhanced the skill-level of our up-and-coming cricketers. This was missing when I started off as a player".
"The PCB organized a U18 tournament and our emerging team recently featured in the Asia Cup. We have had domestic tournaments organized on a regular basis this year. This has played a crucial role in developing game-awareness amongst girls. Many girls have made international debuts this year."
https://en.dailypakistan.com.pk/31-Dec-2019/pakistan-women-cricket-continues-to-grow-in-2019
------
Portlander Charged With Hate Crime For Ripping Off A Muslim Women's Hijab
January 4, 2020
A Portland woman has been charged under Oregon's bias crime law for attacking and berating a woman from Saudi Arabia in downtown Portland in November. The alleged victim, a 23-year-old foreign exchange student from Portland State University (PSU) who has not been identified, says she was targeted for wearing a hijab, a head scarf worn by some Muslim women.
The Multnomah County District Attorneys office issued a warrant for the suspect, 23-year-old Jasmine Campbell, after she failed to appear in court Friday morning.
An affidavit filed by the DA's office alleges that Campbell approached the victim at a MAX station near SW Yamhill and 10th at 7:20 pm on November 12. Campbell allegedly grabbed the victim's hijab and attempted to choke her with it, before forcibly pulling the scarf off of her body. Then, according to the DA, Campbell removed all of her own clothes—except for a leather jacket—and began dancing and rubbing the hijab accross her naked body.
As the affidavit explains: "Defendant then placed the hijab between her legs, rubbed it against her naked vagina, then stretched out the hijab and began vaginally flossing herself with the hijab."
Campbell was eventually arrested by Portland police officers who'd been called to the scene, who, after reading Campbell her Miranda Rights, asked why she chose to assault the PSU student.
"The defendant stated that she was fighting and playing around, that she wanted to be a stripper, and she wanted to show the victim that she did not have to be a Muslim, that people don't have to be black or white, and that she wanted the victim to know that religion doesn't define her," the affidavit reads.
Campbell has been charged with two counts of bias crimes in the second degree—along with three other misdemeanor charges.
According to court documents, the victim has replaced her hijab with a knit cap and scarf, out of fear that wearing a hijab in public will make her a target again.
Campbell is one of several Portlanders in the past few years who've attacked women for wearing hijabs in public. In 2018, OPB interviewed a woman who wore a hijab who'd been harassed while leaving work in downtown Portland. In 2017, Jeremy Christian fatally stabbed two men on the MAX who had tried to defend a pair of women dressed in hijabs who'd been the target of Christian's anti-Muslim epithets.
"This is a brutal hate crime, and falls in line with other attacks we've seen locally and accross the country under this [presidential] administration," says Zakir Khan, the board chair of the Oregon chapter of the Council on American-Islamic Relations (CAIR). "Women wear hijabs as a symbol of faith. Rather than people respecting that symbol, they are deciding to act out against them in violence. It's unacceptable."
Khan is hopeful that the Oregon Legislature's recent updates to the state's hate crimes law—which comes with harsher penalties for suspects—will improve the state's previously lackluster response to hate crimes committed against Muslims and other minority communities in Oregon.
However, he'd like to see a larger financial contribution to the state's victim support programs to help non-American victims who've been disproportionately targeted by these crimes.
"Cultural competency is crucial for victim advocates," says Khan. "Being the victim of a hate crime is only made worse when you don't understand the culture or the customs of a country."
Source: https://www.portlandmercury.com/blogtown/2...
https://www.refvolpdx.org/news/2020/1/4/portlander-charged-with-hate-crime-for-ripping-off-a-muslim-womens-hijab
------
Kuwaiti beauty influencer defends controversial blackface pictures as 'art'
Mon 6 Jan 2020
By Bernd Debusmann Jr
A popular Kuwait beauty influencer has defended her use of a series of 'blackface' pictures on Instagram that sparked a fierce online backlash, calling them a representation of her artistic abilities and claiming it was not her intention to offend.
Earlier in January, influencer Ghadeer Sultan posted a 53-second video in which she appears in blackface, as well as a single photograph.
"No matter where you are from or what you believe in, we are all children of this world," read the caption of the video. "Beauty comes in all shapes and colours, so let's love each other and celebrate our unity."
Both the video and the picture quickly amassed thousands of comments, with many users saying they were puzzled or offended at the images.
"This is the most offensive thing I've seen. You can portray togetherness without disrespecting an entire culture," one user wrote. "So uneducated. This is beyond unnecessary and unacceptable."
Another user wrote that she "couldn't believe" that Sultan deemed the images acceptable to post.
"Are you familiar with blackface? Do you understand the gravity of what you just posted? I don't think so," the user wrote. "Ignorance is not always bliss."
In response to the growing online anger, Sultan posted a third image – again in blackface – in which she defended her actions.
"I am not racist. I hate racism. What I've done is only to show what I am capable of. I love you all," she wrote. "Think 2020 and live with passion for all peoples."
In a more extended note posted to her Instagram stories, Sultan said she recognises that it "can't have been easy" for viewers to "deal" with her blackface, but continued to defend her actions, saying they represented her artistic ability as a make-up artist.
"On the contrary, I looked more beautiful in my dark colours," she wrote. "I've tried to explain several times why and how I've done this and what was my goal behind it…I can't really change the sensitivity behind the whole issue."
"I will work on resolving the [misunderstanding] and I will be careful in approaching or touching [other] cultures, so we can all enjoy the beauty behind the arts," she added.
Arabian Business has reached out to Sultan for comment.
In late 2018, another Kuwaiti beauty influencer, Sondos Al Qattan, made international headlines after posting a video in which she harshly criticised new rules protecting the rights of Filipino domestic workers, leading many brands to cut ties with her.
https://www.arabianbusiness.com/media/436713-kuwaiti-beauty-influencer-defends-controversial-blackface-pictures-as-art
------
URL: https://www.newageislam.com/islam-women-feminism/wont-go-back-millimetre-shaheen/d/120720
New Age Islam, Islam Online, Islamic Website, African Muslim News, Arab World News, South Asia News, Indian Muslim News, World Muslim News, Women in Islam, Islamic Feminism, Arab Women, Women In Arab, Islamophobia in America, Muslim Women in West, Islam Women and Feminism