New Age Islam News Bureau
16 Feb 2015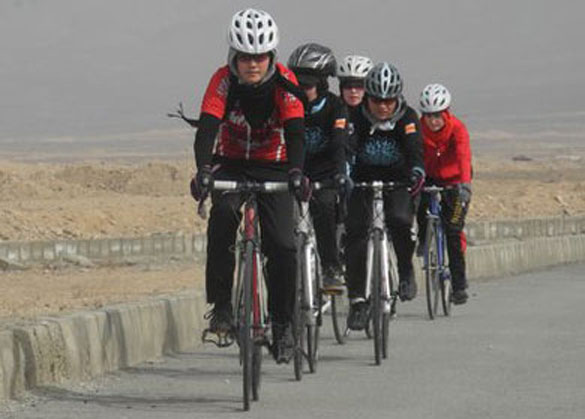 Photo: The women's cycling team trains three times a week on the outskirts of Kabul
----------
• Saudi Women Abandoned By Husbands Denied Social Affairs Services
• Women of the Islamic State, Living To Serve Their Men
• Chapel Hill Victim's Sister: American Sniper 'Dehumanizes' Muslims
• Angelina Jolie Urges Religious Leaders to Unite Against Islamic State
• Sudanese Soldiers Raped More Than 200 Women, Girls
• UN Women Launches Civil Society Group in South Africa
• Afghanistan's Women's Cyclists: The World's Most Unlikely Sports Team?
• Kenya: 500,000 Women Sterilized - Catholics
• Saudi Businesswomen Seek Greater Role in Real Estate Sector
Compiled by New Age Islam News Bureau
URL: https://www.newageislam.com/islam,-women-and-feminism/new-age-islam-news-bureau/women's-bodies-invite-rape,-controversial-columnist-says/d/101548
-----------
Women's Bodies Invite Rape, Controversial Columnist Says
16 Feb, 2015
KUALA LUMPUR, Feb 16 — Controversial columnist Ridhuan Tee Abdullah claimed today that women's bodies attract rapists, amid an uproar over a recent Friday sermon that linked women's dressing to sexual assault.
Pointing out the difference between the shape of women's and men's bodies, Tee said in his column on Malay daily Sinar Harian that by "exposing and flaunting" their bodies, women are motivating men to commit rape.
"The logic is simple. Women's bodies are alluring and arousing," said Tee in the article titled "Bila si jahil berbicara (When the ignorant speak)".
The lecturer at the Universiti Sultan Zainal Abidin's Research Institute for Islamic Products and Civilisation was explaining his reasons for disagreeing with a claim by G25 earlier this month that Kelantan will be overrun by paedophiles should the PAS government implement hudud.
G25, the moniker used to refer to the group of 25 prominent Malays, had said at a forum on February 7 that this is because the Islamic penal code dismisses the need for scientific evidence to prove crimes like Zina (sex outside marriage).
"Why so quick to condemn Islamic law when we have yet to experience it here?" Tee asked. "If you claim to practise Islam, then where is your confidence in Allah?"
He claimed that humans are more inclined towards committing good deeds rather than bad, and rational-thinking people were unlikely to rape others.
Only a select few would dare to commit such crimes, he pointed out.
"That is why Islam's way is to prevent (crime) by taking harsh action," he said.
Tee also claimed that wearing short skirts and going to nightclubs could lead to rape, sexual assault and other forms of violence against women.
The Selangor Islamic Religious Department (Jais) said in its Friday sermon earlier this month that covering up one's "Aurat" would prevent women from being raped, sparking outrage from women's groups and politicians who said that the Islamic authority was perpetuating rape myths.
"Aurat" in Malay refers to "intimate body parts" that Muslims must cover with clothing; exposing these is considered sinful.
Damansara Utama assemblyman Yeo Bee Yin from the DAP has since pointed out that Kelantan, which is governed by conservative Islamist party PAS, has the second-highest number of rape cases per 100,000 people in the country.
Yeo, who cited 2009 statistics from the Statistics Department, said Kelantan has 20 rape cases per 100,000 people while Negri Sembilan has the highest figure at 20.6 cases.
Tee said today that covering up one's "Aurat" does not guarantee protection from rape, but stressed that it was merely a preventive measure.
"If it's fated that many of those who cover their 'Aurat' are raped, then it's fate," said the Muslim convert.
Civil rights group Empower said last Monday that women's clothing has nothing to do with rape, pointing out that rape victims in several high-profile cases in Malaysia include those wearing headscarves and young girls in "modest" clothing.
"The ultra kiasu said it's those who cover their Aurat who are the most commonly raped. It's because loose cloth is easily removed, compared to tight pants," said Tee today.
http://www.themalaymailonline.com/malaysia/article/womens-bodies-invite-rape-ridhuan-tee-says
----------
Saudi Women Abandoned By Husbands Denied Social Affairs Services
16 Feb, 2015
Women abandoned by their husbands are unable to benefit from the services provided by the Ministry of Social Affairs as they are neither divorcees nor widows, the only two groups the ministry provides assistance to, the Arabic daily Makkah reported.
A woman, who wished to remain anonymous, said she was abandoned by her husband without any official divorce papers. But since her husband is still alive and has not divorced her, she is ineligible to receive financial support.
"I am raising my two daughters alone. My husband is a drug addict who deserted me. I tried to apply for social insurance multiple times but my application was rejected every time because I am not registered as a divorcee or a widow. I am being prevented from availing any services the government offers to women without husbands," said the woman.
Makkah Social Affairs Director Abdullah Al-Tawi said abandoned women are eligible to receive social insurance, but they have to prove their abandonment in court.
"The ministry's social insurance includes a monthly stipend, infrequent bonuses, partial coverage of electricity bills and other services. The social insurance is given to divorcees, widows, families of prisoners and abandoned women when they prove their cases in court," said Al-Tawi.
He added that all applications for social insurance are done electronically and the ministry looks into each case.
"Being married to a husband who does not provide an income is not grounds to receive social insurance. However, if the husband is too old or disabled, the ministry will then look into the case and take the appropriate measures," said Al-Tawi.
The woman replied that in order to prove her husband has abandoned her, he must come to court and testify that he has indeed abandoned her. She said this is nearly impossible to accomplish and her only salvation at the moment is to accept whatever help she can get from her neighbors and friends.
Social behavior and family issues researcher Adel Al-Jaman said living under social and financial instability is the cause of more than 50 percent of women suffering from psychological problems.
"The ramifications of being financially insecure are detrimental to women's physical and emotional health. The laws and regulations for abandoned women and women with limited income must be changed so help is accessible to more people who are in need of it," said Al-Jaman.
http://english.alarabiya.net/en/perspective/features/2015/02/15/Saudi-women-abandoned-by-husbands-denied-Social-Affairs-services.html
---------
Women of the Islamic State, living to serve their men
16 Feb, 2015
The role of women in Islam is guided by the Koran and the hadiths - the sayings, deeds and teachings of Muhammad. A woman's primary role is to be the obedient home-maker and loyal mother and wife. What else she does depends on what her husband is prepared to allow her to do.
This is of course considerably diluted in Western Muslim-minority countries like Australia, and even to some extent in moderate Muslim-majority countries like Indonesia. Islam allows men to practise polygamy but women may not. A woman's engagement in adultery can attract a death sentence in Afghanistan, Iran, Pakistan, Saudi Arabia and Yemen.
The Middle East and North Africa rank lowest for female employment and political empowerment. The 10 countries with the world's lowest female employment rates are all Muslim countries – Algeria, Iran, Jordan, Morocco, Oman, Pakistan, Saudi Arabia, Syria, Turkey and Yemen.
Islamist terrorist groups have also been reluctant to employ women in anything other than support roles. Al-Qaeda, which has its origins in fundamentalist Saudi Arabia and Egypt, has not used women as fighters or suicide bombers.
Some al-Qaeda affiliates have ignored this policy and used women combatants, such as the unsuccessful female suicide bomber Sajida al-Rishawi, who Jordan executed on February 3 in retaliation for IS's murder of its pilot. In Europe, Chechen "black widows" have regularly been suicide bombers against Russia.
Islam is not opposed to female education, but tertiary education results in considerable frustration in Muslim countries where women may study for professions but not practise them. At the University of Jordan in 2013, 65 per cent of the students were female, but Jordan has a low rate of female employment. In Afghanistan, despite the West's long-standing educational assistance, only 13 per cent of women over the age of 15 can read and write, compared with 43 per cent of men. In terms of the education gender-gap, 17 of the world's 18 worst-performing countries are members of the Organisation of Islamic Cooperation.
Even so, some Australia Muslim women have travelled to help al-Qaeda affiliates, particularly al-Qaeda in the Arabian Peninsula, and others have offered themselves as brides for Islamist fighters elsewhere. In the past two years there have been several cases of Australian women travelling to Syria to offer themselves to IS and Jabhat al-Nusra fighters. Most of these women seem to have had poor employment prospects and craved attention - and perhaps sought a degree of notoriety among their friends.
To clarify its position on women, in January IS began to circulate a document in Arabic titled Women in the Islamic State: Manifesto and Case Study that has since been translated into English by the UK-based Quilliam Foundation. Normally IS translates documents into several languages itself, suggesting this document targets an Arabic-speaking audience only.
The document debunks gender equality and talks about the role of women in IS-controlled areas. This includes all-female police brigades in Syria and Iraq. But while women may be called to battle or policing, these are low on the scale of female responsibilities, which are primarily motherhood and family support. IS, like al-Qaeda, is an organisation that believes the role of women is limited by God. "Men are in charge of women by [right of] what God has given over the other…" (Koran 4:34).
According to IS, the main purpose of humanity is to worship God, and this is where Western civilisation has lost its way. It tells us to "throw the sputum of your culture, your civilisation and thinking into the sea".
IS links the emancipation of women with the emasculation of men. Women in the West in particular have become "confused and complacent", unable to fill their appointed responsibilities - which should revolve around motherhood and maintenance of the household. Women have been given the qualities of "sedentariness, stillness and stability", while men have their opposites: "movement and flux". Excitement and adventure are the realm of men.
Female education is permissible, but preferably between the ages of 7 to 15 or earlier, and the curriculum should be in accordance with Islam. Daughters should be taught "chastity and decency". After that, the role of women is primarily home-related. This starts with marriage, which can take place from the age of 9. Wives should then remain veiled, and maintain society from behind closed doors.
It is sometimes permissible for a woman to leave the house: if she is going to study theology, if she is a woman doctor or teacher, or if it has been ruled by fatwa that that she must fight and engage in jihad because of the desperate situation of the ummah (community of Muslims).
The aim of the IS document is clearly to attract women from other parts of the Middle East to live in IS-occupied territories - where they can live in the way that God intended, sharing their lives with "the real men of Islamic State".
Unsurprisingly, there is no mention in the document of IS's abuse of women, like its use of non-Muslim women and girls as sex slaves, its rape and murder of Kurdish women, or its sale and barter of captured women and young girls. And of course is there no mention of the battlefield successes of Kurdish female fighters against the real men of IS.
Clive Williams is an adjunct professor at Macquarie University's Centre for Policing, Intelligence and Counter Terrorism and a visiting professor at the ANU's Centre for Military and Security Law.
http://www.watoday.com.au/comment/women-of-the-islamic-state-living-to-serve-their-men-20150215-13egu6.html
--------
Chapel Hill victim's sister: American Sniper 'dehumanizes' Muslims
16 Feb, 2015
There is an "open season" against Muslims in the United States and a part of the blame rests on movies such as "American Sniper," said Suzanne Barakat, the sister of Deah Barakat, one of the victims of the Chapel Hill shooting, in a recent interview.
"The day of the murders, an assemblywoman from the state I live in used the hashtag "stand up against Islam," she said during Friday's broadcast of "The Lead" on CNN.
"And it's currently an open season, a time where it's an open season against Islam, Muslims in Washington, Muslims in the general media dehumanizing Muslims in movies like 'American Sniper,'" she added.
On Tuesday night, Deah Barakat, 23, his wife Yusor Mohammad, 21, and her sister Razan Mohammad, 19 were shot dead in their condominium near the University of North Carolina. A 46-year-old neighbor, Craig Stephen Hicks, was charged with three counts of murder.
The family of the victims contest with reports that the shootings were caused by a dispute over a parking spot.
Barakat also criticized the media coverage of the murders.
"Had roles been reversed, and no one is talking about this, but had roles been reversed and the man was Muslim, was of Arab descent, was of South Asian descent, this would have immediately been labeled an act of terror," she said.
"I haven't heard anyone use the term 'terrorist' here but it– why the double standard? He has terrorized our families, he has terrorized our lives, he has terrorized our community, locally, nationally, and internationally and it's time that people call it for what it is," she continued.
Arab rights groups such as the American-Arab Anti-Discrimination Committee (ADC) have also publically lashed out at the lack of coverage and claim "American Sniper," the film based on the life of the slain Navy SEAL Chris Kyle during the Iraq war, led to a surge in Islamophobia in the United States.
"After the release of 'American Sniper' we began noticing that the hate rhetoric was a bit more volatile, a bit more raw and violent, calling for murders, executions, for the killings of Arabs and Muslims in the U.S.," Abed Ayoub, the legal director of ADC, told Al Arabiya News earlier this week.
"For the first time we noticed that the threats have taken a turn. It's no longer like, 'you towel-heads, you rag-heads, go back to the desert'. It's 'I'm going to send you back there in a box.'"
U.S. President Barack Obama described the killings of the three young Muslims as "brutal and outrageous murders" on Friday, saying that no one in the United States should be targeted for their religion. Obama's statement came a day after Turkish President Tayyip Erdogan criticized Obama for his silence about the incident.
Barakat said that people need to work together to raise awareness and "spread love."
"Justice means making sure that this never happens again, making sure that Muslims are respected, are protected, are cared for, and are not left to live in fear," Barakat added.
"I was speaking with my husband and wondering how are we are going to raise children in this country if we are afraid for their safety and for their lives because of the ignorance and because of the biased."
"We want to make sure that what comes out of this is awareness, is a spread of love. We are not seeking to — punishment is not the goal here. It is absolutely not the goal. We want everyone in solidarity, globally, to make sure that we all unite as humanity."
http://english.alarabiya.net/en/media/digital/2015/02/14/Chapel-Hill-victim-sister-American-Sniper-dehumanizes-Muslims-.html
----------
Angelina Jolie Urges Religious Leaders to Unite Against Islamic State
16 Feb, 2015
Angelina Jolie has urged 24 religious leaders from around the world to unite against Isis.
Jolie met with 24 religious leaders at the Lancaster House in London with the collaboration of the Foreign & Commonwealth Office.
The Maleficent actress met with religious leaders from the Democratic Republic of Congo, Nepal, Iraq and South Sudan as well as the Archbishop of Canterbury, Justin Welby, and former British Foreign Secretary, William Hague.
Highlighting the atrocities committed against women and the use of rape as a weapon of war, addressing the assembly the 39-year-old said: "We need a powerful moral force. An estimated 90% of all casualties are women and children and rape is a favoured military tactic we seem unable to prevent or punish."
"I recently returned from northern Iraq, where women and girls are systematically targeted by armed groups, including ISIS. The intensity and brutality of the sexual violence is terrifying. It is premeditated, organized, and brazen," she added.
Jolie called upon the religious leaders to help raise awareness of sexual violence and play a part in bringing an end to the use of sexual violence as a weapon of war uniting for the 'powerful moral force.'
"'This is violence that respects and spares no one, of any religion or ethnicity. It is fueled by impunity. It often involves surrounding villages, separating out and killing men, bussing out the girls to be sold into slavery and torture. . . For all our advances, the mass rape of women and children and men is still seldom punished, and still carries little or no risk to the perpetrators," she said.
"The tragedy is that this issue hardly features in discussions about our strategy towards defeating ISIL, ending conflict in Syria, and stabilising Iraq. Yet it is vital to our success; and so I ask your help in highlighting around the world the injustice and the urgency, the urgency of the situation,' Jolie explained in an emotive speech.
The meeting follows Jolie's trip to a Kurdish refugee camp in Dohuk, northern Iraq, in her role as special envoy of the U.N. High Commissioner for Refugees. Highlighting the plight of Yazidi and Syrian refugees, she urged world leaders to do more to bring the conflict in Syria and Iraq to an end.
During her trip to London, Jolie opened a centre at the London School of Economics in London, dedicated to bringing an end to war rape.
The Centre for Women, Peace and Security is founded to conduct research to prevent sexual violence against women during war.
http://www.ibtimes.co.uk/isis-angelina-jolie-urges-religious-leaders-unite-against-islamic-state-1488010
----------
Sudanese soldiers raped more than 200 women, girls
16 February
But these nightmares aren't all in the far past, according to Human Rights Watch.
Citing 130 interviews with locals, the advocacy group said this week that in October, Sudanese soldiers raped more than 200 women and girls over a 36-hour period in the north Darfur town of Tabit.
"Witnesses told Human Rights Watch that during (the) attacks, government soldiers went house-to-house in Tabit, searching houses, looting property, severely beating residents, and raping women and girls," the report stated. "On the two nights, soldiers forced many of the men to outdoor locations on the outskirts of the town, leaving the women and children especially vulnerable."
The advocacy group said that civilians were the only ones affected and that it had "no evidence of any rebel force in the town immediately prior to or during the attacks." The United Nations and African Union have a force in Darfur, but according to Human Rights Watch, the Sudanese government has "prevented (them) from carrying out a credible investigation."
"Immediately after they entered the room they said: 'You killed our man. We are going to show you true hell,' " a woman in her 40s recalled of an attack on her and her three daughters, two of whom were less than 11 years old, Human Rights Watch reported.
"Then they started beating us. They raped my three daughters and me. Some of them were holding the girl down while another one was raping her. They did it one by one."
Yusuf Kurdufani, a Sudanese Foreign Ministry spokesman, dismissed the report as "an attempt to reproduce an issue long closed after the world was convinced about the incredibility and illogicality of the claims of mass rape."
According to the official Sudanese News Agency, Kurdufani said mass rapes "go contrary to the logic of things and also contradict ... the customs and traditions of the local population."
"He argued that by making such allegations, the rebel movements wanted to create an impression that the situation was still unstable in the region," the SUNA report added. "The spokesman reaffirmed that the allegations of mass rape in Tabit is a file that has been closed."
Yet not everyone in the international community buys Sudan's story, at least without a credible outside investigation.
"To this day, the government of Sudan has shamefully denied the UN the ability to properly investigate this incident, despite this (U.N. Security) Council's mandate to do precisely that," said Samantha Power, the U.S. ambassador to the United Nations.
The United Nations itself said two months ago that its team had found no evidence supporting the claims, though the ultimate findings are "inconclusive and require further investigation."
Violence in Darfur -- an arid region in western Sudan -- began raging in the early 2000s, with then-U.N. envoy Tom Eric Vraalsen at one point calling the humanitarian crisis there "one of the worst in the world." The United Nations has estimated about 300,000 people have been killed and another 2.7 million wounded in the unrest.
Sudanese President Omar al-Bashir is charged by the International Criminal Court with multiple counts of genocide, war crimes and crimes against humanity. But al-Bashir hasn't agreed to stand trial, with his information minister at one point dismissing the ICC as a "white man's tribunal."
There have been seemingly positive developments in the region in recent years, like South Sudan declaring independence after a peace agreement and subsequent referendum. In Darfur in 2013, a splinter group from the Justice and Equality Movement -- the largest Darfurian rebel group -- signed a peace deal with the Sudanese government, and countries pledged $3.7 billion to reconstruct and develop the war-torn area.
Yet the violence never really went away.
In December, Under-Secretary-General for U.N. Peacekeeping Operations Herve Ladsous briefed the Security Council about increased fighting, "deadly" internal conflicts and an alarming rise of crime in Darfur.
"This insecurity as well as the persistent restrictions imposed by government forces, armed movements and militia groups continued to challenge the ability of the (UN/AU) mission to implement its mandate, particularly as regards the protection of civilians," Ladsous said.
http://edition.cnn.com/2015/02/13/africa/sudan-mass-rape-report/
-----------
UN Women launches civil society group in South Africa
16 February
UN Women's South Africa Multi-Country Office has officially launched its Civil Society Advisory Group, which will use its expertise to advise UN Women on its work in South Africa.
The formation of the group is testament to the important role civil society plays in the campaign to achieve gender equality, the UN reported on 12 February.
The 11-member committee — a group of nine women and two men – comprises members from non-governmental organisations, academia, research institutions and the private sector. Members will share their experiences and support UN Women in developing strategies to improve advocacy for gender equality and women's empowerment in South Africa.
"This advisory group will be an important consultative body in regard to our programmes and work in South Africa," said Dr Auxilia Ponga, UN Women representative, South Africa Multi-Country Office.
"The launch is particularly timely with awareness of the gender equality movement currently gaining momentum ahead of the 59th session of the Commission on the Status of Women next month," Ponga said.
The 59th session of the commission will take place at United Nations headquarters in New York City from 9 to 20 March. Representatives of the government of South Africa and accredited South African non-governmental organisations will attend.
The main focus of the session will be the Beijing Declaration and Platform for Action, 20 years after its adoption. Despite the commitments made, the platform's envisioned gender equality in all dimensions of life is still an unfinished agenda.
Member states, including South Africa, have submitted national reviews ahead of the session that highlight achievements to date as well as the remaining gaps and challenges, and how they plan to accelerate implementation.
Following the launch of the South African Civil Society Advisory Group, the group and UN Women met a broader group of representatives from gender-focused South African civil society organisations. The consultation was designed to ensure a range of voices were being heard and multiple organisations were given the opportunity to provide input.
The National Review submitted by South Africa ahead of the 59th session of the Commission on the Status of Women was one of the topics discussed at the meeting. They also spoke about how the issue of violence against women remained a critical area of concern.
http://www.southafrica.info/news/unwomen-civilsociety-160215.htm#.VOKPBfnF9nM#ixzz3RxVHHm3m
-----------
Afghanistan's women's cyclists: The world's most unlikely sports team?
16 February
Perhaps the world's most unlikely sporting team, Afghanistan's women cyclists train three times a week on unused roads on a plain north of the capital, Kabul.
They set out, carrying their cycles past open sewers, from a private house with a water pump in the yard, in a mud-built back lane of the city, owned by Afghanistan's only professional cyclist, Abdul Sadiq.
He began by training his daughter. And when she competed successfully abroad, he set up the team.
His deputy Mariam Marjan goes around schools seeking girls who might want to compete.
Even today, after years of progress since the fall of the Taliban in 2001, she faces formidable obstacles in finding new recruits.
It is not for lack of enthusiasm on the part of the girls.
But the sport breaks taboos in a country where in many traditional communities, women are not allowed out of the house without a male member of their family as an escort.
Afghan families are large networks. "If it's not their father trying to stop them, it's a brother or uncle," Ms Marjan said. "There is always somebody they have to convince."
Two members of the team, Massouma, 18, and Zarab, 17, are sisters.
Their father and their brothers approve, but Zarab says they know that their uncles complain to their father.
"They will never come in front of us to say why are you cycling, but they say bad words to our father," she said.
The head coach, Abdul Sadiq, has faced frequent threats and was recently beaten up.
But watching the girls load their bikes onto the top of his four-wheel drive vehicle for another day of training, male neighbours on the street all said that they approved.
Evangelical zeal
The bikes are a long way from the precision-built kit used by the top international teams, and Mr Sadiq knows that he is a long way from top rung competition.
His team have, however, competed and won regionally against Bangladesh and Pakistan.
His biggest problem is retaining trained athletes in a country where many people are married at 20 and then drop out of the team.
But there are always new recruits, who come out when the team train, wobbling as they learn to ride from scratch.
"We want to go cycling because we want to be heroes one day," said 16-year-old Jella, one of the latest recruits.
In one of the mildest and driest winters for many years, training has gone on without interruption. And in the spring, the girls will go up into the mountains.
They do the sport with an evangelical zeal.
"We say that women should not sit at home, they need to come out and do sport," said Ms Marjan, the deputy head coach.
And 18-year-old Zainab said she wished that she could just go cycling alone on the street without being harassed.
"It's my ambition, and I hope that one day girls will be allowed to go cycling on the streets, without a coach, or anyone with them, and they will not have problems," she said.
http://www.bbc.com/news/world-asia-31311887
-----------
Kenya: 500,000 Women Sterilized - Catholics
16 February
About 500,000 women may never bear children after being injected with a contaminated tetanus vaccine last year, Catholic Church claims in its final report on the controversial vaccination drive.
Their report cites tests by a joint committee of experts which found that 30 per cent of vials from the October vaccination campaign were laced with an anti-pregnancy hormone.
The committee was mandated by Parliament last year when the Church opposed the plans to vaccinate 2.3 million child-bearing women against tetanus.
Yesterday, head of catholic health commission Rev Paul Kariuki said the ministry has pulled out of the committee.
"Thirty per cent of the vials collected during the tetanus vaccination campaign sponsored and funded by WHO and Unicef contained HCG," says the report, which has been produced only by the church-seconded experts.
HCG is the hormone that can be embedded in vaccines to trigger early miscarriage in women.
Rev Kariuki said three of the nine vials tested from last year's vaccination campaign were confirmed to contain very high levels of the Beta HCG hormone.
"The beta quantity of Beta HCG is highly significant ranging from 24-37.5 per cent," says Rev Kariuki.
Earlier, the joint committee reported that only three of 59 vials of the vaccine tested contained the HCG.
Rev Kariuki says 50 of the uninfected vials were collected by the ministry from the national vaccine store, and not from last year's rapid tetanus campaign.
The church now wants the ministry and UN agencies involved to apologise to Kenyans and stop any further vaccination campaigns.
"It is both unethical and immoral for WHO and UNICEF to sponsor and fund and inhuman campaign like this in our country. They owe the defenseless, uninformed but trusting Kenyan children and women an apology," Rev Kariuki said.
Head of Vaccine and Immunisation Services Dr Ephantus Maree said the vaccine used last year is the same routinely given to women in hospitals.
"We give the vaccine to women aged 14-49 years because they are in the child-bearing age. We began the campaigns in 2003, then in 2006, 2009 and this week's will be the final one," he told the Star last year.
India's controversial scientist Dr Gursaran Prasad Talwar created the anti-HCG prototype vaccine, which can be can be attached to a carrier Tetanus Toxoid (TT) to prevent pregnancy.
The Journal of Cell Science & Therapy, Dr Talwar says this Family-planning vaccine, like other injectable family-planning methods, must be taken every three months and is therefore not permanent as claimed.
http://allafrica.com/stories/201502150078.html
-----------
Saudi Businesswomen Seek Greater Role in Real Estate Sector
16 Feb, 2015
Saudi businesswomen recently expressed their concern to Arab News regarding the role of women in the country's economy, indicating that females should break all the barriers in that regard and the government should stand up with them.
Saudi female entrepreneurs claim that it is not only their right to enter the real estate auction market, but the sector also needs their input and investments. They stressed that there's a need to increase investments in the real estate sector and raise the traditional competition in ways that respect the Saudi society's traditions and norms.
Real estate investor and businesswoman Thoraya Kurdi says that women face many challenges in business, particularly because they are patronized and exploited by men. "We are also battling the overly protective families and male instincts to possess women," she explained.
She stressed they need to establish a specialized training center under the umbrella of a governmental body to direct businessmen and women to real estate investment in the proper ways. "We need to protect the money and reserves of our fellow citizens so they don't seek investments abroad," Kurdi explained.
Kurdi takes pride that a Saudi woman, Kalamty Al-Dilijan, struggled to open up the first woman real estate office located in the Eastern Province, challenging many difficulties. "It's important to thank businessmen and real estate investors who support women and their input in all fields, particularly publicly vocalizing women's right to attend public real estate auctions," she added.
Kurdi's attempts to take part in many real estate auctions around the Kingdom where shunned by the lack of a Mahram (legal guardian).
Kalamty Al-Dilijan, owner of the first real state office in the Eastern Province, has never been to an auction. "I hope they allocate a specific venue for women, connected to the men's room throughout the closed circle where they can take part at the event and place their bids."
In turn, businesswomen Muna Nkhelain believes that Saudi society needs a better education and knowledge when it comes to real estate auctions and to open the opportunity for women to exercise their right to participate in these events. "Advertising these auctions in local newspapers and sending private invitations to businesswomen will allow for a greater female participation," Nkhelain said.
http://www.arabnews.com/saudi-arabia/news/705166
-----------
URL: https://www.newageislam.com/islam,-women-and-feminism/new-age-islam-news-bureau/women's-bodies-invite-rape,-controversial-columnist-says/d/101548