New Age Islam News Bureau
8 Oct 2019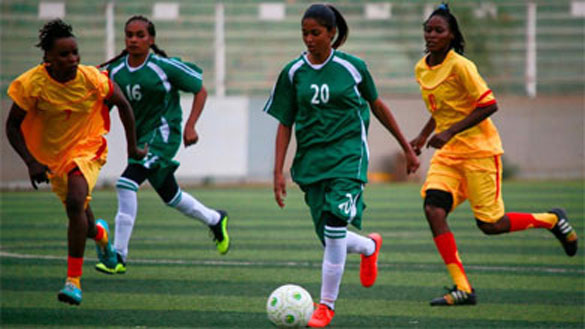 The first match of the Sudanese Women's Football League has marked a turning point in the country's history
------
• Tributes Paid To The Muslim Journalist Who Shot To Fame For Her Hijab
• Saudis Top Nationalities Getting Married To Kuwaitis
• Rights Now: Why Palestinian Women Do Not Want To Wait For Liberation
• Protest Against Allowing Women Into Stadiums Draws a Small Crowd in Iran
• Joint Programme To Promote Decent Work For Women Launched
• 4.5m New Women Voters Registered In Pakistan
• Sindh High Court Orders Setting Up Of Women Rescue Police Centres In Every Division
• Sudanese Women Footballers Back On The Pitch After 30-Year Ban
• Cyber Violence Already Targets Cuban Women
• No Certificates For Talaq, Khula, Muslims of Telangana and Andhra Pradesh In A Tizzy
Compiled by New Age Islam News Bureau
URL: https://www.newageislam.com/islam-women-feminism/women-were-allowed-play-football/d/119942
--------
Women Were Not Allowed Play Football Under Omar Al Bashir, But Since A New Government Came To Power, Their Games Have Been Attracting Fans
Oct 7, 2019
The first match of the Sudanese Women's Football League has marked a turning point in the country's history.
During the 30-year reign of former president Omar Al Bashir, women in Sudan were not allowed to play football.
But since his fall in April, the new transitional government has been expected to adopt liberal policies such as freedom of speech and women's rights across the country.
The women's football games have been attracting spectators.
"I am very happy because we were able to overcome the customs and traditions that prevented us from exercising our rights as women in sports," said football player Azza Adel.
One of the first fixtures was 'Mars' team against the Sudan Eagles. It drew support from enthusiastic fans from the stands of Khartoum's stadium.
"Previously, if you were told that there is a woman playing football, most people, especially Sudanese people, saw it as a bad thing," says Sara Mohamed Said, the captain of the Sudan Eagles.
"Currently, thank God, there is a wonderful development, and football is very beautiful and people do not mind women playing the sport," she said.
https://www.thenational.ae/world/africa/sudanese-women-footballers-back-on-the-pitch-after-30-year-ban-1.920559
--------
Tributes Paid To The Muslim Journalist Who Shot To Fame For Her Hijab
October 07, 2019
DUBAI: Tributes have been paid to the BBC journalist Hanna Yusuf, who shot to fame for publicly defending headscarf-wearing Muslims.
The BBC journalist's family broke the news of her death on October 1, saying they were "deeply saddened and heartbroken," but gave no further information on her death.
"While we mourn her loss, we hope that Hanna's legacy will serve as an inspiration and beacon to her fellow colleagues and to her community and her meaningful memory and the people she has touched for many years lives on," her family said in a statement.
In 2015, she made a video for British national daily the Guardian defending the use of a headscarf, dispelling misconceptions of the hijab as a form of oppression.
In the video she said people should not assume that every woman who wears the hijab had been forced into it.
Andirachid Fidow, a Somalian activist who attended the Yusuf's funeral in London, along with 6,000 others, tweeted: "Beautiful soul gone to soon, may her soul rest in peace."
Abdirachid Fidow
@Iamfidow
Hanna Yusuf was laid to rest today in London.
Over 6k people prayed Janazah on her.
80 people across the media attended the Janazah today & paid their last respect.
She made a profound positive impact at a young age. Beautiful soul gone to soon, may her soul rest in peace.
View image on Twitter
699
10:26 PM - Oct 4, 2019
Twitter Ads info and privacy
177 people are talking about this
British Muslim journalist and author Hussein Kesvani said Yusuf was a "dear friend" to him, and posted a link to a fundraising campaign created following her death.
Megha Mohan
✔
@meghamohan
Goodbye to our dear sweet Hanna - who gave us (and continues to give us) so much. We'll keep the spirit of your journalism alive and make sure young women from a minority and working class background, entering the our industry, knows where to find us.
View image on Twitter
279
10:04 PM - Oct 4, 2019
Twitter Ads info and privacy
24 people are talking about this
According to the Go Fund Me page, the money raised will be donated to a charity in Yusuf's name, which will serve as her "Sadaqah Jariyah," a form of ongoing charity usually given after a Muslim's death.
UK-based non-profit organization Measuring Anti-Muslim Attacks (Tell MAMA) also paid its tribute on Twitter, saying: "This is such a big loss."
TellMAMAUK
✔
@TellMamaUK
Hanna Yusuf was a committed, compassionate, empathetic and very talented journalist. This is such a big loss. May her legacy of important journalistic work continue to inspire others.
Our thoughts are with loved ones, colleagues, family, and friends. https://www.bbc.co.uk/news/uk-49879307 …
Hanna Yusuf
BBC News journalist Hanna Yusuf dies aged 27
The BBC described her as a "talented young journalist who was widely admired".
bbc.co.uk
96
1:47 PM - Oct 1, 2019
Twitter Ads info and privacy
32 people are talking about this
Muslim-focused blog Muslim Girl published a story remembering Yusuf's work as an investigative journalist, including her stories on the violence in Somalia and her recent investigation into labor conditions at Costa Coffee stores in the UK.
The media industry was equally shocked by the news, and her colleagues quickly paid tribute to Yusuf, who worked her way up from a researcher to a television presenter.
The BBC's Editorial Director Kamal Ahmed said: "Hanna Yusuf was sharp, witty and allowed us all to understand the important stuff a little better."
Kamal Ahmed
✔
@bbckamal
Today @BBCNews is in mourning after one of our brightest stars died. @HannaAYusuf was sharp, witty and allowed us all to understand the important stuff a little better. We will remember Hanna by learning from her remarkable work https://www.bbc.co.uk/news/uk-49879307 …
Hanna Yusuf
BBC News journalist Hanna Yusuf dies aged 27
The BBC described her as a "talented young journalist who was widely admired".
bbc.co.uk
686
11:45 AM - Oct 1, 2019
Twitter Ads info and privacy
246 people are talking about this
The 27-year-old journalist was born in Somalia in 1992 and emigrated to Europe at a young age. Before her stint at the BBC, she wrote for other British publications including the Independent, the Times, and Muslim-focused news organization Muslim News.
https://www.arabnews.com/node/1565381/media
--------
Saudis Top Nationalities Getting Married To Kuwaitis
October 08, 2019
KUWAIT CITY, Oct 7: Saudi Arabia tops the nationalities getting married to Kuwaitis over the years, reports Al- Qabas daily.
Recent statistics of the Ministry of Justice revealed that 2018 witnessed marriages between Kuwaiti men and 537 Saudi women, 364 women from various countries, 185 Asian women, 110 Syrians, 104 Iraqis, 77 Egyptians and 82 Jordanian women, reports Al- Seyassah daily.
The list includes 65 Arab women, 38 Europeans, 32 Lebanese, 23 Americans, 14 Africans, 13 Yemenis and 10 women from Bahrain, eight Omanis , two Qataris and one Somalian, in addition to 120 women from other nationalities.
With regard to the ratio of Kuwaiti women getting married to foreigners, statistics showed that nearly 632 cases were registered in 2018 and topping the chart are Saudi men as they took 252 Kuwaiti spouses, followed by 130 men from other foreign countries, 39 Qataris and 36 Iraqis, 34 Asians, 30 Egyptians and 22 Europeans. The list included 18 men from Bahrain, 16 Syrians, 11 Jordanians, 10 UAE nationals, 9 Lebanese, 8 Omanis, 7 Americans, 4 Yemenis, 3 Palestinians, and 3 Africans
https://www.arabtimesonline.com/news/saudis-top-nationalities-getting-married-to-kuwaitis/
--------
Rights Now: Why Palestinian Women Do Not Want To Wait For Liberation
Miriam Deprez
October 7, 2019
Women from the West Bank to the Gaza Strip and from Beirut to Berlin chanted "No free homeland without free women," in a concerted effort to bring gender equality in Palestine to the forefront of social and political discourse rather than allow it to remain in the shadows of the national liberation.
"We're told [it is] national liberation first and [only then is it time for] women's emancipation," Riya Al-Sanah, co-organizer of the demonstrations, told Al-Monitor, adding, "We do not accept this separation anymore. What kind of liberation are we talking about if it doesn't include women?"
Al-Sanah is a member of the grassroots feminist organization Tal'at, which means "coming out" in Arabic. She worked with local groups to ensure the demonstrations took place simultaneously on Sept. 26. The demonstration in Haifa — with nearly 1,000 protesters — was held without interruption. But protesters in Jerusalem — the majority of whom were women — were confronted by Israeli soldiers as they hoisted the Palestinian flag. Video footage emerged showing Israeli police violently pushing and breaking up the demonstration.
In Ramallah, protests focused on violence against women and femicide. The protesters ended their march in front of the Palestinian Medical Complex — the main government hospital in the city — where a 39-year-old woman from Jenin was being treated for injuries inflicted by domestic violence. Protesters said her legs were broken as a result of her family beating her, and she may end up with both legs amputated. The demonstrations were sparked by the recent femicide of 21-year-old Israa Ghrayeb from Bethlehem, who was allegedly beaten to death by the hands of male relatives, hauling into the spotlight the prevalence of domestic violence in Palestine.
Statistics compiled by the Palestinian Women's Center for Legal Aid and Counseling (WCLAC) found there were 23 cases of femicide in 2018 — 13 in the West Bank and 10 in the Gaza Strip.
According to Amal Abusrour, director of programs at WCLAC, women in Palestine are faced with the double burden of not only patriarchal social norms but also the violent nature of the Israeli occupation.
Abusrour explained how gender-based violence increases in times of conflict and political unrest in Palestine.
"We have found that whenever male members of the community are directly oppressed by Israeli policies, in one way or another they will divert the oppression toward the marginalized and vulnerable individuals of the community," Abusrour said, adding, "And in this case, these are women and children."
Research co-sponsored by the UN Fund for Population Activities found that during Israel's Operation Protective Edge in 2014, domestic violence against married women rose to 22% and to 30% for nonmarried women in Gaza. Another study in 2013 revealed that Palestinian women whose husbands were affected by political violence were 89% more likely to experience physical intimate partner violence.
Women's organizations like WCLAC also identify Palestine's outdated penal system as a significant barrier for finding justice for women who suffer from domestic violence.
Since 2011, a series of legal reforms in the Palestinian penal code amended existing laws allowing for lenient sentences for perpetrators, but many human rights activists believe this hasn't gone far enough. According to Abusrour, the amendments have not deterred femicide. In fact, Abusrour said, they have simply made the perpetrators disguise them better, most often as suicides.
"Before these modifications in the penal code, we used to register larger numbers of femicide cases under so-called 'honor killings,' because at that time, if a male killed his female relative [because of] so-called 'honor,' he would have a lenient sentence," Abusrour said.
Abusrour explained that after the penal code was amended, WCLAC noted an increase in cases registered as suicides. "Sometimes the women will be forced to commit suicide instead of being killed by her male relative, or sometimes a woman will be killed and the case will be reported as a suicide. No investigation will be done around cases of suicide," Abusrour said. "We don't need to have amendments here and there. What we need is to have holistic, comprehensive, legal reform in order to protect women and support the victims to have access to justice."
Reactions concerning women's rights and gender violence have not only hit the streets of Palestine but also cinemas.
"No Means No" is the theme for the sixth annual Palestine Cinema Days festival, devised to challenge the topic of sexual and gender-based violence through the lens of cinematography.
In Ramallah, there will be several screenings and organized discussions about women's images in Arab cinema, gender violence and women in the film industry — with special attention on the occupation and its impact on gender and family dynamics.
Films include "A Thousand Girls Like Me," which follows the true story of a 23-year-old woman from Kabul trying to bring her rapist father to justice and fighting against Afghanistan's corrupt legal system and her own family's violence.
Another documentary, "Freedom Fields," challenges gender norms by following the story of Libya's fledgling women's football team after the Arab Spring.
This broadening of social discourse and inclusivity across Palestinian communities is what activists like Al-Sanah are striving for.
"We want to rebuild our society, which is deeply fragmented [and] deeply brutalized. The violence inflicted upon it has had a really adverse impact on many levels and many layers, so we have to come together," Al-Sanah said.
"We need to build a safe and just society for Palestinians as a whole — be it in Palestine '48, be it in the West Bank, Gaza, be it in Lebanese communities of refugees or in the diaspora," she added, adding, "We want to unite everybody in this discourse to end violence against women."
https://www.al-monitor.com/pulse/originals/2019/10/palestinian-women-fight-for-their-rights.html
--------
Protest Against Allowing Women Into Stadiums Draws a Small Crowd in Iran
October 07, 2019
Media in Iran reports that on Monday around fifty people gathered outside the Iranian parliament to protest the latest decision to allow women enter the Azadi stadium and watch an international men's soccer game.
Hardliner circles were advertising today's gathering in recent days, but photos released attest that just a few dozen people showed up who were shouting slogans against the international football federation FIFA.
For the past 40 years the clerical rulers of Iran have banned women from watching men's sports on religious grounds, although there is no written law in Iran against it.
This year, after intense pressure by FIFA, authorities finally agreed to sell tickets to women for the October 10 match between Iran's national team and Cambodia. After tickets went on sale, women quickly bought all the 3,500 tickets offered to them in reserved sections of the stadium.
In September, a young woman died after self-immolation over the ban. She had been arrested trying to enter a game and later threatened with jail time. She poured gasoline over herself and set it on fire. A few days later she died in the hospital. This led to a public outcry, which intensified pressure from FIFA.
The international federation has promised to send a delegation to Iran to make certain that the government honors its pledge to allow women enter the stadium.
https://en.radiofarda.com/a/protest-against-allowing-women-into-stadiums-draws-a-small-crowd-in-iran-fifa/30204404.html
--------
Joint Programme To Promote Decent Work For Women Launched
7 October 2019
CAIRO - 8 October 2019: Chairperson of the National Council for Women (NCW) Maya Morsi along with high-profile representatives from Jordan and Palestine launched on Thursday a joint programme titled "Promoting Productive Employment and Decent Work for Women in Egypt, Jordan, and Palestine."
The programme is supported by the Swedish International Development Cooperation Agency (Sida) and implemented jointly by the International Labour Organisation (ILO) and UN Women. The programme targets to help women benefit from opportunities pertinent to better jobs, security at workplaces, equal access to professional development, social protection for families, better prospects for personal development and integration in society.
The meeting, where the programme was initiated, was attended by representatives of the aforementioned organizations as well as employers' and workers' organizations. At the meeting, ILO and UN Women officials presented the key findings of the inception phase that aimed to validate the programme's approach and tailor its services to each of the three partner countries. Later on, discussions on the next steps in the programme to achieve its objectives took place.
The programme is expected to contribute to at least 12 reforms to the regulatory or legal framework which respond to and promote gender equality; support governments, employers, workers, CSOs, media, and academia to increasingly promote gender equality and women's empowerment, and help 2-5 percent increase of women in management positions in the public and private sectors. Moreover, the programme expects at least a 10 percent positive change in gender parity in staffing in the private sector, at least 87 new companies committing to implement gender equality policies in the Middle East and North Africa region through the Women's Empowerment Principles (WEPs) as a platform to mobilize business action to advance gender equality and women's empowerment at the workplace, marketplace and communities.
Chairperson of the NCW stressed the importance of awareness-raising as a key tool to promote equal opportunities for women and addressing the behaviors and customs that negatively affect women's ability to play an active role in society. She also stressed the importance of close cooperation and coordination with all stakeholders in each implementing country.
"Under the leadership of national institutions and together with ILO, Sida and other partners, we commit through this programme and others, to deliver on the promise of the first gender-equal generation in history - a generation with women and men equally contributing, and benefiting from, development and prosperity," Regional Director of UN Women Arab States Moez Doraid highlighted.
"The programme represents a strong convergence of ILO and UN Women's mandates by ensuring decent work principles are embedded into a framework for women's economic empowerment. ILO's Conventions represent not only commitment to gender equality in the world of work, but practical benchmarks and guidance on how to achieve this, whether it is legal protection, fair remuneration, parental leave, safety and health, childcare, or protection against violence and harassment at work," Deputy Regional Director of ILO for Arab States Frank Hagemann said.
"Sweden's investment in this programme comes from our strong commitment to achieve gender equality and women's and girls' rights and drives from our Swedish foreign policy to strengthen the economic empowerment of women and girls and their influence through the promotion of non-discriminatory legislation," Head of Regional Development Cooperation in the Middle East and North Africa at the Swedish Embassy in Amman Peter Lundberg said.
The joint programme contributes to Sweden's new Strategy for development cooperation for global gender equality and women's and girls' rights 2018-2022; is fully aligned with the 2030 Agenda for Sustainable Development and the realization of the Sustainable Development Goals 5 and 8 on gender equality and decent work and economic growth. It contributes to the implementation of the Convention on the Elimination of all Forms of Discriminations Against Women, international labour standards, as well as national development strategies and plans, including the Sustainable Development Strategy: Egypt Vision 2030, Jordan 2025 – A National Vision and Strategy, as well as the Palestinian National Policy Agenda 2017-2022.
https://www.egypttoday.com/Article/1/75580/Joint-programme-to-promote-decent-work-for-women-launched
--------
4.5m New Women Voters Registered In Pakistan
Amjad Mahmood
October 08, 2019
LAHORE: The Election Commis­sion of Pakistan (ECP) claims to have registered 4.5 million new female voters mostly from areas where societal values have been barring womenfolk from coming to the fore.
"We have been launching awareness campaigns in Balochistan and Khyber Pakhtunkhwa's tribal districts for the last two years to motivate women to come out to use their right to franchise. The drive has proved a success as 4.5m new female voters have so far been registered, mostly from these areas," ECP additional director general Nadeem Qasim told Dawn here on Monday.
He said those districts were selected for launching the drive where difference between male and female voters was more than 10 per cent. "Despite being 49 per cent of the population, the number of registered women voters is 12.5m less than men in a total of 110m registered voters," he regretted.
Sharing the method employed to motivate the womenfolk, the ADG said that the National Database and Registration Authority's mobile vans were used to offer free national identity card service and Friday was fixed as the women-specific day for making their CNIC's. "This helped the ECP to register them as voters."
Earlier, local media men were briefed about the third five-year (2019-23) strategic plan of the ECP at a consultation here on Monday.
The participants were told that the post-election 2018 review report of the ECP had not so far been laid before any of the five elected houses — the National Assembly and four provincial houses — though the job had to be done within 60 days of the submission of the report as per law.
According to ECP sources, the report was submitted to the federal and provincial governments in March last year but it was apparently stuck in meetings of standing committees.
The sitting was told that the strategic plan has been based on 212 recommendations collected through consultations with over 5,000 individuals and entities, including political parties, NGOs and CSOs related with various democratic and election projects.
The recommendations were, however, not shared with the media.
https://www.dawn.com/news/1509623/45m-new-women-voters-registered-in-country
--------
Sindh High Court Orders Setting Up Of Women Rescue Police Centres In Every Division
Ishaq Tanoli
October 08, 2019
KARACHI: The Sindh High Court on Monday directed the provincial authorities to establish women rescue police centres in every division of the province and to release the sanctioned amount of Rs145 million for the safe houses for women.
The two-judge SHC bench headed by Justice Salahuddin Panhwar also directed the provincial finance secretary to ensure that Rs200m, sanctioned for children protection authority, must be released within a month.
The bench also asked the finance secretary that Rs145m for safe houses be released within a week and in case of non-compliance he would expose himself to contempt of court proceedings.
It further observed that looking into the gravity of the issue, the authorities concerned with the assistance of the secretary for the women development department must set up women rescue police at divisional level and the same should be commanded by women senior superintendents of police.
The women SSPs must work independently in coordination with the women development department, the bench said and added that till new recruitment, the women police officers and constables be separated and trained in accordance with the guidelines of status of women commission and the women development secretary.
As for a permanent mechanism, the bench was informed that all the issues related to women would be brought under one umbrella and addressed within three to four months and a committee in that regard be constituted which would comprise the secretaries of the women development and social welfare departments.
The women development secretary submitted that a model women and children protection centre had been established by the Sindh police and eight more such centres in other parts of the province had also been notified.
The bench directed the provincial police officer to file a compliance report in that regard at the next hearing.
It also asked the orphanage board to ensure the registration of all private orphanages.
The SHC through a judgement in 2016 in the Rehmat Bibi case had ordered the provincial authorities to set up safe houses and rescue centres for women in the province, particularly for the protection of women after they contracted free-will marriages.
In a previous hearing, the provincial authorities informed the bench that Rs145m had been allocated for 29 safe houses for women in the province.
Earlier, the bench also ordered that all issues pertaining to women be dealt with by one department with complete autonomy as previously the status of women commission, social welfare and women development were dealing with such issues.
https://www.dawn.com/news/1509551/shc-orders-setting-up-of-women-rescue-police-centres-in-every-division
--------
Sudanese Women Footballers Back On The Pitch After 30-Year Ban
Oct 7, 2019
The first match of the Sudanese Women's Football League has marked a turning point in the country's history.
During the 30-year reign of former president Omar Al Bashir, women in Sudan were not allowed to play football.
But since his fall in April, the new transitional government has been expected to adopt liberal policies such as freedom of speech and women's rights across the country.
The women's football games have been attracting spectators.
"I am very happy because we were able to overcome the customs and traditions that prevented us from exercising our rights as women in sports," said football player Azza Adel.
One of the first fixtures was 'Mars' team against the Sudan Eagles. It drew support from enthusiastic fans from the stands of Khartoum's stadium.
"Previously, if you were told that there is a woman playing football, most people, especially Sudanese people, saw it as a bad thing," says Sara Mohamed Said, the captain of the Sudan Eagles.
"Currently, thank God, there is a wonderful development, and football is very beautiful and people do not mind women playing the sport," she said.
https://www.thenational.ae/world/africa/sudanese-women-footballers-back-on-the-pitch-after-30-year-ban-1.920559
--------
Cyber Violence Already Targets Cuban Women
October 7, 2019
By Ivett Gonzalez
HAVANA TIMES – "I won't look at Facebook anymore because of safety problems, I've already been attacked on social media," business-owner Kira Romero writes, after making her project Firdaus public, which will be the first online store for Muslim women in Cuba.
A member of the country's Muslim community which is 6,780 members strong, Romero's story proves how Cuban women are beginning to become victims of a global problem ever since the population (11.2 million) has had greater access to social media in spite of high prices, connectivity restrictions and irregular services.
Discrimination, cyberbullying and revenge porn (sending intimate photos and videos around to get back at the woman) etc., are some of the problems Cuban women face online, which is why activists underline the pressing need of studying and empowering women against these forms of machista violence.
Ever since she decided to leave social media, on August 25th, Romero continues to avoid them and doesn't even give interviews about her new business, which will only sell hijabs (the veil that covers a woman's head and shoulders), as she finds other kinds of veil discriminatory.
Romero started suffering attacks because of her online store, which included insults and criticism of her as a Muslim woman, which went as far as attacking her husband. She hopes that Firdaus will also be a source of employment for Cuban Muslim women, of which there are 1200 on the island, such as young Lisandra Dominguez.
"Muslim women are discriminated against for the simple reason of being a woman. People see a Muslim man and they just say: 'Ah, look, there goes a Muslim man.' And it's even worse on social media," Dominguez told IPS at the Addallah mosque, in one of the emblematic Old Havana's neighborhoods.
Going by the name "Iman" within her religious community, the young woman says that she has been a victim of cyberbullying for nine months now. "I was the administrator of a Facebook group where we talked about Islam. Then, a man, who doesn't live in Cuba, pretended to be a Muslim and asked me for some advice in a private message… and I replied," she told us.
"He became obsessed with me… When I blocked him, he 'hacked' my personal profile and a page I had called Historias de la Vida, where I shared real stories and only changed the names," she continued. "I reported him, I made new accounts and restricted them… but he has many accounts and tries to communicate with me," she said.
In spite of limited Internet access, data packages on mobile phones became available in December 2018, allowing the population to have greater access to the Internet.
The 2019 Digital Report, published in January and written up by the international creative agency "We Are Social" and international social media management platform "Hootsuite", states that by the end of 2018, 6.47 million active Cuban users were recorded on social media, a huge leap from an almost zero presence in 2014.
"Access to social media in Cuba today is naive and not supervised by families very much, who a lot of the time have no idea what 'sexting' (the exchange of sexual and pornographic messages and content), cyberbullying or revenge porn is, or more recent forms of aggression," journalist and social community manager Mayra Garcia told IPS.
Garcia forms part of the team that runs the National Campaign against Violence against Women #Evoluciona, which was set up in November 2018 by Cuban bodies such as NGO "Centro Oscar Arnulfo Romero" and with international cooperation support, which stands out for garnering great support online on social media.
"There isn't a contextualized legal framework under which these crimes can be punished," the expert pointed out, in regard to a problem that lawyers have highlighted. "Not to mention the little human resources training in this regard, not only of lawyers and district attorneys, but at every level of education, etc.," she added.
International organizations fighting for a safer Internet underscore the vulnerability of women, especially of activists and journalists who fight for gender equality.
"Ever since we launched the #Evoluciona campaign, we have been experiencing machista violence every day, whether that's in comments, online debates or private messages," Garcia shared, about a team made up of mostly young people. "Our position has always been to debate, but from a respectful place. This hasn't always been the case, but we have made a lot of headway," she assessed.
Less than a month after the campaign kicked off, mobile data packages became available.
"It has been great for the campaign, in terms of engagement, debating and convening people," Garcia continued. "It's a lot easier to reach our audience on these platforms than more traditional ones, although we don't give these up," she said about the initiative that focusses on harassment, especially on the street.
With a strong presence on Facebook and building up her Instagram profile, tattoo artist Amanda Santana proudly shares photos of the many artworks 30 artists have etched on her skin, including herself.
"A man, who lives in Cuba but isn't my friend on Facebook, sent me a private message and when I read it, he was attacking me because of my tattoos… he said truly awful things," Santana told IPS about one of her bad experiences, at the collective studio that she runs alongside three other young artists.
"I took a screenshot of the conversation and posted it… so many people were commenting that it had to get taken down," Santana said, who in spite of everything still sees more positive than negative things on social media, such as the opportunity to promote your work and women's empowerment in the world of body art.
The tattoo artist stressed the importance of blocking and exposing men with violent behavior online. "Cyber bullying is a global phenomenon, every woman experiences it… but whenever I've been a victim, I don't feel so violated like I do when I walk down the street and a guy starts on me," comparing her experience online to street harassment.
On the other hand, professor Dayamis Tamayo only accepts real friends on her Facebook account. "I've never suffered gender-based violence on social media but I know many people who have… lesbian women like me who have been attacked," she shared, after a session at the Metropolitan Community Church in Havana.
"Empowered women in terms of rights, sexual and reproductive health have a foundation to face social media, although there is a still a lack of specific training for them to use it safely," the professional weighed in, who goes to this protestant congregation that is inclusive of lesbians, gays, bis, trans and intersexuals.
With shortcomings still in its response to gender-based violence, such as specific laws and a comprehensive care system for victims, the problem is gaining unprecedented dimensions in Cuba, in 2019.
In February, results from the National Gender Equality Survey were published, and in April, the first official statistics of femicide also came to light.
Greater Internet access has amplified a problem that Cuban media (under the government's control mostly) still haven't really dealt with, and the diversity of women as political activists who oppose the socialist government and have launched the #UnidasPorNuestrosDerechos campaign in September.
The initiative is driven by the Cuban Alliance for Women's Inclusion and the Cuban Women's Network, so as to focus the violence exercised against women who want to participate in the politics of a country with a single party, within the general scourge of gender-based violence.
https://havanatimes.org/features/cyber-violence-already-targets-cuban-women/
--------
No Certificates For Talaq, Khula, Muslims of Telangana and Andhra Pradesh In A Tizzy
Oct 8, 2019
Hyderabad: With the Wakf Boards in Telangana state and Andhra Pradesh having stopped issuing certificates of talaq (divorce) and khula (divorce on wife's initiative), many Muslims, already grappling with the anguish of their marriage breaking down, feel more let down.
In TS, Wakf Board authorities have stopped issuing the certificates for about two months now, while people in AP are unable to get the certificates since the past month.
Wakf Board officials are being careful as they wait for the government to issue specific orders on the recently passed 'The Muslim Women (Protection of Rights on Marriage) Act, 2019'.
Officials, on condition of anonymity, said they do not want to take any risk as the matter is very sensitive. In AP, people were asked to move court or wait till specific orders were received from the government. Incidentally, the AP Wakf Board issues very few certificates; not more than 10,000 per year.
A certificate pertaining to nikah, talaq and khula issued by the Wakf Board is considered valid document to show the marital status of Muslims. These certificates are utilised to obtain passport, visa, Haj pilgrimage permits, etc. They are also used in partition suits or marital disputes in courts of law. A talaq or khula certificate is essential in case a woman desires to remarry.
Incidentally, while the Wakf Act makes it clear that the Wakf Board has no connection with marriage related affairs, the TS Wakf Board has a special section to do just that.
This special section was established to deal with the affairs of marriage and divorce of Muslims after the Wakf Board entered into an agreement with the Anjuman-e-Qazat in 1971 and started issuing nikah, talaq and khula certificates from 1973 onward.
In TS, about 50,000 nikah (weddings) take place every year. The TS Wakf Board issues over 35,000 marriage and more than 1,500 talaq and khula certificates per year.
Reacting to the news on stoppage of certificates, the Anjuman-e-Qazat Telangana State, an association of qazis, warned the Wakf Board not to create unnecessary controversies.
Congress leaders too submitted a memorandum to the Wakf Board authorities requesting revival of the services to avoid difficulties to the needy.
Anjuman-e-Qazat president Qazi Meer Mohammed Quader Ali reacted sharply to the report and said that the act was an unnecessary complication that is lead to confusion among the general public.
He clarified that the Act recently passed by Parliament criminalises talaq-e-biddat or any other similar form of talaq having the effect of instantaneous and irrevocable divorce pronounced by a Muslim husband, while it is silent on the kind of divorce permissible in Shariah. It does not prohibit divorce on the initiation of the woman called 'khula'.
Mr Quader Ali also clarified that the Wakf Board does not issue any certificate on its own if the application is filed by only one of the conjugal partners. Such a certificate is issued only if the application is accompanied by confirmation certificate issued by any recognised qazis and after satisfying all verification in accordance with the prevailing laws of land and the shariah.
Meanwhile, a delegation of Congress leaders, led by Mr Osman bin Mohammed Al-Hajiri and Mr Mohammed Sohail Quadri, called on TS Wakf Board chairman Mohammed Saleem and submitted a representation requesting him to revive the process of issuing talaq and khula certificates as the general public was suffering.
https://www.deccanchronicle.com/nation/current-affairs/081019/no-certificates-for-talaq-khula-muslims-in-a-tizzy.html
--------
URL: https://www.newageislam.com/islam-women-feminism/women-were-allowed-play-football/d/119942
New Age Islam, Islam Online, Islamic Website, African Muslim News, Arab World News, South Asia News, Indian Muslim News, World Muslim News, Women in Islam, Islamic Feminism, Arab Women, Women In Arab, Islamophobia in America, Muslim Women in West, Islam Women and Feminism