New Age Islam News Bureau
04 August 2022
• Muslim Women in India Allege Bias in Hiring For Jobs
• An Iraqi Woman Photographer, Samira Mazaal, Rises From Obscurity to Fame
• Nigeria Police Dissociate Self from Message Inviting Muslim Women to Send CV's
• France Discriminated Against Hijab-Wearing Vocational Trainee: UN Report
• Pair of Expat Women in UAE Inspires People to Rediscover Love for Books
• Women in Afghanistan Gradually Disappearing From Public Life
• Iraqi Woman Gets 3D-Printed Hip Implanted At Delhi Hospital
• Miss Iraq 2022: TV Presenter Balsam Hussein Set For World and Universe Stages
Compiled by New Age Islam News Bureau
URL: https://newageislam.com/islam-women-feminism/umrah-mahram-kaaba/d/127645
--------
Women under 45 Years Old Allowed To Make Umrah without 'Mahram'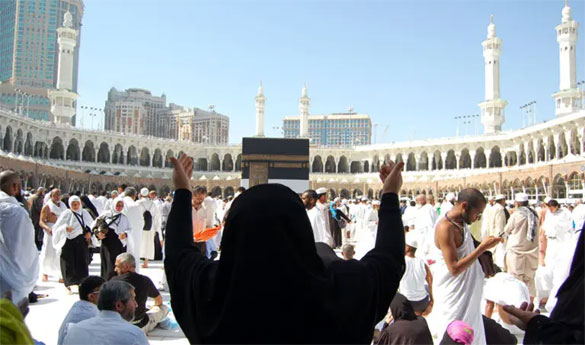 Representative Image
-----
August 4, 2022
The Ministry of Hajj and Umrah in Saudi Arabia has allowed women under 45 years old to perform Umrah without a Mahram (member of one's family with whom marriage is not allowed in Islam), Vice President of the General Union of Egyptians in Saudi Arabia, Adel Hanafy, said.
The ministry allowed all visitors in the KSA, whether for family, tourist, commercial or for work purposes, to perform Umrah rituals and visit the Prophet's Mosque.
Hanafy told "Al Youm" program broadcast on the dmc satellite channel, on Wednesday that it is permissible for a woman under the age of 45 to perform Umrah without a Mahram, and the female pilgrim may roam in Riyadh and visit all governorates of Saudi Arabia.
He pointed out that the pilgrim has the right to perform more than one Umrah during the "Tawakkalna" or "Eatmarna" applications, adding that the duration of the visa is 90 days.
Source: Egypt Independent
https://egyptindependent.com/women-under-45-years-old-allowed-to-make-umrah-without-mahram/
--------
Muslim Women in India Allege Bias in Hiring For Jobs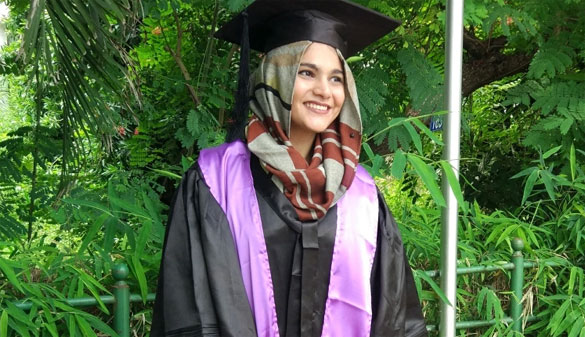 Dentist Lubna Aamir says she applied for jobs at nearly two dozen places but got no response [Ruhina Khan/Al Jazeera]
-----
By Zubair Amin
3 Aug 2022
New Delhi, India – Lubna Aamir, 28, is a dentist by training. But practising her profession remains a dream for her.
After studying dentistry and a few years of practice at a government college in the western Indian state of Maharashtra, Aamir wanted a better position.
In 2018, the Pune resident started applying for a job at clinics across India through email. She even dropped resumes in person at some clinics.
"I wanted to branch out to what we call the class practice and have an experience beyond local circles," Aamir told Al Jazeera.
She applied for jobs at nearly two dozen places but there was no response "despite having very good credentials".
"I had scored excellent grades and had an internship from a government college which is much sought after in the dental industry. My work profile was good. Still, I was not getting any response," she told Al Jazeera.
Muslims make up nearly 14 percent of India's 1.35 billion population but do not have the same representation in government or private sector jobs. Multiple government-appointed commissions have found the community is at the bottom among India's social groups in terms of education and employment.
One of those commissions, headed by now retired Justice Rajinder Sachar, found in 2006 that India's Muslims were disadvantaged in social, economic and educational terms. Less than 8 percent of them were employed in the formal sector compared with the national average of 21 percent, the commission said in its report.
According to the 2011 census, the last conducted by the government since the 2021 exercise was disrupted by the coronavirus pandemic, the participation of Muslim women in jobs was less than 15 percent, whereas it was more than 27 percent for Hindu women. The corresponding figures for Buddhist and Christian women were 33 percent and 31 percent, respectively.
The situation has worsened since 2014 when Prime Minister Narendra Modi's Hindu nationalist Bharatiya Janata Party (BJP) came into power, with the government pursuing policies targeting the Muslim minority and their economic and religious rights.
Doubly marginalised
In a deeply-polarised society, Muslim women are doubly marginalised. Experts say they stand at the intersection of gender and religious differences which significantly increases their likelihood of suffering prejudice by potential employers.
"The bias was always there but with the dominance of the BJP and RSS, people have been now calling for the exclusion of Muslims from all the economic areas," Apoorvanand, an academic and activist based in capital New Delhi, told Al Jazeera.
"Since this enjoys the protection and patronage often by the state, it is now being done openly," he added.
The RSS refers to Rashtriya Swayamsevak Sangh, a far-right paramilitary group founded in 1925 that mentors India's Hindu supremacist groups, including the ruling BJP. The organisation, which counts Modi among millions of its lifetime members, aims to turn secular India into an ethnic Hindu state.
Apoorvanand said the objective of the Hindu right is to "cripple the Muslims economically, force them into a state of deprivation and constant want so that they turn into a permanent subjugated population".
"Politically Muslims have been disempowered. The idea now is to disempower them in all areas of life," he said.
For Muslim women, much of it is about the hijab.
After multiple rejections, dentist Aamir realised it was her identity that was putting her at a disadvantage. Had she not been a Muslim, she felt things would have been different.
During her interview at one of the branches of a large Indian chain of dental clinics, she was asked about her personal life and beliefs.
"I answered everything they asked. At the end of the interview, I was asked about my hijab," she said.
The interviewer asked Aamir upfront if she was willing to take off her hijab if she worked at the clinic. She refused.
Aamir recalls a human resource executive telling her later that they will not hire her.
"She took me aside and told me in private that she doesn't want to keep my hopes up for the job. She said, 'I won't be going ahead with you,'" Aamir said.
Desperate for a job, Aamir switched from clinical to the non-clinical field. She is now working as a senior medical data analyst in a bioinformatics company that focuses on cancer research.
"I had to make tough decisions. The feeling of not doing the patients was like I am not doing enough being a doctor. It initiates a deep spiral within you," she said.
Shaila Irfan, 32, was a teacher at one of New Delhi's largest chains of English-medium schools. Everything was going smoothly until someone from the administration asked her if she really needed to wear the hijab.
"They politely asked me to take off my hijab because students and teachers are uncomfortable with it," Irfan told Al Jazeera.
She left the job without arguing with the administration and began looking for a new job. She cleared the interview at another school but was told there would be "another round" of it.
"This time they asked if I will take off the hijab. I was not hired because I refused to remove it," said Irfan.
'Hiring bias'
A study published in June by LedBy Foundation, a leadership incubator that focuses on the professional development of Muslims, has also revealed discrimination and bias against Muslim women in the hiring process for entry-level jobs in various sectors.
The "Hiring Bias" study highlights excessive hiring bias against Muslim women even in instances where they were equally qualified for the job.
LedBy Foundation said it created two equally qualified résumés. The only difference was in their names: Habiba Ali for the Muslim profile and Priyanka Sharma for the Hindu.
Over 10 months, the foundation responded to 1,000 job postings on the professional networking site LinkedIn by sending applications in the names of the two women.
It found the net discrimination rate was 47.1 percent as the Hindu woman received 208 positive responses, while the Muslim woman received only 103.
This was evident across industries. Recruiters were more cordial to the Hindu candidate. More than 41 percent of the recruiters connected with Sharma over phone calls, while only 12.6 percent did the same with Ali.
A similar study, "Being a Muslim at the Workplace" by Mumbai-based feminist collective Parcham, found that even in metropolitan cities such as New Delhi and Mumbai, Muslims continue to face prejudice in the formal sector.
The report noted that a scarcity of Muslim women in the formal sector points out to a systematic and institutionalised push towards an economic exclusion of Muslims.
"Our study notes the different ways in which discrimination occurs to exclude Muslims from the workforce. Women were doubly marginalised. Unchecked bullying, suspecting the nationalism of Muslims, and making assumptions based on bigoted notions of Muslims were so common," said the report.
In 2018, Sabah Khan (first name changed), a 28-year-old from the city of Lucknow in north India's Uttar Pradesh state, applied for human resource positions at several companies around New Delhi after gaining work experience of three years.
A leading Indian media company with a sprawling office in Gurugram, a bustling New Delhi suburb and home to dozens of Fortune 500 companies, invited her for an interview with the HR manager.
"Her first question was about my name. I only write my first name in my CV. So the HR manager inquired about my surname," Khan told Al Jazeera.
Khan, who does not wear a hijab, was then told she does not look like a Muslim.
"When she said 'you don't look like a Muslim', I was taken aback, wondering what she meant. I thought she might have an idea about how Muslim women should look," said Khan.
Khan ignored the remarks and decided to focus on the interview. The next stereotypical question was whether her family would allow her to work.
"I was expecting her to talk about my job," Khan said.
By then, she knew she would not be chosen for the job. As she left, she was told to wait to hear back from the company. She never did.
Ruha Shadab, the founder and CEO of LedBy Foundation, says conversations concerning the experiences of Muslim women from various backgrounds entering the workplace revealed some anecdotal insights about "visible and subtle discriminatory responses and tendencies" from the recruiters.
"This prompted us to wonder what was the quantifiable evidence behind these experiences and how these anecdotes could be converted into quantifiable evidence. We attempted to identify the barriers to Muslim women's labour-force participation in this study," she said.
Their study, says Shadab, demonstrates that prejudice in the hiring process is extremely common in India and can take two forms.
"One might be an explicit bias, where the individual is conscious of and believes in their prejudice against Muslims and Muslim women in particular. They are genuinely prejudiced against Muslims and are extremely vocal about it. The second method of discrimination is the implicit one, in which those who support the Hindu candidate may not be doing so with full awareness. Due to implicit prejudices, they discriminate unintentionally," explained Shadab.
Dentist Aamir says she felt her identity, the one she was always proud of, had turned into an obstacle.
"They have a problem with us being Muslims but they have a bigger problem with us being visibly Muslims," she told Al Jazeera.
Source: Al Jazeera
https://www.aljazeera.com/news/2022/8/3/muslim-women-in-india-allege-bias-in-hiring-for-jobs
--------
An Iraqi Woman Photographer, Samira Mazaal, Rises From Obscurity to Fame
03/08/2022
AMARAH, Iraq -
She's southern Iraq's celebrity photographer, a former political prisoner who has spent more than 60 years behind the lens documenting people and places and defying convention.
Samira Mazaal is 77 and still going strong more than half a century after turning to photography to feed her family — because she had no choice.
"Peasants, intellectuals, I've photographed them all," says the mother of two, her black hijab framing a face lined by life.
"I have photographed Amarah in all its beauty — I went deep into the marshes," to the south of the city in the floodplain of the Tigris and Euphrates rivers.
Everyone in the area turns to Studio Samira, be it for a passport photograph or to have a couple's portrait taken ahead of their wedding.
She tells how she became the first female photographer in Maysan province aged just 16, despite familial conventions that ruled in the Iraq of the 1960s, and also how political activism led to imprisonment and torture.
"My family has never known any other business — we're all photographers," Samira says.
Framed photographs lining the walls bear witness to her trade, in both black and white or in colours faded by time.
She has albums of images showing Iraq as it used to be: black-clad women carrying huge bales balanced on their heads; a smiling peasant woman in a flowery dress, her hair braided, standing near a cow; a mother and child filling a pot with water from the river.
'Society can be cruel'
Samira's father was among the first to introduce photography to the province.
"I asked him to initiate me into the craft, but he said: 'No, you're too young. You can't — society can be cruel'," she recalls.
But soon circumstances would force him to change his mind. He was rendered blind in a botched operation, and could no longer provide for his family.
So Samira had to step in.
She started off using the daguerreotype method of the 1800s that uses silver-plated copper sheets, but then her father sold off some land so she could buy more modern equipment.
"My studio became extraordinarily successful," she smiles. "Because I was a young woman, I could take pictures of families."
Samira exploited the norms of a conservative society: the male heads of households preferred that a woman photographer, not a man, take the pictures of their wives and daughters.
Bassem al-Subaid is one satisfied client of Studio Samira.
"There isn't a single household in all of Maysan province that doesn't know Samira the photographer," he said.
"My generation got to know Samira when we came to be photographed by her," adds the man in his forties. "It was the previous generation that saw her political activism."
In 1963, Iraq was being torn apart by revolutions and bloody crackdowns, and the then adolescent had no idea that a communist tract would put her behind bars.
A source of pride
After General Abdel Salam Aref took power in a Baath party coup, three militants came to Samira's studio and asked her to mass-produce a poster denouncing the new regime.
She accepts that she had not yet completely formed her own political opinions, and was swayed at the time by her brother's sympathies.
"In all of Amarah, there wasn't a single wall without a pasted copy of the poster," she boasts. "It wasn't a crime — it's a source of pride."
A picture of herself, which she still has today, made her famous. It shows her lying on a hospital bed after being tortured in a building in Amarah.
"I was screaming so hard I thought the whole town would come and save me," she recalls.
It was not to be: she spent the next four years, ill and abused, in a Baghdad prison.
She was freed after an international campaign that led to pardons for several political prisoners in Iraq.
In 1981, she was again jailed briefly under the rule of then dictator Saddam Hussein. And then again 10 years later over a protest in Amarah against the repercussions of the Gulf War over Kuwait.
Like several other women prisoners, she was granted a pardon after just a few months.
Today the photographic studio is still welcoming clients, and despite her age, the revolutionary flame still burns brightly in Samira.
She hails the October 2019 uprising, sparked by angry young Iraqis seeking to bring those in power to account.
"The protesters should have transformed their movement into a massive revolution to root out corruption and the corrupt," Samira says.
Source: The Arab Weekly
https://thearabweekly.com/southern-iraq-woman-photographer-rises-obscurity-fame
--------
Nigeria Police Dissociate Self From Message Inviting Muslim Women To Send CV's
August 3, 2022
By Ochogwu Sunday
The Nigeria Police has dissociated itself from a text message circulating on social media particularly on WhatsApp asking Muslim women and other members of the public to forward their details.
Force Public Relations Officer, CSP Olumuyiwa Adejobi in a statement on Wednesday, said the message did not emanate from the Nigeria Police Force.
The spokesman described the message as the handiwork of fraudsters intending to gain pecuniary advantages from innocent Nigerians.
The statement reads, "The attention of the Force has been drawn to a message being circulated on WhatsApp and other social media platforms inviting members of the public, particularly Muslim women, interested in joining the police, to forward their curriculum vitae to phone numbers 08036250317 or 08036014324 via WhatsApp.
"The Force wishes to state unequivocally that the message did not emanate from the Nigeria Police Force nor its content true.
"All communications regarding recruitment into the Nigeria Police Force is published publicly on national dailies and the police e-recruitment website.
"The message which is in a mix of Hausa and English, as well as the phone numbers attached, have been forwarded to the relevant unit for prompt investigation and further necessary action.
"The Force enjoins members of the public to discountenance the message as it is clearly the handiwork of fraudsters intending to gain pecuniary advantages from prospective victims of the scam message".
Source: Daily Post
https://dailypost.ng/2022/08/03/police-dissociate-self-from-message-inviting-muslim-women-to-send-cvs/
--------
France discriminated against hijab-wearing vocational trainee: UN report
03 August, 2022
A United Nations committee ruled that France discriminated against a Muslim woman who was prevented from attending vocational training in a public school while wearing her Islamic head scarf, according to a UN document.
In 2010, Naima Mezhoud, now aged 45, was due to train as a management assistant at a course held in a state high school, where teenagers are prohibited by law from wearing the hijab. When she arrived, the head teacher of the school in the northern outskirts of Paris barred her from entering, according to the document which was seen by Reuters.
Six years earlier, in 2004, France had banned the wearing of hijabs and other visible religious symbols in state schools by school children. Mezhoud argued that as a higher-education student, she should not have been targeted by the law.
"The committee concludes that the refusal to allow (Mezhoud) to participate in the training while wearing her headscarf constitutes a gender and religious-based act of discrimination," the UN Human Rights Committee determined, according to the document.
A UN source confirmed the authenticity of the document.
The interior ministry and foreign ministry did not immediately respond to a request for comment.
The possible ramifications of the UN's ruling were not immediately clear. Freedom law expert Nicolas Hervieu of the Paris Institute of Political Studies said that according to legal precedent, it was unlikely that France would comply with the committee's decision.
France is home to one of Europe's largest Muslim minorities. For years, the country has implemented laws designed to protect its strict form of secularism, known as "laicité," which President Emmanuel Macron has said is under threat from Islamism.
Some Muslim associations and human-rights groups allege those laws have targeted Muslims and chipped away at democratic protections and left them vulnerable to abuse.
Mezhoud approached the UN Human Rights Committee after she lost a series of appeals in French courts.
The committee said France had breached articles 18 and 26 of the International Covenant on Civil and Political Rights on religious freedom.
Mezhoud's lawyer, Sefen Guez Guez, told Reuters the decision showed that international human-rights institutions were critical of France's policies regarding Islam.
"French institutions will have to comply with the UN decision," he added.
In theory, following the UN committee's ruling, France now has six months to financially compensate Mezhoud and offer the opportunity to take the vocational course if she still wishes. The country also must take steps to ensure similar violations of international law will not happen again.
Source: The New Arab
https://english.alaraby.co.uk/news/france-discriminated-against-hijab-wearing-trainee-un
--------
Pair of expat women in UAE inspires people to rediscover love for books
July 30, 2022
Samihah Zaman
Abu Dhabi: They are both voracious readers, and having found their love for books, two expat women in the UAE have made it their mission to reignite the passion for reading.
Today, their largely online venture, Al Alami Book Club, has 700 members, and is growing by the day. Speaking to Gulf News, Farah Al Alami and Deema Al Alami, who both hail from Jordan and are distant cousins, said it is heartening to see more and more people embrace the written word.
"I was always a reader, and never saw my aunts and older female relatives without a book at hand. But in university, I got into a reading slump and life took over afterwards. When my sons were born, I knew I had to be an example for them if I wanted them to enjoy reading, and that is when I found my way back to reading," Farah, a 39-year-old senior public relations executive, told Gulf News.
Challenging herself
Wanting to challenge herself, Farah read 16 books in 2018 alone, then increased it to 30 books in 2019. The following year, she was able to get through 43 books.
"It isn't about the number, but I found it exciting to challenge myself," Farah said.
At about the same time, she also converted her private Instagram account to a Bookstagram to connect with other readers, and inspire discussions on the book she was devouring. Within two years, the account boasted about 15,000 followers.
Book club launch
When the pandemic hit, Farah suddenly had more time on her hands. An online encounter with a distant cousin in Dubai, Deema, 38, then inspired the two women to launch their book club. As an educational consultant and co-author of two Arabic language books for children, Deema was already sharing tips on helping young read through her own Instagram account.
"The pandemic made us all think about how we could give back to the community, and a book club seemed like a natural choice for us," Farah said.
Thoughtful picks
Within a month, the club had 700 members, and British-Cypriot author Alex Michaelides' novel, 'The Silent Patient', was chosen as the first read.
"Deema and I spend a long time deciding on what book to read, especially as we want to pick something that people can easily get their hands on, and will enjoy. We also try to explore different genres through our picks," Farah said.
Till date, the book club has gone through 10 books, including bestsellers 'The Vanishing Half' by American author Brit Benett and 'Wish You Were Here' by Jodi Picoult. The founders want to ensure that no one is pressured to read too quickly, and sets a two-month reading period for each book. They also make sure that no book is longer than 400 pages. Once they are done, members then join an online session on Zoom that Farah and Deema moderate in order to discuss the book with one another.
Lively discussions
"It would be lovely to meet in person, but having the discussions over Zoom certainly sees many more people joining in. In fact, we've had people participate from Sri Lanka, Jordan, and even as far away as Canada, just to discuss what they've liked or not liked about the book," Farah said.
The majority of club members are women, and Farah puts it down to women simply being bigger readers.
"But we have people aged as young as 16 years old in our club, and as much as 65 years old, and that is truly encouraging. What is also interesting is that we also have at least one male participant in every Zoom discussion," Farah said.
The reads have also promoted a variety of heartfelt discussions, including on topics like body positivity, domestic abuse and the effects of the COVID-19 pandemic.
Rediscovering books
Farah and Deema said they are delighted at just being able to help people rediscover the joy of books.
"I've always wanted to convert every family into a 'reading family', and our book club is a step towards that. After all, children won't enjoy reading unless they see their parents reading, and we are helping mommies be an example for them," Deema said.
She too always saw her mother and grandmother with a book in hand, and stressed that the habit must be cultivated from a young age.
"With books, like with much else, you have to start young. So, as I enjoy reading and discussing books on our book club, I continue to share tips on how to encourage young readers," said Deema, who harbours a particular passion for historical fiction.
Adding to her read list
Farah, on the other hand, is continuing to add to the list of books she has read. She has already finished 20 different works in 2022, and said she continues to read books other than just book club picks.
"I prefer to read fiction, like most members of our book club. But apart from romances and novels in English, I also enjoy the occasional memoir, as well as novels in Arabic," she said.
Beating time constraints
Asked what deters people from reading more, Farah said time constraints are the biggest complaint.
"Then again, this is not insurmountable. I recommend people keep a book handy to whip out when waiting in a doctor's lounge, for instance, instead of scrolling through their phones. As for myself, I've discovered that I enjoy reading while on the treadmill, so my workouts have a positive effect on both my mind and body nowadays," she quipped.
Farah and Deema's recommended reads
• Where the Crawdads Sing by Delia Owens
• The Great Alone by Kristin Hannah
• Verity by Colleen Hoover
• The Silent Patient by Alex Michaelides
• The Other Women by Sandie Jones
• The Woman in the Window by AJ Finn
• The Mother In Law by Sally Hepworth
• Pachinko by Min Jin Lee
• Educated by Tara Westover
• Four Winters by
• Shantaram by Gregory David Robers
• Lean In by Nell Scovell and Sheryl Sandberg
How to read more, from Al Alami Book Club
• Encourage your kids to read so it grows with them as a habit.
• Choose the genres you mostly enjoy. Don't pressure yourself with a genre that you don't like. All genres are eye-openers and feeds your soul and mind.
• Make it a mission to read at least 10 pages a day – before bedtime ideally.
• Leave your gadgets and phone, and grab a book to read instead.
• Take a book with you when you leave home – you can read while waiting a doctor clinic, or in the car while waiting for your kids at school pick up or at the hairdresser!
• Read while exercising on a treadmill or on a flight or a road trip. However, this works only for those who do not suffer from motion sickness.
• Make it a memorable and enjoyable trip/experience for you and your family to visit a book store or book fair.
• Take your kids with you when you go for books shopping.
• Visit libraries, especially when travelling.
• Finally, join a book club. This will motivate you to finish books, and will make you excited to discuss it with others who read it.
Source: Gulf News
https://gulfnews.com/uae/pair-of-expat-women-in-uae-inspires-people-to-rediscover-love-for-books-1.89519672
--------
Women in Afghanistan gradually disappearing from public life
03/08/2022
Women in Afghanistan are slowly disappearing from public life, a year after the Taliban retook control of the country and imposed a rigorous version of Islamic Sharia law. FRANCE 24's Shahzaib Wahlah and Sonia Ghezali report from Kabul.
Deprived of education, forced to wear the full veil, banned from politics and the media, women are gradually disappearing from public life in Afghanistan. The Taliban regime has put in place a rigorous version of Islamic Sharia law that leaves no room for women, who make up more than half of the population.
A civil servant who spoke to FRANCE 24 on condition of anonymity says she has become little more than a shadow. Her husband is seriously ill and she was the sole breadwinner.
"I liked my work, I could offer a good education to my children. But when they arrived I was forced to stay at home. And they cut my salary. I believe that the Taliban are the same as they were before. It is a dark regime."
Source: France24
https://www.france24.com/en/afghanistan/20220803-afghan-women-gradually-disappearing-from-public-life
--------
Iraqi woman gets 3D-printed hip implanted at Delhi hospital
Aug 03, 2022
A 32-year-old Iraqi woman with a tumour in her left hip had a successful implant of a customised hip which was designed and 3D-printed at a private hospital here, doctors at the facility said.
"This was a complex procedure as the patient had undergone a prior surgery for removal of the tumour in the same place in Turkey. As a result, her left pelvis had a lot of scar tissues which made it difficult to re-explore. It took us 11 hours in total, four hours for tumour removal and another seven to re-construct and put the titanium implant," said Dr Surender Dabas, senior director and head of Surgical Oncology and Robotic Surgery, BLK-Max Super Speciality Hospital.
He said the use of 3D printing to reconstruct customised ortho implants such as the left pelvis in this patient's case "is a leap in ortho-onco surgeries, including spino-pelvic tumours". It is expected that she will return to her near-normal unsupported gait around three to four months later, the doctors said.
Source: Tribune India
https://www.tribuneindia.com/news/health/iraqi-woman-gets-3d-printed-hip-implanted-at-delhi-hospital-418507
--------
Miss Iraq 2022: TV presenter Balsam Hussein set for World and Universe stages
Azhar Al-Rubaie
Erbil
Jul 29, 2022
Balsam Hussein, a 26-year-old TV presenter and former hair-transplant specialist, has been crowned Miss Iraq 2022 at a beauty contest held in Erbil, capital of the northern Kurdish region.
Ms Hussein was among 19 contestants from across the country who were vying for the title and a chance to represent Iraq at the Miss World and Miss Universe events.
"I am highly motivated to participate in Miss World and Miss Universe pageants soon," she said.
Ms Hussein's win raises her public profile even higher, after starting work in April as host of a morning TV show for a private channel in Baghdad.
Speaking to The National, she said she had been hesitant to take part in the competition but decided to go ahead at the last minute after full support from her family and close friends, as well as from her followers on social media.
"My family have been happy and proud of me throughout my life, but they became happier and prouder when they watched me on TV being crowned Miss Iraq 2022," she said. "I felt sorry that they were not able to come from Baghdad to Erbil as they were ill, but I never felt alone."
Ms Hussein represented the Al Karakh district of Baghdad, the Iraqi capital where she was born and raised. She worked there as a hair-transplant specialist after training in Turkey before starting her TV job — something she said she had always dreamt of doing.
"I have a dream to improve the media and journalism field in Iraq, and of course, being a winner of Miss Iraq will help me to be closer to achieving that dream," she said.
For Iraqis faced with uncertainty and instability as political groups squabble over forming a new government nearly 10 months after elections, the Miss Iraq pageant offered a window of hope for the future.
Ayman Hussein, 26, a resident of the southern province of Basra, said Ms Hussein's triumph was "a win for Iraq and Iraqis".
"It is a clear message that, in spite of political chaos, Iraq is able to hold such events," he said. "Whenever there is war, there is life — this is our interpretation of life."
Mr Hussein said he hoped to see Iraqi women take their rightful place in society. "Iraqi women experience hardship their entire life; it is the time to say 'I am here'."
Launched in 1947, the Miss Iraq contest was suspended for more than four decades in 1973 because of political upheaval and wars, and resumed only in 2015.
"From today, I represent all of Iraq," Ms Hussein said. "I would like to send a message to all Iraqi women: do not give up, fight to get your goals, be patient. You have faced wars and difficulties; do not make the harsh conditions a rock in your path — destroy it and keep going until all your dreams are met."
The judges declared Sarah Saad, from Baghdad's Al Rusafa district, as the first runner-up, and Jihan Majid, representing Wasit, as second runner-up. Hind Akram, representing the Baghdad Belt, was the third runner-up, followed by Sarah Khaled from Mosul.
Kareem Rasheed, executive director of the Miss Iraq organisation, said: "Iraq is thirsty for such events like Miss Iraq. Year after year, we will do our best to develop it and make it reach people around the Arab world.
"The contestants represent about 90 per cent of Iraq — we covered the regions of south, middle Euphrates, west and north.
"This year, we decided to rate beauty at 50 per cent and inner essence, such as culture, education and so on, also at 50 per cent, while in years past we were focusing on beauty over essence.
"All women are beautiful and each one has a unique trait that makes her different from others."
Source: The National News
https://www.thenationalnews.com/mena/iraq/2022/07/29/miss-iraq-2022-tv-presenter-balsam-hussein-set-for-world-and-universe-stages/
--------
URL: https://newageislam.com/islam-women-feminism/umrah-mahram-kaaba/d/127645
New Age Islam, Islam Online, Islamic Website, African Muslim News, Arab World News, South Asia News, Indian Muslim News, World Muslim News, Women in Islam, Islamic Feminism, Arab Women, Women In Arab, Islamophobia in America, Muslim Women in West, Islam Women and Feminism