New Age Islam News Bureau
6 Oct 2012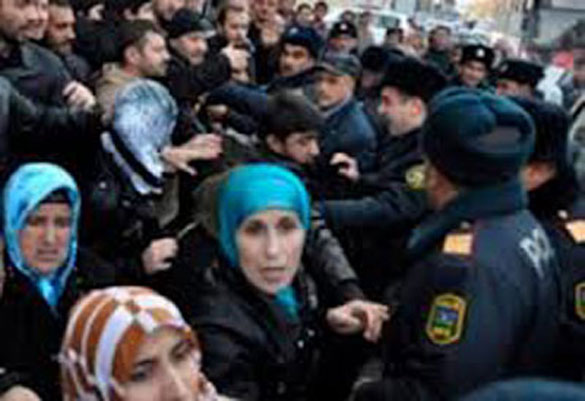 • Clash with Police over Hijab Ban in Azerbaijan
• Saudi Women Guarding Disabled Children against Sexual Harassment
• Daughter of Missing Man Seeks UN, EU Help
• Emirati Woman Who Helps To Bring Babies into the World
• Reformed Afghan Woman Drug User Helps Others Overcome Addiction
• Nigeria Blast Kills Woman, Wounds 5 Children-Official
• Seeking the Right to Be Female in Malaysia
• French Rapper Stuns Fans, Makes First TV Appearance Wearing Hijab
• Eight-Year-Old Girl Braving Cancer Has Dream Fulfilled In Beirut
• Cleric Blessed With 5 Babies Cries for Help
• Leadership summit set in Rochester for young Muslim women
• Religious freedom binds Bahrain society
• Great Pak Urdu Writer Razia Butt Laid To Rest
• NGO to Train Arab Women Entrepreneurs
• South Africa Minister's Ex-Wife Starts 20-Year Stretch in Jail
Compiled by New Age Islam News Bureau
Photo: Clash with Police over Hijab Ban in Azerbaijan
URL: https://newageislam.com/islam-women-feminism/women-traded-end-feuds-afghanistan/d/8898
----------
Women Traded to End Feuds in Afghanistan
By Zabiullah Larawai - Afghanistan
5 Oct 12
When families in some parts of Afghanistan fall out over serious matters, one way of resolving matters is for the offending party to hand over a woman to the other side.
Known as "baad", the custom involves an arranged marriage between the woman and someone from the injured family. It is seen as a way of avoiding an escalating blood feud which could cost many lives on both side.
But while face is saved, the woman, or often a young girl, finds herself forced into marriage, and her in-laws often take out lingering resentments on her. Human rights activists say the practice is a major cause of domestic violence.
The eastern Kunar province is one area where "baad" is strong. Provincial council member Ustad Toraj says the practice is common, and has hugely negative effects on the women involved.
Farida, from the province's main town Asadabad, was married off as "compensation" for a crime committed by her brother. He has gone off to join the Afghan army, while Farida has paid the price.
"My brother kidnapped a girl, and in recompense for his actions, I was married to a member of the victim's family," she told IWPR. "They are always beating me. My husband doesn't treat me well, and I don't have a good relationship with my mother- and father-in-law."
Farida blames her own family, arguing that they could have convened a council to mediate a peace deal, or paid over a sum of money.
"Sometimes I want to commit suicide – jump into the river or set myself on fire - but then I think that it's OK, this life will pass," she said.
The men whose families foist a wife on them have little choice in the matter, either.
"One of my brothers was killed. We moved out of the area, but even then the people from our village wouldn't leave us alone," Najibullah, 22, said. "They came to us and called an assembly at which they said they'd give us a girl plus 800,000 Pakistani rupees [over 8,000 US dollars] as 'baad'. The assembly forced the deal on us."
It was decided that Najibullah should marry the girl, so any chance of him choosing his own wife disappeared, and he finds himself living with a woman who is there only on sufferance. His mother and sisters are always picking fights with her.
"She has come into our home but she's not really seen as a woman by our family, because whenever we see her, we're reminded of our late brother. No one treats her well," he said.
Nasima Shafiq Sadat, head of the provincial women's affairs department in Kunar, said her office had not recorded a single case of "baad" marriage, although she was well aware it went on.
"The word 'baad' has a really negative impact on people; no one should be taunted or insulted for the way they got married," she said. "It can be really dangerous, driving the girl to commit suicide or to run away."
Islamic scholar Maulavi Ataurahman says marriages conducted as part of a "baad" transaction have no place in a Muslim society.
"In Islam, such marriages are unlawful," he said.
Citing principles set down by the Prophet Muhammad, the cleric said, "When a boy and a girl are getting married they should both agree to it…. not like Pashtun families where neither the boy nor the girl knows who they're marrying."
Zabiullah Larawai is an IWPR-trained radio reporter in Kunar, Afghanistan.
This report was produced as part of the Afghan Critical Mass Media Reporting in Uruzgan and Nangarharproject, and is also published on the Afghan Centre for Investigative Journalism website which IWPR has set up locally.
http://iwpr.net/report-news/women-traded-end-afghan-feuds
----------
Clash with Police over Hijab Ban in Azerbaijan
October 6, 2012
BAKU, Azerbaijan (Agence France-Presse) — The police in Azerbaijan's capital on Friday clashed with about 200 Muslim activists who were protesting a ban on the wearing of head scarves in the nation's secondary schools.
Police officers wielding batons fought running battles with protesters in the capital, Baku, as they broke up the rally outside the Education Ministry.
Video of the clashes posted on the Web site of Radio Azadliq showed officers beating some of the protesters with their batons and some activists fighting back with sticks.
Several police officers were injured, and 72 people were arrested, the police said.
Some of the protesters carried placards with slogans like "Stop Islamophobia" and "Freedom for the hijab."
The Muslim head scarf, or hijab, is prohibited under rules that define what kind of uniforms students must wear in Azerbaijan, a mainly Shiite Muslim country where the authorities have been seeking to prevent the rise of radical Islam.
http://www.nytimes.com/2012/10/06/world/asia/azerbaijan-sees-clashes-over-hijab-ban.html?ref=asia&gwh=8BBD689708FBCF1A92D0EAB0B2759117
-------
Saudi Women Guarding Disabled Children against Sexual Harassment
6 October 2012
A group of Saudi women have launched an exhibition to enlighten society on the plight of disabled children with an emphasis on the sexual harassment of children.
The exhibition carrying the theme "My Place Is With You" was launched at an amusement village in Riyadh on Wednesday.
A leading section in the exhibition, "My body is my own," instructs children on the best ways to counter sexual abuse including informing relatives and contacting the related authorities or help centers," said Basmah Helmi, one of the organizers of the event and an expert in child psychology.
"The section on harassment aims to convey the message to disabled children that there are some parts in their bodies which they should not allow others to play with," Basmah said.
She said the organizers of the exhibition wanted to put an end to the growing phenomenon of harassing children particularly the disabled.
"We want to convince children's relatives that the abuse of a child's body is a crime. The perverted practice should not be tolerated because it leads to psychological disorders and behavioral aberrations in a victim," she said.
http://www.arabnews.com/guarding-disabled-children-against-sexual-harassment
----------
Daughter of missing man seeks UN, EU help
6 October 2012
QUETTA, Oct 5: A girl from Turbat has appealed to the United Nations, European Union and international human rights organisations to help her family trace her father.
The girl told a press conference on Friday that on June 20 her father Munshi Mohammed Bakhsh Baloch was travelling on a bus when the Frontier Corps personnel allegedly took him away.
A kidnapping case was registered at the Turbat police station, she said, adding the family had decided to seek international help after failing to have justice from national institutions, including the Supreme Court.
Seeking his immediate release, she wondered why her father was being punished when he had not committed any crime.
http://dawn.com/2012/10/06/daughter-of-missing-man-seeks-un-eu-help/
--------
Emirati Woman Who Helps To Bring Babies into the World
By Samihah Zaman
October 5, 2012
'Being a midwife is unusually rewarding. In fact, during my very first delivery, I could not help but shed tears of joy along with the mother and her family'
Abu Dhabi: Noora Salem Al Ameri had always known that she would work in the medical field. What she did not know, however, is that she would help to bring babies into this world.
"Being a midwife is unusually rewarding. In fact, during my very first delivery, I could not help but shed tears of joy along with the mother and her family," the 29-year-old Emirati told Gulf News.
Full report at:
http://gulfnews.com/news/gulf/uae/health/emirati-helps-to-bring-babies-into-the-world-1.1085503
----------
Reformed Afghan Woman Drug User Helps Others Overcome Addiction
05 October 2012
She has known terrible torment, but talks about it with a smile. Married off at 12 and a mother at 13, Afghan divorcee Laila Haidari now lives to help drug addicts in Kabul, who call her 'mother'.
Thirty-five years old, she was born and brought up in Iran, where her refugee parents lived out war and political instability at home, coming to Afghanistan for the first time only a year ago.
Brought up by a violent mother, she spent 13 years with an abusive husband before being ostracized by her family for daring to divorce a cleric and today rarely sees her three children.
Full report at:
http://english.alarabiya.net/articles/2012/10/05/241944.html
----------
Nigeria blast kills woman, wounds 5 children-official
October 06, 2012
LAGOS: An explosion near a state TV studio in eastern Nigeria's Taraba state killed a woman and wounded five children overnight, the emergency services said on Saturday.
It was the second blast in the remote town of Jalingo, in Nigeria's volatile ethnically and religiously mixed Middle Belt, in two days. A blast at an outdoor bar there killed at least one person and wounded 14 on Thursday.
There was no claim of responsibility for either blast, although suspicion is likely to fall on Islamist sect Boko Haram, which is waging a low level insurgency against President Goodluck Jonathan's government.
Full report at:
http://www.dailystar.com.lb/News/International/2012/Oct-06/190410-nigeria-blast-kills-woman-wounds-5-children-official.ashx#ixzz28VkmOtAn
----------
Seeking the Right to Be Female in Malaysia
By LIZ GOOCH
October 6, 2012
SEREMBAN, MALAYSIA — The feminine figure dressed in jeans and a T-shirt, makeup carefully applied, drew little attention from other customers at the fast-food restaurant in Seremban, a city about an hour's drive south of Kuala Lumpur.
The 26-year-old began wearing women's clothing at age 13. Thanks to plastic surgery in neighboring Thailand, a daily dose of hormones and a feminine nickname, she is able to present herself as female to the outside world.
But her official identification card — which Malaysians must produce in dealings like job interviews — declares that her name is Adam Shazrul Bin Mohammad Yusoff and that she is male.
Full report at:
http://www.nytimes.com/2012/10/06/world/asia/seeking-the-right-to-be-female-in-
--------
French rapper stuns fans, makes first TV appearance wearing hijab
01 October 2012
Amid a nationwide debate in France surrounding attitudes towards the Islamic veil, or hijab, a French rapper has surprised fans by announcing her conversion to Islam and choosing to wear a headscarf.
Mélanie Georgiades, known as Diam's, has gone through what onlookers have described as a "complete transformation" from an image she had prior to 2009.
Since 2009, Diam's had been unusually absent from the mainstream rap scene, prompting more than three years of controversy over her whereabouts, despite making the odd public appearance with her scarf.
Full report at:
http://english.alarabiya.net/articles/2012/10/01/241253.html
----------
Eight-year-old girl braving cancer has dream fulfilled in Beirut
05 October 2012
Making dreams come true, takes a lot of passion, a lot of efforts, and the right breed of people. As Walt Disney said: "You can design and create, and build the most wonderful place in the world; but it takes people to make the dream a reality."
It took 100 professionals from 10 companies and a lot of coordination from Tamanna, the wish granting organization for children suffering from Cancer, to realize the dream of an 8-year-old Carmen, currently braving Cancer in Beirut, as she wanted a tablet computer for Christmas. They all walked and some flew the extra mile and created a full Christmas setting in Beirut Souks, with Santa Claus arriving by air, using the Lebanese Army Helicopter, to deliver the wished Christmas present in September instead of December.
Full report at:
http://english.alarabiya.net/articles/2012/10/05/241959.html
----------
Cleric Blessed With 5 Babies Cries for Help
October 6, 2012
An Islamic scholar in a village in Nigeria's North-western state of Zamfara has gotten embarrassed with blessings from his God and he needs help.
Mallam Ahmad Mahuta, 45, a polygamist, was expecting two babies from two of his pregnant wives. But when they delivered, he got more than he bargained: five babies were born for him within 72 hours.
The first wife delivered triplets. Seventy two hours after, the second wife gave birth to twins. All were born at home and all are healthy.
Full report at:
http://pmnewsnigeria.com/2012/10/06/cleric-blessed-with-5-babies-cries-for-help/
----------
Leadership summit set in Rochester for young Muslim women
Oct 03, 2012
The Minnesota Chapter of the Council on American-Islamic Relations will co-sponsor the first-ever Young Muslim Women's Leadership Summit on Oct. 6 in Rochester.
The event, themed "Defining Ourselves: Reflections on Leadership and Activism," is organized by the Rochester Muslim Community Circle. It's designed to teach leadership skills and promote community engagement among high school and college women.
Topics will include leadership empowerment, civil rights advocacy, community involvement and activism, civic engagement and more.
Full report at:
http://www.postbulletin.com/news/stories/display.php?id=1510438
----------
Religious Freedom Binds Bahrain Society
By Habib Toumi
October 5, 2012
Manama: Deena walked into the main school building and was greeted by the secretary and the supervisor who flashed a big smile before shaking hands with her. She was sure their eyes had not missed the gold pendant in the shape of a crescent she was wearing, but she knew that the school policy did not ban religious symbols. She was grateful that her school, one of the largest in Bahrain, followed a policy that allowed for a high level of tolerance towards students and staff wearing discreet religious icons.
"This is a large private school with around 40 nationalities and various social, linguistic and religious backgrounds," Deena said. "In fact, it is a mini United Nations and a genuine international community. Dealing with all the people here requires the adoption of a positive policy and its strict reinforcement. The board chose to be open about wearing religious icons but demanded that they be discreet, and it is working," Deena, a Jordanian national, said.
Full report at:
http://gulfnews.com/news/gulf/bahrain/religious-freedom-binds-bahrain-society-1.1085580
----------
Great Pak Urdu Writer Razia Butt Laid To Rest
* Munno Bhai calls her one of greatest women writers
* Amjad Islam Amjad says her work represents women of middle class
By Tariq Farid
LAHORE: Great Urdu writer Razia Butt is no more, but a true woman whose courtesy and kindness will be much missed, will live with us forever through her novels and stories.
Razia Butt, voice of the middleclass women and a prolific writer, was laid to rest in DHA graveyard on Friday. She breathed her last on Thursday night at the age of 89. Born in Rawalpindi in 1924, Razia introduced herself in literary circles in her teens, when she developed her first story, appeared in a literary journal, into a novel, Naila. Razia - popular with many generations of readers - authored around 51 novels and 350 short stories. She also wrote many radio plays. Bano, Dastaan, Najia, Saeqa, Chahatein Kaisey and Naheed are considered her best literary works. Some of her novels were adapted for big screen like Naila and Saiqa.
Full report at:
http://www.dailytimes.com.pk/default.asp?page=2012\10\06\story_6-10-2012_pg13_5
----------
NGO to Train Arab Women Entrepreneurs
October 04, 2012
By Brooke Anderson
BEIRUT: Aspiring Arab women entrepreneurs have the opportunity to get support in starting their own business or in their existing venture by applying to the Arab Women's Entrepreneurship Program.
The American NGO AMIDEAST and its corporate partner Citigroup (through its philanthropic arm, Citi Foundation) are soliciting applications for AWEP from aspiring business women in Jordan, Lebanon, Morocco and Egypt, including residents of those countries from other nationalities such as Palestinians.
"This is for Arab women of all nationalities who want to start a business or who already have a small business. It's meant for those who wouldn't normally have access to training," says Allyson Jerab, adviser at Cisco Entrepreneur Institute at AMIDEAST.
Full report at:
http://www.dailystar.com.lb/Business/Lebanon/2012/Oct-04/190078-amideast-to-train-arab-women-entrepreneurs.ashx#ixzz28Vi3hAgr
----------
South Africa Minister's Ex-Wife Starts 20-Year Stretch in Jail
6 October 2012
DURBAN: The long-time wife of South Africa's intelligence minister turned herself in Thursday to begin a 20-year prison sentence for drug running, a local court said.
An official at Pietermaritzburg High Court said Sheryl Cwele, 50, appeared before the authorities on Thursday morning, a few hours ahead of a bail deadline.
At the time of her conviction Sheryl Cwele was the wife of Siyabonga Cwele, the minister of intelligence. Local media reports suggest the two have since divorced.
Full report at:
http://www.arabnews.com/south-africa-minister%E2%80%99s-ex-wife-starts-20-year-stretch
----------
URL: https://newageislam.com/islam-women-feminism/women-traded-end-feuds-afghanistan/d/8898