New Age Islam News Bureau
7 Aug 2017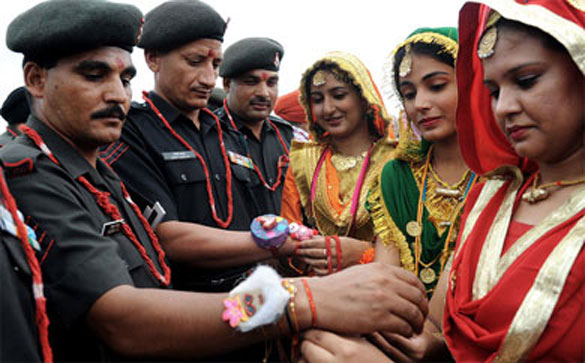 Special Bond: Women In J&K Throng Security Checkposts To Tie Rakhi On The Wrists Of Soldiers: AFP
------
• Man Decapitates Wife for Not Quitting Job in Lahore
• Sports Courses for Women at Muqrin University
• This Pakistani Woman Has Been Tying 'Rakhi' On PM Modi for Over 20 Years
• ISIS Arrests Woman Over Illicit Sexual Charges in North of Afghanistan
• Minister: Girl married to her rapist is living with parents
• 40 Muslim Women Victims of Triple Talaq and Domestic Violence Send Rakhis to Yogi Adityanath
• Muslim Miss Universe Contestant Muna Jama Makes History Wearing Kaftan in Swimsuit Round
• Rohani: Number of Women In Public Sector Doubled In Past Decade
Compiled by New Age Islam News Bureau
URL: https://www.newageislam.com/islam-women-feminism/women-throng-jammu-kashmir-security/d/112119
--------
Women Throng Jammu and Kashmir Security Camps To Tie Rakhi on Jawans' Wrists
Aug 6, 2017
JAMMU: For the jawans posted in Jammu region, away from their homes, Raksha Bandhan came early as school girls and women thronged various security installations for the past two days to tie rakhis on the wrists of soldiers.
Although the festival, which celebrates the brother-sister bond, will be observed across the country tomorrow, groups of women yesterday and today visited various camps in Poonch, Udhampur and Samba districts and tied rakhis on the wrists of the jawans who are posted away from their homes, the officials said.
Two days back, school girls accompanied by their teachers visited various camps of the BSF, Army and CRPF here and places including Suchetgarh, Digyana and Sunjwan to celebrate Raksha Bandhan with the jawans.
Women and girls celebrated Raksha Bandhan with soldiers also in Kathua and Samba over the past few days, the officials said.
http://timesofindia.indiatimes.com/india/women-throng-jk-security-camps-to-tie-rakhi-on-jawans-wrists/articleshow/59944939.cms
--------
Man decapitates wife for not quitting job in Lahore
August 07, 2017
LAHORE: A man allegedly decapitated his wife with a chopper in the name of honour at Manga Mandi on Sunday.
Police said 37-year-old Nasreen, a mother of three, a resident of Shamke Bhattian, was found dead by her children and neighbours in a room of her house with her head severed.
The police after being informed of the murder reached the spot.
The forensic experts accompanying the police collected evidences from the crime scene, recorded statements of eyewitnesses and later shifted the body to the city morgue for an autopsy.
Saddar Division Superintendent of Police (SP) Maher Mumtaz said that initial investigations revealed that the woman was killed by her husband Afraheem in the name of honour.
He said the woman worked as a labourer in a factory in Raiwind area but her husband did not like her job and would ask her to quit.
Despite opposition by her husband, Nasreen continued the job, he added.
The SP said quoting the children that the woman was asleep in her house when her husband allegedly attacked her with a chopper after locking the room.
He said after the suspect left the house, the children with the help of some neighbours opened the room and found Nasreen lying dead with her head severed.
He said two police teams had been constituted to arrest the suspect.
https://www.dawn.com/news/1350008/man-decapitates-wife-for-not-quitting-job-in-lahore
--------
Sports courses for women at Muqrin University
August 07, 2017
MADINAH – Saudi authorities have intensified their efforts to improve sports facilities for girls and women in the country. Education Minister Ahmed Al-Isa recently announced his ministry's plan to introduce physical education at girls' schools from next academic year.
Prince Muqrin Bin Abdulaziz University in Madinah, meanwhile, declared its intent to hold a series of sports programs for girls and women of different age groups in the first two weeks of August. It has organized taekwondo and fitness courses and football and basketball courses for boys and girls.
"The university organized a course in shuttle game for girls," a senior official, who requested anonymity, told Okaz/Saudi Gazette. Its sports hall is provided with advanced equipment and facilities while trainers have obtained international certificates from Canada and Germany.
Sports programs are organized by the university for girls in the age groups of 5-15, boys in the age-group of 5-9, young women aged 16 and above and women of all ages. In the morning hours courses will be held from 8 to 12 noon and in the evening from 4 to 7 p.m. from Sunday through Thursday.
The lady in charge of sports at the university, who requested anonymity, said the university decided to organize these courses after learning the desire of girls and women to practice various sports activities. The idea was developed after organizing a summer sports camp for the university staff.
"That camp was a big success," said the official. The university conducted two courses during the last summer and this year it wanted to accommodate children, girls and women. "This is the first time Prince Muqrin University is holding such sports courses for women, following Shariah rules," she added.
The university intends to establish a sports academy to train trainers and develop various skills of its students to take part in national and international sports events. "We are planning to host the first open shuttle tournament this year in the Kingdom," said the official.
The university has been conducting women sports courses since it was established three years ago. It has an integrated sports building and special courts for basketball and shuttle, the official said, adding that the hall can accommodate more than 100 spectators.
"The university has also set up a sports club. It intends to expand its services to women by holding a camp during summer for the welfare of the community," the official said.
Shada Amir, who wanted to join the sports camp, said women sport clubs required experienced trainers to teach various sports. Mariyam Sulaiman stressed the importance of creating a sports environment for girls and women. Women's sports clubs should have vast areas to conduct physical exercises and expand their areas for public sports activities.
Zahra Al-Johani spoke about the growing interest of girls and women in sports. This will encourage investment in women sports, she added. Experienced trainers are required to make women's sports clubs effective and successful all over the Kingdom.
Prince Muqrin University is the first charitable civil university of high international standards and is keen to provide knowledge in the fields of engineering, computer science, information technology and business management for young Saudi men and women.
While opening the university, Prince Muqrin said it would contribute to the preparation of a generation aware of its responsibilities and duties toward their religion, king and homeland. Madinah Governor Prince Faisal Bin Salman, who participated in the opening ceremony, said the new university would bring about educational renaissance in the region.
"The role of Prince Muqrin University will not be limited to graduating qualified students for the labor market," said Princess Mashael Bin Sultan. "It is seeking to gain global distinction and become competitive in its fields, and to play a significant role in serving the community," she said, adding that it would consolidate research links with various educational institutions and support scientific research locally, regionally and internationally.
Khidr Al-Qurashi, its president, said the university has three main colleges for engineering, business administration and computer science. "It will provide specialized courses in cyber crimes and information security. It will also offer courses in architectural engineering and interior design for girls."
http://saudigazette.com.sa/article/514523/SAUDI-ARABIA/Muqrin-University
--------
This Pakistani woman has been tying 'rakhi' on PM Modi for over 20 years
Aug 7, 2017
NEW DELHI: A woman from Pakistan who now lives in India said she has been tying 'rakhi' to Prime Minister Narendra Modi for more than 20 years, reported ANI.
"I have been tying 'rakhi' to Narendra bhai for the last 22-23 years, excited to do it this time too," said the woman, Qamar Mohsin Shaikh, to ANI.
Shaikh moved to India from Pakistan after she got married and has been living here since. She tied her first 'rakhi' to the PM when he was a Rashtriya Swayamsevak Sangh (RSS) worker.
"When I first tied 'rakhi' to Narendra bhai, he was a karyakarta (RSS worker) but with his sheer hard work and vision he has become the PM," said Shaikh.
This year, she said she didn't expect she will hear from the PM because of his busy schedule, but then two days ago she received a call from him.
"This time, I thought PM Modi must be busy but two days back he called up, I was very happy to know that; started preparing for 'Raksha Bandhan'," said Shaikh.
http://timesofindia.indiatimes.com/india/this-pakistani-woman-has-been-tying-rakhi-on-pm-modi-for-over-20-years/articleshow/59948614.cms
--------
ISIS arrests woman over illicit sexual charges in North of Afghanistan
Aug 06 2017
Militants affiliated with the Islamic State of Iraq and Syria (ISIS) terrorist group have arrested a woman in North of Afghanistan on charges of having illicit sexual relations (Zana).
According to the local officials in Jawzjan, the woman, az Nazia was arrested and has been taken to an unknown location after she was accused of having illicit sexual relations with a man.
The incident took place in an area under the control of the militants of the terror group in the restive Darzab district.
The provincial district administrative chief Baz Mohammad Dawar confirmed the incident and said preliminary reports indicate the woman is being kept as a hostage in Sardara area, which is under their control.
This comes as reports emerged earlier today suggesting that scores of people were shot dead by the militants affiliated with the terror group in northern Sar-e-Pul province.
Earlier reports suggested that 26 farmers were shot dead by the Taliban insurgents after they captured a key area in the restive Sayad district.
The anti-government armed militant groups including the Taliban insurgents and ISIS loyalists have not commented regarding the two reports so far.
http://www.khaama.com/isis-arrests-woman-over-illicit-sexual-charges-in-north-of-afghanistan-03297
--------
Minister: Girl married to her rapist is living with parents
August 7, 2017
KUALA LUMPUR, Aug 7 ― The 12-year old girl who was made to marry her rapist in 2013 is now living happily with her parents, minister Datuk Seri Rohani Abdul Karim said.
The girl, who is now 16 years old, is living with her parents in Kota Kinabalu after her convicted rapist husband, Riduan Masmud, is currently serving a 12-year jail term.
The Women, Family and Community Development Minister also said the girl visited Riduan in Kepayan Jail, Kota Kinabalu in January this year.
"The girl is still married and visited her husband in Kepayan Jail in 2017," Rohani said in a written parliamentary reply to Kulai MP Teo Nie Ching from the DAP.
She also said that the girl, who has refused to go back to school, has also expressed her intention of working in the near future.
"The girl had also voiced her intention to work so she could be self-sufficient.
"The parents also informed us that they had no problem in taking care of her," Rohani added.
Ridhuan was charged with raping the girl in a vehicle near Kionsom Waterfall on February 18, 2013.
Ridhuan, who has four children between two and 17 at the time of the offence, married the girl in May 2013 and was charged with bribery after he paid the girl's father RM10,000 to withdraw the police report against him.
http://www.themalaymailonline.com/malaysia/article/minister-girl-married-to-her-rapist-is-living-with-parents#oJRoFR4jhGDMJIe7.97
--------
40 Muslim Women Victims Of Triple Talaq And Domestic Violence Send Rakhis To Yogi Adityanath
7 AUG, 2017
Victims of domestic violence and triple talaq, 40 Muslim women have sent Rakhis to Uttar Pradesh chief minister Yogi Adityanath. Along with sending Rakhis, the women have appealed to Yogi Adityanath to ensure speeding up of the legal proceedings for action against domestic violence and triple talaq so that the "sisters of the nation" get justice.
The women have asserted that they have been facing torture since a long time but now want their brother (Yogi Adityanath) to help and support them.
A large number of cases of Muslim men abusing their wives mentally and physically, and/or abandoning them after saying the word "Talaq" three times have come to light from different areas of Uttar Pradesh as well as other parts of the country. A lot of women have raised their voice against the age old practice of triple talaq and have demanded justice.
Rakshabandhan is an Indian festival primarily celebrated by the Hindus of the country. On the day of Rakshabandhan, girls tie Rakhi or a thread on the hands of their brothers and the brothers in return pledge to protect their sisters.
Now as the women of Muslim community of Uttar Pradesh send Rakhis to the chief minister pleading for his support on matters of domestic violence and triple talaq, it can be seen as symbolic of them considering Adityanath as their brother and requesting him to protect them. The women have insisted that they have been suffering since a long time and now the chief minister must fulfill the responsibility of a brother by making sure that his sisters get speedy justice.
http://topyaps.com/rakhi-yogi-adityanath
--------
Muslim Miss Universe contestant Muna Jama makes history wearing kaftan in swimsuit round
Aug 7, 2017
A Muslim woman competing in the Miss Universe Great Britain pageant has become the first to do so in a kaftan, telling the beauty contest organisers that she would not wear a swimsuit.
Muna Jama, 27, was invited to the finals of the competition when the pageant officials agreed that she could "wear a cover-up if she chose."
According to the Metro newspaper, Ms Jama said: "I wouldn't wear a bikini to a beach, so I'm not going to wear one in a competition to score points."
Ms Jama walked on to the stage wearing a multi-coloured kaftan, large hooped earrings, a silver choker and black platform shoes.
On her Instagram feed she posted: "This moment has proved that I am capable of almost anything I set my mind to and limitations is a status waiting to be changed. I thank everyone who stood beside me and believed in my vision."
The businesswoman had been invited to apply for Miss Universe GB two years ago, but decided against taking part as she was uncomfortable stripping down to a bikini for the swimsuit section of the contest, where the women walk up and down the stage, in front of a panel of judges.
On the Miss Universe GB website, Ms Jama wrote of her campaigning work as co-founder of Cloudless Research, a startup that tackles child abuse and the migrant crisis. She was drawn to their plight after volunteering to help refugees in Egypt and her home country of Somalia. "We aim to reduce the number of victims channelling the Mediterranean Sea through education and encouraging new legislations in the country of origin."
Beauty contests have drawn criticism for objectifying young girls and women. The Miss Teen USA competition (for 15- to 19-year-olds) announced in 2016 that the swimsuit round would be replaced by "athletic wear".
Miss Universe president Paula Shugart said in a statement: "This decision reflects an important cultural shift we're all celebrating that empowers women who lead active, purposeful lives … and ... will help all of Miss Teen USA's fans recognise these young women for the strong, inspiring individuals they are."
Refusing to wear a swimsuit at beauty contests has a long history. In 1951, Miss Alabama and Miss America, Yolande Betbeze refused to wear swimwear at a public appearance. "To…go into Milwaukee in the middle of the winter and walk around a department store in a bathing suit," she argued, "is not my idea of Miss America."
http://www.independent.co.uk/news/uk/muna-jama-muslim-beauty-queen-kaftan-bikini-miss-universe-gb-miss-teen-usa-a7879196.html
--------
Rohani: Number of women in public sector doubled in past decade
BY D. KANYAKUMARI
7 August 2017
KUALA LUMPUR: The number of women in the public sector has doubled in the past decade, said Datuk Seri Rohani Abdul Karim (pic).
The Women, Family and Community Development Minister said in a written reply in Parliament that the numbers increased from 18.8 percent in 2004 to 35.8 percent in 2016.
"For the corporate sector (public and private), according the Companies Commission of Malaysia (SSM), the number of women as of December 2016 is 421,308 (29.9 percent).
"In addition, the ministry is also carrying out the Women Director programme which outlined the placement of women as directors in the corporate sector as an indication of their involvement in the decision making process.
"Through this programme, the placement of women as directors in Malaysia has superseded that of Singapore and Japan," she said.
She said the ministry was also working towards increasing the involvement of women in the political sector.
She stressed that despite having achieved the aim of 30 percent for the public sector and almost achieving it for the corporate sector, the ministry would continue to ensure that the numbers keep growing.
http://www.thestar.com.my/news/nation/2017/08/07/rohani-number-of-women-in-public-sector-doubled-in-past-decade/
--------
URL: https://www.newageislam.com/islam-women-feminism/women-throng-jammu-kashmir-security/d/112119
New Age Islam, Islam Online, Islamic Website, African Muslim News, Arab World News, South Asia News, Indian Muslim News, World Muslim News, Women in Islam, Islamic Feminism, Arab Women, Women In Arab, Islamophobia in America, Muslim Women in West, Islam Women and Feminism