Age Islam News Bureau
12 Nov 2012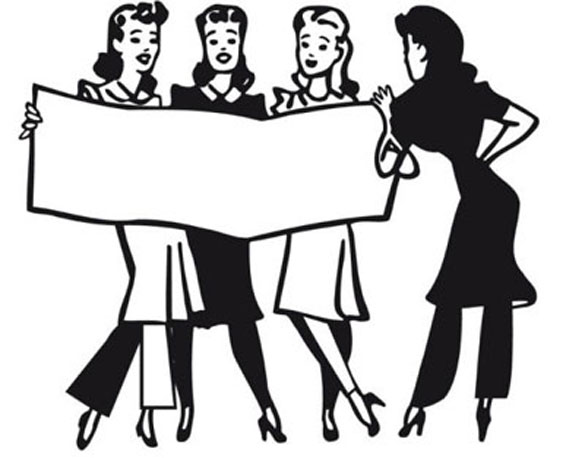 • 30 Nigerian Girls Trafficked Into Mali Daily
• 'My Mother Is Dead. And It Was My Father, an Assad Loyalist Who Killed Her'
• No longer damsels in distress, women add their names to the most-wanted list
• Tunisian Youth Work to End Violence against Women
• Muslim Student Association Hosts Public Lecture on Women's Rights In Islam
• Importance of Promoting Women's Education Stressed
• Egypt Child Trafficking Ring Busted
• Rising Economic Power of Pakistani Women
• Bahraini MP Calls for Arab Women Lawmakers' Council
Compiled by New Age Islam News Bureau
Photo: Women Staff in Pakistan – A Source of Increasing Sales for Retail Chains
URL: https://newageislam.com/islam-women-feminism/women-staff-pakistan-–-source/d/9274
-------------
Women Staff in Pakistan – A Source of Increasing Sales for Retail Chains
November 12, 2012
LAHORE: As the middle class is emerging rapidly in the country, retail outlets in metropolitan cities are increasingly focusing on their female staff and training them to help guide female customers in choosing products in a much more convenient way.
Though the trend to hire women from hiring agencies is not new, with the rise in the number of retail outlets, multinational brands are using more and more female staff at each segment for the convenience of their customers, especially ladies, as well as to make their business flourish.
The female staff is not only instrumental in increasing sales of retail chains, but is also a source of attraction for female customers who visit the same stores again and again as they feel more comfortable to shop in such an environment.
"No doubt, the shopping trend is associated with women and the sophisticated shopping environment is attracting more and more female consumers to our stores," said Quratul Ain Shahid, Manager Public Relations of Metro Cash and Carry. "If we compare the ratio of visitors to Metro, around 80% of shoppers are women," she said.
Big retail chains train staff in handling sales of general household and grocery items, but for the slots allotted to fashion products, the supplier provides its own staff with proper sales training.
The relationship between regular female customers and the staff also helps the former to know about those products about which they are confused. For instance, many ladies desiring to purchase machinery often look undecided as different companies have varied multifunctional products and such is the time when the female staff guides customers according to their pocket size and needs.
In general household items and grocery, the female customers already knew much, but for specific brands the staff properly guided them, Shahid added.
She said usually women visited the stores in groups – a relatively new trend – which combined shopping with fun coupled with staff guidance.
"For customers, female staff sometimes proves to be a blessing while choosing the brands. Male staff is hardcore sales-specific, they often avoid details and guidance and we never feel comfortable with them," said Aliya Shahid, a shopper.
"Whether we have to shop for our home, for ourselves or even for kids, we feel free to visit such stores as we know we will be entertained according to our needs," she said.
Shahid said the idea of having female staff at shopping centres was very popular amongst women. "I feel very comfortable asking a woman (staff member) to help me select what to buy and the female staff often knows how to cater to our needs."
http://tribune.com.pk/story/464109/women-staff--a-source-of-increasing-sales-for-retail-chains/
------------
30 Nigerian Girls Trafficked Into Mali Daily
BY UCHE UDUMA
12 NOVEMBER 2012
The Nigerian Ambassador to Mali, Mr Iliya Nuhu, has raised the alarm over the high rate of trafficking of Nigerian girls to the West African country.
Nuhu said in Bamako, the Malian capital that the problem had grown in 'magnitude and sophistication' to the extent that a substantial number of Nigerians in Mali seem to be thriving on it.
He described the practice as 'a kind of modern-day slavery' with Nigerians going to their villages or towns to bring in young girls between the ages of 10 and 15.
He said the traffickers were taking advantage of Nigeria's economic problems to lure their victims with promises of setting them up in 'very lucrative businesses abroad'.
"These people (traffickers) tell them about businesses which are not there, and these girls, with very loose parental upbringing, fall for their tricks.
"They go to Nigeria to source for these girls and sell them off to their cronies, not only in Mali but in other countries; but we are able to work, in cooperation with these countries, to map out the routes the traffickers follow.
"Since August, we have assisted no fewer than 30 of these girls to return to the country and this is a daily routine that the embassy and the staff go through.
He further noted that an average of 20 to 30 girls were being trafficked into Mali everyday and that those the Nigerian embassy official retrieve were those who cry out for help.
Nuhu said the embassy was working with the police in Mali on how to identify the traffickers, adding that he had written a memo to Ministry of Foreign Affairs, Abuja, to work out a strategy to solve the problem.
"We, however, call on the Federal Government to work with NAPTIP or take appraisal of what they are doing and see if there are gaps to be filled so that they can have the capacity to do this job.
"NAPTIP also should be able to have the necessary information through their own network to able to follow up these routes and study the mode of operation of the traffickers and beat them to it," he added
http://allafrica.com/stories/201211120165.html
-------------
'My Mother Is Dead. And It Was My Father, an Assad Loyalist Who Killed Her'
When Loubna Mrie joined the revolution, she incurred the wrath of her father, an Assad loyalist
Martin Chulov
11 November 2012
When revolution first came to Syria, Loubna Mrie decided she would break new ground to help it succeed.
Deeply affected by the images of dead protesters across the country, the 21-year-old Alawite – the daughter of a leader of the regime's thuggish Shabiha militia and member of Syria's most privileged minority – left her home in the regime heartland of Latakia and travelled to parts of Syria where death tolls were mounting.
She soon became a feature at demonstrations and even ventured near the frontlines of the regime's fight with an armed opposition, delivering medicines to wounded rebels and finding homes for fleeing families.
In August, Mrie appeared in a web video, her face wrapped in the independence flag adopted by the opposition. She was injured at a demonstration in which nine fellow protesters were killed. Every step she took to support those fighting four decades of state control earned the increasing wrath of close relatives. Every move made her more vulnerable.
Last week the revolution took a toll that not even 19 months of exile and enmity had prepared her for. "I learned that my mother is dead," she said. "And it was my father that killed her."
Alone in a house in Turkey, Mrie now feels racked with guilt. "My mother was kidnapped immediately after I made the video with the rebels on August 11," she said. "I waited for 10 days. I begged my father to tell me what he knew about it, to let me know. He used to curse me and hang up the phone. Some of my dad's friends told me that she was dead.
"Last Friday [2 November] one of my friends, someone that I trust, told me that the dead body had been seen. I called [my father] and told him that he killed her. He said OK. He told me that he wished he could do the same to me."
The Guardian was unable to independently verify Mrie's claim that her mother had been killed.
Mrie has been told to stay well away from her home village of Jableh and cannot verify for herself that her mother is dead. But she needs no more convincing. "People I trust are telling me that she's gone," she said.
Early last week, she posted on Facebook a lament to her late mother and to the father that she believes has killed her. The post has drawn widespread sympathy among opposition circles, where Alawite supporters are extremely rare and almost always silent.
"They hit her because of me. Was it by electricity or a single bullet in her head?" the post asked. "Was she upset at me when they were humiliating her? Did her old age stop them from hurting her?
"Abu Muntazer [her father] went to his brothers, cheered them up and told them that he washed the shame that his daughter brought to Jebel al-Akrud [the mountains near Latakia where the video was filmed] ...
"I hate my identity and my passport. I hate your name which will accompany mine. What should I say to my future kids about why I don't have a family? Why isn't there a grave for my mum? Why this double punishment? Why the injustice?"
Yet even in the face of grief that seems impossible to fathom and guilt that has at times been overwhelming, Mrie retains a streak of defiance. She has continued her work in a small unit that acts as a clearing house for mobile phone videos smuggled out of Syria.
The sense of necessary sacrifice that led her to join the opposition in the early days continues to drive both Mrie and a small number of other Alawite members of the opposition, who fear that their sect has been co-opted by a regime that wants to retain power by instilling fear in them.
"On the first day of the revolution, I cried like it was one of my family members. And from that day I decided that we can not go on like that. My people are not really living. The government does not respect us. The mukhabarat [secret police] has taken over our lives. We can't open our mouths."
Latakia is a particularly pro-regime area. The Assad regime draws much of its support from communities there, which have long been prime recruitment grounds for Shabiha members. The Shabiha is a loyalist militia that fiercely defends regime interests and has been in the vanguard of the regime crackdown.
"All the Shabiha in Jableh were boys I had grown up with. At the time they were trying to convince me that this was a war against us as minorities and that we had to stop talking to the Sunnis."
Syria's Sunni majority dominates the opposition. The regime is supported by most of the Alawite sect, who make up the vast majority of Syria's military leadership and establishment but only account for around 12% of the population.
Alawites have loose links to Shia Islam, a fact that inspires some extremist groups on the fringes of the opposition to frame the revolution as an existential battle along the ancient faultline between Shias and Sunnis.
A majority of Christians also appear to support the regime, along with a sizeable number of the Sunni population, including much of the merchant class, as well as senior military and Ba'ath party officials.
"I started to go to the houses of the dead people," Mrie said. " At the time there was a huge gap between them and the Alawites. Both were convinced that each side was fighting the other.
"For six months I tried my best to raise awareness that this revolution is not against us. We were fighting for dignity and democracy.
"In January I went to Hama and spoke in the name of my sect. I wanted to tell them that my blood is theirs. My father used to tell me that I was a criminal and that he was ashamed of me and that he didn't see me as his daughter.
"The stupid thing about this government is its claim that it is trying to protect the people, that it is protecting the Alawites. [Assad] doesn't care if you are Alawite, Christian or Shia. If you are against him, he will kill you."
http://www.guardian.co.uk/world/2012/nov/11/syria-shabiha-alawite-peace
-------------
No longer damsels in distress, women add their names to the most-wanted list
By Saba Imtiaz
November 12, 2012
KARACHI: Bonnie and Clyde – the infamous Texan couple who are known to have robbed around a dozen banks – may have been from the 1930s but Karachi is still coming to terms with crimes where the woman holds the gun.
Saqib Farooqui at Live DVD, located in the commercial area in DHA's Phase 2 Extension, had a run-in with one such couple, who according to him, did not "fit the criminal profile."
"A young and well educated woman walked into the DVD store one afternoon," said Farooqui, recalling the incident which took place last month. "After browsing through the films, she asked to see the DVD player which was for sale. She asked the rate and then asked if she could call home."
Full report at:
http://tribune.com.pk/story/464239/no-longer-damsels-in-distress-women-add-their-names-to-the-most-wanted-list/
------------
Tunisian youth work to end violence against women
November 12, 2012
By Meriem Marufi
The case of a young Tunisian woman who was allegedly raped by police officers, and who along with her fiance was charged with "indecent behavior" when she filed a complaint, made international headlines toward the end of September. The case infuriated women's rights advocates and highlighted an important issue in post-revolution Tunisia: addressing violence against women. The young woman, who has chosen to remain anonymous, is suing her alleged rapists. But how many women might choose to remain silent to avoid being stigmatized? Women make up half of society, and their role in post-revolution Tunisia is critical. The most important issue for the country today is to protect women from violence so that they can feel safe and empowered to contribute to building a democratic state.
Full report at:
http://www.dailystar.com.lb/Opinion/Commentary/2012/Nov-12/194727-tunisian-youth-work-to-end-violence-against-women.ashx#ixzz2BzqLHuVc
-------------
Muslim Student Association Hosts Public Lecture on Women's Rights In Islam
Belema Iyo
November 12, 2012
On Friday, the Muslim Student Association hosted a lecture to educate individuals about women's rights in Islam. The talk was given by Sheryl Siddiqui, director for American outreach/community relations for the Islamic society of Tulsa.
"We have a public lecture every semester," said Mohamed Ismail, secretary of MSA and graduate student in mechanical engineering. "There is a lot of misunderstanding about the place of Muslim women in Islam. We hosted this because we want people to hear the truth, from us."
Full report at:
http://www.kstatecollegian.com/2012/11/12/muslim-student-association-hosts-public-lecture-on-womens-rights-in-islam/
-------------
Importance of Promoting Women's Education Stressed
12 NOVEMBER 2012
KARACHI: Shura Hamdard Karachi has emphasised the need to promote women education in the country, which is essential for the empowerment of women and economic development of the country.
The meeting was held on the theme 'Important role of women education in the reconstruction of the society' presided over by former chief justice of Federal Shariat Court, Justice (retd) Haziqul Khairi at a local hotel. Sadia Rashid, President, Hamdard Foundation Pakistan was also present at the meeting.
Full report at:
http://www.dailytimes.com.pk/default.asp?page=2012\11\12\story_12-11-2012_pg7_10
-------------
Egypt child trafficking ring busted
12 November 2012
CAIRO: Egyptian police said yesterday they had broken up a child trafficking ring that sold almost 300 babies for $ 570 each or less.
A police official said they arrested five suspects, including two nurses and a doctor working at the Cairo hospital where the babies were sold for almost three years. Police are searching for the hospital manager who escaped arrest.
The official said the network also performed caesarian operations on women who had left it too late for an abortion of an unwanted child in exchange for allowing the doctors to sell the babies, usually to couples who could not have their own children.
In 2009, an American couple received a two year jail sentence after a court convicted them of buying a child from an orphanage.
http://www.arabnews.com/egypt-child-trafficking-ring-busted
-------------
Rising economic power of Pakistani women
By Farooq Tirmizi
November 12, 2012
KARACHI: In what is likely to be the single most transformative trend in Pakistani society, it is becoming increasingly clear that Pakistani women are becoming more active participants within the economy, a fact that many commercial enterprises have already noticed and accounted for in their business strategies.
In a special report this week, The Express Tribune takes a look at the rising power of the Pakistani female consumer, as well as her impact on the Pakistani economy. (And we apologise at the outset for the irony of having this special report be written entirely by a team of male reporters.) We will examine some of the possible causes for why more women are entering the workforce, as well as how businesses are taking into account the fact that the purchasing decision-making authority of Pakistani women has expanded far beyond the stereotypical realm of the kitchen.
Full report at:
http://tribune.com.pk/story/464126/social-revolution-rising-economic-power-of-pakistani-women/
-------------
Bahraini MP Calls for Arab Women Lawmakers' Council
By Habib Toumi
November 11, 2012
Manama: A Bahraini MP has called for setting up a council for Arab women lawmakers.
The council will help the lawmakers reach out to other women and to the voting community and to build confidence in their capabilities as representatives of the people, MP Ibtissam Hijris said.
Steps to implement the proposal include connecting and working closely with civil society organisations, mainly local, regional and international human rights watchdogs, and with national institutions, the lawmaker said.
Full report at:
http://gulfnews.com/news/gulf/bahrain/mp-calls-for-arab-women-lawmakers-council-1.1103135
-------------
URL: https://newageislam.com/islam-women-feminism/women-staff-pakistan-–-source/d/9274