New Age Islam News Bureau
1 Jun 2015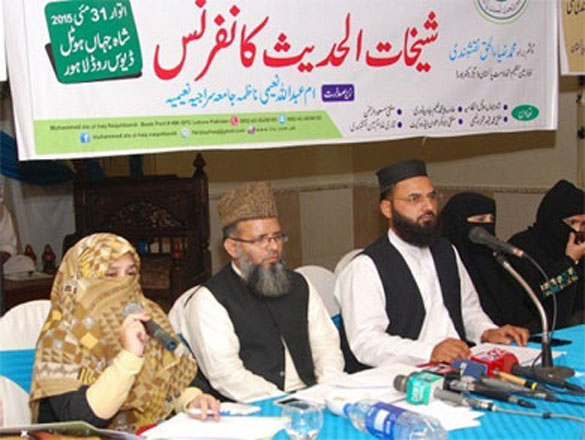 Women Scholars Can Issue Fatwas: Sheikhatul Hadith Conference
-----------
• Meet the Old Delhi Muslim Woman Who Leads A 'Double Life'
• Young Girl's Heart-warming Poem on Islam Moves UN Secretary General
• Discrimination against US Muslim Woman 'Despicable': Activist
• Islam against Honour Killing, Say Pak Women Scholars
• Activist El-Massry imprisoned over Muslim Brotherhood-era case
• Supermodel Ayyan Sent On Judicial Remand for Twelfth Time
• Jawazat for Separate Passports for Saudi Children
Compiled by New Age Islam News Bureau
URL: https://www.newageislam.com/islam,-women-and-feminism/new-age-islam-news-bureau/women-scholars-can-issue-fatwas--sheikhatul-hadith-conference/d/103280
-----------
Women Scholars Can Issue Fatwas: Sheikhatul Hadith Conference:
June 1, 2015
LAHORE: Participants of a Sheikhatul Hadith Conference on Sunday agreed that women scholars could issue fatwas (religious decrees) on all matters.
The conference organised by scholars from Barelvi school of thought demanded that the government make it punishable for a man to divorce his wife thrice in one go.
They said it was undesirable for a Muslim man to divorce his wife but if he decided to do so he must wait for at least a month before divorcing her another time.
They passed a resolution in this regard at the Sheikhatul Hadith Conference organised by Tanzim Ittihad-i-Ummat Conference.
Jamia Sirajia Naeemia Lahore nazima Ume Abdullah Naeemi presided over the session attended by 200 women scholars from various seminaries across Pakistan.
Dr Raghib Hussain Naeemi of the same seminary was the chief guest.
The scholars said education was necessary for women just as it was necessary for men.
They said anti-polio campaigns were not violation of Islam and killing lady health workers was a great sin.
The resolution said Islam had specified an inheritance share for women. It said those who deprived women of their inheritance committed a sin and that the government should take solid steps to ensure women were given their share in inheritance.
According to Sharia, the resolution said, a girl could not be married to the Holy Quran.
It said a woman could do a business or take up a job under special circumstances. The scholars said it was a sin to attack women with acid. Islam forbids hitting a woman in her face, they noted.
The resolution condemned the recent attack on Ismaili community in Karachi declaring it un-Islamic.
It said it was unfair to stop women from casting their votes.
The resolution appealed to Muslim women across the world to stop their sons, brothers and husbands from joining any terrorist organisation.
Tanzim Ittihad-i-Ummat Conference chairman Ziaul Haq Naqshbandi read out the resolutions at the end of the conference. He said Islam did not allow killing a woman in the name of honour.
"It is un-Islamic to taunt a woman for giving birth to a baby girl," he said. He said marrying a divorced woman should not be a matter of concern for men.
Zia said vani was an un-Islamic tradition and should be discouraged.
The participants called upon the government to make an effective policy against harassment of women at work places. They said a woman driving a vehicle was not an un-Islamic act.
The participants also favoured Operation Zarb-i-Azb. They said the country's armed forces should be praised for rendering sacrificing in the fight against terrorists.
They condemned recent terrorist attacks in Saudi Arabia. They said, however, that Pakistan should not send its troops to Saudi Arabia.
http://tribune.com.pk/story/895505/scholars-conference-women-scholars-can-issue-fatwas/
---------
Meet the Old Delhi Muslim Woman Who Leads A 'Double Life'
June 1, 2015
New Delhi: Shabana Ali lives "a double life": one under the Burqa and the other with a metal detector.
Six days a week, the 34-year-old steps out of her conservative Old Delhi neighbourhood in a Burqa. The veil comes off around an hour later, at the capital's Jawaharlal Nehru University, some 20km away.
The blue uniform of a security guard replaces the veil, before her confident fingers wrap around the metal detector.
The transformation is complete. "I lead a double life, one under the Burqa and the other as a security guard in uniform," said the young mother of two.
Before you could come up with the next question, she had second-guessed you. "It's like playing a double role in a film," she giggled.
The uniform has turned an ordinary homemaker into a protector. Where's the question of unease?
Shabana is a member of the first batch of security guards to complete, early this month, a week's training as part of a skill-development programme for minorities started by the Union ministry of minority affairs.
There were 29 other girls in her batch, most of them Muslim or Christian.
The UPA government had announced the programme, part of several welfare schemes for the minorities, last year. The Narendra Modi government has carried it forward.
Shabana was the first among her batch mates to get a placement. She joined Group 4 Security on May 7 on a monthly salary of Rs 8,000.
But it hasn't been easy for the first graduate in her family.
"I belong to a very conservative middle-class family, where women are supposed to remain indoors," she said.
Her "double life" seeks to strike a balance between an increasing desire for an independent identity and the traditions that some sections of the community follow.
Ghazala Parveen, Shabana's batch mate from Loni, Uttar Pradesh, doesn't have to wear a Burqa when she steps out of home.
"My parents have been very supportive," said Ghazala,25, who got a job a fortnight ago with a private firm. "I'm probably the only Muslim woman security guard in the whole of Loni, and I'm proud of it."
Shabana, too, is proud of her job - she had wanted to join the police but couldn't. She was willing to be photographed for this report. People in her community, she said, need to understand and change their mindset.
Like her father was forced to, back in the nineties, when Shabana was a Class VIII student in an Urdu-medium school.
Her father, Yakoob, a vegetable seller, had fixed her marriage to a Sheikh in Saudi Arabia. "When I learnt about it I cried a lot and complained to my schoolteacher. She scolded my father and threatened to complain to the police," Shabana reminisced.
But her mother, Sakeena, was very supportive. "My father was against the idea of me going to college but my mother fought with him and allowed me to join college," Shabana, the eldest of four siblings, said.
Her younger sister is a postgraduate and got married last year. Her two brothers work as mechanics.
Shabana, who lives with her husband Qamar, daughter Urooba, 6, son Affan, 5, and her in-laws in a two-room house in a lane near Jama Masjid, had graduated in 2007 and married a year later.
In 2013, Qamar, who worked as an electrician in a private company, met with a road accident and has been bed-ridden since. Shabana started teaching neighbourhood children and joined a local school to support the family. But it wasn't enough.
In February this year, she learnt about the skill-development programme through an NGO.
As the clock ticks past 2 in the afternoon, Shabana, in a dark burqa, walks briskly through the congested lane. The moment a JNU-bound DTC bus stops at the bus stand, Shabana darts forward and hops in.
Some 50 minutes later, she gets off outside the JNU campus. Once inside, she changes into her uniform. Within a few minutes she is outside the gate of Lohit Hostel, on the campus, metal detector in hand.
Shabana is a picture of confidence, trained in frisking, firefighting, first aid and self-defence. She works in either of two shifts - morning (7am to 3pm) and evening (3pm to 9pm). "The training programme has given me confidence. I have a job and feel empowered," she said.
The ultimate salute, perhaps, came from one of the hostel boarders, mainly postgraduate students and researchers.
"We were a little amused when we saw her coming to work in a burqa," said Arun Kumar Singh. "But we were touched after hearing her story. She is a fighter. We are all proud of her."
What next? A good education for her two kids.
"It was my dream to study in JNU but I couldn't," Shabana said. "Hopefully, my kids will."
http://www.abplive.in/india/2015/06/01/article605005.ece/Meet-the-Muslim-woman-who-leads-a-double-life
---------
Young Girl's Heart-warming Poem on Islam Moves UN Secretary General
June 1, 2015
Big words and twisted meanings have for long been the main tool devised by politicians and media practitioners to preach what they don't practice and to conceal their real intentions behind ambiguous phrases. But as far as children are concerned, right and wrong could not be clearer, and basic vocabulary is sufficient to communicate that.
During his recent visit to Brussels, UN Secretary General Ban Ki-moon met with 10-year-old Douaa Abou Kabouss, a Muslim Belgian of Moroccan origin who shared her views on world peace and Islam through a short poem she wrote for Ki-moon.
Young Kabouss spoke of the "pain, war, terrorism, radicalism" she sees on television, and how they make her very sad, for this isn't what her parents teach her.
She carries on reciting her poem where she adds, "I love my belief. It showed me not to be a thief. I showed me to be reliable, to be helpful, and kind. That's how Islam is in my mind."
To wrap up, Kabouss boiled down what political leaders have spoken of in prolonged speeches to four sincere lines saying: "I have a dream, to see the whole world as one team. If you can accept us as being the same, then together we can play a game."
http://egyptianstreets.com/2015/05/31/young-girls-heartwarming-poem-on-islam-moves-un-secretary-general/
---------
Discrimination against US Muslim Woman 'Despicable': Activist
June 1, 2015
An American activist has described a recent discrimination act against a Muslim woman on board an American plane as "despicable," saying discriminatory practices should be stopped around the world.
"I find this despicable and there is no excuse for discriminatory practices when a person was an innocent person on a plane," said Safiyya Sarkin, the president and founder of Women Beyond Survival.
She made the remarks while commenting on an incident described by Tahera Ahmad, a Muslim chaplain and director of interfaith engagement at Chicago's Northwestern University, who was denied an unopened can of coke by a United Airline flight attendant for security reasons.
This happened while another passenger sitting next to her was freely handed an unopened can.
The airline, however, stated that the matter was a "misunderstanding."
According to the 31-year-old woman, asking passengers to come into her defense did not work and she was even told to "shut the f*** up" by a passenger.
"I think it's absolutely horrifying that American airlines not only were they discriminating but they allowed passengers to discriminate against this innocent woman," Sarkin said.
"Asking for simple service and not to open up a can behind her and then all of a sudden a can of beer is given to a passenger unopened," she told Press TV on Monday.
"Discriminatory practices should not be allowed any place on the planet," she said. "I would be the first one to boycott American airlines and anything to do with American airlines."
"I find the whole thing absolutely despicable," she noted
http://www.presstv.ir/Detail/2015/06/01/413768/US-United-airline-Muslim-woman-discriminationn-religious
---------
Islam against Honour Killing, Say Pak Women Scholars
June 1, 2015
LAHORE: About 200 women religious scholars declared here on Sunday that honour killing is not allowed in Islam.
Assembled at the Sheikhatul Hadith conference organised by the Tanzeem Ittehad-i-Ummat, the scholars had come from Faisalabad, Gujranwala, Kasur and Sialkot besides Lahore and a number of them from Karachi, Hyderabad and Rawalpindi.
A declaration issued at the end of the conference said Islam does not allow killing of a mother, sister, daughter or any other woman in the name of honour.
It condemned the acid attacks as the worst sin and heinous crime and said that Islam does not allow even slapping a woman in the face.
The conference saw no harm in a marriage between a boy and a girl of their own free will, but declared marriage of a woman to Quran as haraam. It denounced the tradition of vani as a practice of the Dark Ages and said God does not create woman to be handed over or forcibly married to someone as compensation for the sins of her male relative(s).
The scholars also criticised extremists for stopping girls from getting education and said Islam has made it mandatory for both men and women to get education and that in certain cases a woman may get education from a male teacher.
The conference also declared as lawful for women to drive cars unlike in Saudi Arabia where they are not allowed to do so.
The conference called upon the government to declare as offence the act of giving three divorces by a husband in one go and also urged it to take appropriate measures for ensuring women's share in inheritance.
The scholars declared killing of women health workers as a great sin and demanded qisas (eye for an eye) for those indulging in manslaughter.
They praised the Zarb-i-Azb Operation against terrorists and said those laying their lives while fighting against terrorists are true martyrs and not those fighting against the army.
They urged the womenfolk to keep an eye on their brothers and sons so that they might not fall into the trap of those misleading the youth to join terrorist groups in the name of religion or for other reasons.
The conference was presided over by Ume Abdullah Naeemi of Jamia Sirajia Naeemia, Lahore.
Maulana Ziaul Haq Naqshbandi read out the declaration.
http://www.dawn.com/news/1185403/islam-against-honour-killing-say-women-scholars
---------
Activist El-Massry Imprisoned Over Muslim Brotherhood-Era Case
June 1, 2015
The sentenced Alexandrian labour activist Mahienour El-Massry once said from her prison cell that "sacrifice is nothing compared to the suffering of the poor".
The lawyer and member of the Revolutionary Socialists Movement was sentenced, Sunday, to one year and three months imprisonment for breaking into El-Raml police station in Alexandria in March 2013.
The court rejected the request for the families of the detained to enter the courtroom, and banned photojournalists from attending the session with their cameras.
Upon issuing the ruling, El-Massry chanted "down with the military rule".
The March incident occurred when pro-Muslim Brotherhood members assaulted some activists and drove them to the police station. Lawyers, including El-Massry, who went for assistance, were prevented from entering the station and were assaulted by police personnel inside.
El-Massry, journalist Youssef Sha'aban, and 11 other activists and lawyers have been charged with 10 accusations, including damaging the police station, insulting the station's personnel, attempting to help prisoners escape and spreading terror amongst citizens.
The case had prompted then-head of the Lawyers' Syndicate Sameh Ashour, to call on the removal and prosecution of the interior minister, the Alexandria security director, the head of detectives and the deputy police chief.
"We need to focus on the oppressed. We should not turn into a group calling for the freedom for a certain person," El-Massry wrote in a letter from prison one year ago.
In November, El-Massry was arrested along with lawyer Mohamed Ramadan and two others over the allegation that they were protesting. They were detained in El-Raml police station in Alexandria, but were released a few hours later.
In another case against her, El-Massry had previously been released from prison in September, after an Alexandria Court accepted her appeal against a six-month prison sentence.
El-Massry, alongside eight others, had initially been sentenced to two years in prison and fined EGP 50,000 for violating the Protest Law. This came after their arrest while participating in a protest in solidarity with torture victim Khaled Said in December 2013.
Following her release, the lawyer had started a hunger strike in solidarity with all those detained over the controversial 2013 Protest Law.
El-Massry will now have to return to the prison's "miniature society", as she described it in a letter, where "the rich have facilities, unlike the poor".
http://www.dailynewsegypt.com/2015/05/31/activist-el-massry-imprisoned-over-muslim-brotherhood-era-case/
---------
Supermodel Ayyan Sent On Judicial Remand for Twelfth Time
June 1, 2015
RAWALPINDI: Supermodel Ayyan was sent on a judicial remand for the twelfth time on Monday by a special customs court in Rawalpindi, Express News reported.
Customs prosecutors in the hearing today stated that the model is the main accused in the currency smuggling case, for which she was arrested on March 14.
Ayyan's judicial remand was extended till June 15.
There are two other men accused in the case, Owais and Mumtaz, but sources say they have departed for Dubai.
During the course of investigations, it was found that the model also got Rs22 million in the form of 11 bank drafts which were delivered to her by a woman, who is living in Mirpurkhas, they said, adding that the details of the woman who gave the drafts to Ayyan Ali are also available with the I&IIR but her name is not being shared now because she will also be investigated.
Read: Customs court: Plea for registration of fresh case against Ayyan
On March 14, Ayyan was arrested by customs officials from Islamabad airport after over $500,000 in undeclared cash was found in her baggage.
http://tribune.com.pk/story/895615/supermodel-ayyan-sent-on-judicial-remand-for-twelfth-time/
---------
Jawazat for Separate Passports For Saudi Children
June 1, 2015
RIYADH — The Passports Department (Jawazat) has urged Saudi citizens to have separate passports for their children, no matter how old they may be. Jawazat spokesman Lt. Col. Ahmed Bin Fahd Al-Lihaidan said when travel approval is issued, it will automatically cover the holder of the passport and all listed companions. "For this very reason, we advise all citizens to make separate passports for their children even if they are a few days old," he said. Lihaidan noted that the Jawazat has been urging the citizens to issue independent passports for their children and said a Saudi passport can be issued to any Saudi citizen regardless of age. "The independent passports will ensure the rights of the holders and facilitate the completion of travel procedures very quickly," he said. The spokesman said a number of foreign embassies refused to grant Saudi passport holders visit visas to their countries because their children were included as companions in their passports. He asked every Saudi citizen wishing to renew a passport or obtain a new one to apply for separate passports for each child. He said: "The system of granting travel permits for families will deal automatically with the passport holders. "The permits will automatically be granted to their companions in the passport." The spokesman warned that no more passports with listed companions would be issued from now on. — SG
http://www.saudigazette.com.sa/index.cfm?method=home.regcon&contentid=20150601245698
---------
URL: https://www.newageislam.com/islam,-women-and-feminism/new-age-islam-news-bureau/women-scholars-can-issue-fatwas--sheikhatul-hadith-conference/d/103280