New Age Islam News Bureau
13 Feb 2019
• Reema Al Juffali: Saudi Woman Driver Breaking Barriers on Fast Lane
• Tributes Paid To Women Torch- Bearers of Rights Movements in Pakistan
• Pakistan Boosts Female Participation in UN Peacekeeping Operations
• Suicides of Young Women on the 1979 Revolution Anniversary Shock Iran
• 'It's About Freedom': Women Are Taking Frontline Positions in Sudan's Uprising
• Meet the 'Muslim Mother Teresa' who feeds 500 people a day!
Compiled by New Age Islam News Bureau
URL: https://www.newageislam.com/islam-women-feminism/women-march-leaders-defend-rep/d/117735
--------
Women's March Leaders Defend Rep. Ilhan Omar amid Anti-Semitism Uproar: 'There's Racism at Play'
February 12, 2019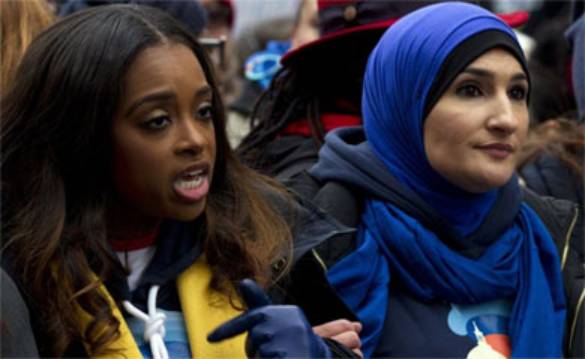 Co-presidents of the 2019 Women's March Linda Sarsour, left, and Tamika Mallory, center, march along with others demonstrators on Pennsylvania Av. during the Women's March in Washington on Saturday, Jan. 19, 2019. The Women's March returned to Washington on Saturday
-----
Women's March leaders Tamika D. Mallory and Linda Sarsour have rushed to the defense of Rep. Ilhan Omar, blasting politicians who criticized the Minnesota Democrat for comments widely seen as anti-Semitic and blaming racism for fueling the uproar.
Ms. Mallory said in a Tuesday tweetstorm there was "racism at play" in the deluge of criticism, sparked by Ms. Omar's tweet suggesting that support for Israel was "all about the Benjamins baby" and citing the American Israel Public Affairs Committee.
"Women of color are held to unreachable standards and scrutinized in a way no one else is," tweeted Ms. Mallory. "People have said and done way worst. We are also not given benefit of the doubt. Just based on who we are, people assume ill will. This is NOT okay. There's racism at play."
Ms. Sarsour made a similar point Monday in a Facebook post, saying, "I will not be silent in the face of attacks, harassment and targeted policing of speech from a Black Muslim woman elected official, our sister Ilhan Omar in the name of combatting antisemitism."
"Women of color leaders are policed relentlessly that it's borderline obsessive (especially those who dare invoke Palestinian rights)," Ms. Sarsour said. "It's like people wished you didn't breathe. Your existence is problematic."
Ms. Omar issued an apology Monday under pressure from House Democratic leaders, saying it was never her intention to offend her constituents or Jewish Americans, while calling AIPAC and other lobbying groups "problematic."
The Women's March leadership has been beset with allegations of anti-Semitism stemming in part from Ms. Mallory's ties to Nation of Islam Minister Louis Farrakhan, described by the Anti-Defamation League as "America's leading anti-Semite."
Ms. Sarsour has been criticized over her support for convicted Palestinian terrorist Rasmea Odeh. The Women's March has repeatedly denied allegations of anti-Semitism.
Ms. Sarsour also called on supporters to sign a petition posted by MPower Change, which she leads, telling top Democrats that they were "disappointed you caved to the bad-faith attacks against Rep. Omar."
The House leadership said in a joint statement Monday, "Congresswoman Omar's use of anti-Semitic tropes and prejudicial accusations about Israel's supporters is deeply offensive."
President Trump entered the fray Tuesday, saying he thought Ms. Omar should resign. He and others, including the Republican Jewish Coalition, have said she should be removed from the House Foreign Affairs Committee.
Ms. Sarsour also accused liberals of trying to "appease angry white men," an effort she described as "upholding white supremacy."
"They want to destroy us and liberals always play into it," said Ms. Sarsour. "Liberals talk about smashing the patriarchy and standing with people of color and often times are the first people to throw women of color leaders under the bus to show how self-righteous they are and to appease angry white men. This is upholding white supremacy."
https://www.washingtontimes.com/news/2019/feb/12/womens-march-leaders-tamika-mallory-linda-sarsour-/
--------
Reema Al Juffali: Saudi Woman Driver Breaking Barriers on Fast Lane
Feb 12, 2019
Until June 2018, women in an ultra conservative Saudi Arabia were not even allowed to drive. The middle-eastern country took a giant societal leap when they became the world's last country to give its women the license to drive.
The above information is quite significant to comprehend the accomplishment of Reema Al Juffali, who broke several barriers to become the first female racer from Saudi Arabia.
The 26-year-old's motorsport journey began when she took part in the TRD 86 Cup at Abu Dhabi in October 2018 and achieving a remarkable podium on debut.
"Women started driving in Saudi in June and my first race was in October. This is not just a big step for Saudi women, but we can also have this (women racing). I was at the right place at the right time," says Reema, who debuted at the MRF Challenge here over the weekend.
"I started racing quite late and the dream came later -- to pursue racing after I studied, worked and did things I wanted to achieve in life. My passion has always been cars and then racing came along. After that, I couldn't avoid it anymore and wanted to pursue it."
Hailing from Jeddah, Reema's journey into motorsports wasn't easy as it took four years to convince her family that she wanted to become a competitive racer. But once she got their approval, not just her family but most people in the oil-rich kingdom came out in support of her.
"Initially my family was hesitant and reluctant but they saw that the passion was there. It was four years of me thinking, talking about it, gave them time to think but as soon as I made the decision they were very supportive. Not only my family, in my first race I realised how big it was -- my whole country was supporting me, something that I didn't expect," says Reema.
"People are still surprised and digesting that I am not just driving, but racing. The hardest thing for me was to take that first step, getting over the fear of not succeeding or not pursuing my passion. When I took that first step, the doors opened. If you want to pursue anything, just go for it."
The trailblazer added that when she faced opposition from the orthodox elements of the society, double the number came out in support of her. "Overwhelmingly, it (the reaction) has been very positive. It's (negativity) like a needle in a haystack."
Always interested in cars, Reema got hooked to motorsports when she went abroad for higher education and began watching Formula 1. Eventually it made her pursue circuit racing, unlike in Saudi Arabia where off-roading is the more recognisable sport.
"When I graduated, I gave myself a gift -- a three-day course in a racing school in a formula car. It was an eye-opening experience. That was the first time I was in a race car and that was the start of it," says Reema.
"In October I had my first race in a GT 86 car and finished in the middle of the grid. Then I won my first race in December. Now I am racing in single-seaters. So, everything has been happening very quickly."
Asked how's the opposite sex reacting when they see her on the grid, Reema said the 'reactions have been interesting'.
"Some races into the season, they know who I am, my driving style and what to expect. It's all good, we have broken the barriers. I think they are scared of me. I like it that way," laughed Reema.
https://www.hindustantimes.com/other-sports/reema-al-juffali-saudi-woman-driver-breaking-barriers-on-fast-lane/story-063qqGNf6iIQFRbi4jlQYJ.html
--------
Tributes Paid To Women Torch- Bearers of Rights Movements in Pakistan
Myra Imran
February 13, 2019
Islamabad : Rich tribute was paid to women torch-bearers of rights movement in Pakistan at seminars, panel discussions, exhibition of women artisan at work, folk performances by women singers and candle light vigil organised on Tuesday to commemorate National Women Day.
National Women Day is commemorated all across the country on February 12 to mark the struggle initiated by women's right activists against the anti-women policies and legislation by General Zia ul Haq. On that historic day, women activists that gathered at Lahore Mall on February 12, 1983, to protest anti- women legislation were stopped from proceeding to the Lahore High Court and were baton-charged and tear gassed.
The main event was organised by Women Action Forum (WAF) and Ending Violence against Women and Girls (EVAWG) Alliance where a large number of rights activists gathered to remember the women icons of rights movement including Asma Jahangir, Nigar Ahmed, Shahla Zia, Nama Sadiq and Lala Rukh. The tribute was paid through inspirational talks by eminent rights activists I A Rehman, Tahira Abdullah, Khawar Mumtaz and Naeem Ahmed Mirza and poetry recitation by KIshwar Naheed and Aliya Mirza. The speakers urged the next generation to take forward the mission and message of women who dedicated their lives to rights movement in Pakistan.
The session was followed by a panel discussion titled "Challenges and Resistance" with panellists such as Rashida Dohad, Khawar Mumtaz, Bushra Gohar, Shabana Arif, and Senator Sherry Rehman. The speakers talked about the challenges faced by constitutionalism, rule of law and democracy. They discussed in detail the issues of violence against women, child marriages and threat to freedom of speech.
On this occasion, a statement was issued acknowledging the progress made on women rights but expressing concern that in the past two years, the country has witnessed the serious erosion of people's democratic rights. The statement condemned the lawless acts by the state and the fact that majority of the people, the poor, peasants, workers and religious minorities continue to suffer discrimination and violence. It stressed that the state must fulfil its responsibility to protect the life, dignity and security of all its citizens and demanded respect and protections of democratic rights of the people.
The statement called for unhindered functioning of civilian democracy, and all institutions of the State must function within the boundaries defined by the Constitution. It also demands an end to violence and murder of women on the pretext of 'honour,' to child marriages and child abuse; and to the 'qisas' and 'diyat' laws and the impunity they provide to perpetrators.
The statement also called for a secular polity in which there is religious freedom and all citizens, especially women, the poor and religious minorities have access to equal opportunities to realize their full potential with freedom of speech and an end to persecution and intimidation of the media, enforced disappearances, and oppression of citizens protesting peacefully for their rights. A candle light vigil was organized at the end of the event.
Earlier, a press conference was organised by Acid Survivors Foundation (ASF) Pakistan and the National Commission on the Status of Women (NCSW), with Group Development Pakistan and EVAWG Alliance Network, with the support of the European Union (EU). The press conference was held to launch a report titled 'Policy and Legal Framework Analysis on Gender Based Violence and Violence against Women and Girls.'
The panel of speakers included Chairperson of NCSW Khawar Mumtaz, Human Rights and Gender Advisor from the EU Delegation in Pakistan Ingeborg Zorn, Co-Chair of the EVAWG Alliance Network and Executive Director of Bedari Anbreen Ajaib, and advocate and research consultant Sharafat Ali Chaudhry.
In her opening remarks, Chairperson NCSW Khawar Mumtaz paid rich tributes to women who through their activism promoted the cause of women's rights in Pakistan and especially those who have left us in the past year including Asma Jahangir, artist Lala Rukh, poet Fehmida Riaz, and Producer and actor Madeeha Gohar. She made a presentation on the significance of National Women's Day in Pakistan and its historical background.
After her remarks, renowned women's rights activist and Urdu poet Kishwar Naheed recited her famous poem "Hum Gunahgar Aurtien" which was followed by a presentation on the report, 'Policy and Legal Framework Analysis on Gender Based Violence and Violence Against Women and Girls' by the research consultant Sharafat Ali Chaudhry who highlighted the achievements as well as the gaps regarding addressing VAWG in Pakistan and formulated several recommendations for the way forward.
Human Rights and Gender Advisor from the Delegation of the European Union Ingeborg Zorn, highlighted the context of the project and its objectives to counter Violence Against Women and Girls (VAWG) and Gender Based Violence (GBV) in Pakistan. Valerie Khan from Group Development Pakistan highlighted legislative and structural developments that have taken place as a result of women rights movement in Pakistan.
Anbreen Ajaib stressed on the gaps found in the legal and policy framework and the need for tabling pending pieces of pro-women legislation and amendments, notify the pending GBV guidelines as well as the need to focus on implementation, strengthen support structures such as GBV and child courts, coordinated support mechanisms such as interagency protocols for women and girls and child protection mechanisms.
https://www.thenews.com.pk/print/431333-tributes-paid-to-women-torch-bearers-of-rights-movements-in-pakistan
--------
Pakistan Boosts Female Participation in UN Peacekeeping Operations
Feb 13 2019
UNITED NATIONS: Pakistan has met the United Nations target of deploying 15 per cent female military and staff officers in UN peacekeeping missions in line with efforts to enhance women's participation in the world body's flagship activity, a senior Pakistani diplomat has said.
Speaking in the Special Committee on Peacekeeping Operations on Monday, Ambassador Maleeha Lodhi, permanent representative of Pakistan to the UN, said she was proud to point out that Pakistan has gone up from zero per cent participation of women in peacekeeping to 15 per cent in 18 months.
At the same time, she told the committee that Pakistan is deploying an "engagement team" consisting of women to the Democratic Republic of Congo (DRC) in May.
Pakistani peacekeepers have been serving in DRC since 1999. "Our faith in peacekeeping, as an indispensable tool for the maintenance of international peace and security, is firm and abiding," the Pakistani envoy added.
The Special Committee brings together all stakeholders of UN peacekeeping -- troop and police contributors, financial contributors, Security Council members and the UN Secretariat.
Ambassador Lodhi also called for "strengthening" the United Nations Military Observer Mission in India and Pakistan (UNMOGIP), which monitors the Line of Control (LoC) in Kashmir, to enable it to deal with the rising tensions in the disputed region.
"We believe UNMOGIP has been and continues to play an important role in the maintenance of peace and security in a volatile neighbourhood," she said.
In her remarks, the Pakistani envoy said peacekeepers demonstrate that their response in hostile situations does not constrain the use of force.
However, the fundamentals of peacekeeping must be preserved, she said, noting Pakistan's contributions as a longstanding and consistent troop and police contributing country.
The Special Committee must play its role in building norms and making recommendations.
Deployment decisions must be based on knowledge of the situation on the ground, in consultation with the troop-contributing countries, she said, adding that Pakistan and the United Kingdom had drafted recommendations in this regard.
Yet, the Pakistani envoy said cost-cutting exercises must not overlook the fact that peacekeeping is itself cost-effective, deserving of adequate financial and material resources with effective reviews and assessments.
In this vein, troop-contributing countries must be more involved in related peacekeeping processes.
Peacekeeping works best when there is a peace to keep, with a robust political track that enhances efforts, she said.
However, doing more with less is not sustainable and missions must be adequately equipped.
https://www.geo.tv/latest/227978-pakistan-boosts-female-participation-in-un-peacekeeping-operations
--------
Suicides of Young Women on the 1979 Revolution Anniversary Shock Iran
Feb 12, 2019
The suicides of two young women due to poverty shocked the Iranian society on the anniversary of the 1979 anti-monarchic revolution.
A young woman by the name of Sooma Salavati hanged herself at home on Monday, February 11, 2019, in the city of Sanandaj where she lived with her parents.
On Sunday, February 10, 2019, Zahra Rahmati, a young mother of two, committed suicide after killing her two sons, Alireza, 6, and Abbas, 3.
The unfortunate incident took place in Chaghan-Ali village in Kermanshah Province, western Iran. The destitute and impoverished mother first hanged her two sons and then took her own life.
Earlier on Monday, January 7, 2019, another woman, threw herself from the Zarqan Bridge at the Shiraz-Marvdasht highway and ended her own life due to poverty and inability to earn living and solve her economic problems.
According to the annual statistics released by the Journal of Forensic and Legal Medicine in September 2018, in Iran, women's suicide rates in 2017 alone were more than 1,365 people, at least 4 women per day.
Officials and experts in the regime have repeatedly acknowledged that suicide rates in Iran are not fully reported and announced, and the statistics reported by government authorities should be considered as a minimum.
According to a social pathologist, last year, woman's suicide rate in Iran increased by 66 percent during a five-year period. (The state-run Khabar Online – November 3, 2017)
The Iranian Coroner's Office announced that more than 7% of annual suicides in Iran are committed by adolescents.
The upward trend in the suicides of women indicates the excessive pressures on women and girls in Iran. Psychologists and sociologists consider hopelessness, depression, anxiety and sense of insecurity accompanied by a feeling of humiliation as the main reason leading women and girls to physically eliminate themselves.
Women's rate of suicide is the highest among Middle East countries.
https://women.ncr-iran.org/2019/02/12/suicides-women-shock-iran/
--------
'It's About Freedom': Women Are Taking Frontline Positions in Sudan's Uprising
February 12, 2019
NAIROBI — When public protests erupted in Sudan over the rising cost of bread almost two months ago, women's rights activist Hala Al-Karib did not hesitate to join the masses on the streets defying the security forces to voice their anger.
Economic hardships, including soaring inflation, limits on bank withdrawals and fuel shortages, have taken a heavy toll on Sudan's 40 million people — and protesters are demanding that President Omar al-Bashir step down after three decades in power.
But for Karib and many women risking their lives on frontlines of these protests — the most sustained challenge to Bashir since he took power in 1989 — a change in government means more than just economic prosperity.
"The price of bread was a trigger for protests, but it's not about bread, it's about equality. It's about dignity, it's about freedom," said Karib, regional director of the Strategic Initiative for Women in the Horn of Africa in Khartoum.
"The government has an Islamic militant ideology, which at its core aims to exclude women from the public space. For 30 years, women in Sudan have fought against this oppression, so it's no surprise they are out in significant numbers now."
From students and academics to housewives and street traders, women from all sections of society are demonstrating, she told the Thomson Reuters Foundation, adding that the scale of female participation in the protests has been unprecedented.
Floggings and death sentences
Sudanese women face a barrage of threats, from child marriage to domestic violence and rape. One in three women are married before 18, while nine out of 10 have undergone female genital mutilation (FGM), the United Nations says.
Yet there are few policies in place to protect women and girls. Marital rape and child marriage, for example, are not considered crimes in the predominately Muslim African nation.
Islamic law in Sudan allows for the marriage of a girl once she hits puberty. It also says a 10-year-old girl can be married by their guardian with the permission of a judge.
Sudan's record on women's rights was pushed into the global spotlight in May last year after teenager Noura Hussein was sentenced to death for killing her husband as he tried to rape her despite being a child bride and acting in self-defense.
Her case drew international condemnation including an online petition with more than 1.5 million signatures appealing for clemency — and her death sentence was later commuted to a five-year jail term.
Women's rights groups, as well as the U.N., also point to Sudan's public order laws, which regulate women's freedom of dress, movement, association, work and study.
These "morality laws" have for years been used to oppress women including activists, students and street vendors — with punishments ranging from floggings to imprisonment, they say.
"We cannot go about our daily lives in freedom and without fear," said Wini Omer, a Sudanese journalist and activist who was arrested in February last year and charged with prostitution for having a meeting with two men and one woman.
"These morality laws are used arbitrarily to criminalize women. We can be flogged or jailed for not having our hair covered or for wearing trousers," said Omer, who is currently living in Britain.
Thousands of women have been sentenced to flogging as a result of prosecution under the public order law, according to No to Women's Oppression Initiative, a campaign group in Sudan.
Sudan is also one of a handful of countries not to have signed the Convention on the Elimination of All Forms of Discrimination Against Women (CEDAW), a key global treaty aimed at ending gender violence.
"Sudan's ruling elite has a very outdated, conservative interpretation of Islam and enforce a very strict version of sharia, which gives very harsh punishments, especially to women," said Ahmed Elzobier, Sudan researcher for Amnesty International.
"The government is very hesitant to sign CEDAW as it goes against their ideology. But Sudanese women are very aware of their role as agents of change which is why we are seeing them come out in these protests."
Women prisoners to school girls
Since the latest wave of demonstrations began on Dec. 19, students, activists, teachers, doctors and others have held almost daily protests across Sudan.
In some cities, security forces have responded with tear gas and witnesses have reported the use of live ammunition.
Rights groups say at least 45 people have been killed and more than 1,000 detained during clashes with riot police. The government puts the death toll at 30.
Despite this, the protests continue with thousands of women, from both rural and urban areas, taking an active role.
Videos posted on social media show women from Port Sudan in the east to the capital Khartoum dressed in headscarves, marching and chanting, clapping and singing songs. Some clips show women prisoners protesting in jails, while others show schoolgirls.
"In some protests I have been to there are more women than men. Some are marching, others are serving tea to the protesters," said a 32-year-old female activist in Khartoum, who did not want to be identified.
"Even those women who cannot leave their homes are helping to shelter people being dispersed by police. Grandmothers who cannot march are standing outside their homes and banging pots and pans to motivate protesters."
But the response has been severe, say human rights groups.
Scores of women have been detained — including many women's rights activists — and female protesters have been beaten and verbally abused and called prostitutes by the security forces, said Amnesty International.
Human Rights Watch said it has received reports of women demonstrators being groped and threatened with rape by pro-government militias.
Officials at the Sudanese embassy in Nairobi did not respond to requests for comment on the allegations against the security forces.
Women protesters like Karib are defiant that the demonstrations will continue.
"I am very hopeful and I haven't been this hopeful before. There is such a strong demand for change and, as women, we have played a very strong role in opposing this regime," she said.
http://www.the-japan-news.com/news/article/0005536308
--------
Meet the 'Muslim Mother Teresa' who feeds 500 people a day!
February 12, 2019
Known affectionately as the 'Muslim Mother Teresa' for the noble cause she has dedicated her life towards, Montreal's Sister Sabariah Hussein feeds up to 500 people a day.
She cooks for a total of 400 to 500 homeless, needy or lonely people with a help of volunteers.
"People who are really in dire need of company. And it's a good thing. I saw the improvement. They're becoming more cheerful in the company of people whose situation is almost like them, and then they enjoy the meal better," Sabariah explains.
She adds: "I feel a little different because Mother Teresa doesn't cook."
However, the food that Sabariah prepares is as good as her caring nature.
"The food? I don't know what word to explain the food. The food is delicious and it's always good, and she always wants to make sure that you eat," Sabariah's colleague Angela Rashida Thomas says.
The Muslim Mother Teresa who has been providing for the needy for the last 50 years in Montreal also runs a women's shelter from her own place.
"... She doesn't give food to only the Muslims, she helps the non-Muslims too. She doesn't like to be praised but she's a very special person," Sabariah's colleague adds.
The esteemed Sister also believes it is highly significant to train and inspire the younger generation and instill in them the feeling of love and compassion.
However, her dedication and mission doesn't cease here.
Sabariah also aims to open an orphanage in Malaysia for the displaced Rohingya children.
https://www.thenews.com.pk/latest/431182-meet-muslim-mother-teresa-sabariah-hussein-woman-who-feeds-500-people-a-day
--------
URL: https://www.newageislam.com/islam-women-feminism/women-march-leaders-defend-rep/d/117735
New Age Islam, Islam Online, Islamic Website, African Muslim News, Arab World News, South Asia News, Indian Muslim News, World Muslim News, Women in Islam, Islamic Feminism, Arab Women, Women In Arab, Islamophobia in America, Muslim Women in West, Islam Women and Feminism