New Age Islam News Bureau
4 Aug 2013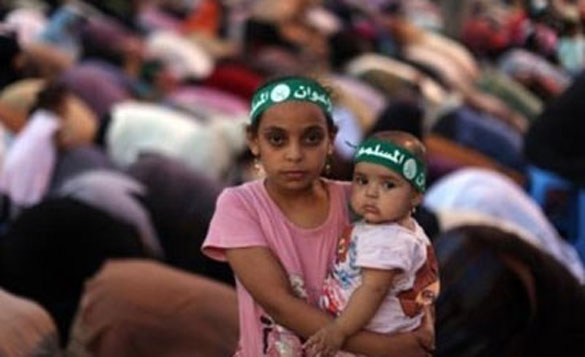 Photo: Women group accuses Egypt's Brotherhood of using children at sit-ins (AFP)
----------
• Muslim woman in center of New York mayoral controversy
• Indomitable Falgunee gets GPA-5 again
• Fifteen year-old's appeal of flogging sentence for fornication stalled in High Court
• From Classrooms to Suicide Bombs: Children's Lives In Afghanistan
• 2,000 Vacancies Await Female Bakers in EP, Saudi Arabia
• Women's IDs Can Be Issued without Guardians' Consent
• Women Organisation Speaks Out Against Arab Governments Abandoning Women's Rights
• Pak Teens Shine with Their Volunteerism at Hospitals
• Finding a voice for Libyan women in Islam
• Uncertain Future for Afghan Businesswomen as West Leaves
Compiled by New Age Islam News Bureau
URL: https://newageislam.com/islam-women-feminism/women-group-accuses-egypt's-brotherhood/d/12884
----------
Women Group Accuses Egypt's Brotherhood of Using Orphanage Children at Sit-Ins
4 August 2013
An Egyptian women group has denounced the use of children at sit-ins for supporters of deposed leader Mohammed Mursi, Ahram Online reported on Friday.
Head of the National Council for Women, Mervat al-Tellawy, claimed that the Muslim Brotherhood, from which Mursi hails, has used children from orphanages to participate in their protests demanding to reinstate the Islamist president, who was ousted by a popularly backed military coup on July 3.
Tellawy also criticized an image of children at a pro-Mursi protest carrying shrouds with "future martyr" written on them.
She described such practices as precursor of creating a generation of "terrorists."
She also urged mothers to reconsider their children's presence at protests, saying it "contradicts religion."
Meanwhile, the United Nations Children's Fund denounced the use of children at sit-ins in a statement published Tuesday.
UNICEF sounded the alarm over reports of children being injured or killed at demonstrations.
"Disturbing images of children taken during street protests indicate that, on some occasions, children have been deliberately used and put at risk as potential witnesses to or victims of violence," read the statement.
UNICEF, however, didn't pinpoint which political group has "deliberately" used children.
http://english.alarabiya.net/en/News/middle-east/2013/08/03/Women-group-accuses-Egypt-s-Brotherhood-of-using-children-at-sit-ins.html
----------
Muslim woman in center of New York mayoral controversy
August 04, 2013
New York is a rough and tough city, the largest in the United States. It didn't take long for the city to overcome the horrible terrorist attack on Sept. 11, 2001, and it has always rolled with the punches. Yet in the center of New York's campaign to elect a new mayor, voters, media pundits and the nation are intensely focused on the role of a Muslim woman who many mistakenly believe is an Arab.
Her name is Huma Abedin and she is married to Anthony Weiner, the former congressman who until this week was the leading contender to win the Democratic nomination in the "Big Apple," the nickname many give to New York.
Abedin is not Arab, but she is Muslim, of an Indian father and a Pakistani mother. She is Westernized, though proud of her religion. And before most people knew her as Weiner's wife, she was a top aide to former US Senator and Secretary of State Hillary Clinton.
I suppose it is Abedin's relationship to Clinton that has really put her in the hot seat, especially with the rightwing fanatics in America who blame every problem on Muslims, can't tell the difference between a Pakistani and a Palestinian, and believe that Israel has every right to kill Arab civilians, including those who happen to be Christian Arabs.
Abedin is being assaulted in the American media because she has refused to join in the public humiliation of her husband who has admittedly engaged in conduct that isn't illegal but clearly is immoral.
Weiner had won a seat in Congress seven times with votes that exceeded 59 percent each time. He was very popular, until he tripped himself up on the Internet. In May, 2011, Weiner used his Twitter account to send a sexually explicit picture of himself to a woman, who is not his wife. Apparently, it wasn't the only one. When the pictures became public, Weiner immediately told the media that someone "hacked" his Twitter account, meaning that someone else had broken into the account and sent the pictures to embarrass him. But eventually, after weeks of denials, Weiner admitted he sent the pictures and then resigned from Congress.
Hoping that the controversy was behind him, and with his wife, Abedin, at his side, Weiner entered the race for New York Mayor claiming that he had changed. We're all human beings. Well, most of us. I'm not sure if I can include many of the media pundits from the far right in that description. But it is difficult for any real human being not to forgive someone for doing something so stupid.
After all, Weiner did not kill anyone. He did not steal anyone's land. Polls for weeks showed that many people had in fact forgiven Weiner, and he was leading. Until it was disclosed that weeks after resigning, and during the period in which he claimed he had repented, it turns out he was engaging in the same behavior.
What was really amazing was that even in the face of the obvious about her husband, Abedin stood firm saying that she was going to fight to keep her marriage together. Many Americans seemed upset about that. They "blamed" her behavior on her Islamic upbringing, and that fueled an ugly campaign from writers who accused her of everything from supporting terrorism, to being behind the Muslim Brotherhood, to aiding Al-Qaeda.
I understand what Abedin is doing. I disliked Weiner because of his public anti-Palestinian policies, not knowing he was married to a Muslim. When I learned that, I was surprised that a Muslim could marry someone who was so fanatically pro-Israel at the expense of ignoring justice and the international rule of law.
But I also recognize that in the Arab world, the family is the most important aspect of our culture. We put more value on our families than many in the West. That's why so many in America, a nation with one of the highest divorce rates, are so quick to condemn Abedin's refusal to separate herself from her husband over his inappropriate actions.
The issue quickly expanded from anti-Muslim bias to include political extremism. Abedin represents a way for hardliners to attack Hillary Clinton, who is considered to be the person most likely to succeed Barack Obama as president in the November 2016 elections. Like Abedin, Clinton also refused to abandon her husband, then President Bill Clinton when he faced impeachment for lying about his extramarital affair with Monica Lewinsky.
Clearly, the Clintons remain close to Abedin. They are friends. But they also see how her troubles resurrect memories of Bill Clinton's indiscretions, which could hurt Hillary Clinton in her presidential candidacy.
Weiner so far refuses to withdraw from the New York Mayoral race, but regardless, there is no chance that he can win the election.
When it is all said and done, I think Arabs and Muslims, and Indians and Pakistanis, can look at Huma Abedin and see a person who has strength. She stood up to the criticism and refused to abandon her belief that a marriage is worth fighting for. You have to admire someone like that, even if the people around her have serious flaws.
– Ray Hanania is an award winning columnist. He can be reached at www.TheMediaOasis.com or follow him on Twitter @RayHanania
http://www.saudigazette.com.sa/index.cfm?method=home.regcon&contentid=20130804175836
--------
Indomitable Falgunee gets GPA-5 again
August 04, 2013
Falgunee Saha, who has to hold the pen with wrists to write on paper, achieved the highest GPA-5 as a student of humanities group in this year's HSC examinations from Trust College under Dhaka Education Board.
After she passed the SSC examinations with GPA-5 from Galachipa High School in Patuakhali district under Barisal Education Board in 2011, The Daily Star ran a report on the matter on its May 14, 2001 issue.
Consequently, Md Basir Ahmed Bhuiyan, principal of Trust College, arranged Falgunee's study there free of cost.
Falgunee's father Jogodis Saha said, "We are very happy with her glorious results. We are thankful to The Daily Star and Trust College. My daughter wants to be a magistrate in future but we need financial help to fulfil her dream."
Falgunee also achieved primary scholarship in talent pool in 2005.
When she was seven-year-old and a student of Class II in 2002, doctors amputated portions of her both hands including fingers to prevent spread of septic after she accidentally touched a live electric wire while playing on their house roof.
http://www.thedailystar.net/beta2/news/indomitable-falgunee-gets-gpa-5-again/
--------
Fifteen year-old's appeal of flogging sentence for fornication stalled in High Court
By Neil Merrett | August 04, 2013
State and judicial authorities have failed to provide a timeline for the appeal of a 15 year-old rape victim sentenced to flogging for a separate incidence of fornication, despite repeated pledges and promises of wider legal reform.
The 15 year-old minor from the island of Feydhoo in Shaviyani Atoll was convicted to 100 lashes and eight months of house arrest in February 2013, after confessing to fornication with another man during an investigation into allegations she was sexually abused at the hands of her stepfather. Those allegations arose with the earlier discovery of a dead baby buried in the outdoor shower area of the family's home.
A month after the sentence was delivered, sources on Feydhoo told Minivan News that islanders had been raising concerns to the authorities over the girl's abuse by other men on the island since 2009.
Sources at the time accused law enforcement officials, civil society and successive governments of failing on every level to protect the minor.
Widespread international coverage of the sentencing has since led to over two million people signing an Avaaz.org petition calling for her sentence to be quashed, a moratorium on flogging, and reform of laws to protect women and girls in the Maldives.
Despite the country's international reputation as an romantic island getaway for couples, fornication (sex outside marriage) is illegal in the Maldives and is subject to Sharia punishments under the 1968 penal code.
However, statistics from the Department of Judicial Administration show that flogging sentences are overwhelmingly issued to women. Of the 129 fornication cases filed last in 2011, 104 resulted in sentences – 93 of whom were female.
Meanwhile, the Judicial Services Commission (JSC) has dismissed calls to suspend Supreme Court Judge Ali Hameed following the judge's appearance in at least three recently-leaked sex videos appearing to depict him fornicating with unidentified foreign women in a Colombo Hotel room, citing "lack of evidence".
15 year-old's appeal stalled
The opening hearing of a High Court appeal of the girl's flogging sentence, filed on her behalf by Attorney General Azima Shukoor, was held on April 29
The High Court has confirmed to Minivan News that there had been no further hearings in the three months since, and no further hearings scheduled.
However, a legal source speaking this week on condition of anonymity said the hearing in April was believed to have been the last, with the court expected to deliver a verdict on the case the next time it reconvened on the issue. The appeal is being heard behind closed doors.
The flogging would be administered when the girl turns 18, although local media has previously cited a court official who claimed it could be implemented earlier should the minor request so.
Deputy Solicitor General Ahmed Usham confirmed that the sentence had not been carried out, and reiterated that no date had yet been set for a verdict on the minor's appeal.
Usham added that a process to oversee legal reforms into the treatment of sexual abuse victims involving state bodies including the Attorney General's (AG's) Office was ongoing at present.
"Hopefully something concrete will be announced on this soon," he said, but could not speculate on a timeline.
President Dr Mohamed Waheed's government has previously pledged to review and "correct" laws it says victimise young women and minors who have suffered sexual abuse.
President's Office Spokesperson Masood Imad previously expressed hope that the use of punishments such as flogging would be among practices debated as part of reforms.
"I'm sure when we debate [punishing suspects for fornication with lashes], we will find an acceptable solution for all parties," he said.
More recently, the President's Office said current legal practices involving the treatment of victims of sexual offences could not be changed overnight, and required gradual implementation.
"We cannot go any faster on the matter than this, we don't want to see any trouble like in the past. We can't just go and ask a judge not to [give sentences like this] anymore," Masood said in May.
The President's Office today confirmed that Dr Waheed had established a "special committee" as part of efforts to try and oversee the requested legal reforms, referring any specific questions on its work to Spokesperson Ahmed 'Topy' Thaufeeq.
Thaufeeq was not responding to calls or text messages at time of press.
Recently appointed Gender Minister Dr Aamaal Ali meanwhile requested Minivan News contact the office of former Gender Minister and current AG Azima Shukoor concerning the current status of attempts to reform laws on the treatment of sexual abuse victims.
Azima was not responding to calls or e-mails to her office at time of press.
Local newspaper Haveeru meanwhile last weekend interviewed the judiciary's official flogger, Abdul Khalig.
"According to his memory, Khalig has enforced flogging sentences of over 300 people which amounts to thousands of lashes with his leather whip," reported Haveeru.
"But Khalig to this day remains hesitant when it comes to flogging the elderly given their age. But he assures that no old person mostly sentenced for fornication and child abuse had come to any harm as a direct result of the flogging.
"No matter who the person is, this must be done. It is not a cruel punishment. Only one woman fainted whilst I was flogging her," Khalig told the paper.
"I notice that people who have been flogged, repent and live good lives afterwards. Because this such a small society I see it quite often. People who have been flogged for fornication later go on to live very good lives," he said, adding that he was now hoping "to impart what he has learned to the next generation before he retires."
15 year-old's case "tip of the iceberg": Amnesty International
Speaking to Minivan News at the conclusion of a nine day visit to the country in April, Amnesty's South Asia Director Polly Truscott claimed the treatment and controversial flogging sentence handed to the 15 year-old girl was the "tip of the iceberg" regarding the Maldives' treatment of sexual abuse victims.
Earlier the same month, Maldivian NGO Advocating the Rights of Children (ARC) criticised child protection measures currently in place in the country as "inadequate", urging government authorities to incorporate several key human rights obligations into domestic law.
ARC at the time told Minivan News that although the Maldives has signed and agreed to be legally bound by the provisions in the Convention on the Rights of the Child (CRC) and its Optional Protocols, the commitments have yet to be adopted into law.
Minivan News meanwhile in June investigated reports of "widespread" child prostitution being conducted in Laamu Atoll, and was informed by a private clinical psychologist that the practice had become "so common" that the victims considered it "normal".
Multiple sources told Minivan News the practice has prevalent across the Maldives, ranging from male benefactors grooming children with 'gifts' to parents actively selling the sexual services of their children – some as young as 12.
Official and public acknowledgement of the "systemic" child sexual abuse remains taboo, although Azima Shukoor – then Family and Gender Minister - in a statement on May 10 to mark Children's Day revealed that "children being used as sex workers, where the children are sent to places as a means to pleasure people and to gain an income from such a trade. This is being practiced in the Maldives today. Both boys and girls are being used in this trade."
http://minivannews.com/politics/fifteen-year-olds-appeal-of-flogging-sentence-for-fornication-stalled-in-high-court-61850
--------
From classrooms to suicide bombs: children's lives in Afghanistan
Andrew O'Hagan
4 August 2013
At the juvenile detention centre in Kandahar there are two sets of children. The first are riotous and loud, arrested for theft and other crimes of that sort. When you give them a piece of paper and ask them to write down the reason they are in prison, they simply scratch lines into the paper or scrunch it up. They can't write. The second group are silent. But when they take the sheet of paper, they begin to write the most beautiful script, their sentences full of fire and argument. These are the children who were recruited to be suicide bombers – and their mothers tell them they will succeed next time.
The prison isn't big on vocational training but they had some sewing machines before the man who operated them disappeared. Some of the boys are as young as 10. There is no education and too little water. The Afghan government, for reasons nobody understands, aims to move the children to a new site near Sarposa prison, a Taliban-rich area where adult inmates once sewed up their mouths in protest at what they believed was their unlawful detention. Evidence suggests that detained children are physically abused in these prisons. A boy who steals a pomegranate may steal another one and end up next to a kid who knows the quick way to another world.
One boy, Beltoon, came from the province of Paktia. The families in his village competed over whose sons would be sent to the madrasa. "You do not love your son, you do not teach him in the ways of Islam," the elders would say to parents who kept their sons at home. A counsellor I spoke to told me many elders believe the world has come to destroy Islam and they must fight back. Beltoon is 15: he was herding goats before his father decided he should go to the regional madrasa, where he spent nine months. The dean then asked for volunteers. Which of them wished to have "advanced" education in Islam in Pakistan? Beltoon's father and his uncles told him this meant a better education.
"Would he understand," I asked, "that going over the border would mean military training?"
"The dean asks the child and his family if he wishes to be sacrificed in the way of Islam," the counsellor replied. "This doesn't mean giving him up to suicide bombing, but some will be. It can escalate from one madrasa to another and eventually the child might find himself in a place where the children are training to be suicide bombers."
At the compound Beltoon met older children who began to persuade him of the "cause". It's a familiar process. There was a great deal of physical exercise, hard work carrying packs in the sun. Beltoon had no direct contact with his family; once or twice the dean of his madrasa would pass on some news. Beltoon wasn't surprised to hear nothing: his family seemed to him to live without questions and without news. They didn't have knowledge such as he was gleaning. He had begun to trust the leaders around him. He wanted to please them, the counsellor said.
Beltoon was told that the index finger of his right hand was the Shahadat, the finger of "witness", the digit of Allah. He was told he must use this finger on the suicide vest to be sure of his place in paradise. He must be sure to flick the switch firmly with this finger. Beltoon was convinced he had found the best way to raise himself to the pinnacle of respect, and into a life much greater than this one.
Beltoon was close to a boy called Sahim, also 15. After six months in the training centre, they were driven to a local house for further "initiation". They got to know the location where they would do their holy work. Sahim appeared to have no end of enthusiasm for the planned attack. Early in 2012 the boys were dropped off on a street near the American base. They were walking side by side when an Afghan soldier near the entrance to the base saw them. They seemed unsure what to do – Sahim pushed Beltoon and they argued for a moment – and the soldier ordered them to stop and summoned other military. The boys' suicide vests were removed on the spot and that night they were taken to the detention centre in Kandahar. Beltoon hasn't seen his mother again, but a message was sent to him encouraging him not to give up hope. "Maybe next time," she said.
In the thick of Kabul the temperature soared into the 40s. It was June, and I had come in the wake of a Unicef report stating that the number of children killed or injured in Afghanistan had gone up by nearly 30% in the first half of this year compared to the first half of last year. From the beginning of the year until the end of April there were 414 child casualties, in the same period in 2012 there were 327 child casualties recorded. These are inflicted by every side in the conflict. On 3 June, a suicide attack beside a school in Paktia killed 10 children and injured 15. Three days later, a US air attack in Kunar province killed three children and injured seven. Suicide bombers are casualties, too.
There's only one organisation in Afghanistan that is trying to rehabilitate children like Beltoon and Sahim. It's a local Afghanistan NGO and I've been asked not to name it because of the extreme sensitivity of its work. "Some of the children have deep depression after they end up in the correction centre," Dr Karimi, the executive director, told me. "Many of them also need counselling because they have been sexually abused by the older boys. And of course they cannot speak about it in front of the other children because of the stigma."
"And what about their families?"
"Part of the problem," he says. "The family sometimes blames the child for failing. And we have found we have to try putting the family into therapy together. Sometimes the children won't speak to us. We have to use Islamic sources close to them in the prisons to begin the dialogue necessary to help them."
It is never easy to get the political children out of their mindset. "The brainwashing has been so effective," Mr Wahidi, a colleague of Dr Karimi, said. "In one case, a child smuggled in information about how to escape from the prison. They killed a police officer in the attempt. The boy saw it as a second opportunity for glory after his suicide bombing failed."
"So how do you do it?" I asked.
"Cognitive therapy," Dr Karimi replied. "We find ways to protect them and speak to them away from their parents. We use the Islamic tools they understand. It is a big challenge to change the behaviour of these children because, of course, we are not able to change their whole culture." It becomes obvious that these children were a kind of elite, enjoying better food and shelter in the training camps than in their villages.
"Most of them are in search of a life," Wahidi added. "An eternal life, if possible." These kids might disappear at 12 and come back at 15 fully militarised and conscious of their own bodies as weapons.
I went with Dr Karimi to their counselling centre. It was a low building with two classrooms on either side of a hot porch. A dozen boys were sitting cross-legged on a large red Afghan rug. The youngest was 10. "I feel better since coming here," said Samoon, a 13-year-old who had had pressure put on him by his father and his uncle. He had very green eyes and couldn't stop laughing. "I would like my own life now and I would like to be a civil engineer." The boy who sat next to him was called Ibrahim and he wanted to be a pilot. "I would like to help my country," he added. People who work with children like Samoon tell me war has undermined any sense of where they fit into the world.
Peter Crowley, the Unicef representative in Afghanistan, feels this is a crucial moment for Afghanistan, and is sure that the current situation, with rising violence and troop withdrawal imminent, constitutes a potential "perfect storm" that could obliterate the hopes of the children they have spent years trying to help. "Ninety-five per cent of funding in Afghanistan comes from abroad," Crowley said. "Some of that is military and some is humanitarian. The withdrawal of these funds will lead to an immediate crisis."
Last year, 1,304 children were killed in Afghanistan. IEDs (or improvised explosive devices) were the main cause of death. Suicide attacks killed 42 children and injured 68. Hundreds of children were caught in mortar attacks or by shotgun fire. And 46 were targeted by armed opposition groups for being pro-government.
It is difficult to know how many children are held in detention centres because there is often no case documentation. In July 2012 it emerged that 90 children were being held in Parwan without any representation. According to a UN document that came my way, they "continued to receive reports of ill-treatment and torture of children in national detention facilities". Armed groups have been known to use schools as military bases, and there is often a concerted effort by "community elements" opposed to girls' education. "On 12 August 2012," one source reports, "the Taliban abducted and beheaded a 16-year-old boy whom they accused of spying for the pro-government forces in Kandahar province, and on 29 August 2012 they abducted and beheaded a 12-year-old boy because his brother was a policeman". That it's a bad time to be a child in Afghanistan is obvious. And now the spotlight threatens to move elsewhere. "It mustn't move," Crowley warned. "Afghanistan needs the world's attention like never before."
The next morning I went to a camp where refugees uprooted by the conflict were living. IDPs (internally displaced persons) have been flooding into Kabul from the south for years, and the children in those groups are among the most vulnerable in the country. The camp I visited was in Gul-e-Surkh. In a house made of mud and smelling of raw sewage, six girls sat in a close circle on the floor. They couldn't speak – it was just too difficult for them – and I was soon left with their social workers, a busy woman called Miss Fawzia, and Mr Jobair, a man with one leg. Mr Jobair told me the girls were being given a lesson that day on "the purpose of life".
"These girls are neglected," Miss Fawzia said. "There is much discrimination between the boys and the girls. We are trying to protect their human rights". The girls are forced into marriage and no one will stop these men from beating them. "There is little water here," continued Miss Fawzia. "There is only one water pump and one toilet. So, when a girl starts her period she immediately gives up on school, because of the worry, because of the embarrassment."
You can scarcely count the losses suffered in Afghanistan or guess at the new losses being planned by some. Yet since the interim government was created in 2002, children have gained access to thousands of schools and today there are 8.3 million pupils, 40% of them girls. (That's a 650% increase in 10 years.) At the top of the stairs at Sherino high school there is a large portrait of an old girl who became a poet. The school has 121 teachers, all female. We looked in many of the classrooms; in one of them the girls were learning about magnets. A girl told me there was no "poisoning" at the school. Later I stopped to ask her what she meant.
"Some people in the community do not want girls to be educated," she said, "and in some schools they poisoned the drinking water and girls died."
It seems such incidents have been prevalent for some time, especially in the north, where hundreds of schoolgirls had been subject to attacks involving contaminated water and poison gas. At Sherino high school the students believe everything can change. Shabnam, who is 17, was described by one of her teachers as the brightest girl in the whole school. She told me she gets up at dawn and comes in as early as possible every day. One of the reasons is the wonderful facilities they have – the classrooms, the computers, and most of all the sanitation. Shabnam's father is a car dealer and she recently won a competition to write the best business plan. It was about how to buy oil in her home town of Mazar and sell it at a profit.
http://www.theguardian.com/world/2013/aug/03/afghanistan-child-suicide-bombers
----------
2,000 Vacancies Await Female Bakers in EP, Saudi Arabia
4 August 2013
DAMMAM – Nearly 1,000 bakeries in the Eastern Province are waiting to be included in the list of jobs that women can be employed in.
The bakeries are expecting the Ministry of Labor to make it compulsory to employ women in bakeries at a time when the percentage of Saudisation in these facilities does not exceed 20 percent of the total number of workers.
A number of bakery owners expect an announcement on compulsory feminization of bakeries soon. The ministry is conducting consultations with investors on the decision before announcing the steps and stages women will be employed in, Al-Hayat Arabic daily reported Saturday.
Investors expect implementation of the decision to provide 2,000 job opportunities for women. Hashim Al-Shakhs, an investor who owns several bakeries, said, "Saudisation of the bakeries sector requires efforts from a number of related authorities, including businessmen, by providing a suitable work environment. The percentage of Saudisation in the sector does not exceed 20 percent, hence requires restructuring if it is made compulsory.
"We try to employ Saudi nationals, but they do not exceed the number of fingers in one hand in each bakery because they are not convinced about work in bakeries. They want to stay away from manual work."
Members of the Bakeries Committee at Asharqiyah Chamber of Commerce and Industry said the committee strives to Saudise certain departments in the bakeries sector as the Saudisation percentage is low but Saudi youth are not interested in working in the sector.
"In case of Saudisation and the youth accepting work, we will do away with expatriates," one committee member said. He added that the obstacles to Saudisation include lack of training, low salaries and lack of interest because society looks down on people who do manual labor.
Another committee member, who requested anonymity, said, "If the sector is feminized and it is made mandatory for bakeries to employ Saudi women, then over 2,000 job opportunities will be created for women in the preliminary stage. This requires support from the Ministry of Labor and the creation of a new work culture in sectors the youth are not interested in, like dressmaking workshops, bakeries and other professions."
http://www.saudigazette.com.sa/index.cfm?method=home.regcon&contentid=20130804175880
----------
Women's IDs Can Be Issued without Guardians' Consent
4 August 2013
There are several ways women can obtain their national identity card without seeking their guardians' permission, according to Khalid Fakhri, member of the National Assembly for Human Rights.
Fakhri said the guardians' role is to identify and facilitate statutory procedures for women provided that they are included in family records.
He said that procedures and rules are clear regarding women's rights to obtain a national ID and apply for paperwork to be completed at any department with the exception of proceedings in civil cases.
Current regulations within the civil status system give women several options for obtaining their national IDs. This includes the presence of a guardian for identification purposes via signed family records. If this is not possible, she can submit the ID of a relative aged 18 years or older, or, if this is also not possible, two women aged 18 or older can come to the Department of Civil Status to complete statutory procedures.
These are all viable and acceptable methods for a woman to obtain her ID for civil cases without requiring the consent or presence of the guardian. Women also have the freedom to select who will facilitate obtaining the national ID.
But the presence of a guardian is intended only for identification purposes to facilitate the procedures.
The guardian does not have the right to refuse because being recognized through an ID is a fundamental right and conforms to procedures in place in many countries for security considerations and other services.
http://www.arabnews.com/news/460187
----------
Women Organisation Speaks Out Against Arab Governments Abandoning Women's Rights
4 August 2013
One women's advocate says the treatment of women is the greatest indicator of how much a government values democracy.
Hibaaq Osman, the founder of Cairo-based women's rights nonprofit Karama, joined HuffPost Live at the Aspen Ideas Festival to discuss the relationship between women's rights and a government's commitment to its people. She mentioned that governments who show little regard for women's rights will perpetually lack respect for democracy and justice.
Specially, she mentioned Mohammed Morsi's recently ousted Muslim Brotherhood:
"The minute [Morsi's government] came in and, of course, they started curtailing women's rights, immediately," she told Ahmed Shihab-Eldin of HuffPost Live. "And, to me, that was an indication that these governments in the Middle East were not committed to democracy, human rights, justice, or dignity. That was an indication."
Osman has advocated for the improvement of women's status, dignity, and rights in the Arab world -- especially in Egypt, where women have long suffered from a lack of equality.
In March, for example, Morsi's government claimed that a U.N. declaration promoting women's basic rights would destroy society. In 2011, women only made up 24 percent of Egypt's working force. Recent U.N. Women data indicates that almost 100 percent of Egypt's women have been sexually harassed at one point.
Osman's organization, Karama, operates in Jordan, Morocco, Lebanon, Iraq, Libya, and Egypt to influence legislation and advance the role of women in the Arab world.
http://www.huffingtonpost.com/2013/08/03/hibaaq-osman_n_3697954.html
----------
Pak Teens Shine with Their Volunteerism at Hospitals
By Tauseef Razi Mallick
4 August 2013
KARACHI: For many students, summer vacations are that time of year when they travel abroad or visit places across Pakistan, but then there are others who spend their summer breaks volunteering and facilitating in hospitals.
For Zeeshan, an O' Level student, offering his services as a volunteer at Indus Hospital means much more than just spending time at home or visiting places. "I find it really amazing to help out patients, this motivation brings me here during vacations," he said.
Indus Hospital runs an effective volunteer programme in which young students participate, mostly during their summer vacations or post-exam breaks. "Being a hospital providing totally free of cost services, we always need people to assist us," said Fatima Zakir, in charge of the volunteer programme.
Zeeshan has made many friends of his age; one is Taha who is also an O' Level student. Both the volunteers, in their early teens, help out patients in filing their case reports, and assist hospital management in carrying out research and communications effectively.
"At times some volunteers hesitate in dealing with customers, so we assign them research-related tasks," said Fatima. "We never impose work on them, it's their choice to do whatever they can with dedication, she added.
When asked, Zeeshan told that he finds the case stories of patients very heart-wrenching as most of them come from low-income backgrounds. "Mostly the patients here are from poor background and hardly make their ends meet, affording medical care is totally out of question," he said adding that it feels nice giving them hope and care through their efforts.
Fatima informed that currently Indus Hospital is housing 25 volunteers, amongst which all are A' and O' Level students having summer breaks in their respective schools. She added that they award a 'Certificate of Appreciation' over successful completion of the programme.
"We offer two-week and four-week long volunteer programmes, depending on their availability. Apart from this, the hospital always welcomes volunteers, and one can always be part of our cause," said Fatima.
While the hospital never contacts anyone directly to participate, many institutions get in touch to take part, she said.
Over a query on how the volunteers remain in contact with each other, Zeeshan told that they have created a separate group on social media to remain in touch. "We use social media as well have contact numbers of many fellows; so whenever there is a need, getting to a person is not that hard," he explained. Aga Khan University Hospital (AKUH) also runs a volunteer programme, which is now functional for more than two decades. As per the hospital's official web portal, the volunteers not only push wheel chairs, manage gift, flower and tuck shops, but have also contributed substantial amounts towards AKU's Patients Welfare Programme. Moreover, till date, more than 6,000 volunteers have given their precious time and dedication to AKUH, and the volunteers are between the ages of 17 and 55 years of age, said the official statement.
Liaquat National Hospital (LNH) also has plans to kick-start a network of this kind. When contacted, LNH Manager Marketing and Media Affairs Umaima Muzammil said that currently they don't have any established programme for volunteers like other hospitals, but are planning to
have one soon.
Zeeshan and his friend Taha have been doing volunteer work for two years now, and they often tell about motivating others too for becoming a part of this. Considering their age, the responsibility they take up is intense, yet their eyes shine of hope and courage.
http://www.dailytimes.com.pk/default.asp?page=2013\08\04\story_4-8-2013_pg12_8
----------
Finding a voice for Libyan women in Islam
Gabriella Nassif
4 August 2013
By focusing on Qur'anic verses and Islamic Sunnah, Project Noor aims to legitimize their discourse on women's security concerns using particular religious passages that point to the proper treatment of women.
More than 30 graphic designs addressing domestic violence are now covering billboards throughout major Libyan cities in the hopes of beginning a discussion on the everyday security concerns of Libyan women. Alongside television commercials and radio prompts, Project Noor hopes to open the public's eyes to the longtime problem of domestic violence and sexual abuse against women across Libya.
Project Noor follows on the heels of two years of research conducted throughout several major cities in Libya which looked to chronicle women's opinions and ideas in regards to these security issues and the action that must be taken in order to prevent them from continuing on. With "no clear statistics" on the prevalence of domestic and sexual violence among Libyan women, the Voice of Libyan Women (VLW), an NGO founded during the revolution in 2011, sought to "finally get some real results while raising awareness on sexual violence" commented Nadia El-Fallah, manager of Project Noor.
CONTEXT Khadija Ali: A close look at civil society in Libya
"Starting in November 2012, the VLW lead Libya's first security assessment focusing on the impact of security on women's political participation," El-Fallah notes and continues, "it was an opportunity to gauge women's national security concerns but also their security concerns that affect them on a daily basis."
Gathering these survey results, the VLW organized the "One Voice 2013: New Horizons" conference, which brought together numerous government officials, international ambassadors, and women from across Libya. The conference aimed to further develop these survey results into a viable plan of action aimed at reducing the incurrence of sexual and domestic abuse.
El-Fallah stressed the success of this conference, noting three important outcomes relating to women and security, including "creating a dialogue about women's security concerns" and "distributing an advocacy toolkit to each of the One Voice participants" which allowed VLW greater outreach by "bringing in more partners to conduct surveys nation wide."
Project Noor, however, promises to be a challenging feat for the women of VLW and Libya, as one of the projects main tenets is to reconstruct the role of women and the notion of domestic and sexual abuse through the use of religious language. Focusing on Qur'anic verses and Islamic Sunnah, Project Noor aims to legitimize their discourse on women's security concerns using particular passages that point to the proper treatment of women.
According to the Project Noor press release, surveys and seminars conducted among Libyan women discovered that the "most common justification for discrimination against women was the misunderstanding and misrepresentation of Islamic teachings". The incorrect interpretation, according to the VLW, has improperly influenced Libyan culture, thus incorporating the mistreatment of women as part and parcel of the Libyan culture. So how does Project Noor intend on challenging these religious interpretations?
ALSO READ Fouad Kemache : North Africa's border wars
El-Fallah stresses the importance of Project Noor as an "awareness campaign" during its initial phase, "focusing on media and seminars as a means to educate the public on women's security concerns." Not necessarily a direct challenge to the "misunderstandings" of Islamic teachings, Project Noor strives to simply provide the framework from which the public can begin to tackle the issue of sexual and domestic violence. Project Noor's media campaign, El-Fallah hopes, "will be the tool for sparking conversations in people's homes, mosques, (and) coffee shops," and thus the starting point in reevaluating women's positions on a national scale.
"The reason why (Project Noor) has been well received thus far is because we paired issues of women's security to proper treatment of women in Islam." Without justification of Project Noor through an Islamic discourse, the VLW stands the chance of alienating the overwhelmingly Muslim majority in the country, locating them even further away from their intended goal of discussing the importance of women's security issues.
"I come from a very religious family," comments 23-year old Alaa Murabit, founder of the VLW, in a YouTube interview, "and have never experienced these issues in the name of Islam." Alaa emphasizes the variations of Islam, and its subsequent culture in Libya, supporting the VLW and Project Noor's hopes to redefine women according to the proper treatment determined in religious doctrine.
Project Noor is aiming to expand beyond media sources and continue moderating seminars around Libya, increasing Project Noor's outreach capabilities. The women aim to "break down the misunderstanding and misinterpretation of Islam that has limited women's participation in society" thus far. Project Noor hopes to infiltrate the public in hopes of highlighting the situation of Libyan women and to establish a plan for their betterment not only in the present, but throughout the post-revolution era.
http://www.yourmiddleeast.com/columns/article/finding-the-voice-of-libyan-women-in-islam_16846
----------
Uncertain Future for Afghan Businesswomen as West Leaves
4 August 2013
The United States and its allies have put promoting women's rights at the core of their 12-year mission in Afghanistan and Liza Ghausi Nooristani has profited nicely from their intervention.
Nooristani is one of the few women in conservative, male-dominated Afghanistan to set up and run a relatively big company. And she has done it in the mountainous eastern warzone.
She has been undaunted by the danger and the death threats and her construction company has been building schools, roads and government offices, largely paid for by a flood of aid money that followed the arrival of U.S. troops.
"In the eastern part of Afghanistan, which is dangerous for security, I was the first woman to have a construction company, and I travelled without a bodyguard or gun," said Nooristani, chief executive her firm, Mutaharek Construction Company.
She won her first contract in 2007, to build a village school worth $10,000. Since then, her company has handled a host of projects, with the biggest worth as much as $800,000.
But now Nooristani faces the prospect of the withdrawal of Western troops.
For Afghan women in general, the exit of most foreign troops by the end of next year could mean a slip back in the rights they have managed to secure over the past decade.
For Nooristani, a round-faced woman with sad eyes, the withdrawal of Western forces and the aid programs they have promoted also means a sharp fall in business.
"As soon as the provincial reconstruction team left they stopped the projects," Nooristani said in an interview, referring to joint military-civilian teams set up to consolidate military gains with development.
Nooristani is not only going to miss the projects but also the Western way of doing business.
"I won't take a project from the government because the government's people are corrupt," she said.
"The government does not think women have any worth, nobody has time for females ... they just say women are just for the home to wash their clothes."
An official for the USAID development agency said Afghan businesswomen were still "outside the inner circle".
While they had made progress, they faced difficulties in doing business in a very bureaucratic system largely run by men.
"Licenses for exports and other permits are the main concerns of women," the official said.
The agency has launched a $200 million program to help women aged 18-30 build up their skills and create more than3, 500 small businesses.
Nooristani has her enemies, some of whom object to her doing what she does because she's a woman.
"First of all the Taliban, but also common people, because of the way they think," she said with a shrug.
She has received death threats and escaped a bomb attack.
Despite the danger, her husband and six children support her, while her sisters, all of them housewives, admire her, she said. But some relatives take a dim view of her work.
Nooristani spent part of her childhood in Pakistan to escape Afghanistan's interminable conflict. She later studied at university in both Kabul and New Delhi.
She is driven, she says, by her determination to help women in the countryside gain access to education.
With the development projects drying up, Nooristani has setup a firm called New Lalazar Limited, which supplies and services office equipment, mainly to foreigners in Kabul.
If the new business founders, she said she would return to her home province of Nuristan in the east to help the people, perhaps teaching in the schools she built.
"The people there don't know a car, they don't know electricity because they don't have it, so I'm going to work for those people, I'm going to help out those people.
http://english.alarabiya.net/en/perspective/features/2013/08/04/Uncertain-future-for-Afghan-businesswomen-as-West-leaves.html
----------
URL: https://newageislam.com/islam-women-feminism/women-group-accuses-egypt's-brotherhood/d/12884