New Age Islam News Bureau
20 December 2020
• Women Rally To Save Pakistan's Taboo-Busting 'Oprah Show' By Kanwal Ahmed
• Uttar Pradesh: 'Love Jihad' Accused Freed, Wife Says Life's Back
• Female Workforce Boosted In Grand Mosque
• Online App Helps Protect Palestinian Women From Harassment, Abuse
• New Visually Impaired Women's Marathon Record
• As Cybercrimes Abound In Bangladesh, An All-Women Police Team Wins Trust
• Pakistan- Women More Prone To Psychological Problems During Pandemic
• Indian Women's Association Donates Food Rations To Less Fortunate People In Myanmar
• United States Air Force Graduates Its Largest Class Of Female Test Pilots And Engineers In His
Compiled By New Age Islam News Bureau
URL: https://www.newageislam.com/islam-women-feminism/women-rally-save-pakistans-taboo/d/123818
-------
Women Rally To Save Pakistan's Taboo-Busting 'Oprah Show' By Kanwal Ahmed
Alia Waheed
20 Dec 2020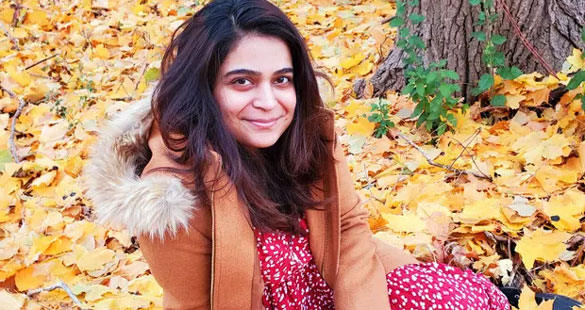 Kanwal Ahmed launched a women-only forum which now has more than 250,000 members. Photograph: Courtesy of Kanwal Ahmed
------
A social media star has been dubbed Pakistan's Kickstarter Oprah after her groundbreaking digital talk show in which women talk about taboo issues such as marital rape, cyberbullying and femicide was saved by fans.
Filming started this week on the new series of Conversations With Kanwal, in which presenter Kanwal Ahmed, 31, sheds light on issues that are rarely talked about within families, let alone in the public arena, after fans raised more than five million rupees (around £23,000) in less than a week using the online crowdfunding platform.
It was a remarkable achievement as the majority of fans were women living in Pakistan, where fewer than 30% are employed, so are often financially dependent on their spouses and don't have their own bank accounts.
Ahmed's journey towards becoming the nation's favourite agony aunt began seven years ago when she launched Soul Sisters Pakistan (SSP), a women-only forum, where users could discuss taboo subjects such as domestic violence without fear of retribution. It also gave women the freedom to talk about anything from sex and relationships to Netflix and cooking tips.
In a religiously and socially conservative nation such as Pakistan, where a selfie can result in an "honour killing", SSP has become a lifeline for members or "Soulies" as they call themselves. The idea for the forum came about when Ahmed was working as a bridal make-up artist and found herself often dishing out advice to young women on everything from sex to handling in-laws.
"Many women don't have anywhere to get information about sex and relationships and for many, their first experience of both may be on their wedding night," said Ahmed. "It's considered an act of shame to talk about something as intimate as sex.
"It's ironic, because the word marriage is on everyone's mind when a girl turns 18, but sex, body rights, contraception are hardly ever discussed with her. We grow up with biology books stapled to hide the reproduction section."
SSP has more than 250,000 very active and vocal members, the majority of whom are aged between 18 and 35 and it was important to Kanwal that SSP should be an inclusive space for women of all backgrounds, including religious minorities, she said.
Any platform that unites such a diverse range of women will face controversy and many conservatives have accused Ahmed of promoting "promiscuity" and "wild behaviour".
"SSP hosts a very diverse audience and the kinds of topics we discuss include those that are often considered shameful, so the SSP community routinely gets targeted for 'leading women astray'," said Ahmed. "When you try to challenge problematic norms, the backlash will occur. But it doesn't mean we will back down. We only keep fighting harder."
Two years ago, Ahmed was selected as a community leader by Facebook in recognition of her efforts to use the social network to help others. She used its grant to launch Conversations with Kanwal on YouTube.
"I wanted the things we championed for in the group to be talked about outside of it too, and hence within society at large. It was empowering for women to watch these stories and know they were not alone. Watching the struggles gave them strength and the happy endings gave them hope."
While the grant sustained the series for two seasons, it wasn't enough to keep the show going, but despite hitting 30 million views – matched only by the most popular soap operas – most mainstream channels refused to touch the format because it was deemed too controversial, while others found it too hardhitting and wanted Ahmed to add a "beauty segment," or comedy skit.
Like her Soulies, Ahmed turned to SSP for advice and launched a Kickstarter campaign. Donations flooded in, from a few rupees to thousands of dollars.
"Financial independence is not considered a birthright for those who identify as women. Many women either open a joint account with a male counterpart or only deal in cash, which is why it's such a big deal," said Ahmed. "It truly is a show that is powered by the people."
https://www.theguardian.com/world/2020/dec/20/women-rally-to-save-pakistans-taboo-busting-oprah-show
-----------
Uttar Pradesh: 'Love Jihad' Accused Freed, Wife Says Life's Back
TNN
Dec 20, 2020

BAREILLY: The 21-year-old Muslim man from Kanth in Moradabad who had been arrested on charges of "forcibly converting" a 22-year-old woman was released from jail along with his elder brother on Saturday.
Police had filed a report in court on Friday, saying there was no proof for the charges pressed under UP's new anti-conversion law.
Around 11.45am, the man and his brother were set free. They got home around 1.30pm to a family waiting anxiously. "Aa jaa mera bachcha (come here, my child)," his mother said as she embraced him, tears rolling down her face. His wife, still sick from the miscarriage she had some days ago, managed to sit up. "I feel like my life is back," she said. "We will make a fresh start." Her mother-in-law smiled: "My children are back home. My daughter-in-law is here with me. I could not be happier."
The family has been grappling with everything that led up to this point. "We were doing the right thing, getting their marriage registered," the man's brother said as his mother added, "That day, we were coming back from court after consulting a lawyer. My son had married five months ago. The lawyer took money from us and then reported us to Bajrang Dal."
Sources said the lawyer's brother is a member of Bajrang Dal. The right-wing outfit had told TOI that they were doing their duty "as citizens" by reporting the couple.
"We were stopped near Ramleela Ground by Bajrang Dal men. They misbehaved with us and took us to the police," the brother said. "I was called in later. I hadn't committed any crime, so I went to the thana. They detained me and my brother," the husband said.
At the police station, his mother said, a lot was playing out. "Our girl kept telling them she had not been coerced, that she had the papers to show they were married. But no one was ready to listen. The Bajrang Dal men (at the police station) said, 'You're lying, naatak dikha rahi hai (being dramatic)," she said. "Hamare bahu ka bachcha khatm hi kar diya (my daughter-in-law's baby was lost because of all this)."
Regional convener of Bajrang Dal Gaurav Bhatnagar told TOI, "We only told the police about it (the inter-faith marriage), who registered an FIR and sent the woman to custody. Our workers never harmed her or her baby." Moradabad additional SP (rural) Vidya Sagar Mishra said, "The case is being investigated. If any complaint is filed holding someone responsible for miscarriage, action will be taken."
The woman's mother-in-law also said that the new bride's mother, on whose complaint the police finally took action, never wanted to come to Moradabad and file an FIR. "When they called her up, she didn't want to come. She couldn't afford it. So, a jeep was sent to bring her here. I was told the three of them (the woman, her husband and his brother) would be released in the morning. I went to the police station with a flask of tea in the morning and saw my sons had been arrested and my daughter-in-law sent to some shelter."
The man and his brother had been jailed by then. "I was surprised. We were legally married for five months but the police didn't believe us. I am happy they have found out the truth now," he said on Saturday. "Police treated us alright in jail. I was shocked when I got to know about her miscarriage but there was nothing I could do. Now, I will get her proper treatment and support her. I also have to find a job."
The couple got married at a madrassa in Dehradun on July 24 and came to Kanth to stay with the man's family. Money was tight after the lockdown and the couple found they were having a baby. So, the woman sold her phone, got Rs 5,000 for legal fees and impending expenses, and got in touch with a lawyer to register their marriage. "We didn't want to take any chances," the woman, who used to work as an accountant in Dehradun, told TOI.
And they still don't. So, they are weighing whether to press charges for harassment or not. The man's brother said they don't want any action against anyone and "just want to stay safe." The woman added, "I am extremely grateful that news organisations supported us. We will discuss with our family before we consider any action against anyone."
https://timesofindia.indiatimes.com/city/bareilly/after-14-days-in-prison-on-fake-forced-conversion-charges-up-man-released-from-jail/articleshowprint/79816808.cms
----------
Female Workforce Boosted In Grand Mosque
SPA
December 20, 2020
MAKKAH: The General Presidency for the Affairs of the Two Holy Mosques has appointed around 1,500 females in its different departments to serve female visitors to the Grand Mosque in Makkah.
A total of 600 women have been recruited in the Technical and Service Affairs Agency. The rest of the female staff will be deployed in other departments of the presidency such as electric vehicles, Zamzam watering unit, guidance and intellectual affairs, administrative affairs, public relations, media and communication and the General Department of Internal Auditing.
Dr. Al-Anoud bint Khaled Al-Aboud, deputy president for women's development affairs, said the step is part of the presidency's transformational initiatives 2024. It aims to raise the level of services provided in the Two Holy Mosques, she said.
Al-Aboud also said it also part of the Saudi leadership's plans to empower women and ensure best possible services to female pilgrims and visitors to the Grand Mosque in line with Saudi Vision 2030.
The presidency is continuously taking measures to serve pilgrims and visitors in the best possible manner.
https://www.arabnews.com/node/1779951/saudi-arabia
----------
Online app helps protect Palestinian women from harassment, abuse
By UNREGUSER
20 Dec 2020
RAMALLAH, Dec. 19 (Xinhua) -- A Palestinian foundation recently launched an online application named Sawa121 to provide more protection for Palestinian women from increasing harassment and abuse, whether verbal or physical, in public places and at work.
The application, launched by the Sawa Foundation concerned with women's issues, "provides a mechanism of direct contact by the harassed women with bodies concerned," Jalal Khader, legal advisor of the foundation, told Xinhua.
This app feature, which is new in the Arab world, turned out important for women because the COVID-19 pandemic now makes it more difficult for them to go to clinics, Khader pointed out.
Through the app that covers all Palestinian territories, women subjected to harassment or abuse can contact human rights centers, the police and an ambulance for support and assistance, he told Xinhua.
Nahid Abu Taima, a feminist activist, told Xinhua that application that helps women "report the location and identity of the perpetrators" also "provides them with confidential protection from being persecuted in the future."
She also suggested the launch of an awareness campaign to provide women with the needed information about facing harassment, especially at the workplace.
According to the Palestinian Central Bureau of Statistics, one out of every three women in the Palestinian territories is exposed to harassment of all kinds.
https://www.thestar.com.my/news/world/2020/12/20/online-app-helps-protect-palestinian-women-from-harassment-abuse
----------
New visually impaired women's marathon record
Tokyo reports
20-12-2020
A 43-year-old Japanese runner has set a new world record in the women's marathon for a visually-impaired athlete.
Michishita Misato finished the Hofu Yomiuri Marathon in her home Yamaguchi Prefecture on Sunday with a time of two hours, 54 minutes and 13 seconds, exceeding the previous world record she set in February by 9 seconds.
She led the race from the start on a flat course known for producing many records.
She exceeded her previous record by more than 30 seconds halfway after the 21-kilometer mark and kept up the pace until the end.
Michishita almost completely lost her eyesight to disease when she was a junior high school student.
She won a silver medal at the 2016 Rio de Janeiro Paralympics and has set two world records since then.
Michishita was selected to compete in the Tokyo Paralympics on an informal basis and is now more than 6 minutes ahead of her nearest global rival.
https://www3.nhk.or.jp/nhkworld/en/news/20201220_16/
-----------
As cybercrimes abound in Bangladesh, an all-women police team wins trust
Meherun Naher Meghla
20 Dec 2020
After declining the call several times, she finally received it only to be bombarded with obscene remarks and vulgar language from the other end. Samia then hung up and thought that the worst was over. But the caller flooded her phone with obscene photos. The caller did not relent and sent more pictures afterwards.
Two days later, Samia filed a general diary with the police. But going to a police station to file a complaint over online abuse is not an easy decision for women to take in Bangladesh as they face victim-shaming and other sorts of harassment at every step.
A newly formed all-women unit -- Police Cyber Support for Women or PCSW -- helped her gather the courage to take legal action and file the complaint without visiting a police station.
Samia availed the support after calling the PCSW helpline (01320000888). The victims can submit their complaints via the special cell's Facebook page, email (cybersupport.women@police.gov.bd) and the national emergency helpline 999 as well.
After the special unit's inauguration with a motto 'safe cyberspace for women' on Nov 16 by Benazir Ahmed, inspector general of police, thousands of women received its services
In the first month to Dec 16, as many as 5,666 women contacted the special cell, according to the Police Headquarters. Among them, 3,453 contacted through the Facebook page's messaging option, 3,254 contacted via the helpline and 136 others via email.
At least 1,936 of the victims received legal services, 1,796 were asked for permission to use necessary information, while for the rest 1,934 women had or are having discussions with the unit to find a solution.
As many as 1,443 women have complained that their photos or identities or both were used to open fake IDs on Facebook to upload their pictures, videos or information. Also, 716 complaints of social media account hack and 417 incidents of blackmailing were reported.
A total of 528 complaints were over bullying and threats via mobile phone, while 430 women alleged they were sent obscene contents, including pornographic pictures or writing.
In most cases, women do not file complaints after being subjected to offences under the ICT Act, Digital Security Act, Pornography Control Act and Telecommunication Act – a finding that led the police to launch the unit, said Sohel Rana, an assistant inspector general of police.
"The government has been relentlessly trying to establish a connection between the people and technology. As the internet became easily accessible, and no existing regulation is there for its usage unlike other countries, it is now being abused. People with perverted taste are using the internet to harass the women."
To ensure the protection of the victims and the members of the PCSW team, their identities are never revealed, Sohel Rana said. He hoped that the services would be able to achieve the desired goal with assistance from everyone.
The other police units, such as DMP Cyber Crime Investigation Division, CID Cyber Police Centre, CMP Cyber Unit, Bogura District Police Cyber Cell and RMP Cyber Unit, will continue their services along with the PCSW.
Experts have applauded the initiative. "The number of cybercrimes has increased sharply and it is a timely move indeed for some immediate measure," said Professor Zia Rahman, chairman of Dhaka University's criminology department.
"People are engrossed by the cyberspace these days, while the government never had any initiative to tackle [the cybercrimes]. Bangladesh Police must be lauded for such an initiative under the circumstances."
Some women seeking services of PCSW, however, complained that they received no responses after contacting the platform several times.
Shaharin Amin Supti, a student of Dhaka University's Department of Journalism and Mass Communication, said she had complained to the PCSW's Facebook page over obscene remarks, photos and threats to rape women on Facebook.
"I messaged the complaint to the page on Nov 21 and expected a quick response. But I never got any response. I was very happy to know about the service; something novel in Bangladesh. Maybe my message was lost in thousands of messages and they missed it," Supti said.
"I don't know what people are saying but I received assistance and suggestions just in an hour after I gave them proper information," said Fatema Nasrin, thanking the PCSW in a post on its Facebook page.
"I applaud Bangladesh Police for this noble initiative. And kudos to those who work for days and nights with this initiative," she said.
"Some people may bother them without a reason. We should shun such nonsense and let them (PCSW team) work better. It's a new unit and they need time to settle. We all should have patience."
https://bdnews24.com/bangladesh/2020/12/20/as-cybercrimes-abound-in-bangladesh-an-all-women-police-team-wins-trust
-----------
Pakistan- Women more prone to psychological problems during pandemic
Mamarha Afridi
12/19/2020
LANDIKOTAL: Muskan, 29, from Landikotal, became victim of coronavirus when she was in third semester. But she was not aware of the cause. In the beginning, she started feeling symptoms like her sense of taste and smell had gone and finally she was no more able to carry out routine functions properly.
When Muskan discussed her situation with her doctor, she recommended her to go for COVID-19 test. 'Of course, it was expensive at that time, but I had to go for it,' she said.
'Even my husband asked many people where we could have an inexpensive test, but none of them were useful. When I underwent test, its result came back as positive and I was devastated by the fact that I was pregnant at that time. Soon I started experiencing every single symptom of the disease which I become aware of,' she said.
Muskan's husband, Asghar Khan said there was no proper quarantine system for women in Landikotal tehsil of Khyber tribal district, so she isolated herself in the house room.
According to Muskan, her health did not deteriorate that much with the virus, but still there were a lot of difficulties. 'I heard from someone that boiled water would help kill the virus. So I started drinking boiled water abundantly which created pain in my lungs,' she recalled.
The anxiety and depression continued until she gave birth to a child and luckily for her, her child was not COVID-19 positive. 'That was a huge relief and I was then at peace,' she said with smile on her face.
During the second wave of coronavirus, the district health office of Khyber conducted 4,475 tests, out of which 399 were positive with 58 female cases, said District Health Officer Dr Ayub.
Psychologist Mahnoor said COVID-19 has created many psychological problems and in most of the cases the victims are women. They are being victims of depression at high rate. 'A person's health can be prone to diseases if she is facing mental health issues. And during this pandemic, people are more at risk of psychological illnesses,' she said.
In order to curtail the spread of the disease, the district administration also took numerous measures including the provision of 250 containers for construction of quarantine centre for women and men. This centre will have the capacity to diagnose more than 500 patients. The district administration also informed that the number of ventilators in Landikotal Hospital will also be increased to four.
MENAFN provides the information "as is" without warranty of any kind. We do not accept any responsibility or liability for the accuracy, content, images, videos, licenses, completeness, legality, or reliability of the information contained in this article. If you have any complaints or copyright issues related to this article, kindly contact the provider above.
https://menafn.com/1101309231/Pakistan-Women-more-prone-to-psychological-problems-during-pandemic
-----------
Indian Women's Association Donates Food Rations To Less Fortunate People In Myanmar
By Zaini Majeed
19th December, 2020
In an empowering gesture, the Indian Women's Association of Yangon (IWAY) on December 18 led the 'Freedom From Hunger Drive' in Myanmar as it distributed food and ration supply to eliminate hunger amid the COVID-19 pandemic crisis. The campaign was an initiative of President Smriti Srivastav for the Dala town as she distributed the consignment to feed the underprivileged population. The shipment was received by the India House by local representatives. Acknowledging the food drive efforts of the team, the Indian Embassy in Myanmar took to its official handle on Twitter to share the images, as it called the residents "fortunate" for the help that arrived from India.
"The Indian Women's Association of Yangon (IWAY) led by President Mrs. Smriti Srivastav donated Food rations to the less fortunate residents of Dala Township. The donation was received at India House by local representatives," tweeted India in Myanmar. The ration packages are expected to reach the people in dire need of meals, support, and care in the suburb, and families that are suffering through the food shortages due to unemployment in the pandemic such as the daily wage workers. The ration supply will also feed the stranded and the homeless or those out of jobs battling hunger.
Myanmar has had a long-standing devastating impact on its economy early in the COVID crisis. The country's understaffed healthcare systems and local businesses suffered as it became the third-most affected in the Asian continent with the arrival of the second-wave in mid-August. Myanmar's COVID-19 caseload surpassed 91,000 this month and at least 1,941 covid related fatalities were registered. Myanmar's Central Committee for Prevention, Control, and Treatment of COVID-19 had announced in a statement that the country was taking drastic measures of extending the domestic flights ban until December 15. Furthermore, international air travel was suspended until December 31 to contain the large outbreak.
republicworld.com/world-news/rest-of-the-world-news/indian-womens-association-donates-food-rations-to-less-fortunate-people-in-myanmar.html
---------
United States Air Force Graduates Its Largest Class Of Female Test Pilots And Engineers In History
By Jaide Timm-Garcia
December 20, 2020
They soar into the desert skies, piloting some of the most sophisticated aircraft the world has ever seen. They have an innate understanding of high-performance aircraft and are always pushing the boundaries on performance.
They are the small cadre of flight test pilots who graduate from the US Air Force Test Pilot School (TPS) at Edwards Air Force Base in California -- and this year they include a group of five women, a record number, CNN reported.
Known by their call signs -- Hulk, Tumble, Booster, PsiPhi and Shade -- Capts. Casey Horgan, Rachel Williams, Sarah Vorgert, Kalyn Tung and civilian Raina Duncan are the newest female flight test pilots and engineers to graduate from TPS.
"There was never anything I was told I couldn't or shouldn't do," Horgan said. "I grew up with great examples of female aviators, my mom included, and all of her friends and there was no barrier there."
Flight test involves the Air Force's top pilots, engineers and combat systems operators working to develop and test the newest technology needed to maintain and improve aircraft flying qualities and performance.
Technical Director David Vanhoy said TPS graduates are trained to have a disciplined tester's mindset to improve the Air Force's aircraft capabilities.
The five women graduated in a class of 24 students. The average number of women per class is usually one to two, according to Vanhoy.
Their class photo will share a wall with TPS graduates and aviation legends Gen. Chuck Yeager and Apollo 11 astronaut Buzz Aldrin. Years after completing the program, each man returned to the school to serve as its commander. They helped to establish the developmental curriculum and disciplined ethos the school still uses today.
The world's most famous test pilot, Yeager, passed away this month at the age of 97. He was the first man to fly faster than the speed of sound, and broke his own record by flying twice as fast as the speed of sound. Current students and instructors have the same barrier-breaking mentality as they push the envelope of flight tests, putting themselves at great risk every day.
Edwards' TPS is the only Air Force test pilot school and is located at the world's leading aeronautical test facility. Based in the Mojave Desert, jets of all speeds and sizes can be seen flying above miles of dry lake bed, and felt throughout the day each time a sonic boom pulses over the surrounding valley.
The school only accepts 45 of the "best and the brightest" pilots and engineers per year -- divided into 2 classes -- for the rigorous year-long master's degree program. Out of a pool of around 250-300 applicants, usually less than 10% of the applicants are women, Vanhoy said.
Capt. Casey "Hulk' Horgan, test pilot. Age 31, Horgan flew C-130 Hercules transport aircraft at Eglin Air Force Base in Florida before attending TPS. Both of her parents were Air Force aviators and she knew she wanted to fly since she was a child.
Capt. Rachel "Tumble" Williams, test pilot. Age 29, she attended the Massachusetts Institute of Technology and flew C-17 Globemaster cargo aircraft in Texas before getting into TPS. She grew up near the Kennedy Space Center in Florida and watched shuttle rocket launches from her driveway growing up. Her father was an Air Force pilot.
Capt. Sarah "Booster" Vorgert, flight test engineer. Age 27, worked as a weapons tester at Eglin Air Force Base in Florida before going to TPS. She is one of the youngest students to be accepted into the school and started going to air shows as a toddler.
Capt. Kalyn "PsiPhi" Tung, flight test engineer. Age 30, she graduated from the US Air Force Academy and stayed to teach there. She thought airplanes were cool and had a female teacher she looked up to who graduated from TPS, which made her want to pursue a career in flight test.
Raina "Shade" Duncan, civilian flight test engineer. Age 35, she worked at Edwards Air Force Base for 11 years on the flight line and on T-7 jet trainers before she was accepted into TPS. The mother of a 2-year-old daughter, she attended her first air show when she was 3 years old.
Sitting around a conference table at TPS two nights before graduation, the women talked humbly about the significance of what they have accomplished.
They're part of a community of female aviators who are considered barrier breakers, but their biggest question is why aren't more women doing what they're doing. When asked why it's important to see more women in the cockpit and involved in aviation in general, the unanimous sentiment was best expressed by Horgan: "Because there's no reason not to."
"We don't get it," Williams said. "Because I personally haven't experienced any barriers to getting here because of being a woman. It was something I wanted to do -- so I did it. That's where we all are so we're really like, 'Where's everybody else?'"
Horgan and Williams, the two pilots of the group, had the advantage of having parents in the Air Force. Both pilots agreed that access and visibility played a huge part in piquing their interest as children.
Vorgert, the youngest in the group and one of the youngest students to attend TPS, noted that changes are being made to barriers women have faced in the past.
"There's a certain standing and sitting height requirement that females don't meet -- because we're not the average 1970s male," she explained. "But they've been going through the decades-old requirements and starting to open them up to more demographics."
TPS students get the chance to fly aircraft they'd never have access to otherwise. Regardless of their previous experience, students are trained to handle everything from a T-38 supersonic jet trainer to an F-16 Falcon single-engine fighter and a C-12 Huron twin-engine turboprop plane. In other words, some of the Air Force's coolest and most versatile aircraft.
"All pilots and engineers must have in-depth operational experience and a background of engineering degrees to even qualify to apply. Most pilots come in with over 1,000 hours of flying time including combat experience," he said.
Bonded by obstacles they overcame throughout the school year, the women discussed the expectations they had for the program and the reality they experienced -- both extraordinary and challenging.
"There's nowhere else in the world that you can fly five different aircraft in the same week," Williams said. "As a pilot, where we come from in military aviation you usually have one aircraft and you're very good at your one aircraft. And then you spend this whole year broadening yourself and realize that you can be good at multiple aircraft."
"The only way to get into a pointy nose airplane as a civilian and as an engineer is to come to Test Pilot School," she said. "There are definitely days when you feel like you don't know if you can make it to the weekend, but given the class we have and the support structure we have, we always do."
Besides flying, all pilots and engineers are required to take intensive classes in physics and engineering for advanced mission and combat systems.
A typical day in the life of a Test Pilot School student, according to Vanhoy, is partly spent in highly technical academic courses, followed by a briefing, flying and then debriefing to put the classroom theory into practice.
"It's been a lot more than I expected," she said. "It tested every single thing I've ever thought about every single time we were approached with something new."
The world of aviation launched from dream to reality 117 years ago, when the vision and determination of the Wright brothers lifted the Wright Flyer off the ground at Kitty Hawk field on December 17, 1903. Since then, the industry has been largely dominated by men, but women found ways early on to make their mark.
During World War II the Women Airforce Service Pilots (WASP) flew everything from trainer war planes to transporting fighters and bombers.
In 1929, Amelia Earhart founded the Ninety-Nines, an international organization that is still active today and includes thousands of female pilots from 44 countries, according to its website.
In its 76-year history, 80 women have graduated from Test Pilot School. According to school records, Lt. Jane Holley was the first female to attend the school as a flight test engineer in 1974. In 1988, the first female pilot arrived, Capt. Jacquelyn Parker. Two female graduates went on to become astronauts and one of them, Eileen Collins, became the first female shuttle commander on a 1999 mission of space shuttle Columbia.
Vanhoy has been the technical director of TPS for the past 11 years in a career at the school that spans more than 30 years. He arrived in 1988, the same year as Capt. Parker, and remembers discussion at the time about her attendance marking a milestone for flight test.
"It's a challenge for ladies to break into that field," he said. "I'm glad to see a change because the skills needed to fly are not proprietary of men. Ladies can definitely multitask and handle the strains of the environment, they can fly airplanes as good as the guys can."
Another historic milestone is that the school is under the leadership of its first female commandant. Col. Sebrina Pabon graduated as a flight test engineer in 2006, and returned to the school to lead it for a two-year term until 2022.
While there's still a long way to go to make women in aviation more visible, efforts are underway from both inside and outside the Air Force. Edwards developed a brand new STEM (Science Technology Engineering Mathematics) program that educates youth at local schools about flying -- seeking to expose them to the world of aviation and inspire them through activities and events.
The recent Captain Marvel movie featuring female flight test pilot Carol Danvers becoming a superhero helps to generate positive momentum for young girls who may want to fly.
Williams' father was a pilot but she can't recall ever seeing a female pilot at an airshow and thinks that would have made a large impression on her.
Duncan's insight for the lack of females in flight test comes from her perspective as a civilian, and the lack of awareness about the existence of TPS for people outside the Air Force.
"I think there could be barriers to people wanting to join the military and committing to that for their life," she said. "But I went to school and got a degree, I loved airplanes and did the engineering thing, and I'm doing the same kind of job. I don't think that people know flight test is out there and that this is a cool thing you can do."
While the women figure out ways to recruit, inspire and encourage, they will soon launch full time into flight test, collectively but separately working on the F-22, C-17, C-130, and B-21 programs.
"We're the ones testing the new aircrafts," Vorgert said. "So let's make sure these new aircraft can fit both men and women."
https://6abc.com/careers/air-force-graduates-its-largest-class-of-female-test-pilots-and-engineers-in-history/8908650/
------------
URL: https://www.newageislam.com/islam-women-feminism/women-rally-save-pakistans-taboo/d/123818
New Age Islam, Islam Online, Islamic Website, African Muslim News, Arab World News, South Asia News, Indian Muslim News, World Muslim News, Women in Islam, Islamic Feminism, Arab Women, Women In Arab, Islamophobia in America, Muslim Women in West, Islam Women and Feminism