New Age Islam News Bureau
25 Apr 2014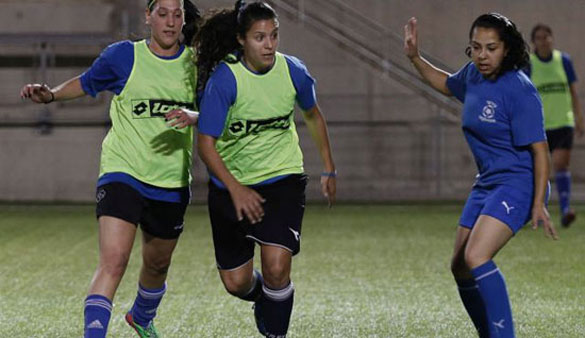 Israeli Arab Noura Abu-Shanab, centre, of Hapoel Petah Tikva soccer team controls the ball during a practice session in Petah Tikva, Israel, April 22, 2014. Photo by AP
---------
• Syria conflict: Ten British women are fighting with rebels
• Saudi Women Want Greater Say in Shariah Matters
• Afghanistan Women Protest against Warlord
• Prince Miteb Wants Women to Work for National Guard
• Israeli Soccer Team Breaks New Ground: Recruits Arab Women
• Nigeria: Baby Factory Victims Reunited With Home States
• Does a Saudi woman's hijab have to be black?
• Pak Woman Set On Fire over Marriage Proposal Rejection of Her 13 Year Old Daughter
• Khyber Pakhtunkhwa Woman MPAs Carry Arms into Assembly
• Nigerian Muslim Women Rue Nyanya Bombing, Abduction of Girls
• Women, Arabs and Gay Israelis to Have Streets Named After Them
Compiled by New Age Islam News Bureau
URL: https://newageislam.com/islam,-women-and-feminism/new-age-islam-news-bureau/women-offer-to-search-for-kidnapped-students-in-boko-haram-enclave/d/76746
------------
Women Offer to Search for Kidnapped Students in Boko Haram Enclave
25 April 2014
Women in Borno State have expressed their willingness to go into the notorious Sambisa Games Reserve Forest, the enclave of the terrorist Boko Haram sect, in search of over 200 schoolgirls kidnapped from the Government Secondary School, Chibok, last week.
Sambisa Forest, a large expanse of land is where most of the deadly attacks of the Boko Haram insurgency are launched and the abducted schoolgirls are believed to be held hostage there. However, some parents of the pupils have expressed fear that their daughters might be forced into marriage by the insurgents.
The federal government on its part has condemned the abduction of the pupils, describing the incident as a national tragedy.
Addressing a press conference Wednesday in Maiduguri, the women, drawn from various women's associations in the troubled state, and led by Prof. Hauwa Abdu Biu, said: "We are ready to go into the bush and appeal to the Boko Haram sect to release our children to us."
They explained that several thousands of women were ready to go into the forest in search of the pupils and they were only waiting to be led by the military into the notorious forest.
The women, who were all dressed in black gowns and head-ties, said had the parents who went into the bush earlier to look for the abducted schoolgirls been given security cover, the girls by now might have been reunited with their families.
"What stopped the security men from giving security back-up to the parents to go further into the bush?" they demanded.
They also accused President Goodluck Jonathan of not doing enough to free the schoolgirls, saying had the daughter of the president been abducted, all security agencies would have been in overdrive to rescue her.
"Is the president telling us that the lives of over 200 girls abducted in the bush since a week ago is not important?
"The abduction of innocent young girls violates their human rights; it is a crime against humanity and it is prohibited under international law.
"Women in Borno State condemn in totality such acts of violence as attacks on schools deny children their rights to learn in a safe environment, thereby jeopardising their future. "Such acts are inhuman and affect efforts to enhance girl-child education and development in the state and the country at large," they said.
The women also condemned attacks by the sect and asked the insurgents to release all those in their custody without harming them. Also yesterday, parents of the abducted schoolgirls said they had reason to believe that their daughters were about to be forced into marriage by their abductors.
One of the parents of the abducted girls, in a telephone interview with reporters in Maiduguri, said they had learnt that the insurgents had separated the girls into two groups - the mature ones and immature girls.
"The mature ones, we learnt, they will be moving into a different camp and would be forced into marriage while we do not know the fate of those they believe are immature," he said.
The parent, who did not want his name in print, added that the news had saddened him further, as his daughter is 19 years old and should be among those that might be forced into marriage.
He lamented that all he could hope for is God's mercy to make his daughter come back home safely.
According to him, the parents were not happy that no effort had been made to invade the camp of the insurgents up till now.
He said the last time the parents went into the Sambisa Forest in search of their children, they had to turn back when they were told that the insurgents were well armed and might kill all of them if they had no military escort.
Besides the parents, the federal government also lamented the abduction of the pupils, which it described as a national tragedy
Minister of Information, Mr. Labaran Maku, told State House reporters after the Federal Executive Council (FEC) meeting yesterday in Abuja that it was unbelievable that such a large number of schoolchildren could be kidnapped in 2014.
He said: "That young girls of school age could be abducted in our country in 2014 is unimaginable. Nobody even in our wildest imagination, would believe that a group of people under whatever guise will take hostage young girls who are just in the school to write exams.
"This is indeed very painful. From the president and all of us we have been going through a lot of anguish. It is almost like a story out of this world. It goes to show the level of depravity, sheer lack of human feeling that is going on in this country."
He assured the public that efforts were being stepped up to rescue the schoolgirls, just as he appealed to anybody with information that could lead to rescuing the pupils and fishing out criminals to give it to security agencies.
He called on Nigerians to support efforts by the federal government to fight terror, adding: "Now this nation is in need of unity but the way we are playing to the gallery, we are making irresponsible statements. We are making statements that will divide the country, statements that are setting the citizen against security services and government."
Also, the federal government yesterday restated its call for support, especially from the international community to trace and cut off the source of funding for the insurgents.
The Minister of Defence, General Aliyu Gusau (rtd), while speaking to journalists at the closing ceremony of Exercise Obangame 2014, an international maritime security interdiction hosted by the Nigerian Navy (NN), involving 23 countries from Africa, United States and Europe, added that the federal government was collaborating with the international community to end the reign of terror in Nigeria.
Gusau, represented by the Minister of State for Defence, Senator Musiliu Obanikoro, said although Nigeria has been battling with the challenge of insurgency, it was not a situation peculiar to the country alone as other nations, including the United States, faced similar problems.
He said: "America and the Western world are the richest in the world, yet they have not been able to tame terrorism in Afghanistan, Iraq and Libya despite the resources they have put together.
"So same experience is what we are going through in Nigeria and don't forget that these activities today have an international dimension. That is why we are cooperating and collaborating with the international community to bring this to an end.
"We are not saying the whole world should come and join us and fight, rather we are saying that we want support to cut off the source of funding which will to a large extent help us to bringing terrorism to a finality."
http://allafrica.com/stories/201404240454.html?viewall=1
------------
Syria conflict: Ten British women are fighting with rebels
25 April 2014
Ten women from the UK are believed to have gone to fight against President Bashar Assad's regime in Syria, according to an expert.
Two teenagers from Portsmouth, a Surrey woman, two Londoners and five others from cities across the north of England have reportedly joined rebel fighters in the war-torn country.
The news comes after the Metropolitan Police appealed to women to inform on male relatives planning to go to Syria to fight.
Shiraz Maher, head of outreach at the International Centre for the Study of Radicalisation, Kings College London, told the Mirror newspaper: "Most British jihadists go to Syria for sincere reasons to help in what they believe is a struggle against oppression but many don't appreciate the reality on the ground.
"There are around 10 British women out there, we believe, and most have travelled to Syria with their husbands.
"They go believing they will fight jihad to overthrow Assad but may actually be getting in the way of the rebellion by joining groups and fuelling the infighting they are involved in."
He warned that some of the volunteers might find themselves with groups like the Islamic State of Iraq and Syria (ISIS), which has clashed with other rebel groups.
"Depending on who they sign up with, like ISIS, they will end up fighting some of the original rebel groups such as the Free Syrian Army. There is evidence that in the complex struggles ISIS in particular has been infiltrated by Assad's forces," the academic said.
On Wednesday, the Metropolitan Police's deputy assistant commissioner, Helen Ball, said the force wanted to "ensure that people, particularly women, who are concerned about their loved ones [going to Syria to fight] are given enough information about what they can do to prevent this from happening".
"This is not about criminalising people. It is about preventing tragedies," she added.
It is thought about 600 British people have gone to fight in Syria since the conflict began three years ago with more than 300 returning. About 20 are believed to have been killed.
http://www.independent.co.uk/news/uk/home-news/syria-conflict-british-women-are-fighting-with-rebels-9285034.html
----------
Saudi Women Want Greater Say In Shariah Matters
25 April 2014
SAUDI women have come a long way in their quest for equality but little progress has been made in their fight to play a more active role in the country's judicial system. Shoura Council member Hamad Alqadi proposed that women's sections be opened in the Presidency of Religious Research so women's issues can be studied, according to a report in the Arabic paper.
According to a survey of 50 women, 96 percent agreed with Alqadi's proposal. About 40 percent of respondents referred to a lack of proper training and opportunities in the field as the main reason why women are reluctant to join the field.
When asked if they would follow a fatwa issued by a woman, 74 percent answered yes but only if the fatwa has been checked by male judicial experts and 26 percent said they would trust a fatwa issued by a woman. About 74 percent of the respondents were of the view that women should have a voice in all matters and not just women-related issues while 26 percent were of the view that women should deal with matters that concern them.
Dr. Suhaila Zain Al-Abideen, a member of the executive board of the National Society for Human Rights (NSHR), said women's presence in the field of Islamic jurisdiction is nothing new. "Women from the period of Rashidun Caliphs, such as Ayesha Bint Abu Bakr and Maymouna Bin Al-Harith (may All be pleased with them) have been Islamic consultants to the rulers. However, women should confine themselves to issues that matter to them, said Al-Abideen.
There is a difference between a preacher and mufti, said Dr. Muhammad Al-Nujaimi. "Preachers do not have the authority or knowledge to issue a religious fatwa. A mufti, on the other hand, is someone who has studied the edicts and fatwas of Islam and knows how to issue one in relation to the context. So far, there have been less than five females in this field. I hope to see one day more and more qualified and knowledgeable women muftis," he said.
Dr. Manal Alsomali, a psychologist, said society is not used to having a woman dealing with religious matters and jurisdictions. "For a society that depends on its traditions, we will never progress unless we learn how to view things from a very transparent point of view and accept the growing role of women in society," said Alsomali.
Dr. Mohammad Basha, a psychologist, was in agreement with Alsomali and said that in fact society needs to accept women in the field of Islamic jurisdiction just as it has accepted women as teachers, doctors and engineers.
http://www.saudigazette.com.sa/index.cfm?method=home.regcon&contentid=20140425203042
------------
Afghanistan Women Protest against Warlord
25 April 2014
The provincial council chief Rahmatullah Turkistani confirmed the commander and his supporters had sexually abused women during the attack on civilian homes
A large number of weeping women staged a protest rally in northern Faryab province, accusing a local commander of sexually abusing and murdering young girls and children during a bloody clash with civilians.
Nearly 100 women accompanied by children, from Pashtun Kot district arrived in Maimana, the provincial capital, and assembled in front of the governor's house.
They alleged the local warlord, Qader Rahmani, had subjected women and children to sexual harassment during the clash, asking the government to punish him and his armed supporters.
An angry woman told Pajhwok Afghan News Rahmani had killed her spouse, rendering her a widowed mother of five children.
Many children who accompanied the protesting women were barefoot. The children were shouting, saying they wanted the killers of their fathers to be punished.
Another weeping woman said the commander set ablaze their house in which her brother Mufti Asif died. "My brother was innocent. He was a religious scholar."
Some employees of the governor's house emerged and talked to the protesting women and their eyes filled with tears as they listened to the women's ordeals.
As the Pashtun Kot police chief came out of the governor's house, the protesting women and children attacked him, but he sped away in his police pick-up.
When an intelligence official tried to convince the women that the district police was not guilty, the women also quarrelled with him.
The National Directorate of Security (NDS) official told the protesters the local warlord had forcibly seized the military equipment and tanks from the district police chief.
The governor's spokesman Ahmad Javed Bidar said a probe team that travelled to the Pashtun Kot district had prepared its report, which had no mention of sexual abuses.
He said if the probe team had not been neutral in preparing its report, its members would face a legal action.
The report said a brother of Rahmani and three civilians were killed and 16 houses were torched during a clash between his gunmen and civilians. The clash left 80 percent of Pashtun Kot residents displaced.
But the protestors claimed 15 civilians had been killed and 40 houses set ablaze during the violence.
They said the victims included religious scholars Maulvi Asadullah, Mullah Rassoul, Mullah Paighambarqul and a police officer.
A resident of Aqdara area, where the incident took place, said Rahmani led dozens of his gunmen, raiding civilian houses, sexually abusing women and taking 20 others hostage.
Mullah Abdul Salaam added the public order police and Afghan National Army (ANA) troops had no courage to put hand on the commander.
But Rahmani's son, Taher Rahmani, denied people's claims, saying a conspiracy was being hatched against them by the provincial council chief.
Taher Rahmani, who is also a member of the council and seeking his re-election, said only six persons, who were militants, had died in the violence.
"A few houses where militants were hiding had been torched and no civilians suffered casualties," he said.
The provincial council chief Rahmatullah Turkistani confirmed the commander and his supporters had sexually abused women during the attack on civilian homes.
He said the violence broke out after the commander's brother Atta Mohammad was killed during a clash with residents.
http://www.rawa.org/temp/runews/2014/04/23/faryab-women-protest-against-warlord.html#ixzz2ztYpGqiq
------------
Prince Miteb wants women to work for National Guard
25 April 2014
Prince Miteb bin Abdullah, minister of the National Guard, said that he has always supported the notion of Saudi women working for the ministry around the country.
Prince Miteb said that Saudi women nursed injured fighters during the lifetime of Prophet Muhammad (peace be upon him).
He made the comments during a lecture at a scientific conference organized by the Centre for Gulf Studies at King Abdulaziz University.
He said the National Guard is committed to use the services of Saudi women for the benefit of the Kingdom.
He said he has been supporting the right of women to drive for the past 20 years.
Prince Miteb said the National Guard plays an important role in the country's economy. It has already provided thousands of houses for its employees.
In addition, its hospitals and clinics now provide medical services for 2.6 million National Guard employees and 479,000 other citizens.
The National Guard has also created opportunities for thousands of soldiers to study abroad. Many have gone on to become global figures like Hazaa Al-Otaibi, who now works for an international bank, he said.
In the cultural arena, Prince Miteb said the National Guard also organizes the annual Janadriyah Festival.
In response to a question, he said he was not opposed to elections as long as opposing parties do not try to impose their views on each other. He said the country's security and peace depended on citizens talking to each other with respect.
He said the National Guard is currently working closely with the private sector in the fields of research, development and manufacturing.
In the education sector, he said the National Guard was one of the first ministries to support school literacy programs.
http://www.arabnews.com/news/561006
------------
Israeli soccer team breaks new ground: Recruits Arab women
25 April 2014
When the Israeli women's soccer team Hapoel Petah Tikva lost a number of its players to Israel's national team ahead of World Cup qualifiers, founder Rafi Subra made a decision that sets the team apart from many of its rivals - he recruited from the Arab villages of northern Israel.
Israeli Arabs, who complain of decades of discrimination in day-to-day life, are rare in the Israeli Women's Premier League. Though one other team has a full Israeli-Arab roster, other men and women's teams hardly field Israeli Arabs onto their squads.
For Hapoel Petah Tikva, the addition of five Israeli Arab women has made waves in the league despite not being in the top rankings.
"The fact is, they integrated well," Subra said. "They're happy. We're happy. The mix has been very successful."
The Arab minority make up about 20 percent of Israel's 8 million citizens. Many have relatives among the Palestinians in Gaza and the West Bank, empathizing with Palestinians as they negotiate with Israel over making a future state. The strains especially become hard during times of violence between the two sides.
Though having full rights under Israeli law, Israeli Arabs experience discrimination in the country. The soccer field is no exception.
Noura Abu-Shanab, one of the Israeli Arab players on Hapoel Petah Tikva, said she faced taunts like "dirty Arab" and "go back to where you came from" during games. However, she and other Israeli Arabs continued to play.
"The atmosphere of the team is positive," she said.
Abu-Shanab said her Muslim family was supportive of her playing in a mostly-Jewish women's league after she turned pro at 16.
Shiran Schlechter, a player on the team and its team manager, said both the Jewish and Arab players got along well during the season, which saw Hapoel Petah Tikva have a 5-2-7 record.
"It's funny because within the team we don't have that hate," Schlechter said. "I think to our credit we all fought together against that. None of us liked it. It bothered us all."
Abu-Shanab, who is now a team captain, agreed that despite the racism she had faced from other teams, there was no conflict within the team itself.
"There is no difference between Arab or Israeli players. We are united; like one hand," she said.
The team's final match of the season will be played Tuesday against the Arab team Bnei Sakhnin.
http://www.haaretz.com/life/sports/1.587049
------------
Nigeria: Baby factory victims reunited with home states
25 April 2014
THE Ogun State government has commenced the process of reuniting the nine victims rescued from the Akute baby-making factory and three others rescued from Adigbe with their respective state governments and family members.
The victims, including the two women earlier delivered of their babies, who claimed to be indigenes of Imo, Abia, Akwa Ibom, Cross River and Ebonyi states, had been handed over at the respective liaison offices of the states in Lagos.
Addressing newsmen at a farewell ceremony before they departed Abeokuta, Ogun State Commissioner for Women Affairs and Social Development, Mrs Elizabeth Sonubi, said shortly after their rescue, the ministry had been receiving calls from their respective states, expressing willingness to have them reunited with their family members.
The commissioner, while handing over the cash gift of Governor Ibikunle Amosun to them, affirmed that she would continue to interface with her counterparts in the states to monitor and follow up on the reunification process.
"We are returning you back home because your parents and your respective state governments have signified intention to have you back. After we have exchanged correspondence with them, your parents have been calling to have you back.
"We want the respective state governments of the victims to continue with the reintegration process in order to ensure proper monitoring, while Governor Amosun has directed that social workers from the Ministry should follow up and monitor their complete reintegration back into the society," she said.
Sonubi also appealed to the ladies to put the ugly development behind them and see it as a launching pad for achieving greatness later in life.
http://tribune.com.ng/news/top-stories/item/3963-baby-factory-victims-reunited-with-home-states
------------
Does a Saudi woman's hijab have to be black?
25 April 2014
Saudi women can change the color of their hijab and wear a blue, green or white one, or whichever color they feel suits their mood and the hot climate in the Kingdom. They are not obligated to wear a black hijab all the time. There is nothing in the Shariah which states that a hijab must be black. However, the majority of Saudi women are used to wearing a black hijab. It has become a tradition, a part of their culture.
Some men and women tend to be very strict about their interpretation of the Shariah and as a result, they sometimes invent things that are not mentioned in it. When a female member of the Shoura Council recently attended a session wearing a colored hijab, some people became angry and attempted to interpret her choice of hijab in a number of different ways.
Many people wonder if Saudi women wear black hijabs because it is part of their religion or because it is a traditional part of their culture. In my opinion, the more important question is: How do some men view women wearing a hijab and an abaya? There is a certain type of man who only views women from a sexual perspective and as a sex object. Those men are superficial. All they care about is the flesh beneath the abaya and hijab. The way those men look at women reflects the type of character they have. Other men look at women as human beings who deserve their due respect, and this reflects the type of character they have.
It is said that a wise man was once asked his opinion of those men who regard women as shoes, meaning that women are like shoes which can be changed until the right size is found. The wise man said a man who views a woman in this way is a man who views himself as a foot. A man who views a woman as a crown is a man who views himself as a king.
When a man voices an opinion about a woman, we should first look at how this man views himself.
http://www.saudigazette.com.sa/index.cfm?method=home.regcon&contentid=20140425203025
----------
Pak Woman Set On Fire over Marriage Proposal Rejection of Her 13 Year Old Daughter
25 April 2014
MULTAN- A woman was set alight by her in-laws after she spurned a proposal of her daughter today.
The incident occurred in Makhan Bela, a native area of Muzaffargarh where 35-year-old mother rejected the proposal of her daughter 13 year old. The would-be in-laws got raged and they set Farhat on fire. She was shifted to a hospital in critical condition. The victim is a mother of four children.
http://www.nation.com.pk/national/24-Apr-2014/woman-set-on-fire-over-marriage-proposal-rejection
------------
Khyber Pakhtunkhwa Woman MPAs carry arms into assembly
25 April 2014
PESHAWAR: The Khyber Pakhtunkhwa Assembly was told that some female MPAs had been carrying pistols during the sessions of the assembly.
Speaking on a point of order, MPA Sardar Babak claimed that he and other MPAs had found envelops on their desks sent by the police's special branch, disclosing that some female MPAs had been carrying pistols in their purses.
The ANP parliamentary leader raised the issue citing a letter of the assembly's additional secretary advising the women lawmakers to avoid bringing arms with them during the session. The letter read out by Mr Babak was in the context of the official letter written by the additional IGP to the assembly secretariat regarding the carrying of arms by the women MPAs in their purses.
Lady constables deputed for security at the assembly building avoided to check the women lawmakers' purses and body due to high prestige and dignity of these MPAs, the additional IGP's letter stated.
The letter of assembly secretariat on the issue has been addressed to the parliamentary leader of the parties,including PTI, JUI-F, QWP, ANP, PPP and PML-N.
http://www.dawn.com/news/1101986/woman-mpas-carry-arms-into-assembly
------------
Nigerian Muslim Women Rue Nyanya Bombing, Abduction Of Girls
25 April 2014
MUSLIM women under the aegis of Nasrul-Lahi-l-Fathi Society of Nigeria (NASFAT) have deplored the recent bomb explosion at the Nyanya motor park in the Federal Capital Territory (FCT), Abuja, describing it as callous and inhuman.
They urged the authorities to ensure effective security of the citizens, especially women and children who are considered as the most vulnerable group in the society.
Addressing journalists in Osogbo, Osun State, as part of activities marking its annual conference, the national coordinator of NASFAT women wing, Alhaja Nafisat Arogundade, lamented the loss of lives and anguish that accompany activities of Boko Haram insurgents.
Condemning the abduction of female students in Borno State, she called on the Federal Government to redouble efforts at tackling terrorist activities.
Similarly, the women wing of NASFAT in Kwara State staged a protest in Ilorin, the state capital.
The women, led by Hajia Ummuani AbdulRahaman, said the activities of the insurgents, particularly the bomb blast at Nyanya, Abuja and the abduction of the female students called for concern by all stakeholders in the country, irrespective of religious or political leaning.
A letter of protest presented by the women to the state governor, Dr Abdulfatah Ahmed, for onward transmission to President Goodluck Jonathan, read in part: "Our hearts are bleeding. We are mothers. We know what it takes to lose a pregnancy let alone a child. We want these children to be recovered because they are our future. They are what we depend on as mothers."
Governor Ahmed commended the women for being part of the vanguard to tackle insurgency in the country.
http://tribune.com.ng/islamic-news/item/3940-nasfat-women-rue-nyanya-bombing-abduction-of-girls
------------
Women, Arabs and gay Israelis to have streets named after them
25 April 2014
A new bill has been proposed that would force local authorities in Israel to name at least 40 percent of streets within their jurisdiction after women. The bill would require that at least 90 percent of public sites (include streets and public buildings) be named for Sephardi Jews, Arabs, or members of the LGBT community, until the process is complete.
The bill was jointly proposed by 15 female MKs from the coalition and the opposition, including Merev Michaeli, Stav Shaffir and Michal Biran (Labor), Miri Regev (Likud) and Orly Levi-Abekasis (Yisrael Beiteinu), Shuli Moalem (Habayit Hayehudi), Aliza Lavie, Karine Elharrar, Pnina Tamano-Shata, Ruth Calderon and Yifat Kariv (Yesh Atid), as well as Hanin Zoabi (Balad) and Zahava Gal-On and Michal Rosin (Meretz).
Michaeli said on Wednesday that "if a visitor from Mars were to come to Israel, she would be sure that only men lived in Israel throughout the ages, and that any women around here were overlooked by the people who named the streets. Unfortunately, the men who throughout history were in charge of these councils knew that there were, and still are, women here who did great things for this country, so there's no choice but to make sure that this wrong is righted. When this bill passes, it will suddenly be clear that there are lots of women worthy of having streets named after them," said Michaeli.
According to the bill, the aim "is to create more equal representation among public buildings and streets in the various cities, especially with regard to women, Sephardim, Arabs, and people known as gay, lesbian, transsexual or bisexual."
The proposal was initiated after it was discovered that only 62 of the 2,439 streets in Tel Aviv are named for women, a rate of 2.5 percent. Three additional women, including the late poet and peace activist Dahlia Ravikovitch, concert pianist Pnina Salzman and Pelagia Khoury, who founded the Arab women's movement, have been approved by the Tel Aviv municipal names committee as street names, but no streets have been named after them yet.
http://www.haaretz.com/news/national/.premium-1.586989
------------
URL: https://newageislam.com/islam,-women-and-feminism/new-age-islam-news-bureau/women-offer-to-search-for-kidnapped-students-in-boko-haram-enclave/d/76746