New Age Islam News Bureau
24 Jan 2020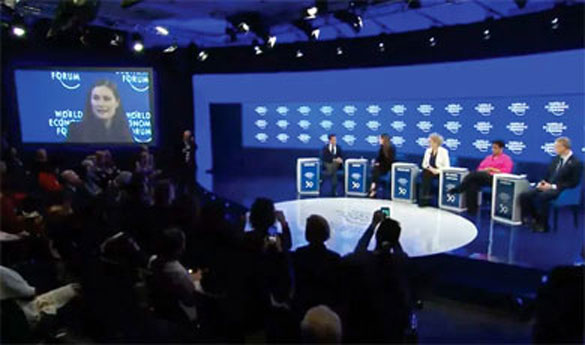 Speaking at the World Economic Forum (WEF), in a session titled "Social mobility: getting to 50-50 gender parity," the world's youngest serving prime minister, Sanna Marin of Finland, highlighted the importance of age and gender diversity on the process of decision making.
------
• Hoops and Headscarves: Milwaukee Girls Basketball Team Shatters Stereotypes
• Bengaluru's Shaheen Bagh: Muslim Women and the Religious Route to the Constitution
• Chechen Woman Forced Into Islamic 'Exorcism' To Oust Her Bisexuality
• Rajasthan's Women Encouraged To Remove Veil In State Campaign
• Islamophobia the Untold Stories: Bradford Women Share Their Experience Of Abuse
• Shaheen Baghs Spring Up In UP Districts
• Police Break Up Women's Protest in Varanasi, 6 Held
Compiled By New Age Islam News Bureau
URL: https://www.newageislam.com/islam-women-feminism/women-wef-unite-talk-gender/d/120880
--------
Women of the WEF Unite To Talk Gender Divides at Davos
January 24, 2020
DUBAI: Davos turned its attention to the topic of gender parity at a panel on Thursday, a goal that has proven elusive for many countries around the world, including those in the Arab region.
Speaking at the World Economic Forum (WEF), in a session titled "Social mobility: getting to 50-50 gender parity," the world's youngest serving prime minister, Sanna Marin of Finland, highlighted the importance of age and gender diversity on the process of decision making.
At just 34 years, Marin, who took office in December, is heading a coalition with four other parties led by women, with all but one under the age of 35.
"I don't focus on the media attention too much, even though I know it is seen as 'different' to have so many women in power … but I hope that in the future, this will be seen as normal," she told the audience.
Discussing her country's cabinet, she underlined the government's commitment to building a future that was socially and economically sustainable by ensuring inclusivity of diverse backgrounds, ages and gender in the course governance.
On Finland's present challenges on the topic of gender, she said further efforts were needed to achieve, among other things, equal parental leave and equal pay between working men and women.
Describing the business world as "conservative," Marin called gender inequality a "society problem" and not a women's issue, referencing "unconscious" discrimination by company heads and HR departments in the hiring process as an example.
She mentioned a common trend seen in the private sector, where "men in power" sought similar minded, and similar looking, people, who they believed by extension to be more qualified.
She also referred to unequal representation of men in the healthcare and education sectors as another issue facing many countries today, including Finland.
"We need to work on creating an equal and transparent structure in society, and we need governmental laws in place," said Marin.
In a separate panel, Iman Al-Mutairi, Saudi Arabia's assistant minister of commerce and investment, reiterated that making sustainable change to further drive women's empowerment in the Kingdom needed to be done "through a legislative framework" to see real progress.
"Saudi women right now represent 20 percent of entrepreneurs in Saudi Arabia — 50 percent of our graduates are females, and 54 percent of these women are in STEM, learning science and technology," she said. "This is power to the economy that we need to build on."
France's Minister of Labour Muriel Pénicaud described the gender equality movement as one with "momentum," that was in urgent need of further acceleration.
She cited an equal pay law passed by the French parliament last year that aimed to promote professional equality between men and women, calling it a step in the right direction.
The law requires companies with a minimum of 50 employees to fulfill specific pay gap indicators within a three-year timeframe in order to avoid financial penalties and sanctions.
Given that the Index of Equal Pay had predicted a time frame equivalent to "five generations" to achieving equal wages between men and women, Pénicaud said governments "need to play on repetition, transparency, laws and leadership to make it happen" at much faster pace.
"Today 60 percent of workers in the world have informal jobs, and more than 80 percent of them are women. This means no social security, no retirement and no real pay," she said.
Also speaking at the gender-parity session, Phumzile Mlambo-Ngcuka, undersecretary-general and executive director at the UN Entity for Gender Equality and the Empowerment of Women, called the low representation of females in leadership roles across the world "a governance issue."
She said the number of women in senior leadership roles did not reflect the progress made by girls in education around the world, due to the lack of regulations in the labour market.
"We cannot say the issue of gender inequality has been addressed, that is the illusion of change," said Mlambo-Ngcuka.
Troubled by the fact that 75 percent of legislators who make decisions for populations around the world are men, she called on governments to work on cementing shared "regulations, quotas and targets" that could measure and accelerate the progress of women into positions of authority.
https://www.arabnews.com/node/1617476/business-economy
--------
Hoops and Headscarves: Milwaukee Girls Basketball Team Shatters Stereotypes
Jan 24, 2020
MILWAUKEE, Wis. – A girls high school basketball team is getting international attention not only for their athleticism on the court, but also for blazing a trail for young Muslim women.
High school basketball player Ameera Jaber is nothing if not focused.
"As soon as I step foot on the court. Like nothing else matters. I know I have to play with purpose," said the Salam Stars forward.
Assistant Athletic Director Kassidi Macak says when the all-Muslim girls team plays against new opponents, it can be a bit disconcerting.
"You get the looks, or the stares and you feel a little bit of the discomfort," said Macak.
All 11 girls on the team wear the Islamic headscarf. It's part of the Salam School uniform and a symbol of the girls' faith.
Forward Kishmala Arshad says the head covering and modest dress may attract unfamiliar reactions, but it doesn't bother her.
"I see my scarf as a shield, not a downfall," says Arshad.
This varsity girls basketball team plays to win.
"We can play ball just like any other team. We might even be better than other teams, you know?" said Arshad.
But team captain Esraa Salim says it's not just about playing basketball.
"It's about everything. We're Muslim women playing basketball. We're breaking all the stereotypes that people have about us," she said.
For the lady Salam Stars, taking to the court is as much about winning as it is about changing hearts and minds.
Salim says she's found inspiration in other elite athletes who are paving the way.
"I think Ibtihaj Muhammad, she was like the first Muslim woman athlete. It was really cool to see her fencing internationally and everything," said Salim.
The team has found itself in the spotlight, grabbing national headlines and attention.
The girls say they know they represent more than just a team. Their actions on the court could influence how all Muslims are viewed.
"I think it took me a couple of years to really realize like the responsibility that these girls carry every day when they're on the basketball court," said Macak.
It's a responsibility they do not take lightly.
"I see it as like you know I'm a Muslim, I'm carrying my religion and I'm proud of it," said Arshad.
The players have a waiver from the state athletic association to wear the headscarf or hijab, as well as long-sleeved t-shirts and sweatpants.
But appearances aside, Salam Star players like team captain Esraa Salim say they really only want to excel.
"We're like everybody else. You know we're just out there to play basketball and just like everybody else we enjoy the sport. We just want to go there and play the sport.
https://www.thedenverchannel.com/news/national/hoops-and-headscarves-milwaukee-girls-basketball-team-shatters-stereotypes
--------
Bengaluru's Shaheen Bagh: Muslim Women and the Religious Route to the Constitution
JANUARY 23, 2020
An all-women's protest which saw the footfall of nearly 5,000 persons occurred at Eidgah-e-Jadeed on Tannery Road in Bengaluru earlier this week. The protest led mostly by Muslim women and some Hindu women demonstrated the crystallization of a rich cultural alternative to the simultaneously vicious and unimaginative Islamophobia of local and national BJP leaders like Tejasvi Surya, Amit Malviya and liberal Congress leaders like Shashi Tharoor. Occurring in the gaze of sparse media scrutiny, barring the stray cameramen, the protest marked a unique milestone, with women protesters showing these leaders to be ignorant in comprehending religious paths to claiming citizenship.
A statement by one of the protesters "Jitna freedom Quran hume deti hai, utna hi freedom Constitution hume deti hai" (how much freedom the Quran gives us, the same freedom the Constitution gives us) set the tone for the protest. Using poem and idiom, verse and rhetoric, speakers and protesters wove together historical timelines and celebrated female Muslim labour in nurturing the nation. They cited from the Quran and resorted to animated counter-memes to imbue azaadi (freedom) with new meaning.
The protest organised by the Karnataka Joint Action Committee was unusual for the anti-CAA movement in Bengaluru. The city has seen a few all-women's protests, but this was the first huge gathering of its kind in Bengaluru East. The organisers said that they were planning more similar protests and hoped this would build the momentum towards Bengaluru's version of Shaheen Bagh.
Lending to its uniqueness was also the reincarnation of uncommon female figures of azaadi like Hazrat Mahal. One speaker explained that Hazrat Mahal was a young woman who led the rebels of Lucknow in battle against the British in 1857. Even after her exile to Nepal, she wrote to residents of Awadh not to give up the fight. "Hazrat Mahal tum ho aur mein bhi hoon" (you are Hazrat Mahal and so am I), another speaker roared to enthused applause.
The protesters used the language of religiosity and piety while showcasing the ethical patriotism of Muslim figures in history to decimate the Islamophobia of the 'secular' and 'right-wing', the pro-CAA and the anti-CAA ideologues. There was a rich tapestry of historical timelines woven together – if Tipu Sultan was the warrior-king who fought valiantly against the British, there was a recounting of Muslim freedom fighters who died in jail at the Andaman and Nicobar Islands (Kaala Pani) and World War I Muslim martyrs whose names were inscribed on the War Memorial at India Gate.
But there was a very deliberate move to not lapse into merely remembering Muslim men. The protesters sent out a clarion message – there is patriotism galore in the project of education as social empowerment. There was repeated emphasis on Fatima Sheikh to not be forgotten alongside Savitribhai Phule who educated children of marginalised Dalit and OBC communities. The tawaifs (courtesans) who donated money and jewellery to the nationalist cause were to be remembered. Muslim women's names were not the only ones recalled – Rani Durgavati, the mid-16th century ruler of Gondwana who fought against a Mughal general, Asaf Khan was assigned the endearment of 'jigar' or heart. Yet another timeline was the Partition, with a speaker referring to how citizenship built on kaagaz (paper) and mazhab (religion) is a willful forgetting of how the 1947 riots destroyed people's documents.
But religiosity was not simply called to the service of historical memory of nation-building, it also permeated the very forms in which people defined and related to the Constitution. One of the protesters, Humaira told TNM that she had converted from Hinduism to Islam 17 years ago. She stated that she married several years after her conversion, with her parents' consent. She gestured, through personal example, that it was wrong to fashion terms like 'love jihad'. A graduate of business management, she was carrying a placard that read, "We have all been paid 500 to save our Constitution." This was a clever rebuttal of BJP IT cell chief Amit Malviya's tweets discrediting the Shaheen Bagh protesters as being women who were paid Rs 500-700 and biryani.
Incidentally, Shaheen Bagh was praised and revered in slogans such as "Shaheen Bagh ki maa, daadiyon aur bachchon ko salaam" (we salute the mothers, grandmothers and children of Shaheen Bagh). Other memes and narratives on social media were soundly critiqued and reclaimed – the elected leaders at the Centre are the men who are puncturing the nation, said a few speakers, pointedly dismantling Tejasvi Surya's classist remark that it is puncture-wallahs who attend anti-CAA protests.
Muslim women from different class backgrounds and localities in Bengaluru (like Yelahanka, Shivaji Nagar, AK Colony, Kushal Nagar, RT Nagar, Thanisandra and KR Puram) talked about why they came. Among them were montessori teachers, school principals, madrassa students, medical students, IT and mobile phone company employees. The medical student found more solidarity with Jamia friends on Instagram than her own friends in Bengaluru, while the madrassa students, busy with classes in the week, were excited that this was their first protest. For all of them, piety and an anxiety around wujood (existence) was critical to their relationship to the Constitution.
One speaker, Dr Sajida Begum, the founder of the Children Women's Trust, called for a spirited defense of Kaaba (the shrine at the centre of Mecca), she said. Another speaker said they had descended from Aadam and Hawwa, and no Shah-Modi combine could ask them to produce documents. It is this religious rendering of citizenship that has eluded men like Shashi Tharoor who criticised the use of terms like 'la ilaha illallah' (there is no God but God) in the protests.
If the poetry and the many children protesters contributed to the carnivalesque air, there was intense anxiety for the future of the qaum (community). This was most poignantly expressed in the fear of a future where a nation-wide NRC would devolve into hair-splitting over demonstrations of children's citizenship. Where birth certificates may well be compared with Transfer Certificates or TCs, what nation remained for Muslim children, wondered one speaker --- this was however expressed in a way that showed Muslims to be hardly be the only victims of this violently obsessive categorizing exercise. Speakers asserted, Muslims cannot be the sole victims, we will share that fate with Dalits and people of other disadvantaged castes and tribes.
An elderly Muslim woman protester said she worked as a cook in the homes near the Eidgah. She found an abiding sense of community in these protests. I asked her if she would stop protesting if the CAA was revoked. For as long as her Muslim sisters and brothers felt the need to protest, she would too, she said. As the speakers and the protesters indicated, Babasaheb Ambedkar's dastoor (process) vis-à-vis the Constitution and the taleem (education) of Fatima Sheikh needed saving beyond the CAA-NPR-NRC.
https://www.thenewsminute.com/article/bengaluru-s-shaheen-bagh-muslim-women-and-religious-route-constitution-116667
--------
Chechen Woman Forced Into Islamic 'Exorcism' To Oust Her Bisexuality
JANUARY 23, 2020
Aminat Lorsanova, a 22-year-old bisexual Chechen woman, has filed a complaint in Russia against a clinic and her parents for her detention in a psychiatric facility in Grozny, where she was allegedly beaten and tortured over her sexuality and rejection of Islam.
Vice News first reported on Tuesday about Lorsanova's case. She fled Chechnya and is currently living outside of Russia. According to Vice, she was forcefully held for 25 days in August 2018.
She told Vice that an unnamed man sought to "expel evil spirits" while she was detained for four months at the Republican Psycho-Neurological Dispensary in Chechnya's capital Grozny.
"He was beating me with a stick in the solar plexus, pressing this area and below with his fingers. He put down my skirt to the hips and was pressing there as well," Lorsanova wrote by email to Vice News. "I was screaming out of pain, and he was yelling prayers. My mother and father observed the process but did not do anything even though I asked for help and asked them to stop that."
Lorsanova also told Vice that on "at least six occasions at the end of 2018, her father injected her against her will." she said that "he put handcuffs and tied my legs with adhesive tape. My mouth was also taped. He told me that he was going to treat me like an animal, like a sheep. After the injection of [the antipsychotic medication] aminazin, I was supposed to sleep that way. He didn't even unleash my legs and hands."
The Daily Mail and USA Today have described the violently homophobic procedure imposed on gay and bisexual people as Islamic 'exorcisms' to rid gays, lesbians and bisexual people of so-called "evil spirits." USA Today reported in November on a similar case in Indonesia.
Chechnya has garnered international criticism for its campaign against gay men. Chechnya's ruler Ramzan Kadyrov said in 2017 that there are no LGBT people in the Caucasus country.
Iran's then-president Mahmoud Ahmadinejad declared during a talk in New York City in 2007 that there are no gays in the Islamic Republic of Iran, whose regime imposes the death penalty on gays and lesbians. The Chechen regime incarcerated and tortured over 100 gay men in 2017. Vice noted that deaths occurred during the anti-gay crackdown.
https://www.jpost.com/International/Chechen-woman-forced-into-Islamic-exorcism-to-oust-her-bisexuality-615150
--------
Rajasthan's Women Encouraged To Remove Veil In State Campaign
23 Jan 2020
When women reach the polling booths to cast their vote in current village council elections in Rajasthan, they may be asked to remove their veil, showing their faces in front of strangers.
The move is controversial in this vast, conservative rural hinterland, where the veil is worn by Hindu and Muslim women as well as other groups.
But the state's chief minister, Ashok Gehlot, wants the centuries-old custom, which he describes as a "relic of a bygone era", banned. It's part of his recently launched ghoonghat hatao (end the veil) campaign, which he claims seeks to empower women.
"Women need to be empowered. They have the capacity to bring changes in society and their role is very crucial. There is no need for women to wear the ghoonghat in a modern world where humans have reached the moon and Mars," he said.
As well as asking women to remove veils during elections, local officials will visit villages every Friday in an attempt to persuade women to stop the practice and encourage husbands and fathers to back the move.
"We're hoping that when people see this message being given by respected figures of authority, rather than activists, it will make an impression," said Anuradha Saxena, assistant director of the women and child development department in Sikar district.
Posters are going up in government offices and public places and social media will be used to spread the message. Eventually, the campaign will be taken into schools so that young girls are taught that the veil is not necessary as an emblem of morality.
Though largely confined to rural areas, the custom, which can also be found in other parts of north India, is particularly common in Rajasthan. Women cover their faces in front of men and after marriage they often remain at home, accepting a traditional role under male authority. Women who fail to do so may be deemed immodest. Even royal women, who do not wear the veil, keep their heads covered in public.
A 2017 survey by the Centre for the Advanced Study of India at the University of Pennsylvania found that 98% of women aged 18 to 25 in Rajasthan wore the veil.
Change is happening in the state, however. Young women from the countryside often abandon the veil when they arrive at college. Many women in urban areas have discarded the custom.
The campaign is still in its infancy, but Saxena said that at village meetings she has attended, reactions have been mixed. Most people feel deeply uneasy at the thought of stopping such an ingrained custom, she said. One woman told her she felt naked without it.
"A few weeks isn't going to undo the habit of centuries, but once a few women take the lead, that will break down the resistance. All the state midwives and rural health workers keep their faces uncovered as they go about their work in villages, so they also set an example," she said.
Prakash Chand Pawan, commissioner of the Rajasthan women empowerment department, said this was the first time any government in the state has attempted to ban the veil. "We are clear in our message. Look at urban women, we tell them. Despite no veil, they respect their elders and treat their family members with honour, so they can too," said Pawan.
One of the posters shows a traditionally-turbaned man saying he will no longer support a dated custom and insists his wife and daughters discard the veil. His wife responds by saying that now she is more aware, she won't cover her face – and won't expect her daughter-in-law to do so either.
Conservative groups are, however, resisting the move. The Hindu fringe group Karni Sena said the veil was a vital part of Rajasthan tradition.
Though Gehlot's campaign seems to be primarily aimed at Hindu women, an orthodox Muslim group echoed Karni Sena's sentiments, telling Gehlot not to interfere in the community's religious traditions.
Local activist Kavita Srivastava welcomed the campaign but said Gehlot needed to have a much more detailed and timebound action plan. "He also needs a plan in place to handle any backlash. Our experience shows that when ancient customs are challenged, it can trigger anger, even violence," she said.
Gehlot says he wants the veil gone simply so that women can move in the world like men. "Let the women breathe in open air," he said.
https://www.theguardian.com/global-development/2020/jan/23/rajasthans-women-encouraged-to-remove-veil-in-state-campaign
--------
Islamophobia the Untold Stories: Bradford Women Share Their Experience Of Abuse
23 January 2020
Muslim women gathered in Bradford today to tackle the discrimination which they say they encounter every day.
The event ,organised by the Women's group Shantona, was to launch a film Islamophobia the Untold Stories which women from West Yorkshire speak out for the first time about their experiences. They also heard from speakers including people from the media, the police and council leaders.
The organisation's also campaigning to have Islamaphobic crimes recorded independently from hate crime - to highlight how rife the problem really is.
Take a quick look at the film.
https://www.itv.com/news/calendar/2020-01-23/islamaphobia-the-untold-stories-women-share-their-experience-of-abuse/
--------
Shaheen Baghs Spring Up In UP Districts
Jan 23 2020
Lucknow, Jan 23 (IANS): It began with the Clock Tower in Lucknow and has now found an echo in Prayagraj, Varanasi, Etawah and Rampur.
The sit-in protests against the citizenship laws which began in Shaheen Bagh in Delhi, have caught on in a big way in Uttar Pradesh.
Last Friday, a group of about 15 women arrived at the Clock Tower with placards against CAA and NRC, hidden under their burqas, and began the protest. As soon as they took out the placards, traffic on the main road slowed down and within three hours, more than a hundred women had collected at the site.
The police took away their blankets and food packets, doused bonfires with water in a bid to deter their efforts. However, the women did not budge.
The number has been swelling with each passing day and the seven-day-old dharna shows no signs of ending.
After Clock Tower in Lucknow, it was the Mansoor Ali Khan Park in Prayagraj where women started a sit-in protest
What initially seemed to be a one-day protest has been continuing for five days now. More than 5,000 women, men and children are camping at the park, braving the freezing temperatures.
"Yes we have been inspired by Shaheen Bagh. If our sisters can protest there, we can do it here too," said Renu Varma, a mother of three. Delhi's Shaheen Bagh entered Day 39 on Thursday.
At the Mansoor Ali Khan Park, women can be seen listening to speeches made by student organizations from the Left and the Samajwadi Party while others are recording the events on their cell phones.
"I just want to say that we will be here for as long as required, till someone from the government speaks to us," said Fatima, an octogenarian who has joined the protest.
The Jama Masjid in Rampur has also turned into a protest site with women assembling in large numbers.
In Etawah, on Wednesday, the cop chased and caned women who had started collecting in the Pachraha area to start a sit-in against the citizenship laws.
"The police did not let us protest yesterday but we will be planning and will do it again. Let us see how long they shoo us away," said Arushi Yadav who is now painting anti-CAA posters.
Varanasi, which is Prime Minister Narendra Modi's constituency, faced fresh trouble on Thursday when scores of women tried to stage a protest at the Benia Bagh ground.
As soon as they spread a 'durrie' on the ground, the cops arrived on the scene and tried to dissuade the women from staging dharna. The women were unrelenting and as soon as the police tried to arrest the protesters, a mob standing close by started pelting stones at the cops.
Additional forces have been deployed in the area to prevent the protestors from returning.
The protests against the citizenship laws are now spreading to the rural areas as well. Ujariyagaon, a village on the outskirts of Lucknow, is also witnessing a protest, albeit smaller in size.
What is common in all these protest is that the women are inspired by the Shaheen Bagh protest.
Initially, the protests began with Muslim women but now Sikh men and women have joined in a big way. Hindu women are not only participating in the dharna but are also arranging for food and blankets for the other protestors.
At the Clock Tower, Sikh men have even set up a community kitchen for women and children.
While majority of the protesters may not understand the provisions of the Citizenship Amendment Act (CAA), they insist that it will ruin the future of their children.
"If women are protesting in 32 cities, braving the freezing temperatures, there has to be a reason. Even if you want to believe that we are illiterate and are being misled, how do you explain that educated children form universities, IITs and IIMs are also staging protests?" asked Roshanara, a protester at Clock Tower in Lucknow, who has had much of a formal education.
The women are all the more determined to continue their protest after the ruling BJP alleged that they were being paid money to protest.
"Fine, we are being paid -- so let us make some good money and continue with our protest. If these leaders also want money, they can send their women to protest with us," said Ruchi Sahni, a young protestor at Clock Tower.
http://www.daijiworld.com/news/newsDisplay.aspx?newsID=666462
--------
Police Break Up Women's Protest in Varanasi, 6 Held
January 24, 2020
Shortly after a small group of women and men gathered at Varanasi's Beniyabagh ground to start a sit-in against the new citizenship law and NRC on Thursday, police came and dispersed the gathering, allegedly using force. Six men were arrested. Women protesters who were detained were later released.
After registering an FIR against the protesters, police released photos of 24 people, who they claimed were protesters and sought information about their whereabouts with a reward of Rs 5,000.
SSP (Varanasi) Prabhakar Chaudhary said the protest was "funded" by the Congress and Left parties and those taking part in it were "paid to protest". He also said the protesters threw stones at police when they reached the spot to disperse the crowd. He said the protest was in violation of prohibitory orders in the district.
"The women who tried to start the dharna were residents of the area and some of them were identified as members of the Congress and Left parties. We will take action against those responsible," the SSP told The Indian Express.
"Prima-facie, we have found that the men there were paid to stage the protest and they have been arrested. One of them belongs to Mau (district). When police tried to disperse the crowd, some protesters threw stones, after which mild force was used," the SSP added.
A woman, identified as Srishty Kashyap, who was taking part in the protest and claims to be a member of the Congress, had live-streamed a video on Facebook in which she claimed that the protest at Beniyabagh was peaceful and still police forced them to leave the ground.
"Today, we sat on a dharna at Beniyabagh ground and it was a peaceful sit-in by women. The protest was against CAA-NRC and there were no miscreants… the administration is saying the protest was sponsored and funded from outside. If we are standing with the truth, then you call us rioters. There is an FIR against me. What did we do to deserve such an action?" Kashyap is seen saying in the video. She, however, could not be reached for comment.
Circle officer of Dashashwamedh Ghat area, Preeti Tripathi, said that an FIR has been registered at Chowk Police Station against 30 named people and around 600 unidentified people. They have been booked for rioting, voluntarily causing hurt to deter public servant from his duty, assault or criminal, criminal conspiracy among others. "Six persons have been arrested. So far, we have identified 24 persons who were part of the protest that turned violent. Their photographs are being released," the CO said.
With this, a total of seven FIRs have been registered in the state in the last 10 days in connection with the protests by women against CAA-NRC at many places.
Three FIRs have been filed against protesters at Lucknow's Ghantaghar sit-in, one for the Gomtinagar protest in Lucknow, one in Etawah, and one at Khuldabad police station in Prayagraj.
https://indianexpress.com/article/india/caa-nrc-protests-police-break-up-womens-protest-in-varanasi-6-held-6232272/
--------
URL: https://www.newageislam.com/islam-women-feminism/women-wef-unite-talk-gender/d/120880
New Age Islam, Islam Online, Islamic Website, African Muslim News, Arab World News, South Asia News, Indian Muslim News, World Muslim News, Women in Islam, Islamic Feminism, Arab Women, Women In Arab, Islamophobia in America, Muslim Women in West, Islam Women and Feminism