New Age Islam News Bureau
23 Feb 2014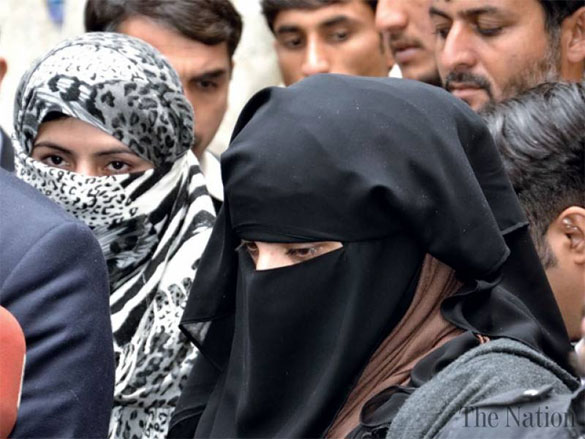 Photo: Pakistan Islamic University Girls 'Confined' At Hostel
--------------
• Fuss at Pakistan Islamic University as Girls 'Confined' At Hostel
• Cases of 'Hijabaphobia' Increasing In Quebec
• Meet Egypt's First Female Political Party Leader, Hala Shukrallah
• Nigeria: 'Hijab - A Fundamental Human Right of Female Muslims'
• Saudi Woman Helps Companies Stand Out With Her Design Ideas
• American Pop Star Katy Perry Debuts as Egypt's Queen Cleopatra
• Women Renting Houses Face Gender Bias in Riyadh
• Nigeria: Women's Group Receives Major U.S. Award
• Thousands of Kids Lost Parents in South Sudan Fighting
• Behind The Scourge of Child Labour in Palestine
• Violence against Indigenous Women Rarely Get Law Enforcers' Attention: Bangladesh
Compiled by New Age Islam News Bureau
URL: https://newageislam.com/islam-women-feminism/women-iran-defy-mullahs-embracing/d/35895
-------------
Women of Iran Defy Mullahs by Embracing Western Fashions
February 23, 2014
The regime in Tehran is increasingly feeling the pressure, but not from sanctions or the threat of a military strike.
It's a vibrant and growing fashion scene, one that enables Iranians to defy the strict religious leaders who have ruled the nation with an iron fist since the 1979 revolution...
Many young Iranians have become emboldened in how they walk the streets, showing an affinity for Western clothing, jewellery, makeup and hairstyles. But it is more than just a fashion statement, say Iranians. It's a political statement.
"Violating the dress code is another way young Iranians can express political dissent," said journalist and political activist Mansoureh Nasserchian.
Since the 2009 uprisings, when Iranians flooded the streets of Iran protesting the corruption of their government in the aftermath of former President Mahmoud Ahmadinejad's contested re-election, the world was introduced to a new brand of Iranians influenced by social media and Western styles and ideologies, according to Nasserchian, who fled the country for Canada shortly after the uprisings.
"When the young people filled the streets, not caring how they dressed or if they had hair covering, things really changed in Iran," Nasserchian said. "Social media gave the courage to the new generation to break taboos and be open about political and social issues."
Dubbed the "Twitter Revolution," this political movement had strong social underpinnings, demonstrating the unwavering desires of a new generation of young, savvy, technology-driven young people who were now Iran's political opposition.
But as the fashion statements became louder, the regime has become sharply aware and crackdowns are now more frequent.
The government has launched a "soft war" against all cultural and technological influences that are imported into the country. This means frequent crackdowns on elements that represent Western life, including clothes, hairstyles, pets, movies, music and the Internet. In recent years, Tehran has spent heavily to combat these "un-Islamic influences" through morality police, cyber police and government bans.
But this has not stopped an overwhelmingly Western-loving and young population of Iranians from gravitating toward American and European styles.
"We believe the first sentence you say is the way you look, so every Iranian wants to express a sentence which is completely different from other Iranians," said Mojgan, a fashion blogger living in Iran, who asked not to be identified by her real name.
Western brand names continue to be more popular among Iranian youth, but over the past few years, a deteriorating economy inside Iran shifted the focus to local fashion designers.
"Iranian designers get influences from Western designers, especially France, Italy, the UK and the U.S., and work to keep Islamic guidelines. But in Iran wearing fashion is very important," Mojgan said.
A boutique owner in Tehran, who asked not to be identified by her name or the name of her business, said the morality police came in to ask why the mannequins in her storefront were not wearing the Hijab, the traditional Islamic headscarf that all women are required to wear.
"I mean really, the mannequins?" she said. "They have to have Hijab? Where are we living?"
Women in Iran are required to have their hair covered, usually by a scarf. They cannot wear clothing that exposes their arms and must wear a manteaux, or overcoat of some type, that covers three-quarters of the body. They also must wear floor-length skirts, forbidden from showing any of their leg.
Even now, under new President Hassan Rouhani, a self-proclaimed moderate, many Iranians say the morality police are just as harsh as before, approaching Iranians who are not properly dressed in public.
"In terms of fashion, this and previous government are the same," Neda, a 43-year-old lifestyle blogger from Tehran, said.
"The crackdowns become worse every summer as dresses get shorter, fabrics become thinner and Iranians are out in the streets wearing bright colours and Western-style hair," she said.
Lisa Daftari is a Fox News contributor specializing in Middle Eastern affairs.
http://www.foxnews.com/world/2014/02/23/women-iran-defy-mullahs-by-embracing-western-fashions/
-------------
Fuss at Pakistan Islamic University as Girls 'Confined' At Hostel
February 23, 2014
ISLAMABAD - Three female students of International Islamic University Islamabad (IIUI) made it to the television headlines on Saturday as a court bailiff recovered them from the university hostel where they were allegedly confined by the administration.
The university administration however denied the charges strongly, arguing the students were expelled from hostel through disciplinary action, but they opted to lock themselves up in hostel rooms and create the mess through electronic media coverage.
Neelum Jehan, Romana and Hiba were allegedly confined by the hostel administration Friday evening with no food and water, and the bailiff recovered them after more than 18 hours of confinement.
Taking notice of the media reports, district and sessions judge Raja Jawad Abbas appointed a court official as bailiff to recover the girls. The bailiff recovered them and produced the girls and a hostel warden before the judge. Later, the judge directed release of hostel warden Shaista, and announced that the girls have the right to take legal action against the administration.
Talking to The Nation, Sher Afzal, counsel for the girls, informed that three girls, including PhD student Neelam Jahan, were locked up in the hostel room as punishment for raising their voice against alleged corruption in hostel mess, lack of facilities and other additional charges by the university administration.
Sher Afzal said these students had been studying in the University since 2007 and there was no complain against them. "Now the administration has just victimised them for raising their voice against the alleged corruption of the administration in hostel mess." The counsel said that decision of university administration to expel these students was against the principles of justice.
Later in the evening, one of the girls, Neelum Jehan, submitted an application with Sabzi Mandi Police Station against the university officials, including Director General (DG) Gulzar Khawaja, Security Incharge Colonel (r) Amjad Zaman, hostel warden and a security guard. She alleged in her application that university administration tried to kidnap her and detained her in a room for more than 18 hours.
The university administration however rejecting claims of the students, termed the confinement story baseless and a gimmick to gain media attention. IIUI Rector Dr Masoom Yasinzai addressing a press conference after the incident charged that fake stories aired on TV channels damaged the repute of the university. Dr Yasinzai condemned what he termed 'baseless story' and took serious exception to the news related to the girls.
He said the three girls were involved in a strike in the university premises on December 23, 2013. The university followed the laid out procedures to expel these students from the university hostels against which they were given temporary relief by a court of law. The university honoured the order of the court and allowed them to stay in their rooms, he said. Eventually, their stay was vacated by the court on February 20, 2014.
The Rector further claimed that the management peacefully approached the students to vacate the rooms in the light of the court orders and university got the possession of their seats peacefully. He said today the accused girls created a drama and broke the locks of their rooms illegally and violated the university laws. One of the girls confined herself in a room with the help of other two and started calling media spreading the fabricated news of the habeas corpus.
The issue dates back when the university had streamlined the systems of hostel following the Islamic ideology and parameters of the university. "The university fixed closure time of the hostel after Maghrib prayers (around 5pm) and fixed mess charges that was opposed by a group of students", explained Dr Nighat Shakoor, provost of female hostels at the university. She said some groups that were tarnishing the reputation of the university opposed new rules and resorted to strike.
The students on December 23 protested against the management. They demanded revival of per meal payment system in the hostels and also opposed the management's direction to the students to return to the hostels before after Maghrib prayers, saying PhD classes were held till 8pm at the campus.
Three students – Romana Akbar of LLM Law, Neelam Jahan of PhD Law and Hiba Shabbir of BS Economics – who reportedly led the protest and strike and created a law and order situation, were expelled after the hearings of a disciplinary committee headed by the University DG. The committee also asked them to vacate the hostel but they got stay order from the court, said IIUI Administration Director General Gulzar Khawaja.
In the meanwhile, the university administration also moved the court and got vacated the stay. On Friday last, the administration shifted their luggage to the store and locked the rooms. But the students broke the locks and entered the rooms alleging that they were restrained forcefully by the university administration, he maintained.
The students say that the administration had beaten them up and threatened of dire consequences during the last December protests. But the University DG maintained, "They are law students and know everything. How can university confine them against their wishes; instead, we wanted them to vacate the rooms as they are no more students of the university but they have a right to appeal the decision of the disciplinary committee."
The provost informed that four female hostels house 1,800 students, still the university is unable to meet the rising demand of hostel accommodation due to its segregated campuses and well protected environment. The university attracts students from every nook and corner of the country as well as foreign students.
http://www.nation.com.pk/national/23-Feb-2014/fuss-at-islamic-university-as-girls-confined-at-hostel
-------------
Cases of 'Hijabaphobia' Increasing In Quebec
February 23, 2014
MONTREAL – More and more Muslim women are coming forward about being victims of what's being called "Hijabaphobia."
A teacher at Université de Sherbrooke conducted an anonymous online survey that found an increase of violence and intolerance towards women wearing the Hijab.
Geneviève Pinard Prévost surveyed 388 Muslim women.
88% of Muslim women said they no longer feel safe leaving their homes
"It may not look like a lot of women in the total of Muslim women in Quebec," she said.
"But it's a lot of women who live with this kind of problem in the province."
Of the women who took the survey, 88 per cent said they no longer feel safe leaving their homes.
They especially feel scared taking the bus and metro by themselves.
What the survey revealed is that the violence comes in many different forms, and the women noticed that the increase was linked to the province's proposed charter of values.
Everyday acts of violence
Daycare worker Hanadi Saad has been threatened, intimidated and physically attacked in the past few months.
She told Global News that she feels she has seen and heard it all.
"'Terrorist go back home,' 'you will get out of your veil, terrorist,' all this kinds of stuff," she said.
"And then he was taking off his pants."
This occurred as she was heading out of a grocery store.
On another occasion, she found her car vandalized in a parking lot.
"After September 11, there was a little of tension but it wasn't like this," she noted.
"Now it's the worst and it's getting worse and worse."
Another Montrealer, Sama Al-Obaidy, has also been harassed for wearing the head scarf.
"It was a rush hour and she tried to remove my Hijab from me, so she tugged at it a few times till eventually I had to stop her."
What's changed in Quebec?
The president of Quebec's Women's Federation blames the government for allowing the focus of the charter debate to drift to veiled women.
"In a sense, it's a form of institutionalized racism, when even the state doesn't do everything in its power to make sure these prejudices haven't been encouraged," said Alexa Conradi.
The testimonies from Pinard Prévost's survey have been submitted to the Quebec minister responsible for Bill 60, Bernard Drainville. So far, there has been no response.
http://globalnews.ca/news/1165400/cases-of-hijabaphobia-increase-in-quebec/
-------------
Meet Egypt's First Female Political Party Leader, Hala Shukrallah
February 23, 2014
A flicker of hope for women across Egypt may have been sparked on Friday, after the first female to head a political party in the country was elected.
Breaking through Egypt's political glass ceiling, Hala Shukrallah succeeded former Egyptian Vice President Mohammad ElBaradei to become the Constitution Party's president.
And her win not only represents women, who are a minority in Egyptian politics; she is also a Coptic Christian, a community that makes up 10 around percent of the country's population.
Shukrallah, the founding member of the party, won 108 out of 189 votes, reported Egyptian daily al-Ahram, in the party's first elections for the position of chairmanship.
Shukrallah's two opponents, former TV host Gamila Ismail and physician Hossam Abdel-Ghafar - both also founding members - took 57 and 23 votes respectively. Two votes were spoilt.
Party member Sayed Kassem had been acting as its interim chief since July.
Party of youth
Earlier on Friday, ElBaradei congratulated members of the party's first general conference.
In a speech at the conference, read by Kassem, ElBaradei called on youth to learn from their mistakes and to maintain hope due to the fact that they "do not hold private agendas."
"I pay tribute to the young men and women, the party rose by youth and will arise by youth. The road is open before you after being closed for 60 years, do not lose hope and goal," the speech continued.
In a Twitter message also posted on Friday, ElBaradei said: "To the youth of the Constitution and the Revolution: You are now the light in the darkness of lies, ignorance, extremism and tyranny. Join the ranks, recover the values and use yours mind."
Mass resignations
ElBaradei resigned as party head when he was appointed vice president following the ouster of Egypt's former Islamist President Mohammad Mursi in July last year.
Just one month later, he resigned as vice president after the bloody dispersal of the Rabaa al-Adawiya protest camp which left hundreds of pro-Mursi supporters dead.
After his brief vice presidential tenure, ElBaradei now works as a professor at the Fletcher School of Law and Diplomacy.
Since ElBaradei resigned from the Constitution Party, the group has seen public divisions and mass resignations.
Major disputes have occurred over the appointment, rather than election, of the party's current senior leaders.
The party had one garnered support when it was founded by ElBaradei after the 2011 revolution which toppled Egypt's former strongman President Hosni Mubarak from power.
ElBaradei then refused to run for the 2012 presidential elections, saying that a constitution needs to be in place first to define the role of the coming leader.
http://english.alarabiya.net/en/News/middle-east/2014/02/22/Former-Egypt-VP-ElBaradei-s-party-votes-for-new-leader.html
-------------
Nigeria: 'Hijab - a Fundamental Human Right of Female Muslims'
February 23, 2014
The Criterion, an association of Muslim women in business and the professions, has expressed concern over what it describes as the crisis arising from the use of hijab (veil) by female students in Osun State.
In a release signed by Dr Saudat Abdul Baqi, National Amirah (President) and Abdulmajeed Shakirat, National PRO, of the body made available to Daily Trust, it reiterated that the use of hijab by female Muslims is a religious obligation over which neither the user nor anybody has a choice.
"Islam as a complete way of life has laid down rules and regulations governing every aspect of a Muslim's life as defined by the Holy Qur'an and the Hadith. It is obligatory on every Muslim female to use hijab as dictated by Almighty Allah,(Q24:31).
"It is therefore the fundamental human right of female Muslims in consonance with Section 38 (1) and (4) of the 1999 Constitution of the Federal Republic of Nigeria that guarantees not only freedom of religion but also freedom to practice it," the release said.
The Criterion also said: "It is a known fact that Muslims are predominant in Iwo and female Muslim students have been using hijab at public schools in the town from time immemorial. There has not been any policy statement in this regard and there has been peaceful co-existence among the diverse groups in all schools - Baptist High School, Iwo inclusive - until recently when the fundamental rights of Muslim students to use hijab was toyed with.
"Available facts show that the school has an overwhelming Muslim population. The demographic data shows that the total number of students in the school is 2,123. Of this number, Muslims are 79%, Christians 29% while others are 2%. The number of female students is also 1,167 while male students are 956; by inference, there are more Muslim female students than their non-Muslim counterparts."
It recalled, "the ugly events of Monday February 3, 2014 and Tuesday, February 4, 2014, when some students dressed to school in different choir regalia, Boy's Brigade uniform while others dressed in traditional religious attires," describing it as "worrisome".
"The following day, Tuesday, a masquerade entered the school and caused great confusion and apprehension. Could those behind these acts have been pricked by the success recorded by the celebration of World Hijab Day of February 1, 2014?," the group said.
It maintained that, "the use of hijab by all Muslim females is a religious act, and given the fact that there is freedom of religion in the country, any action that will encumber the practice of our religion will not be acceptable.
"Muslims are not copying anybody by wearing hijab, it is a religious obligation, and non-Muslims are free to use the school uniform of their choice. To this end, we call the attention of the state government to the fact that any school which discriminates against female Muslim children on account of race, tribe or religion has run contrary to the Nigerian Child Rights Act of 2003 and Article 11, 21 and 26 of the African Charter on the Rights and Welfare of the Child 1990 (OAU doc. CAB/LEG/24.9/49/1990) of which Nigeria is a signatory."
The Criterion said that as Muslims, they are not imposing their culture or way of life on other religious adherents, "but we must be allowed to practice our religion freely without any intimidation, harassment or oppression.
"We call on all citizens irrespective of their religious beliefs or affiliation to allow peace to reign by being our brothers' keepers and shun all forms of violence and promote peaceful coexistence."
http://allafrica.com/stories/201402210549.html
-------------
Saudi woman helps companies stand out with her design ideas
February 23, 2014
JEDDAH — Rawan Sindi is a budding young Saudi businesswoman who has been in the business of providing visual communication ideas to corporate customers.
An MBA graduate, Sindi participated in the activities of the business pioneers week in Jeddah.
Sindi said she designs logos and promotional graphics for companies and websites, and provides them with advice on visual communication methods.
"Graphic designing has become a key factor for the success of any business and graphic designers have become the link between companies and consumers," she said.
This was the second time Sindi was participating in an activity to educate startup businesses on the importance of graphics designs for the success of their ventures.
"One of the key factors for the success of any startup business is that its product should be readily distinguishable from others, and I believe that the job market is flourishing with distinctive ideas," she said.
Sindi pointed out that modern technology and social networking sites have facilitated the promotion and marketing of services and products to various layers of society.
"Different market segments have realized the importance of graphics to reach consumers and it has become the spokesperson of businesses," she added.
Sindi hoped that her participation at the event would help her grab the attention of large companies.
http://www.saudigazette.com.sa/index.cfm?method=home.regcon&contentid=20140223196614
-------------
American pop star Katy Perry debuts as Egypt's Queen Cleopatra
February 23, 2014
American pop star Katy Perry transformed into Egypt's legendary Cleopatra for her music video "Dark Horse," released Thursday.
The video opens with an inscription which reads: "Memphis, Egypt, a crazy long time ago."
In the new clip, Perry emerges dressed as her version of Cleopatra, wearing candy-colored makeup and a black, half-braided, wig.
The 29-year-old pop star then appears naked, covered head-to-toe in silver body paint while a gold snake slithers around her body.
Perry was accompanied by American rapper Juicy J during the recording. For his cameo appearance he pops out of a sarcophagus and attempts to win the affections of the leading lady.
The video comes complete with a bouncing chariot, a throwback to urban images of hydraulic cars more suited to the streets of Los Angeles than ancient Egypt.
Littered with Egyptian iconography, such as the "evil eye," Perry's video also features an array of cat-headed guards, seemingly inspired by hieroglyphics.
The day before the release of the video, Perry borrowed Cleopatra's look for her performance at the BRIT Awards in London to preview her new song.
The pop star also performed the track at the Grammy Awards ceremony, alongside Juicy J in January.
To announce the release of the trailer of "Dark Horse," Perry wrote on her personal twitter account last week: "MEET THE QUEEN OF MEMPHIS (Egypt, that is)"
"Dark Horse" which is the third single of Perry's album "Prism" has been number 1 on the U.S. record chart for three weeks. .
http://english.alarabiya.net/en/variety/2014/02/21/Katy-Perry-transforms-into-Egypt-s-Cleopatra-for-new-video.html
-------------
Women Renting Houses Face Gender Bias in Riyadh
February 23, 2014
RIYADH — Many women are complaining of unfair treatment on the part of real estate offices that is causing them needless hardships. They claim many real estate offices show gender bias and are refusing to sign rental contracts in women's names.
Real estate experts, meanwhile, said that the continuously increasing rents and a lack of legislation to regulate the property sector are the main reasons for such refusals.
Saroof, a divorced Saudi woman, said she had encountered a series of hurdles before being able to rent a house. She had pleaded with many real estate offices to rent an apartment, but they refused to do so.
She was finally able to rent a rundown house for SR6, 500, but that amount was soon raised to SR8, 000 without any justification.
She then shifted house, renting an apartment near the house she had stayed, but the real estate office insisted that she provide them with a letter from her son's work place. After clearing these hurdles she was surprised to know that the rent was SR16, 000. She said she wished there were regulations to unify rental contracts and define rent prices according to the location and age of buildings.
Najlaa Hasan, a divorced woman who works in the educational sector, said that she too faced difficulties in renting an apartment in her name. Her salary is more than enough to pay the rent, she added, but she finally had to rent the apartment in her brother's name.
Furthermore, she noted that the property owner later offered to marry her and when she refused, he began harassing her by cutting off water and electricity supply to the apartment and raising the rent each month.
Faris Mohammad said that he visited a real estate office with his mother to rent an apartment on Sitteen Street and was told that the rent is SR45, 000 a year. He tried bargaining, but was not successful only to later learn that the real estate office rented the same apartment to an expatriate for only SR30, 000.
Salah Faisal, an expatriate, said that he pays SR25, 000 a year for a rundown apartment in a 30-year-old building. He said that the building's walls and ceilings are cracking, and the electricity and plumbing works are deteriorating, but he has to pay the real estate office a SR500 commission every time he renews the rental contract.
Saad Mohammad, a real estate office owner, denied that real estate offices refuse to rent property to women. He said this occurred in the past because real estate offices found it difficult to visit women tenants to collect the rent; as such visits could be viewed by others inappropriately.
Khalid Al-Qahtani, another real estate office owner, said citizens are always late with their rents and there are many who have simply left their property without paying.
Saleh Al-Qebaisi, however, said that this may have been the case a few years back, and stressed that citizens nowadays are committed to paying their rents on time.
He said there are ways to recover rent even if the tenant leaves without paying. He cited the example of an expatriate tenant leaving his rented apartment without any notification or paying the rent, but had to pay up after he filed a complaint with the authorities.
He said if a woman is employed and provides a letter from her work place then there should be no objection for the real estate offices to take out a rental contract in her name.
The head of the real estate committee at the Riyadh Chamber of Commerce and Industry (RCCI) said that it might be true that property owners are reluctant to rent their property to citizens; as such matters are left to the owner's discretion.
He stated that some real estate offices' refusal to issue rental contracts in women's names was due to the sensitivity of the issue. "Real estate offices need to be regulated, as rental activities have a great impact on the property investment sector," he said.
He hopes that property owners and offices will join the "Ijar" system that was launched by the Ministry of Housing to regulate the relation between owners and tenants.
Lawyer and member of the national lawyers committee at the Saudi Council of Chambers Majed Qaroob said that Shariah laws give women the right to enter into contractual agreements. He noted that contracts are signed between owners and tenants, and owners have the right to rent their property to whoever they wish.
"There is no law that forces property owners to rent their property to a certain section of society, whether women, men, or expatriates, and it is completely up to the owner," he added.
Qaroob pointed out that real estate offices receive commission for renting residential units, and such commission differs from one office to another. He said that tenants who were harmed by property owners have the right to file a complaint against the owner with concerned bodies.
http://www.saudigazette.com.sa/index.cfm?method=home.regcon&contentid=20140223196601
-------------
Nigeria: Women's Group Receives Major U.S. Award
February 23, 2014
A Nigerian organization dedicated to promoting the rights of women in the country's legal systems has received a major award from an American foundation for its "outsized impact" in improving the lives of people and communities.
The John D. and Catherine T. MacArthur Foundation announced on Thursday that the Women's Rights Advancement and Protection Alternative (WRAPA) in Abuja was one of seven recipients of its 2014 MacArthur Award for Creative and Effective Institutions. The award is worth U.S. $750,000.
The other recipients of the award are American or Canadian organizations.
The MacArthur announcement said WRAPA works improve women's access to justice in "all three legal systems in Nigeria - common, traditional, and Shariah law."
The grant, it added, "will support the construction of a Resource Centre and the purchase of equipment and furniture. The Resource Centre will provide research and library facilities, office spaces, temporary shelter for abused girls and women, a conference hall, and an auditorium."
A full description of the WRAPA's work, as published on the foundation's website, follows:
Promoting and protecting the rights of Nigerian women
Nigerian women face myriad threats to and violations of their fundamental human rights, including unequal access to education and employment; yet, access to justice is hampered by poverty, ignorance, cultural- and faith-based inhibitions, cost, and corruption in the administration of justice.
Women's Rights Advancement and Protection Alternative (WRAPA) works to promote and protect the rights of Nigerian women within the three legal systems that govern their lives: customary, common, and Sharia law. Its work betters the lives of individual women and seeks systemic changes to help all Nigerian women now and in the future.
Helping 15-30 women every day at the national and state levels, WRAPA takes a holistic approach that combines the provision of legal defense, public education, shelter, and skills and literacy training. Its membership of more than 15,000 men and women provides a powerful network of actors that can be mobilized to support the organization's efforts within government and local communities. WRAPA's deep knowledge of and involvement in the Nigerian legal systems enables it to confront discriminatory cultural practices and processes that have become embedded in Nigerian law.
WRAPA has shown effective leadership in advocating for women's rights on some of the most controversial and critical issues affecting the lives of Nigerian women, including consent to marriage and a woman's right to custody after divorce, which is not guaranteed to women in the country.
It has successfully represented women in high-profile cases that involved invoking due process in appealing harsh punishments under Sharia law.
Research by WRAPA informed the development of a set of resolutions by 84 government and Muslim leaders in Northwestern Nigeria that seek to advance women's rights under Sharia law, with a particular focus on support for a woman's consent to marriage and the financial responsibilities of divorced men toward their children and former wives.
Uptake of the resolutions is gaining traction, with important policy changes recently enacted in the states of Kano and Kaduna that serve to protect women's rights in divorce and marriage. In both situations, WRAPA is working closely with state governments to ensure effective policy change and implementation.
http://allafrica.com/stories/201402211438.html
-------------
Thousands of kids lost parents in South Sudan fighting
February 23, 2014
When the shooting began, Ajing Abiik and his two younger brothers ran for their lives. The shy 12-year-old with the serious expression is now among 90,000 people in one of South Sudan's largest camps of people who have been displaced since war broke out in December.
Their father was a soldier and died in fighting months ago. Now the three boys don't know where their mother is - or even if she is still alive.
Abiik and his brothers are far from alone. Thousands of other children in South Sudan have been separated from their families when they fled cities and villages in panic as indiscriminate gunfire cut down soldiers and civilians alike. The fighting in the world's newest country has left many of its youngest citizens either orphans or separated from their parents, increasing their vulnerability to sickness, malnutrition and recruitment by warring groups as child soldiers.
Some of the worst violence was in Jonglei state, where the battle for the city of Bor left thousands dead.
'We were afraid'
"We were in Bor when the fighting erupted. Everyone was running and shooting, I don't know if my mum is dead or alive," Abiik, wearing a dirty brown and gold polo shirt, told The Associated Press while sitting under a tree with dozens of other children in the camp along the shores of the Nile River. "We ended up here. We were afraid and just ran."
Abiik and his brothers were relatively lucky because they fled Bor with an aunt who now looks after them.
The United Nations has declared the South Sudan crisis a level 3 emergency which put the response on par with Syria as more than 800,000 people have been displaced, 3.2 million are in immediate need of food since the fighting that broke out in mid-December.
The U.N's leading agency for child protection, UNICEF, estimates that 17 percent of South Sudan's entire child population is without one or both parents.
Of the thousands of unaccompanied kids in U.N bases and camps across the country only 78 have so far been reunited with family through the use of mobile phones and questionnaires.
'A huge issue'
"For the younger children it is a real challenge," said Fatuma Ibrahim, UNICEF's chief of child protection. "The younger the child, the more complex. For babies it's a huge issue."
South Sudan's strong kinship system helps the agency trace family networks and subsequently find homes for orphans, often with extended families, said Ibrahim. There were a few examples of orphanages trying to rescue children and take them out of the country but most were well intentioned and stopped doing it when the U.N. intervened, said Ibrahim.
Here in Minkaman, United Nations agencies, Doctors Without Borders, Oxfam and a host of NGOs are urgently distributing food, water and sanitation in a race against time that in six weeks will see rains come and turn Minkaman from a dust bowl into a sea of mud.
Desperate
Save the Children has registered more than 1,000 children separated from their parents and works alongside UNICEF tracing family connections, said the group's spokeswoman Helen Mould.
"In most cases their parents or other family members are still alive and desperate to be reunited with their missing children," she said.
Mould stressed that charities or orphanages should not try to take children whose parents are missing out of South Sudan, because instead of doing good they may do harm: "Moving children across borders is not only illegal, but prevents organizations like ours from being able to reunite these families."
http://english.alarabiya.net/en/perspective/features/2014/02/22/Thousands-of-kids-lost-parents-in-South-Sudan-fighting.html
-------------
Behind the scourge of child labour in Palestine
February 23, 2014
Ramallah: When children of his age go to school, thirteen-year-old Karim wakes up every morning and gets ready to go to work.
He goes to market place daily and brings a trolley to help shoppers load their purchases and move around with them.
"I was asked by my family to quit school and find a job to help my father support my other brothers and sisters," he says.
"My mother told me I am big enough to share the family responsibility and I was happy to quit school and earn money," he told Gulf News.
"My family has many problems and when I think about them I come to the conclusion that money is the root cause for all issues," he said.
15 year old Ahmad said he volunteered to work and help his family after he successfully finished his primary education at an UNRWA school.
"When I finished my ninth year in school, I was supposed to go to secondary education but I offered to my family that I would quit school and work to improve our financial condition. My parents said it was my choice," he said.
Ahmad said he was good in his studies but was aware that his family was in debt and he felt it was his responsibility to give a helping hand.
There are several of such cases in Palestine where children as young as 10 year old extend a helping hand to their families out of compulsion.
A total of 102,000 children (defined as individuals below the age of 18) have become laborers because they have to support their families, according to the Palestinian Labour Ministry, terming child labor as one of the most dangerous phenomena in Palestine.
A large percentage of Palestinian working children are employed in West Bank based Israeli colonies despite laws which essentially ban the employment of children.
Officials from the Labor Ministry have arrested 63 Palestinian children who secretly work in Israeli colonies and the ministry is seeking to reduce the total number of working children to 80,000 by 2014.
Ahmad Majdalani, the Palestinian Labour Minister, said that during 2012, six per cent of the total population of Palestinian children joined the workforce and therefore quit school.
In 2013, the percentage of employed children dropped to 4.6 per cent following massive government and non government efforts to address the phenomenon.
Majdalani said that children comprise almost half of the Palestinian population and that the total number of Palestinian children exceeds two million.
The Labour Minister stressed that the employment of children remains a nightmare for Palestinian society and labelled the employment of children in colonies as similar to slavery.
Majdalani said that his ministry has joined forces with various Palestinian syndicates, unions and non government organizations to establish a national anti-child work committee which has sought to ensure that Palestinian children do not do dangerous work which could cause them damage and affect their future prospects.
"The ministry and concerned authorities have drawn real and practical plans to fight against the employment of children," he said, adding that Palestinian labor law has been amended to ensure children do not join labor forces.
"A new law that bans the work of children and makes their employment a crime will be imposed shortly. After this, employers will be indicted if they recruit children," he stressed.
"Vocational education is the right choice for the teenage children targeted by employers and promoting this kind of education offers those young people a way out," he said.
Majdalani added that chances for careers have been given to many former working children who have joined vocational education schools.
The minister stated that until 2000, it was unusual to find cases of children in employment. He said that since then, the numbers of Palestinian working children have grown significantly with the result that now in excess of 100,000 are employed.
This issue is also critical because of the projected growth in the numbers of Palestinians under the age of 18.
Shaher Sa'ad, the Secretary General of the Palestine General Federation of Trade and Labor Unions, has urged international labor organizations to intervene immediately to ensure an end to the employment of Palestinian children in West Bank based Israel colonies.
"We have not been able even to evaluate the size of the problem of working children inside Israeli colonies, as we are not allowed to enter those colonies," he told Gulf News. "Recruitment of Palestinian children in the agricultural sector inside Israeli colonies should be disclosed, and we call on international organizations to do this," he said.
He stressed that the work of Palestinian children in colonies badly harms the entire Palestinian society and costs Palestinian families dearly in the risks their children are exposed to in workplaces.
Sa'ad said that social guarantees to families within the Palestinian society can ensure an end to the work of Palestinian children.
He stressed that child labor has produced an illiterate generation because children have quit school to join the workforce.
http://gulfnews.com/news/region/palestinian-territories/behind-the-scourge-of-child-labour-in-palestine-1.1294159
-------------
Violence against indigenous women rarely get law enforcers' attention: Bangladesh
February 23, 2014
Thirty-year-old Sabita Chakma's dead body was recovered from Kamalchari, Khagrachari on February 15, but police are yet to arrest anyone, fearing a rise in "tension between Paharis and Bangalees."
Sabita was killed whilst gathering grass for her cattle that morning. Locals found her naked body and informed the local police station. They alleged she was raped before being killed.
Khagrachhari Superintendent of Police M Mizanur Rahman told the Dhaka Tribune: "She has been killed as the primary evidence shows. The upazila parishad election was our first priority. Arresting someone could have raised Bangalee-Pahari tensions. So, we are taking our time."
On October 1, 2011, Pratima Chakma, 32, was allegedly raped and killed in the same area. Despite the filing of a case by Pratima's husband, Prity Bikash Chakma, accusing a person named M Rafiq, police are yet to arrest Rafiq.
Sociologists, lawyers, and rights activists observed that this kind of negligence in cases of violence against indigenous women could not be labelled as "mere negligence," but rather is a form of "oppressing minorities and denying their right to justice." They also added that such violence continues since prosecution of alleged perpetrators is rare.
According to home ministry statistics given to human rights organisation Bangladesh Legal Aid and Services Trust (BLAST), from 2010 to 2011 not a single verdict was given punishing alleged perpetrators in the 57 cases filed by indigenous women. All of these cases were filed in Women and Children Repression Prevention Tribunals of Chittagong Hill Tracts.
Rights organisation Kapaeeng Foundation's findings state that 160 cases- including rape, killing after rape and sexual harassment- were filed in these tribunals from 2007 to 2012. Up until 2012, only one of these cases- the killing of Mariam Murmu- resulted in a verdict punishing the perpetrators. In September 2013 another such case saw the light of justice in a Chittagong tribunal.
BLAST honorary director Sara Hossain opined that indigenous women's dire justice situation prevails as law enforcement agencies rarely carry out their role in a 'proactive, accountable, and unbiased manner.'
'As the majority of alleged perpetrators are Bangalee, law enforcement agencies' personnel- who have the responsibility to investigate and submit charge sheets- tend to work in a biased manner as they also belong to the Bangalee community.'
Hossain said a lack of awareness among the indigenous communities and a lack of interpreters in the court, also added to the problem.
Kapaeeng's recent findings state that, in 2013, 67 indigenous women and children- 53 from CHT and 14 from plain land- were victimised. Among those, 15 were raped, 8 girls were rescued- 5 of them from a madrasa in Dhaka after allegedly being forced to convert to Islam, 3 from Dhaka-Khulna highway after allegedly being trafficked.
The research also found that 69% of these victims were minors, 89% of alleged perpetrators were Bangalee settlers and 7% were indigenous, while 4% were from security forces.
Rights activists Khushi Kabir said many incidents do not even reach the courts due to a lack of proper follow-up and investigation from law enforcers, and the lack of awareness and financial capacity of victims.
Pointing out Kalpana Chakma's abduction 17 years ago, Khushi said: "If, even with such examples, anyone thinks such a situation is not oppressive, then they are living in a fool's paradise."
Hill Women's Federation activist Kalpana was abducted from her village home in New Lalyaghona, Baghaichari in Rangamati on June 12, 1996.
"Our experience says that until activists form strong protests condemning such violence, law enforcers never tend to work. It is frustrating when we have to police the police so they perform their roles," Khushi added.
Sociologist Sadeka Halim, also an information commissioner, said such an awful state of negligence would increase the tendency of minorities being oppressed by the majority. "Such crimes should not go unpunished, irrespective of ethnicity. Moreover, examples of punishment in violence against indigenous women cases are needed. Otherwise, the state is helping increase crimes and racial discrimination in society."
Inspector General of Bangladesh Police Hassan Mahmood Khandker declined to comment, saying he was "busy."
http://www.dhakatribune.com/law-amp-rights/2014/feb/22/violence-against-indigenous-women-rarely-get-law-enforcers-attention#sthash.DOZ7AjkK.dpuf
-------------
URL: https://newageislam.com/islam-women-feminism/women-iran-defy-mullahs-embracing/d/35895