16 May 2022
Women Now Get Separate Prayer Hall At The Historic Jama Masjid, Mumbai
French City Rekindles Burkini Row With Pool Rule Change In State-Run Swimming Pools
When Pasoori Dancer Sheema Kermani Used Sari And Dance To Defy Zia Regime In Pakistan
Girl At Madrasa Event Row: Muslim Clerics' Body Backs Religious Scholar
15 Foreign Ministers Issue Statement on Afghan Women's Rights
Compiled by New Age Islam News Bureau
URL: https://newageislam.com/islam-women-feminism/prayer-hall-jama-masjid-mumbai/d/127019
--------
Women Now Get Separate Prayer Hall At The Historic Jama Masjid, Mumbai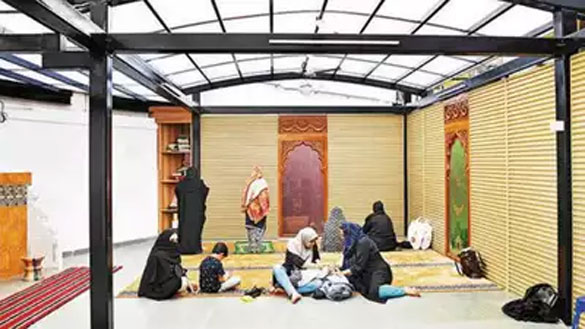 Women worshippers applaud the move as amenities also include clean toilet
-----
May 15, 2022
MUMBAI: Every time Afshan Dalvi from Chiplun in Konkan came to Crawford Market to shop, especially before festivals like Eid and Bakrid, she felt a bit disadvantaged. When she heard the muezzin's call from the nearby iconic Juma Masjid's minarets which soar into the sky, she longed to go inside and pray. While she saw many men flocking to the mosque that stands on an ancient living pond, she just stood and even missed the prayers as she didn't find a provision for women to pray at the mosque.
But this year's Ramzan, which just passed two weeks ago, was different. A separate prayer room exclusively for women adjacent to the mosque's southern wall opened in the holy month. "It is a big relief for women who come from outside the city to shop in the Crawford Market-Bhendi Bazaar area. Now we can pray in perfect silence and feel empowered that the sacred space belongs to us too," said Dalvi. "Even if it is not a prayer time and if we happen to be in the locality and want to use the washrooms, we can come here."
The 250-year-old architecturally beautiful Juma Masjid had a tiny prayer room for women worshippers near the office of Juma Masjid of Bombay Trust (it manages both the Juma Masjid and Bada Qabristan at Marine Lines). "We felt that the room was small and decided to create a proper space adjacent to the mosque's main prayer hall. The women's section too has been given the shape of a mosque with facilities of toilets and wazu (ablutions). We are going to keep women guards and cleaners too," said the Trust's president Shoeb Khatib.
Women had access to the mosque during the Prophet's time but in later phases of Islamic history their entry was discouraged. And then it became almost a taboo. Barring hardly one or two, no mosque out of over 200 in the city has made arrangements for women's participation in the congregational prayers. Mufti Ashfaq Kazi who heads the Fatwa Department at Juma Masjid bats for space for women in mosques. "Ideally women should join men in prayers and sit in the back rows. Since we don't have an ideal society, it is better to have a separate prayer hall for women on the mosque premises," said Kazi. He added that women worshippers must also listen to the khutbas or sermons the imams deliver on Fridays, Eid and Bakrid. A noted Islamic scholar, Kazi also heads the rich library (some of the manuscripts here are rare) at the Juma Masjid and favours a movement to start libraries at mosque premises across the country.
At the Juma Masjid the male imam leads the prayers and delivers all the sermons. Through a microphone connection the women worshippers get to listen to the imam and join the congregational prayers too. "There is more sawab (blessings) in praying in congregations than individually. It is a nice feeling that we can offer congregational prayers at this historic mosque," said Rubina Momin from Bhiwandi.
Noorus Sehar Khan, a Kalyan resident, has visited Juma Masjid for a decade or so. Earlier, she would offer prayers at that small room and go. "Now it gives a good feeling that we too have a proper section at the Juma Masjid. We have equal rights and we too belong here," she said.
Source: Times Of India
https://timesofindia.indiatimes.com/city/mumbai/mumbai-women-now-get-separate-prayer-hall-at-the-historic-juma-masjid/articleshow/91570370.cms
--------
French City Rekindles Burkini Row With Pool Rule Change In State-Run Swimming Pools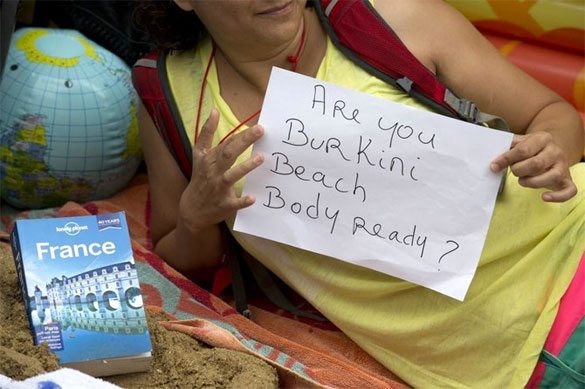 A protester holds a sign during a demonstration against the ban on burkinis on French beaches and to show solidarity with Muslim women in this 2016 photo. The regional spat Grenoble has put the Burkini back in the headlines nationally. (AFP)
-----
May 16, 2022
GRENOBLE, France: The Alpine city of Grenoble is set to reignite one of France's recurring summer debates on Monday when it votes to authorize the "Burkini" in state-run swimming pools.
The all-in-one swimsuit, used by some Muslim women to cover their bodies and hair while bathing, has become almost as topical as ice cream and sun hats during the holiday season in recent years.
Seen as a symbol of creeping Islamism by its critics and an affront to France's secular traditions, many right-wingers and some feminists would like to ban it outright.
It is prohibited in most state-run pools — for hygiene, not religious reasons — where strict swimwear rules apply to all, including men who are required to squeeze into tight-fitting trunks.
Grenoble's city council, dominated by the EELV green party, is set to scrap its bathing dress code on Monday, effectively authorizing long body coverings, beach shorts and topless bathing.
"Our intention is to remove all of the abnormal clothing restrictions," mayor Eric Piolle said recently. "The issue is not being for or against the burkini specifically."
Opponents see it differently, including the influential conservative head of the wider Auvergne-Rhone-Alpes region, Laurent Wauquiez, who has promised to withdraw funding from the city.
"I am convinced that what Mr.Piolle is defending is a dreadful dead end for our country," Wauquiez said at the beginning of May, accusing him of "doing deals with political Islam" to "buy votes."
The regional spat has put the burkini back in the headlines nationally, animating French talk shows and the political class ahead of parliamentary elections next month.
The issue of how people dress for the pool touches on highly sensitive topics in France, including fears about the influence of Islam and threats to the country's cherished secularism.
The right to worship freely is constitutionally protected, but the French state is also bound by law to be neutral in religious matters, including inside institutions.
"The burkini aims, purely and simply, to impose Islamist values at the heart of bathing areas and public leisure pursuits," an open letter written by opposition councillors in Grenoble said last week.
Attempts by several local mayors in the south of France to ban the burkini on Mediterranean beaches in the summer of 2016 kicked off the first firestorm around the bathing suit.
The rules, introduced after a string of terror attacks in France, were eventually struck down as discriminatory.
Three years later, a group of women in Grenoble caused a splash by forcing their way into a pool with burkinis, leading the prime minister at the time to insist that the rules should be followed.
French sports brand Decathlon also found itself at the center of a similar row in 2019 when it announced plans to sell a "sports hijab" enabling Muslim women to cover their hair while running.
Monday's vote in Grenoble "is an important moment for everyone concerned and their allies, but also in the fight against Islamophobia and control over women's bodies," local campaign group Citizens' Alliance wrote on its Facebook page.
Demonstrations supporting and opposing the move are also planned in the city following the council meeting where mayor Piolle is expected to succeed in pushing through the change.
French feminists are split, with some seeing the burkini as a symbol of male oppression and others such as Caroline De Haas writing that "no one should be stigmatized in a pool because of their choice of swimwear."
Grenoble would not be the first to change its rules, however.
The northwestern city of Rennes quietly updated its pool code in 2019 to allow burkinis and other types of swimwear.
The debate about the burkini comes as French Muslim women footballers are battling to overturn a ban on the wearing of religious symbols during competitive matches.
The French Football Federation currently prevents players from playing while wearing "ostentatious" religious symbols such as the Muslim hijab or the Jewish kippa.
A women's collective known as "les Hijabeuses" launched a legal challenge to the rules in November last year.
Source: Arab News
https://www.arabnews.com/node/2082881/world
--------
When Pasoori dancer Sheema Kermani used sari and dance to defy Zia regime in Pakistan
Kermani, trained in Hindustani classical forms in India, brought dance to people against all odds, and fought for women's rights
Written by SuanshuKhurana
May 15, 2022
Pasoori, Pasoori dancer Sheema Kermani, who is Sheema Kermani, Pakistan classical dancer Sheema Kermani, social activist Sheema Kermani, India Pakistan culture, harmony, music, dance, eye 2022, sunday eye, indian express newsSheemaKermani'sKathak recital. (Photo credit: Sheema Kermani)
In Pasoori (meaning conflict), Coke Studio's recent music video in Technicolor that has India and Pakistan bonding over its Punjabi lyrics and pulsating rhythm, one spots a dancer, in a big black bindi and temple-border mustard sari. She comes and goes, swivelling in an old Karachi haveli gracefully, to a mellifluous jugalbandi between Pakistan's Ali Sethi and Shae Gill, in the latter's breakthrough debut. Sethi's lyrics, inspired by the lines Agglaavanteriyaanmajbooriyaan nu (set fire to your worries), which he found written on a truck, is layered with interludes on baglama (a long-necked lute used in Ottoman classical music) and electronic drums and octopads. The composition by Sethi and Zulfiqar "Xulfi" Jabbar Khan, that has crossed all borders, has become a global chart-topper and accrued over 11 crore views on YouTube in the four months since its release.
The song, which speaks of estranged lovers and forces that keep them apart, could well be a metaphor for the two countries. Sethi had composed it a couple of years ago, after he wasn't allowed in India to collaborate on a project in Mumbai. He knew the music, like all good music, would find its own way. Appearing in the video, Pakistan's classical dancer Sheema Kermani has become a symbol of harmony, tolerance and freedom of expression, standing for the subcontinent's composite culture that made space for cultural collaborations despite political differences.
But Pasoori is just a short pit stop in Kermani's accomplished life in art. She's also a social activist, a theatre person and runs Tehrik-e-Niswan, a cultural action group that works for women's movements. "I thought that this (Pasoori) would bring a little sense of classical dance and its root in Pakistan's younger generation, which I am hoping they might get attracted towards. In Pakistan, there's very little encouragement by parents or families for their children to come closer to the classical arts," says Kermani, 70, who was initially apprehensive to be a part of a song whose language (Punjabi) was alien to her, and also because five decades of her work in human rights took on capitalist corporations.
Born in a progressive "army family" in Rawalpindi and raised in Karachi, dance for Kermani began in the '60s, when the nascent nation was just about finding its feet. She was eight when she began learning Western classical music. But Kermani's mother, from India's Hyderabad, who'd learned Bharatanatyam, was keen that her daughter discover the vitality of dance. At home, Kermani would dance to Noor Jehan's LPs. When she was 13, Kermani enrolled in a Karachi-based dance school run by Guru Ghanshyam and his wife Nilima, who'd been students of Uday Shankar in Almora.
Pasoori, Pasoori dancer Sheema Kermani, who is Sheema Kermani, Pakistan classical dancer Sheema Kermani, social activist Sheema Kermani, India Pakistan culture, harmony, music, dance, eye 2022, sunday eye, indian express news Performing dhamal at Sindh's Lal Shahbaz Qalandar in 2017 following a bomb attack there. (Photo credit: Sheema Kermani)
Prospects of a film had taken Ghanshyam to present-day Pakistan in 1952, the film didn't get made but he stayed back and taught dance. He set up the centre in 1954 when Huseyn Shaheed Suhrawardy, a patron of the arts who would go on to be Pakistan's prime minister, attended a performance by Ghanshyam in Karachi. Ghanshyam was neighbours with Suhrawardy in Calcutta in the '40s and that's how the two knew each other. Kermani came to him and his wife in 1964 and learnt for two decades, until the early '80s. General Zia's military regime deemed dance as un-Islamic and banned it in 1977. The first TV programme to be banned on PTV was Payal (1978), Kathak dancer Nahid Siddiqui's show explaining the artform. Later, Siddiqui lived in exile in England, where she taught dance until she returned to Lahore many years later and set up an academy.
Before the Ghanshyams left Karachi for Calcutta, Kermani visited India in 1983 and enrolled herself in the dance programme at Delhi's Shriram Bharatiya Kala Kendra. The Indian capital city felt familiar yet distinctive, Kermani began to study Bharatanatyam under Leela Samson, Kathak with Ram Mohan Maharaj, and Odissi with AlokaPanicker and Mayadhar Raut. "Dance felt like freedom for my body, physically and emotionally," says Kermani.
Pasoori, Pasoori dancer Sheema Kermani, who is Sheema Kermani, Pakistan classical dancer Sheema Kermani, social activist Sheema Kermani, India Pakistan culture, harmony, music, dance, eye 2022, sunday eye, indian express news Sheema Kermani in the 80s, performing the classical Odissi. (Photo credit: Sheema Kermani)
Kermani kept returning in the '80s; once with an Indian Council for Cultural Relations scholarship. "I came to imbibe the arts. I had a wonderful time in Delhi. I was sharing a room with a Bangladeshi girl who was there for classical vocals. So, sometimes, I'd go and attend Pt Amarnath's classes with her. I knew I was not there forever and thus wanted to absorb everything I could. I'd run to every class that I could and attend as many performances as possible in the evening. It turned out to be the most beautiful time of my life," she says.
In India, wherever she went, she was met with mild curiosity. Since dance was banned in Pakistan, Kermani's gurus in Delhi would joke if she'd go back and dance in her bathroom. "I never encountered any resentment from anyone. They taught me with a lot of affection and I always felt this dynamic cultural aliveness," says Kermani, adding, she now encounters bits of aggression while speaking to people in India.
Her sociopolitical awakening happened in the late '60s, when she was studying fine arts at London's Croydon College, and found herself in the midst of a social movement (Summer of Love), resurgence of the political left movement, anti-Vietnam-war movement and feminist Kate Millett's seminal book Sexual Politics (1970). On her return, in 1979, Kermani founded Tehrik-e-Niswan to organise seminars on domestic violence and Aurat Marches.
Pasoori, Pasoori dancer Sheema Kermani, who is Sheema Kermani, Pakistan classical dancer Sheema Kermani, social activist Sheema Kermani, India Pakistan culture, harmony, music, dance, eye 2022, sunday eye, indian express news In Coke Studio's Pasoori music video. (Photo credit: Sheema Kermani)
But dancing wasn't easy. As the only dancer living in Pakistan through the Zia years, and who frequented India, she was disliked by the government and the men of her country. "When a woman stands up on stage with confidence, is ready to perform, and demands respect from the viewer, the message she is giving is this woman is in control of herself, her life and now they cannot control her; that transference of power is what men find challenging," she Kermani, who loved a good challenge. "I wanted to perform and do it in a clever way so that I wasn't caught or arrested," she chuckles.
Students were always few and far between. Kermani, a Pakistani Muslim woman, would don the banned sari and a bindi, in political defiance and for aesthetics. For years, she would go from one government office to another for no-objection certificates. If she uttered "dance performance", she wouldn't get it. "Cultural programme" worked. She didn't announce her institution as a dance academy but said she was giving movement classes, and eventually used it for protest theatre.
"I'd sometimes perform without the ghungroos (considered haram) because that's what they had a great objection to," says Kermani, who improvised to take dance to people. "If I'd been a purist, I wouldn't have been able to do it all. Since I've taken it as a challenge, not as oppression, I've been able to fight it," she says.
Her Sufi dhamal performance at Lal Shahbaz Qalandar shrine in Sehwan Sharif, only days after the 2017 suicide bombing there killed 88 people, found much attention. "I wanted that attack to not change anything, so I went and danced there," she says. The subcontinent's "fundamentalism" has been detrimental to its cultural environment. "Religious minorities didn't feel as discriminated against as they do today. And there's no other dialogue more impactful than cultural dialogue," says Kermani, who believes the only way forward is to integrate culture with politics. "Politics of both our countries needs to mean what it should — justice, liberty, equality. And these things can only come about when there's a conscious cultural change in people's minds," she says.
Source: Indian Express
https://indianexpress.com/article/express-sunday-eye/when-pasoori-dancer-sheema-kermani-used-sari-and-dance-to-defy-zia-regime-in-pakistan-7916813/
--------
Girl at madrasa event row: Muslim clerics' body backs religious scholar
Written by Shaju Philip
May 14, 2022
Earlier this week, at a madrassa function in Malappuram, Islamic scholar M T Abdulla Musaliyar publicly scolded the organisers after they invited a girl, a Class X student, to the stage for receiving an award.
Kerala's influential body of Muslim clerics, Samastha Kerala Jem'iyyathul Ulema, on Saturday justified the recent incident of a cleric openly objecting to a minor girl stepping on to a public venue occupied by a battery of religious scholars.
Earlier this week, Islamic scholar M T Abdulla Musaliyar had publicly scolded the organisers after they invited a Class 10 girl on stage to receive an award at a madrasa function in Malappuram. Musaliyar had turned against the organisers after the girl stepped off the stage with a memento. Subsequently, one of the organisers immediately assured that it will not be repeated.
On Saturday, Samastha president Sayyid Muhammad JifriMuthukkoyaThangal said, "We can function only within the boundaries of Islamic rules, which are not man-made. Public venues have certain norms."
The Samastha chief said, "The Musaliyar had no intention to insult the girl. He wanted to avoid a situation in which the girls may feel shy about stepping into a stage, occupied by ustads (clerics). When the cleric looked at the face of the girl, who came to the stage, he felt that she was nervous. It is quite natural that women feel shy when they come to a venue occupied by men. Hence, he wanted to avoid such an embarrassing situation for other girls waiting to receive the award and scolded the organiser,'' said MuthukoyaThangal.
Musaliyar, who also addressed the media, justified his action, which had triggered protests from various quarters. "Islam does not allow women to mingle with men. There should be a curtain between women and men…women can enjoy everything, watch everything from beyond that curtain,'' said Musaliyar, who is a senior functionary of Samastha Kerala Sunni Vidyabhyasa Board, which regulates madrasa education in Kerala.
Thangal said the girl or her family does not have any complaint about the incident. "We don't promote any fundamentalism and extremism."
The State Commission for Protection of Children's Rights had taken a suomotu case note of the incident and sought a report from the district officer in Malappuram on the incident.
Kerala Governor Arif Mohammad Khan on Thursday said he was "disappointed" by the silence of the political, social and economic leadership of the country on the issue.
Attacking the clerics, Khan had said: "They are the people who are responsible for creating Islamophobia.''
Khan said: "If it would have become really a protest, then possibly I would not have commented on it. I regret the kind of reaction that should have come from a society like Kerala, which is known for gender equality and protecting the dignity and honour of women, has not been seen. Had there been a protest against it, there would have been no need for me to speak.''
He said there was a conspiracy to push women back into the four walls of their houses and foreclose their career ambitions so that they lose interest in education and imprison themselves at home.
Source: Indian Express
https://indianexpress.com/article/india/kerala/kerala-muslim-cleric-class-x-girl-support-7917078/
--------
15 Foreign Ministers Issue Statement on Afghan Women's Rights
The Foreign Ministers of 15 countries in a statement expressed their 'deep' concerns over restrictions on girls' access to education in Afghanistan and called on the "Taliban to respect the right to education and adhere to their commitments to reopen schools for all female students."
The statement was issued by the Foreign Ministers of Australia, Canada, Denmark, Finland, Germany, Italy, Japan, the Republic of Korea, the Netherlands, New Zealand, Norway, Spain, Sweden, United Kingdom, United States.
Meanwhile, the US envoy for Afghanistan human rights and women, Rina Amiri, in an interview with the DW also voiced concerns over the restrictions being imposed by the current Afghan government on women.
"The Afghan women expect the Taliban to focus on the security and facilitation of a good life for the people and not to interfere in the normal life of people," said Farah Mustafavi, a women's rights activist.
But the Islamic Emirate denied the restrictions on the women.
"We deny such claims about the violation of women's rights. The Islamic Emirate protect the rights of all Afghan citizens," said Bilal Karimi, deputy spokesman for the Islamic Emirate.
Earlier, the US Department of State said that it has leverage to use against the Islamic Emirate if there was no revision in its policy regarding women.
Source: Tolo News
https://tolonews.com/afghanistan-178027
--------
URL: https://newageislam.com/islam-women-feminism/prayer-hall-jama-masjid-mumbai/d/127019
New Age Islam, Islam Online, Islamic Website, African Muslim News, Arab World News, South Asia News, Indian Muslim News, World Muslim News, Women in Islam, Islamic Feminism, Arab Women, Women In Arab, Islamophobia in America, Muslim Women in West, Islam Women and Feminism