New Age Islam News Bureau
17 June 2022
• Over 100 Malayali Women, Sold To Kuwaiti Families, Still Stuck In Kuwait, Say Police
• Stop Teaching Patriarchal, Conservative Islam, Says Rights Group Sisters in Islam
• UAE Minister Nahyan bin Mubarak Praises Sheikha Fatima's Support For Emirati, Arab Women
• Visiting Pakistani Women Entrepreneurs Urged To Avail Of Opportunities In US To Expand Their Businesses
• UN Human Rights Session Discusses Afghan Women's Condition
• Outgoing UN Envoy Laments Taliban Curbs on Rights of Afghan Women, Schoolgirls
Compiled by New Age Islam News Bureau
URL: https://newageislam.com/islam-women-feminism/hijab-animals-taliban-religious/d/127266
--------
Women Not Wearing Hijab 'Trying to Look like Animals', Say Taliban Religious Police Posters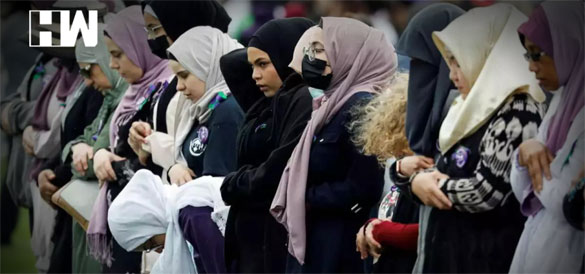 Afghanistan Hijab: According to the posters, wearing short, tight, and transparent attire was also against Supreme Leader and Taliban chief Akhundzada's directive.
-----
Jun 17, 2022
KANDAHAR: The Taliban's religious police have put up posters across the southern Afghan city of Kandahar saying that Muslim women who do not wear an Islamic hijab that fully covers their bodies are "trying to look like animals", an official confirmed on Thursday.
Since seizing power in August, the Taliban have imposed harsh restrictions on Afghan women, rolling back the marginal gains they made during the two decades since the US invaded the country and ousted the group's previous regime.
In May, the country's supreme leader and Taliban chief Hibatullah Akhundzada approved a decree saying women should generally stay at home.
They were ordered to cover themselves completely, including their faces, should they need to go out in public.
This week, the Taliban's feared Ministry for Promotion of Virtue and Prevention of Vice, which enforces the group's strict interpretation of Islam, put up posters across Kandahar city showing images of burqas, a type of garment that covers a woman's body from head to toe.
"Muslim women who do not wear the hijab are trying to look like animals", say the posters, which have been slapped on many cafes and shops as well as on advertising hoardings across Kandahar -- the de facto power centre of the Taliban.
Wearing short, tight and transparent clothes was also against Akhundzada's decree, the posters say.
The ministry's spokesman in the capital Kabul was not reachable for comment, but a top local official confirmed that the posters were put up.
"We have put up these posters and those women whose faces are not covered (in public) we will inform their families and take steps according to the decree," Abdul Rahman Tayebi, head of the ministry in Kandahar, told AFP.
Akhundzada's decree orders authorities to warn and even suspend from government jobs male relatives of women who do not comply.
Outside of Kabul, the burqa, the wearing of which was mandatory for women under the Taliban's first stint in power, is common.
On Wednesday, United Nations rights chief Michelle Bachelet slammed the hardline Islamist government for its "institutionalised systematic oppression" of women.
"Their situation is critical," she said.
After returning to power, the Taliban had promised a softer version of their previous harsh system of governance, enforced from 1996 to 2001.
But since August, many restrictions have been imposed on women.
Tens of thousands of girls have been shut out of secondary schools, while women have been barred from returning to many government jobs.
Women have also been banned from travelling alone and can only visit public parks in the capital on days when men are not allowed
Source: Times Of India
https://timesofindia.indiatimes.com/world/south-asia/women-not-wearing-hijab-trying-to-look-like-animals-say-taliban-posters/articleshow/92273149.cms
--------
Over 100 Malayali Women, Sold To Kuwaiti Families, Still Stuck In Kuwait, Say Police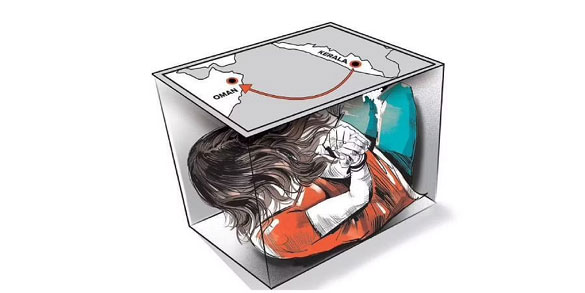 For representational purpose only. (Express Illustration)
----
17th June 2022
By Ajay Kanth
KOCHI: Probing the trafficking of three Malayali women, who were rescued after being sold to Kuwaiti families, the state special branch (SSB) has found that over 100 women are still trapped in the houses of Arab families in the Gulf country. The investigators have learnt that the racket recruited the women between December 2021 and February 2022 after pasting posters across Kerala inviting applications for jobs as baby sitters and hospital staff in Kuwait.
While there are no specific details about the women who have fallen prey to the false offers, the police have managed to identify two more women – one from Kollam and the other from Ernakulam — who escaped from the racket in Kuwait and returned home following the intervention of a Malayali organisation there. The two women told TNIE that the human-trafficking racket seized their passports when they reached Kuwait.
"Only after reaching there did we realise that they had taken us to work as domestic maids for Arab families," said one among them. "When we objected, the racketeers threatened to put us in jail by foisting fake cases. We were scared and didn't know what to do in a strange place. We saw many other women who were brought to Kuwait in a similar fashion. A few were even seen arguing with the racketeers."
She said the Arab family for whom she worked agreed to relieve her from the job when she threatened to kill herself at their house.
"But the racket wanted me to work in another place. They sent me back home only when a Malayali organisation intervened after my husband contacted them," she said. The other woman said she was taken to Kuwait via Dubai on February 5 but she protested and managed to return on March 4."Life there was hell. I protested vehemently. Many like me are still trapped there," she said. The husband of another woman who escaped after he sought the help of a Malayali organisation in Kuwait, said he has received many calls from other women seeking help. Advocate Nishin George, who submitted complaints to various agencies about the racket on behalf of him, said many women are unable to share their locations.
Source: New Indian Express
https://www.newindianexpress.com/states/kerala/2022/jun/17/job-trap-over-100-malayali-women-still-stuck-in-kuwait-say-police-2466526.html
--------
Stop Teaching Patriarchal, Conservative Islam, Says Rights Group Sisters in Islam
Danial Azhar
June 16, 2022
PETALING JAYA: Rights group Sisters in Islam (SIS) urged Islamic schools to stop teaching patriarchal and conservative religious values.
SIS outreach and empowerment programme officer Nurhuda Ramli said the country must find the courage to have an open dialogue on Islam to instil and popularise more progressive values.
"We must talk about Islamisation and where it has brought our society because Islamisation projects have amplified the narrative of patriarchal values and religious ideas and dogmas.
"However, we cannot expect change if we are not preaching the right teachings of Islam that are based on values, rights, justice and equality and not based on power," she said at the launch of SIS and Merdeka Center's survey on Malaysian Muslim youth.
Citing the survey, Nurhuda said among the 1,216 respondents, 43% somewhat agreed that men made better political leaders than women.
This, she said, suggested that the "pervasive idea" that leadership was exclusive to men continued to be taught, which contradicted the teachings of the Quran.
Commenting further, she said 44% of respondents strongly agreed that a woman should not work if her husband told her not to, adding that society had yet to debunk the narrative of an obedient wife.
"Pious women are misinterpreted as obedient women when in truth, piety should not be tied to obedience."
She said 60% of the survey's respondents believed that it was a choice for Muslim women to wear a headscarf but when asked through further questions, 72% said it was compulsory.
Nurhuda questioned this, saying it was a contradiction as it could not be both a choice and compulsory.
"Muslim youth have been taught that wearing a headscarf is obligatory," she said. "This is the prevalent narrative with no diverse opinions being taught."
Nurhuda added that the prevalence of religious conservatism and patriarchal values had made it challenging for Muslim women in society.
She said public literacy on progressive Islamic values was essential to allow the country to develop further and for women to be granted better opportunities in life and their careers.
The Malaysian Muslim youth survey was conducted by SIS and Merdeka Center between late October 2021 and January 2022, involving 1,216 Muslim youths nationwide aged 15 to 25. It seeks to determine the wellbeing, education, economic condition and socio-political involvement of youths.
Source: Free Malaysia Today
https://www.freemalaysiatoday.com/category/nation/2022/06/16/stop-teaching-patriarchal-conservative-islam-says-sis/
--------
UAE Minister Nahyan bin Mubarak Praises Sheikha Fatima's Support For Emirati, Arab Women
16-06-2022
DUBAI, 16th June, 2022 (WAM) -- Sheikh Nahyan bin Mubarak Al Nahyan, Minister of Tolerance and Coexistence, said the UAE is proud of the achievements of H.H. Sheikha Fatima bint Mubarak, Chairwoman of the General Women's Union (GWU), Chairwoman of the Supreme Council for Motherhood and Childhood, Supreme Chairwoman of the Family Development Foundation (FDF), and Honorary Chairperson of the Emirates Red Crescent (ERC), including her support to Emirati and Arab women.
The Emirati people believe in giving and tolerance and the country's leadership is exerting all possible efforts to ensure the role of women in the process of development, he added, noting that President His Highness Sheikh Mohamed bin Zayed Al Nahyan always said that women's progress is key to the future of the nation.
Sheikh Nahyan made this statement during the "Sustainable Development Forum" of the Arab Women's Council held in Dubai.
The forum is in line with the vision of the Mother of the UAE aimed at empowering women and supporting their engagement in economic, social and cultural areas, he said. The forum's agenda is linked to several key issues, most notably the Sustainable Development Goals (SDGs), which cover the needs of the entire community, empower women and ensure their role in the development process.
Sheikh Nahyan also stressed that the COVID-19 pandemic highlighted the importance of innovation and further learning to shape communities capable of working together to address challenges.
Dr. Mohammed Issa Al Adwan, Ambassador for Arab Cooperation Affairs at the Arab Council for Social Responsibility, highlighted the key role of knowledge in serving strategic planning and achieving sustainable human development, women's empowerment and the integration of people of determination, as well as the major role of social responsibility in supporting and helping Arab governments pursue excellence, leadership and services development.
After the event's inauguration, Sheikh Nahyan honoured several participating figures with the Arab Women Council's Golden Shield of Excellence, followed by an academic forum chaired by Al Adwan, during which Dr. Faraj Al Ajami, Head of the Organisations Administration of the Arab League, presented a key working paper.
Source: WAM
http://wam.ae/en/details/1395303058144
--------
Visiting Pakistani women entrepreneurs urged to avail of opportunities in US to expand their businesses
JUNE 16, 2022
WASHINGTON: Pakistan's Ambassador to the United States, Masood Khan, has told visiting Pakistani women entrepreneurs to take advantage of the opportunities to expand their businesses
through US development promotion entities as well as International Financial Institutes (IFIs).
The entrepreneurs, numbering seven, are visiting the United States as part of "Accelerator Programme for Women Entrepreneurs", sponsored by the US State Department, from May 10 to June 30.
The Ambassador, who hosted them on Wednesday, said that such exchanges are vital in terms of providing networking opportunities and outreach to new markets. "I am particularly impressed by the role our women-led enterprises are playing."
As women empowerment is a priority for Pakistan, he said, their exposure to the US tech market would broaden their horizons and provide them with a fresh stimulus for expanding their businesses.
The Ambassador said that such visits not only help projecting Pakistan's soft image globally, but also contribute to an already thriving startup ecosystem in Pakistan.
Masood Khan informed them that many opportunities were opening up for Pakistan's private sector. "Microfinance for women empowerment and female-led enterprises project is available. Pakistani women entrepreneurs should avail themselves of these opportunities," he said.
The visiting women entrepreneurs are leading diverse startups. "My food takeaway venture aims at empowering the deaf youth by creating enterprise and employment opportunities for them in one of the largest industries (Hospitality) in Pakistan," Ms Ayesha Raza explained while introducing her startup.
Further, they shared their experiences and said that they had the opportunity to attend major conferences, visited local US-based incubators and offices of major companies such as Microsoft, Amazon, Facebook, Twitter and PayPal.
They said they were provided with multiple networking opportunities throughout the eight-week period and pitched their ideas to selected US-based investors present on the east and the west coasts.
During their visit, they also called on US Special Representative for Commercial and Business Affairs, Dilawar Syed, a Pakistani-American businessman and entrepreneur.
The seven-member team travelled to San Francisco (Silicon Valley), Austin, Seattle, Washington DC, New York and Boston. The programme was aimed at providing training, networking opportunities and access to global investors and venture capitalists.
Source: Daily Times Pakistan
https://dailytimes.com.pk/953010/visiting-pakistani-women-entrepreneurs-urged-to-avail-of-opportunities-in-us-to-expand-their-businesses/
--------
UN Human Rights Session Discusses Afghan Women's Condition
17 June, 2022
Participants at the UN Human Rights session expressed concerns over the situation of human rights in Afghanistan, particularly the women's condition.
The 15th regular session of the UN was held on June 13 and will last until July 8.
On day three of the session, the participants discussed the situation of women around the globe, and voiced "deep" concerns about Afghan women's status.
Talking to the panel, UN Secretary-General Antonio Guterres said that the "Taliban's Government of men has resulted in nearly 20 million women and girls being silenced and erased from sight, as well as deteriorating situations" in Afghanistan.
According to a UN press release, Guterres said that the UN is unequivocal about the fundamental rights of women and girls. "That is why we need full gender parity," he stressed — including through quotas to accelerate the inclusion of women across election monitoring, security sector reform, disarmament, demobilization and justice systems.
Stella Ronner-Grubačić, Ambassador for Gender and Diversity of the European Union, told the panel that the EU launch of the Afghan Women Leaders Forum in March is providing a platform for Afghan women from diverse backgrounds to contribute to the political dialogue of the European Union and the wider international community on the future of that country.
"In Afghanistan, since the Taliban's violent takeover in August 2021, women have been systematically erased from public life; in Sudan, Myanmar and Mali, violence has threatened the lives and work of women peacebuilders," said Olta Xhaçka, Minister of Foreign Affairs of Albania as cited in the press release.
The US Ambassador to the UN, Linda Thomas-Greenfield, said that "the Taliban has constrained, and in many areas, eliminated, women's participation in political, economic and social spaces" in Afghanistan.
The Islamic Emirate's spokesman, Zabiullah Mujahid, denied there were violations of human rights in Afghanistan, saying that the rights of Afghans have been ensured now better than before.
Meanwhile, the Indian ambassador to the UN, T.S. Tirumurti, called for women's meaningful participation in the governance of Afghanistan and expressed particular concern about the discriminatory inferior status being accorded to women there, which has, inter alia, adversely impacted the education of Afghan girls.
Source: Tolo News
https://tolonews.com/afghanistan-178502
--------
Outgoing UN Envoy Laments Taliban Curbs on Rights of Afghan Women, Schoolgirls
June 16, 2022
ISLAMABAD —
The United Nations envoy for Afghanistan in her farewell message Thursday expressed sorrow over the Islamist Taliban's "extreme policies" curtailing women's rights, press freedoms and inclusive political representation.
"I could not have imagined, when I accepted this job, the Afghanistan that I am now leaving," said Deborah Lyons, the head of the U.N. Assistance Mission in Afghanistan (UNAMA).
The outgoing UNAMA chief arrived in the Afghan capital, Kabul, two years ago, starting her stint when the now-defunct Western-backed government was running the country and struggling to contain the deadly Taliban insurgency.
"My heart breaks in particular for the millions of Afghan girls who are denied their right to education, and the many Afghan women full of talent who are being told to stay at home instead of using those talents to rebuild a society that now experiences far less conflict but in some ways as much fear as before," she lamented.
The Taliban seized control of war-ravaged Afghanistan last August and installed an all-male interim administration following the end of almost 20 years of U.S.-led foreign military intervention in the South Asian country.
The Islamist group has suspended secondary education for most teenage girls and prevented female staff in certain government departments from returning to their duties.
The Ministry for Vice and Virtue, tasked with interpreting and enforcing the Taliban's version of Islam, has ordered women to cover up fully, including their faces, in public, and it has strongly advised them not to leave their homes "to wander around aimlessly," barring them from traveling beyond 70 kilometers unless accompanied by a male relative.
"It is that much more painful as a woman to leave my Afghan sisters in the condition they are in," Lyons said. "It is an irony that now that there is space for everyone to help rebuild the country, half of the population is confined and prevented from doing so."
The Taliban had excluded women from public life and girls from receiving an education when they previously ruled the country from 1996 to 2001. Only three countries, including neighboring Pakistan, Saudi Arabia and the United Arab Emirates, had recognized the Taliban government at the time.
Lyons cautioned the fundamentalist group that a "system that excludes women, minorities and talented people will not endure." She advocated for the international community to remain engaged with what she referred to as Afghanistan's de facto authorities.
The U.N. envoy pledged, however, that the world body will not abandon millions of Afghans in need of urgent assistance in the wake of years of war and persistent drought in the country.
No country has yet granted the new Taliban government diplomatic recognition because of its harsh treatment of women and terrorism-related concerns.
An already bad humanitarian crisis in Afghanistan has worsened since the return to power of the Taliban in the wake of international financial sanctions on many senior leaders of the ruling group, pushing the national economy to the brink of collapse.
The United Nations estimates that more than half of Afghanistan's 40 million people are suffering from acute hunger and urgently need humanitarian aid. Some 1.1 million Afghan children are suffering from malnutrition.
The Taliban have rejected repeated international calls for reversing their women-related edicts, insisting they are in line with Afghan culture and Islamic tradition. They also defend their administration as fully representative of all Afghans.
Source: VOA News
https://www.voanews.com/a/outgoing-un-envoy-laments-taliban-curbs-on-rights-of-afghan-women-schoolgirls-/6620768.html
--------
URL: https://newageislam.com/islam-women-feminism/hijab-animals-taliban-religious/d/127266
New Age Islam Islam Online, Islamic Website, African Muslim News, Arab World News, South Asia News, Indian Muslim News, World Muslim News, Women in Islam, Islamic Feminism, Arab Women, Women In Arab, Islamophobia in America, Muslim Women in West, Islam Women and Feminism