New Age Islam News Bureau
03 December 2021
• First Arab Woman Deputy Knesset Speaker on 'Deep Change' In Israeli Society
• Reema Juffali, Saudi Arabia's First Female Racing Driver: F1 Coming to Jeddah Is A 'Dream'
• Ksrelief Launches Project To Empower Yemeni Women Hit By Gender-Based Violence
• UAE's Empowerment Of Women Leaders Has Set An Example
Compiled by New Age Islam News Bureau
URL: https://www.newageislam.com/islam-women-feminism/women-taliban-afghan-decree-rights/d/125891
--------
Women Must Consent To Marriage, Says Taliban's Decree on Women's Rights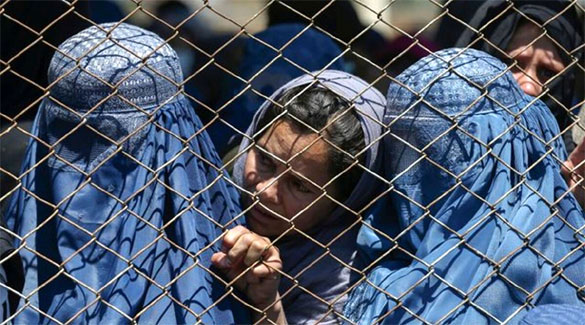 Afghanistan's Taliban government on Friday released a decree on women's rights. Photo Reuters
-----
3 Dec 2021
Afghanistan's Taliban government on Friday released a decree on women's rights which said women should not be considered "property" and must consent to marriage but failed to mention female access to education or work outside the home.
The Taliban has been under pressure from the international community, who have mostly frozen funds for Afghanistan, to commit to upholding women's rights since the hardline Islamist group took over the country on August 15.
"A woman is not a property, but a noble and free human being; no one can give her to anyone in exchange for peace...or to end animosity," the Taliban decree, released by spokesman Zabihillah Muhajid, said.
It set out the rules governing marriage and property for women, stating women should not be forced into marriage and widows should have share in their late husband's property.
Courts should take into account the rules when making decisions, and religious affairs and information ministries should promote these rights, the decree said.
However, it made no mention of women being able to work or access facilities outside the home or education, which have been major concerns from the international community.
During its previous rule from 1996 to 2001, the Taliban banned women from leaving the house without a male relative and full face and head covering and girls from receiving education.
The Taliban say they have changed and high schools for girls in some provinces have been allowed to open. But many women and rights advocates remain sceptical.
The international community, which has frozen billions in central bank funds and development spending, has made women's rights a key element of any future engagement with Afghanistan.
The country, which is also suffering from a banking liquidity crisis as the cash flow dries up due to sanctions, is facing the risk of economic collapse since the Taliban took over.
Source: Khaleej Times
https://www.khaleejtimes.com/mena/afghanistan-taliban-release-decree-saying-women-must-consent-to-marriage
--------
First Arab Woman Deputy Knesset Speaker on 'Deep Change' In Israeli Society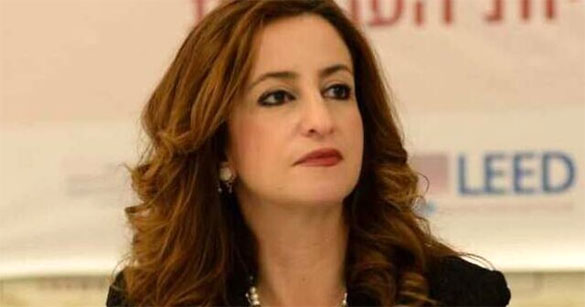 Ghaida Rinawie Zoabi (Wikipedia/Author EHABJ/ (CC BY-SA 4.0))
------
By JENNI FRAZER
December 2, 2021
The first Arab woman to be deputy speaker of the Knesset, Ghaida Rinawie-Zoabi, has spoken of a "deep change" in Jewish Israeli society.
In London as the keynote speaker at the Abraham Initiatives UK Friends, Ms Rinawie-Zoabi said there had been "fundamental social and economic changes" within the Arab community. "There is a growing middle class, and more academic people in more important jobs in public and private sectors".
Young Arab families, too, had changed their outlook, she said. "They aspire to a different kind of living. They don't just want equality, they also want quality, in education, housing and employment. And this has led to major shifts in Jewish-Israeli society".
One such shift, she said, was "a new understanding that partnership with Arab society can be used to build a new future for all of us. There can be partners in culture, employment, but also in politics".
Though a member of the Meretz party, Ms Rinawie-Zoabi described the entry of Arab parties into the new governing coalition as "something which never happened before and is truly historic".
Nevertheless, she acknowledged that the emergent status of Arabs into new areas of Israeli society had led to a situation where some Jewish Israelis were "more resentful — perhaps more frightened or anxious. If you look at the splits in parliament — they are mainly about Arab society in Israel and about Arabs being part of the political game."
She said she had felt personally "very sad" about the fighting which took place in many of the mixed cities in Israel in May this year, primarily between young people in the respective communities. But though she acknowledged there were still "pockets of tension", she believed that the partnerships built between Arabs and Jews were strong enough to withstand them, and urged the government to be "more pro-active" and invest more in shared society, particularly among young people.
She is one of the architects of the "shared society" concept, in which she has worked for many years: she founded Injaz, the Centre for Professional Arab Local Governance, and has been named both one of the most influential people in Israel, and one of the 50 most important women in the Israeli economy. Besides being deputy speaker, she is a member of the Knesset Finance Committee, long held as the most crucial sub-committee in parliament.
In September she paid a groundbreaking visit to the UAE, meeting leaders of the Al Habtoor business group, to discuss potential two-way investment between Israel and the UAE.
It is almost as much a novelty for some Arab governments to deal with her — a female politician from Israel — as it is for Israeli society. As deputy speaker she comes across her fair share of unhandsome behaviour. But, she says, "for female politicians in general, we need to be much more professional and thick-skinned. I'm not a naive person. But in Israeli politics, sadly, until now, there are a lot of men who still think that they own the place. But by being professional, capable and willing to work in a very sophisticated, strategic way, I believe we provide a fresh take on Israeli politics".
Ms Rinawie-Zoabi, as one of the new generation of Arab players, did not get one of the top places on Meretz's list without being shrewd about her public statements. So when she is asked about whether she is ready to challenge the naming of Israel as an apartheid state, she says: "Israel has a lot of positives, and a lot of negatives. One of the major negative points is the issue of the occupation. I don't believe Israel is an apartheid system but I believe that the occupation must be ended. For Israel to have a much more stable future, we have to fight to end the occupation, and we have to make sure that there is a sustainable, just solution for the Palestinian people".
Source: Jewish News
https://jewishnews.timesofisrael.com/first-arab-woman-deputy-knesset-speaker-on-deep-change-in-israeli-society/
--------
Reema Juffali, Saudi Arabia's First Female Racing Driver: F1 Coming to Jeddah Is A 'Dream'
02 December ,2021
The Formula One Grand Prix coming to Saudi Arabia is a dream come true for the Kingdom's first female racing driver.
Reema Juffali shared her excitement and disbelief about the event coming to her home city of Jeddah, in an interview with Al Arabiya English.
"It's something that's been my world and what I've been doing for so long, and I associate it with places outside of Saudi.
"The fact that it's in Saudi and we're hosting it in my home city, it's unbelievable. It's just a bit of a dream."
The 29-year-old racer first fell in love with the sport at the age of 22 when studying abroad in the US.
She would watch Formula One on television and soon decided that she wanted to give it a try.
In 2018, after Saudi Arabia had legalized driving for women, Reema came back to the Kingdom and became the first woman to compete with a Saudi racing license.
Her first event was an amateur race in the United Arab Emirates.
"I was just hooked," she said. "The support of my family, friends, and Saudi as well, pushed me to take this a to a next step and a step further and do it more seriously and spend more time on it."
Juffali played down the constraints of being a woman in such a male-dominated sport, emphasizing the competitive nature of racing.
"Once you're behind the wheel, you're all competitors so it kind of doesn't matter what gender you are. And that's the nice thing about the sport. It unites both."
At the same time, she recognizes that she is emblematic of wider social changes for women in Saudi society.
"There is a bit of a responsibility to educate and allow women to dream about this as a possibility, as a field that they can actually be a part of."
Juffali is not competing in this year's Formula One, which will take place between December 3 and 5 at Jeddah's street circuit, but she will show off her skills in a hot lap.
Source: Al Arabiya
https://english.alarabiya.net/News/gulf/2021/12/02/F1-coming-to-Jeddah-is-a-dream-for-Saudi-Arabia-s-first-female-racing-driver
--------
KSrelief launches project to empower Yemeni women hit by gender-based violence
November 12, 2021
ADEN — King Salman Humanitarian Aid and Relief Center (KSrelief) in Aden has launched a project to protect and empower women and girls affected by gender-based violence in Yemen. The project is implemented by the Women's Charitable Association to Combat Poverty in partnership with UN Women.
The project, which is being implemented from April 2021 to May 2022, includes direct support to 1,600 displaced and vulnerable Yemeni women and girls between the ages of 15 and 55, in addition to providing skills and tools to empower protection service providers.
The project aims to provide indirect support to 4,800 family members and local communities in the governorates of Aden and Taiz, through partners from civil society organizations, which have extensive experience in this field.
The representative of the United Nations Women in Iraq and Yemen, Dina Zorba, stressed the importance of the partnership with the King Salman Relief Center to serve women and provide them with rehabilitation services and livelihoods.
"We are launching the project concerned with providing protection services and various psychological, social and economic support through a distinguished cadre that has been rehabilitated and trained to provide these services in a highly efficient manner to women and girls who are victims of gender-based violence," Zorba said.
For her part, Project Director Inshirah Al-Jabri praised the support provided by the King Salman Relief Center in implementing this vital project, which provides a number of services to vulnerable women in areas of protection, health services and legal support services, in addition to psychological and social support and childcare.
Al-Jabri added that the livelihood services include focused training for targeted women and financial grants to restore their activities.
The project comes within the framework of Saudi Arabia's humanitarian aid and relief projects represented by KSrelief to the brotherly Yemeni people. — SPA
Source: Saudi Gazette
https://saudigazette.com.sa/article/613498/SAUDI-ARABIA/KSrelief-launches-project-to-empower-Yemeni-women-hit-by-gender-based-violence
--------
UAE's empowerment of women leaders has set an example
2 Dec 2021
Growing up, my idea of the land of dreams was a place with four seasons, a massive country with so many natural resources, and founded hundreds of years ago — practically anything but the UAE.
Yet today, the UAE is chosen as the number one country to live in not only the Mena region, but also by a growing number of individuals and families all over the world. So why the UAE?
In an earlier meeting, a global CEO proudly told me that they have closed down all their international offices and have started moving all their people, and their families, to Dubai. He is one of the thousands of entrepreneurs and investors who have decided to make this country their new home over the last 12 months.
This strong investors' appetite created a strong push in high-end properties where a lack of inventory has caused luxury home prices to increase for the 12th consecutive month — all this against the backdrop of a global pandemic.
The UAE's reputation as the land of dreams is strengthened by its very successful handling of the Covid-19 pandemic, where life has returned to normal and the economy is recovering rapidly to its pre-pandemic levels, while many countries around the world are still resorting to partial and total closures to cope with the outbreak of the virus.
In addition, the UAE's state-of-the-art infrastructure, efficient government services, exceptional security, excellent educational and health systems, and tolerant society that welcomes people from more than 200 nationalities in a unique harmony make the country a preferred destination to live and work.
If a woman wanders alone at any hour of the day or night without fear, know that she is in the UAE, commented His Highness Sheikh Mohammed bin Rashid Al Maktoum, Vice-President and Prime Minister of the UAE and Ruler of Dubai, on UAE ranking first in Gallup's 2021 Global Law and Order report. That is exactly what I have been telling my friends whenever I invite them to visit the country. As a single mother, safety, security and a welcoming society are very important considerations for me in choosing a country to raise my daughter.
On top of that, the spirit of entrepreneurship is very much alive in the UAE. I've always believed that entrepreneurship is the world's greatest equaliser. Because business is all about satisfying a customer. And satisfying a customer is all about creating value and delivering happiness.
To help entrepreneurs thrive, the UAE launched sweeping visa reforms — from 100 per cent foreign ownership of businesses, the expansion of UAE Golden visa coverage, the launch of several types of visas to the groundbreaking law allowing business owners to receive the UAE nationality and passport under certain conditions — fuelling business confidence higher.
Truly, the astonishing spur of the UAE's progress in a short span of time is shaped by an invincible vision, which resulted in a long list of outstanding, world-leading achievements.
Aptly, the nation once called the 'land of sands' before the Union has transformed into what is now the 'land of dreams'.
Source: Khaleej Times
https://www.khaleejtimes.com/year-of-the-50th/uaes-empowerment-of-women-leaders-has-set-an-example
--------
URL: https://www.newageislam.com/islam-women-feminism/women-taliban-afghan-decree-rights/d/125891
New Age Islam, Islam Online, Islamic Website, African Muslim News, Arab World News, South Asia News, Indian Muslim News, World Muslim News, Women in Islam, Islamic Feminism, Arab Women, Women In Arab, Islamophobia in America, Muslim Women in West, Islam Women and Feminis