New Age Islam News Bureau
3 Oct 2016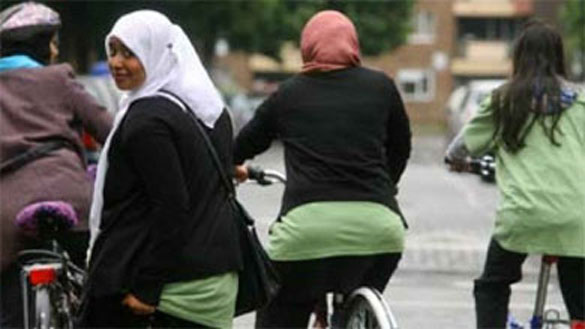 Another surreal turn in the Islamic Republic's war on women, Iranian Fatwa: Women May Not Ride Bicycles
---------
• Somali Religious Council Slammed Women Quota
• Indonesian Catholic Woman Has No Problem Living In Muslim Family
• Father Kills Daughter, Man for 'Honour' In Pakistan
• United Airlines Passenger Told To Switch Seats as Pakistani Man 'Did Not Want To Sit Next To Woman'
Compiled by New Age Islam News Bureau
URL: https://newageislam.com/islam-women-feminism/women-ride-bicycles-iran/d/108748
-----
Women May Not Ride Bicycles in Iran
October 3, 2016
Iran's Supreme Leader and autocrat, Ayatollah Ali Khamenei, has issued an Islamic fatwa regarding officially banning women from riding bicycles. This is only the latest in a growing multitude of activities that the Islamic Republic of Iran had declared haram (religiously forbidden).
A mullah from the Islamic Republic once described the reasoning behind this fatwa to me. He explained that if a male sees a woman in the act of riding a bicycle he would be exposed to her body physique, which will cause him to become aroused. In other words, Iran's clerics believe that a man cannot control his sexual desires when he sees a woman on a bicycle even when she is fully covered.
Merely for engaging in an activity that millions of women around the world participate in, many women across Iran have recently been arrested. Signs declaring the new law have been installed on the streets reading, "Bicycle riding for women is prohibited."
This is not the only absurd restriction that the women of Iran must endure. They are also prohibited from watching men's volleyball games. A British-Iranian woman, Ghonche Ghavami, was detained and jailed in solitary confinement in Evin, notorious political prison, for attempting to watch a men's volleyball game.
Iran's President, the so-called moderate, has not raised any objection to this law or similar ones. In fact, under his presidency, the repressive and restrictive laws against women and their inalienable rights have increased.
What are the reasons behind the most recent fatwa and Islamic law? According to the Muslim clerics of Iran, if a man observes a woman riding a bicycle, it will lead to corruption in the society. They list all kinds of terrible consequences, including corruption that will lead to crime, sexual offenses, financial crimes, spiritual infidelity, religious disobedience, and numerous others.
Ayatollah Khamenei pointed out that "riding bicycles often attracts the attention of men and exposes the society to corruption, and thus contravenes women's chastity, and it must be abandoned," according to Iran's state-run media.
So what can a woman do for fun or exercise if she can't sing, listen to music, ride a bicycle, wear what she likes, etc.? According to the Islamic and sharia laws of Iran, she should focus all of her attention on being a good mother.
This is reflected in the societal belief that women should only stay at home, bear children, raise children, cook, wash clothes, and satisfy the husband's sexual desires when he comes home after work. There are no pleasures or luxuries allowed for women, aside from the pleasure they are expected to take in serving others.
Ayatollah Khamenei defined women's only "role and mission" as "motherhood and housekeeping."
Aside from these ridiculous reasons for issuing the anti-bicycling fatwa, the underlying drive behind the restrictions and lies is the fact that the ruling Islamist clerics desire to exert control through their male-dominated system and religion.
In fact, there are other constitutional laws preventing women from working outside the house. Article 1117 of Civil Code states: "The husband can prevent his wife from an occupation or technical profession which is incompatible with the family's interests or the dignity of him or his wife."
In its latest report, the Foreign and Commonwealth Office stated that women's situation in Iran has worsened. According to the Foreign and Commonwealth Office,
"Women do not enjoy the same rights and privileges as men in Iran. We expect that the next round of the UN Human Rights Council will be dominated by women's rights issues, which will raise awareness of this issue; we hope to see progress as a result…Two proposed bills which were making their way through the Iranian parliament in 2015 caused outrage both inside and outside Iran. Human rights groups said the bills would set Iranian women back decades and reduce them to 'baby-making machines'. The bills were drafted after the Supreme Leader, Ayatollah Ali Khamenei, described family planning as an imitation of Western lifestyles, and requested that Iran's population be doubled."
Rather than praising Rouhani's so-called moderate government, it is incumbent on the United Nations and human rights organizations to pay more attention to the increasing anti-woman Islamist laws of Iran that subjugate, dehumanize and oppress women.
http://www.frontpagemag.com/fpm/264378/iranian-fatwa-women-may-not-ride-bicycles-dr-majid-rafizadeh
--
Somali Religious Council Slammed Women Quota
03/10/2016
MOGADISHU, Somalia- Somali Religious Council has opposed the 30 per cent quota for women in the upcoming electoral process, endorsed by Leaders of the Federal government and regional administrations, Garowe Online reports.
During a press conference held in the capital Mogadishu, on Sunday, Chairman of the Somali Religious Council, Shaikh Bashir Ahmed Salad, has warned against advocating for women to participate in the elections, saying it's against Islamic principles.
"We warn against women quota in politics, it is not locally driven but western driven agenda that carries foreign culture and beliefs that does not reflect the local circumstances," said Shaikh Bashir.
The Council also called Somali women to adhere to the Islamic principles and stop leading culture-driven agendas from non-Muslim countries.
"Our country was ruined by tribalism and today they want to disintegrate our family by pushing forward the women quota," added Shaikh Bashir.
Somalia is preparing to start parliamentary polls in this month that will conclude with the voting of new lawmakers to a new president in November 30.
The Religious Council statement comes amid continuous efforts from the International community and donors to ensure Somali government commitment to honor women quota in the upcoming parliamentary elections.
http://www.garoweonline.com/en/news/somalia/somalia-religious-scholars-slammed-women-quota
--
Indonesian Catholic Woman Has No Problem Living In Muslim Family
03/10/2016
The Second Indonesian Youth Day (IYD) being hosted by the Diocese of Manado began on Oct. 1, with 2600 youth from the country's 37 dioceses living the first three days of the event in families of 37 parishes of the diocese. They have been allotted to mostly Catholic families, but also to Protestant and a few Muslim families. The theme of the Oct. 1-6 event, "The Joy of Gospel Amidst a Plural Society in Indonesia", intends to emphasize and demonstrate that as a minority group, Catholics want and can live in harmony and brotherhood with people with other religions, especially Muslims who form nearly 90 percent of Indonesia over 250 million population.
To find out how this live-in programme is working out at the ground level, we journalist covering the IYD made a two-hour trip on Sunday, Oct. 2, to the Parish of the Sacred Heart of Jesus, Tanawangko, a 2-hour drive from Manado, the capital of the North Sulawesi province. As we drove along the winding road under a bright sky, with the beautiful calm sea occasionally visible onto our right and the lush green slope rising on our left with the ubiquitous coconut palms towering over them, we thought as much of the calm and peace among the people of those lands and hamlets living together in harmony. And true enough, we weren't disappointed.
Fr. Dino Kalalo, the parish priest of the Sacred Heart of Jesus said he is accommodating 74 IYD young people from Bandung Diocese in 9 locations in his parish. The village has a sizeable number of Protestants belonging to several denominations and together with Catholics, Christians are more than Muslims, but there is no tension at all among the followers of different faiths. Fr. Dino said he allotted two IYD participants to Muslim families, and those families considered it a privilege being chosen to host the young Catholics. He also said there is no radicalism among the followers of the faiths, with each person freely practising his or her religion.
When we visited the remote village of Kumu of the Sacred Heart of Jesus Parish to meet some of the IYD young people living with the local families, we were given a surprise by the village headman. His men quickly clambered up the surrounding coconut trees to fetch us green coconuts to drink. There we met Veronica Dina Maryani, a 21-year old young Catholic woman from Bandung, West Java, who is living in a Muslim family in the village of Poopoh. This has been easy for her because of the environment she has grown up in back home. Her father and three paternal uncles are Catholic while three others are Muslim.
Veronica told us that back home in Bandung, there are 22 Catholic families and two Muslim families in her neighbourhood, but there is great brotherhood and tolerance among them and other religions. They not only celebrate common occasions, such as the national independence and the harvest festival but also get together to mark the festivities of Muslims, Christians, Buddhists and other religions in one another's homes. Together they also observe the Indonesian tradition of visiting the cemetery to pay homage to the ancestors.
Veronica said that in Poopoh she has no problem staying in the family of Sarah Sumah, formerly a Catholic who converted to Islam by marriage. She said she has accepted Sarah as her "mother" for the three days and she feels very much at home. "I'm proud to be a Catholic, and am proud to stay with Muslims and people of other religions in the world, especially in Indonesia and West Java," she told us. However, Veronica explained that in such situations there should be mutual respect for the religious sentiments of others. Later, meeting Veronica's 'mother' in Poopoh village, we were assured again by Sarah that there has been no problem for her to have Veronica living in her home. Sarah also noted that she has learnt a traditional Javanese dish from Veronica, which they prepared together.
http://en.radiovaticana.va/news/2016/10/03/indonesian_catholic_has_no_problem_living_in_muslim_family/1262450
--
Father Kills Daughter, Man for 'Honour' In Pakistan
03/10/2016
RAWALPINDI: A girl and the man she was allegedly seeing were killed by her father in the name of 'honour' in New Afzal Town, in the limits of Airport police on Sunday, police said.
The 17-year-old girl's father first gunned down the 24-year-old construction worker when he was passing through her street, and then his daughter.
The accused, who is a labourer and had been living in a rented house for six years, suspected that the construction worker, who had married another woman just four months ago, was visiting his house to see his daughter. The police said the suspect had tried to persuade the victim to stop seeing his daughter.
According to SI Zulfiqar Ali, the suspect's wife had told the police that her husband had killed their daughter.
The brother of the slain construction worker also lodged a case against the suspect and two of his sons, saying that his brother had left his house on a motorcycle Sunday morning and that the suspect and his sons had followed him in a taxi.
He said his brother was passing by the suspect's house when the suspect and two of his sons came out with pistols and shot the victim before going inside to kill his daughter.
http://www.dawn.com/news/1287683/father-kills-daughter-man-for-honour
--
United Airlines Passenger Told To Switch Seats As Pakistani Man 'Did Not Want To Sit Next To Woman'
Saturday 1 October 2016
A United Airlines passenger has complained of discrimination after she was moved to make way for two "Pakistani monks" who did not want to sit next to a woman.
Mary Campos was leaving California on a plane bound for Houston when a member of the gate staff reportedly informed her that her pre-booked seat had been changed.
"I don't know how to tell you this," he said.
He then explained that due to the two passengers' "cultural beliefs", they could not sit next to or talk to a woman. The men were described as Pakistani monks by Ms Campos, and were reportedly wearing long orange shirts. No other information was available on the men's ethnicity or religion.
They could also not be served by female staff, she was told.
Ms Campos, a senior consultant in the oil and gas industry from Coto de Caza, told CBS that she was "shocked", but had no choice but to take her new seat.
In a letter to United Airlines, she wrote: "What if I were handicapped or transgender? What if your entire crew were female? Any belief that prevents individuals from interacting with females should not travel on commercial aircraft."
The airline responded to say they would look into the matter.
In a statement, the airlines wrote: "We regret that Ms Campos was unhappy with the handling of the seat assignments on her flight.
"United holds its employees to the highest standards of professionalism and has zero tolerance for discrimination."
Ms Campos said she did not want to sue the airline, but insisted that they apologise to every woman on the plane, including staff.
"I thought I lived in a culture where females were equal to men," she said.
She also wanted the company to change their policy to protect women's rights.
http://www.independent.co.uk/news/world/americas/mary-campos-united-airines-pakistani-monks-california-houston-cultural-religious-beliefs-a7340796.html
--
URL: https://newageislam.com/islam-women-feminism/women-ride-bicycles-iran/d/108748
New Age Islam, Islam Online, Islamic Website, African Muslim News, Arab World News, South Asia News, Indian Muslim News, World Muslim News, Women in Islam, Islamic Feminism, Arab Women, Women In Arab, Islamophobia in America, Muslim Women in West, Islam Women and Feminism