New Age Islam News Bureau
13 Jul 2014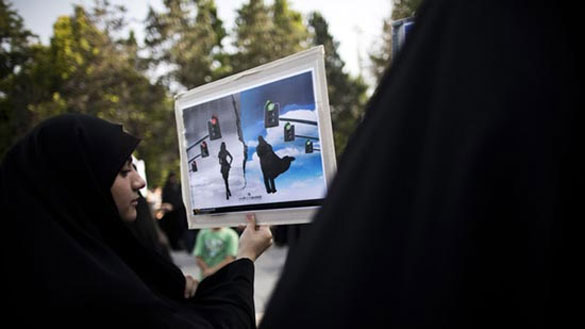 An Iranian woman protests to ask for the revival of Hijab and chastity in Iranian state TV programs on July 12, 2014 in Tehran. (AFP)
---------
• Saudi Housewives Turn Eid Sweets into Lucrative Industry
• Saudi Women Make a Living by Pushing Wheelchairs in Haram
• New Service, in Saudi Arabia, Lets Women to Vet Future Husbands
• Hell Hath No Fury: Egypt TV Show Pulls Polygamy Prank
• Iran Protesters Demand Respect for the Veil, Chastity on TV
• Watching the World Cup in Iran: Women on the Sidelines
• Spanish Region of Catalonia to Implement Burqa Ban
Compiled by New Age Islam News Bureau
URL: https://newageislam.com/islam-women-feminism/women-lured-become-sex-slaves/d/98068
----------
Women Lured To Become Sex Slaves after Online Chats with ISIS Fighters
13 July, 2014
SCORES of impressionable young British women are being "brainwashed" online by UK terrorists fighting jihad in Syria.
The love-struck girls, some as young as 16, are then lured into making the journey to the war zone to become "jihad brides" — or even sex slaves.
They are often bombarded with perverted messages from jihadists on the internet and are becoming besotted with terrorist "heart-throbs".
The Sun has been shown a sex timetable for girls joining the jihad terrorists, showing how they are being passed around fighters in Iraq.
The document, titled "Schedule for Brothers, of marriages with Mujahidaat" (female Mujahideen), details names of girls and what time they are expected to be with individual fighters.
In a revelation that will strike terror into every British parent's heart, young British girls can immediately contact murderous jihadists on the frontline.
They do this through anonymous social contact platform AskFM and Kik — an instant, text-messaging app for mobiles.
Many of the girls being persuaded to head out to volatile regions become so besotted they bombard ISIS terrorists with MARRIAGE PROPOSALS.
They are then coached by the jihadists on how to travel to the war zone and some are even offered money for travel.
But Sir Peter Fahy — one of the UK's top anti-terrors cops — told The Sun these sham marriages often last TWO HOURS.
He warned: "Certainly you are just going to be used as some sexual pawn by some very violent, extreme people. You need to call it what it is — rape or sexual exploitation."
The International Centre for The Study Of Radicalisation (ICSR), based at King's College, London, says they are currently monitoring 28 Western women — including Brits — who are already in Syria, adding "this is becoming a cult".
But police sources believe hundreds more British women are making contact on social media and this could just be the start of a chilling new trend.
These fears reached fever pitch after The Sun On Sunday exclusively revealed that twins Salma and Zahra Halane, 16, had vanished from their Manchester home to join their brother, Ahmed, 21 — himself already a jihadist — in Syria.
And it has emerged their journey may have been bankrolled by Jihadi fighters who want them as their wives.
Chillingly, jihad brides is thought to be another name for a barbaric practice known as "jihad al-Nikah" — sexual jihad.
This twisted ritual — which is not mentioned in any Islamic texts — allows jihadists to marry for a few hours, and have sex with women in the belief that it makes them "better warriors" before "divorcing" their wives.
In a sick ISIS propaganda video seen by The Sun, a Kalashnikov-wielding jihadist urges European sisters to join him and his brothers in Syria for sexual jihad.
The ranting terrorist — his identity concealed by a balaclava — urges Western women to "leave the place of infidels" because "your children's teachers may be a gay, may be a drug dealer, may be a paedophile..."
Sexual jihad first came to light in September last year, when it was revealed dozens of Tunisian women had travelled to Syria to marry militants.
The practice moved closer to home in April when two teenagers Sabina Selimovic, 15, and Samra Kesinovic, 16, from Vienna, Austria, fled to Syria after reportedly becoming radicalised at a local mosque.
Emails detailed how they were headed for an arranged marriage. Now it is feared dozens of British Muslims have also made the trip to become jihad brides.
One Brit being monitored is 21-year-old Racquell Hayden-Best, 21, who is married to Tauqir Sharif, a Syrian-based, British "charity worker".
AskFM session with Brit jihadists in Syria
Both Racquell and Sharif, 26, from Essex, are supporters of ISIS and regularly contact known jihadists on Twitter who they hail as "heroes".
Another British woman was caught by cops at Heathrow allegedly smuggling £16,000 to the war zone in her KNICKERS.
London student Nawal Msaad, 27, who is on trial at the Old Bailey, was said to be acting as a "courier" for friend Amal El-Wahabi, who is also on trial.
Msaad was due to meet El-Wahabi's husband, Aine Davis, 30, to hand over the cash in Turkey. Both Msaad and El-Wahabi deny funding terrorism.
On AskFM, Brit jihadists fighting in Syria enjoy long question and answer sessions with hordes of fawning female groupies.
Abu Abdullah al-Britani, a jihadist from Portsmouth, moans terrorists "have it hard finding sisters to marry" in Syria because of "language problems", because many of the local women are widows with children — and even that the girls' fathers have threatened to kill them.
A fan messages him: "I have seen your pic in the news, you're very good-looking, do you have a girlfriend back home?
"Would you consider marriage to a sister who has converted?"
The reply, "Lol in shah allah" draws the comment "nice eyes" before the instruction to "Kiki me" — meaning to contact him via the mobile messaging app Kik for a more intimate discussion.
Many "sisters" ask him how they can get to Syria to meet him — including a non-Muslim woman who "wants to convert and join the jihad."
Another asks, "If a girl wants to ask about marriage, would you allow?" The reply "yes — adds kik" and he advises another how to get to the Syrian border, adding: "It's easy, I can help."
The flirtatious chats seem like those of millions of ordinary love-struck teenagers around the world.
Except al-Britani is a terrorist who brags about his AK47, grenades and talks of how some ISIS members see it as "necessary" to behead infidels bragging "I am with ISIS".
Another British jihadist from Portsmouth, Abu Uthman al-Britani — who shares a room with Abu Abdullah al-Britani — uses the name @Uthaman on AskFM, where droves of women ask for his hand in marriage.
One says: "Would you mind if a sister contacts you for marriage? I am ready to come." He replies, "In sha Allah, if I'm still around!" adding, "We can get you in quick, no problem".
A third British jihadist, Al Britaniyya — who admits to knowing twin sisters Zahra and Salma Halane — tells a groupie "I love you for the sake of Allah" before adding, "I know sisters who can help other sisters come" — conclusively proving that British jihadists are aiding the passage of Muslim women to the war zone. -Thesun.co.uk
http://www.malaysia-chronicle.com/index.php?option=com_k2&view=item&id=319831:jihad-brides-women-lured-to-become-slaves-after-online-chats-with-ISIS-fighters&Itemid=4#ixzz37IVEvpuC
----------
Saudi Housewives Turn Eid Sweets into Lucrative Industry
13 July, 2014
The Eid sweets industry is fast becoming a lucrative arena of creativity and competition among housewives.
Indeed, many women are going the extra step and exhibiting their artistic talents right on their plates.
"The Eid sweets industry is becoming fertile ground for competition among women," said Amal Al-Saleh, a housewife.
"Women use new and creative ways to package and present their sweets, which are often mixed with dried fruit," she said. "Some have even created a juice fountain." "Eid budgets can span anywhere between SR500 and SR3,000 because of the high cost of chocolates and nuts," she said. "Many women come up with highly original ideas for displaying their creations. This can include anything from match sticks to chessboards, while money for children is wrapped in small copies of the Qur'an or using children's accessories."
Maha Asiri, another housewife, said Eid is a time of year where family and professionalism come together.
"Even women within a single family compete to outdo each other in their creativity," she said.
Sweets, chocolates, cookies and "baklava" are presented in crystal, silver, ceramic or even straw bowls.
Jamila Asiri, a bakery owner, said many women take advantage of demand and sell their innovations to stores.
"These women often turn their homes into sweet-making venues during Eid and sell them to restaurants and food sale centers, which is a creative way of supporting their families economically."
Randy, a salesman in Al-Bustan, a store for sweets and nuts, said that the price of good-quality chocolate is high because of the increased price of cocoa.
"Confectionary and chocolate stores also come up with special designs to make and wrap chocolates. A plate of chocolate starts from SR150 and could reach up to SR1,500, according to the type of chocolate," he said.
Ghassan Mohammad, a salesman at a Swiss chocolate store in Jeddah, said other women buy American sweets, cakes and Swiss rolls because they have gotten bored with Eastern sweets.
"Ladies pay special attention to ensuring that their sweets are presented attractively," he said. "They sometimes send in their own plates to have them arranged the way they want."
http://www.arabnews.com/news/600991
----------
Saudi women make a living by pushing wheelchairs in Haram
13 July, 2014
MAKKAH — Despite the exhaustion from fasting and the scorching heat, Saudi women are working in the Grand Mosque by pushing disabled women pilgrims on wheelchairs.
The money they make from helping the disabled to perform their religious rites saves these women from begging, Alsharq daily reported.
Umm Muhammad Al-Shareef's husband deserted her and the couple's 12 children. She took her eldest child, a 17-year-old girl, to see if the two could earn a decent income to save the family from starvation.
"I am an old woman and I cannot bear hard work. I come with my daughter every day to watch and help her. We work with this wheelchair to help incapable women to perform Umrah. Despite the difficulty of the work here, halal money is better than begging or doing what is forbidden (Haram)."
Umm Maha Al-Enizi had been married for several years when her husband divorced her. He refused to support Umm Maha or their daughter and she had no choice but to look for a job so she can provide for herself and her daughter.
"I'm not educated so nobody wants to employ me. I visited the Haram frequently and realized that some Umrah pilgrims need someone who knows the rites and can help them perform Umrah including Tawaf (circumambulation of the Kaaba) and Saiy (the walk between the mounts of Safa and Marwa). So I decided I should try this and I succeeded. I have been working here for four years now," Umm Maha said.
"Despite the difficulty of the work, I am happy because this helps my 16-year-old daughter complete her education. In Ramadan, I work 12 hours daily to make the best use of the holy month because there are many Umrah pilgrims. The income helps me to pay the rent of my apartment."
Umm Abdullah Al-Otaibi narrated the circumstances that forced her to work.
She said: "We are living in difficult circumstances. My husband is an old man. He has retired from work. I am a mother of four children. Even employed people find it difficult to make ends meet because of the high cost of living, so how about a family whose only income is their father's pension and their residence is a rented apartment?"
http://www.saudigazette.com.sa/index.cfm?method=home.regcon&contentid=20140713211384
----------
New Service, in Saudi Arabia, Lets Women to Vet Future Husbands
13 July, 2014
RIYADH — A new paid internet service was launched by unidentified people to provides women information about their future husbands.
The website asks women for the personal information of their future husbands and their national identification card numbers, and within a short period of time, it provides women with the required information.
The site claims that the service allows women to acquaint themselves with their future husbands before they enter into a marriage contract.
The service asks the imam of the neighborhood mosque about whether the man frequents the mosque, information which costs SR1, 500.
Monitoring a person's driving habits costs SR1,000 and monitoring his behaviour in public places costs SR2,000, while information about his smoking habits cost SR500.
http://www.saudigazette.com.sa/index.cfm?method=home.regcon&contentid=20140713211382
----------
Hell hath no fury: Egypt TV show pulls polygamy prank
13 July, 2014
Hell hath no fury like a woman scorned, and that is exactly what an Egyptian TV show found out recently.
Women on the show are falling for an on-air prank aired on Egypt's Al-Nahar TV. They are fooled into believing their husbands are marrying a second wife and the reactions are spurning laughs and shock on social media.
In the show, the wife is tricked into an interview about women's affairs, asking them their views on polygamy. Later, the program's crew surprises the women with a wedding procession, featuring her groomed husband walking in with a bride.
http://english.alarabiya.net/en/webtv/reports/2014/07/13/Ramadan-prank.html
----------
Iran protesters demand respect for the veil, chastity on TV
13 July, 2014
Several hundred people demonstrated in Iran's capital on Saturday to demand that state television boost "the culture of the veil and chastity" in its programming.
Protesters denounced the presence of "badly veiled" women in soap operas and said women wearing the traditional full-body chador were often depicted as poor and uncultivated.
Under Islamic law in force in Iran since the 1979 revolution, women must wear loose clothing and a hijab, a veil covering the hair and neck.
A police "morality" unit is responsible for enforcing the law, and can impose fines or even arrest those who defy it.
But recent years have seen many women wear a thin veil that hardly covers the hair, tight clothing or coats reaching mid-thigh instead of the long coat or chador.
"The law must be respected if the chastity of society is to be preserved," demonstrator Fatemeh Rahmani told AFP.
'Cultural invasion'
Another woman at the gathering, Zeinab Moeini, said: "The morality police arrest women who create problems and 'bad hijab' in Iranian society."
Media reports said similar rallies were staged across the country on Saturday.
In June, 195 of the conservative-dominated parliament's 290 MPs wrote to President Hassan Rowhani asking him to enforce the dress code law, denouncing what they called a Western "cultural invasion."
Rowhani, is a moderate elected in June 2013 after campaigning for greater cultural and social freedoms in the Islamic republic.
In October, he asked police to be moderate when enforcing the hijab requirements.
He has also said that "We cannot take people to heaven by using whips," a remark that was condemned by conservatives.
http://english.alarabiya.net/en/News/2014/07/12/Iran-protesters-demand-respect-for-the-veil-chastity-on-TV.html
----------
Watching the World Cup in Iran: Women on the sidelines
13 July, 2014
Women and men cheer on their teams while watching the World Cup on TV in Tehran. But if the games were hosted in Iran, women would be barred from attending.
The World Cup game is projected large onto the wall of the packed Tehran café, 14 feet across and 9 feet high. In the late-night crowd, women and men leap out of their chairs, cheering together at every goal, and moaning in unison with every near-miss.
All the drama of the Beautiful Game is here in HD, on the café wall, and on Iranian national TV – as it will be for the World Cup finals this weekend.
But if these soccer games were being played in Iran, no women would be able to go watch them in the stadiums – in keeping with rules of the Islamic Republic.
Recommended: 2014 World Cup: Are you a true soccer fan? Take the quiz
"We're very sad about that," says Shiva, a business graduate whose red lipstick matches her headscarf, during the halftime break.
"Maybe they want to 'protect' women, because men become very enthusiastic and hyped up – they might do something out of their control," she says. "It's the law, as every country has laws. But if they can decide to let women in, we welcome it."
Shiva's calm response is pure diplomacy compared to that of many Iranian women who see their banning from soccer stadiums – and now volleyball arenas – as part of a broader and long-standing contest between women and the Islamic Republic. Rules range from banning women from sporting events to conventions about wearing a veil, known as hijab, how much hair is permissible to see.
Many women prefer to cover up in traditional manner, yet plenty of others prefer not to be told what they can't do, or can't wear.
"When they ban women [from stadiums], in fact they want to control the whole society," says one female Iranian soccer fan who asked not to be named. "Women's bodies have always been a tool that the Islamic Republic uses to define its level of Islamicness. But it reflects a kind of antagonism toward a big part of society."
"They might not be allowed to go to stadiums, but no one can force [women] to change their way of [loosely] wearing hijab," says this female fan.
'DUTY' AT HOME
The resistance is obvious. In response to some official views that a woman's "duty" is at home, one graffiti image went viral on social media, of a scowling Iranian woman in a national soccer team T-shirt. She is drawn wearing rubber dishwashing gloves and holding aloft a yellow bottle of "cup" washing liquid – as if it were the golden World Cup trophy.
Also gone viral in recent months is a "stealthy freedom" campaign on Facebook and Twitter – both officially filtered in Iran, though most senior officials seem to have accounts. For this, Iranian women photograph themselves outside, their hair flowing freely.
Supreme Leader Ayatollah Ali Khamenei recently heralded Iran's women as the backbone of society and rejected the Western concept of gender equality. He praised "security of women in the family environment" and their "opportunity in housekeeping for talents to bloom."
Those remarks on Women's Day were in contrast to those made by centrist President Hassan Rouhani, who called for equal status for women.
Iranian women have reached high office – as vice presidents and parliamentarians – and populate many professions from law to medicine, among them Nobel Prize laureate Shirin Ebadi. More than half of university students are women.
Still, women volleyball fans were beaten and a number arrested outside a Tehran arena last month, and prevented from watching international matches hosted in Iran.
"In the current conditions, the mixing of men and women in stadiums is not in the public interest," Iran's police chief said. "We can't allow women to enter stadiums."
Several conservative female MPs criticized women who were sports fans.
"We should not be deceived by a group of women and girls that are making a slur and escalate it through the media," MP from Isfahan, Nayyereh Akhavan Bitaraf, told the Payam No website. She said the arrested fans were not true representatives of Iranian women.
One MP from Tehran, Fatemeh Alia, said: "Women's job is taking care of their children and husband, not watching volleyball matches."
The comments provoked a social media firestorm, which included creation of a page for Ms. Alia, asking her to leave her job in parliament and return to her "main duty" at home.
The volleyball ban also prompted a letter from 130 female activists to the president of the International Volleyball Federation.
"We demand an end to gender discrimination in the sports stadiums and believe that the Iranian society is not an island isolated from the rest of the planet," the letter read.
'LOST CAUSE'?
At local soccer games, Iranian fans describe crude and obscene chants directed by men at the referees and players. But that did not stop women from campaigning for years to attend.
At the café showing the World Cup games, Shiva's boyfriend Reza says that a section of the stands should be reserved for women only.
But he noted that even when former President Mahmoud Ahmadinejad – at the peak of his populist powers – tried to open the stadium gates to women, the effort failed. Mr. Ahmadinejad argued that women and families brought "morality" and "chastity" to public venues, but he was slammed by conservative clerics.
"Maybe it's one of the last pillars of the traditional interpretation of Islam – and they are holding onto it with all their might, they won't let go," says a veteran Iranian cultural observer who asked not to be named.
He says: "Why do they invest so much in a kind of lost cause, when you can look at this younger generation, and see what they want?"
http://news.yahoo.com/watching-world-cup-iran-women-sidelines-181347183.html
----------
Spanish region of Catalonia to implement Burqa ban
13 July, 2014
A ban on the wearing of Burqas - a body-covering cloak worn by some Muslim women - is to be put into effect by the government of the Spanish autonomous region of Catalonia in the wake of the European Court of Human Rights decree that its ban does not breach human rights laws.
Catalonia's interior minister, Ramon Espadaler, said that the ban, first recommended in 2013, was by no means an attack on religious freedom as the wearing of helmets and masks in public will also be forbidden.
Espadaler announced that the Catalan government intended to get the ban ratified after the summer 2014 recess, Spanish daily The Local reported on Thursday.
The ECHR based its decision on a pilot case from France, when a Muslim woman was no longer permitted to wear in public the Burqa, which covers the whole body, or the full-face niqab veil, because a new French law forbids the covering up of the face in public places.
She protested that the new law, which was introduced in April 2011, impinged on the European Convention on Human Rights because it translated to discrimination on grounds of sex, religion and ethnic origin.
However the European Court ruled that fostering respect for the conditions in which people "live together" in public places was a legitimate reason qualifying the ban and did not violate the convention.
Following the ruling, Austria, Norway and Denmark may also ban the Burqa.
http://english.alarabiya.net/en/News/world/2014/07/12/Spanish-region-of-Catalonia-to-implement-Burqa-ban.html
----------
URL: https://newageislam.com/islam-women-feminism/women-lured-become-sex-slaves/d/98068