New Age Islam News Bureau
27 Aug 2016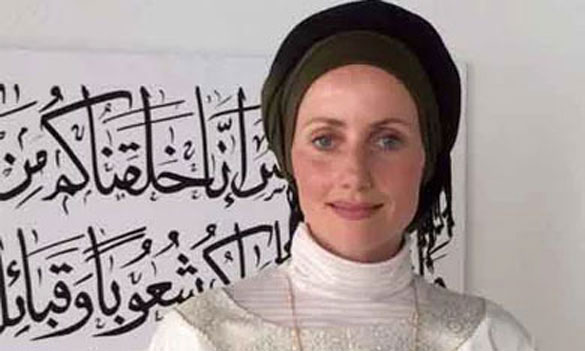 Sherin Khankan, one of two female imams at the Mariam mosque in Copenhagen. Photograph: Harriet Sherwood/Guardian
---------
• Supreme Court Admits Indian Muslim Woman's Plea to Declare Triple Talaq Illegal
• A History of How The Burqa And Bikini Became The Burkini
• Stop Telling Me What to Wear
• Court Says Women May Enter Iconic Mumbai Shrine
• German Mayor Fires Muslim Intern for Wearing Headscarf
Compiled by New Age Islam News Bureau
URL: https://newageislam.com/islam-women-feminism/women-lead-friday-prayers-denmark/d/108385
------
Women Lead Friday Prayers at Denmark's First Female-Run Mosque: Imam Says Aim Is To Challenge Patriarchal Structures and Inspire Other Women
Harriet Sherwood in Copenhagen
26 August 2016
It was Friday prayers with a difference. Outside the prayer hall, a woman breastfed her baby, while another applied lipstick. There were hugs and kisses, and peals of laughter. The adhan – the call to prayer – was sung in a clear, feminine voice.
A little bit of history was made in Copenhagen this week with the first Friday prayers led by two female imams, marking the official opening of the first female-led mosque in Scandinavia, and one of only a handful worldwide outside China.
More than 60 women crammed into the Mariam mosque above a fast-food outlet in a city centre street. Volunteers had worked late into Thursday night to put the final touches on the premises' refurbishment. Cream curtains with a subtle mosaic-motif trim had been hung, a calligraphed verse from the Qur'an displayed, flowers and candles arranged.
Sherin Khankan and Saliha Marie Fetteh, the mosque's two imams, shared the ceremony. Khankan sang the Adhan and made an opening speech, and Fetteh delivered the khutbah, or sermon, on the theme of "women and Islam in a modern world".
Only a passing mention was made of Burkinis. To laughter, Fetteh told the worshippers that, according to newspaper reports, there was not one Burkini to be found in shops across Europe, after a series of bans in French cities and resorts had prompted Muslim and non-Muslim women to buy them in acts of solidarity.
After the khutbah came the prayer itself. Rows of women, perhaps half of them of other faiths or no faith but invited to take part in the mosque's opening ceremony, bowed, knelt and touched their foreheads to the ground – a remarkably rare sight.
In many mosques, women are encouraged to pray at home or in private. Where women's sections exist, they are usually small, uninviting and accessed through back entrances. Mosques are traditionally seen as places where men gather for collective prayer and discussion.
The Mariam mosque opened informally in February, and it took six months of further preparation before the first Friday prayers could be held. "We're still in a process of learning. We're on a journey and we've only taken the first step," said Khankan.
Even so, the past few months have seen five weddings at the mosque, and three more are in the pipeline – including some inter-religious marriages, frowned upon by traditional mosques. There have also been a couple of divorces, one of which was conducted after prayers on Friday.
The mosque has drawn up its own six-page marriage charter with four key principles: polygamy is not an option; women have the right to divorce; a marriage will be annulled if psychological or physical violence is committed; and, in the event of divorce, women will have equal rights over any children.
One of the mosque's main objectives, said Khankan, was "to challenge patriarchal structures within religious institutions. Islam has been male-dominated, women are still not equal in Catholicism and Judaism, and were only ordained in the Protestant faith [in Denmark] in 1948."
The mosque also wanted to challenge "patriarchal interpretations" of the Qur'an, confront growing Islamophobia and promote Islamic progressive values. "It is possible to change patriarchal structures but it's a long journey and we have met opposition. But we decided not to focus on the opposition and instead speak about all the people who support us. We've had very positive reactions to the mosque – from Pakistan, Iran, Europe, Turkey, Arab countries," Khankan said.
She insisted there was "no valid religious criticism of us – we are on safe theological ground". But Khankan has encountered some resistance from relatives and friends to her plans to open the mosque and become an imam.
"Not from my parents – they have been so supportive. My father is a feminist icon. I wouldn't now be talking about female imams without my father, who always told me I could do anything," she said.
Her Muslim father is a refugee from Syria who came to Denmark after being imprisoned and tortured for his opposition to the regime. Her Christian mother moved to Copenhagen from Finland to work as a nurse. "I was raised between different religions and different cultures, and that has a lot to do with this initiative," she said.
After spending a year studying for a master's in Damascus, Khankan returned to Copenhagen in 2000, "longing to be in a religious community, but I couldn't really find a home". The following year, a month before 9/11, she founded the Forum for Critical Muslims. But the events and aftermath of 9/11 meant the organisation spent the next 15 years defending Islam instead of pursuing its reform agenda and advocating for female imams.
"It's very difficult to hold to a narrative that Muslim women are oppressed when women are taking the lead," said Khankan.
Female imams have existed in China since the 19th century, and in South Africa since 1995. In Los Angeles, the Women's Mosque of America opened last year. In the UK, the American Islamic scholar Amina Wadud led mixed Friday prayers in Oxford in 2008, prompting protests. Plans for a female-run mosque in Bradford are progressing, although prayers will be led by a male imam.
"This movement in Denmark is part of a greater worldwide movement," said Khankan, who visited Bradford in May and is planning an international conference on female imams next year. "I hope we can inspire women in other countries, and we hope to be inspired by them."
She wears a headscarf only to pray, and said women had different interpretations of being faithful and loyal Muslims. "This is mine," she said, gesturing to her appearance: a long skirt and long-sleeved top, but loose hair hanging over her shoulders.
In Denmark, she said, 90% of mosques were traditional. "We represent a modernist, spiritual approach to Islam. We are seeking to create an alternative voice, without delegitimising others. We want the Mariam mosque to be a place where everyone can come, and we can flourish together. What happens in a mosque goes way beyond the mosque itself – it affects society."
Source: theguardian.com/world/2016/aug/26/women-lead-friday-prayers-denmark-first-female-run-mosque-mariam
------
Supreme Court Admits Indian Muslim Woman's Plea to Declare Triple Talaq Illegal
August 27, 2016
The petition argues that triple Talaq, 'Nikah Halala' and polygamy are void and unconstitutional.
The Supreme Court on Friday took on board a petition by a West Bengal-based Muslim woman to declare the practices of ''Talaq-e-Bidat'' (triple Talaq), ''Nikah Halala'' and polygamy under the Muslim personal laws illegal and unconstitutional.
Full report at: thehindu.com/news/sc-admits-muslim-womans-plea-to-declare-triple-talaq-illegal/article9036511.ece
--
A history of how the Burqa and bikini became the Burkini
August 26, 2016
Several French seaside towns have in recent weeks banned women from wearing the Burkini—a full-body swimsuit design—on its beaches. In instance this week that has become widely discussed, police in Nice were photographed apparently forcing a woman to remove the blouse she wore over her bodysuit.
Full report at: qz.com/766798/france-Burkini-ban-a-history/
--
Stop Telling Me What To Wear
August 26, 2016
Seeing photos of armed French police forcing a Muslim woman to remove her Burkini at the beach on Wednesday reminded me of two groups of people who've taunted me for years: ignorant Westerners and conservative Muslims in the Middle East.
Both have problems with the way I dress.
Full report at: fusion.net/story/340477/westerners-conservative-muslims-wear-Burkini-ban/
--
Court says women may enter iconic Mumbai shrine
August 26, 2016
NEW DELHI: The Bombay High Court on Friday direc­ted that like men, women should be allowed entry into the inner sanctum of the mediaeval Haji Ali shrine.
Liberal Hindu, Muslim and secular groups have been campaigning for women to be allowed into various temples and mosques.
Full report at: dawn.com/news/1280281/court-says-women-may-enter-iconic-mumbai-shrine
--
German Mayor fires Muslim intern for wearing headscarf
August 26, 2016
Berlin, Aug 26: A 48-year-old Palestinian refugee, hired as an intern at a German mayor's office, was fired on the first day of work because she refused to remove her headscarf. Mayor Elisabeth Herzog-von der Heide of the town Luckenwalde, near here, fired the intern after one day because she would not take off her headscarf, The Local reported.
Full report at: india.com/news/world/german-mayor-fires-muslim-intern-for-wearing-headscarf-1436647/
--
URL: https://newageislam.com/islam-women-feminism/women-lead-friday-prayers-denmark/d/108385
New Age Islam, Islam Online, Islamic Website, African Muslim News, Arab World News, South Asia News, Indian Muslim News, World Muslim News, Women in Islam, Islamic Feminism, Arab Women, Women In Arab, Islamophobia in America, Muslim Women in West, Islam Women and Feminism