New Age Islam News Bureau
9 Jul 2016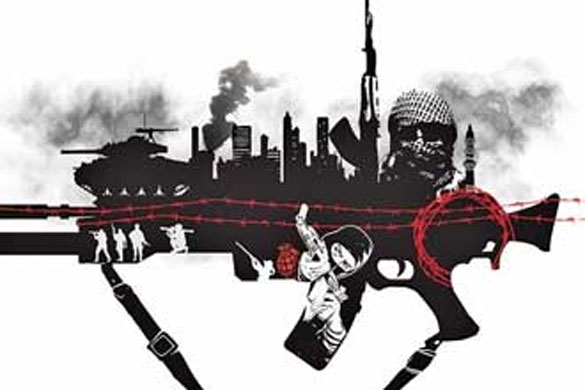 Photo: This is the first time in Bangladesh that women suspects – identified as Jannati alias Jemy (18) Sajida Akter (22) and Rozina Begum (30) – are arrested for their involvement in jihadi activities.
----------
• 5.8m Saudi Women outside Workforce
• Fear of Islam in Europe' Drives Switzerland to Ban Muslim Burqas
• The Hijab Is the 'Centrepiece' Of These Outfits Rocked By Young Toronto Muslim Women
• Silent Reform in Courtrooms Is Already Ending the Patriarchal Stranglehold on Islam
• At Least 5 Women in 15 Missing From Middle East, Feared To Be With IS
Compiled by New Age Islam News Bureau
URL: https://newageislam.com/islam,-women-and-feminism/new-age-islam-news-bureau/women-jihadis-held-in-bangladesh-trained-in-west-bengal?/d/107907
-------
Women Jihadis Held In Bangladesh Trained In West Bengal?
July 9, 2016
Bangladesh, currently reeling under heightened terrorist activities, has arrested three women members of the local militant group Jamat ul Mujaheed in Bangladesh (JMB) who were suspected to have been trained as 'suicide bombers' in India, revealed top NIA sources.
This is the first time in Bangladesh that women suspects – identified as Jannati alias Jemy (18) Sajida Akter (22) and Rozina Begum (30) – are arrested for their involvement in Jihadi activities. Although the Islamic State (IS) group has claimed responsibility, Bangladesh authorities hold the JMB responsible for the recent Dhaka attack, where gunmen hacked 20 at a cafe in the elite diplomatic area of Gulshan.
The team that raided a house at Jokarchar in Kalihati upazila in Tangail district, 98 km from Dhaka, where the women were residing, seized two machetes, a knife, a mobile phone containing videos of slaughtering techniques and a script of bomb-making technique, Bangladesh police said. Officer in Charge of Kalihati Police station, Mohammad Akheruzzaman told dna that the matter of the training of the women and their husbands is a part of investigation. The men are absconding and police suspects them to be radically hardened.
The arrests and recoveries bearing signature trademark of JMB, are alarmingly close to the module in West Bengal, where two years ago the National Investigation Agency (NIA) took the lid of camps operating at Burdwan (Simulia) and Murshidabad (Lalgola) districts, imparting violent Jihadi ideology and firearms, explosive training. Remarkably, the youth trained here were both men and women.
"Our investigations revealed that around 70-80 women were trained at these madrasas. It is possible that the women arrested in Bangladesh were trained in India. We will wait for Bangladesh to share the details,'' said a senior NIA officer.
JMB is one of the few Islamist militant groups to induct women recruits for combat activities and train wives of its male members in terrorist activities including suicide missions. In Burdwan, the wives of two JMB lesders Gulsona Bibi alias Rajiya Bibi (25) and Alima Bibi, had undergone arms training along with their husbands at Simulia and Mukimnagar madarsas.
"In some cases, both husband and wife were trainers. They were mostly training young girls to fire air guns to practise shooting and make explosives, to be sent to their operatives in Bangladesh,'' said an officer who was investigating the Burdwan blast case. For example, SK Rehmatullah alias Sajid, a Bangladesh national and head of the India chapter of JMB, was the lead trainer and had a final say in operational matters, while his wife Fatima was also a trainer. Indian national Mohd Yousef from Kulsona, Mangalkot, Burdwan and his wife Ayesha used to provide arms training at the Simulia madarsa, which had a crash course of 3-4 days in terrorist training, NIA officials said. Another member Dalim was trained at Simulia madarsa with his wife Salima.
Girls in their teens and adolescents were trained at Simulia, and successful recruits were further sent to Mukimnagar madarsa for intense training.
During investigations, the NIA found huge quantity of picric acid (highly explosive), 55 hand grenade shaped IEDs, components for cutting and shaping iron pipes, explosives used in preparation of bombs, grenades, manuals for manufacturing of grenade mortars, RPGs and AK-47.
Banned in 2005, after it launched 500 explosions across the country in 24 hours, the JMB extended its network of activities across the porous borders in India. By 2007, JMB had established networks and base in the border areas of WB and Assam to recruit and impart training in jihadi activities.
The JMB is purported to have a solid presence in all the 64 districts of Bangladesh. In its structure, is a three-tier organisation. Its active full-time member tier is called Ehsar and the second tier with over 1,00,000 part-time activists called Gayeri Ehsar. The third tier of supporters indirectly cooperate for its activities. The aim of JMB is to replace the democratically elected Bangladesh government with an Islamic State based on Sharia. Since the last year, the group is on revival and Bangladesh police has made sweeping arrests of its recruits. ts widely believed that JMB members have joined hands with the IS group to further its goals.
dnaindia.com/india/report-women-jihadis-held-in-bangladesh-trained-in-west-bengal-2232619
--
5.8m Saudi Women outside Workforce
ARAB NEWS |9 July 2016
DAMMAM: More than 5.8 million Saudi women and 2.5 million Saudi males, aged 15 and older, are outside the workforce, according to information from the General Authority of Statistics for the second half of 2015.
The number of Saudi women in the labor force reached 1.2 million, while Saudi males reached 4.4 million. Saudi nationals account for 21.1 million people out of the total population of 31.5 million in the Kingdom.
The General Authority for Statistics said it aims to measure economic participation rates, economic dependency, employment and unemployment, as well as provide data about training programs for job seekers. Such surveys are performed twice a year, but are planned to be implemented every three months on a quarterly basis.
The Ministry of Labor and Social Development's initiative under Vision 2030 is to establish policies and directives to target, organize and develop the Saudi labor market so as to create new job opportunities for citizens.
The initiative also looks at providing incentives to private sector companies in order to boost nationalization in strategic industries and companies, and enhance training and development of national cadres.
arabnews.com/node/951021/saudi-arabia
----
Fear of Islam in Europe' Drives Switzerland to Ban Muslim Burqas
July 9, 2016
In an interview with Sputnik, prominent campaigner for the rights of Muslims Rachid Nekkaz commented on the issue. The businessman and political activist from Paris established a one million dollar fund to help women pay the fines imposed against them by the law.
"The law is a declaration of war against human rights and the Muslim community," the activist told Radio Sputnik. "I can't accept this. That is why I created a fund of one million euros six years ago and paid all the fines against women wearing Niqabs in Europe," he added.
Majority of voters — 65% — supported the ban on Islamic face-covering clothing during a referendum in 2013. In response to the question on what reasons might have been behind such decision, Nekkaz said:
"I think there is a fear of Islam in Europe. Everyday mass media show for example Islamic State, ISIS […] and then the European population is afraid of Islam and the Islamic community," he said.
According to Nekkaz, the situation may become even more complicated in the future. Therefore it is important to launch an information campaign in order to stop "a legal war against Muslim women in Europe."
"It is important to show to the European population that most of the Muslim community in Europe is peaceful, is respecting the law," the activist said.
A recent study showed that the vast majority of EU citizens are concerned about the increase in Muslim immigration into their respective countries, amid a prevailing fear that terrorist attacks are more likely to occur across the bloc.
sputniknews.com/europe/20160708/1042667621/fear-of-islam-europe.html
--
The hijab is the 'centrepiece' of these outfits rocked by young Toronto Muslim women
July 9, 2016
With the glistening Lake Ontario as her backdrop, Haleema Mustafa is strutting her carefully-curated outfit on the boardwalk-turned-catwalk.
She is dressed in a black shirt and pants with a denim button-down draped over her shoulders. Her look is topped off with a scarf, neatly knotted on her head.
"I base my outfits around my hijab — hijab always comes first," she said. "It's a part of how I portray my modesty and my religion. It's the one thing in my outfits that is constantly there."
The 18-year-old wanted a creative project for a summer pastime and Snapchatted a callout for collaborators.
And Huda Doulah answered her call.
The two young women recently started a YouTube channel to put together and rock trendy looks revolving their hijabs.
Reaching young Muslim women
Doulah struggled with wearing a hijab at first. She hopes the YouTube videos can show Muslim girls and women who may be grappling with wearing a hijab how they can maintain modesty and still be stylish.
'Seeing someone represent us was a big deal for me.'
- Huda Doulah, style YouTuber
She said she would've loved to have Muslim women style bloggers and vloggers to look up to when she was younger. But now that void is increasingly being filled by social media with Muslim style stars including U.K. stylist and YouTuber Dina Tokio.
"That's what a lot of women need," Doulah said. "That's definitely what I needed."
"Seeing someone represent us was a big deal for me."
There is a perception that the hijab is limiting, Doulah said, but for her, it encourages her to be more creative with her look.
"That is absolutely why I got into fashion; to prove the point that there is no limit to fashion with your hijab or without," she said.
Doulah said she feels empowered wearing a hijab.
"When you accept it, it's like the most beautiful feeling ever, because it is who I am. It is part of my identity."
'Muslim women need to be everywhere'
Mustafa and Doulah said they want to use YouTube as an outlet to showcase their style but also challenge the notion that a hijab is restricting.
"There's the idea that without [a hijab], you're prettier, you're more liberated, you're not oppressed. Those are the stereotypes me and Haleema and a lot of YouTubers try to defy," Doulah said.
Mustafa said she wants to make Muslim women more visible through their YouTube channel.
"Muslim women need to be everywhere," she said. "In popular media, in television shows, YouTube. Go for it, do whatever you want."
cbc.ca/news/canada/toronto/muslim-women-fashion-1.3668743
--
Silent reform in courtrooms is already ending the patriarchal stranglehold on Islam
July 9, 2016
Javed Anand's article, "Triple talaq: Silent reform in courtrooms isn't enough to end the patriarchal stranglehold on Islam" on Scroll.in, though written as a rejoinder to lawyer Flavia Agnes' June 20 article, "This Muslim organisation's campaign for a ban on triple talaq is commendable but blinkered", fails to address key issues raised by her.
By misconstruing Agnes' reasoned critique of Bharatiya Muslim MahilaAndolan's "blinkered" campaign as a frontal attack on that organisation, the activist has missed the depth of field of her wide-angled analysis. His own perspective is so narrow that it distorts the real picture insofar as the status of Muslim personal law in India is concerned.
Reform is taking place
Agnes is absolutely right about the silent reform taking place every day in our courts. She calls it silent only because the media has not paid due attention to historic court judgments on Muslim law. Anand, however, chooses to downplaysuch decisive judicial interventions as being "simply not enough"!
It would appear from these shockingly impulsive remarks that Anand has not read any of the landmark Supreme Court verdicts on Muslim law, especially the one in the 2002 ShamimAra case.
In it, apart from stating that talaq, to be effective, has to be pronounced and defining the word "pronounce" as "to proclaim, to utter formally, to declare… to articulate", Justices RC Lahoti and P Venkatarama Reddi cited two High Court judgments of 1981 – in the Sri Jiauddin Ahmed vs Mrs Anwara Begum case and Rukia Khatun vs Abdul Khalique Laskar case.
"…The correct law of talaq as ordained by the Holy Quran is that talaq must be for a reasonable cause and be preceded by attempts at reconciliation between the husband and the wife by two arbiters – one from the wife's family and the other from the husband's; if the attempts fail, talaq may be effected…We are in respectful agreement with the above said observations made by the learned Judges of High Courts."
The final judgment against Ara's husband was pronounced on the basis of the twin facts that he "adduced no evidence in proof of talaq said to have been given by him" on the stated date and there were "no reasons substantiated in justification of talaq and no plea or proof that any effort at reconciliation preceded the talaq."
Put differently, this momentous ruling upholds the Quranic method of talaq while laying down the law that for a Muslim divorce to be effectual it must be properly pronounced and most importantly, be preceded by attempts, through arbitration, to bring about a reconciliation between the husband and wife. Indeed, the door to instant triple talaq has been shut so tight by the Supreme Court's emphasis on these two prerequisites, that it renders futile any kind of semantic quibbling over the terms "invalid", "illegal" and "unconstitutional" that Anand attempts in his article. Why should the apex court superfluously declare illegal what it has already delegitimised?
The Supreme Court being the ultimate arbiter and custodian of the Indian Constitution, its interpretation of laws enjoys inviolable finality. Article 141 of the Constitution states that "the law declared by the Supreme Court shall be binding on all courts within the territory of India." Hence, the procedure of talaq legitimised in Ara's case is the final law of our country insofar as termination of marriage by a Muslim husband under The Muslim Personal Law (Shariat) Application Act, 1937 – which provides for the application of the Shariat to Muslims in India – is concerned. Talaq pronounced by any other method will not dissolve the marriage.
In other words, the medieval fatwas of organisations such as the All India Muslim Personal Law Board on this issue do not matter as they stand overruled by the ShamimAra judgment. Repeatedly citing the refusal of Muslim religious organisations to "ban" instant triple talaq when their views no longer have any bearing on court decisions in India will only strengthen the Uniform Civil Code lobby.[To editors: please do not link any news report on UCC]
Activists like Anand must understand that the 2002 Supreme Court judgment categorically overturned the age-old stare decisis (the policy of courts to abide by legal precedents while making decisions) dictum on instant triple talaq that it is good in law though bad in theology. And if he thinks no one has heard of this remarkable courtroom reform, he must join hands with concerned citizens such as Agnes to mount "a visible, high-decibel campaign" that he has sought in his article to alert the Muslim community about it on the lines of what he is doing to confront "the ulema-perpetuated prevailing belief." Downplaying landmark judgments will not help the cause for which he is fighting.
Defending the indefensible
The most astonishing aspect of Anand's response to Agnes is his defence of Bharatiya Muslim Mahila Andolan's self-styled Shariah courts functioning under the name Auratonki Shariah Adalat (Women's Shariah Court). Agnes' case is that such courts have no legal standing and the use of the term adalat, or court is "a manipulation."
But Anand would have none of it. He tries to justify the existence of these adalats saying they are part of the Muslim women's body's attempts to breach the exclusive Muslim male domain of scriptural interpretation. It is surprising that Anand thought his readers would buy such a flimsy explanation.
The Bharatiya Muslim Mahila Andolan is certainly at liberty to provide pre-judicial counselling to consenting parties as per its understanding of Islam. But the question is: Does it have the right to use the nomenclature adalat for its arbitration centres, and deliver so-called verdicts?
Even arbitration centres established in accordance with The Arbitration and Conciliation Act, 1996 are not allowed to call themselves courts or adalats. They are referred to in the Act as "arbitral tribunals", and their decisions are termed "arbitral awards." Lok Adalat – roughly, people's court – is perhaps the only institution that has adalat in its name, but it draws its legitimacy from The Legal Services Authorities Act, 1987.
Yet the Bharatiya Muslim Mahila Andolan's legal aid centre not only designates itself an adalat (court) but asserts that "the legal aid provider women will base their verdicts on the Quranic injunctions…", and that "the Auratonki Shariah Adalat will administer free, fair and speedy justice in the matter of marital and family discord based on Quranic principles."
Auratonki Shariah Adalat also declares that "all grounds of divorce mentioned in the 1939 (sic) Sharia Act are applicable to the women visiting" it and "if the children are small the custody of the children will be with the mother, after the age of seven...the child will be given the right to decide."
Interestingly, the body seeks to implement such pronouncements by taking recourse to "all secular laws" (they mention the Anti-Dowry Act and Prevention of Domestic Violence Act) utilising "existing legal machinery like the courts" and engaging with the "justice implementation machinery like the police."
Would this not amount to judicial decision-making in the name of "pre-judicial arbitration" – the term Anand uses to describe their role? Besides, under what secular law will the courts and police ratify Auratonki Shariah Adalat's "verdicts"?
In 2014, in the Vishwa Lochan Madan vs Union of India and Others case, the Supreme Court had ruled that a sharia court is "bereft of any legal pedigree and has no sanction in laws of the land" and is "not part of the corpus juris of the state." However, it permitted such courts to amicably settle disputes provided the contending parties approach them voluntarily. But the "decision" will not be binding on anyone, including the persons who asked for it, the apex court said.
The right approach
In India, it has been observed that the number of Muslim women in search of redressal post triple talaq is several times larger than the number of people seeking pre-talaq counselling.
Therefore, wisdom demands that maximum time, energy and money be spent on providing legal support to victims of instantaneous triple talaq rather than excessively focusing on "confronting the male monopoly over the interpretation of Islam" that Anand seeks.
The battle against wrong interpretations is important and must be sustained to reclaim Islam from the medievalists. But what will ultimately help triple talaq victims are programmes that create awareness about the legal remedies available to them under existing laws – not signature campaigns asking for the abolition of practices that have already been delegitimised by the courts.
scroll.in/article/811417/west-indies-india-tour-2016
--
At least 5 women in 15 missing from Middle East, feared to be with IS
July 9, 2016
At least 15 Muslims from Kerala, including five married couples, one of them with a two-year-old child, are reportedly missing from the Middle East where they had gone recently and are feared to have joined the Islamic State, according to relatives.
Last week, a few of their relatives received messages on WhatsApp from unknown numbers and destinations, claiming that the missing people have reached the place of "divine rule… Islamic State", said sources.
On Friday, P Karunakaran, MP from Kasaragod, where 11 of those missing hail from, met Chief Minister Pinarayi Vijayan seeking a probe. The other four missing are from Palakkad district.
Sources said the 15 left their homes for the Middle East separately over the last month but are believed to have been in touch with each other. All of them were described as educated, with some of them confirmed to be doctors and engineers.
Sources said one couple told relatives that they were leaving for Mumbai to start a new business. A doctor, who left with his wife and two-year-old child, told relatives that they were leaving for Lakshadweep for him take up a new job.
Relatives of one of those missing said the "youths left on different days in the last one month".
"It was only last week that we came to know that these missing persons knew one other. They are all educated youths, a few of them engineering and medical graduates. Some of them had worked in the Gulf and Bangalore before. They had never been associated with any political or religious organisation. But, over the last two years, they had turned orthodox, with the men sporting long beards,'' said sources.
Referring to the WhatsApp messages, sources said that the sender of one claimed that he was with Islamic State. Another message invited the sender's parents to join him, saying he has reached "divine country".
Kerala DGP Lokanath Behera confirmed that the 15 youths who visited the Middle East have not returned to Kerala. "But we can't come to any conclusions about their whereabouts. If tomorrow they all return, then the case would be a blunder. We don't know who sent the messages and from where the messages originated. Besides, the families have not approached local police with a formal complaint,'' said Behera.
indianexpress.com/article/india/india-news-india/at-least-5-women-in-15-from-kerala-missing-from-middle-east-feared-to-be-with-isis-2902459/
URL: https://newageislam.com/islam,-women-and-feminism/new-age-islam-news-bureau/women-jihadis-held-in-bangladesh-trained-in-west-bengal?/d/107907
New Age Islam, Islam Online, Islamic Website, African Muslim News, Arab World News, South Asia News, Indian Muslim News, World Muslim News, Womens in Islam, Islamic Feminism, Arab Women, Womens In Arab, Islamphobia in America, Muslim Women in West, Islam Women and Feminism