Age Islam News Bureau
28 Nov 2012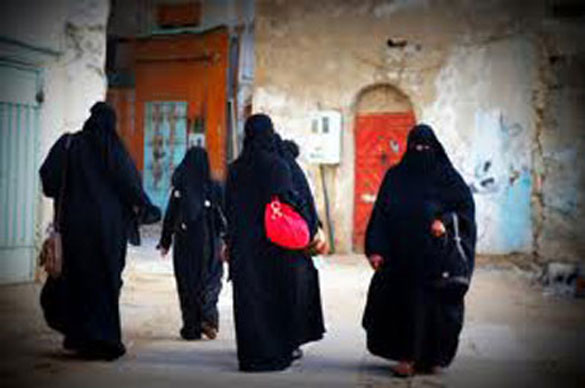 • Three Asian Women Arrested With Cocaine in Dubai
• Dublin Drama Celebrates Veiled Muslims
• Three Sentenced In Deadly Ukraine Rape Case
• Militants Blow Up another Girl's School in Khyber Pakhtunkhwa
• Pakistani 'Surrogate Mother' Gets Custody of Child
• Forced Marriage Bill Hopes To Protect Victims in the UK
• Warriors of love to the Honour Killing widow's aid
• Legal Teams & Advocates in Egypt Work to Save Women from Domestic Violence
• CARE & Global Advocates Work To Stop Child Marriage on International Day of the Girl
• Garment fire Bangladesh traps women in deadly crisis
• Muslim Diplomacy Relieves Sandy Victims
• US Servicewomen Sue US Military over Combat Ban
• Mexico Beauty Queen Killed In Shootout Was 'Human Shield'
• Saudi Airlines Catering recruits Saudi women in bid to boost female employment
• District Committees Be Authorised To Give Women Right of Inheritance: Seminar Held In Pak
• Why We Should 'Adopt' Iranian Women Prisoners of Conscience
Compiled by New Age Islam News Bureau
Photo: Women inside Saudi Arabia Stand Up To Guardianship Laws
URL: https://www.newageislam.com/islam,-women-and-feminism/new-age-islam-news-bureau/women-inside-saudi-arabia-stand-up-to-guardianship-laws/d/9464
-----------
Women inside Saudi Arabia stand up to guardianship laws
2012/11/27
Riyadh, SAUDI ARABIA: Criticism of the Saudia Arabian government and the Ministry of Interior is mounting among global women's rights and human rights activists as an app for mobile tracking technology has been approved for use by the Parliament of Saudi Arabia to track women who may wish to travel.
To the disdain of numerous global advocates, the government has recently sanctioned the new technology that sends an alert to the husband, or male guardian, of any woman who attempts to leave the country. Last week mobile notifications began to appear on the phones of men who consider themselves to be 'guardians' of women who are traveling with or without their presence.
But the technology is not 'perfect' according to plan. Some husbands are being notified of their wives departure in Saudi's international airport while their husband is sitting right next to them on the plane.
Male guardianship in the region has been an ongoing issue inside Saudi Arabia, said HRW – Human Rights Watch in a public statement made last August. "Under the Saudi system of male guardianship, the guardians – a woman's husband, father, brother, or even minor son – have power over their female relatives of all ages, approving or declining their travel, work, marriages, official business, or health care, almost at will," outlined HRW.
The issue for women under guardianship laws, that is part of the region's set of Islamic Shariah laws addressing women, is not going away. The Laws have been contested inside and outside the country by activists who often face obstacles surrounding male 'guardianship'.
"The guardianship rules are only part of a bigger system of subjugating women," said woman journalist and activist Wajeha H. Al-Huwaider in an editorial opinion piece as far back as 2009 for The Washington Post. Wajeha, who's simple act of videoing herself driving a car launched the 'Honk for Saudi Women' Youtube campaign last year. Because of her public stand on the issue she has often been the 'poster child' for women's rights in Saudi Arabia, especially in the eastern region of Saudi Arabia where she was born.
Guardianship laws for women in Saudia Arabia cover much more than travel, they also cover permissions for a woman to attend school or to go to work.
"Women's access to education is affected by guardianship laws even though the government has moved to void some of them. Some universities require that women have their guardian's approval before they are permitted to register for classes and then have permission for each individual class they choose to take," outlined Freedom House, an independent watchdog organization dedicated to the expansion of freedom around the world.
Four weeks ago a women's rights group based in Saudi Arabia, headed by Aliyah Banajah, sent a letter of petition to Minister of Labour Adel Fakieh to "annul the guardian's powers which enable him to have a woman dismissed from her work." They are hoping for an answer from the Office of the Ministry of Labour by November 29.
http://womennewsnetwork.net/2012/11/27/women-saudia-arabia-guardianship-laws/
-----------
Three Asian Women Arrested With Cocaine in Dubai
Amira Agarib / 28 November 2012
The Dubai Police have foiled three attempts to smuggle cocaine through the country and have arrested three female drug traffickers.
Major-General Abdul Jalil Mahdi, Director of the General Department of Anti-Narcotics, said the drugs were being smuggled from Latin America to East Asia.
On October 29, anti-drug officials arrested M.A., a 30-year-old Asian passenger, after receiving information that she was possessing drugs. The woman, who had travelled from Brazil and was on her way to Malaysia, was arrested in the transit hall of the Dubai International Airport at 11.30pm.
She was subjected to a search and the police found 880grams of cocaine capsules in a makeup bag and candy box, which has an estimated worth of around $240,000. During interrogation, the woman said that she received the drug from an African man she met in Brazil for a sum of 50,000 Brazilian real.
In the second case, a 32-year-old Asian female arrived at the Dubai International Airport on November 3 from Brazil and was also on her way to Malaysia. She too was searched in the transit hall at Terminal 3 and the police found 1.788kg of cocaine in her possession. She told the police that her sister asked her to help orchestrate the drug smuggling.
The third case saw the police arrest another woman drug trafficker who smuggled 80 capsules of cocaine in her stomach. On November 10, the Asian woman arrived at the Dubai International Airport, Terminal 3, at 11pm, again travelling from Brazil.
The accused was on her way to Oman but concerned officials noticed her walking unusually slow so they called her to check her passport and identity. A female police officer then searched the suspect and an X-ray later showed that she had swallowed 80 capsules filled with 292grams of cocaine.
When questioned, she told police that a Thai woman asked her to travel to Brazil to smuggle the drugs in exchange for $3000, with a cash advance of $1000. Upon arrival, an African woman gave her the capsules, she said.
The three woman have been referred to the Dubai Public Prosecution on charges of drug smuggling and drug possession.
Major-General Abdul Jalil praised the international agencies' cooperation with the Dubai Police, who have been working in unison with other countries in a bid to combat drugs. He added that the UAE respects international treaties and agreements as part of the strategy of the Ministry of Interior and the Dubai Police.
amira@khaleejtimes.com
http://www.khaleejtimes.com/kt-article-display-
-----------
Dublin Drama Celebrates Veiled Muslims
26 November 2012
CAIRO – Breaking down stereotypes and assumptions about female Muslims in Ireland, a new drama would be staged next year in Dublin to present personal and true stories of successful veiled Muslim women.
"Over 49,000 Muslims now call Ireland home," Denise Charlton, CEO of the Immigrant Council of Ireland, said in a statement on the council's website on Monday, November 26.
"They are playing a positive role in our society and are active in every part of Irish life.
"The aim of this production is to reflect that reality and to breakdown misconceptions which people may have about the Muslim community."
The drama, entitled the "Hijabi Monologues", is planned to be staged on the Axis Theatre in Ballymun, Dublin, next year.
Preparing for the performance, Muslim women were invited to submit storylines for the new theatre production.
The play is hoped to help break down stereotypes about the Muslim community in the European country.
"We are now asking women, Muslim and non-Muslim alike, those who wear the hijab and those who do not to come forward and tell us their stories," Charlton said.
"We believe they will offer experiences which women of other faiths and of no faith will relate to.
"It is these experiences which will define "Hijabi Monologues" in Ireland and hopefully provide a platform for Ireland to explore issues which have caused division and conflict in other parts of Europe."
Ireland is home to some 50,000 Muslims, making up about 1 percent of the total population.
Islam sees hijab as an obligatory code of dress, not a religious symbol displaying one's affiliations.
Successful Women
Shifting the focus from hijab, the theatrical performance would be shedding light on the effect successful Muslim women have in Irish society.
"Through the Hijabi Monologues we want to shift the focus away from the headscarf and instead focus on the women who make up the diverse Irish Muslim community," Charlton said.
"We will reflect their wide-ranging views on faith, education, class, Irish life and many other areas."
The production – supported by the Immigrant Council and the British Council – is based on the successful "Hijabi Monologues" already successful in the US over the past 6 years.
"We are proud to have brought Hijabi Monologues to Ireland and to be developing it further with the Immigrant Council of Ireland," Liz McBain of the British Council said.
"We are especially pleased to help make connections between community groups and arts organizations in Ireland, Northern Ireland and the rest of the UK."
http://onislam.net/english/news/europe/460186-dublin-drama-celebrates-veiled-women.html
-----------
Three Sentenced In Deadly Ukraine Rape Case
RFE/RL's Ukrainian Service
November 27, 2012
MYKOLAYIV, Ukraine – A court in Ukraine's southern city of Mykolayiv has sentenced three men to long terms in prison for their role in the rape and eventual death of a teenage girl.
The court sentenced Yevhen Krasnoshchok to life in prison.
His co-defendants -- Maksym Prysyazhnyuk and Artyom Pohosyan -- were sentenced to 15 and 14 years in prison, respectively.
Oksana Makar, 18, died in a hospital three weeks after she was raped, strangled, and set on fire in March in Mykolayiv.
The case shocked many Ukrainians and sparked a number of protests after it was revealed that police initially released two of the suspects, whose parents were former regional government officials.
http://www.rferl.org/content/ukraine-oksana-makar-rape-sentencing/24782951.html
-----------
Militants Blow Up another Girl's School In Khyber Pakhtunkhwa
28 November 2012
HANGU: Government schools in Khyber Pakhtunkhwa continue to face destruction as another public school was blown up by unidentified assailants in the Chapri area of Hangu, officials said on Tuesday. According to local police, the amount of explosives used in the attack is yet to be ascertained. The building of the Government Girls Middle School was completely destroyed in the incident. Meanwhile, the police and rescue officials reached the crime scene and cordoned off the area.
http://www.dailytimes.com.pk/default.asp?page=2012\11\28\story_28-11-2012_pg7_9
-----------
Pakistani 'surrogate mother' gets custody of child
Nov 28 2012
Islamabad : A Pakistani woman who allegedly acted as a surrogate mother for a childless Pakistani American couple has been granted custody of the child by a court after a seven-year-long legal battle.
Justice Ijaz Ahmed of the Rawalpindi bench of the Lahore High Court yesterday said in an order that Farzana Naheed was the legitimate custodian of Fatima, the girl she gave birth to in February 2005 as Farooq Siddiqui, a Pakistani American, had failed to prove his contention that she had acted as a surrogate mother after being paid Rs 1 million.
Full report at:
http://www.indianexpress.com/news/pakistani-surrogate-mother-gets-custody-of-child/1037452/
----------
Forced marriage bill hopes to protect victims in the UK
Astrid Zweynert
2012/11/27
London, UNITED KINGDOM: Making forced marriage a crime sends an unequivocal message that it is not just immoral but against the law, one of Britain's pioneers in tackling honour-based violence and forced marriage says. Nazir Afzal, chief crown prosecutor for Britain's North West Area, has been a leading force behind legislation proposed this June by the government to make forced marriage a criminal offence in England and Wales.
Afzal spoke to TrustLaw about what is needed to make the new law work, why misconceptions about forced marriage are deep-rooted and how teachers, police officers, prosecutors and others in the community must learn how to identify it and fight it.
Full report at:
http://womennewsnetwork.net/2012/11/27/forced-marriage-bill-uk/
-----------
Warriors of love to the Honour Killing widow's aid
By Piyush Srivastava in Lucknow
Nov 28 2012
THEY identify themselves as the true-blue defenders of true love, helping hapless lovers escape the wrath of their orthodox families and community members.
And now the novel crusaders known as Love Commandos have taken it upon themselves to protect a woman who fears she and her 18- month- old daughter are next on the hit- list of her family members after they allegedly killed her husband in a cold- blooded daylight attack last week.
Full report at: Mail Today
-----------
Legal teams & advocates work to save women from domestic violence
Jenny Montasir
2012/11/27
EGYPT: In Egypt, domestic abuse is not a crime. When a woman is beaten by her husband, the authorities are seldom called. Hospital trauma centers see the extreme cases of internal bleeding and broken bones. Otherwise, it's only when marital violence shifts into child abuse that many women seek out help.
According to a 2007 study by El Nadeem Center for Rehabilitation of Victims of Violence, 79 percent of Egyptian women (across all social classes and education levels) said they had personally experienced violence in the home. The shapes of this abuse included home imprisonment, humiliation, and beatings, as well as financial deprivation.
Full report at:
http://womennewsnetwork.net/2012/11/27/egypt-women-domestic-violence/
-----------
CARE & global advocates work to stop child marriage on International Day of the Girl
2012/10/11
Global: In honor of the first-ever International Day of the Girl, the global poverty-fighting organization, CARE, has launched a campaign to help end child marriage and is calling on the U.S. government to make ending early marriage a priority. The following stories illustrate how child marriage and poverty play into the lives of millions of girls around the world, violating their human rights and keeping them mired in poverty.
"Child marriage is a violation of human rights whether it happens to a girl or a boy, but it represents perhaps the most prevalent form of sexual abuse and exploitation of girls," says UNICEF – Child Protection Information Sheet. "The harmful consequences include separation from family and friends, lack of freedom to interact with peers and participate in community activities, and decreased opportunities for education. Child marriage can also result in bonded labour or enslavement, commercial sexual exploitation and violence against the victims," continues UNICEF.
Full report at:
http://womennewsnetwork.net/2012/10/11/care-global-advocates-international-day-of-the-girl/
-----------
Garment fire Bangladesh traps women in deadly crisis
2012/11/25
BANGLADESH: Fire officials say a lack of emergency exits contributed to the deaths of at least 110 people, when a fire swept through a garment factory in Bangladesh.
Authorities said Sunday that the blaze broke out on the ground floor of a multi-story building the night before in a factory outside the capital, Dhaka.
Firefighters fought the blaze for several hours, while many workers remained trapped on the upper floors of the building. Some workers jumped to their deaths before authorities arrived on the scene.
Full report at:
http://womennewsnetwork.net/2012/11/25/garment-fire-bangladesh-crisis/
-----------
Muslim Diplomacy Relieves Sandy Victims
27 November 2012
WASHINGTON — Shocked by scenes of destruction in the wake of superstorm Sandy, leading Muslim women from the diplomatic circle in the United States have stood up to offer help, raising funds for the victims.
"I saw the TV before and during the hurricane and it is so devastated," Rosa Rai Djalal, the wife of the Indonesian ambassador to the United States, told Voice of America.
"I feel a sense of deja vu because, you know, Indonesia was hit by a huge earthquake in 2004 and at that time all the international community helped us and I right away called my friends [and said] 'Let us do something to help them'."
Djalal, the president of the Muslim Women's Association in Washington, rallied fellow ambassadors' spouses and diplomats.
Full report at:
http://www.onislam.net/english/news/americas/460201-muslim-diplomacy-relieves-sandy-victims.html
-----------
US servicewomen sue US military over combat ban
28 November 2012
Four US servicewomen, including two who won Purple Hearts in Afghanistan, sued the Pentagon on Tuesday over its policy barring women from ground combat.
Backed by rights watchdog the American Civil Liberties Union (ACLU), they slammed the policy as an 'injustice to the women ... who continue to put their lives on the line for their country.'
In practice women have served in combat roles for years, they said — but US military policy still bans them, resulting in a 'brass ceiling' in which women cannot be promoted because of lack of recognized combat experience.
Full report at:
http://www.khaleejtimes.com/kt-article-display-
-----------
Mexico Beauty Queen Killed In Shootout Was 'Human Shield'
28 November 2012
A 22-year-old Mexican beauty queen killed during a gunfight between a suspected drug gang and soldiers appeared to have been used as a human shield, an official said Tuesday.
The soldiers reported that Maria Susana Flores Gamez was holding a weapon when she came out of the gang's car during Saturday's clash in the north-western state of Sinaloa, said the official from the federal prosecutor's office.
The soldiers' report 'does not say if she fired, only that they used her as a human shield' during the confrontation, the official, who had access to the defence ministry document, said on condition of anonymity.
Full report at:
http://www.khaleejtimes.com/kt-article-display-
-----------
Saudi Airlines Catering recruits Saudi women in bid to boost female employment
28 November 2012
The Kingdom's largest airline food caterer, Saudi Airlines Catering Company (SACC), has recruited 58 females in an employment initiative that seeks to uplift the welfare of women in Jeddah.
As part of the Kingdom's drive to support Saudi female empowerment, SACC has embarked on the process of hiring female employees in four different sectors of the company, according to Hussain Mohammad Al-Shareef, regional manager of SACC at King Abdul Aziz International Airport.
Full report at:
http://www.arabnews.com/sacc-recruits-saudi-women-bid-boost-female-employment
-----------
District Committees Be Authorised To Give Women Right of Inheritance: Seminar Held In Pak
28November 2012
LAHORE: A seminar titled 'Combating Violence against Women through Knowledge of Women Rights,' organised by Strengthening Participatory Organisation with support of Oxfam and European Commission, concluded on Tuesday. The speakers urged the government to make active and give authority to district committees to provide women the right of inheritance.
The seminar at Gender Studies Department of the Punjab University was part of a 16-day activism campaign against violence on women. Women Development Secretary Irum Bukhari, Regional Director SPO Salman Abid, Bushra Khaliq of WISE, Gender Studies Department head Dr Samar Fatima, faculty and students were present on the occasion.
Full report at:
http://www.dailytimes.com.pk/default.asp?page=2012\11\28\story_28-11-2012_pg13_6
-----------
Why We Should 'Adopt' Iranian Women Prisoners of Conscience
11/27/2012
Ida Lichter, M.D. Author, 'Muslim Women Reformers: Inspiring Voices Against Oppression'
The plight of Iranian women prisoners of conscience was under the radar. Now that many names of those in Evin prison have been published, these courageous women must not be forgotten and the Iranian government should be pressured for their immediate release.
Iranian Nobel laureate, Shirin Ebadi, asserted: "Journalists, human rights lawyers and rights defenders held solely on account of their peaceful activities -- none of these people should be in prison in the first place."
Full report at:
http://www.huffingtonpost.com/ida-lichter-md/iran-women-prisoners_b_2170624.html
-----------
URL: https://www.newageislam.com/islam,-women-and-feminism/new-age-islam-news-bureau/women-inside-saudi-arabia-stand-up-to-guardianship-laws/d/9464