New Age Islam News Bureau
22 Feb 2020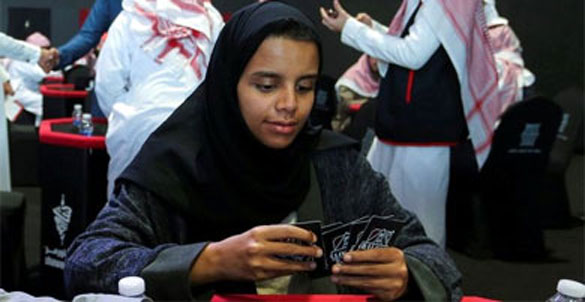 Women in Saudi Arabia made history by joining Baloot Championship Pic courtesy: Arab News
-----
• Muslim Women come out to Join Anti-CAA Protests at Ludhiana's Shaheen Bagh
• Amritsar: Takht Jathedar Meets Pakistan Sikh Girl's Family
• Bengaluru: Woman Held For 'Kashmir, Dalit, Muslim Mukti' Placard Sent To 14-Day Judicial Custody
• Ensuring Women-Owned Business Stand A Chance
• Theatrical Performance Highlights Violence against Women
• Japan Gives Egypt $US 83,708 Grant To Support Women's Empowerment
Compiled By New Age Islam News Bureau
URL: https://www.newageislam.com/islam-women-feminism/women-saudi-arabia-made-history/d/121128
--------
Women in Saudi Arabia Made History by Joining Baloot Championship, Card Game, In Riyadh
BY RASIA HASHMI
FEBRUARY 22, 2020
Riyadh: Women in Saudi Arabia made history by joining Baloot Championship (card game) in Riyadh for the first time. They played the popular card game against men in the hope of winning a SR2 million ($533,333) prize.
This is the first time women were permitted to join baloot championship. Ballot is a popular game in gulf countries including Saudi Arabia.
Last month Entertainment Authority of Saudi Arabia had confirmed that this time women will be permitted to play ballot for the first time. And now dozens of women stunned men by their outstanding performance.
According to Reuters, this time nearly two dozen women will take part in Baloot championship and women teams are taking on men teams.
According to reports, in the initial stages several women teams have defeated men teams and qualified for next round. However, many of them could not make for the next round.
https://www.siasat.com/saudi-women-break-stereotype-join-men-baloot-championship-1833945/
--------
Muslim Women come out to Join Anti-CAA Protests at Ludhiana's Shaheen Bagh
Feb 22, 2020
Ludhiana: A number of protestors, including women, participated in the anti-CAA and NRC protests at Ludhiana's Shaheen Bagh here on Friday. On the occasion, women protestors sought an answer from the prime minister that if he — during his address in parliament over the triple Talaq bill — declared that Muslim women were his sisters, then why did he not visit them during their two month-long protest.
Addressing the gathering at the protest site near Jalandhar Byepass, BA II student Khadija Ahrar said, "Narendrabhai Modi had openly declared in Parliament during the framing of the triple talaq law that Muslim women of the country were his sisters, but when protests are going on in various sites across the country for the past two months, why has he not gone to listen to them?" She added that nation-wide protests are not against the refugee brothers and sisters, but against those attempting to divide the people on the basis of religion to grab power. Khadija said the protest was against divisive forces trying to change the constitution as per their own will.
Another protestor, Shama Parveen of Gulabi Bagh Muslim Colony, said the countrywide agitation against CAA and NRC would continue. She alleged the government was setting a precedent to first exclude a community from a law, and then it would go one after one against members of all communities who oppose it. "We will not tolerate such a practice that threatens to break the unity and communal harmony of the country. Those calling protestors anti-nationals should first look into their selves to seek answers to the question whether they have sacrificed their lives for the country during the freedom struggle," she said. She alleged the prime minister, who would coin slogans of Sabka Saath, Sabka Vikas is now talking of CAA that seeks to divide people on communal lines, which is shameful for the nation.
Prominent among the protestors who addressed the gathering included Shahi Imam (Punjab) Maulana Habib-ur- Rehman Saani Ludhianvi, Maulana Muhammad Farooq, Naseem Ansari of Kundanpuri, Muhammad Ashraf of Gulabi Bagh, Madan Lal Masih, Prakash Peter, Joginder Singh, Ashok Kumar, and Malkeet Masih.
https://timesofindia.indiatimes.com/city/ludhiana/muslim-women-come-out-to-join-anti-caa-protests/articleshow/74250412.cms
--------
Amritsar: Takht Jathedar Meets Pakistan Sikh Girl's Family
Feb 22, 2020
AMRITSAR: In probably the first instance of its kind in post-Partition history, the Jathedar of Akal Takht - Sikhs' supreme temporal seat - on Friday evening met the family of a Sikh girl of Nankana Sahib who was allegedly abducted, forcibly converted to Islam and married to a Muslim youth in Pakistan last year.
According to sources, the Takht Acting Jathedar, Giani Harpreet Singh, who is in Pakistan to attend a function to mark the 99th anniversary of Saka Nankana (Nankana massacre) met the girl's brother and other relatives at Nankana Sahib for about half an hour.
Sources said the family members told the jathedar that the girl was brainwashed into going against the wishes of her family to embrace Islam and to marry the Muslim youth, Mohammad Hassan.
https://timesofindia.indiatimes.com/city/chandigarh/amritsar-takht-jathedar-meets-pakistan-sikh-girls-family/articleshow/74251106.cms
--------
Bengaluru: Woman Held For 'Kashmir, Dalit, Muslim Mukti' Placard Sent To 14-Day Judicial Custody
Nagarjun Dwarakanath
February 21, 2020
Adra, the woman who was 'detained' on Friday for holding a "Kashmir Mukti [liberation], Dalit Mukti, Muslim Mukti" placard at a protest in Bengaluru, has been sent to 14-day judicial custody by a court.
She was holding the placard at a protest organised by the Hindu Jagaran Vedike against the woman who had chanted "Pakistan Zindabad" slogans at an anti-CAA rally in Bengaluru on Thursday.
After Adra was spotted sitting among the protesters with placards, she was escorted out of the site as the Vedike members asked her to leave and the crowd started gathering.
A case has been registered for offences under the Indian Penal Code including creating enmity between different groups of people against the woman, identified as Adra.
Bengaluru Police chief Bhaskar Rao said Adra did not raise any slogans.
"She has been now been taken into custody for her own safety along with the placard... we will find out her background, where she has come from and who are behind her among other things," Rao said.
The "Kashmir Mukti (liberation), Dalit Mukti, Muslim Mukti" slogans were written in both Kannada and English in the placard held by her.
Last evening, Amulya Leona had raised the "Pakistan Zindabad" slogan thrice in the presence of All India Majlis-e-Ittehadul Muslimeen (AIMIM) chief Asaduddin Owaisi, prompting him to denounce her act.
In the video, Asaduddin Owaisi is seen rushing back to the dais to stop the woman from chanting the slogan. As Asasussin Owaisi rushed to snatch the mike from her hands, he was joined by others who tried to remove her from the stage.
The woman, adamantly, raised the slogan again, repeatedly. Later, the police stepped in and removed her from the dais.
https://www.indiatoday.in/india/story/bengauru-woman-held-for-kashmir-dalit-muslim-mukti-placard-sent-to-14-day-judicial-custody-1648862-2020-02-21
--------
Ensuring Women-Owned Business Stand A Chance
February 21, 2020
By Manoj Nair
Dubai: Appoint more women to corporate board of directors. Do whatever's possible to help women entrepreneurs get their businesses off the ground.
As far as intentions are concerned, these are as good as it gets these days. But in the real world, even the best intentions do not get the expected results.
Just ask Jamila Belabidi-Chahid, and you'll know why. "I will share an example of a woman-owned company - she was very ambitious and a strong performer," said Belabidi-Chahid, who is the Head of Global Women Economic Empowerment and Global Innovation Purchases at Procter & Gamble. "As such, we introduced her to our network and she gained more contracts to a point where she could take the next step.
"But she was blocked… as financial institutions would not support her. Eventually, we worked on some solutions to enable her, but the barriers are as basic as this."
Which can be quite unfortunate, because more women in the UAE and Gulf are entering the start-up universe. Obviously, the spread of digital technology has allowed them to reach out to their intended audiences at a much lower cost than in the past.
Even then, "The cultural shift required is universal," said Belabidi-Chahid. "Gender bias manifests in different ways in different parts of the world.
"In an ideal world you would not need quotas/targets - however to create equitable change, change must be measurable. (Something that) would recommend positive action and positive policies and which recognizes "real" efforts from companies."
The French way
Belabidi-Chahid, who was in Dubai for the Global Women's Forum, said empowering women in the workforce and in business could learn a thing or two from the French.
Does she see it as a sort of benchmark? "I think so - first, it comes with a strong sponsorship from the President of the nation," she added. "Then their approach is an interesting one as they first run a public consultation - asking about what the French think about women in the economy and what can everyone (government and beyond) do to close the gap.
"In addition, the government is working in a new law to fuel more women in STEM (science, technology, engineering and mathematics) and the economy in general.
"The Women's Forum has, with support of strategic members, defined a set of recommendations about how women entrepreneurs can access more the value chains of multinationals."
No easy way
There are many who believe that creating more women-owned businesses and having more of them take up roles on corporate boards should be treated as two different priorities. Mixing them up would only dilute any future gains, they add.
But Belabidi-Chahid does not share such a defined perspective. "We don't think this is an either/or situation," she said. "For there to be holistic economic empowerment, both women-owed businesses need to thrive as well as have more women in corporate boardrooms.
"That said, while the business case is clear for women-owned companies - it has not yet translated into enough activity nor sustained action. We also know that when women take the CEO or take seats at a board level, they influence positively gender equality policies for the company and outside of the company. Not to mention the better company results."
https://gulfnews.com/business/ensuring-women-owned-business-stand-a-chance-1.69855144
--------
Theatrical Performance Highlights Violence against Women
February 22, 2020
ISLAMABAD: The Rafi Peer Theatre organized a series of theatrical performances in different cities to highlight various forms of intolerance and violence, especially against women, and how different segments of the society can contribute towards ending the menace. The theatrical performance titled 'Ab Nahi' was showcased at the Fatima Jinnah Woman University, Islamabad, Quaid-e-Azam University, Islamabad, University of Gujrat and Sialkot Women University from February 18 to February 20, in line with the Dukhtaran-e-Pakistan initiative of the Government of Pakistan.
Students, academia and government representatives were invited to the events organized by the Rafi Peer Theatre. The play – Ab Nahi – included engaging performances by seasoned actors on various forms of violence women and girls face every day in the society. The events also included a lively discussion on the play, its lessons, and how everyone can contribute to ending the menace. The theatrical performance highlighted intolerance and violence as societal ailments which contribute towards regression of the social fabric, propelling injustice, illiteracy and inequity, while also strengthening negative cultural norms and practices. It also portrayed that a woman equipped with information and literacy will not only disable injustices but can also help other women and girls seek support to break the cycle of violence and abuse against them.
In a discussion on the occasion, the participants stressed the need to promote unity, peace and tolerance in the society. They said violence against women and girls is wrong, which needs to be openly talked about among friends, peers and family members. They maintained that the change has to start with individuals and stressed the need to raise awareness to create gender equality in the society. They were of the view that in order to break gender stereotypes, everyone needs to start with his own household. It is only with the support of the men that the women in the society can be empowered and get their due rights, they underlined. They said theater is a good medium to engage the audience while also sharing lessons on ending violence against women.
https://www.thenews.com.pk/print/617663-theatrical-performance-highlights-violence-against-women
--------
Japan Gives Egypt $US 83,708 Grant To Support Women's Empowerment
February 21, 2020
Noke and Chairman of the Board of Directors of the Gozour Foundation Training Center, Ali Mokhtar, witnessed the signing of a grant contract worth $US 83,708 to support women's empowerment in Egypt.
The grant aims to support women in old Cairo and the surrounding areas through providing vocational training to create job opportunities for poor women, according to a statement from the Japanese Embassy on Thursday.
The grant will be used in training women for self-employment, and providing them with specific skills that are compatible with the current needs of the Egyptian labor market in areas such as cooking and handicrafts.
Trainees of the program will be educated as well on different marketing strategies.
In 2018, Gozour Foundation implemented a program to support women through a project focused on enhancing English language and computer skills among women to meet the needs of the labor market and empower them to find jobs.
The empowerment of women has a pivotal role in achieving the goals of sustainable development, the statement quoted Noke as staying, stressing Japan's support for women's empowerment and the promotion of gender equality.
The grant is part of support offered by the Japanese government's to human security projects in Egypt, through which it provides funding to non-profit organizations, including NGOs in areas such as health and welfare, education, environment, and vocational training.
The Japanese grant program was launched in Egypt in 1994, and to this day, Japan has implemented 167 projects in Egypt through this program, at a cost equivalent to about $US 9 million, the statement said.
In a related context, the French embassy hosted the launch of another women's empowerment program earlier this month, which is being funded by the Sawiris Foundation for Social Development and Agence Française de Développement (AFD), and is being implemented by Plan International Egypt, under the auspices of the National Council for Women.
The project, over the course of 36 months, will work to bolster access to work opportunities, empower young women in the job market, and promote gender equality and inclusivity in the private sector, through life skills and market-driven vocational training and provisions of cash grants for entrepreneurs, as well as by working to promote gender-sensitive policies in at least 15 companies across Egypt.
The initiative hopes to benefit over 1,000 young women from the Greater Cairo and Port Said governorates and 400 young women from Luxor, all aged 18 to 35.
Statistics released by the Central Agency for Public Mobilization and Statistics (CAPMAS) in 2019 show that labor force participation for Egyptian women aged 15 to 65 stands at only 22.9 percent.
According to a 2018 report on women's economic empowerment from The World Bank, discrimination against women in the labor market, and especially in the private sector, remains "a significant obstacle to (women's) participation and contribution to economic growth" in Egypt.
https://egyptindependent.com/japan-gives-egypt-us-83708-grant-to-support-womens-empowerment/
--------
URL: https://www.newageislam.com/islam-women-feminism/women-saudi-arabia-made-history/d/121128
New Age Islam, Islam Online, Islamic Website, African Muslim News, Arab World News, South Asia News, Indian Muslim News, World Muslim News, Women in Islam, Islamic Feminism, Arab Women, Women In Arab, Islamophobia in America, Muslim Women in West, Islam Women and Feminism