New Age Islam News Bureau
2 Jun 2013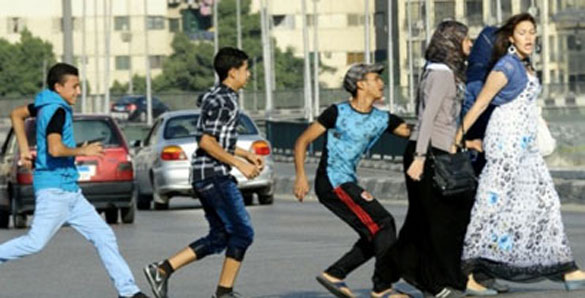 Women in Egypt Suffer More Sexual Violence Under Islamist Rule
---------
• Vinegar Cervical Cancer Test Saves Lives, India Study Finds
• The Kurdish Woman Fighting Against Female Genital Mutilation
• Court Marriages on the Rise in Pakistan
• Salma Haseena Tops Chennai Schools in Class 10 Exams
• Rape Kits to Be Provided To Forensic Medical Canters in Saudi Arabia
• NLC Saudi Arabia: Women Can Be Nominated For High Positions
• Dar es Salaam House Girls' Fleece Revealed
• Pakistani Women Take Charge across Political Landscape
• Madonna Pledges Funds for Campaign to Expand Girl's School in Karachi
• PPP Wins Reserved Seat for Women in 'Lucky Draw'
• Tale of 2 Women Converts Shows Egypt's Sectarian Divide
• Muslim School Chiefs Pledge To Provide Top Women Business Executives and Directors
• Women Deliver 2013 Focuses On Family Planning, Birth Control
• Empowering Women and Closing Gender Gaps in Africa under Spotlight
• How Vaccines Deliver Health for Women: Women Deliver 2013
Compiled by New Age Islam News Bureau
URL: https://newageislam.com/islam,-women-and-feminism/women-in-egypt-suffer-more-sexual-violence-under-islamist-rule/d/11853
--------------
Women in Egypt Suffer More Sexual Violence Under Islamist Rule
2 June 2013
Sexual violence against women in Egypt has increased in the post-revolutionary Islamist rule, according to official reports and rights activists.
The United Nations Entity for Gender Equality said in a report published on May 23 that 99.3 percent of Egyptian women have experienced some form of sexual violence.
Nearly 50 percent of women reported more harassment after the revolution; 44 percent said the level of harassment remained the same before and after the revolution. Meanwhile, more than 58 percent of men surveyed said harassment increased after the revolution.
Egypt's general directorate of moral police at the ministry of interior reported that 9,468 cases of harassment, 329 sexual assaults and 112 cases of rape took place in 2012.
Activists say the figures released by the government are smaller than the actual ones because many women do not report cases of harassment against them to the police in fear of shame.
The U.N. study found that only 19 percent of women actually report sexual violence against them to the police. It said 32.2 percent keep quiet and move away from the scene, while 26.9 choose to insult or hit back the assailant.
Frightening women away
"What is different now [post-revolution], and why this has been brought to public and international attention, is that we're witnessing a number of very violent assaults and rape," Diana Eltahawy, a researcher at Amnesty International Egypt, told Al Arabiya English.
Manal Abdul Aziz Ali, a Cairo-based journalist said, "Today, neither a foreigner nor an Egyptian can enjoy a sense of safety... because of the noticeable rise in the rate of crime and harassment against women."
The reported rise of sexual violence against women is often attributed to security deterioration and the rise of radical Islamists who seek to frighten women away from public places where anti-Islamist protests take place.
Salafist preacher Ahmad Mahmoud Abdullah said earlier this year that women protesting in Tahrir Square are "no red line" because they "have no shame and want to be raped," a statement which was perceived as a sanctioning of violence against women.
Egyptian women now "have to think twice" before attending demonstrations, Abdul Aziz Ali said, "not because [women] fear tear gas or even bullets, but because of the harassment being practiced by some thugs and parties to discourage revolutionaries from participating in such events."
Various groups have been formed to defend decry sexual violence against women in Egypt/ Operation Anti Sexual Harassment and Tahrir Bodyguard bring together volunteers to stop attacks in Tahrir Square, where the police are largely absent.
On Jan. 25 2013, as thousands of Egyptians marked the second anniversary of their uprising, at least 19 women were sexually assaulted, Operation Anti Sexual Harassment reported.
"These attacks aim to exclude women from public life and punish them for participating in political activism and demonstrations. They are also an attempt to ruin the image of Tahrir Square and demonstrators in general," the group said, according to AFP.
"This phenomenon requires urgent attention and treatment, and is linked to the broader social problem of endemic and daily sexual harassment and assault of women."
Lack of support
Despite civil-society groups banding together to ensure that women are protected, there is a general lack of legal and medical support available to victims, Dalia Abd el-Hameed, gender and women's rights officer at the Egyptian Initiative for Personal Rights, told Al Arabiya English.
"Medically, there are no protocols to deal with sexual violence. Rape survivors aren't being provided with emergency contraception. There's no protocol on conducting testing for sexually transmitted infections," she added.
"Psychological support is also not widely available for these women."
Added to the apparent lack of emotional support, the state's apparatus for upholding the law, the police, is also said to be failing victimized women.
"When women go to police stations to report sexual harassment, their claims are dismissed or police officers harass the survivor," Amnesty International's Eltahawy said.
"On the legal level, police officers aren't well trained to receive women's complaints, and sometimes their questions further traumatize the survivors," women's rights officer, el-Hameed added.
Many women are resorting to self-defence classes, which are organized for free by Tahrir Bodyguards.
The aim is to combat "systematic political suppression against women," activist Jumana Shehata told Al Arabiya. "We'll continue to take to the streets of Tahrir, no matter the price."
Mursi speaks !
On March 24, Egyptian President Mohammed Mursi announced a new initiative to support and expand women's rights.
"The initiative will put an end to any attempts to marginalize women, diminish their rights, or suppress their freedom and dignity," he stated.
However, his announcement came "without consultation with survivors or women's rights organizations," Eltahawy noted, questioning the viability of such a scheme.
Dr. Omaima Kamel, a Freedom and Justice Party's member and advisor to Egypt's president, announced in May that the government plans to prepare a law designed specifically to protect women from violence and ensure perpetrators are punished, IKHWAN Web, the Muslim Brotherhood's official English website reported.
"Experts recommended that all state institutions, civil society and religious institutions should pull together to confront the phenomenon of violence against women, as well as confirmation of the importance of developing short-term plans and long-term strategies to deal with the issue."
Aza al-Garf, a female MP in the Brotherhood's political arm, the Freedom and Justice Party, was contacted by Al Arabiya English but declined to comment on the subject.
Non-governmental organizations and human rights groups "haven't been consulted in these initiatives, and we're still not sure about their efficacy," Abd el-Hameed said.
The way forward, states Eltahawy, is to raise awareness on the issue.
"What is needed in Egypt is to acknowledge that this is happening, and to bring perpetrators to justice to discourage other acts."
In order to make progress, there needs to be female police officers and prosecutors who can address this issue, to help women feel more comfortable about sharing their experiences, she added.
http://english.alarabiya.net/en/perspective/features/2013/06/02/Women-in-Egypt-suffer-more-sexual-violence-under-Islamist-rule-.html
--------------
Vinegar Cervical Cancer Test Saves Lives, India Study Finds
June 2, 2013
By MUNEEZA NAQVI and MARILYNN MARCHIONE — Associated Press
MUMBAI, INDIA — A simple vinegar test slashed cervical cancer death rates by one-third in a remarkable study of 150,000 women in the slums of India, where the disease is the top cancer killer of women.
Doctors reported the results Sunday at a cancer conference in Chicago. Experts called the outcome "amazing" and said this quick, cheap test could save tens of thousands of lives each year in developing countries by spotting early signs of cancer, allowing treatment before it's too late.
Usha Devi, one of the women in the study, says it saved her life.
"Many women refused to get screened. Some of them died of cancer later," Devi said. "Now I feel everyone should get tested. I got my life back because of these tests."
Pap smears and tests for HPV, a virus that causes most cervical cancers, have slashed cases and deaths in the United States. But poor countries can't afford those screening tools.
This study tried a test that costs very little and can be done by local people with just two weeks of training and no fancy lab equipment. They swab the cervix with diluted vinegar, which can make abnormal cells briefly change colour.
This low-tech visual exam cut the cervical cancer death rate by 31 percent, the study found. It could prevent 22,000 deaths in India and 72,600 worldwide each year, researchers estimate.
"That's amazing. That's remarkable. It's a very exciting result," said Dr. Ted Trimble of the National Cancer Institute in the U.S., the main sponsor of the study.
The story of research participant Usha Devi is not an unusual one. Despite having given birth to four children, she had never had a gynaecological exam. She had been bleeding heavily for several years, hoping patience and prayers would fix things.
"Everyone said it would go away, and every time I thought about going to the doctor there was either no money or something else would come up," she said, sitting in a tiny room that serves as bedroom, kitchen, bathroom and living room for her entire family.
One day she found a card from health workers trying to convince women to join the study. Devi is in her late 40s and like many poor Indians doesn't know her date of birth. She learned she had advanced cervical cancer. The study paid for surgery to remove her uterus and cervix.
The research effort was led by Dr. Surendra Shastri of Tata Memorial Hospital in Mumbai. India has nearly one-third of the world's cases of cervical cancer - more than 140,000 each year.
"It's just not possible to provide Pap smear screening in developing countries. We don't have that kind of money" or the staff or equipment, so a simpler method had to be found, Shastri said.
Starting in 1998, researchers enrolled 75,360 women to be screened every two years with the vinegar test. Another 76,178 women were chosen for a control, or comparison group that just got cancer education at the start of the study and vouchers for a free Pap test - if they could get to the hospital to have one. Women in either group found to have cancer were offered free treatment at the hospital.
Still, this quick and free cancer screening was a hard sell in a deeply conservative country where women are subservient and need permission from husbands, fathers or others for even routine decisions. Social workers were sent into the slums to win people over.
"We went to every single house in the neighborhood assigned to us introducing ourselves and asking them to come to our health talks. They used to come out of curiosity, listen to the talk but when we asked them to get screened they would totally refuse," said one social worker, Vaishnavi Bhagat. "The women were both scared and shy."
One woman who did agree to testing jumped up from the table when she was examined with a speculum. "She started screaming that we had stolen her kidney," Bhagat said. Another health worker was beaten by people in the neighborhood when women realized they would have to disrobe to be screened.
"There was a sense of shame about taking their clothes off. A lot of them had their babies at home and had never been to a doctor," said one health worker, Urmila Hadkar. "Sometimes just the idea of getting tested for cancer scared them. They would start crying even before being tested."
But screening worked. The quality of screening by health workers was comparable to that of an expert gynecologist, researchers reported. The study was planned for 16 years, but results at 12 years showed lives were saved with the screening. So independent monitors advised offering it to the women in the comparison group.
An ethics controversy developed during the study. The U.S. Office for Human Research Protections faulted researchers for not adequately informing participants in the comparison group about Pap tests for screening. A letter from the agency in March indicated officials seemed to accept many of the remedies study leaders had implemented.
Others defended the study.
"We looked at the ethics very carefully" and felt them to be sound, and visited the project in India, said Trimble of the National Cancer Institute.
Dr. Sandra Swain, a cancer specialist at Medstar Washington Hospital Center, also defended the research. She is president of the American Society of Clinical Oncology, and the research results were presented at that group's meeting in Chicago on Sunday.
"There really was no wrongdoing there," she said. "They have no screening anyway," so there is no standard of care now.
Officials in India already are making plans to expand the vinegar testing to a wider population.
Many poor countries can't afford mammograms for breast cancer screening either. The India study also has been testing breast exams by health workers as an alternative. Preliminary results suggest breast cancers are being found at an earlier stage, but it's too soon to know if that will save lives because not enough women have died yet to compare the groups, said Trimble of the National Cancer Institute.
More progress against cervical cancer may come from last month's announcement that two companies will drastically lower prices on HPV vaccines for poor countries. Pilot projects will begin in Asia and Africa; the campaign aims to vaccinate more than 30 million girls in more than 40 countries by 2020.
Associated Press Chief Medical Writer Marilynn Marchione reported from Chicago.
http://www.newsobserver.com/2013/06/02/2933580/vinegar-cancer-test-saves-lives.html#storylink=cpy
--------------
The Kurdish Woman Fighting Against Female Genital Mutilation
LOVEDAY MORRIS
01 JUNE 2013
As a nine-year-old growing up in the Iraqi city of Kirkuk, Awezan Nuri narrowly escaped female genital mutilation. "My mother was 12 when she was mutilated," says the 31-year-old women's rights campaigner, who is also a renowned poet. "She has told me about the terrible pain, how much she bled that night and how ashamed she was to tell her family she was hurting. She couldn't talk to her mother, because her mother was the one who'd taken her to be cut. She felt alone and scared."
Despite the trauma of that experience, Nuri's mother still pushed for her six daughters to undergo the same process themselves. "She thought it was the responsibility of every Sunni Muslim to do this. Logically, she disagreed with it, but there was so much pressure from society."
It is a misguided belief among Muslim communities in dozens of countries around the world that the practice is mandated in Islam. For Nuri, it was an intervention by her father that saved her sisters from the knife – he said he did not agree with it. But most Iraqi Kurds are not so lucky. Figures from the Pana Centre – of which Nuri is vice president, in charge of the campaign against female genital mutilation (FGM) – show that 38 per cent of women in Kirkuk are victims. Among ethnic Kurds, that figure rises to 65 per cent.
In Kurdistan, the practice usually involves the removal of the clitoris, and is carried out on young girls between the age of four and 12. However, more severe types of FGM, which include the removal of the inner and outer labia, have also been documented.
"The psychological effects on these young girls are unimaginable," says Nuri. "Later in life they can never enjoy intimacy with their husbands."
FGM has no health benefits and is mostly carried out on girls before they reach the age of 15. The procedures can cause severe bleeding, infections and infertility, as well as complications in childbirth. According to the World Health Organisation, around 140 million girls and women worldwide are living with the consequences of FGM. The practice is most common in western, eastern and north-eastern regions of Africa, where about 101 million girls age 10 and over are estimated to have undergone FGM. It is also practised in Asia, as well as the Middle East.
FGM is illegal in the UK, but the practice is still found in migrant communities, with some girls taken abroad for the procedure. According to NHS figures, more than 20,000 girls under the age of 15 are believed to be at risk in the UK each year, but that figure could be much higher.
The autonomous Kurdish Regional Government has banned FGM – those caught carrying out the practice face a jail term – but the disputed city of Kirkuk lies outside its administration. Since setting up Pana in 2004, Nuri has worked to raise awareness of the issue and to lobby the government in Baghdad for a nationwide ban.
Her work has often put her in peril. In the political tinderbox of Kirkuk, blighted by frequent sectarian bomb blasts, raising your head above the parapet on an issue such as FGM inevitably puts you in the firing line.
"I've had threats via text message, by phone, by letter, on the internet," she says. "People come up to me in the street and insult me and political parties have issued threats."
Her offices were broken into in July last year, and insults daubed on the wall. "I can't really say what was written because it was too obscene. But one of the things written was 'You should be scared for your lives, watch out'."
Requests to the police to provide protection have so far been fruitless.
In addition to campaigning against FGM, Pana also works with women who have suffered domestic abuse, running a shelter and providing free legal advice. The families of those she houses often issue threats – but for Nuri, it is a personal crusade.
Forced into marriage when she was 16, she was subjected to violence by both her father and husband. "I am a victim myself," she says. "I had no chance to live, love, discover for myself." It was only on her wedding day that she found out her husband to be was her 18-year-old cousin, whom she hadn't seen for seven years but had hated as a child. "He would hit me, and after three months I couldn't take it any more so went back to my family home, but my father beat me and forced me to go back to him. I returned because I was pregnant, that was the only reason."
Her father insisted that if she was to leave her husband, she should leave her daughter too. "He told me: 'You can't hate him and love his baby.' " She stayed for five years, but after her father died, she obtained a divorce in 2004. Five months later she set up Pana, with a group of 11 others.
Though there have been some improvements in women's rights in Iraq over the past decade – including a jump in women completing higher education, Nuri says the security situation has hampered efforts. With no gun control, domestic violence can often end in tragedy, and so-called honour killings continue.
Last year, in a village near Kirkuk, a man drenched his three daughters in boiling water and then shot them because he suspected them of having sex. An autopsy later showed they were all virgins. He received a sentence of just two years because of a stipulation in Iraq's penal code which reduces murder to a maximum of three years in prison if a man surprises his wife or female dependants "in a state of adultery". It is in such a climate that Nuri fearlessly campaigns for changes in the law to protect women better, despite the risks.
"I'm not scared – any change that has ever been made in any society required difficult times," she says. "History will talk about us and will talk about our movement. Other women in the world have done this, and they were threatened and they were beaten, but they did it. Why not us?"
http://www.independent.co.uk/news/people/profiles/the-new-suffragettes-the-kurdish-woman-fighting-against-female-genital-mutilation-8640310.html
--------------
Court Marriages on the Rise in Pakistan
June 2, 2013
FAISALABAD: The district courts here received an average of 150 cases of couples hoping to solemnise marriage at courts each month.
According to court data, as many as 903 couples had applied for permission to marry at the courts here during last the six months. It was observed that most of the couples who filed these petitions were between 19 and 24 years of age. Of the 903 couples, 668 had moved for protection through petitions at the district courts. They reported torture and illegal confinement by their parents and in-laws, for marrying against their will.
Most of the petitions for protection were filed by women.
In some cases, the parents had registered criminal cases alleging that their daughters were kidnapped.
However, when most of these allegedly kidnapped women were 'rescued' by the police, they stated that they had left their homes of their free will and had married for love.
In most cases, when these 'abductees' recorded their statements before the court, they maintained that they did not want to live with their parents.
One such couple, Naseer Ahmad and Amina Nadeem, told a sessions court last week that they loved each other. They said they had asked their parents for permission to marry each other but they had refused.
Then they opted for a court marriage.
"We left our homes three months ago and married after seeking permission from the court. However our parents have been threatening us with dire consequences. We have appealed for protection so we can lead a peaceful married life," they said.
http://tribune.com.pk/story/557685/for-better-or-worse-court-marriages-on-the-rise/
--------------
Salma Haseena tops Chennai schools in Class 10 exams
June 1, 2013
Chennai: S.A. Salma Haseena, daughter of a junior engineer with Southern Railway, has topped the Chennai schools in the Secondary School Leaving Certificate (SSLC) exams held in March/April 2013. She scored 491 out of the total 500.
Salma is closely followed by Chennai-born Malayalee, Nissi Mariam Abraham - whose mother is a laboratory technician, scored 490 and came second.
K. Yuvarani, daughter of Kanniappan, a carpenter, too came in second.
Four students — D. Mercy Jebarani, W. Jebaselvi, M. Vijay and B. Boobalan — shared the third rank with scores of 488 each.
The results were declared yesterday.
A total of 8,788 students of Chennai Schools had passed this year's class X exams taking the pass percentage to 91.47. Last year the pass percentage was 86.94.
The results indicated that in a continuing trend, girls scored more than boys. The pass percentage of girls is 93.7 per cent.
All girls from 26 of the 70 schools run by the Chennai Corporation passed, but boys from only 15 schools managed to clear their papers.
The number of students who obtained centrums has also seen a quantum jump with 258 scoring full marks in various subjects, compared to just 18 last year.
- See more at: http://www.ummid.com/news/2013/June/01.06.2013/salma_top_sslc_exams.html#sthash.AKgfAy3K.dpuf
http://www.ummid.com/news/2013/June/01.06.2013/salma_top_sslc_exams.html
--------------
Rape Kits to Be Provided To Forensic Medical Canters in Saudi Arabia
June 02, 2013
RIYADH — The Medical Forensic Centres at the Ministry of Health will soon be provided with rape kits, according to Dr. Munira Hamdan Al Osaimi, Assistant Undersecretary of Ministry of Health for Medical Support Services.
"These rape kits, to be modified according to the needs and traditions of the Kingdom, are meant to help in handling rape and sexual assault cases in a more professional manner," Al Osaimi said while adding the Ministry of Health will soon form additional legal medical committees in the Kingdom.
"The aim is to expedite seeing the claimed cases of medical malpractice and compensation, submitted by relevant government agencies," she said.
In addition, a new special committee will also be formed to see such cases referred to it only by the Minister of Health.
Dr. Al Osaimi said the move was part of the ministry's efforts to improve the performance of such committees in general and Medical Forensic Centers in particular.
The ministry is also helping 15 Saudi physicians to join the Saudi fellowship program in forensic medicine from which 36 male and female physicians have graduated in recent years.
Al Osaimi said more women physicians will be encouraged to the join the program.
Currently there are 18 legal medical committees in the Kingdom as follows: Riyadh (4), Makkah (1), Madinah (2), Jeddah (2), Taif (1), Qassim (2), Eastern Province (2), Al Ahsa (1), Asir (2) and Tabuk (1).
According to a healthcare professional practicing law, the committees, composed of Islamic Shariah law judges and expert physicians deal with medical malpractice cases that require compensation.
Medical malpractice cases in the Kingdom have increased 24 percent between 2008 (1,356 cases) to 1,777 cases in 2011.
http://www.saudigazette.com.sa/index.cfm?method=home.regcon&contentid=20130602168234
--------------
NLC Saudi Arabia: Women Can Be Nominated For High Positions
June 02, 2013
JEDDAH — The National Labour Committee (NLC)'s regulations do not have any restrictions against Saudi women who want to nominate themselves for high positions, including chairpersons within a committee, according to NLC Chairman Nedal Redwan.
Saudi women are part of the labour force and can assume leading positions in spite of the fact that the number of Saudi female workers in the private sector is modest compared with that of their male counterparts, Redwan said.
He stressed that the committee is concerned with the affairs of all workers, Saudi and non-Saudi, Muslim and non-Muslim.
"All workers contribute to developing this country, regardless of the nature of their job," he added.
The NLC regulations will be approved soon by the Ministry of Labour. The committee will act as a union that will support labour in the market and stand by them.
He noted that the committee has conducted a study on setting a minimum wage for Saudi workers in the private sector.
The study recommended that the minimum wage should be SR5,837 in order for Saudi workers to lead an honourable life and be able to meet six basic needs: housing, clothes, food, transportation, education, and medical treatment.
One of the low-income jobs the study cited as an example was working as security guard.
It said this kind of job does not require high skills but the minimum salary is very low and does not help Saudi workers get by in life and meet his basic needs.
http://www.saudigazette.com.sa/index.cfm?method=home.regcon&contentid=20130602168165
--------------
Dar es Salaam House Girls' Fleece Revealed
BY ANTHONY TAMBWE, 2 JUNE 2013
FINDING a house girl in Dar es Salaam, unlike in the yesteryears, has become an uphill task, thanks to unscrupulous people who have turned it into a lucrative business.
A cross section of people interviewed by 'Sunday News' in the city have revealed that to find a house girl can be likened to finding a needle in a haystack, despite the fact that their fees have also shot up.
Most residents interviewed complained of getting domestic workers who can stay for barely three months before they look for an excuse to leave.
"In three months I have had about five house girls and I am fed up with this trend, which is why I have balanced my activities so that I can be able to take care of the children myself," said Matilda Kiwanuka, a resident of Boko, on the outskirts of Dar es Salaam.
She said that most of the girls use excuses which range from visiting sick relatives to attending fictitious burials and they usually promise to come back afterwards, but when they step out of the door, it is the last you see of them.
An investigation by this reporter revealed that in Dar es Salaam alone, there is a cartel of business people, especially ladies, who are cashing in on the shortage of the workers to make huge profits.
It was discovered that these people have their own 'house girls' whom they use to make their money, by shuffling them from one household to another within the city.
"What these people do is to look for houses where owners are in need of a domestic worker and they promise to give you one for a certain amount of fee and because most people are desperate, they easily agree," said Amina Ahmed who works at the local government's office in Tegeta.
She said that they have handled several cases where people feel they have been given a raw deal by these unscrupulous business people and they go to report, hoping for immediate action.
Miss Ahmed said that after they give you the house girl (from their stable), you are supposed to pay an amount ranging from 20,000/- to 40,000/-, which of course is non-refundable, but after the girl has been staying with you for a month or two, she will find an excuse to leave and she is taken to another household and the exercise continues.
Some of these people have more than ten girls and one girl can be taken to more than four houses within one year, with promises of a better salary and better working environment.
Some years back, a steady supply of domestic workers from other regions, especially Iringa and Mbeya, kept the situation on check, but currently to get one has become a headache for most households.
Hamisa Mohamed of Tabata in Dar es Salaam, who fell victim to these people, told our reporter that when she was looking for a house girl, she was introduced to one of these people, a decent looking middle aged woman.
"She told me that she had a girl who was at her village in Mbeya, so she told me that apart from the fee of 30,000/- I was supposed to pay later, I should give her another 30,000/- for her fare from Mbeya," she said.
She said that she complied because she was desperate, but after only two months, the girl told her that she had been informed that her old mother was sick in the village.
She found out later that the girl had been in Dar es Salaam for more than three years, when she found her two months later in her friend's house, who gave her the same story.
Within two days she had disappeared. However, a social welfare officer who preferred anonymity said some employers are to blame because they mistreat their domestic workers.
"They are (domestic workers) underpaid and subjected to abuse, cruelty and all other forms of mistreatments, which force them to flee and seek employment elsewhere," said the official.
She, however, would not rule out the presence of a few unscrupulous individuals out to exploit shortage of domestic workers for their own selfish ends. According to the International Labour Organisation (ILO) report, Domestic workers across the world, more than 52 million people worldwide are employed as domestic workers.
While a substantial number are men working as gardeners, drivers or butlers, 80 per cent of them are women. Of the 52 million domestic workers, only 10 per cent are covered by labour laws to the same extent as other workers and more than one quarter are completely excluded from national labour legislation, which gives room to unscrupulous middle men to take advantage and benefit financially.
"This disparity in conditions translates in longer, more unpredictable working hours with no appropriate remuneration for domestic workers, rendering them highly vulnerable economically, as well as affecting their health," said Annamarie Kiaga of the ILO.
The report also indicates that there is insufficient awareness regarding their living and working conditions which are generally poor. A great number of domestic workers come from rural areas where their prospects of finding employment are limited.
http://allafrica.com/stories/201306020042.html?viewall=1
--------------
Pakistani Women Take Charge across Political Landscape
June 2, 2013
KARACHI: In retrospect, May 11 was far from perfect.
Yet, May 11 was also about newfound optimism, clearly illustrated by the unprecedented number of urban women who voted, campaigned and volunteered, despite the gross mismanagement, the uncooperative weather and the risky business of being part of what are being seen as the country's most important elections. The following protests against alleged rigging in elections that now seem to have cooled down also saw women in the forefront – strong, opinionated and defiant.
Not just political awakening
Yet, it is not just the political process that has seen women in the forefront. Women activists, forever the needed noise-makers of civil society, have always been part of the change.
"I think the credit for mobilizing women in Pakistan goes to nothing but the situation. When oppression and troubles reach this level, women know that they have no option but to step up. Pakistani women have now broken the shackles," says Asma Zafar, Manger Institutional Support, Institute for Development Studies & Practices (IDSP). Currently, she is working on empowering women from Balochistan's troubled areas who have migrated to Karachi, which is Asma's way of being part of the conflict-resolution process in Pakistan.
The catalyst for change
It seems the women of Pakistan are taking ownership in the country's walk towards betterment. As Asma said, the bad situation is bringing out the best in women. And when it comes to political awareness, many women give several reasons for this, amongst which Imran Khan tops the list.
"In Karachi, we finally saw another face of the urban woman, a new consciousness," says Uzma Noorani, council member of the Women's Action Forum and member of the Sindh National Commission on the Status of Women. "For the first time, I saw a class of people, those who previously just sat in their drawing rooms, come out and get involved."
Durdana Haidri, a Karachi housewife from NA-250 who voted after a gap of many years, agrees with Noorani. "There certainly is a newfound consciousness within me, and among my friends," she says in a strong voice. "I think women finally realized that a sink or swim situation was upon us. If we didn't go out to vote, didn't do something, we would drown."
Amna Malik, a young consultant who has recently relocated to Islamabad from Canada, also credits Imran for the increased activism of women.
"Imran attracts a certain class of Pakistanis who, before today, had been disillusioned enough by the system to have excluded themselves from it completely," she says. "Most people only need something to believe in order to be mobilized enough."
This view is reiterated by Noorani. "PTI really stirred the urban elite and the middle class," she says, adding that the ECP also played a positive role.
Not just the PTI
Fatima*, a beautician from NA-252, says Imran had nothing to do with her decision to become a polling agent for the first time. "Everyone is talking about the PTI, but we volunteered because the Majlis-e-Wahdat-ul-Muslimeen (MWM) needed us. There were no PTI lady workers visible in our area at all," she reveals.
Meanwhile, although Muttahida Qaumi Movement (MQM) worker Shahida Ghafoor admits that Imran's campaigning can largely be credited for the shift, she is quick to point out that female MQM supporters have been actively working for many years.
"I've been volunteering since the 1980s," claims Ghafoor. "Our party, the MQM, has always encouraged the inclusion of women. This is nothing new to us."
Guarded Optimism
Talking of the electoral process, Noorani says "The process was flawed in many ways, and many women in Dir and other areas were disenfranchised. However, let's not forget that we saw history in the making, and let's move forward from here. Women have come out in large numbers with a clear mandate: They want democracy to sustain, they don't want interventions. This is a very strong, very powerful message."
*Name has been changed to protect identity
http://tribune.com.pk/story/557739/breaking-the-chains-women-take-charge-across-political-landscape/
--------------
Madonna Pledges Funds for Campaign to Expand Girl's School in Karachi
June 2, 2013
KARACHI: Celebrity and social activist Madonna announced on Saturday that she is raising money to expand a school in an impoverished area on the outskirts of Karachi, according to a press release on her official website.
On Saturday, Madonna went on stage at a live concert in London and publicised that she is supporting girls' education in Pakistan through her Ray of Light Foundation, and urged people to support her cause. She was joined on stage by Humaira Bachal, an education activist from Karachi. The concert had been organised the charity organisation Chime For Change that campaigns for education for women and girls.
A webpage was simultaneously launched on crowd-funding platform Catapult to raise money for the addition of an extra floor at a school in Karachi.
The Dream Model Street School is located in Mawach Goth, Karachi and was founded by the Dream Foundation Trust (DFT), a Pakistani non-governmental organisation.
The school, established in 2005, and claims to have taught over 2,000 students who otherwise would not have had access to education.
The crowd-funding campaign expects to raise nearly $58,000. $932 had been raised at the time of the filing of this report.
On April 3, Madonna announced the auction of a Cubist masterpiece by French artist Fernand Leger to support an education project for girls in Afghanistan and Pakistan.
"I want to trade something valuable for something invaluable – educating girls," she said in a statement.
http://tribune.com.pk/story/557711/madonna-pledges-funds-for-campaign-to-expand-school-in-karachi/
--------------
PPP wins reserved seat for women in 'lucky draw'
June 2, 2013
LAHORE: The Pakistan People's Party has won a National Assembly reserved seat for women (Punjab quota) in a draw held at the Punjab Election Commission office on Saturday.
PPP's Belum Hasnain won the seat against Pakistan Muslim League-Quaid's (PML Q) Tanzeela Amir Cheema after a draw.
The Saturday's draw for the seat was conducted in the supervision of Justice (r) Riaz Kyani. Azizur Rehman Chann from the PPP and Raja Basharat from the PML-Q were the authorised representatives from both the parties.
http://www.dailytimes.com.pk/default.asp?page=2013\06\02\story_2-6-2013_pg1_5
--------------
Tale of 2 Women Converts Shows Egypt's Sectarian Divide
Hamza Hendawi, Associated Press
Jun. 2, 2013
ASSIUT, EGYPT — In one case, an Egyptian Christian man stabs his wife after she converts to Islam with the support of hard-line Islamists. Then after surrendering to police, he dies in mysterious circumstances, falling from a court building window.
At about the same time, a Muslim woman in another small village converts to Christianity and elopes with a Christian man. A crowd of Muslims attacks the local church. Police arrest the Christian man's family. Angry Islamist lawmakers in parliament dedicate a whole committee session to decry an alleged foreign plot to convert Muslims.
The two recent cases, both in southern Egypt, were treated in very different ways — heightening Christians' sense of siege amid the increasing influence of Islamists since the 2011 ouster of autocrat Hosni Mubarak.
Christian husband
Romani Farhan Amir, an impoverished Christian day labourer, had little choice but to accept when his wife marched into a police station in the southern city of Assiut, accompanied by members of the hard-line Gamaa Islamiya group, and registered her conversion to Islam in February, his family says. Amir just told police that he did not want her anywhere near their four children, they say.
On May 11, when she showed up at the school of one of their sons, he believed she was trying to snatch the boy — something she denies. He stabbed her in the principal's office, leaving her wounded.
Amir surrendered to police, and while he was at a court complex waiting to be questioned, he fell from a fourth-story window. Police say he committed suicide and deny any foul play.
The provincial security chief acknowledges that, while tragic, Amir's death averted Christian-Muslim violence. If the wife had died "there would have been grave consequences," Abul-Qassim Deif said. "So in the end, that he died and she lived quickly ended the whole affair."
Muslim bride
The other conversion story, in Beni Suef province north of Assiut, provides a telling contrast. A 22-year-old Muslim woman, Rana el-Shenawi, is believed to have converted and eloped with a Coptic Christian.
In retaliation, Muslim mobs hurling rocks and firebombs attacked the Mar Girgis Church in her hometown of Wasta in late April after her father accused a local priest of using witchcraft to convert her. A priest's car was set on fire. Islamist hard-liners forced Christian businesses to shut down for more than a week.
Ten people were initially detained in the church attack but were later released.
Police detained the father, mother and cousin of Ibram Andrews, the Christian with whom el-Shenawi allegedly eloped.
They are under investigation on suspicion of helping her disappear, inciting sectarian tensions, disturbing security and blasphemy.
http://www.tennessean.com/viewart/20130602/NEWS08/306020082/Tale-2-converts-shows-Egypt-s-sectarian-divide
--------------
Muslim School Chiefs Pledge To Provide Top Women Business Executives And Directors
John Dickens
June 2, 2013
'We will produce the top women business executives and directors of tomorrow' - that's the pledge from chiefs behind a new Muslim faith-based free school.
Slough Girls' Leadership Academy, a 700-pupil school for 11-19 year olds with a 50/50 split for Muslims and non-Muslim pupils, was given the green light to open by education secretary Michael Gove last week.
Chiefs behind the school - which aims to open for Year 7 pupils in September 2015 - have pledged to give the town's girls a platform to beat their male counterparts to the region's top jobs.
Dr Zubair Abba, a member of the steering group behind the school, said: "We know that opportunities are very limited for young people at the moment. On top of this, women from our communities in particular are under-represented in the professions and in the boardrooms of businesses. "We believe that this new free school will give its students the confidence and qualifications to compete for the top jobs and leadership positions."
The school aims to open to all entry forms by September 2017 and bosses will now move their attentions to securing a site - with a town centre spot top of the agenda.
The school will offer specialisms in leadership and Big Society and Dr Abba added: "The curriculum they will follow - with strong role models coming in to the academy - will also encourage them to become tomorrow's civic and community leaders."
Steering group member Ammarah Sadiq said: "We know that there are more career opportunities in Slough than in many areas but our high aspirations for our children do not seem to happen in reality.
"We want our daughters to achieve success, to become top business executives and directors, but there seem to be many obstacles in their way. "We are celebrating that the Government has given its backing for the Slough Girls' Leadership Academy, which will provide the education that we want for our daughters."
The school will be run by the Tauheedul Free Schools Trust (TFST) - which runs Muslim free schools in Blackburn. Dr Abba added: "We want all of the town's communities to be part of its success, and the community service that pupils at the school will undertake will promote harmonious relations and develop a culture of active citizenship and social responsibility."
It was one of 102 new free school applications approved on Wednesday last week (22).
http://www.sloughobserver.co.uk/news/slough/articles/2013/05/24/89714-muslim-free-school-chiefs-pledge-to-provide-platform-for-top-women-business-executives-and-directors-of-the-future/
--------------
Women Deliver 2013 focuses on family planning, birth control
29 May 2013
Global leaders announced their commitment toward expanding contraceptive access for women in developing countries on the second day of the Women Deliver 2013 conference, Wednesday.
Speakers discussed strategies to reach women and girls in developing countries who do not want to become pregnant, but lack access to contraceptives.
"Putting women at the center of development and delivering solutions that meet their needs will result in huge improvements in health, prosperity and quality of life," said Bill & Melinda Gates Foundation Co-Chair Melinda Gates, at the conference.
The issue is of grave concern, wrote Dr. Gamal Serour, Director of the International Islamic Center for Population Studies and Research at Cairo's al-Azhar University, in a recent article for Al Arabiya.
"When women have access to contraceptives, maternal and child mortality rates are greatly reduced; sexually transmitted infections (STIs) are prevented; the number of safe and unsafe abortions is lowered; and pregnancy and birth-related complications are avoided."
However, he states, women in many Muslim communities face barriers to contraceptive access as well as family planning services due to religious and cultural misconceptions.
Despite these misconceptions, "Islam is a progressive religion that encourages its followers to uphold principles and practices that ensure maternal and reproductive health," wrote Serour.
When asked about how much of an obstacle religious fundamentalism is to family planning, Gates told Al Arabiya English that imams at the highest and lowest levels understand its necessity, but the message is not being disseminated properly.
"We have to talk to religious leaders in the right way. We have to make sure that they spread the right messages," she said, adding that "people need to stand up and say 'this is what's right.' Men need to say 'this is right for my wife'."
The day's events
On Wednesday, government leaders from Africa and Asia highlighted examples of progress on family planning in their respective countries.
Indonesia's Minister of Health, Dr. Nafsiah Mboi, announced the government's increase in funding for long-acting reversible contraceptives, as part of its efforts to regain momentum on family planning access after recent plateaus.
Meanwhile, Senegal's Minister of Health, Dr. Awa Coll-Seck, discussed the national family planning program's roll-out in November 2012 and its effect on elimination contraceptive stock-outs.
"These countries show that we can make an impact on women's access to reproductive health if we rally the necessary political will and financial commitments," said Dr. Babatunde Osotimehin, executive director of the United Nations Population Fund, who co-chaired the morning's session.
Malaysian Prime Minister Dato' Sri Mohd Najib bin Tun Abdul Razak delivered the conference's welcoming remarks on Tuesday and discussed Malaysia's efforts to ensure equal rights for women.
"We are honored to have this global village in our midst for the next few days.
"Together your strong voices will help frame the solutions, policies and strategies that will ensure progress for girls and women; of our nation, our region and our world," he stated.
Women Deliver is taking place in Kuala Lumpur, Malaysia, and is the largest conference of the decade focused on the health and wellbeing of girls and women.
http://english.alarabiya.net/en/News/world/2013/05/29/Women-Deliver-2013-focuses-on-family-planning-birth-control.html
--------------
Empowering Women and Closing Gender Gaps in Africa Under Spotlight At Tokyo Conference
31 MAY 2013
Yokohama — The importance of gender equality and the empowerment of women in driving development in Africa will be the focus of a high-level panel moderated by United Nations Development Programme (UNDP) Administrator Helen Clark at the Tokyo International Conference on African Development (TICAD V) on Sunday.
The panel, to include heads of United Nations agencies, African Heads of State and Japanese Foreign Minister Fumio Kishida, will identify priority actions for closing gender equality gaps in Africa and ensuring that gender equality is central to the post-2015 development agenda.
It will focus on best practices in addressing such challenges as maternal health, food security, sexual violence and barriers to women's economic, legal and political empowerment, as well as to their participation in peace building.
Given women's role in agriculture - they are estimated to account for nearly 50 percent of the agricultural labor force in sub-Saharan Africa, and higher in some countries -- as well as their burden of gathering natural resources for fuel and sustenance, gender considerations are also critical to environmental and energy policies, including responses to climate change.
At the Rio+20 UN Conference on Sustainable Development in June 2012, world leaders affirmed that gender equality and women's participation "are important for effective action on all aspects of sustainable development."
"One of the most important steps countries can take to drive progress is to ensure and improve the political, economic and social rights and opportunities of women", Helen Clark said. "Africa has achieved notable economic growth in recent years. To be sustained, that growth must be inclusive, and translate into concrete improvements in the lives of women, men and children."
UNDP pursues gender equality both as a development goal in its own and because of its catalytic effect on development overall.
Countries that eliminate gender disparities in education, for example, will accelerate progress towards eliminating hunger and will improve child and maternal health, as educated women and girls are better able to make informed choices about family planning, nutrition, health, and education.
Research for UNDP's most recent Human Development Report shows that a mother's education level is more important to child survival than is household income.
While gender equality is intrinsic to the achievement of human development, the linkages between gender equality, growth and sustainable development are also well established.
The World Bank estimates that eliminating barriers that discriminate against women's working in certain sectors could increase labor productivity by as much as 25 percent. Ensuring women's equal access to agricultural resources and financial credit would have a dramatic impact on food security and overall economic growth.
According to the Food and Agriculture Organization, if women had the same access to productive resource as men, they could increase yields on their farms by 20 percent to 30 percent, raising total agricultural output in developing countries by 2.5 percent to 4 percent.
The report of the panel discussion, to be held on Sunday 2 June at TICAD V, will be used to inform UNDP, Japan and participating stakeholders in tailoring policy and actions towards gender equality and women's empowerment in Africa.
TICAD is a summit meeting on African development co-organized by the Government of Japan, the United Nations, the World Bank, the UN Development Programme and the African Union Commission.
Note to Editors: TICAD V will take place in Yokohama, Japan, from 1 to 3 June, 2013. The objectives of TICAD are to promote high-level policy dialogue between African leaders and their partners and to mobilize support for African-owned development initiatives.
Contact Information
Toshiya Nishigori, Public Affairs Specialist, UNDP Japan
Mobile : (+81) 90 7200 3295 / Tel: (+81) 3 5467 4751 E-mail: toshiya.nishigori@undp.org
Christina LoNigro, Press Secretary and Communications Advisor, Office of the Administrator
Mobile: (+1) (917) 607 9446 / Tel: (+1) (212) 906 5301 E-mail: christina.lonigro@undp.org
http://allafrica.com/stories/201306010042.html?viewall=1
--------------
How Vaccines Deliver Health for Women: Women Deliver 2013
June 2, 2013
Addressing the "To the Point" Plenary, GAVI CEO Dr Seth Berkley explained why vaccination today ensures young girls grow into healthy and fulfilled women tomorrow. Here's a quick guide to the key excerpts.
Equal access to vaccines
"This Tanzanian woman has cervical cancer. She was first misdiagnosed as having a sexually transmitted infection. Eighteen months later, she was told she had late stage cervical cancer. A widow with four kids, she had to sell her mattress to pay the bus fare for the 1,000 km journey from Mbeya to get treatments at the cancer hospital in Dar es Salaam. She told us that after radiotherapy, she hopes to go back home and see her kids."
"By the time I finish this presentation another five women will have died of cervical cancer. Over a quarter of a million women die from cervical cancer every year - most of them live in developing countries. Cervical cancer is the leading cause of cancer deaths in many countries, including those we support."
"In developing countries, we have a triple whammy: higher human papillomavirus (HPV) incidence, increased mortality and very limited HPV screening."
"Cervical cancer is preventable. Vaccines can protect against about 70% of cases by preventing human papilloma virus."
"HPV vaccines have been available since 2006. Over 40 countries have national immunisation programs of HPV vaccines. Most of the countries are wealthy nations - although the heaviest burden of death and incidence is in poorer countries."
Urgency: increasing the momentum
"Introducing the HPV vaccine is a key opportunity to reach girls at an important time in their lives. Many girls have only 2 chances of connecting with the health workers - as kids with immunisation and as mothers when they deliver."
"There has been huge demand from countries for HPV vaccines. Fifteen countries applied in 2012 for HPV demo project support and a further 15-20 are expected this year. We will see a dramatic acceleration. By 2020, more than 30 million girls in over 40 countries will be vaccinated."
"This month the first girl was vaccinated in Kenya with HPV vaccines supported by GAVI through demonstration projects. Another seven countries are going to follow over the next several months."
Opportunity to reach girls
"Vaccination is one of the most gender equitable public health interventions ever. GAVI supports the immunisation of about 60% of the girls born in the world"
"Vaccinating adolescent girls against HPV, is a terrific opportunity to leverage the wide reach of immunisation to deliver more health to girls. The HPV demo projects are integrating other interventions - like HIV AIDS information, ARH, nutrition, gender-based violence."
"At GAVI, we believe that everyone deserves the same access to immunisation and health services. It should not be about where they are born."
The future
"If we have healthy girls, we will have healthy women"
"Our goal is to have all girls and boys fully immunised. For post 2015 we're supporting the goal of having every child everywhere immunised against 12 diseases, making full use of the technology we have to protect future generations against preventable diseases."
Watch video of GAVI CEO, Seth Berkley, delivering the presentation. Click the video to play and move the play head to 1:37:00
http://allafrica.com/stories/201305301450.html?viewall=1
--------------
URL: https://newageislam.com/islam,-women-and-feminism/women-in-egypt-suffer-more-sexual-violence-under-islamist-rule/d/11853