New Age Islam News Bureau
19 January 2023
• "I Always Say My First Protest Was In the Womb," Actress Nazanin Boniadi on Women's Rights in Iran
• 211 Female Recruits Graduate from Saudi Prisons General Directorate
• Women's Campaign In Yemen Protests Houthi Dress Code Rules
• Top Cop Orders Posting Of One Female SHO in Every District of Punjab, Pakistan
• Saudi Women's Inclusion in Technology Higher Than EU, G20, Silicon Valley
• Columbia University Names Egypt-Born Nemat Shafik as First Woman President
Compiled by New Age Islam News Bureau
URL: https://newageislam.com/islam-women-feminism/bikinis-saudi-red-sea-resorts/d/128914
--------
Women in Bikinis Allowed At Saudi Red Sea Resorts, Says Executive Loredana Pettinati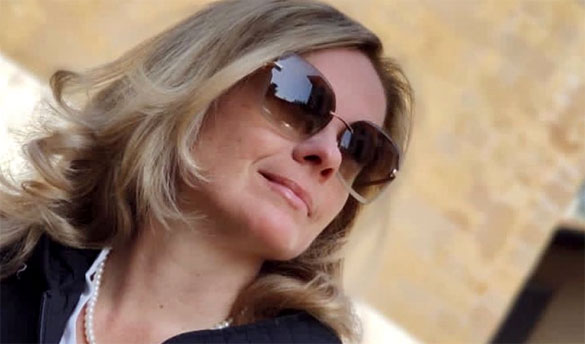 Loredana Pettinati, Senior Travel Trade Director at Red Sea Global
-----
19 Jan 2023
Saudi Arabia's giga-project, Red Sea Destination is set to welcome visitors in 2023, ahead of their opening RSG's senior travel trade director Loredana Pettinati announced that women will be allowed to wear bikinis at the destination, reported Arabian Business' sister publication Hotelier Middle East.
Pettinati when asked about the current regulations in the kingdom, said at a press conference in Dubai that no restrictions will be imposed on women and there will be no specific gender rules in place at the destination.
Pettinati also explained that as a European expat, she feels comfortable and said that "across Saudi Arabia, we do not have to wear an abaya, women are allowed to drive. There will be no distinction between women and men entering any facility, anywhere."
She also explained that a man and woman booking a hotel will not be asked if they are married or not.
Red Sea luxury tourism
Earlier this month, Arabian Business reported that Red Sea Global (RSG) announced the joining of an exclusive network of luxury travel and hospitality organisations, Serandipians. The destination becomes one of the first Saudi tourism spots to join Serandipians.
Only a select number of luxury destinations have joined the network before even opening to guests. RSG is set to welcome visitors to the newly announced international hotel brands to open on the four islands this year.
The first batch of 73 prefabricated villas was also delivered at the Red Sea project site, John Pagano, CEO of Red Sea Global revealed, last week. The Sheybarah Resort is a 'hyper-luxury' hotel located in Sheybarah Island, designed by Dubai-based architectural firm Killa Design.
Source: Arabian Business
https://www.arabianbusiness.com/industries/travel-hospitality/saudi-red-sea-women-in-bikinis-allowed-at-resorts-says-executive
--------
"I Always Say My First Protest Was In the Womb," Actress Nazanin Boniadi on Women's Rights in Iran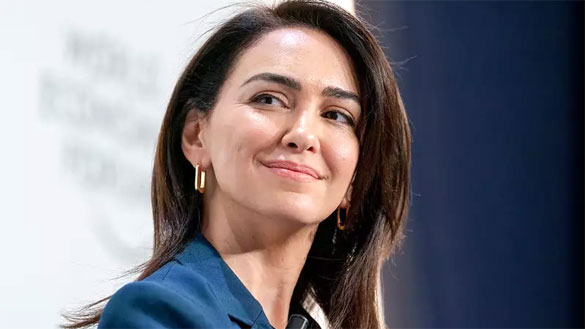 Actress Nazanin Boniadi spoke out about women's rights in Iran.
-----
Jan 18, 2023
"I always say my first protest was in the womb," Nazanin Boniadi tells the World Economic Forum.
The Iranian-British actress and activist is in Davos for her first time to speak out about the oppression of women in Iran and the protests that have been taking place since September, sparked by the death of 22-year-old Mahsa Amini.
Amini was arrested for not properly wearing her compulsory hijab and died in custody.
Boniadi dedicated her role as single mother Bronwyn in Lord of the Rings: The Rings of Power to Iranian women just weeks before the protests erupted.
More than 300 protesters have been killed, including 44 children, according to Amnesty International. Thousands more have been jailed.
Boniadi joined a panel session Women's Rights in Iran - What Next?, and spoke to Radio Davos about her Iranian roots and hopes for the country's future.
Here's an edited text of what she said.
On her passion for human rights
"I was born in May '79, and my mother was 19 when she had me. And while she was still pregnant with me, she was one of the anti-revolution protesters. So she and my father were very much opposed to any kind of Islamic republic or theocratic rule or Khomeini coming into power. They saw the backsliding of rights and they realized that they couldn't have a child in a social, legal, political climate that was growing increasingly oppressive, particularly towards women and girls.
"So I always say my first protest was in the womb. I was in my mother's womb when she was 19, and she is what they call a 'shirzan' or a lioness. And that word is being used a lot more these days because we are seeing women on the front lines.
"Women have been on the front line since '79, standing up against the compulsory hijab. It's just this moment that we're seeing that's getting more media coverage and that they're coming out in force, really. My passion for human rights and particularly women's rights in Iran came from my parents and being in my mother's womb when she was fighting against the oppression."
Nazanin Boniadi on the female-led revolution
"Since the Arab Spring to Sudan in 2019, the spark of those revolutions were men being killed. The spark for this was a young woman being killed. And the engine of it was women, because women first took to the streets, took off their head scarfs in peaceful protest, set them ablaze, cut their hair, despite the risk.
"That courage was contagious, and what is unique about this and why many of us have been calling it a female-led revolution, is because Iranian women have managed to galvanize Iranian society at large to understand the intersectionality of gender equality and any other basic human right."
"Mahsa being a Kurdish Iranian woman, there is an ethnic component there. Now we have a broad-based, large middle-class component and Iranian men and women, and all Iranians banding together, standing together, for democracy. Understanding that LGBTQ rights, gender equality, ethnic minority rights, religious rights, all of them are interconnected, and it has become a pro-democracy movement.
"The hijab has become an outward symbol of the oppression of Iranian women, who have basically lost agency in the past four decades, over almost every aspect of their lives. And yet, in the fields that they can study, they are more educated than the men, both a testament to their tenacity and a driving force for this precise moment.
"If you look at history, Argentina to Chile, to the Philippines, when women are at the centre of a movement, the likelihood of it succeeding and democracy prevailing increases. Because we have access to levers of power in society that men frankly don't have access to."
On giving women a voice
"I want to applaud the World Economic Forum for giving this platform to us, which is quite unprecedented, but these things matter. Because our voices inside Iran would be targeted persecuted and shut down. So please, the world has to amplify and give voice to the voices inside Iran, and the only way that is going to happen is we are in touch with them. We are in touch on the ground. So allow us to convey what they are saying."
On hopes for the future
"We have to be unequivocal, are we supporting the people of Iran or are we still appeasing the Islamic Republic? My hope is that it's the former, and I think we just have to be very clear in our policies."
The Women's Rights in Iran - What Next? session also featured Tirana Hassan, Acting Executive Director, Human Rights Watch; Masih Alinejad, Journalist and Activist, US Agency for Global Media and was moderated by Rima Maktabi, UK Bureau Chief, Al Arabiya.
Source: WE Forum
https://www.weforum.org/agenda/2023/01/davos-2023-actress-nazanin-boniadi-on-womens-right-in-iran/
--------
211 Female Recruits Graduate from Saudi Prisons General Directorate
January 18, 2023
RIYADH — Under the patronage of the Interior Minister Prince Prince Abdulaziz Bin Saud Bin Naif, 211 female recruits have graduated from the General Directorate of Prisons.
The graduation ceremony of the 211 female recruits was witnessed by the Director General of Prisons Maj. Gen. Majid Bin Bandar Al-Dawish.
They had completed the third basic individual course in the Women's Capacity Training and Development Center at the General Directorate of Prisons.
The graduates received field skills and studied security sciences, which qualifies them to work with efficiency in the fields of security and field work.
The ceremony was also in the presence of representatives from government sectors and families of graduates.
The female recruits performed a military display that included the military hypotheses and skills acquired during the training period.
Source: Saudi Gazette
https://www.saudigazette.com.sa/article/629008/SAUDI-ARABIA/211-female-recruits-graduate-from-Prisons-General-Directorate
--------
Women's campaign in Yemen protests Houthi dress code rules
January 17, 2023
Yemeni women are taking to Twitter to defy the Houthi rebels' strict dress code.
What happened: Yemenis have been posting on the social media site using the Arabic-language "Yemeni identity" hashtag. The posts consist of pictures of Yemeni women in colorful traditional clothing and are in response to the strict dress code imposed on parts of Yemen controlled by the Iran-backed Houthi rebels.
The Iran-backed Houthis took power in 2014 and have recently tightened dress code rules for women in Yemen, Al-Araby and Arab News reported.
Women in Houthi areas must wear a long, black, loose-fitting "abaya" that covers them from head to toe.
Few users addressed the restriction of the colored abaya directly. Twitter user @tasabihalh0rimy wrote on Saturday, "This is our identity. Black is a lonely color."
Some of the photos also showed Yemeni men in traditional and colorful clothing alongside women.
Why it matters: The dress code is strictly enforced in Houthi parts of Yemen. In 2021, Yemeni model Intisar al-Hammad was imprisoned by Houthi authorities for "indecency." She had also worn colorful clothing in pictures.
Know more: The hijab is not compulsory in parts of Yemen controlled by the rival Saudi-backed government, though most women wear one for a variety of societal and religious reasons.
Yemen's neighbor Saudi Arabia required women to wear a black abaya for decades, but the kingdom removed the law in 2018.
The ongoing protests in Iran began when a Kurdish woman was allegedly beaten to death by religious police in relation to how she wore her head covering. Iranian authorities have been punishing women over the hijab more harshly recently, Al-Monitor's correspondent in Tehran reported last week.
Source: Al Monitor
Iran's dress code for women is less strict than the one in Houthi territory.
https://www.al-monitor.com/originals/2023/01/womens-campaign-yemen-protests-houthi-dress-code-rules
--------
Top Cop Orders Posting Of One Female SHO In Every District Of Punjab, Pakistan
January 18, 2023
LAHORE: Punjab Inspector General of Police Aamir Zulfiqar Khan Wednesday ordered the posting of at least one female SHO in every district of the province within the next five days.
The IG Punjab directed Additional IG Training to ensure the posting of women SHOs in all the districts of the province and submit a report in due time.
"The posting of women officials at women help desks established in all districts should be ensured at all costs so that women police officers can help women citizens who are victims of crime and social stigma."
Punjab IG Police Aamir Zulfiqar Khan issued the instructions while presiding over a high-level meeting at Safe City Authorities, Head Office here in Qurban Lines. In the meeting, future agenda of the Women Police Conference and the professional issues of women police employees were discussed.
The IGP directed CCPO Lahore to utilize all available resources to provide better environment and facilities in Ladies Police Hostel in Qila Gujar Singh Police Lines. He directed that women police personnel in all districts of the province should be included short refresher courses on regular basis to increase their efficiency and capacity. The IG Police said that encouragement of women police officials who performed diligently was the need of the hour. In this regard, in the region I visit, women employees with good performance should be nominated for appreciation certificates and awards. In the meeting, decisions and suggestions made during the first women police conference held at Al Hamra Hall in collaboration with Punjab Police, USIP and Punjab Council for Human Rights were discussed. USIP Country Director, Imran Khan, Amna Kayani, Punjab Council for Human Rights Executive Director Shafiq Chaudhry, and women police officers also presented their suggestions. The IGP directed that concrete steps should be taken to resolve problems of women police employees across the province in the light of the suggestions of the Women Police Conference.
Additional IG Training, DIG Welfare, AIG Admin and Security, USIP Country Director Imran Khan, Punjab Council for Human Rights Executive Director Shafiq Chaudhry and other officers were also present in the meeting.
BRANCH OF ORGANIZED CRIME
Meanwhile, IG Police Aamir Zulfiqar Khan said Wednesday that to further improve investigation and follow-up of serious crime cases in the province, the branch of Organized Crime should be established and the DIG Organized Crime should be appointed in the Additional IG Investigation Office and a summary in this regard should also be sent to the government soon. He said that DIG Organized Crime will not only collect crime data through effective follow-up but will also give weekly reports about the progress of investigation on serious crime cases in all districts. Aamir Zulfiqar Khan said that the Organized Crime Branch will ensure close follow-up of the registered cases across the province and will focus on arresting dangerous criminals through effective investigation, timely completion of challan and strict punishment to habitual and professional criminals. The IGP said that DIG Organized Crime will maintain close coordination with the Regional Monitoring Units of Investigation and after registration of the case, he will monitor all the stages of the investigation and bring the case to its logical conclusion as soon as possible with effective follow-up.
Source: Pakistan Today
https://www.pakistantoday.com.pk/2023/01/18/top-cop-order-posting-of-one-female-sho-in-every-district-of-punjab/
--------
Saudi women's inclusion in technology higher than EU, G20, Silicon Valley
January 18, 2023
DAVOS — Minister of Communications and Information Technology Abdullah Al-Swaha said women's inclusion and empowerment in technology in Saudi Arabia is higher than the EU, G20 and Silicon Valley averages.
He described it as a "bold reform story." We jumped from 7 percent to 32 percent.
Speaking at panel titled Saudi Arabia's Transformation in a Changing Global Context in the World Economic Forum (WEF) in Davos on Wednesday, he said Saudi Arabia is becoming "a force for global integration".
He explained that Saudi Arabia stands as a bridge for global divides, including digital divides. "The fragmented world needs a new system for collaboration and cooperation."
Al-Swaha called for improved global digital access for all. "We must connect the unconnected world."
He explored the impact that technological advances will have on global labor markets in the next 5 years.
Source: Saudi Gazette
https://saudigazette.com.sa/article/629015
--------
Columbia University names Egypt-born Nemat Shafik as first woman president
18 January ,2023
Columbia University named former Bank of England Deputy Governor and current London School of Economics President Nemat "Minouche" Shafik as its president, marking the first time a woman has been named to lead the renowned American educational institution.
Shafik, an economist whose career has focused on public policy and academia, will become the twentieth president of Columbia University on July 1, the institution said in a statement on Wednesday.
Shafik began her career at the World Bank, becoming its youngest-ever vice president at the age of 36. She later also served as deputy managing director of the International Monetary Fund and as top official in the UK's Department for Development.
Shafik's appointment comes after other educational institutions have also recently appointed women to head top universities, including Harvard University, which last month named Claudine Gay as its new president. Gay became the first Black woman to hold the top job at Harvard.
Jonathan Lavine, chair of the Columbia Board of Trustees, called Shafik, 60, "the perfect candidate."
What set Shafik apart as a candidate "is her unshakable confidence in the vital role institutions of higher education can and must play in solving the world's most complex problems," Lavine added.
Shafik was born in Alexandria, Egypt, Columbia University said in its statement on Wednesday.
Source: Al Arabiya
https://english.alarabiya.net/News/world/2023/01/18/Columbia-University-names-Egypt-born-Nemat-Shafik-as-first-woman-president
--------
URL: https://newageislam.com/islam-women-feminism/bikinis-saudi-red-sea-resorts/d/128914
New Age Islam, Islam Online, Islamic Website, African Muslim News, Arab World News, South Asia News, Indian Muslim News, World Muslim News, Women in Islam, Islamic Feminism, Arab Women, Women In Arab, Islamophobia in America, Muslim Women in West, Islam Women and Feminism