New Age Islam News Bureau
5 Nov 2016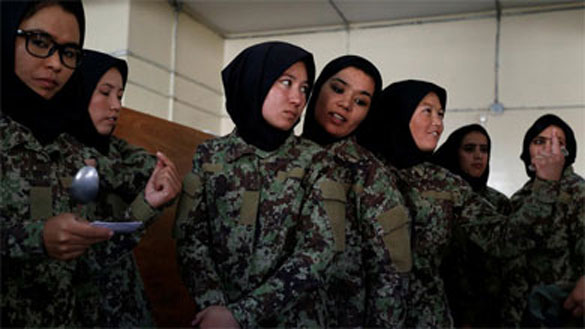 Female soldiers from the Afghan National Army (ANA) wait to get food at the Kabul Military Training Centre (KMTC) in Kabul, Afghanistan October 23, 2016. (Reuters)
-------
• Iran Militias Establishing Boy and Girl Scouts In Syria
• Marathon in Bamiyan A Symbol of Freedom for Afghan Women
• Why One in 10 Saudi Women Would Rather Not Marry
• Islam Bars Romance for Women in Northern Nigeria?
• Pakistan Orders Deportation of Iconic Afghan Woman, Sharbat Gula
• Meeting On Women's Leadership in GCC Set
• Fury as Muslim Police Chaplain Claims Women 'Sin' If They Refuse Sex From Their Husbands
Compiled by New Age Islam News Bureau
URL: https://www.newageislam.com/islam,-women-and-feminism/new-age-islam-news-bureau/women-in-afghan-army-overcome-opposition,-threats/d/109022
--------
Women In Afghan Army Overcome Opposition, Threats
4 November 2016
Kabul's military training academy is churning out classes of enthusiastic women to serve in Afghanistan's army, but the realities of rising violence and a conservative society make the future for the young recruits far from certain.
Some of the nearly 150 women training to be officers in the latest class say they feel proud to be part of the effort to secure the country, still racked by an insurgency by the Taliban and other militants to topple the Western-backed government.
"I decided to join the army to save the lives of my people and to defend ourselves," said Sakina Jafari, 21, adding that she believed her service set an example.
"This encourages other girls to join the army's ranks."
Afghanistan is one of the hardest places in the world to be a woman, according to the United Nations, despite years of pressure by women's groups and international donors.
Women and men train separately at the base on the outskirts of the capital, but officers say the training is similar, and includes physical education, firearms, tactics and medical care.
Unlike many Afghans, all the women who graduate from the academy are literate and will go into one of several non-combat roles, including management, human resources, logistics, radio operations, or intelligence, said Lieutenant Colonel Cobra Tanha, a 28-year military veteran.
Some, however, may go on to assist Afghan special forces with missions like night raids, which often require women to help with culturally sensitive searches of homes, she said.
The United States, which has about 7,000 troops in Afghanistan as part of a NATO-led mission to help advise and train Afghan forces, has budgeted at least $93.5 million in 2016 to try to increase the number of women in the military.
Despite years of investment, the Afghan army fields less than 900 women soldiers, far fewer than the goal of 5,000, according to the US government's Special Inspector General for Afghanistan Reconstruction (SIGAR).
Hasina Hakimi, 19, said she could not return to her home province because of Taliban threats, and many women report facing challenges within the army itself.
Women working in public positions are controversial in
Afghanistan. Last year, nearly 60 percent of Afghans surveyed by the Asia Foundation said they did not consider it acceptable for women to work in the army or police.
Even after joining, women may find obstacles to jobs and being promoted in the military, SIGAR reported.
NATO trainers found that common reasons women cited for leaving the security forces were "opposition from male relatives, problems with male colleagues, low pay, family obligations, lack of promotion or meaningful assignment opportunities, and a lack of training and security", according to SIGAR.
Those difficulties were confirmed by Benafsha Sarwari, a 20-year-old teacher at the Kabul academy, who nevertheless expressed determination to keep serving.
"I have experienced many challenges," she said. "We live in a conservative society and most people are pessimistic about the women who work outside. But we must not give up. We have to overcome the challenges and perform our duties."
https://english.alarabiya.net/en/perspective/features/2016/11/04/Women-in-Afghan-army-overcome-opposition-threats.html
--------
Iran Militias Establishing Boy and Girl Scouts in Syria
4 November 2016
Iranian militia forces have been establishing boy and girl scouts in Syria, a documentary on Tehran-based television reveals.
The scouts were reportedly started by the late top commander of al-Quds Forces in Syria Hussan Shateri with mindset at spreading a sectarian manifesto.
Al-Quds Forces are a unit of Iran's Revolutionary Guards responsible for their extraterritorial operations.
Shateri, who was nick-named 'Hussam Kosh Nuwais, was assassinated by the Syrian opposition upon his return from Damascus to Beirut on February 12, 2013.
The documentary shows how Shateri adopted what he described as an "ideological and military edification policy" for children in Syria.
Shateri's established the "Imam Mahdi" scouts' teams in parallel to another scout group bearing the same name, an auxiliary of Hezbollah militants in Lebanon.
The Syrian "Imam Mahdi" scouts - as the documentary shows - are assigned to provide military training to minors beside religious coaching, introducing them to the Shiite ideology.
According to a report published by Iranian Ahlul Bayt news agency, the scouts' age range between eight and 16 years and appear in several religious occasions wearing military uniforms and carrying Iranian flags and portraits of Iran's Supreme Leader Ali Khamenei.
Observers have linked the scouts to images of the German Nazi approach before World War II which was known as the "Young German Deutsches Jungvolk". Around eight million children were nurtured in accordance with this Nazi's philosophy at the time.
Scores of those children were sent to the front lines fighting alongside Iranian militants against Syrian opposition fighters, with several of them being killed on the battlefields.
One photo appears to show three boys scouts on a field trip in southern Lebanon. Another photo shows the same boys wearing military uniform, with an announcement of them being killed in Syria.
https://english.alarabiya.net/en/perspective/features/2016/11/01/Interactive-History-of-terror-attacks-in-Saudi-Arabia.html
--------
Marathon In Bamiyan A Symbol Of Freedom For Afghan Women
November 05, 2016
Anne CHAON - Female athletes wearing headscarves raced Friday against a backdrop of russet-hued mountains, more for the taste of freedom than the feat of winning Bamiyan's international marathon, Afghanistan's only mixed-gender sporting event.
Braving the autumn chill and defying convention, the 15 women - including six Afghans and an Iranian - rubbed shoulders with male athletes, starting the marathon at the base of cliffs that once sheltered giant Buddha statues, blown up by the Taliban in 2001.
They ran in flowing white shirts, but even these felt unusually free: Nilofar, a 21-year-old medical student from Mazar-i-Sharif, said she usually trains in leggings and a dress that goes down past her knees.
"Running gives me freedom," she said.
More than 100 runners in total, both Afghan and foreigner, participated in the marathon, a 42-kilometre loop that started and ended at the base of the world famous Buddha caves.
The race, organised for the second consecutive year by two Englishmen - James Bingham and James Willcox - does not simply represent a rare sporting success in conflict-torn Afghanistan.
It also stands as a metaphor of freedom in a conservative country where running in public is widely seen as nothing short of a subversive act for women.
Bamiyan, perched in Afghanistan's central highlands, is a rare oasis of tranquility which has largely been spared the wrenching conflict that afflicts the rest of the country.
It is a perfect venue where athletes such as Nilofar can run freely.
"In Mazar-i-Sharif, I train in parks with permission of the governor who supports us.
I cannot run in the streets," said Nilofar.
Other female runners face similar restrictions, such as 18-year-old Samana, who can normally only run in her Kabul neighbourhood before daybreak when the area is secluded.
But Nilofar, who participated in a race in Kabul in the summer of 2015, recalls being harassed there.
"We were four girls, passers-by kept bothering and harassing us, and cars kept coming in our way.
Women who run in public are deemed crazy," she said.
"Fortunately, two Afghan male runners came to our rescue and stayed close to us.
The female athletes faced no harassment in Bamiyan - running freely along a picturesque route as they passed by puzzled but friendly farmers and livestock occasionally blocking the way.
Running 'full of risks'
"Running is full of risks - sometimes we get beaten up.
People are not used to seeing women running, but I have to keep going in order to pave the way for other women," said Kubra, another young athlete from Kabul.
"In about two or three years, people will get used to seeing us women running.
Kubra was encouraged to participate in the marathon by Cornelia Schneider from "Free To Run", an organisation which helps women and girls in conflict-affected areas.
On the marathon trail, Kubra ran alongside Martin Parnell, a Canadian star in his 60s well-known for record-breaking feats including running 250 marathons in one year.
Running in Bamiyan can be daunting: the valley is at an elevation of 2,500 metres (8,200 feet), and the runners climbed until 3,000 metres, even though many of the participants had little time to acclimatise to the altitude.
Mahsa Torabi, from neighbouring Iran, was running short of breath.
This April, she became the first Iranian woman to complete a marathon in the ancient city of Shiraz since 1979.
The 42-year-old now hopes to organise a mixed marathon in Tehran in the spring.
"I wanted to test myself and show that Muslim women can also run a marathon," she said.
"I want to tell other women: 'You can do it!'"
Angry mourners bury victims
Hundreds of mourners gathered on Friday to bury more than 30 civilians killed in an air strike called in to protect Afghan and US forces during a raid on suspected Taliban militants outside the northern city of Kunduz.
There was an angry mood in Buz Kandahari, the village outside Kunduz where the raid took place in the early hours of Thursday, as white-shrouded bodies, many of small children, were laid out for burial.
"My brother and three of his children were killed.
My brother had no connection to any group, he was a labourer," said Mawlawi Haji Allahdad, a resident of the village.
"Did you see which of those infants and children who were killed by the Americans were terrorists?"
"We will avenge our dead against the Americans and the government," he said.
Two Americans and four members of the Afghan special forces were killed during the initial raid, a month after Taliban fighters managed to enter Kunduz, threatening a repeat of their success a year earlier when they briefly captured the city.
The fighting underlined how precarious the security situation around Kunduz remains.
Although the city centre was eventually secured last month, the Taliban control much of the surrounding district, including the area of Buz Kandahari.
Officials from the NATO-led Resolute Support mission in Kabul have said it takes all reports of civilian deaths seriously and would investigate.
Human rights group Amnesty International called for an inquiry into the incident, saying those killed in the air strike deserved justice.
"This cannot be another example of inaction in the face of such loss of life," said Champa Patel, Amnesty International's South Asia Director.
Former Afghan President Hamid Karzai, a trenchant critic of the use of American air power in Afghanistan, condemned the strikes, but otherwise reaction from Afghan political leaders was relatively muted.
Speaking at an event in Kabul, Government Chief Executive Abdullah Abdullah expressed his condolences to the victims and said there would be an investigation into the incident.
He said the Taliban used Kunduz residents as human shields.
The use of air strikes in civilian areas came under heavy criticism last year after 42 people were killed in a strike against a hospital operated by aid group Medecins sans Frontieres in Kunduz.
According to figures from the United Nations, there was a 72 percent increase in civilian casualties caused by air strikes in the period from January to September, with 133 deaths and 159 injured.
One third were caused by international forces.
However, Afghan military officials see US air power as a vital support in the fight against the Taliban while the country's own nascent air force is still being built, and the number of air strikes has spiked sharply this year.
http://nation.com.pk/international/05-Nov-2016/marathon-in-bamiyan-a-symbol-of-freedom-for-afghan-women
--------
Why One In 10 Saudi Women Would Rather Not Marry
5 November 2016
RIYADH: The General Authority of Statistics has put the rate of spinsterhood among Saudi women at 10.07 percent. This means that one in every 10 women over the age of 15 can be called a spinster. The number of Saudi women who are classified as spinsters — over the age of 32 — stands at 227,860.
The authority's official spokesman, Tayseer Al-Mifrej, said "spinster" is a term given to women who are of a marrying age but are not married, and the fact is that the probability of getting married after that age becomes less. He added that the statistics are according to the population census that was carried in the last quarter of 2015.
Family affairs consultant Dr. Muhammed Basha said: "The ratio of women remaining single is higher than among men. The key element is the prohibitively high dowry nowadays, which unfortunately, has become a phenomenon. Another reason is the high cost of weddings that have become a burden on the groom. Additionally, the high price of real estate forces both men and women to stay single."
Dr. Basha added: "No matter how high a woman reaches in terms of education and career, she needs to be a wife at the end of the day."
Sara Fareed, a single woman, rejects the idea of women needing men in their lives. "I beg to differ. I am an educated, independent woman and I have a job that secures all my needs. I prefer being single until I find the man that suits my mentality and free-thinking, not that I need a man in my life, but the presence of one wouldn't be a bad idea after all!"
Riham, a divorced woman who prefers to stay single and rejects the term "spinster," says that the man is the main reason behind spinsterhood. "In my opinion, the problem stems from the fact that men no longer bear family responsibility, unlike the older generation, and this is due to the lack of awareness of marriage and its responsibilities."
Riham added that the lack of mutual understanding between the two parties "is due to the traditions of our society, where one of the parties, or both, get shocked after marriage as they are unfamiliar with their life partner's way of thinking."
http://www.arabnews.com/node/1006656/saudi-arabia
--------
Islam Bars Romance for Women In Northern Nigeria?
Nov 4, 2016
The recent prosecution of eleven women by Hisbah in Kano state underscores a misogynistic strand in the practice of Sharia and Islam in Northern Nigeria. This hateful and abusive trend needs to be highlighted and tackled with uttermost urgency. Kano is one of the states in the North of the country where Sharia law is in force and Hisbah is the state Sharia police. Hisbah members arrest and prosecute persons who violate Sharia law including non Muslims.
They charge and prosecute people for 'sharia related crimes' such as drinking of alcohol or blaspheming against prophet Muhammad or Islam. This so called Sharia police continue to harass and terrorize the lives of innocent citizens with impunity all in the name of enforcing Sharia law. Recently Hisbah have been targeting women and girls, and their 'police work' reveals a sexist and discriminatory trend in Islam in Kano. For instance, in April, the sharia police arrested 21 girls for engaging in unspecified 'immoral activities'. Meanwhile, in the latest case, Hisbah are prosecuting eleven women for engaging in social vices. They claimed that the women were arrested for drinking alcohol, smoking cannabis, and romancing men who were not their husbands or relatives. According to the report, the women were arrested at a beer parlor in the city.
In a related case, some Muslim scholars, Ulama, orchestrated the ban on a popular female artist, Rahama Sadau. These Muslim clerics claimed that her public display of romance corrupted and violated Islamic culture and values. Interestingly, the man that Ms Sadau hugged and cuddled in a video, pop star Classiq, was not sanctioned in any way.
On reading the latest report, I asked: what is really going on with Sharia and Islam in Kano? Why the obsession with women? Both Ulama and Hisbah are all male Islamic organizations. Apparently having a female Ulama or Sharia police officer is haram. So, why are they interested in what women are doing? Why are they preoccupied with female, not male display of romance?
Now let us assume that by any stretch of Islamic imagination that romancing a man who is not one's husband or relative is an offence. Now the public display of romance in these cases involved men, so why punish only women for an offence which they committed with men? Why sanction only Ms Sadua? In the case of Hisbah, they claimed that the women who are being prosecuted were caught romancing men who were not their husbands or relatives.
First of all, how did Hisbah know the men were neither their spouses nor relatives? If the women committed a crime by romancing men why didn't they arrest the men too? How can two people commit a crime and one party is penalized? What kind of moral judgment is that? Is that what Islam teaches? Is that justice under Sharia law?
In fact how do Hisbah determine that a woman is romancing a man? How do they differentiate mere touching or body contact from romance? Do the Sharia police have romance-detecting machine?
I am wondering why nobody is raising his or her voice against these abuses. Why are individuals and groups not speaking out against the human rights abuses of Hisbah? Where are the moderate muslims, why are they not speaking out? Where are the women rights groups? Why are they not condemning these sexist and abusive practices? Why are people not calling for the abolition of the rag tag Sharia police 'force' called Hisbah that is terrorizing people in Kano? Why are people turning a blind eye on their illegalities? Is it because it has to do with Islam or sharia law? No doubt many people are afraid of speaking out due to fear of being killed by Hisbah and their militant allies.
At the same time we cannot allow these atrocious acts and abuses to continue. Islam and sharia must be brought into the 21st century. Islamic faith must be reformed and made compatible with equal rights, freedoms and dignity of women.
https://www.newsghana.com.gh/islam-bars-romance-for-women-in-northern-nigeria/
--------
Pakistan Orders Deportation of Iconic Afghan Woman, Sharbat Gula
Arshad Yusufzai
05-Nov-16
PESHAWAR: A special court in the provincial capital Thursday ordered deportation of iconic Afghan woman, Sharbat Gula, after finding her guilty of illegally obtaining a Pakistani identity card.
Gula was also sentenced to 15 days in jail and fined about Rs 110,000.
Gula was arrested by the Federal Investigation Agency (FIA) Wednesday last week on the charges of obtaining and possessing a Pakistani identity card (CNIC) on forged documents. Judge Farah Jamshed announced the verdict in the second hearing of the case. Earlier on Tuesday, the court rejected bail plea of Gula on the grounds of no legal arguments by her lawyers.
Gula is globally known for her childhood photo that became a symbol of the sufferings of the Afghan refugees - particularly children – who had migrated to Pakistan after the Soviet invasion of Afghanistan in 1979. Her photograph taken by American Photographer Steve McCurry at a refugee camp in Pakistan made it to the cover of National Geographic magazine in June 1985.
Meanwhile, talking to Daily Times, Afghanistan Embassy Deputy Councillor Muhammad Nasim Kakar said all those working for Gula's release were happy with the court decision. "The court has rightly decided to let her go free. Gula and her family were already preparing to leave for Afghanistan as they had packed most of their stuff," he said.
Kakar said: "Afghan Ambassador Dr Omar Zakhilwal has instructed for giving her all possible relief. We will arrange for her journey once she is set free. She is going back to Afghanistan next week."
He said Afghan President Ashraf Ghani would receive Gula, now in her 40s, and her children on their return. "The president will receive them and will host a function for them. He will hand over keys of a new house in Kabul to Gula," Kakar said, and added that Gula, who is suffering from hepatitis C, would also be provided with proper health facilities.
Her nephew, Naimat Gul, who is accompanying her at the Lady Reading Hospital (LRH) Peshawar, is worried about her health as some medical results are not so promising. "Some tests are clear but result of one important test is not encouraging. We have sent specimen to a laboratory in Lahore for more accurate results," Naimat told this scribe.
Naimat is happy at the prospect of Gula getting an official welcome in Kabul next week. "Everyone has assisted us but the efforts made by the Afghan ambassador are remarkable. They have assisted us at every step during the past few days and now the Afghanistan government is going to treat her the way she deserves to be treated," he added.
During a brief meeting with Gula at the LRH, this scribe learnt that the ailing woman was much relieved to know about the court decision, and was aware that her stay in Pakistan was coming to an end after about 14 years. "I am thankful to everyone around the world who cared for me. I will miss my neighbours, their children and the people whom I was in touch with in one way or the other," Gula said in a brief chat.
Her legal case comes to limelight after Pakistan cracks down on undocumented refugees.
Pakistan has for decades provided safe haven for millions of Afghans who fled their country after the Soviet invasion of 1979.
Currently, it hosts 1.4 million registered Afghan refugees, according to United Nations High Commissioner for Refugees (UNHCR), also known as the UN Refugee Agency, making it the third-largest refugee-hosting nation in the world.
The agency also estimates a further one million unregistered refugees are in the country.
According to a UNHCR document, about 313,000 registered Afghan refugees have been repatriated to Afghanistan under the voluntary repatriation programme this year. Of the refugees who retur­ned to their country, 251,639 were living in Khyber Pakhtunkhwa, 23,278 in Balochistan, 2,513 in Sindh, 31,138 in Punjab, 4,653 in Islamabad and 363 in Azad Kashmir.
http://dailytimes.com.pk/pakistan/05-Nov-16/pakistan-orders-deportation-of-iconic-afghan-woman
--------
Meeting on women's leadership in GCC set
5 November 2016
JEDDAH: The women's branch of the Public Administration Institute is organizing Tuesday a meeting under the title "Women's leadership in the GCC countries and their role in administrative development."
Eman bint Saud Abu Khudeir, secretary-general of the meeting and president of the center to prepare and develop administrative leadership in the women's branch of the Public Administration Institute, said this meeting is of prime importance in light of the economic, political and development challenges the region faces. These challenges demand more cooperation and coordination at all levels, as well as exchange of experiences and accumulative knowledge in all fields to achieve an ideal investment of human resources.
She said women in the labor market of the GCC countries were able to reach high positions and have made great strides. They proved their supremacy in the field of leadership and achieving goals delegated to them. She mentioned that this participation, in comparison with international rates, reaches between 20 and 28 percent, which calls for increased care in activating women's roles and participation in decision making, in order to achieve ideal benefits from this particular human resource as a main and indispensable partner in the process of achieving comprehensive development for our community and countries.
Abu Khodeir added that on the national level, successive development plans in Saudi Arabia include strategic goals that focus on the importance of women's participation in national development. The most important goal of the ninth development plan is to enhance the participation of Saudi women in the development of the Kingdom.
The Kingdom's Vision 2030 continues in this direction, confirming that women are an important element of its strength, and focusing on raising women's participation from 22 percent to 30 percent.
She said that the meeting aims to shed light on the reality of women's participation in administrative decision making in a manner that serves administrative development in the private and public sector, in addition to the challenges they face in this respect.
The meeting also discusses strategies and mechanisms to enhance and empower female administrative leadership in a manner that supports its participation in decision-making positions.
The meeting comprises three discussion sessions. The first session discusses the reality of women's leadership participation in the GCC countries in making administrative and development decisions in private and public sector establishments.
The second session discusses the most important challenges that women face in leadership participation in administrative and development decision making in public and private sector establishments. And the third session discusses how to empower and enhance the role of women in leadership.
http://www.arabnews.com/node/1006651/saudi-arabia
--------
Fury as Muslim Police Chaplain Claims Women 'Sin' If They Refuse Sex From Their Husbands
Nov 5, 2016
Musleh Khan, who claims to be an expert on marriage counselling, believes that a wife must be completely obedient to their husband, according to a leaked presentation.
The new police chaplain reportedly said that unless a woman is ill, or is fasting during the holy month of Ramadan, they must consent to sex when their husband demands it.
He allegedly said: "Without a valid reason then she committed a major sin.
"So sisters it's part of your act of worship towards Allah that you try to respond to this as best you can as part of your duties as the wife."
Khan also reportedly advised women that they should seek permission from their husbands just to leave their home.
The perturbing comments came in a question and answer session at Ummah Nabawiah Mosque in Ontario, Canada, in 2015, where Khan explained that a girl is fit to be married whenever she hits puberty.
Speaking about Mohammed's marriage to nine year-old Aisha in the Koran, he reportedly said: "Nine year-olds back then are comparable to 20 to 30 year-olds now.
"Back then at nine years old you were mature enough and you could get married."
But the president of the Toronto Police Association, Mike McCormack, has claimed to have received a torrent of emails about the chaplain's views.
He said that Mr Khan "needs to clarify his comments", adding: "I think a lot of our members have an issue with that type of issue."
The Canadian government and Prime Minister Justin Trudeau have been criticised for being soft on issues such as terrorism and radical Islam compared to Steven Harper, Trudeau's predecessor.
Despite a number of attacks, for which Islamic State has claimed responsibility, the Canadian government has focused on "anti-Islamophobia" legislation.
On Thursday Trudeau's government passed a motion in parliament to condemn anyone who criticises Islam or vandalises mosques.
http://www.express.co.uk/news/world/729025/Fury-Muslim-police-chaplain-claims-women-sin-refuse-sex-husbands-Canada-Ontario
--------
URL: httpa://www.newageislam.com/islam,-women-and-feminism/new-age-islam-news-bureau/women-in-afghan-army-overcome-opposition,-threats/d/109022
New Age Islam, Islam Online, Islamic Website, African Muslim News, Arab World News, South Asia News, Indian Muslim News, World Muslim News, Womens in Islam, Islamic Feminism, Arab Women, Womens In Arab, Islamphobia in America, Muslim Women in West, Islam Women and Feminism, Moderate Islam, Moderate Muslims, Progressive Islam, Progressive Muslims, Liberal Islam, Liberal Muslims,Islamic World News, Attack in Munich, Munich Attack, Terror in Munich