New Age Islam News Bureau
14 Jan 2016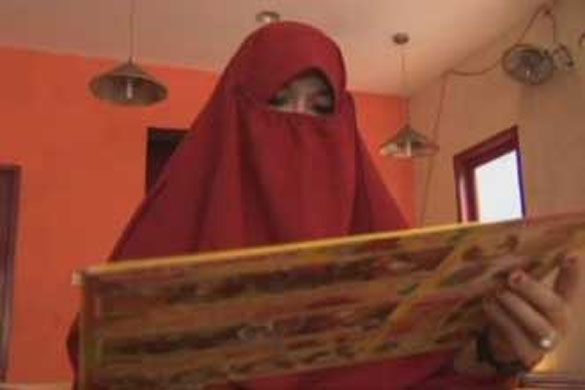 Photo: A group of women in Indonesia are handing out free viels to women passing by.(ABC News)
----------
• Danish Women 'Sexually Harassed' By Refugees in At Least 3 Towns
• Cambodian Court Told Khmer Rouge Beheaded Muslim Women
• Indian Women Peacekeepers Inspire Liberian Girls
• Muslim Women in Italy Find Their Voice
• 28 Victories in-a-Row, Sania Mirza, Martina Hingis Equal Longest Winning Run Record in Sydney
• 15 Fashionable Muslim Women to Follow On Instagram
Compiled by New Age Islam News Bureau
URL: https://newageislam.com/islam,-women-and-feminism/new-age-islam-news-bureau/women-hand-out-free-veils-in-indonesia-to-promote-stricter-form-of-islam/d/105992
----------
Women hand out free veils in Indonesia to promote stricter form of Islam
January 14, 2016
Every Sunday in the centre of Jakarta, tens of thousands of Indonesians flock to what is one of the most congested roads in the city.
From early to mid-morning, there is an opportunity to breathe freely on what is known as "car-free Sunday".
As the name suggests, cars are banned and the road is opened to a sea of humanity in a city where wide open spaces are few and far between.
This particular Sunday, a group of women see an opportunity to preach a stricter form of Islam.
The group's leader, Triken Sholihat, fears Indonesian Muslim women are becoming too liberal in what they wear.
"We will help them to wear the head scarf properly while also explaining the reason and importance of wearing the hijab according to sharia," she tells the ABC.
"Many women are not aware that wearing the hijab is obligatory according to the Koran."
Ms Sholihat and her team have brought with them boxes of coloured veils which they distribute for free to women whose head coverings are either non-existent or, in Ms Sholihat's view, too liberally worn.
"We are campaigning for women to wear the head scarf properly, though wearing face cover is not compulsory, it is an option," she says.
She says the hijab should never be transparent and should be long enough to cover a woman's chest.
She says some Indonesian women are covering their hair but not their upper body, which is attractive to men.
Some women very willing to cover up more
With the veils in hand the women approach those passing by to give the garments away and teach the recipients "the best way to wear them".
Intan Permatedewi jumps at the chance for a free veil and lesson in wearing it.
"I did try and wear a hijab before, but some parts are still exposed, while this one is according to sharia and is fully closed," she says.
"From now on I will be wearing the hijab in line with sharia guide."
Ismawati, 12, is also approached and agrees to a dressing lesson.
"I only wear a hijab at school. They asked me if I'd be willing to wear one now and I said I will," she told the ABC.
An older woman, Nining, is also happy to oblige.
"My hijab was not covered enough like this one, a long cover. With God's will, I will correct the way I wear the hijab," she says.
Shift to Arab interpretation of Islam in Indonesia
Indonesia is widely seen as a moderate Muslim nation, but there is concern that some religious teachings are changing and that beyond the hijab, women are being urged to also cover their faces.
The head of Indonesia's largest Muslim organisation, Nahdlatul Ulama, which has more than 40 million members, says there is a growing trend that is seeing a shift to an Arab interpretation of Islam, which in part is also leading to more Indonesian women wearing full face-covering veils.
"The indication is that there has been a very radical change, not only the change in thinking but the way one is presenting themself in fashion," Nahdlatul Ulama chairman Aqil Siradj says.
And while there are no official figures, he believes there are noticeably more Indonesian women choosing to fully cover their faces.
"I learnt Islam from all parts of Indonesia and none of the Ulemas ordered me to wear Arabic long dress, none of them ordered their female students to wear face covers," he says.
Amanda, 32, started wearing niqab, a veil that covers the entire body and face apart from the eyes, after she graduated from university a decade ago.
"Wearing a face cover is about the strength of faith in somebody, if someone lacks the faith they won't be able to wear a face cover," she says.
"People are wearing face covers because of their obedience to God, what I see from year to year are more women covering their faces."
'When I took it off they were shocked'
But while many Indonesian women choose to wear headscarfs and increasing numbers are donning full face covers, there are also those who are deciding to take them off.
Nur Masuroh removed her hijab a decade ago.
"At the time it was hard because I used to wear a large head scarf, and I was amongst friends who were involved in Islamic activities and when I took it off they were shocked," she says.
But she says in contrast to her decision, more women in her circle of friends are now wearing full face cover.
"Lately, I've seen that many people, friends and others wear it [face cover]. They started wearing small head scarves and then gradually wore larger ones and in the end cover their face," Ms Masuroh says.
"We can see them in train stations, public places. Back in the early 2000s there were only a couple of them around and now there are many more."
But for now there is only anecdotal evidence of a shift in Islamic teachings and dress and while Indonesia is the world's largest Muslim nation, it is also the world's third-largest democracy, meaning most Indonesian women should be able to wear whatever they like.
http://www.abc.net.au/news/2016-01-14/handing-out-free-veils-to-indonesian-women/7085456
----------
Danish Women 'Sexually Harassed' By Refugees in At Least 3 Towns
13 Jan, 2016
Danish women have reportedly been subjected to sexual harassment by asylum seekers in at least three towns, local officials said, adding that male refugees "have hard time respecting the opposite sex" while enjoying the Danish nightlife.
Several incidents took place in the town of Thisted, northern Denmark. Since November it has been hosting a refugee camp for 365 asylum seekers.
"Several young women have felt unsafe on the streets, where they have been accosted by asylum seekers. The same thing has happened on the dance floor out in the nightlife," Lars Sloth, the director of the city's children and families unit, told Ritzau news agency.
Several refugees from the camp were also detained for being intoxicated.
According to Sloth, there have recently been more asylum seekers who drink too much and have been put in detention.
"We recognize that there is a cultural problem, and therefore we undertake some measures to address the problem," Sloth told TV2.
Now, the town workers will launch a campaign to tell the newcomers how they should behave in Denmark.
"First and foremost we want it to be safe and comfortable for all of our residents to move around in Thisted – including in the city's nightlife. Therefore we are initiating extra measures that will contribute to better understanding, fewer conflicts and thus better security."
Sexual harassment by refugees was also reported in the town of Sonderborg, southern Denmark, and in Haderslev municipality.
"We must say that a large number of the male guests who come from the local asylum center have a very hard time respecting the opposite sex. In my eyes, it is harassment when one or more men continue to touch a young woman after she has said 'stop'," Glenn Hollender from the Sonderborg club Den Flyvende Hollænder told TV Syd.
First Syrian asylum seekers arrived to Haderslev in 2014. The majority of them are single men, and they have begun to enjoy the local nightlife.
According to Rafi Ibrahim, a Syrian who has lived in Denmark for years, if migrant men see "a girl, they go nuts. They simply can't handle it. The try to grab a hold of the girl's clothes or paw her."
"In Syria and many other countries, it is not normal for a strange woman to smile at you. Those girls who are harassed aren't necessarily scantily-dressed or drunk. Sometimes it is enough just to be a girl," he said.
Sexual harassment of women by refugees in Europe is the main issue that has been making headlines since New Year.
The first city to report about mass sexual assaults was Cologne, Germany. According to witnesses, "heavily intoxicated" men of "Arab or North African" origin flooded the city's famous square between its central train station and Gothic cathedral on New Year's Eve.
Aged between 15 and 35, individuals in the crowd began throwing and setting off fireworks as the New Year was brought in. With the festivities in full swing, some men reportedly sexually assaulted women and pickpocketed revelers. Among the criminal complaints officially filed, there is at least one allegation of rape.
On Monday, reports emerged that Swedish police were accused of covering up mass sexual assaults allegedly committed by refugees at a music festival. It followed claims that gangs of youths, mostly from Afghanistan, molested girls as young as 11 or 12 at the annual event.
https://www.rt.com/news/328777-denmark-sexual-harassment-refugees/
------
Cambodian Court Told Khmer Rouge Beheaded Muslim Women
13 Jan 2016
PHNOM PENH: Cambodia's UN-backed court heard chilling details on Wednesday (Jan 13) of the mass murder of Muslim women by Khmer Rouge soldiers, the latest grisly testimony in the trial of two top leaders of the ruthless communist regime.
"Brother Number Two" Nuon Chea, 89, and the former head of state Khieu Samphan, 84, are being tried for genocide of ethnic Vietnamese and Muslim minorities, as well as for their regime's use of forced marriage and rape.
The pair have already been handed life sentences in a previous trial that focused on the regime's forced evacuation of Phnom Penh into rural labour camps and murders at an execution site.
Up to two million Cambodians died under Khmer Rouge rule from 1975-1979, including an estimated 100,000 to 500,000 Cham Muslims and 20,000 Vietnamese.
Before these charges were filed, the mistreatment of the two minority groups was rarely discussed.
Cham survivor Math Sor, who was a teenager when the regime took power, told the court she was captured with about 30 other women in her north-eastern village by Khmer Rouge cadres and tied up in a house.
Twenty of the captives - those who said they had Cham parents or were not fully Khmer - were then taken to a pit several metres away, she told the UN-backed court.
"I heard the screams of 'please don't rape me'," recounted Math Sor, who lost eight relatives, including her parents and two pregnant sisters, during the Khmer Rouge's brief but brutal rule.
She then watched soldiers behead the women through "a crack in the wall" of the house where she and the others were held.
The soldiers also forced Cham Muslims in her village to eat pork, speak Khmer, and cut their hair, she told the court.
Last September, the court heard how copies of the Koran were "collected from houses and burned" by Khmer Rouge troops.
The Khmer Rouge regime dismantled modern society in Cambodia in their quest for an agrarian Marxist utopia. Many key leaders have died without facing justice, including "Brother Number One" Pol Pot who died in 1998.
http://www.channelnewsasia.com/news/asiapacific/cambodian-court-told/2423144.html
----------
Indian Women Peacekeepers Inspire Liberian Girls
All India | Press Trust of India | Updated: January 13, 2016
UNITED NATIONS: Indian women peacekeepers serving in the UN mission in Liberia have been a source of inspiration for the country's girls, the contingent's commander has said while terming women as "agents of change".
The 125-strong women peacekeepers of the Indian Formed Police Unit (FPU), serving with the UN Mission in Liberia (UNMIL) since their deployment in 2007, will finish their tour of duty in February.
Contingent Commander of the Indian Formed Police Unit Commandant Madhu Bala said in the last nine years, the Indian women peacekeepers had become a source of inspiration for the women and girls in Liberia due to their dedication and service.
"People in Liberia have been inspired by our women peacekeepers. Since our deployment in 2007, the interest of Liberian women and girls to join law enforcement agencies has increased. Definitely our women have been the source of inspiration for them," said Ms Bala in a phone interview from Liberia.
As the contingent prepares to depart Liberia, Ms Bala encouraged women and girls in the country to step forward and be a part of the system.
"Women in Liberia can bring a change in society, they should actively participate in the peace process as everybody has a role to play. They should come forward and assume their responsibility with greater confidence," she said.
She underscored that in all fields of peacekeeping women peacekeepers had proven that they can perform the same role with the same high standards and under the same difficult conditions as their male counterparts.
Noting that till date only India and Bangladesh have deployed all-women formed police units to UN peacekeeping operations, Ms Bala said that other UN member states should also consider deploying female peacekeepers.
She added that women are "agents of change" and can make a positive impact on peacekeeping environment.
Outlining some of the challenges the peacekeepers faced, Ms Bala said Ebola was a big challenge in 2014 but they carried out their duties with dedication.
The women peacekeepers were last month honored with medals for their courage and service in maintenance of peace and security in the West African country.
Addressing the Indian peacekeepers, Special Representative of the Secretary-General for Liberia Farid Zarif had expressed his gratitude to the soldiers for their "courage and dedication" in serving Liberia during its time of distress.
India is the largest contributor of troops to UN peacekeeping operations, with nearly 180,000 troops having served in 44 of the 69 peacekeeping operations so far.
http://www.ndtv.com/india-news/indian-women-peacekeepers-inspire-liberian-girls-1265343
------
Muslim women in Italy find their voice
By Roberta Lunghini
2016.01.13
The niqab is one of the main themes discussed in new version of the first female Italian Islamic magazine, Al Ghurabaa Magazine. The 2015-2016 project is inspired by the principle of "less is more", which refers to less coverage of topics that are only marginally related to the world of Muslim women. So issues such as health and beauty, motherhood, home or cookery are out, with more focus on topics such as female dress according to the Koran, Islamic education and the definition of Halal, including food, cosmetics and medicine. The founder and editor of the magazine, Umm Zuhur, tells niqab.it in an interview: "The goal we have set is to give voice to all those women (and thank God there are many) who study, follow and seek to apply true Islam as best they can, because the message of Islam is unique, as is the truth."
http://www.west-info.eu/muslim-women-in-italy-find-their-voice/
----------
28 Victories in-a-Row, Sania Mirza, Martina Hingis Equal Longest Winning Run Record in Sydney
13 January, 2016
Reported By Press Trust of India
Sydney: Sania Mirza and Martina Hingis on Wednesday equalled the record for the longest women's doubles winning streak of 28 matches by advancing to the WTA Sydney International semifinals with a straight set triumph. (Sania Mirza-Martina Hingis Extend Winning Streak in Sydney)
Top seeds Mirza and Hingis got the better of China's Chen Liang and Shuai Peng 6-2, 6-3 in less than an hour to enter the last-four stage and remain on course for a second successive title this year. (Sania Mirza-Martina Hingis Start 2016 With a Bang, Win Brisbane International Title)
With this win, Mirza and Hingis won their 28th consecutive match to equal the record set by Puerto Rican Gigi Fernandez and Belarus' Natasha Zvereva in 1994.
Starting last year, Mirza and Hingis have won 10 WTA doubles titles together - Indian Wells, Miami, Charleston, Wimbledon, US Open, Guangzhou, Wuhan, Beijing and WTA Finals in 2015, and last week's Brisbane International.
In a totally lop-sided contest, Mirza and Hingis broke their rivals twice and saved one on their own serve to pocket the opening set with ease.
Liang and Peng's weak serve ensured that the second set followed a similar course. The Indo-Swiss combine frittered away seven chances but converted two, which was enough to give them the set and the match without breaking much sweat.
Mirza and Hingis will next be up against the winners of the match between Timea Babos and Katarina Srebotnik and Raluca Olaru and Yaroslava Shvedova.
http://sports.ndtv.com/tennis/news/254277-sania-mirza-martina-hingis-equal-longest-winning-run-record-enter-sydney-semifinals
------
15 Fashionable Muslim Women to Follow On Instagram
01/13/2016
When Italian fashion house Dolce & Gabbana Designers released its first collection of abayas and hijabs earlier this month, Forbes called it the company's "smartest move in years."
A growing number of Western fashion brands, including Tommy Hilfiger, DKNY, and MANGO, are realizing that it's important to start catering to Muslim women.
Some Muslim women welcome these moves as signs that the fashion world is taking their needs into consideration. Fashion blogger Hassanah El-Yacoubi wrote that D&G's new line should be lauded because it aligns the company against Islamophobia.
But others are not very enthusiastic about the collection. Dina Torkia, a popular British fashion designer and blogger, is wondering what the fuss is about.
"I feel like I should be happy, ecstatic even, perhaps eternally grateful? That's what seems to be the general reaction to this news so far. But, I can't help but feel incredibly underwhelmed, possibly even a tiny bit insulted by the collection," she wrote in a blog post.
Torkia goes on to write that the abayas that D&G released seem too similar to the lacey, embroidered, traditional clothing that many Muslim women have grown up with. The kind of thing she could pick up at her local abaya store. As a designer herself, she doesn't see the aesthetic in this collection as anything new.
Muslim women have been designing and styling their own unique fashions for years -- experimenting with colors, patterns, and fabrics in incredibly creative ways.
Here are 15 women who were making waves in the Muslim fashion world long before D&G got in the game.
With nearly 4 million followers, Indonesian designer Dian Pelangi may be one of the most popular Muslim fashion icons on Instagram. Follow her feed for an inside look at her travels around the globe.
Not only does this English fashion designer and blogger have an impeccable sense of style, she's also a ridiculously funny entertainer. Follow her on Instagram but make sure to subscribe to her YouTube channels as well.
Sania Siddiqui is a social worker from New Jersey. She's also a layering queen -- elegantly pairing solid neutral colors with pops of patterns and stripes.
No list of Muslim fashionistas would be complete without the beautiful Ibtihaj Muhammad. Ibtihaj owns the modest clothing brand Louella, which is based in Los Angeles. And did we mention she's also a fencing world champion who is training for the 2016 Olympic Games? Get it, girl.
Sobia Masood is a student at New York's Fashion Institute of Technology. In an interview with HuffPost Live, she explained that wearing the hijab helped her feel closer to her religious roots.
"Islam doesn't tell us exactly what outfit to wear, or what colors to wear or what headpiece to wear. It gives us a certain guideline. Every Muslim woman has the right to interpret it the way they want to," she said.
Eslimah is an Estonian convert to Islam who lives in Qatar. Her feed is full of clothing made of soft, luxurious fabrics. She also posts about her faith journey with Islam.
Leena Asad is a nurse from Texas who runs a fashion and lifestyle blog. She does a great job of taking an outfit to the next level with a carefully-chosen cardigan or coat.
http://www.huffingtonpost.com/entry/15-fashionable-muslim-to-follow-on-instagram_5695425ce4b05b3245da9820?ir=Religion&section=india
URL: https://newageislam.com/islam,-women-and-feminism/new-age-islam-news-bureau/women-hand-out-free-veils-in-indonesia-to-promote-stricter-form-of-islam/d/105992
New Age Islam, Islam Online, Islamic Website, African Muslim News, Arab World News, South Asia News, Indian Muslim News, World Muslim News, Womens in Islam, Islamic Feminism, Arab Women, Womens In Arab, Islamphobia in America, Muslim Women in West, Islam Women and Feminism