New Age Islam News Bureau
4 Sept 2016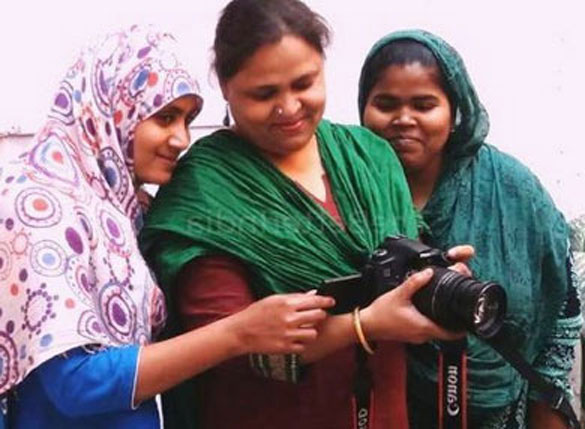 Kehkashan Beg (centre) along with Saira Khan (left) and Aisha Khatoon are running the film unit at Sanatkada, Lucknow. (Credit: Mehru Jaffer\WFS)
--------
• How Girls from Low Income Households in Lucknow Are Becoming Award-Winning Filmmakers and More!
• Bangladesh Girls Make History; Qualify for Final Round Of the 2017 Asian • Football Confederation Under-16 Women's Championship
• In Israel, Women-Only Beach Days Allow the Religious to Relax
• This Is How Muslim Women in A French Suburb Are Moving On After The Burkini Ban
• The Battle of Bigots over the Burqa in Mangaluru
Compiled by New Age Islam News Bureau
URL: https://newageislam.com/islam-women-feminism/women-groups-slam-all-india/d/108463
---------
Women Groups Slam All India Muslim Personal Law Board over Triple Talaq
Eram Agha | TNN | Sep 4, 2016
ALIGARH: Women's groups have condemned the propositions put up by the All India Muslim Personal Law Board (AIMPLB) to the Supreme Court in their affidavit justifying triple talaq and polygamy.
Demanding an apology from the board for stating that "Male sex is stronger and female weaker", Zakia Soman of Bharatiya Muslim Mahila Andolan (BMMA) said, "Their stand that men have greater reasoning power compared to women smacks of a medieval mindset and prejudice against women."
"Triple talaq is unilateral and arbitrary. Nowhere in the Islamic world is it legal," said a statement by Noorjehan Niaz of BMMA, Sahba Farooqui and Maimoona Mollah from All India Democratic Women's Association (AIDWA).
timesofindia.indiatimes.com/india/Women-groups-slam-All-India-Muslim-Personal-Law-Board-over-triple-talaq/articleshow/53999991.cms
-------
How Girls from Low Income Households in Lucknow Are Becoming Award-Winning Filmmakers and More!
September 4, 2016
These women attend the workshops organised by Sanatkada, a local non government organisation that empowers Dalit and Muslim women through education and vocational training. Many of them are polishing their photography and videography skills.
The camera has literally given new vision and purpose to several girls living in lower income neighbourhoods of Lucknow, the capital of India's most populous state, Uttar Pradesh. For when Kehkashan Beg, 37, first got the opportunity to look through one she saw a whole new world – in which life did not start and end within the boundaries of one's small home.
Till a decade ago Beg was just another purdah clad woman who had never stepped out of her crowded neighbourhood populated mostly with lower middle class Muslim families. In her twenties then it had never even occurred to her that she had the right to envision a life, future that was different from the other women in her family, including her own mother.
Beg had "to teach myself to dream" and she learnt to do so when a chance encounter connected her to Sanatkada, a local non government organisation that empowers Dalit and Muslim women through education and vocational training, which are funded from the proceeds of the handicraft and handloom store it runs in the city.
You may also like: Women Reporters From India's Rural Heartland are not just Breaking News but also Stereotypes
Saira Khan, who along with Beg was part of the first group of 25 students at Sanatkada, may have only studied in school till Class Five but she managed to pick up the basic concepts of computer operations in a matter of weeks.
In fact, like Beg and Khan, scores of young women have benefited from these focused workshops that have been held annually in batches of 25 each since the last six years.
Going to Sanatkada gave Beg her first glimpse and feel of the outside world. Indeed, whether it was making her way to Qaiser Bagh, at the other end of the city, or participating in the discussions when she got there, the youngster enjoyed both experiences thoroughly. After all, never before had she had the freedom to be on her own or indulge in a heart to heart with people from a different religious and cultural background than her own. Today, she recalls sheepishly how ignorant she used to be about concepts like identity, rights, politics, and gender norms – "I remember how, without thought, I used to giggle condescendingly at transgender people". However, her association with Sanatkada has changed all that. "I have tried to unravel the reasons behind our iron-clad gender roles, debated on politics and women's participation in elections and looked for ways to break stereotype and change the status quo," she says.
Beg lost her father early and her mother has been her support system ever since. Displaying rare gumption the older woman, who has not been formally educated, ensured that her daughter didn't just complete schooling but went to the university as well. And last year when she expressed a desire to travel all the way to Delhi to do an English language training course she didn't stop her.
"My mother trusts me completely. Her faith in me and my abilities has helped me grab every opportunity offered to me at Sanatkada including gender training, after which I began to get a sense of self," shares Beg.
It was the four-month videography training that turned out to be just what Beg needed to come into her own, to find her calling. She came into close contact with the colourful world of filmmaking as she extensively learnt the nitty-gritties of the craft.
"When I first held the camera, that feeling is something I simply can't describe in words. Let's me put it this way, this is what I want to do till my dying day," she says passionately.
During the course of her training, as she became familiar with technicalities related to lighting, sound and editing on Windows Movie Maker, she realised that few were telling the stories of women and communities living at the margins of society. Therefore, she made up her mind to make them her first subjects – portraits of different women who animatedly talk about their life on camera are some of her initial short films.
Together with Khan and Aisha Khatoon, Beg, who does videography at weddings and other social and cultural events in the city to make a modest living, runs the film unit of Sanatkada which was started in 2012. With assistance from volunteers, who lend a helping hand with filming, editing and sound recording, the trio has so far made 45 shorts on a variety of social issues. While they are proud of all their works, the three that won awards at the Nashik Film Festival in 2014 are particularly close to their heart.
You may also like: How a Muslim Woman in a Small Town in India Is Redifining the Notion of 'Bad Women' in Our Society
Of late, the women are busy with the screenings of a 20-minute documentary they have done on the Right to Information (RTI) Act and its benefits to women. Nagma Parveen, 22, a shop assistant at Sanatkada, was most flattered when the film unit asked her to be part of the RTI film as a lead. As Nagma participated in the filmmaking process she also became more aware of her fundamental rights. Of course, unlike Beg and Khan who love being behind the camera, Nagma, a graduate, has her heart set on becoming a professional counsellor, for which she has already applied for an online Masters course in psychology.
As for Beg, although she is preparing for future projects – they currently have an offer to make 12 shorts on various artisans of Uttar Pradesh, besides films planned around citizen rights and their access to social welfare schemes – she fervently dreams of the day she would get an opportunity to capture her favourite Hindi film hero Salman Khan on camera. "Everyone loves Salman Khan, the super star. I am more curious to know what Salman, the human being is like. I want to make a documentary film on my favourite actor," she says, with a smile.
You may also like: Step By Step, These Muslim Women Are Breaking Stereotypes And Dreaming Big
Adds Nagma, "I too am waiting for the day when Kehkashan apa, who is my mentor, makes her documentary on Salman Khan; we will all be there in the front rows cheering for her."
Beg's journey from being a clueless youngster to someone who has emerged as a strong leader and role model may have been long and eventful but it all started with an opportunity to step out and find herself.
thebetterindia.com/66587/muslim-women-videography-uttar-pradesh/
-------
Bangladesh Girls Make History; Qualify for Final Round Of the 2017 Asian Football Confederation Under-16 Women's Championship
September 03, 2016
Bangladesh girls created history by qualifying for the final round of the 2017 Asian Football Confederation Under-16 Women's Championship after beating Chinese Taipei 4-2 in the Group C qualifiers at Bangabandhu National Stadium on Saturday.
It is the first instance of a Bangladesh women's football side progressing to the final round of a AFC tournament.
The victory put them solely at the summit of Group C with 12 points from four matches and with a game in hand, they qualified for the final round, scheduled to be held in Thailand or China next year. In the final round, eight Asian sides will battle against each other for the U-16 women's title.
The girls in red and green exhibited an impressive display to come from an early goal deficit and salvage three vital points, in the process maintaining their hundred percent record in the event.
Before Saturday's game, Chinese Taipei won all of their three matches, scoring 21 goals, but they were helpless in the face of some brilliant attacks by the Bangladesh girls, who dominated large parts of the tie.
Earlier in the first half, defender Shamsunnahar netted a brace as Bangladesh took a much-deserved 2-1 lead.
Both the Bangladesh goals came from the penalty spot. The spot-kicks were earned by captain Krishna Rani Sarkar, who has been in brilliant form throughout the tournament, scoring five goals so far. Shamsunnahar calmly converted the penalties to spark wild celebrations in the dugout.
The hosts began the game brightly but a sudden attack against the run of play in the 11th minute enabled the visitors to go ahead. Captain Su Yu-Hsuan took a sudden strike from 20 yards out and it flew over Bangladesh goalkeeper Mahmuda Akter into the back of the net.
Bangladesh had a couple of chances after going behind and eventually scored the equaliser in the 26th minute. Chinese Taipei defender Chen Chiao-Yi brought down Krishna, who looked threatening inside the box on numerous occasions. Chen received her second yellow card for the foul as they were reduced to 10 players. Shamsunnahar made no mistake from the spot.
Skipper Krishna earned another penalty in the 38th minute from which Shamsunnahar gave the home side the lead with a solid effort. This time, Chinese Taipei skipper Su fouled the Bangladesh midfielder at the edge of the box.
Later in the second half, Bangladesh continued to dominate their opponents. Krishna extended the lead 11 minutes into the second half with a classic left-footer after striker Anuching Mogini split the opposition defence with a superb lob to set the midfielder up inside the box.
Marzia Khatun sealed victory in the 78th minute, sending the ball home from a yard away during a goal-mouth melee.
Chinese Taipei managed to pull one back two minutes before the stipulated time through their midfielder Wu Yu-Jou, but it was too little, too late.
They were then reduced to nine players when defender Teng Pei-Lin received her marching order in the 90th minute.
Bangladesh will play against United Arab Emirates in their last group match at the same venue on Monday at 11am.
Golam Rabbani Choton, Bangladesh head coach
"Our girls proved that they are the best team in this group. I salute them for their historical achievement.
"Not only women's football but they also took the country's football to a certain level. We won two tournaments previously but I think this time around, our team improved match by match and they dominated the game, even on a heavy surface caused due to rain.
"Though we conceded an early goal, we never lost the tempo and put immense pressure to destroy such a strong team like Chinese Taipei.
"We faced many questions over the nutrition problem of the girls in the past but I just want to say one thing – these girls worked hard to put such an obstacle behind and proved that they are better physically than the other teams, who are ranked higher than us in the ranking.
"When I took charge of women's football seven or eight years ago, we saw some people laughing when they saw the women playing. I told the girls on the very first day of training that you have to run fast to play football. I think it worked out well.
"When I picked nine players from this team in the national team for the South Asian Games, many asked me questions. But I selected them in order to give some international exposure and I think it helped them to play better here.
"I like to remember our former chairman of the women's wing, Sirajul Islam Bacchu, who did lots of work to develop women's football. If he was alive, he would be the happiest man of the world today."
dhakatribune.com/sport/football/2016/09/03/14054/
-------
In Israel, women-only beach days allow the religious to relax
September 4, 2016
TEL AVIV, Israel - It was Sunday - women's-only day - at the so-called religious beach in this Israeli city on the Mediterranean, and several hundred women and girls sat on the sand or frolicked in the gentle waves with an abandon they rarely exhibit elsewhere.
While some European beaches are banning women dressed in "burkinis" and other modest swimwear, and Americans are challenging women's-only swimming hours at public pools, this Israeli beach has long been a haven for women whose strict religious beliefs, community norms or fears of sexual harassment, among other reasons, make swimming or sunbathing alongside men undesirable, even impossible.
"Were it not for the religious beach I couldn't go to the beach," said Molly, a young Orthodox woman who asked that her last name and photograph not be published because her religious beliefs require modesty.
"I can be myself here," Molly said solemnly.
Established decades ago, Tel Aviv's religious beach is one of about a dozen gender-segregated beaches sprinkled around Israel. Sundays, Tuesdays and Thursdays are designated for women only, with alternate days for men.
Enshrined into law decades ago by ultra-Orthodox Jewish lawmakers, the segregated beaches attract mostly religious Jewish women, judging from their street clothes, "but also some secular women," according to Yossi Cohen, the beach's male supervisor.
Religious Arab Muslim women generally go to coed beaches with their male relatives, Cohen said, and, like all bathers, are welcome to wear whatever clothes they wish.
Cohen said a burkini, as well as other popular modest swimwear brands favored by many Orthodox Jewish women, "are safer than their robes and street clothes" because they are made of swimwear materials. "Everything else weighs you down and isn't safe for swimming," he said.
Uri Regev, president of Hiddush, a nongovernmental organization that promotes freedom of religion in Israel, said Israelis tend to be much more tolerant of religious practices and expressions of physical modesty than their European counterparts.
"European society views secularism as the norm and religious piety as threatening," he said. Israel, in contrast, sometimes goes to the other extreme, Regev said.
"There are examples of religious coercion, such as when gender-segregated ultra-Orthodox programs insist women can't teach males, therefore limiting women's job options. That's discrimination."
To Israel's credit, Regev said, gender-segregated beaches and tolerance for all types of religious garb "demonstrate an acceptance for varied religious beliefs" not found in most countries. While Israeli rights advocates have fought successfully against gender segregation on public buses, Regev said, no one objects to gender-segregated beaches.
Groups of women and girls, many pushing strollers and dressed in long skirts, long sleeves and tights, arrived at the beach, which is walled in on three sides. Once inside, some changed into modest bathing suits while others entered the water in their street clothes. A few wore traditional bathing suits, including bikinis.
Varda Zagron, a retired schoolteacher, and her friend Simi Idan, a secretary, wore modest swimsuits as they rested in chairs under a shady pergola.
"We make a great effort to dress modestly in accordance with Jewish law," Zagron said, explaining why a religious beach is her only option. "Here, we can walk around without our heads being covered. It's a comfortable feeling."
gazette.com/in-israel-women-only-beach-days-allow-the-religious-to-relax/article/1584780
-------
This Is How Muslim Women In A French Suburb Are Moving On After The Burkini Ban
Sept. 3, 2016
Safia, a woman from Nice, looks out into the neighbourhood in L'Ariane. Aisha Gani/ BuzzFeed News
Beneath the long shadows cast by the tower blocks and away from the Promenade des Anglais lining the cobalt blue Mediterranean sea, a grandmother in a floral dress and headwrap pushes a buggy through the public park. Mothers sit on the park benches, chatting with their neighbours over small picnics, while their children – Arab, black and white – play football or whizz by on scooters. The shutters of the discount halal butchers, local hamam, and tailors displaying wedding dresses are down, and a young woman in a jilbab, wearing drainpipe jeans, and Nike Air Max trainers sits opposite at a bus shelter. It is the neighbourhood of L'Ariane.
Yet life in this Cote d'Azur suburb characterised by its rows of social housing, sandwiched between the Paillon river and the hills of Nice, has been tough for its residents. Anyone you speak to here says there is "tension". The memories of the Bastille Day attacks earlier this year are fresh: the signs of mourning line the promenade. A makeshift shrine with handwritten notes and candles with the wicks burned out mark where a victim had once worked in the Old Town.
"Since the terrorist attacks, in Nice, in Paris – Charlie Hebdo and the Bataclan – I feel people are generally more worried about the Muslim community," says Fatima, 34, who sits on the concrete steps of an amphitheatre in the playground in L'Ariane, watching over her two young children. Like the other women BuzzFeed News spoke to, she did not give her surname.
"I don't understand why the problem is now? " Fatima says. Aisha Gani / BuzzFeed News
"But I don't know if it's a shared paranoia of the two sides," says Fatima, who has lived for nine years in L'Ariane, an area that has long been the backdrop of political discussions and is a focal point for the press on anything concerning France's Muslim community.
Despite the way the area is perceived from the outside – a district in northeast Nice with a large migrant and Muslim population, and a few kilometres from the Abattoirs neighbourhood where Nice attacker Mohamed Lahouaiej Bouhlel lived – L'Ariane has a communal feel. People know each other, stop and speak to each other in the park. Young women listen to music together, phone loudspeaker on. Around the corner, men sit outside a cafe drinking coffee, while others clear empty fruit crates from the market, and a group of teenage boys perch on gates, passing around a makeshift shisha pipe.
Yet for Fatima, like many other Muslims, they feel their community is being unfairly blamed for the Bastille Day attack that saw 80 people die. They worry discrimination and social divisions are growing – epitomised by the heated debate on the burkini, the swimwear of choice for some Muslim women.
The issue was one of national security, according to the mayor of Nice. In more than 30 French beach towns, notices were printed on white paper and taped to boardings warning bathers against wearing "ostentatious" religious dress. Images of a middle-aged woman forced to remove her top by armed police officers made headlines around the world. Women sat on benches on the promenade as their children played on the beach. Column inches were filled and radio phone-in shows were dedicated to the issue.
"Maybe Muslim women have a responsibility in this climate of worries, but the tension is nourished by the media, and we always have this soundtrack speaking about the hijab and our community. It's always this talk," Fatima says.
"I don't understand why the problem is now? The burkini and hijab will always be a reality," she says.
Fatima, who works at a middle school as an education assistant, doesn't wear her hijab while she is working, and says she doesn't understand why Muslim women are the focus whenever the situation in the country becomes tense. "I don't understand – I respect the laws. When I work I never put my hijab on. For me I'm a republican, for me it's normal and I never want to transgress the law."
Although the ban in Nice has been suspended, after judges in the country's highest administrative court said the terror attack on 14 July in the French Riviera resort city gave insufficient grounds to justify such a ban, local women fear the effects of it may linger: As the summer holidays draw to an end, and school term begins, it'll only be a matter of time until the next controversy erupts with elections looming.
"Women feel attacked by this discussion. Maybe it's not real, but it's very important people speak together – Muslims and non-Muslim to have this debate, this conversation, to understand each other," Fatima says.
Safia, from Nice and who converted to Islam four years ago, walks through the tree-lined park, past a teenager teaching younger kids dance moves. She joins the conversation and says the way Muslim women in France are treated is "paternalistic".
"It's as if women are children and they don't know what they do," she says. Although Safia says she has not faced any anti-Muslim attacks, she does get looks. She also regularly receives comments such as: "Madame, we are in a secular state."
"I am afraid of the future", says Malika from L'Ariane. Aisha Gani/ BuzzFeed News
Malika, 33, from L'Ariane shares these concerns. "Since the terrorist attacks, politicians are speaking about the hijab but I don't understand, why now?"
The mother-of-four is looking for work, but is finding it difficult. Malika doesn't wear hijab – she wore it for one month three years ago but felt uncomfortable with how others saw her and says "everyone has an opinion about it". Yet when she applies for jobs, she says she faces discrimination. Prospective employers can see she is of North African heritage, and is written off when they discover she is from L'Ariane, she says.
Its inhabitants say the area is treated like a ghetto, and that people from the rest of Nice make automatic judgments if you say you are from the area. It's marked as a ZUS – a sensitive urban zone – by authorities with nearly 45% living below a key measurement of poverty based on household income according to official statistics. As well as financial instability, around 25% of homes are also single parent households.
But on-top of the socioeconomic reality, Malika fears the increasing Islamophobia, and worries where her daughters will grow up. "I'm afraid of the future and I have heard a lot of stories online about attacks on Muslims. I heard one day, in another building, a Muslim family found pork in front of their door," she says.
But it is not only in L'Ariane, where this fear is growing. "It is getting more and more difficult for Muslim women to live in France. At least in some parts of it," says Sarah, 24, who is with Etudiants Musulmans de France, the French association of Muslim students. "The biggest issue for Muslim women is they cannot wear what they want in the workplace."
She explains although it is forbidden for women to wear the hijab while working in the public sector, in reality, most also private companies prevent their employees from wearing it – by threatening to fire them – or do not hire women in the first place when they see they are wearing headscarves.
Sarah says there is not much help for Muslim women in France, which along with Germany is home to Europe's largest Muslim minority community. "Most of them feel so clueless they just give in and obey the unfair orders," Sarah says, adding: "There is just the organisation called the Collective Against Islamophobia (CCIF), which is qualified and powerful enough to help them. Yet they have so many requests they often cannot deal with them all."
Lamia, a fourth year student law student, had visited Nice in the second week of August for her honeymoon. Yet on her final night there, she says she was attacked in a restaurant by a woman. No one helped her. "We actually feel lonely. Although we feel the support of other Muslim women in the world – in Canada and the UK – in France we feel lonely.
"And the burkini is not the problem," Lamia adds. "The problem is Islamophobia. Now I can't go out after sundown as I am afraid what people can do.
"I am very disappointed in France and am doing everything I can do to go to Canada. I can't support anymore how France treats Muslim women," she says.
Lina, a teacher, however is optimistic about the message sent out by the burkini ban being overturned in resort towns such as Cannes and Nice. "People in other towns definitely will have hope. And not only about regarding this issue. It is comforting to know that this ruling will also make sure these type of bylaws will not invade public spaces. At least for some time."
buzzfeed.com/aishagani/this-is-how-muslim-women-in-a-french-suburb-are-moving-on-af?utm_term=.qjXKnKn46#.ah81919ED
-------
The battle of bigots over the burqa in Mangaluru
Both Hindu and Muslim bigots have decided what women should or should not do.
Anisha Sheth| Saturday, September 3, 2016
Editor's Note: This is the first in a two-part series on the recent uproar in Mangaluru over a Muslim student wearing a head scarf to college.
Zoya* inhabits two worlds at once. In one, she is expected to look and behave like a "proper" Muslim woman who covers her hair, and in the other, she's herself and does what she wants.
Born and brought up in Mangaluru, when the city was still really a village in disguise, the 29-year-old now finds herself in an almost unrecognisable cultural landscape, one in which both Hindus and Muslims fight over how much women – both Hindu and Muslim – should wear and what they should or shouldn't do.
Zoya herself never wore a scarf until after Class 8, when she moved to Saudi Arabia and had to wear an abaya (burqa here). When she returned to Mangaluru to obtain a degree, she chose not wear the scarf. "I was lucky to have parents who supported me no matter what I did. I don't think any other girl's parents would have allowed her to live by herself in Bengaluru for three years for her work."
Now married, Zoya works in Mangaluru but lives in a small town just across the border in Kerala. It is rare for her to step out of her house without covering her head. She does get to go out without covering her head, but that story is to follow.
In the time that has passed since she was a kid, the choice had been made for her. It was made not even by her own family, but by people and developments totally unconnected with her life.
Introducing the bigots
Campus Front of India (CFI), the student wing of the Popular Front of India (PFI), staged protests on Saturday after Srinivas College of Pharmacy refused to allow first year students from wearing head scarves to class. Both male and female members of the CFI protested, arguing that the female students' religious rights were being infringed by the college.
A few days later, male students of a government college in Bellare (Sullia taluk) wore saffron shawls to "protest" against a college lecturer and some students who wore head scarves to college.
"What connection do the events in Mangaluru's Srinivas college have with the college in Sullia?" asks Muneer Katipalla, the Mangaluru-based state president of the DYFI. The two colleges are 77 km apart, a distance which takes one-and-a-half hours to cover by bus. "Had an atmosphere for this not been created systematically over decades, both events would have been laughable. The question to ask is: Who benefits by this?"
For answers, he says, one needs to look back at events that began in the wake of the Babri Masjid demolition. Suratkal, a small town about 20km from Mangaluru, witnessed fierce violence which claimed over a dozen lives.
"The RSS used any and every development outside the region to create a communal atmosphere here. The Babri Masjid demolition, then the Eidgah Mosque incident in Hubballi, and later the Baba Budangiri agitation, to polarise people here in coastal Karnataka," Muneer says. More recently, it is cow-politics and moral policing.
"This created a sense of fear among Muslims, eventually making it possible for fundamentalist organizations such as the KFD – which later morphed into the PFI – to be born here. The PFI then began to use the marginalised Muslims to further its own ends," Muneer says.
All this occurred against the backdrop of a large number of Muslims from coastal Karnataka working in West Asian countries, says Mohammed Irshad, a Mangaluru-based journalist and documentary filmmaker. "These men returned with ideas of Wahhabi Islam, which is very different from the Sufi-influenced religious and social culture of the Bearys," he says.
The Bearys are the predominant Muslim community of coastal Karnataka, and are unique in their cultural traditions. The language they speak, also called Beary, is shared by some Hindu castes such as the Thiyyas. However, many Hindus are now switching to Tulu.
The influence of older Muslim groups, such as the Jamaat-e-Islami Hind or Salafi oufits, which espouse varying degrees of conservative thought, had always been marginal until the PFI came onto the scene, Irshad says.
"The PFI used the insecurities created by the RSS to create a foothold for itself among Muslims. Until the PFI came along, groups such as the Jamat-e-Islami Hind and Salafis never had any takers among the majority of Sunni Muslims, most of whom never gave a damn about religion. That's how the seeds of this sort of conservatism were sown," Irshad explains.
Because of this, many young men now go about lecturing how a Muslim should live his or her life, and rules they should follow, or how to do namaz on a train, he adds.
The recent uproar over the head scarf is a clear example of how religion is being used by both Hindu and Muslim bigots to further their own ends, Muneer says. Had either the CFI or the ABVP really cared for students' welfare, they would have spoken up about issues that affect many students, especially the commercialization of education.
"If anyone thinks that either ABVP or CFI are bothered about student rights they're foolish. Both ABVP and CFI are equally bigoted. ABVP talks about Kashmir and CFI shouts about the scarf. If the CFI was really bothered about students, they could campaign against commercialization of education, a good chunk of which has been created by Muslim-managed institutions. If they really care about education for Muslim girls, let them campaign for women to be able to work after they get an education," Muneer says.
In hindsight, the shallowness of student politics on campus in coastal Karnataka is evident.
In 2005, when we were pursuing our degree, my friends and I heard that two of our friends had been roughed up by a bunch of goons at a cyber cafe. They had gone there to get printouts for an assignment. Our Muslim friend had been targeted by the Hindu moral police, because he was with "their" girl. This was three years before the pub attack that made Mangaluru infamous.
Back then, none of us knew what to do even though we were angry. Everyone knew that this had happened, but we were supposed to pretend that it didn't. Ironically, the whole college had been shut down for a week a year before that, over a semester system that Mangalore University had newly introduced. The joint strike by many city colleges got the university to postpone it by a year.
Today, both, the Hindu and Muslim moral police continue to keep a creepy eye over girls of "their" communities. Neither has a problem if a girl from another community marries into their own.
thenewsminute.com/article/battle-bigots-over-burqa-mangaluru-49303
URL: https://newageislam.com/islam-women-feminism/women-groups-slam-all-india/d/108463
New Age Islam, Islam Online, Islamic Website, African Muslim News, Arab World News, South Asia News, Indian Muslim News, World Muslim News, Womens in Islam, Islamic Feminism, Arab Women, Womens In Arab, Islamphobia in America, Muslim Women in West, Islam Women and Feminism