New Age Islam News Bureau
25 Jan 2019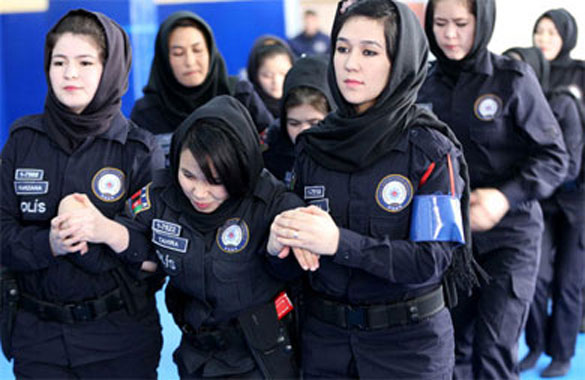 Some 168 Afghan women cadets are currently being trained in the Police Vocational Education Center in Central Anatolian province of Sivas
------
• In Rural Tunisia, Inheritance Reform Offers Women Rare Boost
• 168 Afghan Women Police Candidates Being Trained In Turkey's Sivas
• No Turning Back For Iran's Hijab Protesters despite Crackdown: Activists
• Kenya Court Overturns Ruling on Wearing Hijab In Schools
• Case Dismissed Involving Muslim Woman Forced To Remove Hijab
• 'Anti-Arab' Israeli Teen Charged With Killing Palestinian Woman
• UK: Register Your Marriage, Council Urges Muslim Couples
• Interrogating Women Suspects Is Tough, Says the Only Lady Constable in This Village in Pakistan's Punjab
• Lebanese MP Fights Discriminatory Laws against Women
• Teachers And Educators Across Iran Stand Up For Their Rights
Compiled by New Age Islam News Bureau
URL: https://www.newageislam.com/islam-women-feminism/women-flock-join-top-violinists/d/117561
--------
Women Flock To Join Top Violinist's New Saudi Music Institute
January 24, 2019
RIYADH: Popular Egyptian violinist Mahmoud Sorour has added another string to his bow by opening a new music institute in Saudi Arabia.
Hundreds of the artist's fans have already signed up to learn how to play the wooden string instrument at the first dedicated center of its kind for Riyadh.
Sorour said he had been overwhelmed by the level of interest shown by Saudis, especially among women.
The musician, who has become a major star in Saudi Arabia after taking part in concerts staged throughout the Kingdom during 2018, said he was amazed at how many women wanted to register for the institute with some even hoping to make a career out of playing the violin.
Business analyst, Mariam Al-Hazmi, said she could not wait to sign up to join Sorour's classes. "I started learning to play the violin at home as a hobby, but I didn't have very good learning resources and couldn't find any music teachers in Riyadh to train me. This is a dream come true." she said.
At the request of Crown Prince Mohammed bin Salman, Sorour aims to train 50 Saudi violinists to a level that will allow them to perform at a new opera house in Jeddah, due to be completed by 2022. And Al-Hazmi would love to become one of those violinists. "I had never considered making a career out of playing the violin, but now there is the institute it becomes a real possibility. I can see myself part of the violin band playing at the new opera house three years from now," she said.
Noura S., a Saudi art education PhD candidate, also expressed her excitement about the new institute.
"I will definitely register once I graduate and return from the US, especially if they have evening classes that do not interfere with my job," she said.
She added that playing the violin was not as easy as it looked. "Violinists dazzle me, especially when they dance while playing the instrument. I feel it creates an intimacy between the musician and the violin, and that is why I want to learn to play. It would be nice to one day play as a professional in public."
Sorour said he got the idea to open the institute in the capital from his adoring followers.
"A lot of people were saying how much they loved my music, and they started asking me through social media to teach them how to play the violin," he told Arab News.
As a result, he decided to set up the music institute in Riyadh, with support and sponsorship from the Saudi Arabian government.
Sorour already hopes to expand the project by teaching instruments such as the flute, oud and piano and to run singing and songwriting classes.
Meanwhile, he said that more than 250 people had registered to join the institute and he expected that number to double.
The institute is open for all age groups, but Sorour is particularly looking for budding talent aged between 10 to 20 years old.
Sorour expressed his thanks to the Kingdom's General Authority for Entertainment and the General Culture Authority for their support in establishing the institute.
He added that plans were in the pipeline for his music institute in Riyadh to collaborate with a similar venture at Taif University.
http://www.arabnews.com/node/1441461/saudi-arabia
--------
In Rural Tunisia, Inheritance Reform Offers Women Rare Boost
January 25, 2019
JENDOUBA, Tunisia: Tunisian divorcee Latifa counts herself lucky — she has a modest home that boasts a neat vegetable garden, a fig tree, and a pomegranate tree, along with a panoramic view of neighboring farmland.
"Without this land that my father gave me, I would be nothing," she told AFP, happy to have escaped a violent marriage with her two teenage children in Jendouba, northeastern Tunisia.
"I guess it's part of my inheritance," Latifa smiled hopefully, surveying a homestead that she built by careful use of the 10 dinars ($3.5, three euros) per day she earns as a laborer on nearby farms.
"But here it is rare for a woman to inherit land."
A bill that would equalize inheritance rights between men and women has created debate here in Tunisia's countryside, where gender discrimination is the strongest and its consequences the most disastrous.
In common with other Muslim nations, Tunisian inheritance law currently provides that a son receive twice as much as a daughter from a father's estate.
When her father dies, Latifa is counting on her three brothers to let her stay on the small parcel of land she occupies.
They "owe me that — I am the oldest, (and) I didn't go to school because I had to take care of them," said the 48-year-old, who also has four sisters.
Even applying the current law's 2:1 formula should safeguard Latifa's future, since the land already granted to her by her father is less than the roughly 3,500 square meters (0.35 hectares) she is entitled to out of a total estate of 40,000 square meters.
But in rural areas, the current law is rarely applied, so male heirs often end up taking considerably more than double their female counterparts.
Latifa's neighbor Skhyara Bouslemi is less fortunate.
Skhyara has five brothers, including several who have built homes and paddocks on family land.
The land is too small for everyone to have a share.
"There is nothing left for my sisters and I to take — what could we do with our share? It's just 13 square meters," she sighed.
Skhyara works all day to feed her children and her husband, a sick carpenter.
Latifa has sympathy with Skhyara and others whose brothers leave them with little or nothing.
"Often, the brothers tell their father it would be better if you give us the inheritance to ensure that it remains in the family," she said.
"A woman who makes her claim is silenced by a small sum of money... (or) a basket of produce from time to time," Latifa lamented.
She hopes — without daring to believe — that the situation will change, thanks to legislation pushed by Tunisian President Beji Caid Essebsi.
The bill proposes that the inheritances of men and women be made equal, unless the person making the will goes through clear legal channels to state otherwise.
The proposed law change will soon be discussed in committee, before being submitted to a plenary session in parliament.
The legislation has unleashed passionate debate in families, on television shows and among political parties.
It has also reopened a fissure on the place of religion in Tunisian society, as tensions rise ahead of elections later this year.
In the hamlets of fertile Jendouba, many men are anxious to safeguard their privilege.
"I work this land — it's normal that I have more than my sister," said Mehrez Sakhri, who owns one of the farms Latifa works on.
"It is what our grandfathers said" should happen.
"This is the way the land has been passed on. Perhaps in 2040, things could change — but not now," Sakhri added, as his workers harvested peas.
Mehrez's father Mohammed is less resistant to change.
Mohammed said he would like to share the family's 30 hectares equally between his sons and his only daughter, who he "loves very much."
And making inheritance law equal is not trespassing on religious matters, he added.
"Many people are greedy. They cite the Qur'an to demand a two-thirds inheritance, but when it comes to paying the 10 percent" nobody bothers, Mohammed said, referring to an obligation in the Muslim holy text to pay a tenth of one's income as alms to the poor.
For activist and lawyer Sana Ben Achour, the unequal inheritance law is rooted in a "patriarchal tradition," which is sometimes dressed up in religious terms, leaving women vulnerable.
"In large parts of Tunisia, women don't even get the small share of inheritance that they're entitled to — especially when it comes to land and homes," she said.
Without receiving their share "they can only work, so when a woman retires or is sick and has no income, she falls into a precarious situation."
http://www.arabnews.com/node/1441566/middle-east
--------
168 Afghan Women Police Candidates Being Trained In Turkey's Sivas
January 24 2019
Some 168 Afghan women cadets are currently being trained in the Police Vocational Education Center in Central Anatolian province of Sivas as part of a memorandum signed between Turkey and Afghanistan regarding the training and capacity enhancement of the Afghan National Police.
The training program, which started on Nov. 1, 2018, covers a period of six months.
Afghan police cadets have been receiving training in Sivas since 2011 as part of the cooperating agreement between the two countries. So far, 3,353 Afghan cadets, including 1,212 women, have completed their training.
Apart from their trainings, Afghan women cadets area also having a chance to establish close relations with Turkish women police officers who are training them.
Many experts have been giving hands-on training to the cadets on subjects such as law enforcement, modules of Afghanistan's Constitution, human rights, fight with corruption and terrorism, bombs and explosive substances, domestic abuse, first aid, crime scene investigation and collecting evidences.
"We regard Afghan people as old friends, we are aware that they need us right now. We are working for the establishment of peace and security in Afghanistan as soon as possible, by conveying our knowledge, skills and experience to them," Fatih İnal, vice president of Turkish National Police Academy, told state-run Anadolu Agency on Jan 23.
İnal also stressed that police candidates who completed the program have been quite successful in the field as well.
"Turkey is one of the leading countries working for peace and stability in Afghanistan," said Kadir Yırtar, the director of Police Vocational Educational Center in Sivas.
Turkey and Afghanistan had signed the Memorandum of Understanding on the Training and Capacity Enhancement of the Afghan National Police on March 5, 2011 in Afghanistan's capital Kabul.
In accordance with the memorandum of understanding, 500 mid-ranking Afghan National cadets are given six-month-long basic training in Sivas every year.
With this memorandum, Turkey's main objective is capacity building, along with bringing peace and stability to Afghanistan, supporting security, reconstruction, development and regional cooperation.
http://www.hurriyetdailynews.com/168-afghan-women-police-candidates-being-trained-in-turkeys-sivas-140745
--------
No Turning Back For Iran's Hijab Protesters despite Crackdown: Activists
Heba Kanso
JANUARY 25, 2019
BEIRUT (Thomson Reuters Foundation) - Women's rights defenders in Iran will continue their fight against the forced wearing of the hijab this year despite a "sinister crackdown" by authorities in 2018 in which dozens were arrested, activists said on Thursday.
Iranian women took to the streets holding their hijabs aloft in protests at the strict dress code that quickly spread on social media last year, leading to a "bitter backlash" by authorities, Amnesty International said in a statement.
"What the last year has shown is that people in Iran, especially women, are no longer afraid to go out and protest, whether in large numbers or through lone acts of protest," said Mansoureh Mills, Amnesty International's Iran researcher.
"As the authorities try to clamp down on these peaceful acts of resistance, we are likely to see more and more women and men being arrested, detained and prosecuted for demanding their rights."
Tara Sepehri Far, Iran researcher at Human Rights Watch, said the crackdown was driven by women increasingly "pushing the limits".
"Women who are choosing to protest are aware of the risks and are choosing to do so because they want to see a change. I don't think there is any turning back on these women's issues - it will only grow," she told the Thomson Reuters Foundation.
The remarks came in the same week two men were jailed for six years in Iran for supporting the campaign against the strict dress code, according to reports from two human rights groups.
One is married to prominent human rights lawyer Nasrin Sotoudeh, who was detained after representing some of the women protesters in court and faces multiple charges.
Her husband Reza Khandan, who had campaigned for his wife's release, and Farhad Meysami, an activist, were sentenced to six years in prison according to the Center for Human Rights in Iran (CHRI).
"Iran wants to silence these men by jailing them for standing by women who want the hijab to be a choice, not a requirement," said Hadi Ghaemi, executive director of CHRI, in a statement.
Under Iran's Islamic law, imposed after the 1979 revolution, women are obliged to cover their hair and wear long, loose-fitting clothes. Violators are publicly admonished, fined or arrested.
Amnesty said nearly 100 female women's rights activists were arrested or remained in detention in Iran during 2018.
https://www.reuters.com/article/us-iran-women-rights/no-turning-back-for-irans-hijab-protesters-despite-crackdown-activists-idUSKCN1PI2T2
--------
Kenya Court Overturns Ruling on Wearing Hijab In Schools
Jan. 25, 2019
Kenya's top court has overturned a 2016 Court of Appeal ruling that allowed Muslim students to wear hijab in non-Muslim schools.
In Thursday's ruling on the petition filed by the Methodist Church of Kenya, the Supreme Court said every school has a right to determine its own dress code.
The hijab is a headscarf worn by many Muslim women who feel it is part of their religion.
The 2016 ruling came after a church-run school banned female students from wearing the hijab, saying that it sowed discord.
Kenya has had a long-running dispute over the role of the hijab at Christian schools, with some of them banning the hijab outright in the past.
Around 10 percent of the Kenyan population practices Islam, while 84 percent follows Christianity, according to the Kenya National Bureau of Statistics.
Some Kenyans took to social media to criticise the decision, especially as the ruling comes after the country's Ministry of Education allowed turbans in schools for students of different religions which require head coverings, including Rastafarians.
Others believe that by pursuing this, the church was not sticking to its main principles.
"The church that talks about love your neighbours as you love yourself, peace, respect, and tolerance took the Muslims to court to force us not wear hijabs if we want to be part of their school community," Zahra Ubah, a student, told Anadolu news agency.
Mohamed Bamursal, a social activist, criticised the ruling, saying: "Totally out of order! This is against the tenets of our constitution. Freedom of worship, Hijab is an act of Worship. It's a wakeup call! Take your daughters to schools owned by Muslims!"
https://www.aljazeera.com/news/2019/01/kenya-court-overturns-ruling-wearing-hijab-schools-190124142110267.html
--------
Case Dismissed Involving Muslim Woman Forced To Remove Hijab
JANUARY 24, 2019
TULSA, Okla. – A judge in Oklahoma has dismissed a civil rights lawsuit involving a Muslim woman who alleges she was forced to remove her hijab in public while attempting to enter the Tulsa County Courthouse.
U.S. District Judge Claire Eagan on Tuesday dismissed claims that the Tulsa County Sheriff's Office and four deputies violated the First Amendment and the Oklahoma Religious Freedom Act.
Suha Elqutt says she was forced to remove her hijab in April in the presence of male deputies and that the sheriff's office neglected to accommodate her requests to be searched by female deputies in a private space.
The judge dismissed the suit without prejudice, leaving Elquitt with a chance to refile the lawsuit. Elqutt's attorney says they are exploring options for an appeal.
https://kfor.com/2019/01/24/case-dismissed-involving-muslim-woman-forced-to-remove-hijab/
--------
'Anti-Arab' Israeli Teen Charged With Killing Palestinian Woman
January 25, 2019
JERUSALEM: Israeli Prosecutors on Thursday charged a 16-year-old Israeli with manslaughter after he allegedly threw a stone at a car in the occupied West Bank and killed a Palestinian woman.
Prosecutors announced the indictment for the October incident in a statement, alleging the unnamed suspect threw the stone in an anti-Arab attack "as part of an act of terror."
He was also charged with stone-throwing and intentional sabotage of a vehicle, both "under terrorist circumstances."
Aisha Rabi, 48, died after the stone smashed through the windshield of the car she was traveling in with her husband and nine-year-old daughter in the West Bank on Oct. 12.
The mother of nine was struck on the head and died later at a hospital in the city of Nablus. The stone weighed about 2 kilograms, according to prosecutors.
Her husband managed to continue driving and make it to a Palestinian clinic, prosecutors said.
Israeli authorities arrested the suspect on Dec. 30. Four other suspects arrested as part of the investigation have been released to house arrest.
The five were students at the Pri Haaretz religious seminary in the Rechelim settlement in the West Bank.
Israeli media have reported that evidence against the teenager includes his DNA found on the stone.
The suspect's lawyers issued a statement after the indictment was announced saying he was innocent and alleging prosecutors were desperate to charge someone with the crime.
"We know that our son is innocent," the statement quoted his father as saying.
Israeli investigations into "Jewish terrorism" — as such cases are often referred to by Israeli media — are highly sensitive.
Israeli authorities have been accused by rights activists of dragging their feet in such cases in comparison to investigations into Palestinian attacks, while far-right Israelis say suspects have undergone coercement and torture.
The most high-profile case in recent years was a 2015 firebombing of a home in the Palestinian village of Duma that killed an 18-month-old boy and his parents.
Amiram Ben-Uliel, 21, from the northern West Bank settlement of Shilo, was charged with three counts of murder and one of attempted murder, arson and conspiracy to commit a hate crime in the case.
A 17-year-old was charged with being an accessory to committing a racially motivated murder.
However, an Israeli court has since thrown out parts of the confessions of both the minor and Ben-Uliel, ruling they were obtained through physical coercion, dealing a setback to the case.
The minor in the case was given house arrest in July after the ruling on the confessions.
http://www.arabnews.com/node/1441501/middle-east
--------
UK: Register Your Marriage, Council Urges Muslim Couples
Jan 25, 2019
Muslim couples getting married in the UK should be legally required to civilly register their union before or during the Islamic ceremony, the Council of Europe has said.
Raising concerns about the role of sharia councils in family, inheritance and commercial law, the human rights organisation made up of 47 member states, called for obstacles stopping Muslim women from accessing justice to be removed.
A resolution called on British authorities step up measures to provide protection and assistance to those who are in a vulnerable position and run awareness campaigns which teach Muslim women about their rights. "Although they are not considered part of the British legal system, Sharia councils attempt to provide a form of alternative dispute resolution," it says.
It adds: "Whereby members of the Muslim community, sometimes voluntarily, often under considerable social pressure, accept their religious jurisdiction mainly in marital and Islamic divorce issues, but also in matters relating to inheritance and Islamic commercial contracts.
"The assembly is concerned that the rulings of the Sharia councils clearly discriminate against women in divorce and inheritance cases."
The Council also called on member states to protect human rights regardless of religious practices and voiced concern about the "judicial" activities of "Sharia councils" in the UK.
Specialist lawyers say many Muslim couples do not follow Islamic ceremonies with civil marriages – a requirement under by the 1949 Marriage Act.
https://www.dailytrust.com.ng/uk-register-your-marriage-council-urges-muslim-couples.html
--------
Interrogating Women Suspects Is Tough, Says the Only Lady Constable in This Village in Pakistan's Punjab
January 24, 2019
Dubai: The toughest job for me is to interrogate women suspects, says Samina Noreen, the first and the only female police constable in the small village of Mouza Kot Khair Shah in Chiniot district of Punjab.
"Being human, I feel sorry for them, but I have do my job being a part of the police force," the 19-year-old Noreen told Gulf News while sharing story of her empowerment from an unknown village girl to a police constable.
Noreen hails from a Mouza Kot Khair Shah located on the River Channab some 162km in the northwest of Lahore.
Breaking the shackles
Against all odds in a conservative village, Noreen broke the shackles and became the first girl along with her three sisters to go to a 'city' school in Chiniot, thanks to her father Dost Mohammad who is a daily-wage, illiterate labourer. He decided to educate his four daughters along with his four sons. "My father is my hero as he believes that education for girls is as important as for boys," said Noreen.
Her father and family faced a lot of criticism from friends, relatives and other villagers, but he stood firm. She was given admission in grade 4 at The Citizen Foundation (TCF) School. The school was in Chiniot, 11 km away from her village and it would take her more than an hour to get to school by bus. Travelling in public vans, standing for over an hour throughout the bus journey, and then walking another 1 km or so to reach school. She did this for more than 12-year. "We were the first girls to pass our matriculation (grade 10) in our village," said Noreen who was overjoyed while telling her story.
The biggest surprise of my life
"The biggest surprise of my life came when my elder brother advised me to apply for a police constable's job after he read an advertisement in the newspaper. And here I am as I passed the test and completed the training successfully," she said.
But this is the not the end of her target as she wants to become a police officer. "Being a constable is just my entry to the force. I am now preparing for the competition exam of the Punjab Public Service Commission as may target is to become an officer."
Noreen joined the police force last year at the age of 18 after she passed her intermediate examination. She was so determined to improve her position that she completed her graduation while on duty and is now taking distant learning courses for a Bachelor's degree in Pharmacy. She will complete one year on the job in February this year.
Noreen is so dedicated to her job that she refused to give me an interview during office hours. "Sir, I am on duty, you can call me after 7pm," she politely replied.
Motivating school
"The TCF School helped me realised my dreams and guided me at every step. My teachers did not let me feel that I belong to a poor family from a small village. They gave me confidence to help me choose the police department. They provided me with a kind of environment that I never felt than I am village girl and cannot pursue my career in the man-dominated police department,"
She is also the first girl from her village to have under-graduate degree. She is currently posted at the Police Station Chanabnagar near Chiniot.
Noreen's Challenges
"My duties include handling women suspects, arresting them during police raids and interrogating them. I also sometimes do office duty in addition to security duty on police pickets on roads," she said.
Noreen faced a lot challenges as her friends and relatives in the village opposed her choice of being a police constable. "They criticised me but I did not give up because my family stood behind me. Now, I am very pleased that even the village people take pride in me and will start sending their daughters to school. I believe I have changed the mindset in my village and showed that girls can excel in any field if provided with education," she added.
"I believe that I have given confidence to girls and their parents in my village as their attitude towards education changed after they hey saw me succeed. I personally feel that there is no job that a girl can't do'
Wearing the police uniform
One of the challenges for Noreen was to wear the police uniform – a trouser and a shirt – in a village environment. "Surprisingly, women in the area sometimes taunted me for wearing 'man's dress'. But now it is a routine affair for me and they are also fine with it."
Noreen is a staunch advocate of equal rights for women and her message is for all the girls is "to stand up against all odds to take the challenge and be confident to achieve your dreams. All the best to all the girls in the world."
The Citizen Foundation (TCF)
The Citizens Foundation in Pakistan offers quality education for underprivileged children at no or a very reasonable cost. It operates through donations from all over the world. The Citizens Foundation School gave Noreen the opportunity to gain education and pursue her dreams. TCF schools became the vehicle to transform her dream into a reality.
The Citizens Foundation (TCF) which also has an office in Dubai, is one of the largest network of independently run schools in the world. TCF has nearly 1,500 school units in 700 sites across Pakistan where children were previously out-of-school. Pakistani expatriates in the UAE provide generous financial support to the TCF.
The Foundation is the largest private employer of women in Pakistan with an all-female faculty of 12,000 teachers and principals. TCF has 220,000 students this year. Nearly half (48%) of TCF students are girls. Eighty-eight percent of TCF alumni have gone to college and 71% are employed. Education is free at the TCF School.
Mouza Kot Khair Shah:
It is small village in the district Chiniot in Punjab province of Pakistan. On the bank of the river Chenab, it is known for its intricate wooden furniture around the world. Chiniot is located at 162 kilometres northwest from Lahore.
Human Rights Watch
According to Human Rights Watch report, Pakistan was described as "among the world's worst performing countries in education," at the 2015 Oslo Summit on Education and Development. Imran Khan's government, elected in July 2018, stated in their manifesto that nearly 22.5 million children are out of school. Girls are particularly affected. Thirty-two percent of primary school age girls are out of school in Pakistan, compared to 21 percent of boys. By grade six, 59 per cent of girls are out of school, versus 49 per cent of boys. Only 13 per cent of girls are still in school by ninth grade. Both boys and girls are missing out on education in unacceptable numbers, but girls are worst affected.
https://gulfnews.com/world/asia/pakistan/interrogating-women-suspects-is-tough-says-the-only-lady-constable-in-this-village-in-pakistans-punjab-1.61645252
--------
Lebanese MP Fights Discriminatory Laws against Women
January 18, 2019
Beirut: Nine months after being voted into the 128-seat Lebanese parliament as one of six female lawmakers, Paula Yacoubian is urging fellow legislators to help change discriminatory laws that are an "injustice" against women.
Yacoubian, 42, won her seat as a civil society candidate in May's election, and prides herself on being the first woman in Lebanon's parliament not aligned with any political party in the country's sectarian political system.
The former journalist turned lawmaker's biggest battle is gaining nationality rights for thousands of stateless children born to Lebanese women.
In Lebanon, women married to foreigners cannot pass their Lebanese nationality on to their husbands or children.
"There is so much injustice. You have thousands of kids in this country that have no rights - they are Lebanese, they grew up here, they speak only Arabic," Yacoubian told the Thomson Reuters Foundation from her Beirut office.
"It is not only about women - it is about suffering families ... They don't have a piece of paper that says that you have a nationality - it is degrading."
Stateless children cannot access public healthcare, have difficulty getting access to education, and when they are old enough, they cannot work without a permit, according to the law.
Additionally, women in some communities can't inherit or own property regardless of who they marry.
Lebanon is far behind other countries in the region, like Tunisia, Morocco and Egypt, that have provided equal citizenship rights to men and women, activists who have worked on the issue said.
More protection for women
Beyond reform, Yacoubian said it is critical for additional laws to be passed in order to protect young women's health and against forced marriage.
There is no minimum age for marriage in Lebanon.
Religious communities can allow girls younger than 15 to marry, according to Human Rights Watch.
Yacoubian supports KAFA, a local campaign group calling on Lebanon to pass a law to make 18 the minimum age for marriage - with no exceptions.
"If there any exceptions to be made it will not have the same impact. The message should be very clear - no marriage under 18," she said.
Globally, 12 million girls marry before age 18 every year, according to Girls Not Brides, a coalition working to end child marriage.
KAFA said other Arab countries are a step ahead of Lebanon in setting 18 as the minimum marriage age, including Algeria, Egypt, Iraq, Jordan, Libya, Morocco, Oman, Tunisia and the United Arab Emirates.
Protecting women against violence also needs "a lot of work" in a country that passed a long-awaited law in 2014 against domestic violence, Yacoubian said.
But rights groups were outraged that authorities watered it down so much it fell short of criminalising marital rape.
A 2017 national study by ABAAD, a Lebanese women's rights group, found that one in four women have been raped in Lebanon.
Less than a quarter of those sexually assaulted reported it, the survey said.
Time for disruption
With women in Lebanon gaining only two seats in parliament in May's election for a total of six, Yacoubian said there needs to be a 33 per cent quota to give women fair representation.
"It is their rights first to be represented - to have equal chances. And because this is the real representation of Lebanon ... more than half of the country is women. They should be represented in a way that reflects how the society works."
"I think in the long run it can be disruptive for this patriarchal system that humiliates women."
Having women in lawmaking postitions will help boost women's rights in a country where men don't view women as their equals - something she has experienced herself in the workplace, Yacoubian said.
"I have MPs who treat me as if I am either a flower or something fragile ... We don't have a culture that understands that women are equal to men," she said.
Many months after May's election, Lebanese leaders are still at odds over how to parcel out cabinet positions among rival groups as mandated by a political system that shares government positions among Christian and Muslim sects.
Yacoubian called it a "mafia system" that is running the country based off of religion, money and power - dominated by men.
She said she will "keep fighting" for women's rights and is hopeful legal changes will be made to protect women.
"I hope it will be soon because you will have less suffering, less problems. I am sure that one day this country will see a new horizon, a new light."
https://gulfnews.com/world/mena/lebanese-mp-fights-discriminatory-laws-against-women-1.61519600
--------
Teachers And Educators Across Iran Stand Up For Their Rights
Jan 24, 2019
Teachers and educators staged major protests in different provinces and cities of Iran, including Kermanshah, Alborz, Isfahan, Ardabil, Karaj, and Khorramabad, demanding their rights.
On Thursday, January 24, 2019, a group of teachers and educators in Kermanshah held a protest rally in front of the governorate and called for their rights while chanting, "Free education is our absolute right".
In Ardebil, teachers and educators gathered in front of the Education Department. They protested against the authorities' disregard for their demands.
A group of teachers and educators in Isfahan also held a protest rally against the authorities' failure to respond to their demands. They chanted, "Imprisoned worker and teacher must be a freed".
Also in Khorramabad, a number of teachers and educators held a protest gathering to demand their rights.
In Karaj, educators and teachers gathered similarly in front of the city's Education Department on Thursday, in protest to not receiving a response to their demands.
On Thursday, January 24, 2019, a group of defrauded clients of the Padideh Shandiz joint-stock holding company in Mashhad, held a protest gathering at the city's governorate building and called for the return of their assets and property.
On Wednesday, January 23, 2019, a group of retirees gathered in front of the Parliament building in Tehran for the second day in a row and demanded the reinstatement of their rights. During the retirees' protest on Tuesday, January 22, 2019, one of the brave women participating in the protest made a speech against government officials. The speech by this lady was applauded greatly by the participants who joined her in blaming the officials.
A group of families of the Sanchi oil tanker collision victims held a protest rally on Wednesday, January 23, 2019, in front of the Presidential Administration building in Tehran.
On Wednesday, January 23, 2019, a number of buyers of registered cars from the Kerman Motor Company held several protest gatherings at the Ministry of Industry, Mine and Trade in Tehran, and demanded a response to their rights.
At the same time, a number of residents and workers of the Shemshak Ski Resort gathered in front of the Development and Maintenance of Sports Facilities building to protest against the closure of the track.
https://women.ncr-iran.org/2019/01/24/teachers-and-educators-iran-stand-rights/
--------
URL: https://www.newageislam.com/islam-women-feminism/women-flock-join-top-violinists/d/117561
New Age Islam, Islam Online, Islamic Website, African Muslim News, Arab World News, South Asia News, Indian Muslim News, World Muslim News, Women in Islam, Islamic Feminism, Arab Women, Women In Arab, Islamophobia in America, Muslim Women in West, Islam Women and Feminism