New Age Islam News Bureau
9 Apr 2013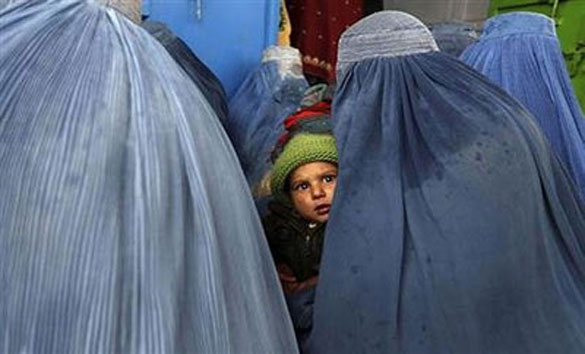 Photo: Afghanistan has made some progress in advancing women's rights after years of Taliban rule. (Reuters)
-------------
• An Al-Azhar Female Student under Investigation for Being Shia Muslim
• Politics, Elections and the "Reality" of Women's Rights in Kuwait
• Two Women Suspected Of Sorcery Beheaded In Papua New Guinea
• Social Obstacles Hamper Treatment of Female Drug Addicts
• Most Afghan Women at Kabul Prison Accused of Moral Crimes
• Filipina Woman Confesses to Burying Baby's Body, Pleads for Mercy
• In A Taliban Hotbed, a Woman Runs For Pakistan's Parliament
• New Constitution of Zimbabwe Gives Hope to Women and Girls
• Child Abuse Neglect Prompt Maldives Gender Ministry for Guardianship Amendment
• Saudi Woman Accused of Terrorism Escapes to Yemen
• Women in Indonesian Province Have Been Banned From Farting
• Giza Women Form All-Female List for Egyptian Elections
• Girls Who Risk Their Lives for Education
• U.N. Official's Life Story Makes Her Confident of Ending Rape in War
• To Lift Afghan Women, Educate All
• Sharjah Girl Guides marks 40th anniversary
• The Cultural Crime of Molesting Women
Compiled by New Age Islam News Bureau
URL: https://newageislam.com/islam-women-feminism/women-face-arrest-wearing-miniskirts/d/11062
-------------
Women Face Arrest for Wearing Miniskirts in Uganda
9 April 2013
Women in Uganda who go out wearing mini-skirts could face jail or a heavy fine under draconian new anti-pornography laws.
The legislation would also see television dramas and films banned if it is passed by parliament.
The Anti-Pornography Bill 2011 proposes that those found guilty of abetting pornography be fined up to 10 million Ugandan shillings (£2,500) or jailed for up to 10 years, or both.
Simon Lokodo, Uganda's ethics and integrity minister, who proposed the Bill, said: 'Any attire which exposes intimate parts of the human body, especially areas that are of erotic function, are outlawed. Anything above the knee is outlawed. If a woman wears a miniskirt, we will arrest her.'
The bill, which is backed by Deputy Attorney General Fred Ruhindi, would also see many films and TV dramas banned from the airwaves and internet use monitored.
Mr Lokodo, a former Catholic priest defrocked by the Vatican for his involvement in politics, said that would mean that celebrities such as Beyoncé and Madonna would be banned from Ugandan television.
'Television should not broadcast a sexy person,' he said.
He added: 'On the internet, we're going to put a monitoring system so we know who has watched which website and we know who has watched pornographic material.'
Mr Lokodo said the Bill was needed to protect women and children against exploitation and curb increasing immorality. If passed, the proposed law would mark a return to the era of dictator Idi Amin, who banned short skirts.
Many Ugandans are against the idea and some have taken to Twitter to express their outrage using the hashtag #SaveMiniSkirt.
But on Thursday the draft law ran into problems when some members of the Legal and Parliamentary Affairs Committee voiced concerns about its implications for freedoms guaranteed in the Constitution. MPs said the Bill's definition of pornography was too broad and said it went against Uganda's tradition of being a tolerant country.
The Bill defines pornography as any cultural practice, behaviour or form of communication that depicts naked breasts, thighs, buttocks or genitalia.
The definition also includes anyone engaged in explicit sexual activities, erotic behaviour intended to cause sexual excitement and any indecent act or behaviour tending to corrupt morals.
But MPs criticised the lack of definition about what constituted 'decent dressing' and said the Bill could inhibit the sexual behaviour of married couples. They asked the Government to stop curtailing freedoms, which they said could scare away tourists.
Mr Lokodo responded by saying that the legislation will not outlaw 'any act or behaviour between spouses or couples performed in fulfilment of their conjugal rights and responsibilities, where such matters are strictly private.'
He said that one of the dangers of pornography is that it fuels sexual crimes against women and children, including rape and child molestation.
He suggested that women who were victims of sexual violence were sometimes attacked because of their provocative dress. 'One can wear what one wants, but please do not be provocative,' he said. 'People who are indecently dressed ... do it provocatively and sometimes they are attacked.
'An onlooker is moved to attack her and we want to avoid those areas. He is a criminal but he was also provoked and enticed.' While some committee members said that pornography was already outlawed under Ugandan law, Mr Lokodo said that the existing laws only covered the publication of obscene material and that the issue of pornography transcended publication. daily times monitor
http://www.dailytimes.com.pk/default.asp?page=2013\04\09\story_9-4-2013_pg9_1
--------------
An Al-Azhar Female Student under Investigation for Being Shia Muslim
9 April 2013
A female student at the Al-Azhar College for Girls in Assiut is facing an investigation to ascertain if she is a Shi'a or not.
(Ahlul Bayt News Agency) - A female student at the Al-Azhar College for Girls in Assiut is facing an investigation to ascertain if she is a Shi'a or not.
Mahmoud Shehata, dean of the college, confirmed on Monday that the student has been referred to the legal affairs department. He added that if she is found to be a Shi'a then legal action will be taken against her, according to state-affiliated news agency Al-Ahram.
Shehata also confirmed that the director of the girl's dormitories Magda Thabit has been relieved of her duties following complaints filed by a number of students, reported Al-Ahram.
Malek Adly, a lawyer for the Egyptian Centre for Economic and Social Rights, said that there is no law stating that this student, if found to be Shi'a, could face legal action. "Under the constitution the state has a responsibility to protect her. We will see what happens," he said. "We currently have a fundamentalist government and institutions like these are allied with them. The government has an Islamic project. What is this? I do not know and I am a Muslim. It is just fundamentalism," he added.
Hala Salah El-Din Mohamed, one of the students who filed a complaint against her fellow student, said: "This girl has been in the dormitories for three years and has been secretly calling for people to convert to Shiism. Now she is doing it publically."
Approximately 60 students protested against the administration on Sunday for the way it has handled the investigation, reported Al-Ahram.
"They carried out an investigation and they helped her to escape. We want her to be expelled," Mohamed said. She continued: "We do not want her in our faculty because she is a Shi'a". He claimed that Shia people believe there was prophet after Muhammad." Anyone who believes this, she added, is an "infidel". See this article to understand the truth.
Doaa Aboul Nasr, a reporter in Assiut, told Daily News Egypt that the investigation carried out by the college involved asking the accused student to perform the ablutions for prayer and demonstrate how she prays. Aboul Nasr reported that the girl acquiesced to their request.
http://abna.ir/data.asp?lang=3&id=407343
--------------
Politics, Elections and the "Reality" of Women's Rights in Kuwait
BY RICHARD ROUSSEAU
08 APRIL 2013
Political authoritarianism has been constant feature in the Arab political systems, and despite the ongoing "Arab Spring," there is a continuing tendency to prevent women from freely participating in political processes. Recently, a handful of Arab countries have consented to slightly alter their political systems so as to allow women and opposition groups to have a greater say on political issues. Nevertheless, the Arab Middle East as a whole is still a long way from being a region where women are engaged in political life. Politics in the Gulf monarchies or states making up the Fertile Crescent still remains a male-dominated profession. The ratio of female to male politicians is significantly small in comparison to other regions of the world.
Some positive changes have been made in Bahrain (women have the right to vote since 2002, but none have ever been elected to parliament so far) and Morocco where more women are now included in politics and government. In 2003 Egypt appointed the first women judge, and Qatar saw the appointment of the first woman to the cabinet of ministers.
Kuwait, however, is a 'special case' in the Arab Middle East. Until 2005, the all-male Kuwaiti parliament excluded women from all political processes. In fact, only about 15 percent of Kuwaiti citizens had the right to vote. However, on May 16, 1999 the first steps towards electoral change were taken. Emir Jaber, who reigned from 1977 to 2006, unpredictably issued a decree allowing women the right to vote and hold public office; however, the Kuwaiti parliament rejected the decree on the ground that it was legislated by decree. Then, on May 16, 2004 the Cabinet of Ministers approved a new women's suffrage bill, but a year later, on May 3, 2005, the Islamist and conservative elements in parliament abstained from voting on the bill, and therefore the parliament postponed the vote on women's suffrage bill. It was not until May 17th of the same year that the parliament finally passed the law, giving women the right to vote and hold public office.
Between the establishment of the parliament in 1963 as part of the country's first post-independence constitution and the passage of the women's suffrage bill, Kuwait's parliament had been the sole preserve of men. Among the most activist groups for the recognition of fundamental political and social rights to women are the Kuwait Federation of Women's Association and the Women's Cultural and Social Society, both accredited by the government as representatives of Kuwaiti women. They are also authorized by the central government to hold meetings and organize events against the exclusion of women from the political scene.
Kuwaiti politics has featured constant clashes between the government and the elected MPs during the past decade. On March 19, 2008, Emir Sabah Al-Ahmad Al-Jaber Al-Sabah dissolved the National Assembly and announced that a parliamentary election would be held on May 17, 2008. A total of 361,685 Kuwaitis turned out to vote, 57 percent of them women. While 27 of the 275 election candidates were women, none of the female candidates won. Kuwait's voters handed a slight victory to reformists who formed a loose alliance with Islamists in order to control two thirds of the seats.
Emir al-Sabah once again dissolved the parliament on March 18 2009, due to an unresolved conflict between some members of the government and the Assembly, and called for another poll two months later.
The May 16-17, 2009 parliamentary election marked a breakthrough in Kuwaiti politics. More than 195,000 women voted, and of the twenty-eight who ran for seats in the parliament four emerged winners. Massouma al-Mubarak, a cabinet minister in 2005, Salwa al-Jassar and Aseel al-Awadhi, both U.S.-educated professors, and Rola Dashti, an economist, were the first women to obtain seats in the Kuwaiti parliament or anywhere in the Gulf.
Their victories were an achievement for Kuwait and a beckon of hope for the whole region; they were also personal triumphs since they came out victorious without organized political parties to support them or a quota system. Most analysts construed the election of woman MPs and female suffrage as huge leaps forward for Kuwait's democracy.
The 1990 occupation of Kuwait by Saddam Hussein's Iraq proved instrumental in liberalizing the country and granting women political and social rights. Between August 2, 1990 and February 25, 1991, the period of the occupation, thousands of Kuwaiti women took on important responsibilities: running hospitals to compensate for the lack of trained medical staff, or risking their lives by engaging in smuggling food, money, and weapons across military Iraqi checkpoints.
Another cycle of tensions and deadlocks between the Kuwaiti government and parliament unfolded in 2011 in the midst of the Arab Spring. Amid opposition-led rallies and protests in many Islamic countries, including Kuwait, numerous corruption claims were levied in the Kuwaiti parliament. This forced the Prime Minister and his cabinet to resign in November 2011. The Emir again called for early elections in February 2012.
The opposition scored a massive victory in the February 2012 parliamentary elections. The elections produced a National Assembly with an unprecedented majority of opposition groups in an alliance between Islamists and tribes controlling 35 of the 50 seats. The election saw a decline in the weight and presence of the liberal movements, including women's movements, and those representing the Shiite sect.
Throughout the last decade there were repeated hopes that changes of MPs would bring about a more constructive and consensual parliament. Such hopes came to fruition, especially in 2009, when, among other changes, four women were elected to parliament for the first time. Yet in practice, the elected candidates who battled for a more cooperative relationship with the government, including the four women, were defeated at the polls in the next election in February 2012. This result suggested that the public was not convinced that a consensual parliament was the right approach, or that women could make a significant difference.
Kuwaiti politics took another strange turn when in June 2012 the constitutional court nullified the election and scrapped parliament, and the judges ruled for the reinstatement of the 2009 assembly in July. But the 2009 pro-government assembly was again dissolved by the Emir in December 2012 following a cabinet request and protests by the opposition amid allegations of corruption against some cabinet members and former Prime Minister Sheikh Nasser Mohammad al-Ahmad Al-Sabah. The December 2012 polls were the second of the year and the fifth since June 2006.
In the December 1, 2012 election, turnout was 40.3 percent, the lowest in Kuwaiti election history. The boycott of the election by tens of thousands of people can easily explain this low participation; consequently, the opposition, composed of Islamists and liberals, has no representatives in the 50-seat Kuwaiti Parliament. The widespread boycott was a major blow to Kuwait's efforts to represent itself as more democratic than its neighbors, especially to the international community.
For the first time the Shiite minority gained more than one third of the seats, with 17 out of 50 seats in the parliament. Compared to the previous 2009 election, Sunni Islamists were reduced to a minority status, and only three women managed to win a majority of votes in their districts. It became clear that the right to vote and hold public offices, given by the Emir's decree, will not be enough to discuss and solve Kuwaiti women's issues, including forced early marriage and a lack of professional opportunities for young women.
Efforts to democratize and enfranchise Kuwaiti society, and the Arab Middle East, are ongoing. The political competition between the head of state, parliament, and various opposition Kuwaiti groups defending diverse ideologies and platforms has been fierce, and more recently turned violent. In such circumstances, women's rights and empowerment issues are marginalized by the male elite. The task of reforming women's human rights issues and gender and social roles is then incumbent on individual activists and nongovernmental organizations (NGOs), along with occasional external pressures. As long as Kuwaiti women's issues remain out of public view and the number of female deputies does not increase, the parliament, dominated by men, will continue with business as usual.
Richard Rousseau is Associate Professor and Chairman of the Department of Political Science and International Relations at Khazar University in Baku, Azerbaijan.
This article was originally published in the Diplomatic Courier's March/April 2013 print edition.
http://www.diplomaticourier.com/news/regions/middle-east/1430-politics-elections-and-the-reality-of-womens-rights-in-kuwait
--------------
Two Women Suspected Of Sorcery Beheaded In Papua New Guinea
9 April 2013
SYDNEY — Two elderly women were beheaded in Papua New Guinea after being tortured for three days, a report said Monday, the latest in a string of sorcery-related crimes.
The Post-Courier newspaper said police were present during the killings last week but were outnumbered by an angry mob and could do nothing to prevent the grisly deaths. "We were helpless. We could not do anything," Bougainville police inspector Herman Birengka told the paper, saying his officers were threatened when they tried to negotiate the women's release.
According to Birengka, who described the murders as "barbaric and senseless," the women were taken captive last Tuesday by relatives of a former school teacher who died recently. "The two women were rounded up and taken to Lopele village after they were suspected of practicing sorcery and blamed for the death of the former teacher, who was from Lopele village," he said.
They were tortured for three days, suffering knife and axe wounds, before being beheaded in front of the police who had been sent to the village to mediate, the report said.
The killings come just days after another report that six women accused of sorcery were tortured with hot irons in an Easter "sacrifice" in the Southern Highlands. Last month, a woman accused of sorcery was stripped naked and burned to death by a mob, with Amnesty International stepping up calls for an end to sorcery-related violence in Papua New Guinea. — AFP
http://www.saudigazette.com.sa/index.cfm?method=home.regcon&contentid=20130409160619
--------------
Social obstacles hamper treatment of female drug addicts
April 09, 2013
AL-KHOBAR — Social obstacles are hampering treatment of female drug addicts, Dr. Abdulsalam Al-Shamrani, chief of the addiction treatment program and general supervisor of Al-Amal Hospital in Dammam, has said.
He said that there is an increase in female addiction when compared to male addicts.
Female drug addicts fall between the age of 20 to 35, and are influenced by their brothers, husbands, or friends. Drug addictions is usually linked to child harassment, assault, violence, and even rape.
Al-Shamrani said that despite the complete privacy and confidentiality of treatments, according to medical laws and statutes, society still has not come to terms with female drug addicts receiving treatment in hospitals.
Full report at:
http://www.saudigazette.com.sa/index.cfm?method=home.regcon&contentid=20130409160565
--------------
Most Afghan women at Kabul prison accused of moral crimes
Associated Press
Apr 09 2013
Kabul : 21-year-old Afghan woman said she fled her abusive husband only to be raped at gunpoint by a stranger who was supposed to help her.
The man then settled in front of a TV set, putting the gun on a table by his side. Choosing her moment, Mariam grabbed it and shot her assailant in the head, then turned the gun on herself.
"Three days later I woke up in the hospital,'' said Mariam, shyly removing a scarf from her head to reveal a partially shaved head and a long jagged scar that ran almost the length of her head where the bullet grazed her scalp.
Full report at:
http://www.indianexpress.com/news/most-afghan-women-at-kabul-prison-accused-of-moral-crimes/1099762/
--------------
Filipina Woman Confesses to Burying Baby's Body, Pleads for Mercy
Marie Nammour / 9 April 2013
A woman cleaner, has been charged with burying her illegitimate newborn baby girl at the Jumeriah Open Beach, and confessed in court that she did wrong and pleaded for leniency.
The woman, a 30-year-old Filipina, admitted at the Court of First Instance that her baby had died a day after she was born since she could not afford to pay Dh26, 000 for treatment at a local hospital. The child was born out of wedlock from a compatriot who is at large.
The mother confessed in the investigation that she gave birth to the baby at her work accommodation alone, on January 1. She said the baby was two months premature and she was scared of being caught for having an illegitimate baby.
Full report at:
http://www.khaleejtimes.com/kt-article-display-
--------------
In a Taliban hotbed, a woman runs for Pakistan's parliament
By Aliza Kassim and Matt Smith, CNN
April 9, 2013
(CNN) -- Badam Zari is a novelty in the tribal districts of northern Pakistan.
Like many women in the towns along the Afghan border, the 38-year-old Zari has only a grade-school education. But unlike others before her, she's taking her frustrations with conditions in her hometown into the political arena.
Zari is the first woman to run for Pakistan's parliament from the Federally Administered Tribal Areas, the restive region that has become a hotbed of the Taliban. Disgusted with what she says is the failure of the established political parties to improve things, she's running as an independent.
Full report at:
http://edition.cnn.com/2013/04/08/world/asia/pakistan-female-candidate/
--------------
New Constitution of Zimbabwe Gives Hope to Women and Girls
BY VIRGINIA MUWANIGWA, 8 APRIL 2013
Citizens eagerly await the announcement of the 2013 elections date along with the execution of the new constitution, which gender activists say contains 75% of the demands made by women.
Over three million citizens voted in favour of the Draft Constitution last month, closing the curtain on the arduous four-year long negotiations. The Constitution limits presidential terms to two, guarantees freedom of expression, protects citizens from all forms of violence and promises gender equality. Although positive, activists dub these gains 'potential' given that rights and privileges on paper do not automatically translate into reality on the ground.
Full report at:
http://allafrica.com/stories/201304081087.html?viewall=1
--------------
Child abuse neglect prompt Maldives Gender Ministry for guardianship amendment
By Minivan News | April 8th, 2013
Children's neglect and abuse have increased to an "alarming level", compelling the Maldives' Ministry of Gender, Family and Human Rights to submit an amendment that would transfer parental guardianship of children in cases of negligence.
The Ministry submitted the amendment to the president's office Sunday (April 7), which would allow for strict legal action to be taken against neglectful parents, and guardianship to be transferred within the principles of Islamic Shari'a, according to local media.
Acting Gender Minister, Attorney General Aishath Azima Shakoor, said 59 cases of child sexual abuse were reported to the Gender Ministry in March and 37 of the abused children were transferred into state care.
Full report at:
http://minivannews.com/politics/alarming-level-of-child-abuse-neglect-prompt-gender-ministry-to-push-for-guardianship-amendment-55913
--------------
Saudi woman accused of terrorism escapes to Yemen
April 09, 2013
RIYADH — The family of Arwa Baghdadi, who had allegedly escaped to Yemen to join Al-Qaeda there, has appealed to their daughter to come back home, Al-Hayat newspaper reported Monday.
A spokesman for the family said: "Not one of us will accept what you have done.
"The authorities here are tolerant and forgiving. So please come back." Her mother, Huda Al-Ahdal, a retired educational supervisor, said her daughter and son Anas told her about their escape to Yemen through a telephone call.
Full report at:
http://www.saudigazette.com.sa/index.cfm?method=home.regcon&contentid=20130409160588
--------------
Women In Indonesian Province Have Been Banned From Farting
Ami Angelowicz
The Wadiyan is an online satire newspaper that publishes fictional news reports with the intention of providing pure humour. And I did not know that. Never before have I been so pleased to report that this news item is a piece of satire. Let the farting resume!
According to a new law, the women in the Indonesian province of Aceh will now have to hold in their farts or face punishment, which may include 20 lashes for small farts and up to three months in prison for bigger bouts of flatulence. The mayor of the city, Sayyid Yahia, said the ban against female gas passing was necessary to save peoples' morals and behaviors:
"Muslim women are not allowed to fart with sound, it's against Islamic teachings … When you see woman fart loud, she appears like a man. But if she sit sideways and pass it quietly, she looks like a woman."
Full report at:
http://www.thefrisky.com/2013-04-08/women-in-indonesian-province-have-been-banned-from-farting/
--------------
Giza Women Form All-Female List For Egyptian Elections
By: Zenobia Azeem
9 April 2013
On March 6, a Cairo administrative court ruled the election laws unconstitutional, suspending parliamentary elections slated to start in late April. The decision came after the Shura Council bypassed submission of the revised electoral-laws draft to the Supreme Constitutional Court (SCC), raising concerns about the laws' constitutionality. After stating that he would respect the court's decision, President Mohammed Morsi appealed the Administrative Court's decision via the State Litigation Authority.
Full report at:
http://www.al-monitor.com/pulse/originals/2013/04/giza-women-egyptian-elections-candidate-list.html#ixzz2PxMYZ3QC
--------------
Girls Who Risk Their Lives for Education
By GORDON BROWN
9 April 2013
LONDON — Almost unnoticed, one of the great civil rights struggles of our times is being fought out in our midst. Across the Indian subcontinent, in Afghanistan and in Africa, supporters of universal girls' education are being threatened, assaulted, bombed and murdered.
Within the past two weeks alone, a 41-year-old teacher was gunned down 200 meters from her all-girls school near the Pakistan-Afghan border; two classrooms in an all-girls school in the north of Pakistan were blown up; and at an awards ceremony in the heart of Karachi, a principal was shot to death and another teacher and four pupils were wounded after grenades were hurled into a school that specialized in enrolling girls.
Full report at:
http://www.nytimes.com/2013/04/09/opinion/global/girls-who-risk-their-lives-for-education.html?_r=0
--------------
U.N. Official's Life Story Makes Her Confident of Ending Rape in War
8 Apr 2013
NAIROBI (TrustLaw) – Her mother was illiterate and her father was a Muslim cleric who did not believe in girls' education.
Yet Zainab Bangura rose to become the second female foreign minister in Sierra Leone, a presidential candidate and now the second United Nations Special Rapporteur on Sexual Violence in Conflict.
"I have a lot of confidence that with strong political will and working together, we can end sexual violence," she said at a recent press briefing in Nairobi.
Full report at:
http://www.trust.org/trustlaw/news/un-officials-life-story-makes-her-confident-of-ending-rape-in-war
--------------
To Lift Afghan Women, Educate All
Project Artemis recruits Afghan women entrepreneurs, who train and employ fellow Afghans
Susan Froetschel
YaleGlobal, 8 April 2013
EAST LANSING: As NATO troops plan to withdraw from Afghanistan by 2014, the world worries about the country's stability and especially for Afghan women. On his first trip to Afghanistan in March as US secretary of state, John Kerry pointedly met with Afghan businesswomen at the US embassy in Kabul, fielding questions about security.
Given the brutal track record of the Taliban treatment of women and their violent opposition to girls' education, the fate of women in post-NATO Afghanistan remains in question. Armies of NGOs spread throughout in Afghanistan, often working alongside the troops, advising and building infrastructure for education and health care. Over the past decade, many Afghans have witnessed an alternative course for the future and wonder if all will be imperiled after withdrawal of protective forces.
Full report at:
http://yaleglobal.yale.edu/content/lift-afghan-women-educate-all
--------------
Sharjah Girl Guides marks 40th anniversary
9 April 2013
Girl guiding has inspired young girls of all nationalities to develop their potential to the full. From card-making and photography to live barbecue cooking and planting, girl guides have found a way to grow up with dignity.
Encouraging them is Shaikha Jawaher Al Qasimi, wife of His Highness Dr Shaikh Sultan bin Mohammed Al Qasimi, Member of the Supreme Council and Ruler of Sharjah, president of the UAE Girl Guides Association and patron of Sharjah Girl Guides (SGG) for whom guiding has been special being a guide herself when young. For 40 years now, SGG has been training girls starting from the age of five as Sparks, until they become leaders between the ages of 19 and 30.
Full report at:
http://www.khaleejtimes.com/kt-article-display-
--------------
The Cultural Crime of Molesting Women
8 April 2013
It's worth taking a look at the readers' comments in a British daily on a news piece about molesting women or children. Some readers requested that capital punishment be legalized again and others called molesters "devils" that must be gotten rid of and stopped by severe punishment. Compare these comments with some readers' comments in Arab dailies on the same topic. The readers ask "how can a woman go to this place and not expect anyone to molest her? What was she wearing? What has she done to arouse him?"
There is always a search for a justification of the crime. There is always a search on the victim's side and not the criminal's. But in both cases, justifying the crime precedes condemning the criminal. If anything, this shows that molestation crimes in our Arab countries are first a cultural crime before being a sexual one because the molester himself and those who defend him if they are present in the most nude places in France or America will not dare touch a woman or even inquire what a girl is doing there. So what made them "moral" people on the beaches there and monsters in public streets and squares packed with people in their own country?
Full report at:
http://english.alarabiya.net/en/views/2013/04/08/The-cultural-crime-of-molesting-women.html
--------------
URL: https://newageislam.com/islam-women-feminism/women-face-arrest-wearing-miniskirts/d/11062