New Age Islam News Bureau
4 Dec 2016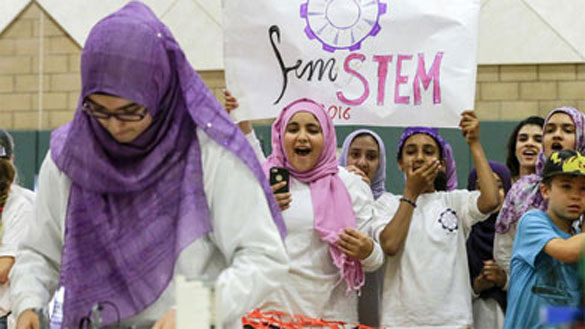 LA times: Muslim girls have defied the odds and have won a national robotics competition in Los Angeles
----------
• Amr Diab Responds To Concert Ban on Egyptian Veiled Women
• Muslim Teen Girls Wins Lego Robotics Competition
• Saudi Academic: End Gender Segregation in Islam
• After "Historic Victory", Trupti Desai to Enter Haji Ali Dargah Today
• Who Are the Women Named in Saudi Arabia's Shoura Council?
• Saudi Ban on Women Drivers Still Rankles
Compiled by New Age Islam News Bureau
URL: https://newageislam.com/islam-women-feminism/women-driving-female-member-makes/d/109276
--------
Women driving: Female member makes emotional appeal in Shoura
Dec 4, 2016
By Abdul Rahman Bawazir
RIYADH — Dr. Lateefa Al-Shaalan made an emotional appeal in the Shoura Council, calling on the 150-member consultative body to unconditionally back the WOMEN's right to drive on the Kingdom's roads.
She strongly defended the women's right to drive and told those oppose her that their argument is based on a "crooked logic". "They project Saudi men as monsters who are bent on attacking women drivers," she said.
Al-Shaalan urged THE SPEAKER of the house to press the Saudi leadership to issue a sovereign decision allowing women to drive on the Kingdom's roads, which is their "inherent right."
Addressing the council last Monday, she said the participation of women in the Shoura Council and municipal councils reflects the fact that Saudi society is prepared to allow women into areas hitherto dominated by men, including driving.
Al-Shaalan said the driving ban has harmed women's interests tremendously. "The Kingdom's Basic Law of Governance guarantees equality and protection of rights. The driving ban is the main reason for about 70 percent of unemployment among women. It has reduced women's participation in the labor market to 10 percent," she pointed out.
Saudi male and female activists and intellectuals have been calling upon the supreme authorities to allow women-driving to protect their rights and uphold the Kingdom's reputation internationally.
In a recent article Saudi columnist Shafi Al-Wasaan urged authorities to lift the ban on women driving. "In my opinion this is a simple issue and the ban should not continue, tarnishing the Kingdom's global reputation as a fast-developing country."
http://saudigazette.com.sa/saudi-arabia/women-driving-female-member-makes-emotional-appeal-shoura/
--------
Amr Diab responds to concert ban on Egyptian veiled women
3 December 2016
Egyptian star Amr Diab is breaking his silence after a recent decision to ban veiled women from his upcoming Christmas concert caused uproar across the country.
Diab, through his agent Huda al-Nadher, confirmed to AlArabiya.net that they were planning on lifting the ban "within hours" and expressed regret at the earlier decision.
Concert organizers announced they were banning veiled women from attending last week and said that the sale and provision of alcohol was the main reasoning behind their decision.
Nadher said that Diab has never discriminated against his own fans, saying that the alcohol policy came from the venue's owners and not the singer.
Al Arabiya English reported extensively on the plight of veiled Egyptian women in public spaces after many said they were turned away from resorts because of their hijabs last summer.
https://english.alarabiya.net/en/News/middle-east/2016/12/03/Amr-Diab-responds-to-concert-ban-on-Egyptian-veiled-women.html
--------
Muslim Teen Girls Wins Lego Robotics Competition
03 December 2016
As thousands of protesters took to Los Angeles streets on the Saturday after election day, Zaina Siyed was 50 miles east in Rialto, staging her own act of resistance in a middle school gym.
On a bleacher next to a row of girls in purple hijabs sat the 16-year-old from Chino Hills, a nervous coach waiting to hear the results of a robotics competition.
FemSTEM, the team she had created, was made up of eight competition rookies, ages 10 to 14. She had recruited them and raised the money in an online campaign to cover all they would need to compete — team SHIRTS, registration fees, equipment.
Getting others to love what she loved was one objective.
"How does a Muslim girl who is passionate about tech encourage her sisters in the Muslim community to embrace the wonderful world of STEM?" she wrote in her pitch for donations, referring to the study of science, technology, engineering and math.
She also wanted to make a political statement.
Election season had galvanized her. On election day, she'd streamed NBC on her LAPTOP and CNN on her tablet and shared reactions on Snapchat with her Muslim friends.
Zaina and her friends, she said, "had this panic setting in." They didn't want to see Muslim Americans victimized because people believed they had voted in the right to spew hate. They didn't want the only public representations of Muslim WOMEN to be either the oppressed or those complicit in terrorism.
"I know I can try to change things gradually by doing this robotics program," Zaina said. "It's time for us to focus on … presenting ourselves in the best light."
Hopes were not high for the FemSTEM girls, competition newbies in a field of 20 teams. As they had told judges since the start of the daylong competition, before they joined FemSTEM in July, most of them hadn't touched, let alone programmed, a robot.
Their creation, named Rujellalley (a phonetic spelling of the Arabic word for robot), was simple — a "brain" attached to four wheels, with a thin Lego shell for stability.
The goal was to build and program a robot that could move on its own around a large mat made up of different "environments," each with animals or people in need of the robot's help. In one spot on the board, the robot had to push a shark tank into the right spot in the ocean. In another it had to collect food chips and bring them to the right habitat.
FemSTEM's strategy was not to complete as many missions as possible, but to complete a few and do them well.
"They're showing off that simplicity works," Zaina said.
For three months before the big day, they had met at least once a week, sometimes twice, at the Institute of Knowledge, a mosque and Islamic school in DIAMOND Bar. They took off their shoes before stepping onto the thick red carpet of the prayer room that doubled as a classroom.
As a coach, Zaina carefully followed the rules, leading by guiding, never giving the girls an answer outright.
Her role as a coach, she said, was to give them the tools and training so they could succeed independently of her.
"My objective is to be able to balance the teacher and older sister role," she said.
"You're essentially being lazy right now," she told them at a September session, after they'd spent more than an hour making little progress. "You guys have done this time and time again. You just have to, like, reapply what you know."
Zaina said she knew of no other all-girl Muslim team that had competed in a First Lego League event in the U.S. The league's organizers said they couldn't be sure. They don't collect data on participants' religions.
First or not, FemSTEM team members said they often feel the weight of representing the Muslim community's future.
Salma Rashad, 14, is a freshman at DIAMOND Bar High School in a community with a large Asian and South Asian population. She doesn't wear a hijab, so she stands out less than her friends do, she said, but still she's used to being thought of differently because of her faith.
"If you do something bad, people will remember you. If you do something good, people will remember you," she said on the day of the competition. "It's a burden for us to make sure we're always on our best behavior."
Zaina's goals for the girls were so powerful that the Diamond Bar High 11th-grader squeezed in time for coaching even with four college-level Advanced Placement classes and her duties as captain of the school's varsity tennis team.
She said she wanted the world to know that Muslim girls can be strong, intelligent, successful career WOMEN, whose parents and community support them.
"A spotlight will be shined on this community," Zaina said. "We're ready to work ourselves out of these … negative perceptions."
But on the day of the competition, her mother worried that maybe the timing was off for making such a public point.
When Shazia Siyed, Zaina's mother, the adult chaperone for the team, arrived at Rialto Middle School that morning, she said she was nervous to have nine brown girls in tow, six with their heads covered. She had been anxious since election night.
As the girls started setting up, she sought out the organizers and asked what to do if anyone approached the team and said something negative. She was told not to worry, that the organizers were there to support them.
Later in the day, as another mother helped some of the girls find a place to pray during a break, Zaina's mother was relieved when they placed their red prayer mats about 100 yards from the practice area. Not that they were trying to hide, but she was glad it was discreet and that no other parents or kids commented.
Inside the multipurpose room, teams took turns testing their robots on practice runs. As the girls struggled to make their robot collect the chips it would need to pick up, a dad from another team hinted that if they slowed the robot down during a turn, it would help. They took his advice, and it worked.
At one point, two women accompanying another team from a different school stopped Zaina and asked where she and her crew were from.
The women complimented their purple hijabs and bandanas. "We love your girls," one told Zaina.
Zaina's mother was relieved.
"I was so nervous…. I was expecting the worst," said Siyed. "It's nice to know I overreacted."
Zaina looked on, arms crossed and face judgmental, as fathers on other teams made small fixes and tweaks to their children's robots between rounds.
As for her team, they were on their own now.
In the "core values" section of the event, the team was given five minutes to build something out of Legos that would represent their team.
The girls built a mosque, complete with a dome and minaret. They told the two judges inspecting it about their 16-year-old coach, how she had taught them to build and program robots in a DIAMOND Bar mosque.
"Sounds like you have a good coach," one judge said.
The next thing they knew, the judge was calling out their team's name. The girls rushed down from their seats while Zaina started crying, eyes red, hands shaking. From the gym floor, they turned around and beckoned their coach to join them in claiming the trophy.
Later, Zaina sought out Muñoz to THANK her. They hugged, both in tears.
"As a woman in STEM … [I'm] proud, hopeful for the next generation," the judge said. "I'm just so excited to see women, minorities, Muslims just really challenge those views some people have."
Zaina now says her dreams are growing beyond the borders of her own community. In the future, she says, she wants to coach not just Muslims, but any black or brown girl.
The rhetoric of the election strengthened her convictions, she said. But even without it, "I still would have done this."
source: la times
http://www.worldbulletin.net/america-canada/181122/muslim-teen-girls-wins-lego-robotics-competition
--------
Saudi Academic: End Gender Segregation In Islam
3 Dec 2016
TEL AVIV – A Saudi academic has called on Muslims to adapt themselves to the modern age by reforming mosques to be more like churches, with mixed prayers, seating and dim lighting, and to change the "fanatical and sexualized" perception of women by allowing them to take on leadership roles within the religion.
In an interview with liberal Arab website Elaph, published earlier in the year and translated last week by the Middle East Media Research Institute (MEMRI), Dr. Najat Al-Sa'eed, a Saudi communications lecturer at Zayed University in Dubai, said that "Islam is the only monotheistic religion that has not adapted to the modern age."
The process of modernization must begin by modifying the rituals of worship, Sa'eed said. She outlined her plan for architectural changes to the internal layout of mosques, so as to include men and WOMEN side by side in prayer.
"Islam does not forbid them to mix," Sa'eed said, noting that the Haj (pilgrimage to Mecca) is mixed as are prayers at the Mecca compound.
Muslims are distinguished by loudness and disorder, and men and WOMEN are not accustomed to gathering together in places of worship. Sadly, most Muslims' perception of women is fanatical and sexualized, far removed from spirituality and rationality. Hence, building mosques of the type [I propose, and having men and women] meet each other in a spiritual environment on a regular basis, will improve the relationship between the sexes and will have a positive cultural impact on society as a whole.
The main goal we should pursue is to enlighten society by studying Islam from a cultural perspective that fosters equality and mutual respect between men and women instead of segregating them as though they come from two different planets. Let's make mosques similar to churches!
Her description of an ideal mosque does not, however, have women and men sitting together. Instead, Sa'eed envisions a seating area divided into two SECTIONS for women and men, and a separate platform divided into two areas for prayers. Sa'eed would also like to see the introduction of dim lighting "to create an atmosphere of spirituality and inner calm."
Asked whether Muslims would take issue with the idea of chairs in a mosque, Sa'eed answers:
Everything is difficult at first, but I do not understand why Islamists and conservatives should object to seats in mosques when they do not object to the construction of Western-style skyscrapers around the [Grand] Mosque compound in Mecca. … It is unreasonable to object to having seats in a mosque [just] to avoid any resemblance to a church. After all, most moderate clerics preach tolerance and rapprochement between the religions, so why shouldn't a mosque resemble a church? Everyone [on earth] sits on chairs, and I have never heard that sitting on a CHAIRis forbidden or reprehensible.
"Getting used to sitting in chairs in an orderly manner and praying in soft voices under dim LIGHTING will gradually refine Muslim behavior," she adds.
While Sa'eed doesn't think the Arab world is ready yet for female imams – as has happened in Europe – she believes that WOMEN should start taking on official roles in Islamic jurisprudence, and Muslim societies should be open to publishing religious books by women and airing religious television programs presented by women.
http://www.breitbart.com/jerusalem/2016/12/03/saudi-academic-end-gender-segregation-in-islam-lets-make-mosques-similar-to-churches/
--------
After "historic victory", Trupti Desai to enter Haji Ali Dargah today
December 3, 2016
Pune (Maharashtra) [India]: After a group of around 100 women and social activists entered the inner sanctum of the Haji Ali Dargah earlier on November 29, Bhumata Brigade activist Trupti Desai and others are set to visit the holy place today.
"It is a historic victory for the movement. Our demand was not wrong. We were not against any religion. We will be entering Haji Ali today. It was a historic victory for women and I am sure there will be no problem," Desai told ANI.
After a series of legal battles that lasted for five years, the women activists entered the sanctum sanctorum of Haji Ali Dargah on November 29.
Prior to 2011, the Dargah did not discriminate against women and allowed free entry of people across religions. However, in March 2011, the dargah's board of trustees imposed a ban on women's entry calling it a "grievous sin".
On October 24, the Haji Ali Dargah Trust had told the Supreme Court that it was ready to implement the Bombay High Court's order to allow women to enter the sanctum sanctorum of the shrine located in South Mumbai and had sought four weeks for infrastructural changes to make arrangements for it.
An apex court bench headed by Chief Justice of India T.S. Thakur heard the Haji Ali Dargah Trust's plea challenging the Bombay High Court's ruling to provide equal rights of entry to both women and men in the dargah's sanctum sanctorum.
On August 26, the Bombay High Court held that the ban imposed by the trust, prohibiting women from entering the sanctum sanctorum of the Haji Ali Dargah, contravened Articles 14, 15 and 25 of the Constitution and said that women should be permitted to enter the sanctum sanctorum like men.
Noorjehan Fiaz and Zakia Soman, founders of the Bharatiya Muslim Mahila Andolan (BMMA), had filed a petition against the ban in the Bombay High Court , calling it unconstitutional. (ANI)
http://www.siasat.com/news/historic-victory-trupti-desai-enter-haji-ali-dargah-today-1078301/
--------
Who are the women named in Saudi Arabia's Shoura council?
4 December 2016
When Saudi Arabia reshuffled its consultative body the Shoura council on Friday, it also named 29 women as members.
Out of the 29, the majority hold doctorate degrees and held positions in universities and civil societies across many different fields.
Of the new appointments, Leena K. Almaeena was among the youngest members to be named as a member by royal decree. She has written for Al Arabiya English on the importance of Saudi women's role in society and is a prominent figure in Jeddah advocating for sports and youth.
Also appointed as a member was Mody AlKhalaf, a former Saudi diplomat based in Washington D.C. considered the first woman to hold such post in the country's political history.
Saudi writer and journalist Kawthar al-Arbash will also join the kingdom's consultative body. She is the mother of a Saudi son who was killed while preventing an ISIS suicide bomber from attacking a mosque in Dammam last year.
Below is a complete list of all women members of Saudi Arabia's next Shoura council.
1. Dr. Ahlam Mohammed al-Hakmi
Academic scholar and Dean at Jazan University who specializes in contemporary doctrines.
2. Dr. Asma Saleh al-Zahrani
Academic scholar and researcher specializing in the philosophy and the Arabic language. "I hope to be a voice for all Saudi citizens," Zahrani said.
3. Dr. Iqbal zain al-Abedin Darandri
Expert in statistics and research fields.
4. Dr. Amal Salama al-Shaman
Has a doctorate in educational and instructional technology from George Washington University. Has been in the Shoura council since January 2013.
5. Dr. Jawaher Dhafer al-Anizi
Academic and scholar with a doctorate in education technology from Umm al-Qura University in Makkah.
6. Jawhara Nasser al-Yami
Bachelor's degree in business administration and masters' degree from King Saud University.
7. Dr. Hamda Maqbool al-Joufi
Born in the city of Dumat Al-Jandal, Dr. al-Joufi has a doctorate from Princess Noura University in Riyadh. "I thank King Salman for nominating and appointing me to the council and my joining of the Shoura is evidence of the trust Saudi leadership has on Saudi women and their place in society."
8. Dr. Hanan Abdulrahman al-Ahmadi
Associate Professor of Health Administration at the Institute of Public Administration in Saudi Arabia.
9. Raedah Abdullah Abunayan
Bachelor's and master's degree holder from King Saud University in Riyadh and faculty member at the same university.
10. Dr. Zainab Abu Taleb
Current member of the Shoura council and a faculty member at the King Saud University. A medical doctor specialized in Infertility treatment and IVF.
11. Dr. Samia Abdullah Bakhari
Academic and religious scholar specialized in Islamic philosophy and law from al-Qura University in Makkah.
12. Dr. Sultanah Abdulmusleh al-Bidwi
Educationalist with a doctorate in teaching the English language from Princess Noura University in Riyadh.
13. Dr. Aalia Mohammed al-Dahlawi
An academic and researcher specialized in micro-biology and received her doctorate from King's College London.
14. Dr. Fatimah al-Shehri
A medical doctor based in Riyadh.
15. Dr. Fardous Saud al-Saleh
Has a doctorate in nuclear physics and was re-appointed to the newly formed Shoura Council.
16. Dr. Fawzia Aba al-Khail
Faculty member at Princess Nora Nora bint Abdul Rahman University.
17. Kawthar al-Arbash
18. Dr. Latifa Ahmad al-Buainain
Is an Assistant Professor at the University of Dammam.
19. Dr. Latifah Ashaalan
Is a Saudi writer and Associate Professor of Psychology at Princess Nora bint Abdulrahman University. She has a weekly column writing on women's issues with al-Hayat newspaper.
20. Lina K. Almaeena
Is a Saudi writer and member of the Young Saudi Business Committee and Sports Investment Committee in the Jeddah Chamber of Commerce and the Kingdom Young Business Women Council. A She was listed as one of the 200 Most Powerful Women in the Middle East by Forbes Magazine 2014. She is also the founder and team captain of Jeddah United, the first local sports company in Jeddah promoting sports among women and youth.
21. Dr. Mona Almushait
Reappointed to her second term in the Shoura council and is an Associate Professor in obstetrics and gynecology at King Khalid University.
22. Dr. Mastourah Obaid Al-Shammari
Reappointed to her second term in the Shoura council and is an educator.
23. Dr. Nihad Al-Jishi
Reappointed to her second term in the Shoura council and was one of the first two Saudi women to visit Britain's House of Commons and House of Lords to discuss ways to promote parliamentary elections in both countries.
24. Dr. Nora Abdulrahman Al-Yousif
Has a doctorate in economics from Surrey University in the UK and was under-secretary of the college of political science and law at King Saud University between 2012 and 2015.
25. Dr. Nora Faraj al-Musaed
Sociology professor at King Abdulaziz University and is an expert and researcher on women's rights and issues.
26. Nora Al-Shaaban
Received her diploma in education and founded "Creativity Forums." Began her career in education as a teacher, after which she became a school supervisor and later director for nearly eight years.
27. Dr. Nora Mohammed al-Merri
Academic and researcher focused on Arabic literature. "This country has given me so much throughout my life and now is the time to return the favor. I vow to represent all factions of Saudi society and seek to make progress in the coming term," she told local al-Sabq newspaper after her appointment.
28. Huda Abdurahman Al-Halisi
Reappointed to her second term in the Shoura council and served as deputy chairperson of the Shoura council's foreign affairs committee.
29. Dr. Mody AlKhalaf
https://english.alarabiya.net/en/News/gulf/2016/12/04/Who-are-the-women-named-in-Saudi-Arabia-s-Shoura-council-.html
--------
Saudi ban on women drivers still rankles
December 3, 2016
It seems that the issue of the ban against WOMEN driving in Saudi Arabia will not be allowed to rest. Ever so often, a movement or action from some influential figure regurgitates the whole issue and the controversy simply refuses to die down.
More recently, a member of the Saudi Shura Council spoke out in favour of letting women drive, stating that it was her right and should not be "denied on religious, social or economic grounds". During a Council session, Dr Latifa Al Sha'lan, a woman member who had been appointed to the Council when the late Saudi King Abdullah Bin Abdul Aziz approved the inclusion of women in the consultative body, said that the oft-touted claims by rejectionists that the atmosphere was "not appropriate yet to allow women to drive as the country is facing internal and external challenges" was simply balderdash!
In her argument, Dr Sha'lan told a local daily: "We have been facing internal and external challenges since the state was founded by King Abdul Aziz and if we look carefully at our history in the last 50 years, we will say, according to this logic, that no time was ever appropriate to allow women to drive since we are always in the midst of a tumultuous ocean of challenges."
A few days later, Prince Al Waleed Bin Talal, one of the most influential Arabs in the region, jumped into the fray when he released a statement, saying: "Preventing a woman from driving a CAR is today an issue of rights similar to the one that forbade her from receiving education or having an independent identity. They are all unjust acts by a traditional society, far more restrictive than what is lawfully allowed by the precepts of religion. Having women drive has become an urgent social demand predicated upon current economic circumstances."
I asked some of my readers for their views on these recent developments. Mahmoud, a Sudanese accountant, said: "I do believe that there are many more factors to be taken into account before allowing women to drive. Major issues such as traffic for instance. I am confident that if women are allowed to drive, most of them will never give up their drivers. This would mean adding tens of thousands of CARS AND DRIVERS into the highly congested roads in Jeddah, Riyadh and all other major cities."
Amro, a Saudi aircraft engineer said: "I am with the vote for WOMENdriving in this country. Once our people know how to follow rules and regulations and know what respect of law means, and once the government itself knows how to implement the law and enforce it, we will see a change in people's mentalities."
Nadia, a Saudi grandmother, said that a lot "strain" was "put on the male members of a family by denying women the right to drive". She said: "How can they perform their jobs if they need to chauffeur their children and female members of the family to and from work or schools? From what I understand, the government is encouraging Saudisation. How can you accomplish that if Saudi men are not doing their jobs because they need to address the needs of their family? What is more IMPORTANT? Family or work? Can you take care of your family if you have no work? You are creating a workforce that believes it can leave work any time to run personal errands, a practice that is undesirable in any professional organisation ... A sad state of affairs if you ask me."
Rahul, an expatriate from Lucknow, in India, said: "Who cares? There are more important issues in the world than driving for Saudi women ... My feeling is that they (Saudi women) should be kept under wraps."
Freja, a Danish expat who works at a hospital added: "Recently, this issue has become more IMPORTANT to me as my husband is suffering from cancer. His salary has now been cut and I am left to raise the children on my moderate income. So yes, women must drive and must drive now. The cost of living is going up here [in Saudi Arabia]. Yet, salaries do not reflect that. Secondly, I am so tired of feeling awkward, being driven around by another human being ... Why should I put myself in danger with a stranger in this way?"
To many forward-thinking residents, the ban on WOMEN driving is the final frontier that has to be conquered. Momentum on the issue ebbs and flows with time. But just as strong tides resist stubborn rocks and turn them into soft rubble, sooner or later, this issue too will erode into acceptance.
Tariq A. Al Maeena is a Saudi socio-political commentator. He lives in Jeddah, Saudi Arabia. You can follow him on Twitter at www.twitter.com/@talmaeena.
http://gulfnews.com/opinion/thinkers/saudi-ban-on-women-drivers-still-rankles-1.1939203
--------
URL: https://newageislam.com/islam-women-feminism/women-driving-female-member-makes/d/109276
New Age Islam, Islam Online, Islamic Website, African Muslim News, Arab World News, South Asia News, Indian Muslim News, World Muslim News, Womens in Islam, Islamic Feminism, Arab Women, Womens In Arab, Islamphobia in America, Muslim Women in West, Islam Women and Feminism, Moderate Islam, Moderate Muslims, Progressive Islam, Progressive Muslims, Liberal Islam