New Age Islam News Bureau
9 Jan 2019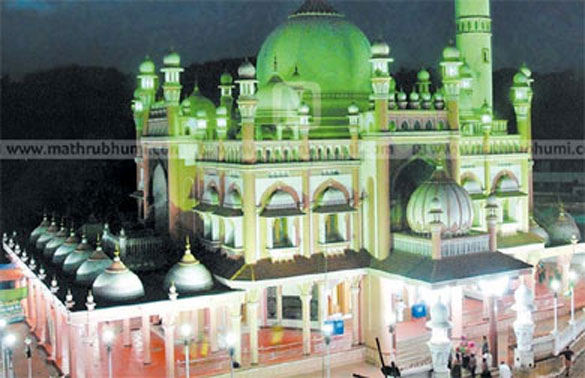 Erumeli Nainar Juma Masjid, Photo Sajan V Nambiar, Mathrubhumi Archives: There was no restriction on women Ayyappa devotees visiting the Vavar Mosque.......
-----
• Oral Talaq A Real Issue But Wrongly Caught In Politics: Minority Women's Constitutional Rights Forum
• "If Government Is Worried About Muslim Women, Give Us Reservations" Member AIMPLB
• Girls Aging 10 To 14 Comprise 6 Per Cent of Marriages in Iran
• Muslim Woman Was Allegedly Assaulted, Her Hijab Pulled, In Possible Hate Crime in Oklahoma
• Eight Pakistani Female Dancers Deported From Kenya
Compiled by New Age Islam News Bureau
URL: https://www.newageislam.com/islam-women-feminism/women-devotees-all-religion-gender/d/117410
--------
Women Devotees of All Religion, Gender and Age Groups Can Visit Nainar Mosque at Sabarimala
JANUARY 08, 2019
Amidst reports of a few women activists of a Right wing group attempting to enter forcibly the prayer hall of the Nainar Mosque (Vavar Palli) at Erumely, its management has clarified that devotees of all religion, gender and age groups can visit the mosque as part of their pilgrimage to Sabarimala.
P.H. Shajahan, president, Erumely Mahalla Muslim Jamaat, which manages the mosque, said here on Tuesday that they had not imposed any restrictions on the visit of Sabarimala devotees before or after the Supreme Court's verdict that lifted the ban on women in the 15-50 age group from entering the Sabarimala temple.
"We have been receiving women of all age groups as visitors for a long time and the trend continues even after the recent SC verdict. There is no restriction on them entering the mosque, circumambulating it and providing offerings, as is the tradition," he said.
A large number of Sabarimala pilgrims visit the mosque throughout the annual pilgrim season, reviving the the local myth of Lord Ayyappa's friendship with the Muslim youth Vavar. Besides pilgrims, the location has witnessed a huge inflow of tourists, including women, who come to Erumely during the pilgrimage season. It, however, does not permit the entry of Muslim women to the prayer hall.
The other day the police had arrested six people, including three women from Tamil Nadu, while on their way to visit the mosque here. The accused were booked under various Sections, including attempts to promote animosity between different religious groups, and were remanded.
In the face of reports that some women belonging to a Right wing group would attempt to enter the prayer hall here, additional police personnel were posted here to prevent their entry to the prayer room.
https://www.thehindu.com/news/national/kerala/no-ban-on-women-entering-vavar-mosque/article25941783.ece
--------
Oral Talaq A Real Issue But Wrongly Caught In Politics: Minority Women's Constitutional Rights Forum
January 9, 2019
"Women want to work towards positive politics," says Razia Patel, who heads the minority education cell of the Indian Institute of Education. Patel, along with others, has set up a minority women's constitutional rights forum (Muslim Mahila Sanvidhan Hakka Parishad) that aims to raise practical issues and set a development agenda.
"Religious minority groups are just engaged and engulfed in the religious politics and their issues are being used for vested interests… The latest example is current politics of a very sensitive issue of oral talaq, which is a real issue but wrongly caught in politics. On the other hand, real issues of the community, such as education, employment, security and empowerment for women, and human and citizenship rights are not getting addressed by policy makers in an effective way," Patel told The Indian Express.
The forum was set up after the Indian Institute of Education conducted a two-day national workshop for women from minority groups on 'leadership development and constitutional rights' on January 3 and 4. "Very few women rise to leadership positions and more so it applies for women from the marginalised sections. The forum feels that these issues can be resolved within the constitutional framework alone with an awareness about the constitutional rights," said Patel.
Likes of Prof Sabiha Hussain from the Sarojini Naidu Centre for Women's Studies, Jamia Millia Islamia, who feels there is a tremendous challenge before Muslim women regarding their leadership development, Hasina Khan, who has been working on the talaq issue, Mumtaz Shaikh, another activist, Jamila Begum from Mumbai, who has been working on 'Ghar Bachao Ghar Banao aandolan', and Prof Qudsia Anjum from Saharanpur have come together to set up a new platform.
Dr Sharad Javdekar, joint member secretary of the Indian Institute of Education, said that efforts to push women behind were being made by vested interests. "There is an environment of communal hatred being perpetrated consciously and there is also an effort to use educational curriculum for same. The schemes for minority development remain on paper and women need to be vigilant against these and develop their leadership with political consciousness. This cannot happen with an NGO-centric approach only," Javdekar said during the workshop.
Nirmal Bhakare, an activist working on issues of Dalit Christian women, and social activist Vidya Bal also participated in the workshop. Bal said that "religious fanaticism has made women's issues more complicated" and accordingly "new challenges have come up".
'10 per cent quota an election gimmick'
"There is an increasing poverty and unemployment in the country… It is the result of faulty policies and lack of proper development model. It calls for overall changes in economic policies in favour of deprived people like farmers and jobless youth. Just providing 10 per cent reservation is an election gimmick and will not provide any relief to anyone. It is yet another jumla," said Patel.
https://indianexpress.com/article/india/oral-talaq-a-real-issue-but-wrongly-caught-in-politics-minority-womens-constitutional-rights-forum-5529365/
--------
"If Government Is Worried About Muslim Women, Give Us Reservations" Member AIMPLB
7 January 2019
Fathima Muzaffer, member of All India Muslim Personal Law Board (AIMPLB) women wing who was on a visit to Bhatkal for the centenary celebrations of Anjuman Hami-e-Muslimeen Bhatkal, addressed a press conference here and spoke about how the government is compromising the constitution of India in the name of 'Muslim women empowerment bill'.
Addressing the press conference here at the Anjuman administrative building Fathima demanded reservations for Muslim women in Parliament, Job sector, Education sector and elsewhere if the government is worried about Muslim women's empowerment.
"Due to unemployment and poverty we are unable to send our children to schools, we are the least represented in all the government services, this is the real agony of the Muslims of India. Let them bring a bill which will give us representation, they are speaking about our empowerment, let them give us representation and reservation in all the government services and sectors" Fathima added.
Answering a question by Bhatkallys.com staff about the AIMPLB's efforts of holding talks with BJP leaders and women MPs like Sushma Swaraj and Smriti Irani, Fathima added that the organization has time and again sought appointments from these leaders and also from the President of India which have been repeatedly denied.
"We have written an open letter to the President of India, which is also available on our website, seeking appointment of the president to discuss on this issue and also 18 months from then we didn't receive any communication from the president's office"
"We have conveyed our message to the leaders of oppositions who have taken stand against the bill, we are thankful to them, but their efforts didn't yield any result because of the numbers they have in the parliament" Fathima further added.
Answering another question about the laws banning triple talaq in the Muslim countries, which the Modi government has been using as an argument in their favor Fathima said "First of all we are not the citizen of other countries, we are the citizens of India, so we are not bothered about what are the laws in other countries. Secondly, in other countries there are several procedures and regulations as Shariah law is the land of law in those countries, which is not the case in India. So we cannot compare laws of two different countries in two different scenarios".
Towards the end Fathima also spoke about how GST and demonetization played with the sentiments of people and the economy of the country.
AIMPLB Bhatkal coordinator of women wing Nabira Mohtesham and Zareena Kola were also present during the press conference.
https://www.bhatkallys.com/bhatkal-community-news/if-government-is-worried-about-muslim-women-give-us-reservations-fathima-muzaffer-member-aimplb-says-in-bhatkal/
--------
Girls Aging 10 To 14 Comprise 6 Per Cent of Marriages in Iran
On Jan 8, 2019
Six per cent of Iranian girls get married between 10 and 14 while the bill proposing to increase the marriage age for girls was recently turned down by the parliamentary Judicial Committee.
Parvaneh Salahshouri, head of the women's faction in the mullahs' parliament, spoke about this issue in a meeting in Tehran on child marriages. She said, "We continue to see girls get married between 9 and 14 years of age… Some 6 per cent of those who get married are girls between 10 and 14." (The official IRNA news agency – January 6, 2019)
She continued her remarks, "Do we want to realize population growth by marriages of girls under 13?… There are one million young men and women who do not have the wherewithal to get married. Instead of opposition to the bill on child marriages and focusing on the marriage of 40,000 kids, it might be better to provide these youths the resources they need."
Salahshouri added, "How could a 10-year-old be deprived of the right to vote but be able to get married while she is not prepared at all to tend to the needs of her husband and is not in any way prepared to be married and bear a child? Given their health and healthy pregnancy, many of these women suffer from cancer after they reach 30."
The special assistant to citizens' rights in the presidential directorate on women and family affairs, Shahnaz Sajjadi, also addressed the same meeting.
Describing early marriage as "one of the tragedies of our times," Sajjadi said, "Child marriage violates children's rights and we are not entitled to obliterate the childhood of any human being. Under our law, a minor (under 18 years of age) is not entitled to own a property, have a driver's license or vote because he/she is considered immature. How do we expect such a person to be able to get married? This is while the Convention on the Rights of the Child reiterates that a child becomes mature at the age of 18." (The official IRNA news agency – January 6, 2019)
The Iranian regime's experts have estimated that 180,000 of under-18 child marriages take place in Iran, every year.
https://women.ncr-iran.org/2019/01/08/girls-aging-10-to-14-comprise-6-per-cent-of-marriages-in-iran/
--------
Muslim Woman Was Allegedly Assaulted, Her Hijab Pulled, In Possible Hate Crime in Oklahoma
09/01/2019
A Muslim woman from Oklahoma said an attacker pulled her hijab and told her to "go back to [her] country" in an incident that police are now investigating as a potential hate crime.
The alleged assault occurred while Jenan Ayesh, from Enid, Oklahoma, was in Dallas with family a little over a week ago. Ayesh said she was later diagnosed with a concussion.
At a press conference in Oklahoma City last Friday, Ayesh said she was particularly troubled that her mother and 10-year-old daughter witnessed the alleged attack.
"It was very hard for me to experience this," Ayesh said during the press conference organized by the Oklahoma chapter of the Council on American-Islamic Relations (CAIR-OK). "I never thought that I would get attacked in this way, especially not in front of my mom. It was very hard for her to see that and also hard for me to know that my oldest daughter had to witness that, too."
"No child [should ever have to] see their mom in that kind of condition or have to experience that," she said.
Ayesh said the attack occurred on Saturday, Dec. 29, while she and her family were waiting for a ride home after visiting the Reunion Tower, a popular tourist spot in Dallas. She said that a woman who wanted to use a door that Ayesh's family was standing in front of became agitated, telling her to "go back to [her] country." When Ayesh explained that America is her country, she said the woman asked why she wore a hijab, an Islamic head covering some Muslim women don as part of their spiritual practice.
According to Ayesh, the woman slapped her twice, yanked off her hijab and pulled her hair before fleeing the scene.
Although she initially didn't think she was physically injured, Ayesh said she began experiencing headaches as well as neck and chest pain the next day. She contacted police on Sunday, Dec. 30.
There are some discrepancies between Ayesh's account now and the summary released by the Dallas Police Department. The police report suggests that the officers responding on Sunday night may have thought Ayesh was describing an incident earlier that same evening. The police report also has the incident occurring at the Renaissance Tower ? perhaps reflecting a confusion of names by an out-of-towner.
"Like many victims of trauma, it was not until later after the attack that Ms. Ayesh realized that she had been the victim of a hate crime and that she should report it," Veronica Laizure, CAIR-OK's civil rights director, told HuffPost.
A few days later after the alleged attack, Ayesh visited an emergency room and was diagnosed with a concussion, Laizure said.
Dallas police spokesperson Carlos Almeida told HuffPost on Tuesday that the department is investigating the alleged incident as a hate crime. Police haven't publicly identified a suspect in the case.
CAIR-OK is not representing Ayesh in a legal capacity, Laizure said, but is helping raise awareness about the incident.
CAIR's Dallas/Fort Worth chapter is also offering support to Ayesh's family, according to legal director Dontrey Tatum. He said he welcomed the police department's decision to treat the matter as a possible hate crime.
"The Dallas PD are sending a message that bias-motivated intimidation and attacks will not be tolerated," Tatum told HuffPost. "It is important to show that hate crimes are unacceptable and will be punished by law."
CAIR-OK's executive director, Adam Soltani, said during the press conference that he believes the alleged incident is part of an "atmosphere of Islamophobia" in America. He said that the "vast majority" of hate incidents the chapter has dealt with over the past 13 years involved Muslim women who were wearing headscarves "because that's a very visible symbol of their faith."
Nationwide, CAIR documented a 17 percent increase in anti-Muslim bias incidents in 2017, compared to the prior year.
"We, as Americans, should work on creating an atmosphere that encourages dialogue respecting differences and building a foundation based on understanding, based on things we have in common so that we can move forward in a way in which everyone can live peacefully," Soltani said.
For her part, Ayesh said she bears no ill will toward the alleged attacker.
"I just want to see her understand what I went through and understand that we're not scary," Ayesh said. "She didn't need to be afraid of me and she didn't need to attack me in that way."
https://www.huffingtonpost.in/entry/jenan-ayesh-anti-muslim-attack-dallas_us_5c34bc47e4b01e2d51f797d5?ec_carp=3805417648585135175
--------
Eight Pakistani Female Dancers Deported From Kenya
January 9, 2019
ISLAMABAD: The eight Pakistani women, who were flown into Kenya through the assistance of Sports Cabinet Secretary Rashid Echesa, have been deported.
According to reports in Kenyan media, the eight belly dancers, alongside one Indian dancer have been deported for violating terms of their temporary passes that allowed them into Kenya, allegedly to promote transnational culture.
However, the women, all aged above 18 and suspected to have been victims of human trafficking, were arrested at a social club in Parklands, and arraigned in court on charges of being in the country illegally.
A statement from the Ministry of Interior said the women had been deported for violating regulation 26 (3) of Kenya Citizenship and Migration regulations, by engaging in activities outside of what was specified in their entry documents.
"Investigations are still going on to establish the circumstances in which the women came into Kenya ostensibly to promote transnational culture but ended up in suspicious places," Interior spokeswoman Wangui Muchiri said.
On Friday, a magistrate ordered that the women, known as belly dancers, be kept in a safe house to enable police establish whether they are victims of human trafficking. Senior principal magistrate Kennedy Cheruiyot sitting at the Milimani law courts Nairobi gave the order after being furnished with special permits issued to the eight foreign girls by Mr Echesa.
Defence lawyer Evans Ondieki told Cheruiyot that the eight girls who were arrested at Balle Balle Club at Parklands "are in the country legally with full permission of CS Echesa." Ondieki said the eight cultural dancers from Pakistan were allowed to enter into the country by Echesa to promote trans-national cultures. The lawyer pleaded with the magistrate to release the girls to be detained in a safe house where police can access them whenever they want as they investigate the owner of Balle Balle Club who flew the girls into Kenya.
"On humanitarian grounds I urge this court to release these girls as they have not bathed for the last one week, health rules require women to fresh up and bath as many times as they can afford," Ondieki told the magistrate. He said it was very regretful that police are stifling the order of CS Echesa allowing the girls to perform in Kenya upto January 18, 2019. He said each of the girls paid the Immigration Department Sh45,000 to be issued with the special passes. "What government are the police serving and what government is Echesa serving. Aren't they serving the same regime," Ondieki wondered.
He prevailed upon the court to release the girls to Nadeem Khan, of Blue Heart, a non-governmental organisation against human trafficking, Violence and Child Abuse to place them in a safe house where "only him and police can access the girls for interrogation."
Although their release had been opposed vehemently by state prosecutor Annette Wangia the magistrate in exercise of his inherent powers , released the girls to Khan on humanitarian grounds with orders only police from the trans-national crimes desk can access the girls who are suspected to be victims of human trafficking.
Meanwhile, eight Pakistani women who were deported from Kenya on Tuesday filed a petition in court against Interior CS Fred Matiang'i and Sports CS Rahid Echesa. Through their lawyers, the Pakistani nationals requested the court to order the two leaders to pay them Sh9.1 million for what they termed as an illegal deportation.
https://www.thenews.com.pk/print/416561-eight-pakistani-female-dancers-deported-from-kenya
--------
URL: https://www.newageislam.com/islam-women-feminism/women-devotees-all-religion-gender/d/117410
New Age Islam, Islam Online, Islamic Website, African Muslim News, Arab World News, South Asia News, Indian Muslim News, World Muslim News, Women in Islam, Islamic Feminism, Arab Women, Women In Arab, Islamophobia in America, Muslim Women in West, Islam Women and Feminism