New Age Islam News Bureau
22 Oct 2012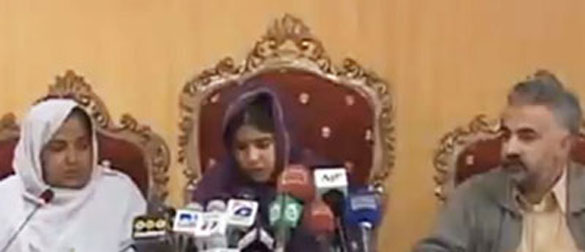 • German Dentist Fined for Anti-Hijab Bias
• EU-UN Partnership Powers Arab Women to 'Spring Forward'
• Saleswomen to Be Allowed To Work at Jewellery Shops in Saudi Arabia
• "Another School Girl, Hina Khan, From Swat Threatened By Taliban"
• As World Helps Shot Pakistani Girl, Afghans Ask What about Our Women and Children?
• Sudan: War Rap Women Parliamentary Caucus Calls For Empowering Women
• Govt Urged To Bring Malala Attackers to Book
• Feminists Dally As Islamic Women Die
• 12th Convocation of Defence Authority College for Women held at Karachi
Compiled by New Age Islam News Bureau
Photo: Hina Khan, From Swat Threatened By Taliban
URL: https://www.newageislam.com/islam,-women-and-feminism/new-age-islam-news-bureau/women-denounce-tunisia-s-new--sexist--constitution/d/9063
----------
Women Denounce Tunisia's New 'Sexist' Constitution
22.10.2012
A clause in Tunisia's draft constitution has sparked uproar and concerns that women's rights are under threat. Some Tunisian women are fighting back.
When Tunisia's National Constitutional Assembly published the new draft constitution earlier this year, its references to women provoked outrage. One article stipulated that the roles of men and women "should complement each other within the household."
For decades, women in the North African nation have enjoyed some of the most far-reaching rights in the Arab world. Many have successful careers in business and politics. For example, women account for nearly half the lawmakers in the ruling Islamist Ennahda party. But some women now perceive the new definition of gender roles as a threat to their freedoms.
'An open door' to rights abuse
One of these opponents is Selma Rekik, who runs a family business near Tunis that specializes in automobile cables and food processing. So far, she has always felt comfortable operating in sectors traditionally dominated by men.
"Sometimes when you start a new project [as a woman], people might be a bit wary," said Rekik. "But that changes as soon as you assert yourself, you show that you're efficient. I've been respected because the results have been good. In Tunisia, I haven't had any problems."
But the problematic clause in the constitution could change this. Thousands took to the streets in protest when it was made public in August.
"Lawyers who have interpreted this article consider it an open door to other excesses that can compromise women's rights," said Rekik.
Rekik acknowledged she came from a privileged family where male and female members were treated equally. But she also saw other Tunisian women asserting themselves across the workforce. Many of her factory's employees are women - as are the farmers working for her food processing company.
"Very often, it's the women who work to pay for their children's' food and clothing and their education. They're the element of stability in the family."
Rights activists like Khadija Cherif blame the Ennahda party, which inserted the offending paragraph, for going back on campaign promises to uphold women's rights. She believes more hard-line Islamists will twist the vague legal wording to suit their interests.
"It threatens equality," said Cherif. "Because when you talk about 'complementarity,' it could mean barring women from work - because it could mean that men work and women stay at home. It could even mean a return to polygamy."
Already, according to Cherif, women and even young girls are being pressured to wear the hijab, which used to be a rare sight on Tunisia's streets.
Defence from conservatives
But at Ennahda's headquarters, party leader Rachid Ghannouchi offered a more egalitarian interpretation of the controversial clause.
"In three different places, the constitution states that equality between men and women is guaranteed," Ghannouchi told DW. "In the fourth place, there is a reference to complementarily. While there is complementarily between women and men in the family setting, it doesn't mean one is better than the other, or has more rights or responsibilities."
In fact, more conservative Tunisian women, like university student Hajer Ben Jemaa, argue that they have more rights today than before the revolution, because they can assert their religious beliefs.
"Today in Tunisia, I'm free to wear this hijab," said Ben Jemaa. "I don't have problems with the police or at school. With Ennahda I have hope."
Taking action
For her part, Rekik believes Tunisian women should be free to wear what they want. But she is not waiting for politicians to determine her future. Earlier this year, she helped to establish a new, secular party - Call of Tunisia (Nidaa Tounes) - founded by former prime minister Beji Caid el Sebsi.
"If I'm getting into politics now, it's because I want to fight for what we have achieved as women, as Tunisians," said Rekik. "I accept difference - the debate of ideas. But not regression - not rolling back women's rights."
Call of Tunisia is off to a good start. A recent poll placed the party second behind Ennahda, with 20 percent of Tunisians backing it.
http://www.dw.de/women-denounce-tunisias-new-sexist-constitution/a-16322223
----------
German Dentist Fined for Anti-Hijab Bias
22 October 2012
A German court has ruled against a dentist who had refused to employ a veiled Muslim woman because she declined to remove her headscarf, blaming him for breaching the Equal Treatment Act.
(Ahlul Bayt News Agency) - The dentist broke the law because he refused the plaintiff the position only because she didn't want to take off her headscarf," the spokesman for the Berlin industrial tribunal said.
Applying for an assistant job in his dental practices, the anonymous woman was asked by the dentist to remove the veil to get the job.
Condemning the move as against non-discrimination laws, the woman took the issue to the court.
At the hearing, the dentist had acknowledged the woman was qualified for the position but argued his refusal to employ her stemmed from the right to religious neutrality.
The court ordered the dentist to pay 1,500 euros ($1,966) in damages to the young Muslim woman.
Though the decision was made last March, it was only reported by the court last Thursday.
The Tagesspiegel newspaper said the decision was a first, and that the court had insisted the headscarf was not optional but an expression of religious belief, which was unaffected by the fact some Muslims chose not to wear it.
Germany has 15.1-million strong populations of immigrants and their descendants, out of the country's 82 total population.
The country is believed to be home to nearly 4 million Muslims, including 220,000 in Berlin alone. Turks make up an estimated two thirds of the Muslim minority.
An earlier study showed that women and immigrants were more likely to get a job interview if applications were made without names.
Welcomed
The court decision won applauds from the federal office for fighting discrimination.
"It clearly says that women cannot be discriminated against in their access to employment because of their religious convictions," its chief, Christine Lueders, said in a written statement issued Thursday.
Islam sees hijab as an obligatory code of dress, not a religious symbol displaying one's affiliations.
The Islamic headscarf has been the subject in recent years of heated political debate in Germany.
The federal constitutional court, the country's top tribunal, has ruled that each of Germany's 16 states has the right to make its own law on whether to permit teachers to wear the Muslim headscarf in public schools.
Around half of German states have already banned hijab for school teachers.
In its 2009 report "Discrimination in the Name of Neutrality: Headscarf Bans for Teachers and Civil Servants in Germany", Human Rights Watch said that laws banning teachers from wearing hijab in Germany discriminate against Muslim women.
http://abna.ir/data.asp?lang=3&Id=358452
----------
EU-UN Partnership Powers Arab Women to 'Spring Forward'
OCTOBER 21, 2012
Commission, UN Women will support regional initiatives in South Mediterranean
A new joint programme launched by the European Commission and UN women aims to empower women politically and economically in the South Mediterranean region following last year's Arab Spring.
On Wednesday 17 October EU Commissioner Stefan Füle and UN Women official John Hendra signed the €8.2 million programme, "Spring Forward for Women." It will help fund initiatives by institutions and civil society organisations in South Mediterranean countries that want to ensure women's engagement in decision-making and create more educational opportunities for women, among other goals. Seven million comes from the Commission, and 1.2 million comes from the UN.
"Arab women, like all women around the world, have a crucial role in shaping the evolution of their societies and hence the future of their countries," said Füle, commissioner for enlargement and European neighbourhood policy. "We need to ensure that women's voices remain at the heart of the transformation process so that South Mediterranean countries continue to strengthen the inclusive nature of the transition and respond to the calls of Arab women."
The signing came during the European Development Days, at which Hendra, the UN Women assistant secretary general and deputy executive director of policy and programmes, moderated a conference on the role of women entrepreneurship in reshaping the economy. Hendra and the other speakers reiterated some common sense that is often overlooked when discussing women's rights: they can't happen in a vacuum. As women make up more than half of the world's population, the economic derivatives of equal opportunities benefit everyone.
This is especially true in the South Mediterranean region, which is trying to restructure in a constructive way.
"(Spring Forward) comes at an important juncture, with transformations taking place in many countries and women's voices calling for lasting change," Hendra said. "This programme is a critical step towards advancing women's rights against the backdrop of the developments taking place in the region."
Women played a role in initiating revolutions in many of the Arab Spring countries. A female blogger spurred people to action in Egypt, and similar events happened in Libya and Tunisia. Nevertheless, women were not afforded the same liberties following the successful revolution. In Libya, for example, the previous regime had been providing increasingly more opportunities for women. Such practices were thus seen as antagonistic following the revolutions. In addition, since the rising factions were mostly Islamist groups, women's rights were not emphasized on some of the new agendas.
"The Arab Spring didn't really happen for Arab women," said Sameera AlTuwaijiri, the UN Women regional director of the Arab States. "What gains we had there quickly evaporated."
The central role that women took within the Arab Spring has created new momentum for meaningful citizenship and political empowerment despite globally low levels of political participation and economic engagement among women. AlTuwaijiri argued that more women should be involved in politics and economics because of their ability to prioritize the right and necessary things when creating a budget. Also, as women in certain South Mediterranean countries are going to high school and college, it makes sense to utilize this investment.
"It's a waste of money if we are paying for women's higher education but then they are not allowed to do anything with their education," AlTuwajiri said.
Spring Forward follows a partnership agreement between the Commission and UN Women this past April. If it is successful in providing ample opportunities, AlTuwajiri predicts "very quick gains," particularly in reducing poverty.
"You have untapped potential," she said. "Poverty is self-propagating when there are no opportunities. … You elevate one aspect, and there will be a domino effect."
http://www.neurope.eu/article/eu-un-partnership-powers-arab-women-spring-forward
----------
Saleswomen to Be Allowed To Work at Jewellery Shops in Saudi Arabia
22 October 2012
Saudi society has been divided over pros and cons of a recent decision by the Ministry of Labour to allow Saudi women to work as sales clerks in gold and jewellery shops. Some say there is not enough security against robbery. Others say it will help decrease the number of unemployed Saudi women.
Arab News visited gold shops in Jeddah and asked shoppers and shopkeepers about this decision. Yemeni sales clerk Ali Awad said there is no way a woman would survive working in these shops. "These kind of shops has long working hours, sometimes we work from 8 a.m. until 11 p.m. one shift with only prayer-time breaks. Women need to take care of their children and cook for their husbands, not work long hours selling and buying gold," he said. "What about security? What if a thief comes to the shop and steals something or even threatens her with a knife? What would she do? I think this will never work," he added.
In the same shop there was a female shopper, Dania Hejazi. She said technology and security men at the gate can help women succeed in this job. "Every shop now has security cameras and you can always see security men walking about shopping centers so there is no need to worry," she said. "I think they should work in shifts to avoid long hours. No one, man or woman, should work more than eight hours a day. It is inhumane. Men also should have time to spend with their wife and children," she added.
Most gold shop owners in Jeddah work in their shop and employ family members as sales clerks. "I can never trust anyone with my business, I own two gold shops and I'm always around to make sure no one is stealing or forging anything," said Abu Mesaed. "I have recently employed my nephew in one of the shops because I couldn't operate two shops at the same time. I still check on him every day to make sure all is going smooth," he added.
"I don't believe I can trust women with my own business. Yhey have soft hearts and might give an unnecessary discount to their friends of other female shoppers. I believe this job is made for men only as they are good at math and can buy and sell gold without worrying about the tenderness of female shoppers," said Abu Mesaed.
"This is another step forward to empower Saudi women," said businesswoman Maha Terad. "There is nothing wrong with women working in jewelry and gold shops. Some already work at Fetihi and Mouawad jewelry boutiques, so where is the harm in working in gold shops as well," she wondered. "Saudi men always oppose change. They did the same with female cashiers and feminizing lingerie shops. The way I see this is that men will just get used to it if the media ignored them and if we proceeded with what the ministry decided," she added.
According to Al-Eqtisadiah daily, Kareem Al-Anzi, the chief of the National Committee for Precious Metals and Gems at the Council of Saudi Chambers of Commerce, said that the work nature at the gold workshops and factories is inappropriate for women. They can only be hired for installing stones, design and graphics because of their elegant taste. They can also work in production and processing stages but not at sales outlets. "The committee will do everything possible to address this decision because we think it will not solve any problems but will create other problems," he said. "There is no country in the world that limits gold trading or focuses on specific sectors to address the problem of women unemployment," he added. Al-Anz said that looking at it from a practical and social aspect, this feminizing decision would have negative repercussions on the female employees and the gold shops. "The female body structure is no match for potential risks such as robberies and theft as experienced by all gold shops in the world," he said.
http://www.arabnews.com/saleswomen-be-allowed-work-jewelry-shops
----------
"Another School Girl, Hina Khan, From Swat Threatened By Taliban"
Zahir Shah Sherazi
22.10.2012
PESHAWAR: Following the deadly attack on activist Malala Yousafzai a few weeks ago, another schoolgirl from Swat, Hina Khan who was a pioneer in raising her voice publicly against Taliban atrocities in the Malakand Valley, is now also claiming to be on the Taliban's hit list. What has been further worrisome for her family is that despite repeated requests for security, they claim no steps have been taken to provide protection to them after they fled from Swat and moved to Islamabad.
The teenaged Hina Khan, a student of Class 11, had publicly denounced militants' atrocities in 2009.
Full report at:
http://dawn.com/2012/10/22/another-school-girl-from-swat-threatened-by-taliban/
----------
As World Helps Shot Pakistani Girl, Afghans Ask What about Our Women and Children?
Oct 22 2012
Kabul: The global attention bestowed on a Pakistani schoolgirl shot by the Taliban has sparked outcry amongst many Afghans dismayed by what they say is the unequal response to the plight of their women and children.
Malala Yousufzai, shot by Taliban gunmen for advocating girls' education, was flown from Pakistan to Britain to receive treatment after the attack this month which drew widespread condemnation and an international outpouring of support.
Every day an Afghan girl is abused, raped, has acid thrown on her face and mutilated. Yet no one remembers or acknowledges these girls, Elay Ershad, who represents the nomadic Kuchi people in Afghan parliament, told Reuters.
Full report at:
http://www.indianexpress.com/story-print/1020375/
----------
Sudan: War Rap Women Parliamentary Caucus Calls For Empowering Women
21 OCTOBER 2012
Juba — Adut Madut Akec, chairperson of the newly established women's parliamentary caucus in South Sudan's War rap State Legislative Assembly on Saturday called for similar groupings to be established in the nine other state assemblies.
The top woman legislator in War rap State, which has South Sudan's only women Governor explained that women in the state decided to push for the legislation to address the many gender issues in the young nation.
"Our main objective is to create awareness among fellow women. We need them to know there is a forum where they can meet with other fellow women to freely discuss issues of their concerns. They not need to rely on what they hear from their husbands or other women but directly from this body. We will have branches spread all over the state", she explained.
Full report at:
http://allafrica.com/stories/201210220027.html
----------
Govt urged to bring Malala attackers to book
Asim Yasin
October 22, 2012
ISLAMABAD: The South Asian Free Media Association (Safma) Sunday passed a 12-point resolution and demanded of the government that those who have attacked Malala — the Taliban — must be brought to book by all possible means and those who are in any way or on any pretext whatsoever try to cover up or justify the accused Taliban/terrorists are no less worse and should be censured through public opinion.
Senior journalists, columnists, TV anchors, representatives of 40 press clubs of Pakistan, scholars and representatives from performing arts called on President Asif Ali Zardari at the concluding session of the Safma fifth national conference here Sunday.
Over 265 media representatives passed a unanimous resolution to condemn attack on Malala and her colleagues and this resolution was presented to President Asif Ali Zardari to demand the appropriate actions from state.
Full report at:
http://www.thenews.com.pk/Todays-News-13-18353-Govt-urged-to-bring-Malala-attackers-to-book
----------
Feminists Dally As Islamic Women Die
BY: IDA LICHTER
October 22, 2012
LAST Wednesday, Afghan girl Mah Gulwas beheaded on the instruction of family because she rejected prostitution. Fifteen-year-old Malala Yousufzai was shot in the head by Pakistani Taliban gunmen in the Swat Valley because she campaigned for women's secular education. Absence of outrage by Muslim leaders is shameful but why are so many Western feminists silent?
In Swat, the Pakistani Taliban systematically restricted girls' education. During 2008, they destroyed about 150 private schools and converted others into madrasas, or religious seminaries. Government schools were closed down, teachers murdered, acid was thrown on to the faces of schoolgirls, and several officials were beheaded.
A local Islamist leader explained: "Female education is against Islamic teachings and spreads vulgarity in society."
Full report at:
http://www.theaustralian.com.au/opinion/world-commentary/feminists-dally-as-islamic-women-die/story-e6frg6ux-1226500260036
----------
12th Convocation of Defence Authority College for Women held at Karachi
22.10.2012
KARACHI: The 12th Convocation of Defence Authority Degree College For Women was held at its premises here.
An announcement of the institution on Sunday said that the Vice Chancellor, Karachi University, Prof Dr. Muhammad Qaiser, presided over the ceremony.
It said that as many as 215 graduates of the session 2010 and 2011 were awarded BA, BSc and BCom degrees whereas 25 masters degrees were also conferred on the students. Six students of MA (Economics) 2009 were also awarded degrees.
As many as 20 students of the college were awarded degrees in MA (Economic), five students in MA (English), 87 students were awarded BCom degrees, 48 students received BSc degrees and 84 students were given BA degrees in the humanities and liberal arts.
Prof Dr Muhammad Qaiser in his convocation address said that with impartation of quality education the country can make rapid headway in the comity of nations.
Full report at:
http://www.dailytimes.com.pk/default.asp?page=2012\10\22\story_22-10-2012_pg7_14
----------
URL: https://www.newageislam.com/islam,-women-and-feminism/new-age-islam-news-bureau/women-denounce-tunisia-s-new--sexist--constitution/d/9063