New Age Islam News Bureau
07 December 2020
• Struggle To Overcome Gender-Based Transport Woes For Women Continues In Punjab, Pakistan
• 'Women Power Run': First Five KMs Women-Only Race Held in Karachi
• Hyderabad Women Offer "Qunoot" Prayer Marking the 28 Anniversary Of Demolition Of Babri Masjid
• Saudi Fund Helps More Than 73,000 Women to Own Homes in the Kingdom
Compiled by New Age Islam News Bureau
URL: https://www.newageislam.com/islam-women-feminism/women-cricketers-defy-threats-play/d/123684
--------
Women Cricketers Defy Threats to Play For Afghanistan
Dec 7, 2020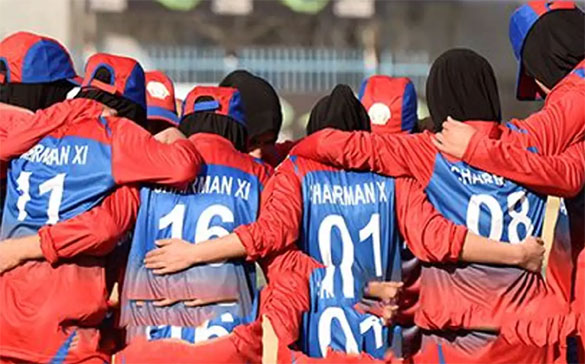 Afghanistan Cricket Board (ACB) has reformed the women's squad, buoyed by the success of the men
-----
KABUL: When she first started playing, Afghan cricketer Roya Samim could not even dream that she would one day represent her country - not because she lacked talent, but because there was no women's team.
While Afghanistan's male cricketers have enjoyed a series of surprise successes on the global stage since the fall of the Taliban, the national women's team was quietly disbanded just a few years after it was formed in 2010, amid fears over safety.
Now the Afghanistan Cricket Board (ACB) has reformed the women's squad, buoyed by the success of the men. It recently awarded contracts to 25 players following trials at the Kabul International Stadium - and batswoman Samim was among them.
"When I started (playing cricket), I did not know whether there would be a national team because people's negative thoughts had me discouraged and disheartened. But I did not give up," the 21-year-old told the Thomson Reuters Foundation.
The women will begin formal training under an international coach later this month and Samim hopes to follow in the footsteps of her heroines, India's Smriti Mandhana and West Indies captain Stafanie Taylor.
But there are still plenty of hurdles in a country where many men are deeply uncomfortable with the idea of their sisters and daughters competing in public.
ATTACKS
Even within the ACB, not everyone thinks a women's team is a good idea, players and officials told the Thomson Reuters Foundation.
Security is a major concern, with foreign forces due to leave Afghanistan by May 2021 in exchange for counter-terrorism guarantees from the Taliban.
The Taliban, which banned girls from being educated when they ruled Afghanistan, now control wide areas of the country and there has been an uptick in attacks on prominent women.
No direct threats against the cricketers have been made, but officials at the ACB said recent attacks including a deadly assault last month on the Kabul University campus had raised fears.
Announcing the formation of the squad last month, the ACB stressed it was "adhering to the traditional Afghan and Islamic values" and would hold its first training camp in an Islamic country.
Chairman Farhan Yusefzai said he was aware of opposition on the board to setting up a women's team, but insisted he would not be deterred.
"Many Muslim countries have their national women's teams," he said, citing Pakistan, Kuwait and Oman.
"Here in Afghanistan, we have the national football team, volleyball teams, swimming team, so why not cricket," he said, crediting the women players with "overwhelming" talent and enthusiasm for the game.
'Resistance And Opposition'
For many of the players, that enthusiasm has been tested.
Samim's teammate Naheeda Sapand, an all-rounder in the new national squad, said that even with the support of her parents, the journey had not been easy.
"Security and cultural constraints remain our key challenges," she said. "Even at school and university, I faced resistance and opposition, but my enthusiasm never died."
The players are scheduled to have their first overseas training this month, likely to take place in a Gulf country, with the aim of playing their first international match early next year.
They hope to emulate the success of the men's squad, which includes such household names as Rashid Khan, Mohammad Nabi and Mujeeb Ur Rahman.
The men made their World Cup debut in 2015, when they notched up one win against Scotland.
Two years later, the country was admitted as a full member of the International Cricket Council, a move seen as having spurred the reestablishment of a women's team.
It remains to be seen whether this one fares better than the last, but ACB chairman Yusefzai is upbeat.
"I call each player and member of the women department at the cricket board as my sisters," he said. This is the extent of respect we have for them."
https://timesofindia.indiatimes.com/sports/cricket/news/women-cricketers-defy-threats-to-play-for-afghanistan/articleshow/79607705.cms
--------
Struggle To Overcome Gender-Based Transport Woes For Women Continues In Punjab, Pakistan
December 07, 2020
MULTAN: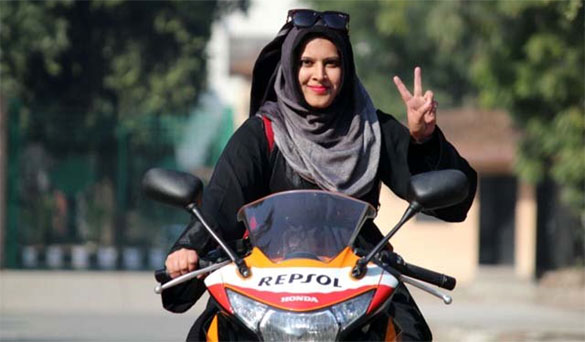 Women riding motorcycles in South Punjab's cities is on rise
-------
The trend of women riding motorcycles in South Punjab's cities is on rise.
Officials from the Traffic Police Licence Branch say that 64 driving licences were issued to female applicants during October. Society as well as parents should encourage girls to drive motorcycles, they added.
Transport is one of the main problems for working women as well as school, college or university going girls in the culturally rich yet socially backward region of South Punjab. The women of this region reportedly have to depend on their family members, usually their fathers, brothers, or husbands, for most of their outdoor movement.
Sometimes, the working women have to hire vehicles for their routine outdoor work.
However, they have to pay much more in case of using rented vehicles. For the last few years, a positive development was being observed in South Punjab as women and girls were seen using motorcycles independently.
The motorcycle ride was one of the cheapest sources of transportation. Similarly, women on motorcycles do not depend on other members of their family.
Sana Hussain, a 24-year-old student pursuing her Masters in Mass Communication from Bahauddin Zakariya University Multan, told APP that she was using a motorcycle for many years.
She stated that in her family they were three sisters only. "I am the eldest and my father not only allowed but also facilitated me to buy a motorcycle."
She revealed that she did not learn motorcycle riding from anyone but she tried herself after observing other people practicing it.
"I used to visit the bazaar on a motorcycle independently and without any hesitation," Sana claimed. Patrolling Police SP Huma Naseeb said that women drivers were more careful while using roads. "Women were more law-abiding citizens as compared to men. The women drivers keep complete documents with them," she claimed.
Social Welfare Department District Officer Muhammad Ahmed Chishti stated, "In the past, motorcycles were given to women on subsidised prices under an initiative of Punjab government.
Punjab Bank, Traffic Police, Punjab Social Welfare Department and a private motorcycle company facilitated the motorcycle delivery and drive training process among women."
https://tribune.com.pk/story/2274934/women-on-wheels-but-barriers-remain-in-south-punjab
--------
'Women Power Run': first Five KMs Women-Only Race Held in Karachi
Shazia Hasan
07 Dec 2020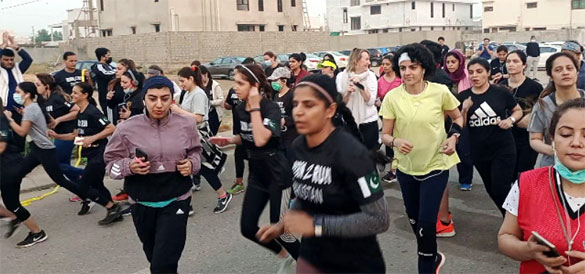 'Women Power Run'
------
KARACHI: 'Women Power Run', the first-ever all women five-km race organised by the Born2Run Pakistan turned out to be an exciting start to a chilly Sunday morning for all the participants and those cheering them on.
It was still quite dark at 6am as participants started arriving in DHA Phase-8 where the race was to take place, from Ramada Creek to Savor and back, and started briskly pacing up and down the roads or warming up on the vacant plots ahead of the race. There were over 50 of them ranging from ages 13 up to 50 plus.
Dozens of women including teenage girls take part in five-km race
All have been lucky to be trained for free by Sohail Sardar, a lone runner until three years ago when he started free training for men, women and children just to join him and be a part of the race.
"Early morning is the best time to run. It helps begin your day well and it remains that way for the entire duration of the day," the coach told Dawn.
"I have been training runners for so long now so I decided to motivate them further in their fitness journey by holding a competitive event with medals and prizes for them. I am doing everything without any sponsors," he said before showing the gold plated medals and other consolation prizes and gifts he had set up on a table for the runners near the finish line.
The runners were also up for the challenge.
One of them, Shahrezad Samiuddin, who was there with her 13-year-old daughter, Dina, said she has been running for two years now.
"I used to walk before but then I ran into Sardar at a park where I used to go for walks. He was there motivating people to start running and I started running with his group regularly after that," she said.
Another one, Ayesha, said that she started running because she wanted to lose weight and get fit. "And now I am into various sports including mixed martial arts and cycling," she shared.
Isma Khan, about whom everyone was saying that she is like a bullet, said that she started running about two months ago. "I started running because I was tired of sitting at home during the Covid-19 lockdown. Now doing my personal best is more important for me than winning the competition," she said.
Then as the race started, one got to see some really fast runners and several slow ones, too. Some of them were also slowing down a bit when they got tired in order to save energy and then pick up their pace again. Some had headphones on as they listened to music while they ran.
Faiza said she was listening to heavy metal and Mahnoor said that she was listening to some really fast music.
What was important was finishing the race actually, as Sardar pointed out. He even gave away the first consolation prize to the girl who finished last, Areeba. "Because my job is to motivate you to run and get better and better at it," he said. "It's my reward to see your enthusiasm and coming here and run," he added.
The fastest runner, the one who won the race, was Haani Mazari, who said that she didn't realise that she was ahead of everyone while running. "I was a little distracted and even made a wrong turn by mistake but then I was guided back to the correct course with no one before me so I assumed that maybe I was way at the end," she laughed.
Meanwhile, the runner-up, Sidra Khalid Khan, said that she knew very well that she was second because she could see Haani up ahead. And the second runner-up, Shiza Saquib, said that she also knew that she was third because she had two others ahead of her in view.
https://www.dawn.com/news/1594373/excitement-in-the-air-as-first-women-only-race-held-in-karachis-dha
--------
Hyderabad Women Offer "Qunoot" Prayer Marking the 28 Anniversary Of Demolition Of Babri Masjid
SM Bilal
5th December 2020
Hyderabad: A group of Muslim women on Saturday offered 'Qunoot-E-Nazila' (Special prayers) at Hazrat Ujale-Shah Eidgah grounds in Saidabad.
Marking the 28 anniversary of demolition of Babri Masjid, the women in Saidabad offered prayers for re-building the Masjid at Ayodhya.
A group of women belonging to Saidabad and other adjoining areas joined the Qunoot prayers.
The protesting women said that on December 6, 1992 the Historic Babri Masjid was razed illegally and as per a larger conspiracy. Despite that land belonging to Masjid was handed over for the construction of Ram Temple in a legal manner, but the Muslim community will never forgive the alleged perpetrators of demolition.
"There will be consistent efforts by the community members till the Babri Masjid is re-built at the same place" said one of the women protester.
https://www.siasat.com/hyderabad-women-offer-qunoot-prayers-for-re-building-babri-masjid-2039094/
--------
Saudi Fund Helps More Than 73,000 Women to Own Homes in the Kingdom
December 07, 2020
RIYADH: More than 73,000 Saudi women in the Kingdom have benefited from mortgage loans provided by the Real Estate Development Fund (REDF) as part of its efforts to enable women to own their first home.
The general supervisor of REDF, Mansour bin Madhi, said that enabling Saudi women to own housing had been part of the fund's policy since its inception, as they constituted half of society and were the foundation of accelerating development.
He said that the fund worked on facilitating and simplifying real estate financing procedures to empower all citizens to receive subsidized mortgage loans through electronic and immediate procedures.
The policy enabled women to own housing in accordance with the subsidized mortgage loan scheme's terms to achieve the goals of the housing programs — one of the Saudi Vision 2030's initiatives — which includes raising the rate of citizens' home ownership to 60 percent by the end of 2020 and 70 percent by 2030, he said.]
https://www.arabnews.com/node/1773461/saudi-arabia
--------
URL: https://www.newageislam.com/islam-women-feminism/women-cricketers-defy-threats-play/d/123684
New Age Islam, Islam Online, Islamic Website, African Muslim News, Arab World News, South Asia News, Indian Muslim News, World Muslim News, Women in Islam, Islamic Feminism, Arab Women, Women In Arab, Islamophobia in America, Muslim Women in West, Islam Women and Feminism