New Age Islam News Bureau
9 Dec 2018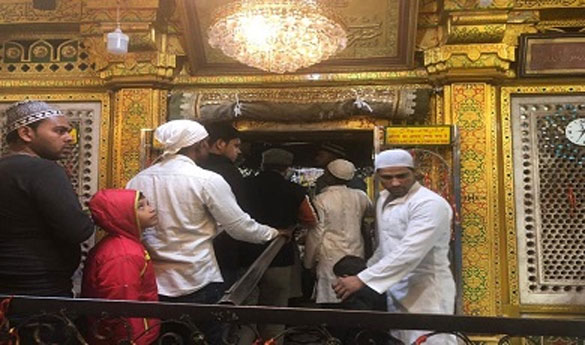 Photo: Nizamuddin dargah in New Delhi | Jyoti Malhotra / ThePrint
--------
• Muslim Women Likely To Go To Haj without Mehram: Minority Affairs Minister
• 'America Has Changed Islam': A Woman Runs for the Board of Houston's Largest Muslim Organization
• • J&K: When A Sikh Girl's Desire To Donate Kidney To A Muslim Friend Becomes A Long
Muslim Preachers Help Kosovo Women Learn, Win Their Rights
• Ilhan Omar Responds To Conservative Pastor Over Muslim Comments: 'You'regonna Have To Just Deal'
Compiled by New Age Islam News Bureau
URL: https://www.newageislam.com/islam-women-feminism/women-challenge-nizamuddin-dargah-ban/d/117108
---------
Women Challenge Nizamuddin Dargah Ban
SANYA DHINGRA 9 December, 2018
Three women law students have cited the Ajmer Sharif Dargah as an example of the bar having no basis in Islamic scripture.
New Delhi: Protests are still on against the Supreme Court's order to allow women inside the sanctum sanctorum of Kerala's Sabarimala Temple, but similar restrictions at other places of worship are already being challenged.
A new petition in the Delhi High Court has sought the entry of women into the sanctum sanctorum of the Hazrat Nizamuddin Auliya Dargah in Delhi.
Filed by three women law students, the plea takes exception to a notice pasted on the premises that bars women from the main shrine of the renowned dargah, otherwise known for its unique character of embracement and transcendence across religious and caste lines.
While men and transgenders are allowed inside the south Delhi shrine, women have to pray, kneel and kiss the wall behind the grave of the Sufi saint.
"These three law students had come to Delhi and visited the dargah," advocate Kamlesh Mishra, their lawyer, said. "There, they saw this notice that barred women from entering it, so they approached me and asked if it could be challenged, and I said, of course, it can be."
The students first made a representation to the government as well as the Nizamuddin Dargah trust in late November. When it was not responded to, they moved the Delhi High Court.
"The dargah is a public place," said Mishra, "Any kind of ban on anyone's entry there is simply unconstitutional, and therefore we have challenged it."
The petition will be heard in the court Monday.
Why the ban exists
The 45-page petition cites a 2016 report by ThePrint, according to which women are not allowed to enter the sanctum sanctorum of the dargah, where Hazrat Nizamuddin Auliya rests, because it is believed the dead can see women naked if they go too close.
In 2016, when protests seeking the entry of women in the sanctum of the Shani Shingnapur temple at Ahmednagar, Maharashtra, and Mumbai's Haji Ali Dargah were at their peak, Syed Kalim Nizami, who belongs to Nizamuddin Auliya's lineage and is among those who manage the shrine, had told The Print that women were also barred from visiting graves for the same reason.
"In Islam, women are not supposed to go too close to graves," Nizami had said. "It is not just in the dargahs. Women cannot go to graveyards in general."
Moreover, since this has been the tradition at the dargah for 700 years, it must be preserved, he had said.
Quoting from the report, the petition says: "When it comes to religion, logic has never been a strong point. But this is far-fetched even by religious standards.
"Deeply reflective of how religion can never harbour sound reasoning, this absurd statement is just a drop in the ocean of the ridiculous things divine middlemen have spewed on us unsuspecting souls."
Not true for all dargahs
The argument made by Nizami was countered by Alhaj Syed Nayeemuddin Niazi, a khadim at the Ajmer Sharif Dargah, where there are no restrictions on women.
Niazi had said the argument was not present in Islamic scripture. "Throughout their lifetimes, they (Sufi saints) used to interact with women and heal them. Why can they not do so after death?" he asked.
Quoting Niazi, the petition adds: "Coming from a manager of another prominent religious shrine, it is quite clear that the rules aren't set in stone and are completely arbitrary."
ZakiaSoman, the founder of the Bharatiya Muslim MahilaAandolan, who had moved the Bombay High Court to seek the entry of women inside the iconic Haji Ali Dargah, agreed.
"There are so many lesser-known dargahs where women go right up to the sanctum sanctorum, but the famous dargahs also have powerful trusts, so they get away with their retrograde and patriarchal diktats, which have no grounding in Islam," she added.
In 2016, the Bombay High Court had ruled in favour of women's entry into the sanctum sanctorum of Haji Ali Dargah, which was allowed earlier before being arbitrarily ended in 2012.
A similar verdict by the same court had led to women being allowed into the sanctum sanctorum of the Shani Shingnapur temple too.
"Since a similar judgment already exists, the Delhi High Court can easily rule in favour of women," Soman said.
https://theprint.in/governance/women-challenge-nizamuddin-dargah-ban-which-is-in-place-because-dead-can-see-them-naked/160743/
---------
'America has changed Islam': A woman runs for the board of Houston's largest Muslim organization
Dec. 8, 2018
In a front room of the Masjid at Taqwa, a Sugar Land mosque, Sarah Alikhan watched M.J. Khan film a Facebook video endorsing her.
Khan, 68, isn't super-fluent with Facebook, but as a former member of Houston City Council and the president of the Islamic Society of Greater Houston, he's arguably the most powerful political figure in Houston's Muslim community. It was Khan who recruited Alikhan, who's in her early 40s, to become the first woman ever to run for the shura, or governing board, of ISGH, one of the largest Muslim organizations in the U.S.
If elected director of Southwest Zone on Sunday,Dec. 9 she'd be the first woman to have a vote on the 50-year-old organization's board — and thus, a direct say in the big-picture strategic decisions that can involve millions of dollars. Amid the fierce campaign, Alikhan'sheadscarfed presence is a very visible sign of change.
"Here," she said, after Khan joined her at a table. She took his cell phone and, smiling — she always seems to be smiling — handled a Facebook friend request for him.
FaizanAtiq, the incumbent director of ISGH's Southwest Zone: "We are still far from where we want to see our organization – BUT on the right track."
Across the U.S., women have been moving into spots with actual power in Muslim organizations such as ISGH, not just working behind the scenes. In 2006, Ingrid Mattson became the first woman to serve as president — the very top leader — of the Islamic Society of North America, an umbrella group that includes ISGH.
Three years ago, the Islamic Society of North America issued an official statement urging that women be welcomed in mosques and their decision-making: "Allah gave the general command to the Prophet and the Muslims to conduct their affairs by shura, and necessarily shura includes women," the group wrote.
According to the Institute for Social Policy and Understanding, Muslim American women are among the most educated faith groups in the U.S., significantly outpacing Muslim men in higher education. Nationally, women also attend mosque services at rates very similar to male Muslims — even though most mosques' sacred spaces are sex-segregated, and it's rare for women to claim an equal share of either physical space or the mosque's financial resources.
In that context, it seems strange to Khan, and to many of the Southwest District's affluent, well-educated Muslims, that Houston's Islamic society doesn't have even one woman on its shura.
Alikhan's opponent, incumbent FaizinAtiq, has a record of advancing women's causes. Even so, he said, "I'm afraid I'll fall prey. I'm afraid that people will vote for her just because she's a woman."
'America has changed Islam'
Women were part of the Islamic Society of Greater Houston from its very beginning, in the late '60s. A group of University of Houston students, their families and a handful of young professionals began meeting for worship at each other's houses. Over time, they scraped together enough money to build a mosque.
Since then, the Houston area's Muslim population has risen sharply. Texas now has the largest Muslim population in the country, said Zahra Jamal of Rice's Boniuk Institute for Religious Tolerance. And Houston has the largest Muslim population in Texas. In 2012, it numbered around 63,000 people, roughly 1 percent of the city's population.
That's not counting the Houston suburbs, where the growth has seemed even more astounding. Fort Bend County in 2010 was home to around 18,000 Muslims, or roughly 3 percent of the county's population.
Those Muslims' heritages are wildly mixed: Southeast Asian, African, Middle Eastern, European, African-American and even Latino. They practice more than 70 types of Islam. They range from wealthy bankers, doctors and lawyers to recently arrived refugees struggling to learn English.
ISGH grew along with the area's population, and these days, it's one of the United States' largest Muslim organizations, with 22 Islamic centers and mosques. The group considers all of the area's Muslims "natural" members, eligible for the group's marriage and funeral and burial services. But only those who actively join the organization are eligible to vote.
Not until the 1990s was a woman elected to any ISGH office. Farha Ahmed, a lawyer, served as a council representative to the Southwest Zone.
Once, when she missed a zonal meeting shortly after giving birth to her first child, the men on the committee passed a resolution that she not attend meetings without a male chaperone. "The older gentlemen — we called them 'uncles' — didn't know how to handle a woman at their meeting," she laughed. "You should have seen their faces trying to decide who would tell me."
She chose to ignore the resolution.
The ISGH, she said, has come a long way since then. But still, she finds it unbelievable that only now is a woman running for a zonal director's seat on the Shura.
"America has changed Islam almost on a cellular level," she said. "In the majority of Muslim countries, women don't take part in running the mosque at all. But after coming to America, women become involved in the administration" — usually by taking charge of programs for children, or of the spaces in the mosque allotted to women. She'd like to see the organization's rule changed, so that each zone has both a male and female director, similar to the way that mosques have separate worship spaces for men and women.
But even under the current system, women's roles have been expanding. Shazia Ashraf, the very vocal head of the ISGH's Sisters Committee, said that in the last few years, women have been appointed to ISGH's Khutbah Committee, which approves speakers and picks sermon topics for all the mosques: "So we can pick, say, domestic violence or #MeToo."
"Muslim women face the same subjugation other women face," Ashraf said. "We're all objectified."
The Sisters Committee, she said, is fighting for more equal spaces in the mosques — to make sure that women review the plans for women's spaces in new mosques, and that the same care is taken with those spaces' maintenance. If the sound system in the women's space doesn't work and the floors aren't vacuumed, women are less likely to attend. And if only a few women attend, custodians are likely to neglect the space.
Involving women more deeply, she said, means getting back to Islam's roots. "In Islamic tradition, women were at the forefront of every aspect of society. In the time of the Prophet Muhammad, women were in charge of the marketplace. They fought in battle. They taught men. Women were encouraged to be strong and vocal, and involved in politics."
"Things are changing now because we're learning our true tradition. We're not living Pakistani Islam or Arab Islam. We're living the true spirit of Islam. And the true spirit of Islam is that women and men are equal, and that women belong in everything."
https://www.houstonchronicle.com/news/article/America-has-changed-Islam-A-woman-runs-for-13451796.php
---------
J&K: When A Sikh Girl's Desire To Donate Kidney To A Muslim Friend Becomes A Long BattleAuthorities at the SKIMS have not cleared the case as Kohli's father has made a representation against her decision.NASEER GANAI08 DECEMBER 2018J&K: When A Sikh Girl's Desire To Donate Kidney To A Muslim Friend Becomes A Long BattleMailPrintAAA INCREASE TEXT SIZE
When 23-year-old activist Manjot Singh Kohli decided to donate her kidney to her ailing friend Samreen Malik in the summer of this year, little did she know that she had to face a long battle. Five months down the line, Kohli is so angry with the "delaying procedure" of the Sheri Kashmir Institute of Medical Sciences Srinagar (SKIMS) that she says she will move the Jammu and Kashmir High Court to settle the case.
"I think this case will not take much time in the High Court as I am a major," Kolhi told Outlook. "I expect in one hearing the High Court would give decision in the case as any delay will cost life here," she added.
She says judgments of different courts are clear that any major person in good health can donate her kidney according to her own will.
According to Kohli, in August this year she came to know through social media that Samreen was suffering from kidney failure. "I was shocked. I called Samreen and she confirmed it. I came to Srinagar as her family had brought her here for the treatment," she said.
Kohli hails from Udhampur district while Samreen is from Rajouri. Kohli after completing her B.A Hons in English from Shimla in 2015 started her social work in Jammu. She also runs an NGO called 'International Anti-Corruption and Human Rights Council'. It is during her work as an activist, she met Samreen who is a graduate from the University of Jammu, and they became good friends. "When I heard about her illness, I realised that I must help her out," she said.
Samreen's family members were ready to donate kidney to her but their kidneys didn't match her. Her mother's kidney was also rejected due to ailments. As Manjot offered her kidney to Samreen, doctors found it a perfect match. However, when whenManjot conveyed her decision to her parents, her father didn't agree.
"I can understand his anxiety. He is a father and like every father he is worried about his child. But I am a major, I have taken a decision and it is biggest decision of my life," she said, adding "for girls of my age marriage is a biggest decision of their life but for me Samreen's life is priority."
Authorities at the SKIMS have not cleared the case as Kohli's father has made a representation against her decision. "The institute convey its reservations through the media but they don't talk to us. I have written to the SKIMS authorities that they should directly communicate to us so that we can approach the court," said Kohli.
Dr Farooq Jan, Medical Superintendent of SKIMS, says the father of the donor has made a representation against allowing the girl to donate her kidney, adding the authorization committee of the hospital has decided that the case will be decided by the court now.
But Kohli rejects it. "Rajasthan High Court's recent judgment and other judgements of different courts are explicit about the issue. The family cannot come between in a decision of an adult person about donating kidney for transplant. Besides, I am living separately and I must be allowed to take decision about my body," says Kohli.
Samreen is overwhelmed by the support from Kohli who is with her for the past five months. She hopes for a better future now and wants to study fashion designing. "We have been friends and sisters and we will be like this always," she said.
Kohli has won hearts in Kashmir. "Manjot Singh Kohli it is people like you that keep human values and humanity alive and thriving in this world. More power to you," read a Facebook post. And, there are hundreds of such posts.
https://www.outlookindia.com/website/story/jk-when-a-sikh-girls-desire-to-donate-kidney-to-a-muslim-friend-becomes-a-long-battle/321386
---------
Muslim preachers help Kosovo women learn, win their rights
November 23, 20184 Min Read
AgimeSogojeva, second from right, a professor of Islamic studies, holds a class inside the HaxhiVeseli mosque in the northern Kosovo town of Mitrovica on Nov. 12, 2018. (AP Photo/VisarKryeziu)
PRISTINA, Kosovo (AP) — There's a widespread tradition among many Muslims that it's better for women to pray at home than in the mosque. But in Kosovo, an old Ottoman-era tradition is bucking that trend, with religious authorities seeking to establish the training of women as spiritual teachers in mosques.
Each day, scores of women gather around AgimeSogojeva, a spiritual teacher known as a mualime, in the HaxhiVeseli mosque in Kosovo's northern town of Mitrovica. They discuss the Quran, their rights as women and daily practices, in a scene unthinkable as little as a decade ago.
Sogojeva is one of some 100 female theologians aiming to revive Muslim traditions in Europe's newest country. They teach at three Muslim high schools, at Muslim centers, or they work voluntarily.
The move to establish the religious training of women in mosques — where women are allocated places in a separate room from the men — is seen by some as a way to make Kosovo's approach to Islam more gender-balanced at a time when many in the West view Islam as oppressive toward women.
Although in much of the Muslim world women teach other women, it is more common for that to occur at home or in event halls rather than in the mosques themselves. In some very conservative Islamic societies, women are generally distanced from mosques for social rather than religious reasons.
In Kosovo, there has been a significant increase in the number of women attending mosques in the past 20 years, said Besa Ismaili, a 43-year-old professor of English at the Faculty of Islamic Studies in Pristina.
"The women were not only denied access, but their contribution was not recognized sufficiently," she said. "We try to break up those stereotypes, those misconceptions."
Kosovo has a strongly patriarchal society but also a long secular tradition, with religious identity significantly weakened during decades of communist rule. Most of its ethnic Albanian majority population is Muslim, but religious expression was generally lax even after the fall of communism in the late 1980s. The country declared independence from Serbia in 2008, nearly a decade after a 1998-1999 war against Yugoslav forces by ethnic Albanian fighters.
Pecently, however, it has seen a rise of religiously inspired violent extremism, with more than 300 Kosovo citizens joining the Islamic State group as foreign fighters in Iraq and Syria since 2012. A quarter of those were women and children, often forced to follow their husbands into the war zone. About 180 Kosovo citizens are still active with extremist groups in Syria and Iraq, and the women are held in camps.
But Kosovo authorities claim no citizen has joined a fundamentalist group over the past two years, a development partly attributed to the empowering of women through the creation of female Islamic teachers.
"Extreme nationalism becomes less present when Islam is explained to women," Ismaili says.
Dunding for about a dozen of the female theologians comes from Turkey's Directorate of Religious Affairs, or Diyanet, which assists the Islamic Community of Kosovo, or BIK, the country's executive for Muslims.
These female preachers are active members in about 800 mosques countrywide, said ResulRexhepi, BIK secretary-general, modernizing women's life and increasing their role in society.
"Mualime are good for the whole society," he said.
BIK officials claim that the introduction of the female Muslim preachers in the mosques has reduced sexual violence at home, assisted women who were raped during the war, helped mothers with their children's education and increased the participation of women in voting in elections. There are no official figures to support such claims.
During the past decade or so some 1,100 girls have graduated from three Muslim high schools and 300 women from the Faculty of Islamic Studies.
EnisaBekteshi, a 21-year-old student, said it is easier for a female teacher to explain "some delicate issues a woman is reluctant to ask an imam, a man."
(Sarah El Deeb in Beirut and Mohammed Daraghmeh in Ramallah, West Bank, contributed.)
https://religionnews.com/2018/11/23/muslim-preachers-help-kosovo-women-learn-win-their-rights/
---------
Ilhan Omar responds to conservative pastor over Muslim comments: 'You'regonna have to just deal'
BY MORGAN GSTALTER - 12/07/18 09:08 AM EST
Ilhan Omar responds to conservative pastor over Muslim comments: 'You'regonna have to just deal'
© Stefani Reynolds
Rep.-elect Ilhan Omar (D-Minn.), one of the first two Muslim women elected to serve in Congress, on Friday fired back at the conservative pastor who complained that floor of the Congress will "look like an Islamic republic."
"Well sir, the floor of Congress is going to look like America... And you're gonna have to just deal," Omar tweeted with the laughing-so-hard-you're-crying face emoji.
Well sir, the floor of Congress is going to look like America...
And you're gonna have to just deal https://t.co/mHQzj34ZTn
— Ilhan Omar (@IlhanMN) December 7, 2018
The incoming lawmaker was responding to the complaints of conservative pastor and commentator E.W. Jackson.
"The floor of Congress is now going to look like an Islamic republic," Jackson said. "We are a Judeo-Christian country. We are a nation rooted and grounded in Christianity and that's that. And anybody that doesn't like that, go live somewhere else. It's very simple. Just go live somewhere else. Don't try to change our country into some sort of Islamic republic or try to base our country on Sharia law."
Jackson's remarks followed reports that Democrats are looking to change a rule banning headwear on the floor of the House to accommodate incoming Muslim lawmakers like Omar.
Omar is the first Somali-American woman to be elected to Congress from either party and wears a hijab. The Minnesota Democrat and Rep.-elect Rashida Tlaib (D-Mich.) are set to become the first Muslim women in Congress.
Jackson lost a Republican primary to represent Virginia in the Senate in May.
"The fact that we're electing these people to Congress and electing them to office is just beyond the pale," he said. "Now, don't get me wrong, I believe in the freedom of religion, I believe in the First Amendment, but I'll tell you what, I'm not voting for a Muslim to serve in any office. Me, personally, I'm not doing it. I'm not doing it. Period. I'm not doing it."
Jackson insisted that he is not Islamaphobic, saying he simply does not agree with the religion.
"The threat to humanity is not merely radical Islam," he added. "The threat to humanity is Islam, period. That's right, I said it and I mean it."
https://thehill.com/homenews/campaign/420218-ilhan-omar-responds-to-conservative-pastor-over-muslim-comments-youre-gonna
URL: https://www.newageislam.com/islam-women-feminism/women-challenge-nizamuddin-dargah-ban/d/117108