New Age Islam News Bureau
2 Apr 2014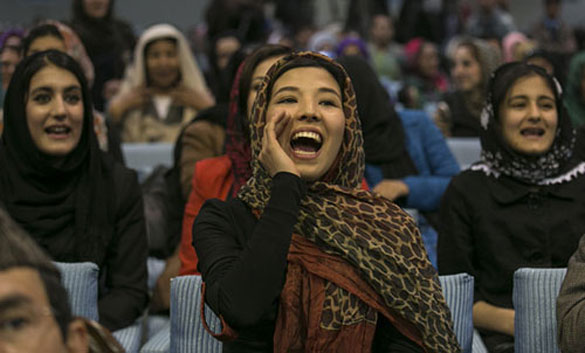 An election rally for Afghan vice-presidential candidate Habiba Sarabi in Kabul Monday Paula Bronstein for The Wall Street Journal
------------
• Malala Backs FGM Campaign in Britain
• Muslim Woman's Headscarf Pulled Off By Sweden Airport Staff
• Expats Can Now Marry Saudi Female Orphans
• Kim Kardashian Wades into Syria War Debate
• Afghan Woman Bids for Power to Halt Slide in Rights
• Iraqi Law Would Legalize Marriage for 9-Year-Old Girls
• NGO Persuades Muslim Women to Vote in Agra, India
• Concern That Afghan Women's Rights Will Be Sacrificed as Part of Deal with Taliban
• Scrap the 'Anti-Women' CII, Demands Sindh
• Lebanon Makes Domestic Violence a Criminal Offense
• Jewish Woman among First to Wed in Same-Sex Ceremony in UK
• Maryam Nawaz Mulling Formal Jump into Politics
• First All-Girls School Inaugurated In Richardson
Compiled by New Age Islam News Bureau
URL: https://newageislam.com/islam-women-feminism/women-caucus-'amendments-child-marriage/d/66385
-------------
Women Caucus: 'Amendments to Child Marriage Act On the Cards'
April 02, 2014
LAHORE: "The law of inheritance for women was always there and it is unfortunate that we need a new law for its implementation," women caucus convener Uzma Bukhari said on Monday.
She was addressing an interface with civil society organisations organised by Westminster Foundation for Democracy (WFD).
"Women can now register inherited properties under their name by paying Rs500 stamp duty. Heavy stamp duty had prevented them from doing so in the past," she said.
She said a consultation would be held in the first week of April to chalk out the agenda for the first year of the caucus.
She said a women caucus was first established at the National Assembly in 2008.
She said the caucus would oversee enforcement of laws, intervening in special cases and checking which laws needed to be amended or if new legislation was required.
She said the caucus had recommended changes in the Child Marriage Act 1929. She said the caucus had sought increase the age of legal marriage age from years to 18 years.
She said the caucus had also recommended amendments in the Family Courts Act 1964, The Punjab Marriage Function Bill 2014, Dowry and Bridal Gifts (Restrictions) Act 1976, the Guardian and Wards Act and family laws related to minorities.
She said these amendments would be tabled with the Domestic Violence Bill.
She said soon female police officers would handle cases of women. She said the conviction rate in criminal cases related to women was less than 1 per cent.
Women caucus secretary Hina Pervaiz Butt said, "In an acid attack case in Iran, a judge ruled that acid be thrown on the convict's face. We need such rulings to make teach such criminals a lesson."
Butt said a meeting with the ombudsman had been scheduled to implement sexual harassment laws. She said a public awareness campaign for empowerment package would also be launched.
Butt said entrepreneurship and financial independence were very important for women empowerment. She said consultations with the Lahore Chamber of Commerce and Industry would be held to set up a chamber for women.
Treasurer Nausheen Hamid, said, "The caucus hopes to play an important role for women-specific legislations and also in ensuring accountability and transparency. It will act as a watchdog in the provincial assembly." Aurat Foundation manager Mumtaz Mughal recommended 33 per cent representation for women in all standing committees of the provincial assembly.
It was endorsed by Bukhari, Butt, Hamid and the other caucus members.
http://tribune.com.pk/story/689701/women-caucus-amendments-to-child-marriage-act-on-the-cards/
-------------
Malala Backs FGM Campaign in Britain
April 02, 2014
LONDON (Thomson Reuters Foundation) - Malala Yousafzai, the Pakistani schoolgirl shot by the Taliban for demanding education for girls, is backing a campaign to eradicate female genital mutilation (FGM) in Britain, according to media reports.
Malala told the Guardian newspaper she was supporting a drive led by British teenager Fahma Mohamed to get education about FGM into all UK schools.
"Over 140 million girls and women are mutilated (worldwide) – but like keeping girls out of school in Pakistan, we can come out together and be strong and change things for the next generation. I am her sister and I am at her side and I want her to be listened to as I was," she said.
Campaigners in Britain have long said that schools should be on the front line in efforts to tackle FGM, and that teachers must be taught about the practice so that they can identify girls at risk.
Fahma, 17, met British Education Minister Michael Gove on Tuesday to push her demands. Campaigners tweeted late on Tuesday that Gove had agreed to write to all schools.
Malala, now 16, was flown to Britain for medical treatment after being shot in the head as she left school in Pakistan's Swat Valley in 2012. She was attacked because of her campaign against Taliban efforts to deny women education.
She said it was important that Gove write to all schools in the UK telling them to train teachers and parents about the impact of FGM, which can cause serious physical and psychological harm.
Malala, now a global advocate for women's rights, is to meet FGM campaigners in the central UK city of Birmingham where she lives with her family, the Guardian said.
FGM is practised by some communities in 28 African countries as well as small parts of the Middle East and Asia, but is not prevalent in Pakistan.
Britain made FGM illegal nearly 30 years ago, but the authorities have turned a blind eye to the secretive practice until recently and more than 20,000 girls are thought to be at risk of being cut. FGM is traditional among several communities including Somalis, Eritreans, Sudanese, Sierra Leoneans and Egyptians.
The government believes many girls are taken abroad to be cut during the school summer holidays, although this is also a crime under British law.
Campaigners say girls who have undergone FGM or are at risk may confide in teachers rather than contact the police or social services. They say alarm bells should ring if a girl talks about going on holiday for a special ceremony, or appears quiet and withdrawn after the summer break.
FGM can make urination and menstrual periods very painful so teachers should also be alert if a girl takes long or frequent toilet breaks, regularly misses school, clutches herself in pain or cannot sit cross-legged on the floor.
A survey by Britain's leading children's charity last year found very few teachers had received training on FGM. The charity, the NSPCC, called on schools to help teachers to deal with FGM as they would other forms of child abuse.
http://www.trust.org/item/20140225174247-kra47/?source=quickview
-------------
Muslim woman's headscarf pulled off by Sweden airport staff
World Bulletin / News Desk
April 02, 2014
A Muslim woman has said that she was attacked by airport staff in Sweden and forced to remove her headscarf in public.
Saama Sarsour was travelling from the Arvidsjaur airport in northern Sweden when she aroused suspicion after she caused a metal detector to beep.
"The female guard asked me 'What's on your head'," she told the Svenska Dagbladet (SvD) newspaper.
She was then told to remove her headscarf, to which she replied that she would do so in a private room.
"Then the woman grabbed the scarf and started yanking it," she said, "I was totally shocked."
She then informed the police about what happened but they refused to investigate the attack as a hate crime.
According to a Monday report in The Local, the aiport CEO Ralf Lundberg defended the staff member's actions, saying "all have gone through thorough education and training to make sure no one takes dangerous objects through security."
However, Sweden's penal code states that frisking should take place in seclusion and airports have separate rooms to do this, airport company Swedavia's spokesman Klas Nilsson told SvD.
Sweden, which is usually known for its tolerance, has seen an increase in anti-Muslim hate crimes recently, with 300 odd cases reported in 2013.
http://www.worldbulletin.net/todays-news/132666/muslim-womans-headscarf-pulled-off-by-sweden-airport-staff
----------
Expats can now marry Saudi female orphans
April 02, 2014
JEDDAH – The executive committee for the care of orphans has recommended the diversification of programs offered to orphans allowing non-Saudis to marry Saudi female orphans.
A meeting chaired by the head of the committee, Samha Al-Ghamdi, called for chalking out measures to rehabilitate orphans and prepare them for marriage.
It also recommended setting up orphan friendship committees and coordination between the ministries of social affairs, and justice to help them.
The participants also urged Saudi Arabian Monetary Agency (SAMA) to help in opening bank accounts for orphans.
The committee recommended the need for periodic review of the strategy for the care of orphans, which was recently introduced in all orphanages across the Kingdom, benefiting 9,000 orphans of both genders.
The participants agreed on the need to monitor the conditions of orphans and encourage their marriage to others, but ensuring that the grooms are not after the SR60,000 financial support provided for the orphan's marriage.
Specialist at Jeddah's social supervisory office Leila Jameel said people are reluctant to marry female orphans because the majority of them have dark skin.
Samha Al-Ghamdi stressed that it is not easy to marry an orphan woman, because marriage proposals generally come from elderly and handicapped men as well as those suffering from psychiatric conditions.
The participants also stressed the need for coordination with lawyers to volunteer their services for free.
Earlier this year, the Ministry of Social Affairs announced plans to do away with orphanages and ensure every orphan is assigned a foster family. The ministry has increased its financial assistance to orphans by 100 percent, meaning elementary school orphans receive SR500 a month, intermediate orphans receive SR700, secondary orphans receive SR900 and university orphans receive SR1,200 a month.
In February, Riyadh's Ensan Charitable Society for Orphan's Care , which has 41,000 orphans in 13 centers, married off 100 orphans at a ceremony in the capital.
http://www.saudigazette.com.sa/index.cfm?method=home.regcon&contentid=20140402200633
----------
Kim Kardashian wades into Syria war debate
April 02, 2014
Kim Kardashian has waded into Syria's conflict, calling on fans through Twitter to save the ancient Armenian Christian village of Kassab, whose residents fled as rebels seized control of the hamlet in late March.
She appeared to have bolstered false claims by loyalists of Syrian President Bashar Assad, who said Syrian rebels desecrated the village's churches and slaughtered residents. She used the #SaveKessab hashtag that was used to spread the false claims, causing its popularity to explode.
"If you don't know what's going on in Kessab please google it ... As an Armenian, I grew up hearing so many painful stories," Kardashian wrote in a March 30 tweet, using an alternate spelling of the village's name. "Please let's not let history repeat itself!!!!!! Let's get this trending!!!! #SaveKessab #ArmenianGenocide," she wrote.
In doing so, the celebrity of Armenian descent underscored how Syria's war, more than any other in history, has been waged on social media, with both supporters of President Bashar Assad and those opposing his rule using selectively chosen videos and photos, sometimes faked, recycled or altered, to support their grievances.
While wartime propaganda is as old as conflict itself, the Syrian conflict is a particularly unique case where all combatants heavily use social media, opening a window into a conflict that reporters can barely enter.
Kardashian's use of the two hashtags side-by-side, "#SaveKessab" and "#ArmenianGenocide" also suggested she was also linking the flight of most of Kassab's 2,000 residents to the deaths of an estimated 1.5 million Armenians by Ottoman forces in the early 20th century.
The event is widely viewed by scholars as the first genocide of the 20th century. Turkey, however, denies that the deaths constituted genocide, saying the toll has been inflated and that those killed were victims of civil war and unrest.
Kardashian's publicist Ina Treciokas said Kardashian was "just voicing her support for Armenians" and said she had no additional comment.
Kassab's residents fled after rebels seized their village on March 23, as part of a rebel offensive in the coastal Syrian province of Latakia, Assad's ancestral heartland.
http://www.hurriyetdailynews.com/kim-kardashian-wades-into-syria-war-debate.aspx?pageID=238&nID=64437&NewsCatID=352
----------
Afghan woman bids for power to halt slide in rights
2014-04-02
KABUL: The deeply conservative, all-male crowd at Afghanistan's Kandahar stadium stared in disbelief as the small woman in a modest black headscarf stood up and reached for the microphone.
Habiba Sarabi's speech in the southern Taliban heartland city lasted only a few minutes, thanking the crowd for supporting her candidacy in next month's presidential election. It was met by a few jeers, wolf whistles and, after a stunned silence, scattered clapping.
During their strict rule from 1996-2001, the Afghan Taliban had banned women from education, voting and most work, and they were not allowed to leave their homes without permission and a male escort.
Today, Sarabi is one of three female vice-presidential candidates in the April 5 poll and the only one on a front-runner's ticket. The 57-year-old pharmacist and former governor is supporting Zalmay Rassoul, a former foreign minister endorsed by the president's brothers.
A fair election would mark Afghanistan's first democratic transfer of power, a monumental achievement for Afghans struggling to end decades of bloodletting and cement fragile gains in education, health and human rights.
Sarabi, appointed as Afghanistan's first female governor in 2005, says she hopes to stop conservative leaders from whittling away hard-won rights for women after most foreign troops leave at the end of the year.
"I'm persuading women to vote for me so they can recognise they are part of the political power," Sarabi told Reuters, a large bodyguard standing by her side.
Like most prominent Afghan women, Sarabi says the death threats against her are too numerous to count.
"There's definitely a decline of women's rights and people are afraid it will get worse," said Fawzia Koofi, an outspoken Afghan parliamentarian and activist who has survived several assassination attempts.
Koofi's attempt to outlaw violence against women failed to pass. Instead legislators sought to reintroduce stoning for adulterers and a law to prevent victims from testifying against relatives in cases of domestic violence.
President Hamid Karzai, who is barred by the constitution from standing again in the election, intervened in both cases to prevent the proposals from becoming law.
Education for girls
If Sarabi wins, one of her priorities will be getting more girls into school. Her own father never encouraged her to study, she said, and was indifferent to her pharmacy degree until he was dying of kidney failure and she was able to help him.
"I used my skill and I was very kind to him so at least I can prove that the daughter can also be very helpful," she said. "In our society they think that the daughter cannot help us, it is only sons."
Sarabi claims to have made some notable changes during her term as governor of Bamiyan.
The province has 21 women police officers, up from zero. Nearly half of the children in school there are girls, she said. A 150-km paved road was built and the country's first national park set up, she said.
Swing voters
Sarabi appeals to young, urban and educated voters concerned about notorious warlords running alongside two other front-runners. That demographic is a small but important swing vote.
"I will vote for her because she can feel the pain of Afghan women," said 18-year-old student Farana Shahidani. "There is too much violence against women and it must be stopped."
Although women students might debate the election in the capital, in the conservative rural south few women will vote, said Shahida Hussain, a member of the High Peace Council, the body tasked with overseeing talks with the Taliban.
"There's no way women will vote in the districts. Low education levels are the biggest challenge," she told Reuters in Kandahar.
Hussain bravely promoted women's rights undercover when she worked as a midwife under the Taliban, but today, she still cannot leave the house without a burqa. She says there is little support in Kandahar for her cause.
"Nothing is done. All the money that is arriving in the name of women goes to corruption. So there are no fruitful projects to empower women," Hussain said.—Reuters
https://www.dawn.com/news/1097255/afghan-woman-bids-for-power-to-halt-slide-in-rights
-------------
Iraqi Law Would Legalize Marriage for 9-Year-Old Girls
April 02, 2014
It's nearly incomprehensible for people living in a modern, civilized society to fathom there are still countries where it's perfectly acceptable for a 40-year-old man to marry a 10-year-old girl. Yet, it's happening in India, Ethiopia, Nepal and dozens of developing countries.
Iraq has recently put forth a controversial draft law that would allow men to marry girls as young as 9 years old and force their wives to have sex without consent. Women would also not be able to leave the house without their husband's permission.
Approved by the Justice Ministry Cabinet in February, the Jaafari Personal Status Law, named after Jaafar al-Sadiq, a Shiite imam, has yet to be approved by Iraq's parliament. Analysts say it's unlikely to make it through before the April 30 parliamentary elections.
Iraq's current law sets the legal age for marriage at 18 and forbids divorce. After the overthrow of Saddam Hussein in 2003, Shiite leaders attempted to annul the existing 1959 personal status law citing decades of oppression suffered under the Baathist Sunni minority.
No minimum martial age is stated in the draft law however it mentions a clause allowing girls to divorce at the age of 9, which is a roundabout way of implying they could conceivably marry even younger.
According to Human Rights Watch, one in seven girls in the developing world is married before her 15th birthday—some as young as 8 or 9. The mental and physical health of these young girls is put in danger when they give birth before their bodies have fully developed. Child brides also face a higher risk of domestic abuse and contracting HIV. Very few can escape these marriages unharmed.
In 2008, a 10-year-old Yemeni girl, Nujood Ali, made headlines when she boldly requested a divorce from the 30-something husband she was forced to marry when she was 9.
Thirty-nine thousand young girls are forced into marriage each day, roughly one child bride every 2 seconds. That's according to the website Too Young to Wed, a partnership between the United Nations Populations Fund and photojournalist Stephanie Sinclair's VII photo agency. Sinclair has been documenting the issue of child marriage for 11 years. It was while working on a project about self-immolation in Afghanistan that she learned most of the victims were married between the ages of 9 and 13 to much older men. An exhibit of her photos and short film "Too Young To Wed," is currently on view at the Bronx Documentary Center.
Most of these marriages are dictated by dowries or parents' burden of feeding an extra mouth. Shrouded in cultural traditions, religion and flawed beliefs that girls go through puberty at 9, many Hindu families believe they will be blessed if they marry off their girls before their first menstruation.
"This law means humiliation for women and for Iraqis in general," Safia al-Suhail, one of Iraq's 82 female members of parliament, told The Guardian. "It is a disaster not just for women but for children. These children shouldn't be exposed to such an ugly situation. It shows that we are going backwards."
http://www.truthdig.com/eartotheground/item/iraqi_law_would_legalize_marriage_for_9-year-old_girls_20140329
-------------
NGO Persuades Muslim Women to Vote in Agra, India
April 02, 2014
An NGO here is working on persuading Muslim women voters to step out of their homes and exercise their franchise in the Lok Sabha elections.
Hindustani Biradiri, an NGO working for communal amity in the Agra region, has formed committees to sensitize and persuade Muslim women to vote.
"we have been sending out groups of women activists to Muslim neighbourhoods to explain the value of votes and persuade the Muslim women to vote," Siraj Qureshi, NGO's president, told IANS Wednesday.
"We have observed that Muslim men are keen on voting, but their women do not like to go out and vote, as do other communities like the Dalits and other weaker sections."
He said the NGO is not interested in "telling anyone who they should vote for".
"Our concern is to ensure that there is maximum participation of Muslim female voters, so that they feel part of the political processes. The feeling of alienation and the fear of suspicion can go only when people encash the opportunities that the Constitution gives them," he added.
Agra's Muslim population is around 2.50 lakh.
http://www.business-standard.com/article/news-ians/ngo-persuades-muslim-women-to-vote-in-agra-114040200289_1.html
-------------
Concern That Afghan Women's Rights Will Be Sacrificed as Part of Deal With Taliban
April 02, 2014
KABUL—The campaign for Saturday's presidential election in Afghanistan is featuring women in a more prominent role than ever before. One front-runner has a female running mate, and another has let his wife address campaign rallies—major departures from established practice in a conservative, Islamic country where women's political participation was long suppressed.
Activists say the relative prominence of women in the campaign for the election underlines the progress Afghan women have made since the U.S. ousted the Taliban regime in 2001.
"Women can no longer be ignored," said Wazhma Frogh, a women's rights advocate in Kabul. "Women now bring a lot of votes."
Under the Taliban, Afghan women were barred from work, let alone political office. Even the spouse of President Hamid Karzai, whose successor will be elected on Saturday, has never appeared alongside him in public.
Saturday's vote, if successful, will mark the first democratic transfer of power in the country's history. For women, the stakes are even higher: The new government will be responsible for upholding their hard-won gains as U.S.-led coalition forces leave and the international spotlight turns away from Afghanistan.
Since the fall of the Taliban in 2001, women have benefited from access to education and employment. To encourage their political participation, Afghan laws reserved quotas of seats for women in the national parliament and in provincial councils. Women cast around 40% of the vote in both the 2004 and 2009 presidential elections.
Now, many worry that women's rights will be sacrificed as part of a possible peace deal with the Taliban insurgency—a priority for all three major presidential candidates. As conservative voices become more assertive, lawmakers have threatened to curtail legal protections for women and recently lowered the quota of seats reserved for women in provincial councils to 20% from 25%.
"The past 12 years were the golden era and we don't want to lose that," said Afghan lawmaker Shukria Barakzai.
All three main contenders—former Finance Minister Ashraf Ghani and former foreign ministers Zalmai Rassoul and Abdullah Abdullah —have vowed to support women's rights if elected.
Mr. Rassoul, who is unmarried, has named a woman as his running mate: Habiba Sarabi, a former governor of the predominantly ethnic Hazara central province of Bamiyan.
Ms. Sarabi, who served as the only female governor of Afghanistan's 34 provinces, has been campaigning with Mr. Rassoul across the country, including in conservative, ethnic Pashtun-majority areas where women turnout has been especially low in past elections. Ms. Sarabi says she hopes her place in the presidential ticket will encourage more women to go to the polls.
"I'm trying my best to get women's votes," Ms. Sarabi said in a recent interview. If elected, she said she wants women to make up at least 20% of the cabinet.
In a bid to court women's votes, another candidate, Mr. Ghani, appeared at a campaign event for International Women's Day with his Lebanese-born wife Rula, who delivered a speech.
"We never saw this before in past elections," said Najla Ayubi, a Kabul-based researcher with the Asia Foundation who served as a judge in pre-Taliban times. "This is the first time that candidates are really placing attention on women's participation and bringing their wives."
Despite this apparent progress, Mohammad Naeem Ayubzada, the head of a Kabul-based election observer organization, said that women remain marginal in Afghan politics.
"They have a symbolic presence. They are not real actors in the political process," said Mr. Ayubzada, whose Transparent Election Foundation of Afghanistan promotes women's participation politics. "In the provinces women can't even go to the bazaar without their husbands' permission. Then how we can expect them to take part in politics?"
Some 300 women will be among the 2,700 candidates contesting seats in provincial councils on Saturday. In the run-up to the vote, they have received more threats from insurgents or local power brokers than in previous elections, activists say.
One female candidate, Zakia Wardak, says that the younger generation in rural Wardak province has responded positively to her candidacy. From older men, however, she encountered some resistance.
"They say 'We don't want women in government.' They have this mentality that women are meant to stay at home and work in the house," said Ms. Wardak, who comes from an influential political family and lives in Kabul. "Men are the main obstacle. It is a male-dominated country, and it is very difficult for them to see a woman in power."
http://online.wsj.com/news/articles/SB10001424052702304157204579475322060072290?mg=reno64-wsj&url=http%3A%2F%2Fonline.wsj.com%2Farticle%2FSB10001424052702304157204579475322060072290.html
-------------
Scrap the 'anti-women' CII, demands Sindh
April 02, 2014
Karachi: The lawmakers of Sindh have unanimously demanded doing away with the Council of Islamic Ideology (CII), a constitutional advisory body formed during military ruler Gen Ziaul Haq's era, for its recent "regressive" and "anti-women" recommendations.
During the provincial legislature's proceedings on Monday, Pakistan Muslim League- Functional MPA Mehtab Akbar Rashdi moved a resolution demanding that the federal government should dissolve the CII as the advisory body's recommendations showed an utter disregard for women rights and complicated matters instead of finding solutions to problems.
The CII, which is responsible for giving legal advice on Islamic issues, recently drew flak from various quarters for declaring laws prohibiting underage marriage and the Women's Protection Act of 2006 un-Islamic. It had also decreed seeking consent from first spouse for a second marriage un-Islamic and DNA tests unacceptable as primary evidence in rape cases.
Setting their political differences aside, all political parties in the House supported the resolution.
The parliamentary leaders of the Pakistan People's Party, the Muttahida Qaumi Movement, the Pakistan Muslim League-Nawaz and the Pakistan Tehreek-e-Insaf delivered speeches to express their parties' commitment towards women's rights and resentment for the CII's recommendations.
The draft of the resolution read: "This assembly resolves and recommends to the Sindh government to approach the federal government to adopt the following resolution: This House shows its strong reservation over the recent recommendations of the Council of Islamic Ideology that show complete indifference and insensitivity to the issues pertaining to women such as no minimal age for marriage, DNA test unacceptable for rape indictments and no need for obtaining the first wife's permission for a second marriage. These recommendations by the CII are regressive and anti-women. It looks like instead of solving issues, the CII is creating a divide and confusion in the minds of people. The House, therefore, strongly recommends that since this council is unable to perform a positive role, it should be done away with as it is causing more damage than Pakistan can afford."
Besides the mover of the resolution, its draft was also read out by PML-N's Irfanullah Khan Marwat, PTI's Samar Ali Khan, MQM's Syed Sardar Ahmed and Parliamentary Affairs Minister Dr Sikandar Mandhro.
Speaking on the resolution, Rashdi pointed out that although the CII was only eligible for giving advice to the government on religious issues, its recommendations were perceived by the public as edicts of a mandatory nature.
She added that the federal government should have appointed members of the CII who were true experts on Islamic jurisprudence and also inducted female scholars in the body.
Senior Education Minister Nisar Ahmed Khuhro said Islam was a religion of reforms. During the pre-Islamic era of ignorance, he added, women faced severe discrimination but Islam had put an end to that.
"The CII should avoid making recommendations that are against the true spirit of Islam," he added.
Irfanullah Khan Marwat said the CII should avoid issuing anti-women edicts.
"By unanimously adopting the resolution, the provincial assembly has sent a strong message to the federal government that the lawmakers of Sindh have the courage to raise their voice against the illegal recommendations of the CII, unlike the legislators in the National Assembly"
MQM's Syed Sardar Ahmed said the members of the CII should be fully conversant with the laws, customs, norms, and culture of the land. "The lawmakers of Sindh reject the unreasonable recommendations of the CII that violate women's rights."
Murad Ali Shah, a PPP lawmaker, said no authority had the power to amend Islamic laws, which protected the rights of minors in terms of marriage.
Parliamentary Affairs Minister Dr Sikandar Mandhro assured the House that the bill for making DNA testing mandatory in rape cases - already been introduced in the legislature - would soon be presented for adoption.
Mandhro was responding to several MPAs who had raised the problem of increasing rape cases and the failure to produce witnesses in the courts to convict sexual offenders.
The issue was raised on a point of order by opposition leader Faisal Ali Subzwari. Several members were of the opinion that special amendments should be introduced in the criminal procedure laws so that people habitually committing excesses against children should be brought to justice and handed down exemplary punishments.
Subzwari mentioned the recent rape and murder of a five-year-old girl in the Bheempura area of Karachi. "There has been an alarming increase in such incidents in Karachi recently and children cannot freely play and roam around on the streets because of the presence of sexual predators."
He said all political parties in the national and provincial legislatures should shun their differences and adopt amendments in the criminal laws so that there should be no legal loophole left that could be exploited by criminals preying on minors for their sexual gratification.
Information Minister Sharjeel Memon said children should be educated about sexual exploitation by introducing changes in the school curriculum.
Other resolutions
The House unanimously adopted a resolution paying rich tributes to the political and national services of the late prime minister and founder of the PPP, Zulfikar Ali Bhutto, in connection with his 35th death anniversary on April 4. The resolution was moved by PPP MPA Sharmila Faruqui and signed by several other treasury MPAs. It termed Bhutto's death a "judicial murder". Another resolution was adopted unanimously by the House condemning the attack on TV anchorperson Raza Rumi in Lahore on March 29 in which his driver was killed.
http://www.thenews.com.pk/Todays-News-4-241428-Scrap-the-anti-women-CII-demands-Sin
-------------
Lebanon Makes Domestic Violence a Criminal Offense
April 02, 2014
Lebanon's parliament on Tuesday passed a law making domestic violence a criminal offense, reported AFP.
The move comes after a years-long campaign by civil society groups in a sectarian Arab country steeped in conservativism.
Large sectors of Lebanese society have traditionally regarded beatings of women and children as religiously and socially acceptable.
New York-based Human Rights Watch described the bill as "historic," but pointed to gaps which did not ensure full protection for women.
For its part, leading Lebanese women's rights organization Kafa was critical of the law in its current form.
The law fails to specifically enshrine protection for women, said Kafa, adding that the law used religious terminology in place of rights-based terms.
Ghassan Mkhayber, an MP who played a key role in lobbying for the law, told AFP, "It is a big step forward in protecting women, we should be proud. We now have a law that provides effective protection for women..."
"It's not the ideal text, but it's a first step," Mkhayber said, while stressing that the law must now be enforced.
The new law was passed just days after a Lebanese judge handed down a death sentence to a man accused of beating his wife to death with a pressure cooker, in an unprecedented verdict that was hailed as a breakthrough in Lebanon's struggle with domestic violence.
Mohammed Adnan al-Nhaily was accused of premeditated murder in "violently and viciously" beating his 34-year-old schoolteacher wife Manal Assi to death on February 8.
AFP noted that the law passed after a Kafa-led campaign which saw thousands of demonstrators take to the streets of Beirut on March 8, International Women's Day.
The demonstration came after several women died allegedly from beatings by their husbands.
Women's rights has been a weak point in the Arab world; a report last November found Egypt to be the worst women's rights abuser in the Arab world. A UN report in April found that 99.3% of Egyptian women and girls had been sexually harassed.
Another Arab country notorious for its violations of human rights and specifically those of women is Saudi Arabia.
The kingdom employs religious police whose job is to enforce Islamic Sharia law, and women are forbidden from driving in the kingdom.
Even the Saudi king has been accused of violating the rights of his own daughters, as allegations recently submitted to the UN human rights office claimed that several of his daughters have been held for the past 13 years in the royal compound in Jeddah.
http://www.israelnationalnews.com/News/News.aspx/179167#.UzyyQKhdUqM
-------------
Jewish woman among first to wed in same-sex ceremony in UK
April 02, 2014
Jewish childcare worker Nicola Pettit, 29, and her non-Jewish partner Tania Ward, 28, were among the first lesbian couples to take advantage of their new equality in the eyes of the law as the United Kingdom legalized gay marriage over the weekend.
Their wedding was one of dozens of ceremonies that were held soon after the law came into effect on Saturday at midnight. It is believed to have been the first same-sex marriage in the country to contain Jewish elements, according to the Jewish Chronicle.
The couple from were first married in a civil ceremony at Brighton Town Hall in southern England, followed by a traditional Jewish blessing led by Reform Rabbi Janet Darley at the South London Liberal Synagogue.
"It was really important for me to have a rabbi and other Jewish elements present," Pettit was quoted as saying by the Jewish Chronicle. "It also means a lot for my mum and the rest of my family, who all attend the Liberal Jewish Synagogue together."
Pettit added that she was grateful to be recognized in marriage and still be able to follow her religion.
"Liberal Judaism is delighted to be correcting an injustice," chief executive of Liberal Judaism Rabbi Danny Rich was quoted as saying by the Chronicle.
Representatives for the Liberal and Reform movements said that so far no other couples had arranged for same-sex Jewish marriage ceremonies.
The Marriage Act was passed in July 2013, but couples were only able to register their intent to marry under the Act starting on March 13 of this year, with the Act officially coming into force on March 29.
Prime Minister David Cameron called the extension of marital rights "an important moment for our country," in an article for gay news service Pink News. "It says we are a country that will continue to honor its proud traditions of respect, tolerance and equal worth."
http://www.jpost.com/Jewish-World/Jewish-Features/Jewish-woman-among-first-to-wed-in-same-sex-ceremony-in-UK-347043
-------------
Maryam Nawaz mulling formal jump into politics
April 02, 2014
ISLAMABAD - Maryam Nawaz, the daughter of Prime Minister Nawaz Sharif, seems to have made up her mind to formally jump into the national politics as she has changed her official name from Maryam Safdar to Maryam Nawaz, a reliable source in the PM House told The Nation.
Requesting anonymity, the official disclosed that Maryam Nawaz had changed her name from Maryam Safdar to Maryam Nawaz Sharif in the record of National Database and Registration Authority.
She had become Maryam Safdar after her marriage with Capt Safdar.
"Last week a special team of NADRA had arrived at the PM House where Maryam Safdar became Maryam Nawaz and her CNIC with new name was given to her the next day," the official revealed.
According to the NADRA rules if anyone wants to change his/her name he or she can do it on the basis of Form B and the marriage certificate.
The PM's daughter has always been publicly known as Maryam Nawaz but her name change in the NADRA record suggests that she is mulling to hold a public office in near future.
Earlier, PPP Chairman Bilawal Bhutto had changed his name against the prevalent norm of using the father's name by adding Bhutto to his name to elevate his political stature.
Interestingly, in the past two former presidents of Pakistan had also made some interesting modifications in their CNICs to immortalise their lifetime 'achievements'. The first one was the former dictator general (retd) Pervez Musharaf who had added his professional title 'General' to his official name, which is against the NADRA rules. He is still a serving general according to the record of NADRA and the expiry date of his card is mentioned as 'Taa Hayat' (for life). The second one was the former president Asif Ali Zardari who had mentioned himself in his CNIC as resident of 'Aiwan-e-Sadr'.
http://www.nation.com.pk/national/02-Apr-2014/maryam-nawaz-mulling-formal-jump-into-politics
-------------
First all-girls school inaugurated in Richardson
April 02, 2014
DALLAS: An inaugural ceremony of Qalam Collegiate Academy, first all-girls middle/high school in Richardson city, Texas was held. The school was inaugurated by Laura Maczka, the Mayor of Richardson.
President of student Shurah presented her a beautiful bouquet. Honorable community leaders, distinguished Imams and respected community members, senior management of Richland College and parents were invited to the ceremony.
Laura Maczka, Mayor of Richardson, took pride in inaugurating the 1st All Girls' school in Richardson as herself being the 1st elected lady mayor of the same city. She shared her delight in saying that as Richardson is experiencing the beauty of a wide range of diverse cultures so she is also getting exposure to all the cultures. In the end she appreciated the school administration to open the doors for her to their culture.
The program started with beautiful recitation and interpretation of verses from Surah Al-Alaq by Imam Nadeem Bashir from East Plano Islamic Center (EPIC). Mr Qadeer Qazi, principal of Qalam Collegiate Academy, shared his vision and dream with the audience by bringing to light all those hard steps he took to bring forth success to this newly born school.
In its initial phase, the school has become a member of CISNA, ISLA and PSIA and has got accreditation from National Accreditation Agency. He further highlighted all the facilities he had provided to the students in the form of certified teachers and technology based class rooms to get them prepared for the STAAR exams.
Along with the regular academic curriculum, Alima and Hifz choices are also given to the students. School also has partnership with Richland College of Dallas County to offer dual credit program to graduate with associate degree. In his closing remarks, he requested the audience to promote the school in the community as a very good option for their girls' education.
Closing remarks were given by Br. Azhar Azeez, vice president of Islamic Society of North America (ISNA), who in a very innovative and lively way illuminated the importance of girls education.
http://www.geo.tv/article-143231-First-all-girls-school-inaugurated-in-Richardson
-------------
URL: https://newageislam.com/islam-women-feminism/women-caucus-'amendments-child-marriage/d/66385