New Age Islam News Bureau
17 Oct 2018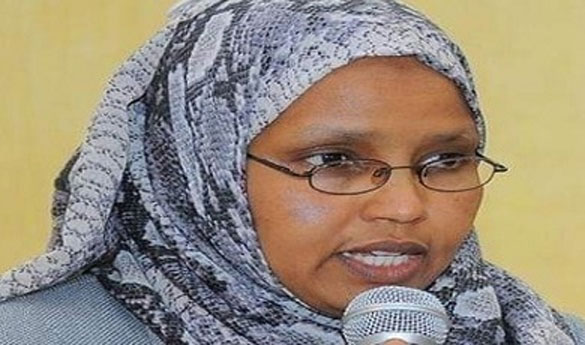 Photo: Ethiopia's first female defense minister, Aisha Mohammed (Photo via Twitter)
--------
• Half of Ethiopia's new cabinet women, including Muslim defense minister
• Pakistani serial killer executed for raping, murdering 7-year-old girl
• Islamic boarding school is refuge for Indonesian trans women
• Ethiopian PM hands half of cabinet to women, including defense job
• Muslim preacher who runs Britain's biggest sharia court denies raping two Dutch women in UK when they were young schoolgirls
• First Saudi female hockey team to break the ice with a license
• 8 women dead as train hits rickshaw in Pakistan
• Iranian women partake in the protests of various social sectors
Compiled by New Age Islam News Bureau
URL: https://www.newageislam.com/islam-women-feminism/women-candidates-face-small-scale/d/116650
--------
Women candidates face "small-scale war" in Afghan election
16 October 2018
KABUL, Oct 17 (Reuters) - More female candidates than ever are set to contest Afghanistan's upcoming parliamentary election, braving violence and opposition from social conservatives in a campaign seen as a test of the war-torn nation's democratic institutions.
"Elections in my country are not just about victory or defeat," said Dewa Niazai, a 26 year-old candidate from the eastern province of Nangarhar, who holds a degree in computer science from India. "It is about launching a small-scale war. I can get killed, injured or abducted."
Niazai is one of the 417 women candidates contesting seats across the country, despite deadly suicide attacks on election rallies and offices apparently aimed at forcing voters to boycott the vote scheduled for Oct. 20.
She says she wants to be a voice for uneducated women who are not represented in parliament and to defend girls' rights to education - Islamic State has blown up several girls' schools in her Nangarhar constituency.
The growing involvement of women has been welcomed by the United Nations and other international bodies, which see the elections as a vital step in building trust in democratic processes.
Campaigning is fraught with risks regardless of gender. Nine candidates, including one woman, have been killed in separate attacks. Another two have been abducted, and four others have been wounded by hardline Islamist militants, election officials said.
Last week a blast at an election rally of a woman candidate in the northeastern province of Takhar killed 22 people and wounded 35.
Nazifa Yousuf Bek, the female candidate, was standing about 10 metres away when the explosion occurred.
"My supporters were waiting to listen to my speech but in a few seconds I was surrounded by their bodies," the 32-year-old teacher told Reuters. "I am shaken but I am also determined to continue the election campaign. This is my responsibility."
INSECURITY AND HARASSMENT
For women, there are additional challenges, said Maria Bashir, Afghanistan's first female prosecutor from Herat province, who like other women candidates interviewed by Reuters had until recently never seriously contemplated entering politics.
"In comparison with male candidates, women have more problems in the election race ... insecurity and harassment inhibit women's mobility and justify family restrictions," she said.
Echoing other women candidates who spoke to Reuters, Bashir says she is standing for election after growing dismayed with the direction of the country, starting with the failure of the government to improve security or safeguard women's rights.
Unable to hold open rallies because of security concerns, Bashir invites voters to attend political discussions at her home, and travels around the city at night to distribute publicity pamphlets and encourage voters to cast their ballot.
Sabri Andar, the only female candidate with disabilities, is contesting a seat in Kabul. She said her main focus would be on ensuring rights legislation was not ignored.
"Laws about equality exist on paper but they are yet to implemented," she said. "As a lawmaker I want to ensure we practice what is written in our constitution."
Women's rights advocates say that, despite the heavy emphasis placed on promoting equality by international donors, age-old scourges such as child marriage or the murder of women by family members in so-called "honour killings" remain rife. Afghan girls still routinely receive less schooling than boys.
SOCIAL TABOOS
Under the constitution written after the austere rule of the Taliban was ended by U.S.-backed Afghan forces in 2001, at least 68 of the 250 seats in the lower house of parliament are reserved for women. The quota means that Afghanistan fares better in a simple measure of female representation in the legislature than some Western nations - 28 percent of seats in the lower house are currently held by women, 8 points higher than the U.S. Congress.
But female candidates campaigning in their constituencies say Afghanistan's patriarchal culture means they face a battle to be heard even if they win.
"We are trained to dress in a way that is acceptable to men, we talk in a way that does not anger men and, in politics, we are expected to appease them to stay relevant," said Masooda Jalal, a former minister of women's affairs.
As well as facing sexual harassment, a regular problem that is rarely discussed openly because of strict social taboos, many women MPs complain they are not taken seriously by their male counterparts.
Women in positions of authority said they were often perceived as puppets who can procure funds from international aid groups committed to promoting gender equality.
Rights group activists in Kabul said more than three dozen bills drafted to strengthen the existing laws to safeguard the rights of millions of Afghan women were pending before the parliament but have not been allotted time for debate.
Nasrullah Stanekzai, a political science professor at Kabul University and a former legal advisor to President Ashraf Ghani said ethnic, religious, political and financial loyalties of female candidate limit their role.
"Females candidates win elections with the help of powerful male politicians who in turn expects them to work as stooges in the parliament, rarely allowing them to have an independent opinion," said Stanekzai. (Additional reporting by Storay Karimi in Herat, Ahmad Sultan in Jalalabad; Writing by Rupam Jain; Editing by Alex Richardson)
http://news.trust.org//item/20181016230105-rfobs/
--------
Half of Ethiopia's new cabinet women, including Muslim defense minister
Oct 17, 2018
Ethiopia's new cabinet is now a record 50 percent female, including the country's first woman defense minister, after lawmakers on Tuesday unanimously approved the nominations put forward by reformist Prime Minister Abiy Ahmed.
Five of the 20 cabinet members are Muslim, an underrepresented group that makes up a third of the country. That includes the new Defense Minister Aisha Mohammed Musa from the predominantly Muslim Afar region.
Another Muslim woman, former House speaker Muferiat Kamil, will lead the new Ministry of Peace at a time when Africa's second most populous country faces sometimes violent ethnic tensions as the wider political freedoms are explored.
"Our women ministers will disprove the old adage that women can't lead," Abiy said while presenting his choices. "This decision is the first in the history of Ethiopia and probably in Africa."
Ethiopia has faced sweeping political and economic reforms since the 42-year-old prime minister took office in April after months of anti-government protests and made pledges that include free and fair elections.
The Horn of Africa power joins a handful of countries, mostly European, where women make up 50 percent or more of ministerial positions, according to the Inter-Parliamentary Union and U.N. Women. French President Emmanuel Macron and Canadian Prime Minister Justin Trudeau in recent years unveiled "gender-balanced" Cabinets.
Under Kamil's leadership, the Ministry of Peace will oversee the powerful National Intelligence and Security Service, the Information Network Security Agency, the Federal Police Commission and the Finance Security and Information Center, Abiy's office confirmed Tuesday.
This 20-member Cabinet, trimmed from 28 posts, is the second named since Abiy took office in April. The first was criticized for the low number of female ministers.
Another Muslim member of the cabinet is Finance Minister Ahmed Shide, who comes from the country's underrepresented Somali region. Minister of Health Amir Aman and Minister of Agriculture Omer Husen are also Muslims.
Ethiopia has long been considered a patriarchal society and it "suffers from some of lowest gender equality performance indicators in sub-Saharan Africa," U.N. Women has said. "Women and girls in Ethiopia are strongly disadvantaged compared to boys and men in several areas, including literacy, health, livelihoods and basic human rights."
Several African nations have had female defense ministers including South Africa, Central African Republic, Kenya and Guinea-Bissau. And Rwanda has received international recognition for female representation in government, with women making up 43 percent of its Cabinet and 61 percent of parliament members.
Recent efforts have been made in Ethiopia to show women in more prominent posts. Ethiopian Airlines, which calls itself Africa's largest carrier, has publicized all-female flight crews.
Separately, Ethiopian Airlines announced Tuesday it would start flying to the Somali capital Mogadishu on Nov. 2 for the first time in four decades.
"Our flights will quickly grow to multiple daily flights given the huge volume of traffic between the two sisterly countries and the significant traffic between Somalia and the rest of the world," the airline's CEO, Tewolde Gebremariam, was quoted as saying by Fana.
https://www.dailysabah.com/africa/2018/10/16/half-of-ethiopias-new-cabinet-women-including-muslim-defense-minister
--------
Pakistani serial killer executed for raping, murdering 7-year-old girl
Oct 17, 2018
LAHORE: A Pakistani serial killer was executed at a prison here on Wednesday after a court dismissed a petition for his public hanging filed by the father of a seven-year-old girl, who was raped and murdered by the convict.
Imran Ali, who was convicted for the rape and murder of the minor girl in the city of Kasur, some 50km from Lahore earlier this year, was hanged to death this morning in Kot Lakhpat Central Jail.
Ali, 23, was executed in the presence of both Magistrate Adil Sarwar and the deceased's father. The girl's uncle was also present at the jail, the Dawn reported.
An ambulance had also arrived at the scene, accompanied by a brother of the convict as well as two of his friends.
A two-member Lahore High Court bench comprising Justice Sardar Shamim Ahmed and Justice Shahbaz Rizvi on Tuesday dismissed the plea of Amin Ansari, father of the minor girl, seeking public hanging of the convict.
In January last, police arrested Imran two weeks after he raped and killed the minor girl and threw her body into a garbage dump in Kasur.
The incident triggered nation-wide street protests in Pakistan with people demanding a harsh punishment for the convict.
Violent protests in Kasur city following her murder claimed two lives.
An anti-terrorism court here last week ruled that Imran's death sentence will be carried out on October 17 at Lahore's Central Jail.
Imran, a resident of Kasur, was accused of being involved in at least nine incidents of rape-cum-murder of minors. The court has given its verdict in five cases.
Ansari's counsel had also requested the court to allow a live telecast of the hanging inside the jail. The court did not agree and dismissed the plea.
Contingents of police and anti-riot forces surrounded Kot Lakhpat jail at the time of Ali's hanging.
"My daughter would have been seven years, two months old today," he said. "Her mother is devastated from grief."
Talking to the media after the execution, Ansari regretted that the authorities did not allow the live telecast of the hanging.
Ansari also thanked the chief justice of Pakistan and said that the "murderer had met his fate today."
After the execution, Ali's family — accompanied by police contingents — took his body to Kasur.
https://timesofindia.indiatimes.com/world/pakistan/serial-killer-of-8-children-executed-at-pakistani-prison/articleshow/66254915.cms
--------
Islamic boarding school is refuge for Indonesian trans women
October 16, 2018
YOGYAKARTA, Indonesia — Shinta Ratri, the matron of an Indonesian Islamic boarding school, corrects the pronunciation of a group of fellow Muslims as they chant the phrase "only one God" in Arabic and prepare to pray together.
Nothing unusual in that, except that these worshippers, gathered in a cramped residential neighborhood of the city of Yogyakarta, are all transgender women in the world's largest Muslim-majority country where hostility against them has surged, forcing many underground.
Rights activists say hardline Islamist groups are fast eroding the country's long-standing reputation for tolerance of minorities like the "waria" – a portmanteau of the Indonesian words for "woman" and "man" – as the trans community is locally known.
Ratri, 56 and her students and friends witnessed this intimidation first hand in 2016 when vigilante Islamists mobbed the Pesantren Waria Al-Fatah school and forced it to shut down.
Yuni Shara, 51, described how a group of "aggressive" men in white robes and skullcaps descended on the school after Friday prayers.
"I felt angry that my freedom, especially my freedom of religion, was being violated," said Shara, who lives at the school. "…Even the state can't fully guarantee our safety from these groups," she added as she took off her wig and make-up before joining the others in prayer.
Pockets of opposition
The school, set up in 2008, was empty for months after the raid but people have gradually begun to return to what is now widely considered a safe space for the waria community.
But while the school is accepted by its immediate neighbors, opposition remains.
"We believe it is our duty as Muslims to prevent this kind of LGBT behavior and forbid it," said Umar Said, a senior cleric with the hardline Islamic People's Forum which forcibly shut down the school two years ago.
While FUI does not "go looking for" waria, the group remains committed to preventing them from promoting their rights. Being transgender is a disease that can be cured through prayer, he said.
Historically, waria and other gender-fluid communities have been an accepted part of Indonesian society. The Bugis ethnic group on Sulawesi island for instance traditionally recognizes five genders, including one that is said to "transcend", or combine, the female and male.
Homosexuality is not regulated by law in Indonesia, except in the ultra-conservative province of Aceh where same-sex relations are banned. But parliament is considering revamping the national criminal code to impose restrictions on consensual sex outside marriage – a move that activists say could be used to target the lesbian, gay, bisexual, transgender (LGBT) community.
"At peace with God"
Even without legal barriers, many in the LGBT community face ostracism from their families and communities, discrimination in looking for work and, in some cases, violence and humiliation.
Many waria, banished from their homes, end up as sex workers, including some who have slowly started to gather again at Ratri's boarding school to pray.
For Ustad Arif Nuh Safri, a preacher at the Yogyakarta boarding school, embracing the waria is part of his duty.
During a Koran study session, Safri encourages his congregation to ask candid questions about their sexuality and how it affects their relationship with God.
"As long as we can connect with each other on a human level, we can accept each other the way we are," Safri said, adding he believes most Indonesians are as "open-minded" as him.
Ratri, dressed in a purple headscarf and bright red eye-shadow and lipstick, says it is this openness that allows the otherwise shunned waria to "make peace with God."
"As waria, we are already under huge psychological stress," she said. "Here we can believe we are not sinners for being trans."
https://nypost.com/2018/10/16/islamic-boarding-school-is-refuge-for-indonesian-trans-women/
--------
Ethiopian PM hands half of cabinet to women, including defense job
17 October 2018
Ethiopian Prime Minister Abiy Ahmed on Tuesday unveiled a downsized cabinet where, in a first, half the members are women, a top official said.
Women occupy key positions in the 20-member cabinet that includes a newly created Ministry of Peace to oversee the federal police and intelligence agencies, Abiy's Chief of Staff Fitsum Arega said.
Ethiopia is now the second African nation after Rwanda to achieve gender parity in its cabinet, and one of only a handful of nations to achieve this worldwide.
"Women are assigned to run key ministerial portfolios including ministries of Peace, Trade and Industry, and Defense," he tweeted.
The new Minister of National Defense, Aisha Mohammed, is the first woman to hold the post.
Aisha was earlier construction minister and before that in charge of the tourism ministry. She is from the drought-prone and poor Afar region, where she had once headed the disaster prevention office.
Minister of Peace Muferiat Kamil is a former speaker of parliament.
The previous cabinet had 28 ministers, of which only five were women.
Kenya currently also has a female defense minister, Raychelle Omamo, while South Africa, Guinea-Bissau, Cape Verde, Madagascar, Sao Tome and Principe, Gabon, Nigeria and Central African Republic have all in the past appointed women to the job.
The shakeup is the latest in a series of dramatic reforms implemented by Abiy since he took office in April after more than two years of anti-government unrest that contributed to his predecessor's sudden resignation.
The prime minister's measures have included ending two decades of conflict with neighboring Eritrea, releasing jailed dissidents, welcoming formerly banned groups back into the country and announcing plans to privatize major state-owned industries.
Abiy, 42, took office after anti-government protests began in late 2015 by Ethiopia's two largest ethnic groups against the heavy-handed rule of the Ethiopian People's Revolutionary Democratic Front (EPRDF), which controls every seat in parliament together with its allies.
https://english.alarabiya.net/en/News/world/2018/10/17/Ethiopian-PM-hands-half-of-cabinet-to-women-including-defense-job-.html
--------
Muslim preacher who runs Britain's biggest sharia court denies raping two Dutch women in UK when they were young schoolgirls
16 October 2018
A Muslim cleric who has worked towards opening sharia law courts in the UK has been questioned over historic rape claims.
Faiz-ul-Aqtab Siddiqi, 51, voluntarily spoke to officers looking into claims two Dutch women were sexually abused when they were children in the 1990s.
The women went to West Midlands Police over allegations they were attacked while staying with the sheikh's religious community in the UK, Dutch newspaper De Telegraaf reported.
Mr Siddiqi told the paper the claims were 'unfounded' and were part of a campaign to discredit his family.
A West Midlands Police spokesman said: 'A 51-year-old man from Nuneaton has been voluntary interviewed in relation to allegations of historical rape cases. Enquiries remain on-going.'
Lawyer Sheikh Faiz-ul-Aqtab Siddiqi is principal of a religious college outside Nuneaton, Warwickshire.
He was a leading figure in protests against Charlie Hebdo magazine after 11 of their journalists were massacred by Muslim extremists
He helped set up Muslim Arbitration Tribunal panels around the UK in 2007, described in 2008 as Britain's first legally binding sharia courts.
Speaking about the courts at the time, he said: 'This method is called alternative dispute resolution, which for Muslims is what the sharia courts are.'
The courts were criticised at the time, with then shadow home secretary Dominic Grieve said: 'These tribunals have no place in passing binding decisions in divorce or criminal justice hearings.'
After Theresa May announced an independent review into Sharia Courts in Britain, Mr Siddiqi hit back.
He said: 'What about ecclesiastical courts [and the] hundreds of other tribunals out there – professional, industrial, all sorts. Are they a threat to the British way of life? Have they become a parallel system? No. So why is it just Muslims? It is Islamophobia. It is exactly the same intolerance that Isis and al-Qaeda and these guys preach.'
His father, renowned Sufi Muslim scholar Hazrat Mujadid Abdul Wahab Siddiqi, founded Hijaz Manor where the preacher lives today.
https://www.dailymail.co.uk/news/article-6282147/Muslim-preacher-denies-raping-two-Dutch-women-UK.html
--------
First Saudi female hockey team to break the ice with a license
By Sami Bougas
Oct 17, 2018
JEDDAH — A group of girls in the city are seeking a license to play hockey for what could be called the first Saudi team in this sport.
After training in the last few weeks under the supervision of coach Sultan Salama, the Saudi girls are hoping to break the ice by bringing recognition to this sport.
Salama revealed to Okaz that the team supports the widely loved sport and we're working to obtain an official license from the General Sport Authority (GSA).
"The girls are hoping that the hockey teams will be supported and provided with an Olympic arena (with an ice rink) for practicing," Salama said.
"I have been practicing this sport for almost two years, and I have trained on some skills by watching YouTube tutorials," said Dajana Bahader (one of the team members). "I want to be part of this women's team that brings together a group of talent that aspires to reach the world," she said.
"I started practicing this as a hobby when I was 12 years old, and today I am a member of this team with a group of girls who are eager to provide more and develop our abilities," Maria Bakhsh, another member of the team, said.
http://saudigazette.com.sa/article/545797/Sports/First-Saudi-female-hockey-team-to-break-the-ice-with-a-license
--------
8 women dead as train hits rickshaw in Pakistan
October 17, 2018
Eight women were killed when a passenger train hit a rickshaw at an unmanned crossing in Pakistan's Sindh province on Tuesday.
The Khushhal Khan Khattak collided with the vehicle carrying 15 travelers at the Haibat Shaheed railway station in Kashmore at around 1:30pm.
Minister for Railways Sheikh Rasheed Ahmed expressing his grief over the accident confirmed that eight women died in the incident while seven others were injured but were not out of danger.
https://www.business-standard.com/article/pti-stories/8-women-dead-as-train-hits-rickshaw-in-pakistan-118101700039_1.html
--------
Iranian women partake in the protests of various social sectors
16 October 2018
Several protests took place from Sunday, October 14, until Tuesday, October 16, 2018, in various cities where Iranian women participated and played major roles in protesting against the corrupt policies of the mullahs' regime.
Hundreds of retired personnel staged a big rally outside the Budget and Planning Organization in Tehran. Veteran nurses and health personnel were also among the protesters and Iranian women played a remarkable role in this protest. They chanted, "Poverty line is 6 million toumans, our salaries are 2 million."
Iranian women played a remarkable role in the protest of retirees in TehranOn the same day in Isfahan, girl students planning to take part in the university entrance exams, gathered outside the Department of Education in protest to short notice for the exam. They said, "Our generation will not sit silent and let you do to us whatever you want!" Since no one appeared to respond to their demands, they cried out and called on the officials, "Get up (and come out) from behind your desks!"
On Monday, October 15, 2018, under heavy rain, a group of Iranian women, victims of the Caspian Credit Institute gathered in front of its branch office in Rasht and called for the return of their deposits. They chanted, "So long as our money is gone, it will always be like this" and "We've been plundered, we have no money, we have tables, we have no food."
On the same day, a group of looted Caspian Credit Institute investors, including a number of women gathered in front of the Central Bank of Iran on Mirdamad Street in Tehran and staged a protest. Protesters held banners and chanted, "The bankrupt state is sitting on our money!"
Also on Monday, a group of plundered investors of the Persian Pars Company in Tehran, including a number of Iranian women, gathered in protest outside the General and Revolutionary Prosecutor's Office.
Iranian women in the big rally of retirees in Tehran
Some 250 of the personnel of the Hospital of Karaj, including a large number of women, resumed their protests on Monday to achieve their demands.
Students of the Department of Social Sciences of the University of Tehran, gathered in the college's lobby on Monday, October 15, to declare their solidarity and support for the teachers' national sit-ins and strikes. The protesting students, including a considerable number of young women, held up signs which read, "Students, teachers, workers, unite, unite" and "free imprisoned teachers" and "free imprisoned students" and "So long as teachers are in jail, classes will be closed."
Iranian teachers held a nationwide strike and sit-in on Sunday and Monday which spread to 26 out of 31 Iranian provinces and at least 61 cities.
Also on Monday, October 15, 2018, students of Azad University of Sanandaj held a protest rally in protest against the removal of midwifery and nursing majors after a week in class. Female students had a leading role in this protest. The students said that most students omitted from the majors have a student card and number, they have paid tuition, and have also been in the classroom for one week.
In another protest on October 15, workers of the Municipality of Shushtar including a number of Iranian women stopped work to protest against the city's failure to pay their wages.
On Sunday, October 14, 2018, students of Tehran University staged a heated protest against Rouhani, the mullahs' president, who was speaking to a group of selected students in one of the university's halls. The student protested the arrests of their fellow students and the heavy sentences issued for them. One of the young women participating in the protest, cried out, "Why didn't you let the students in?"
https://women.ncr-iran.org/iran-women-news/5526-iranian-women-partake-in-the-protests-of-various-social-sectors
--------
URL: https://www.newageislam.com/islam-women-feminism/women-candidates-face-small-scale/d/116650
New Age Islam, Islam Online, Islamic Website, African Muslim News, Arab World News, South Asia News, Indian Muslim News, World Muslim News, Women in Islam, Islamic Feminism, Arab Women, Women In Arab, Islamophobia in America, Muslim Women in West, Islam Women and Feminism