New Age Islam News Bureau
31 Dec 2017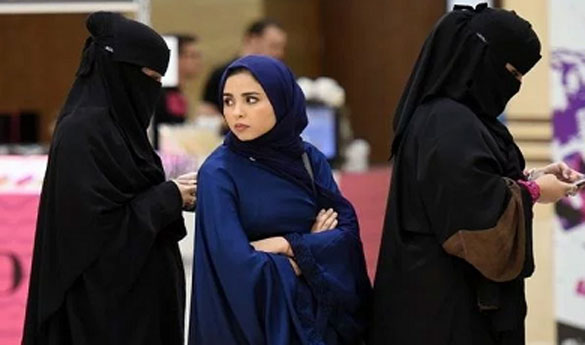 Photo: File photo of Saudi women queue for a pop concert at Princess Nourah bint Abdulrahman University in the Riyadh.(AFP)
------
• Jeddah Airport: Drastic Changes Expected In Employment Of Women
• A Muslim Woman Wearing a Hijab Was Allegedly Attacked In a Downtown Brooklyn Restaurant on Tuesday
• Devout Muslim Widow Stops Wearing Her Hijab and Starts Dating a Man in Australia
• Rules Relaxed Post PM Modi's Suggestion, 1300 Muslim Women to Go For Haj without Male Companion
• Pakistan's Girl Cadets Dream Of Taking Power
• 2 Minor Girls Jailed For 'Cow Slaughter' In Muzaffarnagar
• 51 Girls Freed From Madrasa after Charges of Rape, Torture
• Ayesha Gulalai Told To Sit Behind Stage Occupied By Men to Show Respect for Tribal Customs
Compiled by New Age Islam News Bureau
URL: https://www.newageislam.com/islam-women-feminism/women-now-enter-riyadhs-general/d/113759
---------
Women Can Now Enter Riyadh's General Court without a Face Veil
By Bushra Nayeem
December 30, 2017
The announcement was made earlier this week that women can now enter the court rooms even if they aren't covering their faces, this ban was uplifted and women are actually celebrating!
1:30 PM - Dec 27, 2017
Replies Retweets 1 1 like
Saudi judicial authorities passed this regulation a year ago where it was stated that women without a face veil cannot enter the courtrooms. In a conversation with the Arab News member of Shura Dr EqbalDarandari said that this regulation has been dismissed in order to provide more comfort and ease for the women coming in the courtrooms but this is just a small victory as according to her the females still have to adhere the strict dress code.
Independent
She said;
"Any applicant frequenting a government department is expected to uphold and adhere by its dress code. Courts of law, specifically, are governed by religious sanctions, which calls for women to dress accordingly in modest attire,"
This was not only about freedom and ease but she told how there are different sects and all have different beliefs about Hijab's/veils/scarves. This is specifically a leverage which is given to the female lawyers even who have to keep their faces covered even during the proceedings.
Twitter
There are different types of veils which are seen.
"Some women wear it because they strongly believe it is their religious obligation."-Dr Darandari.
These are just the right steps towards a better and more free justice system. Due to the patriarchy present in the Middle Eastern counteries females are pulled back already and if such regulations keep coming out women will have hard time getting justice even but things are about to change.There are still ongoing arguments between Muslim scholars of how a female should be dressed.
en.dailypakistan.com.pk/uncategorized/good-news-women-can-now-enter-riyadhs-general-court-without-a-face-veil/
--------
Jeddah airport: Drastic changes expected in employment of women
NOOR NUGALI | Published — Sunday 31 December 2017
RIYADH: The Saudi Ground Services Co. (SGS), which specializes in providing logistic support for aircraft, featured on its Snapchat account a video in which women are seen attending a training session. The video shows instructors motivating the young women and speaking about the courses they have taken to guide them into their new roles as ground service technicians.
The question remains when and where women will be employed at the airport. "Female uniforms have been distributed: A dark grey abaya with green lines, similar to that of male colleagues who wear the same color uniforms," said NawrasUsamah, an airport employee.
With the opening of the new Jeddah airport in May 2018, many expect that drastic changes will take place in the employment of a large number of women in different positions. They will mark a new era and perhaps a more open approach that will greet guests of the city known as the gateway of the Two Holy Mosques.
"In the beginning, ladies will work at the counters and places at the airport that don't require challenging physical efforts," said Nawras.
In line with Vision 2030, many companies in Saudi Arabia are employing females in high numbers and anticipating a large turnout of future applicants.
"Last year we employed more than 100 ladies in the management section, and we expect that number to double the following year," said Mohammed bin Yassin, who works at the General Authority of Civil Aviation (GACA). "Our position is strongly leaning toward employing females in aviation."
arabnews.com/node/1216801/saudi-arabia
--------
A Muslim Woman Wearing a Hijab Was Allegedly Attacked In a Downtown Brooklyn Restaurant on Tuesday
30 December 2017
New York police have launched a hate crimes investigation after a Muslim woman wearing a hijab was allegedly attacked in a downtown Brooklyn restaurant, it was announced on Friday.
Souad Kirama, a 51-year-old Muslim community activist, said the incident took place at a Panera Bread just a few hundred feet away from the Brooklyn Bridge on Tuesday evening.
While she was having coffee with a colleague when at around 5:15pm she noticed a group of girls sitting nearby and behaving rowdily.
'All I did was ask them to be quiet and they started attacking me and punching me in my back,' said in a tearful Facebook Live video which she posted just half-an-hour after the alleged attack on Tuesday.
She said she was told to go back to her country. The girls then called her a 'terrorist' and spat on her.
Kirama said that witnesses nearby did not do anything to help.
'People were just standing there watching me being beaten up and being called a "f---ing terrorist",' she said.
'I made sure to report it as a hate crime,' Kirama, 51, said. 'We cannot accept this.'
An employee at the Panera Bread location told the New York Daily News that the attack was 'pretty quick'.
Kirama told police that the girls also hit her around the head. Police said her injuries were minor and that she did not need to be hospitalized.
The attack was denounced by the New York chapter of the Council on American-Islamic Relations (CAIR).
'It is intolerable to see so many New Yorkers do nothing in the face of this sort of hatred,' CAIR-NY Legal Director Albert Fox Cahn.
'At this moment, when Muslim New Yorkers are enduring a historic surge in hate crimes, we must all stand up when we see our neighbors being attacked.'
CAIR did praise the NYPD for treating the incident as a hate crime.
dailymail.co.uk/news/article-5223605/Muslim-woman-51-recalls-attacked-group-girls.html#ixzz52pzdmGEa
--------
Devout Muslim Widow Stops Wearing Her Hijab and Starts Dating a Man in Australia
31 December 2017
A devout Muslim woman stopped wearing the hijab after an ISIS terrorist shot dead her husband in an horrific attack outside a Starbucks cafe in Jakarta.
DewiMustika became a widow in January 2016 when her Canadian-Algerian husband Taher Amir Oali was on the way to the American chain cafe for a business meeting.
After an ISIS-inspired suicide bomber blew up the cafe, he stood among a crowd of people outside watching the black smoke when another terrorist shot him dead.
In the months after that tragedy, Dewi dedicated her time to fitting hearing aids to poor Indonesians to honour her dead husband's work with the needy.
During her grieving, she also decided to remove her hijab, which she had worn permanently since 2015, out of anger with the terrorists using Islam as the basis for their murderous attack.
'I realised that wearing the hijab doesn't make you a good person,' she told the Sunday Telegraph.
'Praying five tims a day doesn't necessarily make you a good person. You are a good person because of your actions.'
Her friends also urged to find another man and convinced her to meet an acquaintance of theirs in Australia.
That's when she communicated several times a day on WhatsApp with 47-year-old carpenter Ralf Eggebrett, who moved to Australia from Germany in 2000 before settling at Port Headland, in Western Australia's remote Pilbara region.
Dewi's family is happy she's found love with a man who isn't a Muslim.
'He is a kind man, a caring man,' she said. 'I love him.'
He has visited her in Indonesia while she has met him in Western Australia.
dailymail.co.uk/news/article-5223619/Muslim-widow-stops-wearing-hijab-ISIS-kills-husband.html#ixzz52pzP0Inu
--------
Rules relaxed post PM Modi's suggestion, 1300 Muslim women to go for Haj without male companion
Sunday 31 December 2017
1300 Muslim women will go on Haj this year without "mehram" or male companion as they have been exempted from the lottery system and will proceed to the pilgrimage directly, Minority Affairs Minister Mukhtar Abbas Naqvi announced today. The announcement came soon after Prime Minister Narendra Modi's suggestion that Muslim women who have applied to go for Haj without "mehram" should get preference.
Terming the policy of allowing Muslim women to perform Haj only in the company of a male guardian as "injustice, " PM Modi said that he has suggested to the Ministry of Minority Affairs that they should ensure that all women who have applied to travel alone be allowed to perform Haj.
In his monthly radio address of 'Mann kibaat', Modi said his government removed the restriction following which hundreds of women have applied to travel alone for the pilgrimage.
According to the Ministry of Minority Affairs, now Muslim women aged above 45 are allowed to go for the pilgrimage without 'mehram' in a group of at least four.
After Modi's radio programme, Naqvi announced on Twitter that all 1300 women applicants will be exempted from the lottery system.
"After PM Shri @narendramodi Ji's suggestion, I assure that those about 1300 women, who have applied to go for Haj without "Mehram" (male companion), will be exempted from the lottery system and allowed to proceed on Haj. #MannKiBaat," Naqvi said.
In his last radio programme of the year, the prime minister said removal of the restriction of having a male guardian or 'mehram' may appear as a "small thing", but such issues "have a far-reaching impact on our image as a society".
He said when he first heard of the restriction, he was surprised as to who would have drafted such a rule.
"Why this discrimination? And when I went into the depth of the matter I was surprised to find that even after 70 years of our independence, we were the ones who had imposed these restrictions. For decades, injustice was being rendered to Muslim women but there was no discussion on it," he said in his broadcast.
He pointed out that such a restriction is not prevalent in many Islamic countries.
"I am happy to note that this time about 1300 Muslim women have applied to perform Haj without 'mehram' and women from different parts of the country from Kerala to north India, have expressed their wish to go for the Haj pilgrimage," he said.
He said he has suggested to the Ministry of Minority Affairs that they should ensure that all women who have applied to travel alone be allowed to perform Haj.
"Usually there is a lottery system for selection of Haj pilgrims but I would like that single women pilgrims should be excluded from this lottery system and they should be given a chance as a special category," he said.
He said it is his firm belief that the journey of India?s progress has been possible due to women-power and on the basis of their talent...It should be our constant endeavour that our women also get equal rights and equal opportunities...," he said.
While referring to Muslim women and their rights, the prime minister did not mention about the bill passed by Lok Sabha last week which bans the practice of instant triple talaq.
He, however, had referred to the issue of instant triple talaq or 'talaq-e-biddat' while inaugurating the 85th Sivagiri Pilgrimage Celebrations at Sivagiri Mutt in Kerala via video conference this morning.
Referring to Christmas, Modi said Jesus Christ taught us about the spirit of service or 'sewabhaav'.
"Be it any religion, caste or creed, tradition or colour in this world; the spirit of service is an invaluable hallmark of the highest human values," he said.
He also recalled the life of Guru Gobind Singh which was full of instances of courage and sacrifice.
On the 350th anniversary of the Sikh guru, he said Guru Gobind Singh preached the virtues of sublime human values and at the same time, practiced them in his own life in letter and spirit.
dnaindia.com/india/report-rules-relaxed-post-pm-modi-s-suggestion-1300-muslim-women-to-go-to-haj-without-male-companion-2571821
--------
Pakistan's girl cadets dream of taking power
Dec 31, 2017
MARDAN (PAKISTAN): At a revolutionary school in Pakistan, DurkhanayBanuri dreams of becoming military chief, once a mission impossible for girls in a patriarchal country where the powerful army has a severe problem with gender equity.
Thirteen-year-old Durkhanay, a student at Pakistan's first ever Girls' Cadet College, established earlier this year in the deeply conservative northwest, brims with enthusiasm and confidence as she sketches out her life plan.
"I want to be the army chief," she tells AFP. "Why not? When a woman can be prime minister, foreign minister and governor of the State Bank, she can also be chief of the army staff ... I will make it possible and you will see."
The dreams of many women in the region were once limited to merely leaving the house.
Durkhanay and her 70 classmates in Mardan, a town in militancy-hit Khyber Pakthunkhwa (KP) province roughly 110 kilometres (70 miles) from Islamabad, are aiming much higher.
Cadet colleges in Pakistan, which are run by the government with officers from the military's education branch, strive to prepare bright male students for the armed forces and civil services.
Their graduates are usually given preference for selection to the army, which in Pakistan can mean their future is secured: they are likely to be granted land and will benefit from the best resources and training in the country.
As a result such colleges play an outsized role in Pakistan's education system, which has been woefully underfunded for decades.
According to a 2016 government study, a staggering 24 million Pakistani children are out of school, with a larger share of girls staying home than boys -- 12.8 million compared to 11.2 million.
Hundreds of boys study at the cadet colleges across the country.
But girls are still not allowed in these elite schools, with the special college at Mardan the one exception.
"Such colleges can help girls qualify to be part of the armed forces, foreign service, civil services or become engineers and doctors," said retired Brigadier NaureenSatti, underscoring their importance in the long fight for equality by Pakistan's women.
In starched khaki uniforms and red berets Durkhanay and her classmates march the parade ground, stepping to the beat of a barking drill instructor, before racing to change into physical training and martial arts kits.
The military is widely seen as Pakistan's most powerful institution, and has ruled the country for roughly half of its 70-year history. Under the current civilian government it is believed to control defence and foreign policy.
Women, however, have largely been shut out -- par for the course in a country routinely ranked among the world's most misogynistic, and where they have fought for their rights for decades.
Previously they were only allowed to serve in administrative posts. But military dictator Pervez Musharraf opened up the combat branches of the army, navy and air force to women beginning in 2003.
The military would not disclose how many of its members, which a 2015 Credit Suisse report said number more than 700,000 active personnel, are currently women.
But a senior security official told AFP on condition of anonymity that at least 4,000 are now believed to be serving in the armed forces.
He gave no further details, and it is unclear how far the women have managed to foray from their administrative past, though some have managed to become high profile role models -- including, notably, Ayesha Farooq, who in 2013 became Pakistan's first ever female fighter pilot.
The Girls' Cadet College principal, retired brigadier JavidSarwar, vowed his students would be prepared for whatever they wanted to do, "including the armed forces".
"I want these girls to avail their brilliance and fight injustices in society, and this is possible if they get a standard education," he told AFP, adding that plans are to induct a second batch of 80 girls from all over Pakistan by March next year.
For 57,000 rupees ($540) each three-term semester, his students get room and board along with access to computers and the internet, a luxury for some Pakistani schools.
It is a "game changer" in a region where religious conservative norms see many women keep some form of purdah -- confined to women's-only quarters at home -- and "could only dream of coming out of their houses in the past", says college vice principalShamaJaved.
Durkhanay and her classmates are confident the college will give them a fighting chance in Pakistan.
AffifaAlam, who wants to follow Farooq's path and become an air force pilot, said the college represents a "big change". "This will help us (in) realising the dream of women's empowerment," she said.
timesofindia.indiatimes.com/world/pakistan/pakistans-girl-cadets-dream-of-taking-power/articleshow/62313441.cms
--------
2 minor girls jailed for 'cow slaughter' in Muzaffarnagar
MohdDilshad | TNN | Updated: Dec 31, 2017
MUZAFFARNAGAR: Police in Muzaffarnagar have arrested and sent to jail two girls, one 12 years old and the other 16, after picking them up along with their mother and six other persons on charges of cow slaughter. The two children were shown as adults in court and dispatched to jail when they should have been sent to a juvenile home.
TOI has copies of the Aadhaar cards of the two girls that show their year of birth as 2001 and 2005.
On Friday morning, Khatauli police had arrested nine persons, including the two girls and three women, for alleged slaughter of cows. Cops also claimed to have seized 10 quintals of meat and butchering implements from a house. Four other accused fled the scene, police had said. Two other women are among those arrested.
Later in the evening, police produced all the nine accused as adults before a local court here, which in turn sent them to judicial custody. According to law, minors are not handcuffed or sent to jail. They are produced before juvenile justice board and then sent to correction homes.
The father of the girls, Nasimuddin, is also among the accused and is on the run.
Local residents stage protest against arrests
Soon after the arrest, local residents gathered in large numbers and held a protest. "Why have the police arrested the children and the wife of Nasimuddin?" one of the protesters demanded.
When contacted, SSP Ajay Sahdev told TOI that he has ordered a probe by the Khatauli circle officer (CO). "He will look into the matter and action will be taken after investigation is over," he said, while not commenting on the fate of the two kids. "The arrested persons were engaged in cattle slaughter. Nasimuddin has several cow slaughter cases registered against him. We recovered meat and hides of five cows from the spot," Khatauli police station in-charge Ambika Prasad Bhardwaj said. Family members of the accused and UP spokesperson of All India Majlis-e-IttehadulMuslimeen, Shadab Ahmed, joined the protest in front of the Muzaffarnagar police headquarters on Saturday. "Two little girls are in jail. Why?" asked Ahmed. "There are three women, too, in jail. I don't understand under which law police sent them to jail?"
timesofindia.indiatimes.com/city/meerut/2-minor-girls-jailed-for-cow-slaughter-in-muzaffarnagar/articleshow/62312660.cms
--------
51 girls freed from madrassa after charges of rape, torture
TNN | Updated: Dec 31, 2017
Seven have levelled charges of sexual abuse and attempt to rape against institute's convenor Tayyab Zia
There were 126 girls from UP and other states on the madrassa's roll
Representative Image51 girls freed from madrassa after charges of rape, torture
LUCKNOW: As many as 51 girls were rescued from a madrassa in Lucknow following complaints from its students about sexual harassment and torture by the institute's convenor Tayyab Zia. Police said Zia has been arrested. On Saturday, a student filed a complaint stating Zia had raped and tortured her.
Acting on a tip off by locals, a team of police and administration raided the madrassa on Friday. On Saturday, an inmate filed a complaint stating Zia had raped and tortured her, following which police pressed rape charge on the accused. There were 126 girls from UP and other states on the madrassa's roll.
"Out of them, seven have levelled charges of sexual abuse and attempt to rape against the convenor," police said. Police had filed a case against Zia for molestation, attempt to rape, and various sections of POCSO. One Assad, a relative of Zia, said madrassa proprietor Sayyed Mohammed Jilani Ashraf had framed Zia.
timesofindia.indiatimes.com/city/lucknow/51-girls-freed-from-madrassa-after-charges-of-rape-torture/articleshow/62312177.cms
--------
Ayesha Gulalai told to sit behind stage occupied by men to show respect for tribal customs
Dawn.comDecember 30, 2017
MNA Ayesha Gulalai was not allowed to sit on a stage occupied by her male counterparts when she arrived at a protest on Saturday to register her voice against the proposed merger of the Federally Administered Tribal Areas (FATA) with Khyber Pakhtunkhwa, forcing her to eventually leave in disappointment.
Gulalai had wanted to join the protesters from Fata, who instead told to her take a seat behind the stage. The organisers explained that this was "in line with tribal customs and traditions".
The legislator, who plans to launch her own political party, was seen trying to reason with the organisers — which also included members of the PML-N backed JUI-Fazl — for half an hour, but was repeatedly told that she would not be allowed on stage.
The federal lawmaker reluctantly obliged for a while, but eventually departed.
dawn.com/news/1379774/ayesha-gulalai-told-to-sit-behind-stage-occupied-by-men-to-show-respect-for-tribal-customs
URL: https://www.newageislam.com/islam-women-feminism/women-now-enter-riyadhs-general/d/113759