New Age Islam News Bureau
7 Aug 2015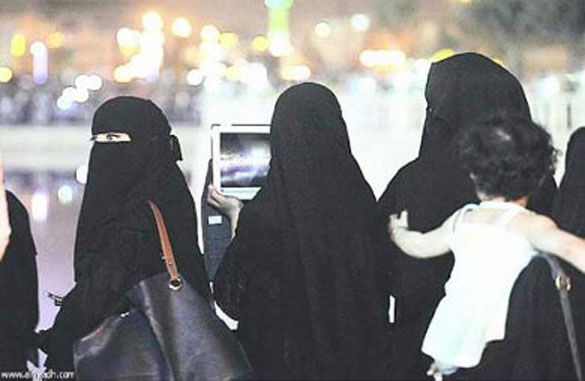 Freedom of mobility
--------
• Has Saudi Society Changed Enough To Allow Women Travel Alone?
• Nigerian Muslim Women's Association Warns On Hijab Ban amidst Rise in Insecurity
• Pak Punjab Govt Allocates Rs1.98bn for Women's Development: Minister
• US: Muslim Women Entrepreneurs Make Identity 'Look Good'
• Jakarta Women, Children Centre Lacks Human Resources
• Meet the Muslim Lolitas Changing The Face Of Harajuku Fashion, One Headscarf At A Time
• In Pakistan, Solar Lamps Turn Women into Entrepreneurs
Compiled By New Age Islam News Bureau
URL: https://www.newageislam.com/islam,-women-and-feminism/new-age-islam-news-bureau/women-can-help-women-win-more-council-seats--uae-official/d/104203
-----------
Women Can Help Women Win More Council Seats: UAE Official
August 6, 2015
Dubai: Womens associations and establishments should play a bigger role in helping female Federal National Council (FNC) election candidates reach female voters, a top UAE official said on Thursday.
Dr Anwar Mohammad Gargash, Minister of State for Foreign Affairs, Minister of State for Federal National Council Affairs and Chairman of the National Election Committee, said that female candidates have a great chance in winning the elections if supported by women, as he said women represent 48 per cent of the Electoral College in the upcoming FNC elections.
Gargash was speaking at the Dubai Ladies Club.
"In 2005, during the first elections, there were 6,700 eligible voters, in 2011 there were 134,000 and this year we have 242,000 voters, of which 120,000 are women," Gargash said.
He said it is important to have women in the FNC, as every law that affects people's daily lives passes through the FNC and gets debated, and it is important for the voice of women to be represented.
"One of the most significant achievements of the FNC is female empowerment. When we brought up the issue of women's empowerment, there were no objections as we were already there, people already knew that women are important members of society," he said.
Gargash added that it was easy to empower woman because of the wise leadership and vision of the Late Shaikh Zayed Bin Sultan Al Nahyan, the founding father of the UAE, and his wife Her Highness Shaikha Fatima Bint Mubarak, Chairwoman of the General Women's Union, Supreme Chairwoman of the Family Development Foundation (FDF) and President of the Supreme Council for Motherhood and Childhood, who pushed for women's empowerment from the start of the union.
Having a few women in national councils and parliaments is not only a UAE issue, but a global issue, he said. "This is because women work and live in a patriarchal society. Look at other parliaments in the region such as Lebanon, Egypt and Kuwait, they have the same issue, also in Latin America and Europe, and however we are seeing more female members in some European countries."
But he said some still made it to the FNC in the UAE such as Amah Al Kitbi in Abu Dhabi and Shaikha Al Ori in Umm Al Quwain.
Women's associations and establishments could bring support to female candidates by getting them in touch with a wider female voter base, and have them talk and present their campaign.
"We want all women to vote, those aged 20 and those aged 70, we want the working mother and the homemaker. We want them all to participate in the upcoming elections, as the people in the FNC represent the nation," he said.
Adding that they want the election to bring people together as one nation to stand behind candidates they see fit to represent them, and not cause rifts between citizens.
http://gulfnews.com/news/uae/government/women-can-help-women-win-more-fnc-seats-uae-official-1.1562554
-----------
Has Saudi Society Changed Enough To Allow Women Travel Alone?
August 06, 2015
It is a common trend among Saudi men, both married and unmarried, to travel abroad with their male friends and until recently, married women were not able to do the same without coming under scrutiny by society. But as Saudi society has opened up, one noticeable change has been the trend among women to travel abroad with their female friends without their husbands accompanying them, Al-Riyadh daily reports.
With society no longer looking down on a woman who travels alone with her female friends, Saudi women are able to feel and enjoy the same freedom their husbands enjoy when traveling with friends. Men who work, especially in demanding jobs, are more likely to allow their wives to enjoy their annual vacations with their female friends, a good step toward giving women more freedom of mobility.
Citizen Mashaal Saad said women today have more self-confidence and most of them ask their families to allow them to travel with their female friends so they can enjoy their time together. In the past, this was not allowed except in rare cases where some families would allow their daughters to spend a night with their female friends at a chalet on the beach or at one of their friends' houses.
"Some women can convince their husbands or families to let them go on vacation alone. I don't see any harm in that. What's wrong if a woman travels with her friends to have fun just like men do? But I doubt many families allow their daughters to do this as most of them get worried that their daughters may encounter problems abroad while they are alone without a man's company," Saad said, noting that some families dismiss such actions as rebellious and unacceptable.
Rehan Al-Saad also believes that women have the right, just like men, to travel with her female friends. She said travelling alone, whether for leisure or business, is completely acceptable if the woman is old enough to take care of herself.
"Many women travel abroad alone for study without a male relative accompanying them. Some even go on business trips and to attend conferences and exhibitions. There's nothing wrong if a woman travels alone. I don't know why some people don't approve of it. Some women don't need a mahram or a male guardian to accompany them. They're old enough to take care of themselves. They can travel alone or with female friends," Al-Saad said.
Opposing views
Ahlam, who did not want to give her last name, rejects the idea of a woman traveling alone with her female friends because it not only goes against social traditions and conventions but is also threat to her safety.
"No matter how old a woman is or how legally competent she is, she needs a male guardian to accompany her when she travels abroad. He will protect her against any harm," she said while adding that she is against husbands who give their wives the freedom to travel alone.
Anwar Fahad strongly disagreed with Ahlam and suggested that people who oppose women travelling alone hold a double standard as they do not criticize men who do the same.
"Women have reached the highest position in society and they are viewed with utmost respect. That is why some families have complete trust in their daughters and let them travel alone either for fun or to complete their education. Anyone who criticizes a woman traveling with her female friends should think again because times have changed. Why do those who are so eager to criticize not say anything about men who travel with their friends alone?" she asked.
Dr. Jibreen Al-Jibreen, associate professor of sociology at King Saud University, said people should not blow things out of proportion when it comes to women's issues.
"What's wrong if a woman travels by herself? This is her right as long as she is an adult and legally competent. What should be discussed here is whether this woman has a family and children. Some people might be against that but this scenario is a private issue for a married couple to sort out between themselves," he said.
http://www.saudigazette.com.sa/index.cfm?method=home.regcon&contentid=20150807252643
-----------
Nigerian Muslim Women's Association Warns On Hijab Ban amidst Rise in Insecurity
The Federation of Muslim Women's Associations in Nigeria (FOMWAN) has given a stern warning against the call for the ban of Hijab in Nigeria, especially in the northern part of the country.
Vanguard reports that in a statement by the National President of the association, Amina B. Omoti, the association argued that a call for the ban on hijab isn't the solution to the insecurity problems plaguing the country.
According to FOMWAN, it has been established that the insurgents used several other antics such as military uniforms, animals and all sorts of items as décoy to beat security operatives in their nefarious activities.
However, the association called on the government "to remain focused in its fight to end the insurgency and not be distracted by those calling for the ban on the use of hijab. It is diversionary and any attempt to implement it will be resisted by all well meaning Muslims in the country," the statement read.
FOMWAN which appealed to the Muslim Ummah to remain calm and law abiding, said Muslims across the country should resist attempts to be provoked and continue to pray for the present administration to succeed and for an enduring peace in Nigeria.
The statement read in part : "The attention of the Federation of Muslim Women's Associations in Nigeria (FOMWAN) has been drawn to the ongoing debate and unsolicited advice to government in different print and electronic media on the need to ban the use of Hijab.
"FOMWAN as a Muslim Women organization is concerned at the unfortunate use of young and innocent girls wearing Hijab to create havoc in the North Eastern part of Nigeria; this is sad and worrisome.
http://pulse.ng/religion/fomwan-muslim-womens-association-warns-on-hijab-ban-amidst-rise-in-insecurity-id4050733.html
-----------
Pak Punjab Govt Allocates Rs1.98bn For Women's Development: Minister
Aug 07, 2015
LAHORE: Punjab Minister for Women's Development Hameeda Waheeduddin on Thursday announced that the provincial government had earmarked Rs1.98 billion for women's welfare projects for the current fiscal year.
Speaking to a delegation of working women, the minister said funds allocated for women's development projects would help in resolving several issues faced by women in Pakistan.
"Women form 53 per cent of the country's population, and the government is committed to resolve the issues they face," the minister said.
"Construction work on five women hostels would be completed during the current financial year, while work on another five has also been completed," said Hameeda.
Read: Working Women's Forum Launched
The minister also announced that the government would set up 65 daycare centres for children of working women this year.
In recent years, Pakistan has experienced a rapid increase in the number of women joining its workforce.
While proving to be strong contributors to economic growth, working women still struggle with a number of workplace issues that hamper their professional aspirations, which include psychological and sexual harassment.
Domestic restrictions also play their role in forcing talented women to stay at home or restrict them from working in the field of their choice in the sixth most populous country in the world with a projected population of 188 million – of which women constitute half.
http://www.dawn.com/news/1198778/punjab-govt-allocates-rs198bn-for-womens-development-minister
-----------
US: Muslim Women Entrepreneurs Make Identity 'Look Good'
August 7, 2015
By: Ibrahim Hirsi
Source: Minnpost
Sofia Hersi broke out into a smile as a pair of customers entered her small clothing store in the Karmel Square mall in Minneapolis last week, and Hersi rose from her stool to walk up to the two young Muslim women, who were shopping for the weekend Eid al-Fitr festival, which marks the end of the Muslim holy month of Ramadan.
Hersi welcomed the shoppers as they caught glimpses of an Abaya — a loose, robe-like dress — hanging from the wall without a price tag.
"Where did you buy this from," one customer asked, "and how much is it?"
"Abu Dhabi," Hersi replied, "and that one is $70."
Hersi, 27, opened her shop, Modern Closet, in partnership with her friend Istar Mohamed in April. Their aim was to cater to young Muslim women who had a taste for the traditional — and for stylish clothing.
The store sells various items, including traditional dresses, scarves, handbags, clutches, sunglasses, rings and necklaces — some of them imported from the Middle East and others from New York and Los Angeles.
Older women have tended to dominate the female clothing market in the Twin Cities Somali community, Hersi explained. But in recent years, the industry has seen an increase in a new generation of entrepreneurs, who have joined the field to bring new, more stylish design ideas to young Muslim women.
Prior to opening Modern Closet, Hersi was a regular customer at Karmel Square. But she often came and went without buying anything, unsatisfied with what was around. "When I tried to find clothes in these stores, it was tough because most businesses were owned by older women like your mom and grandma," she explained. "They were having a hard time finding what young women wanted."
"Modern Closet is here to fill that void," she said. "We want to be fashionable, we want to represent our culture and we want to show our identity as Somali Muslim women — but also, we want to look good."
Since 1999, when Basim Sabri, Palestinian-born property developer, bought Karmel Square mall near Lake Street and Pillsbury Avenue, the building has been under constant expansion, with new parking ramp construction now underway.
"Karmel is growing literally fast," said Hersi, whose shop sits on the mall's third level. "This whole floor is owned by young people, mostly women."
Hersi exemplifies the growth of female entrepreneurs among the nearly 400,000 African immigrants in Minnesota. According to a new report by Concordia University economist Bruce Corrie, African immigrants — women in particular — have a "strong entrepreneurial spirit and presence" in the metro area.
Said Bruce in an interview: "Women play a big role in the national economics, too. So it's not surprising that they're playing a big role here."
One-stop shopping
Before she opened the shop, Hersi found it inconvenient to go to the Mall of America or Southdale, and then to a Somali mall, just to shop for one wedding event. In the American malls, she bought accessories and other things. In the Somali mall, she bought traditional dresses.
"In the American stores, it's hard to find the kind of dress that Muslim women would want to buy," Hersi said. "You want to be fashionable, [but] you want to be modest and covered up."
She added: "So what we did was that we merged the two together. We brought the fashion with the traditional outfits. So it's basically a one-stop shop for everything."
Hersi and her business partner Istar Mohamed pooled their savings to open the shop. And like many immigrant women who import products from overseas, Mohamed travelled to Abu Dhabi earlier this year to buy the clothes.
Hersi, on the other hand, traveled to New York City and Los Angeles to buy the accessories and the handbags.
'The scariest thing I've ever done'
Hersi came to the United States by herself from a Kenyan refugee camp about a decade ago. Once here, she had to learn to live without her mother and siblings, who sent her to the U.S. so she could assist them financially.
"I had to support myself, support my family, go to school," she said, as tears clouded her eyes. "I had to start out a new life here on my own. That was the scariest thing I have ever done."
Even as she underwent the shock of adversity both in the refugee camp and in in Minneapolis, Hersi never lost sight of her dream to become an entrepreneur.
Ten years later, that dream became a reality a few months ago, when Hersi opened Modern Closet. Today, she is most proud of two things she's achieved so far: a degree in human resources management from Metropolitan State University and Modern Closet.
"I've a lot of people supporting me today," she said. "'We're proud of you,' they tell me. This is just the beginning. I want to own my own empire before I reach a certain age."
http://muslimvillage.com/2015/08/07/104123/us-muslim-women-entrepreneurs-make-identity-look-good/
-----------
Jakarta Women, Children Centre Lacks Human Resources
August 07 2015
Amid an increasing number of reported cases of violence against women and children, the city-funded Jakarta Women and Children Empowerment Integrated Service Centre (Dharma Wanita Persatuan Pusat) has struggled from a lack of personnel, including clinical psychologists and lawyers.
The center's chairwoman Wien Ritola Tasmaya said recently that the center had only five psychologists, four lawyers and four paralegals, while it received around five new cases every day. "Besides handling new cases, we also have to deal with the old ones as many cases require long-term treatment," she said.
Wien said besides dealing with referrals by the Jakarta Police, the little-known center also handled many other cases from institutions such as hospitals, community health centers (Puskesmas) and the National Commission on Violence Against Women (Komnas Perempuan).
"We also have patients who come directly to us or report cases through our online portal," she said.
She added that center's personnel were sometimes required to make house calls.
Wien said the number of clients handled by her institution had been increasing over the years. According to the center's records, it received 1,612 clients in 2014, a 6 percent increase from the 1,517 clients in 2013. An even greater increase if compared to its 935 clients in 2010.
However, she said that the growing number of clients was not accompanied by an increase in personnel.
To deal with the increased numbers, she said, the center implemented shift schedules for the psychologists and arranged these schedules carefully so as to not burden the psychologists.
Wien said she had been trying to report the human resource shortage to the city administration. "However, our source of funds is only the city budget," she said, refusing to disclose the amount of the funding.
She said that the center should have at least twice the number of staff that is has now. "We get help from psychology students who take internships in our center," she said.
The chairwoman said besides recruiting new members, the center also needed capacity building, so treatment would be standardized.
According to Wien, most of the problems handled by her center were domestic violence.
Nuke Setiani, a psychologist at the center, said that although it only received around five cases daily, the job could be overwhelming.
"We do need more personnel as the number of cases has increased while we have not had a new psychologist since 2012," she said.
However, Nuke said that recruiting new psychologists was not only a problem of funding or human resources.
"We need people who are really dedicated to these issues," she said.
She said the psychologists sometimes needed to work until midnight when they dealt with criminal cases and had to handle the interrogation.
"We also sometimes work on weekends," she said.
She added that although the number of qualified psychologists was abundant, not many of them wanted to work under the pressure of dealing with violence victims.
According to Nuke, the psychologists work at the center is semi-voluntary because they receive only meager payment.
She said, however, that one of the most pressing improvements was their office. "We need better facilities in our office for the clients, so they will be more comfortable," she said.
Kasandra Putranto of Jakarta Clinical Psychology Association said that many psychologists actually wanted to get involved in handling public cases. - See more at: http://www.thejakartapost.com/news/2015/08/07/women-children-center-lacks-human-resources.html#sthash.whW7Cv4I.dpuf
http://www.thejakartapost.com/news/2015/08/07/women-children-center-lacks-human-resources.html
-----------
Meet The Muslim Lolitas Changing The Face Of Harajuku Fashion, One Headscarf At A Time
06 Aug 2015
All pastel shades and perfect coordination, the best way to describe 'Lolita' fashion is to draw a cartoon cupcake – and then give it arms and legs.
Originating not-at-all-predictably from the Harajuku district of Japan, the community is vast. It's unique. And it's inclusive.
In other words, anybody who owns a sewing machine and/or a penchant for all things pretty and pink can join in, no matter what their age, gender, race or religion. Which is exactly how all subcultures should be anyway.
And for Alyssa Salazar, a 25-year-old Muslim Lolita in California, that's where the appeal lies. Because when she's in head-to-toe pastels, she might attract attention – but nobody gives her any grief for wearing her hijab.
'I get drive-by haters that say, "Take it off, it's not Iraq",' she explains in an interview with VICE. 'But when I'm in Lolita, it's different. People think it's a costume.'
Adding that many Muslim women wear Lolita clothes without a hijab, ('there's really no difference, because Lolita is fairly modest to begin with'), Alyssa says she rarely gets abuse when she's walking down the street. 'The creepiest thing a guy has said to me is, "Little Bo Peep, where's your sheep?" But it's mostly women, who might say, "That's cute," or try and snap pictures without my permission.'
And many other Muslims agree. 'We're muslims and have dress codes which are to cover our hair and we just LOVE Lolita,' explains Aira from Malaysia. 'We're proud that we can mix out [sic] faith and our admirations together.'
It makes sense – in a society which favours conformity, anybody who has the guts to stand out from the crowd deserves a high five. And in a society where Islamophobia seems to be on the rise too, it's hardly surprising if some Muslim women feel relief if they find a way to distract from their headscarves.
It's just a shame that that's even a factor.
http://www.marieclaire.co.uk/blogs/550083/meet-the-muslim-lolitas.html
-----------
In Pakistan, solar lamps turn women into entrepreneurs
By Aamir Saeed
AUGUST 6, 2015
BAHAWALPUR, PAKISTAN — As the sun sets and darkness falls over a village outside Bahawalpur, Pakistan, Shama Bibi switches on her solar lantern and starts sewing clothes for an upcoming family wedding.
Not long ago, nightfall would have forced her to stop working. But now with access to solar-powered lamps, Bibi can sew as long as she needs to.
"The solar lantern has changed my life," said the 35-year-old widow and mother of three. "I can sew clothes even in the night and earn enough to make both ends meet."
Bibi has recently become a "Light Lady", one of the women that the Buksh Foundation, a nonprofit organization in Lahore, Pakistan, has trained to help spread the benefits of solar energy throughout rural Pakistan.
Under the foundation's project Lighting a Million Lives, in collaboration with The Energy and Resources Institute in India, women are taught how to operate and maintain solar charging stations in their homes.
The two "Light Ladies" in each of the focus villages also are given 50 solar lanterns to rent to others in their community.
The one-time cost of around $5,500 to set up a solar charging station and set of lanterns is funded by donors. Bibi says she charges a daily rent of 4 rupees ($0.04) per lantern and earns around 5,500 rupees ($54) each month.
"I've started sending my youngest son to school as I earn enough now to meet all the expenses," she said.
TAKE ACTION:Connect with those tackling issues like global warming, clean air and water, and land conservation.
Villagers can also charge their mobile phones at the solar station, instead of having to travel to Bahawalpur and back.
The foundation has so far installed solar charging stations in 150 off-grid villages around the country and plans to reach 4,000 villages by 2017.
According to the World Bank, about 44 percent of households in Pakistan are not connected to the grid. More than 80 percent of those are in rural areas.
There, almost half of households use kerosene as a primary or secondary source of lighting, a 2012 World Bank survey found. Some use candles, due to the high cost of kerosene.
"Our target is to provide sustainable energy to far-flung rural off-grid areas of Pakistan, and we especially want to empower women in these areas through the project," said Fiza Farhan, CEO of the Buksh Foundation.
She said the solar lanterns not only are convenient and a source of income for some villagers but also help reduce climate-changing carbon emissions, as each lantern replaces around 500 to 600 liters of kerosene during its 10-year lifespan.
The foundation has a permanent help line at its central office in Lahore to keep in touch with the "Light Ladies" and provide them technical assistance round the clock, Farhan said.
She said dozens of people contact the foundation daily asking for more solar lanterns in their villages and requesting the installation of charging stations in nearby villages.
"More women want to become Light Ladies, but for the moment we have been training only two women in each village," she said, to ensure that each woman makes a decent income once the profits are split.
Qamar-uz-Zaman, a climate change adviser to the sustainable development organization LEAD-Pakistan, said Pakistan's energy shortages could be reduced substantially if the government would provide technical and financial assistance for sustainable development initiatives such as Lighting a Million Lives.
Pakistan faces a year-round electricity shortfall that hits around 7,000 megawatts in the summer. The country's rural areas often suffer blackouts of more than 14 hours a day while urban areas can experience up to 10 hours a day without power.
To tackle the crisis, the government needs to support off-grid solar projects and encourage people to use renewable energy sources to decrease the stress on the national grid, said Zaman.
"The government can subsidize the projects by claiming international climate financing and reaching out to international donors to fund them," he said.
Gul Muhammad, 62, a farmer in the village outside Bahawalpur, can attest to the benefits of solar energy. The lantern he hires from one of the "Light Ladies" has allowed him to cut the amount of kerosene he uses to light his farm, saving him 350 rupees ($3) each month.
The availability of cheap, portable light also means he can irrigate his farmland during dusk and dawn, times of day that previously were too dangerous due to the presence of snakes in the area.
"I can now work three to four hours extra on my farmland," he said. "And this is helping increase my income too."
• Reporting by Aamir Saeed; editing by Jumana Farouky and Laurie Goering. This article was originally published by the charitable arm of Thomson Reuters, the Thomson Reuters Foundation, which covers humanitarian news, climate change, women's rights, trafficking, and corruption. Visit www.trust.org/climate.
http://www.csmonitor.com/World/Making-a-difference/Change-Agent/2015/0806/In-Pakistan-solar-lamps-turn-women-into-entrepreneurs
-----------
URL: https://www.newageislam.com/islam,-women-and-feminism/new-age-islam-news-bureau/women-can-help-women-win-more-council-seats--uae-official/d/104203