New Age Islam News Bureau
5 Nov 2019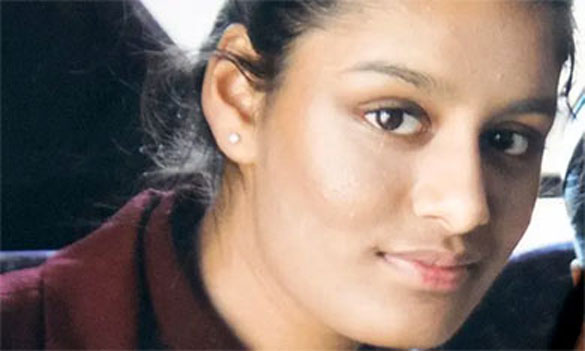 Shamima Begum left the UK as a schoolgirl to join Isis in Syria. Photograph: PA
------
• Assam: Fake News Sent This Woman Scholar, Rehana Sultana on the Run from Police
• Afghan Women Face 'Immoral Advances' in Workplace: Rights Group
• Discussions on Women's Economic Inclusion at WEEGS
• Shoura Members Demand More Women on Foreign Scholarships
• Pak Greens victorious in women's baseball
• Police in Khairpur Trained To Counter Violence Against Women
• Inside The Women-Only Village Engulfed By Turkey's War In Syria
Compiled by New Age Islam News Bureau
URL: https://www.newageislam.com/islam-women-feminism/women-girls-attach-themselves-islamic/d/120184
--------
Women and Girls Who Attach Themselves to Islamic State Are Driven By a Complex Combination of Factors
3 Nov 2019
Women and girls who attach themselves to Islamic State are driven by a complex combination of factors beyond just love or marriage, including feelings of social exclusion and the appeal of sisterhood, according to research by a counter-extremism thinktank.
The Institute for Strategic Dialogue (ISD) has put together guidance to help people working with women and girls who have returned from Isis-held territories.
The guidance, based on interviews with intervention providers who have collectively worked with more 250 radicalised women and girls in the UK and the Netherlands, says there is a mainstream perception that women and girls affiliated with Isis – often called "jihadi brides" – are motivated only by love or marriage.
It has been reported that around 100 British women and girls left the UK to join Isis, making up 12% of all British citizens who travelled to Syria and Iraq to join the group. Judges are considering the Home Office's decision to revoke the citizenship of one such woman, Shamima Begum.
The guidance says marriage is a factor in many cases but adds: "A simplistic view of the motivations of women and girls affiliated with Islamist extremism can reinforce misleading stereotypes and biases that suggest that women are passive followers rather than active, ideological supporters."
There are broad and varied reasons for radicalisation, the guidance says, including the appeal of "sisterhood", a desire to be part of the state-building effort of Isis or to be part of something "bigger and divine".
Travelling to the proclaimed caliphate was perceived by some to be an aspect of living a "true and pure Islamic life", while others were driven by feelings of social exclusion or experiences of discrimination.
The guidance also says rebellion against society and parents sometime played a factor, along with female empowerment and a rejection of "western feminism".
Since surfacing at a refugee camp in February, Begum has made it clear she wants to return to the UK but she is unable to do so as her citizenship was revoked.
Begum fled to Syria with two fellow pupils from Bethnal Green Academy, now Mulberry Academy Shoreditch, in east London in February 2015. She married Yago Riedijk, 27, a Dutch convert to Islam, shortly after arriving in the country. She has had three children, all of whom died.
At a partially secret hearing before the special immigration appeals commission (Siac) last month, lawyers for Begum, who is now 20, attempted to challenge a decision by the then home secretary, Sajid Javid, to revoke her British citizenship.
The British government has argued she has a claim to dual nationality as her parents were born in Bangladesh, which Begum and her lawyers deny. She further claims she would be hanged if forced to go there.
https://www.theguardian.com/uk-news/2019/nov/03/isis-women-driven-by-more-than-marriage-research-shows
--------
Assam: Fake News Sent This Woman Scholar, Rehana Sultana on the Run from Police
05/11/2019
NEW DELHI — Noor Jaman, the 55-year-old headmaster of a school in Sontoli village, Assam took a few minutes to process the fact that his 27-year-old daughter's photo was being beamed on the television screen, while an agitated anchor accused her of being a "Pakistan-loving" "deshdrohi". It was Independence Day; Jaman switched channels, only to find another photo of his daughter Rehana Sultana, a research scholar at Gauhati University, on the corner of the screen. Meanwhile, a reporter breathlessly implied that she had links with Pakistan, and was trying to foment riots in Assam.
This was Sultana's worst fear, a close acquaintance of hers told HuffPost India.
"When her father rushed to her room in their house in Selesuti village in Assam's Kamrup district, shouting and shaking, she asked him to switch the television off," the acquaintance said. He, however, was still unaware that there was a police complaint against her daughter as well.
On 14 August 2019, a Guwahati-based news portal called InsideNE published an editorial titled 'Gauhati University Girl Relates Eating Beef with 'Joy of Pakistan'. The editorial claimed that Sultana had posted the following status on Facebook on 'Bakr-Eid', which fell on 12 August this year.
"Today, we are also participating in Pakistan's joy by gorging on beef! What I eat, depends on the interest of my taste buds! However, don't make yourselves the subject of controversy simply by talking about the taboo subject of 'beef'."
This was patently false. Sultana had posted the status two years ago in June 2017, after India lost a cricket match to Pakistan in the final of that year's ICC Champions Trophy. People familiar with the incident from two years ago told HuffPost India that Sultana had been posting about the match while she was watching and when India's defeat seemed imminent, she had even posted a status expressing how disappointed she was and wanted to switch off the TV and not continue watching the match.
After India lost, she put up this status as a sarcastic comment on the growing intolerance around the eating of beef in many parts of India.
A few minutes later, she deleted the post, and put up a long explanation and apology, after her friends told her that post could be taken out of context.
Nonetheless, the post came back to haunt her two years later. In August 2019, sentiments against Bengali-origin Muslims in Assam had reached a fever pitch as the deadline for the National Register of Citizens grew close. So when InsideNE raked up Sultana's now-deleted Facebook post, and faked its date and context; the web portal's editorial quickly went viral.
Hours later, a sub-inspector at the Jalukbari police station in Assam wrote to his superior claiming Sultana's post (which no longer existed) "may disturb the peace and tranquillity, hurt religious sentiment and cause communal clash".
By the end of the day, a case was registered against Sultana under Section 153 of the Indian Penal Code for attacks on a race or religion and Section 67 of the IT Act for obscenity. Lawyers familiar with Sultana's case told HuffPost India that the court instructed the police to not take her into custody. However, her acquaintances said the threat of imminent arrest hung over her for over two months until she finally got bail on October 23, 2019.
An article on InsideNE quotes the in-charge of the Jalukbari police station saying: "I personally went to her house to enquire about her whereabouts, but it seems like she has faded into the shadows; she is nowhere to be found. However, efforts are still on to locate her. She will be arrested once her location can be ascertained." The article also quotes Guwahati police commissioner Deepak Kumar saying Sultana would be arrested soon.
"Though the judges had instructed the police to not take her into custody, her family had said that 8-9 policemen and women had turned up at her village looking for her," Sultana's friend said. Sultana was not at home.
Sultana declined to comment on this story.
'PRO-PAKISTAN POST'
Sultana is a familiar face in Guwahati; well known in activist circles for her work amongst poor and disenfranchised Muslims living in Assam's 'chars' (temporary river islands).
Over the past year, she focussed much of her energy on helping Assam's most marginalised residents cope with the NRC's byzantine application processes. In an earlier interview with HuffPost India, Sultana had said that the poor and uneducated residents of chars could neither follow most instructions in forms and government documents, nor fill up forms, visit government offices to source proper papers and document them. She and other activists helped them do that.
She often used her Facebook account as a platform to raise awareness, and request for funds to support poor Bengali origin Muslims. A few days before the editorial was published she had been trying to collect funds for poor Muslims who had been summoned for the NRC's re-verification process on very short notices. She also collected donations and relief material for NRC applications who had met with accidents on their way to Seva Kendras.
Many pro-NRC campaigners were critical of her work and frequently circulated screenshots of the now-deleted post (from two years ago) to discredit her.
The day the editorial was published, Sultana was out distributing Eid care packages comprising basic supplies like sugar and soap to the families of accident victims because they couldn't afford them. She had also been posting photos of her visits and the victims on social media.
"This post is raising several questions: Who is this girl? What is her relation with India's arch-rival Pakistan?" the editorial said. "Why is she posting about her personal food preference in social media? When she tries to identify her with her food preference how can she warn others," the InsideNE article said.
The editorial went on to suggest that Sultana was a threat to national security, especially after the abrogation of article 370. "What is even more shocking is that this Ph.D scholar from Assam is apparently supporting Pakistan at a time when the neighbouring country's tension with India is at an all-time high in the wake of the abrogation of Article 370
"This is testimony to the fact that despite the local authorities' claim of cracking down against 'cyber criminals' and 'social media offenders', communal hardliners tend to get a free pass, more often than not. Another question that arises from this entire episode is that, does this not pose a threat to national security?"
Afrida Hussain, the editor of InsideNE, told HuffPost India that the article — that falsely accuses Sultana of posting the status on Bakr-Eid to foment communal tensions — still exists on the website.
"Yes, we have not taken it down," she said, adding that she carried the piece because she felt it was important to call out posts like Sultana's, who — in Hussain's eyes — make the Muslim community look bad. She also confirmed that the piece had gone 'viral'.
Hussain confirmed to HuffPost India that InsideNE did not reach out to Sultana before publishing their claims. She said Sultana had contacted them after the article was published, and had pointed out errors in the piece.
"I had asked her to write to us with her explanation, but she did not," Hussain said.
Three months on, the article has still not been edited, updated or corrected. Following a brief conversation, HuffPost India also sent Hussain a detailed questionnaire about the editorial process involved in publication of the 'viral' piece and the consequent follow-ups, but she has not responded yet. This article will be updated once she replies.
When HuffPost India pointed out that the post was live for just a few minutes two years ago and soon deleted, Hussain said, "You should not post such things at all, why should you post such things. If you make a mistake even once, people will obviously take screenshots and circulate this when it suits their purpose."
Assamese Muslims, Hussain said, had a 'unique' identity, whereas Sultana was involved with the Miya poetry which spoke about the alleged trials faced by poor Bengali-origin Muslims in Assam. Prior to this, Sultana and a group of other poets who wrote poetry in the Miya dialect had been slapped with multiple FIRs accusing them of disturbing peace.
"This is creating communal tension. We do not want that. We are now running a campaign against the Citizenship Amendment Bill so that real Assamese Muslims are not excluded from the NRC or are victimised in Assam," she said.
The editorial still claims, "The attempt to divide the people along religious lines on a pious occasion such as Eid, that too on the basis of food, can be seen as nothing but to instigate the people and turn Hindus and Muslims against each other."
SHAME AND FEAR
Various other news outlets, people familiar with the issue told HuffPost India, also made Sultana's old post"breaking news" issue for days. InsideNE, posted 3 follow-up pieces.
They even demanded a comment from Gauhati University for a subsequent post. "At a time when communal strife is tearing the nation apart, some rabble-rousers continue to add fuel to the fire on social media platforms," the InsideNEarticle said, with no trace of irony.
"The multiple mass shootings across the United States, many of which were allegedly triggered by 'hate' spread on the internet, are testimony to the extent of hate and vitriol that can be spread through social media. Rehna Sultana, a Gauhati University P.hD scholar, born in Hajo of Assam, has also often been accused of inciting 'hate' on social media."
While Gauhati University declined to comment on Sultana's specific post, and said they didn't "encourage anti-India sentiments", various student leaders were quoted on the piece dissing Sultana.
"We are saddened because her name is associated with the University. How can she teach with such an anti-nationalist mentality?", a student leader called Nayan Jyoti Goi, "I, on behalf of the community, condemn her, and we are all utterly and thoroughly ashamed. An Assamese scholar should not be giving such opinions on social media. She has been causing trouble for some time, and urge her to be more careful in the future since she was born in this nation."
For now, Sultana has finally been granted bail, but her friends point out that the case against her is far from closed. The implications of the case on her career and prospects of finding employment aside, her friends pointed out that her family members in her village has found themselves completely unprepared at the face of this action against her. "Imagine police coming to look for a girl in a village. And explaining them a Facebook post and the case against them. They just assume that she is up to something criminal and shameful. Her father too had a difficult time fielding questions the village where his school is. Word had travelled that the police came to arrest the headmaster's daughter," the person said.
https://www.huffingtonpost.in/entry/assam-nrc-fake-news_in_5dc0785ee4b03d0aacfdf525
--------
Afghan Women Face 'Immoral Advances' in Workplace: Rights Group
By Tamim Hamid
November 5, 2019
TOLOnews correspondent Tamim Hamid talked with two Afghan women who have faced immoral and unethical demands:
Maryam, 20, is an Afghan young women who after completing her secondary school decided to work in a government ministry. However, she was faced with various problems.
"They asked if I was married or unmarried, or if I had a boyfriend or not, and they told me 'I am at your service, please give me your number,'" said Maryam.
But Maryam left her job at a government institution and tried sought work at private institutions.
At one job encountered harassment:
"When I met the boss, the boss smiled at me and said 'you are suitable for this job' without asking my work experience or my educational qualification. He said 'you are beautiful' and 'you won't have any problems, just start your job,'" added Maryam.
Masooma, 26, has a different story:
Masooma came to Kabul from another province where she had to work at a health center in an insecure, Taliban-controlled region of the country in order to help her family.
While in Kabul, Masooma tried hard and inquired at several private and government institutions for work, but failed.
In one case she encountered trouble:
"The boss asked me to go with him alone and so I accompanied him and I was talking to him, and he suddenly stood up and put his hand on my shoulder. Then I stood up and said 'what are you doing?' and then I left his office," said Masooma.
Last spring reports surfaced in media of similar occurrences in the higher levels of government, and many people inside and outside the country called for an investigation of the issue.
"The secretariat, which was formed within the Independent Human Rights Commission, was intended to go and launch investigations into such matters, both in government institutions and also outside the government institutions-- wherever allegations of sexual harassments exist," said Sediq Sediqqi, a spokesman for the Afghan president Ashraf Ghani.
"The consequence of ignoring such issues, besides endangering the workplace safety of numerous Afghan citizens, is the harm to the process of women's participation in the administrative process and governance," said Naeem Nazari, deputy head of AIHRC.
https://tolonews.com/afghanistan/afghan-women-face-%E2%80%98immoral-advances%E2%80%99-workplace-rights-group
--------
Discussions on Women's Economic Inclusion at WEEGS
November 05, 2019
Under the theme "Drivers of Change," the Women's Economic Empowerment Global Summit (WEEGS) will take forward the important conversations on women's advancement and empowerment in both economic and professional domains, in its upcoming second edition to be held on Dec. 10 and 11th in Sharjah.
Held under the patronage of Sheikha Jawaher bint Mohammed Al-Qasimi, wife of the ruler of Sharjah and chairperson of NAMA Women Advancement Establishment (NAMA), WEEGS is organized by NAMA in collaboration with UN Women. This year's theme reflects the summit's dedication to bolstering discussions with international decision-makers, developing current strategies, potential opportunities and case studies that enhance equitable opportunities for women in all sectors.
Reem BinKaram, director of NAMA, said: "The summit aims to develop relevant action plans and best practice mechanisms as well as identify strategies, which will widen the scope of these achievements and take them to more advanced levels."
"We look upon women in the region and the world as a united, coherent community. This vision is enshrined in our strategic partnership with UN Women and civil society organizations in many countries. It aligns with our belief that women are an indispensable human resource for the development of every nation. By helping create a better entrepreneurial ecosystem for women and enhancing their skills, we can really boost their role in achieving the 2030 Sustainable Development Goals," added BinKaram.
More than 1,000 people will come together at the Al-Jawaher Reception and Convention Center (JRCC) to learn, exchange experiences, and network with high-profile officials and thought leaders on women's empowerment, gender equity advocates, governmental, non-governmental and private sector representatives, and academics, who can influence global policies, inform grassroot actions, boost women's career prospects in all fields and advocate the formation of inclusive work ecosystems.
https://www.arabnews.com/node/1579246/corporate-news
--------
Shoura Members Demand More Women on Foreign Scholarships
November 4, 2019
By Fatimah Al-Debais
RIYADH — Several Shoura (Consultative) Council members have called on the Ministry of Education to increase the proportion of girls among the students sent abroad under the King's Foreign Scholarship Program. The members include Dr. Alia Al-Dahlawi, Dr. Faisal Al-Fadil and Dr. Nora Al-Musaed.
According to sources, their demand came after going through a report of the Ministry of Education about the number of students enrolled in the foreign scholarship program. The report showed that the number of women did not exceed 29.93 percent compared to male students, and that indicates an imbalance with regard to giving equal opportunities to both the genders.
According to the report, this low rate comes despite the fact that female students constitute the highest percentage in higher education.
The survey of education and training conducted by the General Authority for Statistics in 2017 showed that the number of female students in higher education was 107 when compared to 100 males.
The sources pointed out that education is the main axis that underpins the empowerment of women according to Vision 2030. In the vision, it was spelled out that education also aims to develop women's talents, invest their energies and enable them to get the right opportunities in the labor market, by promoting an educational environment for women that meets the demands of the evolving labor market.
Employment has become a necessity of life for women, especially in light of the social changes through the promotion of an educational environment for women compatible with the requirements of the labor market. Giving them access to modern educational realms, keeping pace with the accelerated technological development, through foreign scholarship program, can do much to empower women and thus realizing development of society as a whole, especially in social and economic fields.
http://www.saudigazette.com.sa/article/581679
--------
Pak Greens victorious in women's baseball
November 5, 2019
LAHORE: Pakistan Greens defeated Pakistan Blues 10-7 in Pakistan Federation Baseball-organised women's exhibition baseball match at Governor's House here. Mrs Parveen Sarwar, who is also the Vice Chair of the Sarwar Foundation, was the chief guest. She assured her full support for women baseball in Pakistan.
Syed Fakhr Ali Shah, President PFB, was also present on the occasion along with executive members of the federation Shah Manzar Farid, Executive Director Haseeb Muhammed, Chairperson Women Wing Sadia Alvi, Coach Pakistan Women Baseball Team Tariq Nadeem, Director Youth Baseball Development Dr. Shaheen Gulraiz and Legal Advisor Fakhar Amir Kazmi. After the national anthem, both teams were introduced to the chief guest.
Pakistan Greens beat Pakistan Blues by 10 runs to 7 in a thriller. For Pakistan Greens Najma Bibi, Anila, Aqsa and Manahal scored 2 runs each while Maham and Ghazala scored one run each. For Pakistan Blues Raheela and Bakhtawar scored two runs each while Rabia, Tuba and Waheeda scored one run each. Speaking at the end of the match, chief guest Mrs Perveen Sarwar praised the performance of both teams. She said that it is hoped that the Pakistani women players will showcase their successes in their international competitions in baseball as well as achievements for their homeland. She also praised the President of the Federation Syed Fakhar Ali Shah for his efforts towards promotion of women's baseball.
Speaking on the occasion, President PFB Syed Fakhar Ali Shah said that the Pakistan women's baseball team is going to China to feature in second Asian Women's Baseball Championship starting in China from November 9.
Teams from Japan, Korea, Taiwan, China, Hong Kong, Philippines, India and Pakistan are participating in the tournament. At the end of the match Syed Fakhr Ali Shah presented the souvenir on chief guest.
https://www.thenews.com.pk/print/551067-pak-greens-victorious-in-women-s-baseball
--------
Police in Khairpur Trained To Counter Violence Against Women
November 5, 2019
KHAIRPUR: A two-day capacity building training session for police personnel on "Ending Violence against Women" was organised by an NGO Individualland Pakistan, in Khairpur.
Individualland is in the process of implementing an initiative funded by UN women based on capacity building of police personnel from Khairpur, Dadu, Karachi, Quetta and Rawalpindi. The first round of capacity building trainings were started on October 25 last month, in Khairpur, and so far so four out of five batches are already trained.
The types and dynamics of power were thoroughly discussed, including structural power and personal power while the participants were also briefed about types of violence like structural violence, cultural violence, physical violence, economical violence and domestic violence.
One of the participants of the training sessions, the head of police training centre Khairpur, SHO Rustam said "the lack of capacity and understanding of various dimensions of violences against women are the one of the leading reasons that the efforts to curb the discriminating violence against women remain futile." He also highlighted the importance of educating police personnel on issues related to violence against women.
The police officials said the system and society have created an assumption that the domestic violence against women is a norm, adding that we regard it as a personal issue. He said he suggested resolving all such issues within the walls of a house. The Individualland Pakistan, is a research based consultancy and advocacy firm specializing in thematic areas of gender mainstreaming, governance, peace-building and media education.
https://www.thenews.com.pk/print/550859-police-in-khairpur-trained-to-counter-violence-against-women
--------
Inside The Women-Only Village Engulfed By Turkey's War In Syria
Richard Hall
November 5, 2019
The village of Jinwar, in the plains of northeast Syria, was supposed to be a sanctuary from men and their wars.
It was built by women who had just emerged from years of living under the constant threat of Isis, not far from where the borders of the caliphate once reached.
When I visited a year ago, families were beginning to move in. Thirty simple homes had been built and there were plans for even more. Crops had recently been planted in the surrounding farmland. Flowerbeds were in bloom.
Yesterday, its residents were forced to abandon their homes as Turkey's invasion of northern Syria reached their gates. Shelling and the threat of jihadists attacking meant it was too dangerous to stay.
The abrupt end of Jinwar is part of a larger story of displacement from the towns and villages along the Turkey-Syria border. More than 200,000 have fled, and it isn't clear whether they will ever feel safe enough to go home again.
But there is also symbolism in this particular village's story. Jinwar was an attempt to prove something. The people that founded it believed that even here, in northern Syria, women could flourish if they were able to escape the family-orientated roles that a patriarchal society has assigned to them. The Kurdish women who joined the fight against Isis captured the attention of the world – Jinwar aimed to build on that and promote the idea of women's liberation beyond Isis.
That they were forced to abandon it only proved they were right: a symbol of opposition to war has been engulfed by one.
Projects like Jinwar have flourished in the northeast region of Syria, known as Rojava, in the years since the departure of the Syrian government, and after the defeat of Isis. For all the faults of the autonomous administration, run by the Syrian Democratic Forces, women have made striking gains over the last few years.
https://www.independent.co.uk/voices/editors-letter/syria-turkey-war-kurds-all-women-village-jinwar-a9184766.html
--------
URL: https://www.newageislam.com/islam-women-feminism/women-girls-attach-themselves-islamic/d/120184
New Age Islam, Islam Online, Islamic Website, African Muslim News, Arab World News, South Asia News, Indian Muslim News, World Muslim News, Women in Islam, Islamic Feminism, Arab Women, Women In Arab, Islamophobia in America, Muslim Women in West, Islam Women and Feminism