New Age Islam News Bureau
24 Jul 2017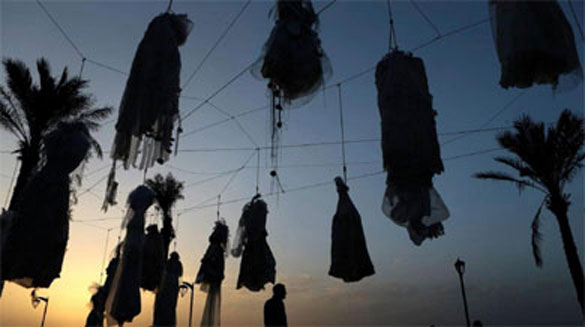 Wedding dresses were strung up between the palms on Beirut's Corniche in an April protest at Article 522 Abaad
----
• ISIL Selling Kidnapped Women in Slave Market in Iraq
• Muslim Woman Attacked, Hijab Pulled Off In London
• Lawyer Siti Kasim Says Getting Death, Rape Threats
• Muslim Woman Detained For Reading Syrian Art Book on Plane Takes Court Action
Compiled by New Age Islam News Bureau
URL: https://www.newageislam.com/islam-women-feminism/women-across-middle-east-demand/d/111943
--------
Women across Middle East demand end to 'marry your rapist' laws
Somini Sengupta
Jul 23 2017
Gruesome billboards of a woman in a bloodied and torn bridal gown appeared around Beirut recently, captioned in Arabic: "A white dress doesn't cover up rape."
This spring, a women's rights group, Abaad, hung similarly defiled gowns along the city's famous seaside promenade.
Such provocative public awareness campaigns are part of a new push in Lebanon and across the Middle East to repeal longstanding laws that allow rapists to avoid criminal prosecution if they marry their victims.
The laws were built around patriarchal attitudes that link a family's honour directly to a woman's chastity; the marriage option is aimed at shielding the victim's family from "the scandal," as one victim's brother put it in an interview.
In 2014, Morocco repealed a provision that allowed convicted rapists to evade punishment by marrying their victims.
Parliamentary votes are expected as early as this summer here in Lebanon and in Jordan after government committees in both places recommended repealing similar exemptions for both the accused and the convicted.
Any change would come too late for Basma Mohamad Latifa, whose family said she was raped three years ago in a village in southern Lebanon by a man more than twice her age.
Her family did not go to the police, making a deal not to file charges in exchange for her marrying him.
In June, just after the middle-of-the-night Ramadan meal, the man went to Ms. Latifa's brother's house, where she was staying, and shot her nine times.
She died, at age 22.
Experts attribute the traction of the movement to repeal these laws to a steady expansion of women's education in the region and a new kind of public activism spurred by social media, in which advocates have sometimes pushed the envelope with stunts like the bloodied gowns.
Wafa Bani Mustafa, a member of Parliament in Jordan and a leading proponent of repeal, said only a change in the law could drive change in social norms.
Without repeal, she argued, "the state of impunity will continue, and the interest of the family will be put ahead of the victim's right to justice."
Marriage loopholes in rape cases are not unique to the Arab world, though countries in the region are among the last to retain them in their penal codes.
The Philippines, a predominantly Catholic country, still has a marry-your-rapist loophole, according to an 82-country survey by Equality Now, a women's rights group.
Until 2006, so did Uruguay, and until 1994, so did France, according to Human Rights Watch. Bahrain's Parliament voted last year to repeal a similar law.
But the executive branch balked, saying the marriage loophole should be revoked only in rape cases involving multiple perpetrators.
And in Turkey, the government proposed last November to exonerate around 3,000 men accused of statutory rape if they married their victims and were not accused of using physical force.
But so much public outcry followed that the plan was scrapped.
Opposition to the push to repeal the marry-your-rapist laws has been far more muted than that to other demands made by women's groups, including criminalizing marital rape and granting women the right to pass on their nationality to their children.
But the impact the prospective changes in the rape laws would have on the lives of ordinary women in the Arab world is a matter of debate among women's rights advocates.
On top of the shame that attaches itself to rape, women's advocates say, rape survivors in many countries do not always trust law enforcement authorities to address their cases seriously.
And so marriage deals are often made in private without criminal charges being filed.
If the Lebanese law is repealed, it will be "a moral victory," said Maya Ammar, a spokeswoman for Kafa, a Lebanese group that works with domestic violence survivors.
More survivors will have to file charges, she said, instead of settling it privately.
"These are cases that are not discussed in public," she said. "They all happen in silence."
In Morocco, the issue drew public attention only after a 16-year-old girl committed suicide in 2012 after being forced to marry the man she said had raped her.
Her father said a state prosecutor had urged the accused to marry her in return for the charges to be dropped.
The death of the girl, Amina Filali, who swallowed rat poison, prompted public outrage.
Two years later, the government amended the country's rape law, eliminating a provision that had allowed a man convicted of statutory rape to escape punishment if he married his underage victim.
In Lebanon, Ms. Latifa's family was averse to going public with her ordeal.
She and her brother, Ahmad, had come from Syria as refugees.
They kept a low profile as Sunnis in a predominantly Shiite village in southern Lebanon.
There, a middle-aged man visited the family for months and then, according to Mr. Latifa, raped his sister.
Villagers advised the family to negotiate a marriage contract with the man.
"My sister didn't like the deal, but I assured to her, it will be temporary," Mr. Latifa said.
She ended up staying in the marriage for three years, which is what the law requires for the accused to evade prosecution.
"He was beating her continuously," her brother said. "I used to see the scars on her face, when she used to visit me.
Ms. Latifa finally divorced the man, but it didn't save her.
He scrawled a threatening note on the side of the house where they were staying, and then, the next night, went inside and shot her dead.
He has been arrested and is facing charges including murder.
Mr. Latifa was skeptical about whether a change in law would have made any difference.
The family members were under pressure to settle, and they were refugees, with no political patrons.
http://www.independent.co.uk/news/world/middle-east/middle-east-marry-your-rapist-laws-women-lebanon-morocco-jordan-basma-mohamad-latifa-a7855831.html
--------
ISIL Selling Kidnapped Women in Slave Market in Iraq
Jul 23, 2017
The source who requested anonymity said that the ISIL has been selling a number of women to the terrorist group's leaders at different prices in a slave market in the town of al-Huweija just to the South-West of Kirkuk.
The source went on to say that the ISIL has kidnapped the women from the village of Imam al-Qarbi, adding that the terrorist group is to hold some of the women as its slaves in command centers in Huweija.
A reports said in late May that Iraq's Popular Mobilization Forces (PMF) arrested an ISIL leader in charge of captivating Ezadi women and anaesthesia in ISIL-held hospitals.
"During investigations with ISIL leader abu Shaimaa al-Batiouti, he confessed participation in several surgeries for the ISIL militants," Ahmed Nasrullah, a senior PMF commander said.
"Batiouti is in charge of anaesthesia in ISIL hospitals including Ba'aj. He carried out several surgeries to the terrorists," Nasrullah added.
"He also admitted being responsible for cesarean deliveries and captivating of Ezadi women in Baaj," he added.
http://en.farsnews.com/newstext.aspx?nn=13960501001424
--------
Muslim woman attacked, hijab pulled off in London
July 23, 2017
In yet another case of hate crime in the United Kingdom, a Muslim woman was allegedly attacked and her hijab pulled off by a man in London. The woman has been identified as Aniso Abdulkadir. According to a BBC report, the woman was waiting at the Baker Street station on Sunday, last week, when the man grabbed her hijab (headscarf) and also pinned her friend against the wall.
Abdulkadir, on Twitter, posted a picture of the man who allegedly attacked her. She wrote, "This man at Baker Street station forcefully attempted to pull my hijab off and when I instinctively grabbed a hold of my scarf he hit me. He proceeded to verbally abuse my friends and I, pinning one of them against the wall and spitting in her face."
Abdulkadir claimed that a woman accompanying the man had also threatened and verbally abused her. According to a British Transport Police spokesman, the incident is being investigated as a hate crime. The official said, "Behaviour like this is totally unacceptable and will not be tolerated…This incident has been reported to us and we're investigating."
Armed Guards Deployed To Prevent Tomatoes' Theft As Prices Skyrocket
However, according to a report in the Guardian, the man, identified as Pawel Uczciwek, denied the allegations saying they were completely false. He tweeted, "I would like to confirm I never hit or attacked anyone I simply defused the situation by separating them. The police is fully cooperating with me and will be able to obtain CCTV footage showing the three women attempting to attack my partner because we are in an interracial relationship."
Anti-Muslim crimes have increased in British capital after London attack. London Mayor Sadiq Khan had said that police would show zero tolerance in such cases.
http://indianexpress.com/article/world/muslim-woman-hijab-pulled-off-in-london-hate-crime-terrorism-4763401/
--------
Lawyer Siti Kasim says getting death, rape threats
July 24, 2017
KUALA LUMPUR, July 24 — Lawyer and activist Siti Kassim has been threatened with rape and murder over her reported stance on the lesbian, gay, transgender, and bisexual (LGBT) community, according to the New Straits Times.
The news portal last night reported the Bar Council member as saying she was allegedly threatened over an article published online that she said misquoted her. She did not identify the offending article or media outlet.
In her police report over the threats received, Siti Kassim alleged that she first received an online death threat on July 3 that appended the said article, followed by another on July 19 by the same person.
The lawyer alleged that responses posted to the online threats then included calls for her to be beheaded, raped, and attacked with acid.
"There were Netizens who replied, saying that 'they want to' (take up the challenge), and they proceeded with exchanging WhatAapp numbers, while others said that they should not be discussing the matter on the website as anyone could read it," she told the NST.
"Clearly these people are planning something, if the police did not do anything then my blood is going to be on the police's hand."
The lawyer lodged her report with the Sentul police.
Siti Kassim regularly speaks out against Islamic authorities here, and is vocal proponent of Orang Asli rights.
She was previously arrested for allegedly obstructing religious enforcers during a raid on a suspected transgender beauty pageant.
http://www.themalaymailonline.com/malaysia/article/lawyer-siti-kasim-says-getting-death-rape-threats
--------
Muslim woman detained for reading Syrian art book on plane takes court action
21-07-17
A Muslim woman, who was detained and questioned at a UK airport for reading a book about Syrian art onboard her honeymoon flight, is taking her holiday company to court.
Faizah Shaheen was travelling back from Turkey on 3 August 2016, when she was reported to authorities by Thomson Airways cabin crew.
As a result, she was questioned in a room along with her husband for 15 minutes at Doncaster Airport,under Schedule 7 of the Terrorism Act.
Ms Shaheen, a mental health worker who helps to prevent radicalisation, had been reading Syria Speaks: Art and Culture from the Frontline – a collection of literature, photos, songs, and cartoons from Syrian artists and authors.
Her lawyers have told Thomson Airways that she believes she was the victim of discrimination, and was singled out because of her race.
During the interrogation, Ms Shaheen said she was asked about the book, her work, and the number of languages she spoke.
"I felt upset and distressed, followed by anger," she said following the incident. "I struggled to accept that I was being singled out for reading a book on art and culture."
Ms Shaheen told the BBC's Victoria Derbyshire programme that she found Thomson Airways' response and explanations to the incident insufficient.
"One year on, Thomson Airways has failed to provide an explanation or apology – despite legal involvement. This attitude let me with no option but to seek a declaration from the court under the Equality Act," she said.
ITN solicitor Ravi Naik has acknowledged Thomson Airways' initial communication, but said it had not responded to correspondences since January.
Mr Naik told The Independent: "Our client is concerned at the way she was treated. She cannot understand why she was reported for reading a book. She is concerned that the only reason she was singled out was her ethnicity.
"Ms Shaheen simply wants an apology for the way she was treated and in the absence of one, has no alternative but to take legal action."
Ms Shaheen does not want compensation, but simply "an apology and explanation from Thomson Airways to ensure that it never happens again".
In a statement, Thomson Airways said that they were "really sorry if Ms Shaheen remains unhappy with how she feels she was treated".
It added: "We wrote to her to explain that our crew undergo general safety and security awareness training on a regular basis. As part of this they are encouraged to be vigilant and share any information or questions with the relevant authorities, who would then act as appropriate."
http://www.independent.co.uk/news/uk/home-news/muslim-woman-syrian-art-book-detained-aeroplane-sues-thomson-airlines-a7853461.html
--------
URL: https://www.newageislam.com/islam-women-feminism/women-across-middle-east-demand/d/111943
New Age Islam, Islam Online, Islamic Website, African Muslim News, Arab World News, South Asia News, Indian Muslim News, World Muslim News, Women in Islam, Islamic Feminism, Arab Women, Women In Arab, Islamophobia in America, Muslim Women in West, Islam Women and Feminism