New Age Islam News Bureau
11 Jan 2018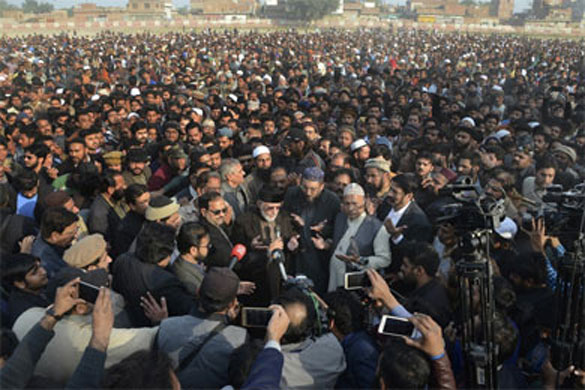 People attend a funeral of a Pakistani young girl who was raped and killed, in Kasur, Pakistan, on Jan. 10, 2018. (AP)
-----
• Malala Urges Justice after Rape, Murder of Girl in Pakistan's Kasur
• Triple Talaq Bill Politically Motivated, Feel Muslim Intelligentsia, and Women's Groups
• Princess Reema Wants More Saudi Women in Sport
• Indian Govt Mulls Ordinance on Triple Talaq
• Reports Says Everyday 11 Children Face Sexual Abuse in Pakistan
• Women above 25 can now travel to Saudi Arabia alone
• Pakistani Woman's Plight Catches Attention Of UAE Embassy
Compiled by New Age Islam News Bureau
URL: https://www.newageislam.com/islam-women-feminism/women-above-25-be-allowed/d/113898
--------
Women above 25 to be allowed Saudi tourist visas; no 'chaperon' required
RUBA OBAID
11 January 2018
JEDDAH: Women aged 25 and over can be granted a tourist visa to go to Saudi Arabia alone, a spokesman for the Saudi Commission for Tourism and National Heritage (SCTH) has said. However, women under 25 must be accompanied by a family member.
Omar Al-Mubarak, director general of the commission's licensing department, said: "The tourist visa will be a single-entry visa, and valid for 30 days maximum. This visa is added to those currently available in the Kingdom. It is independent of work, visit, Hajj and Umrah visas."
The SCTH recently said that the start of tourism visa issuance would be announced during the first quarter of 2018.
"The executive regulations for tourist visas have been finalized. The commission's IT department is currently building an electronic system for the issuance of tourist visas, coordinating with representatives of the National Information Center and the Foreign Ministry," Al-Mubarak told Arab News.
During Saudi Arabia's trial period of implementing the tourist visa system between 2008 and 2010, more than 32,000 tourists visited the Kingdom. Their visa procedures were facilitated by a number of tour operators licensed by the SCTH.
The Tourism Visa Initiative is meant to revive the previous tourist visa system to enable visitors to discover new destinations in the Kingdom, to boost the tourism sector and to develop tourism and heritage services and facilities in the Kingdom.
The aim is also to create more jobs for citizens and reduce the seasonal nature of international tourism with a religious basis during the Umrah and Hajj seasons.
The initiative is part of the National Transformation Program 2020, and falls within the framework of the commission's efforts to achieve Vision 2030, which gives much attention to the tourism industry.
http://www.arabnews.com/node/1223151/saudi-arabia
--------
Malala urges justice after rape, murder of girl in Pakistan's Kasur
10 January 2018
The youngest Nobel Prize laureate, Malala Yousafzai, who is also is a activist for female education and human rights activist has reacted and urged justice after the rape and murder of a young girl in the Pakistani city of Kasur.
The 8-year-old girlwent missing last week while going to a nearby home for Quranic studies. Her parents, who were away at a pilgrimage in Saudi Arabia at the time, returned on Wednesday, landing at the Islamabad airport.
"Heartbroken to hear about Zainab - a 7 year old child abused and brutally killed in Kasur, Pakistan. This has to stop. Gov and the concerned authorities must take action. #JusticeForZainab," Malala tweeted.
A mob angered over case attacked a police station and a nearby government building in eastern Punjab province on Wednesday, triggering clashes that left at least two people dead and several injured, the police said.
"We will not bury our daughter until her killers are arrested," said the father, Ameen Ansari, as his wife sobbed.
Zainab's body was found on Tuesday in a garbage bin, senior police officer Imran Nawaz Khan said.
Police say she was abducted, raped and murdered. Officer Maqsood Ahmed said six girls were sexually assaulted in recent months in Kasur and that police were probing whether there was a connection in the cases.
Activists on social media have condemned the government for failing to arrest those involved in the crime.
As the attack on the police station and the subsequent clashes unfolded Wednesday, local TVs broadcast footage showing police firing shots in the air and toward the stone-pelting mob, trying to disperse it. In one segment, an officer asks another to hold direct fire, after which the second officer is seen continuing to shoot at the protesters.
High court orders probe
Also Wednesday, the Lahore High Court's chief justice ordered a probe into Zainab's killing.
Zulfiqar Hameed, the police chief in Kasur, refused to say whether the two people killed in Wednesday's clashes had died from police gunshots. Provincial Law Minister Rana Sanaullah said the police were trying to contain the violence and find and arrest those involved in the girl's murder.
asur shop owners shut their businesses Wednesday to express their anger over Zainab's slaying.
Firebrand cleric Tahir-ul-Qadri who took part in Ansari's funeral service demanded the local government be replaced, saying it has "no right to remain in power after the killing of Zainab Ansari."
In a speech to thousands of mourners, he blamed the Punjab chief minister, Shahbaz Sharif, for failing to "protect lives and honor of innocent girls" in the province.
Qadri also issued an ultimatum to Sharif and Sanaullah to step down by Jan. 17 to avoid street protest.
Qadri is a staunch political rival of the ruling Pakistan Muslim League party and he has led violent rallies in the capital, Islamabad, since 2014 after eight of his supporters were killed in anti-government rallies in Lahore, Punjab provincial capital.
https://english.alarabiya.net/en/News/world/2018/01/10/Pakistan-mob-angered-by-rape-murder-of-girl-attacks-police.html
--------
Triple Talaq Bill Politically Motivated, Feel Muslim Intelligentsia, and Women's Groups
January 11, 2018
New Delhi: The triple talaq bill, unilaterally drafted and brought by the Narendra Modi government, is politically motivated, feels the Muslim intelligentsia cutting across sectarian lines and schools of thought — but they are happy that the controversy has created awareness in the public mind about the evils of the practice.
Is the saffron party indeed serious about addressing the root issue of the social evil called instant divorce, and wants it stopped, or is it indulging in political posturing? The latter, say an overwhelming majority of stakeholders — from "fundamentalists" to liberals, Islamic clerics and women rights activists.
They think that the bill in its present form cannot stand judicial scrutiny.
"It's an atrocious piece of legislation which is against the constitution because it discriminates on the basis of religion," Irfan Ali Engineer, Director, Centre for Study of Society and Secularism, Mumbai, told IANS.
Irfan, son of acclaimed reformist-writer and social activist Asghar Ali Engineer, and a petitioner in the Shayara Bano case, explained: "It is discriminatory on the ground that if a Muslim man divorces his wife in a particular way, he would be jailed. But if a man of other religion abandons his wife, there is no legal action against him."
He said there is "no doubt" the legislation is "politically motivated".
Jamat-e-Islami Hind General Secretary Mohammed Salim Engineer said he could not understand the objective of this legislation.
"If the said bill had held three talaqs (divorces) as one, it would have made some sense. Which would mean that a divorce will not take place no matter how many times a man utters the word 'talaq' in one sitting, and which is in consonance with several schools of Islamic jurisprudence," he said.
All India Muslim Majlis-e-Mushawarat Chairman Navaid Hamid had a similar view: "This bill is clearly faulty. In many Muslim sects, talaq pronounced thrice is treated as only one talaq. But this bill would hold a person of any sect guilty no matter if as per his belief irrevocable talaq has not happened."
The government moved the Muslim Women (Protection of Rights on Marriage) Bill — which proposes a three-year jail term for a man pronouncing irrevocable triple talaq — in the Lok Sabha on December 28 last year and got it passed the same day despite opposition's pleas to send it to a parliamentary committee. However, the Bill was stalled in the Rajya Sabha where the BJP and allies are in a minority. The government has said it is open to "suggestions" if these are "reasonable".
Yasmin of Awaz-e-Niswaan, a women rights collective and an intervener in the triple talaq case, said that she and other activists had welcomed the Supreme Court's August 22, 2017, decision to ban the triple talaq but the legislation brought by the government serves no purpose other than "furthering the BJP's agenda".
"We are against criminalistion of talaq. The Domestic Violence Act and the Section 498A of IPC are already in place to deal with any atrocities or violence against women, and which equally apply to Muslim women. So there is no need for a separate law… It looks like a conspiracy," Yasmin told IANS.
Other women's bodies such as Bebaak Collective and the All India Democratic Women's Association (AIDWA) have publicly slammed the triple talaq legislation for its flaws and inherent contradictions.
Interestingly, the Muslim organisations that are against banning the triple talaq, activists and women bodies which wanted it banned and the opposition parties in Parliament have expressed concerns over the consequences of sending a man to jail for as long as three years.
Who will provide for the woman in her husband's absence? Shouldn't the government form a corpus for such women's financial assistance/pension? Will the marriage remain intact even after the husband is jailed purportedly on the complaint of the wife? Are women's rights safeguarded through this law in cases of other forms of divorce?
These are some of the questions raised by the critics of the bill and the political opposition inside Parliament. The government hardly attempted to assuage such tangible apprehensions and mostly resorted to an abstract emotional appeal that "the bill gives Muslim women their rights and dignity".
Shia cleric Maulana Kalbe Sadiq, who is opposed to instant divorce and wants it abolished, could not find a reason to justify the penal provision in the bill.
"In Shias, there no such thing as talaq-e-biddat. The penal provision is not right, but so is not talaq-e-biddat. Even our Sunni brothers say that this is sinful," he said.
The All India Muslim Personal Law Board (AIMPLB), the most vocal body in matters pertaining to Muslim Personal Laws, has already denounced the Modi government's attempt to "encroach through this bill upon the Muslims' fundamental rights guaranteed in the Constitution" and has termed the bill as uncalled for and unnecessary after the Supreme Court ruling has rendered triple talaq as null and void.
"In case your government considers it necessary to enact a law in this respect, consultations must be held with AIMPLB and such Muslim women organisations which are true representatives of Muslim women," the AIMPLB has said in a letter to Prime Minister Modi.
The plea highlights the general grouse — that nobody was consulted while drafting the bill. Let alone the hardline Muslim clerics, even the liberal opinions including those of various women bodies, were not sought by the government.
People like Irfan Engineer feel that a law is required to address the issue, but it should be "comprehensive".
"We need a comprehensive legislation, one that safeguards the rights of women in case of divorce, but at the same time it should not make the divorce process cumbersome and unendingly long," he opined.
However, amid the heat of discussion on tripel talaq, Zafarul Islam Khan, Editor of fortnightly Milli Gazette, sees something positive in the whole discourse.
"One benefit of this entire brouhaha has been that common people have got some awareness about the evil of triple talaq. Also, clerics have started accepting that triple talaq is wrong and it should be weeded out. In fact, all of us want this practice banished," Khan said.
He also advised the Muslims to "not react" to and "ignore" the bill. "Because provoking Muslims to polarise the society precisely seems to be BJP's objective," he added.
https://www.siasat.com/news/triple-talaq-bill-politically-motivated-feel-muslim-intelligentsia-womens-groups-1298130/
--------
Princess Reema wants more Saudi women in sport
January 10, 2018
Dubai: Princess Reema Bint Bandar Bin Sultan Al Saud, winner of the Arab Sports Personality Award at Wednesday's Mohammad Bin Rashid Al Maktoum Creative Sports Awards, wants to see more women take up top positions in Saudi Arabian sport.
The first female to lead a Saudi sports federation when she took over as president of the Federation for Community Sports in October, Princess Reema is also Deputy President of Saudi Arabia's Sports Authority for Planning and Development.
She won this award for her pioneering role in the founding and regulation of women's sport in Saudi, including the introduction of sports among girls in public schools.
"I am hoping to see women in the top hierarchy of every sports federation in Saudi Arabia, for they will then become role models for the women who follow," said Princess Reema.
"It is important that women take up these positions, learn on the job and then pass on their knowledge to the next generation."
Princess Reema also said Arab nations should be more united to reap greater success.
"Our leaders ask us not just to be creative but also unified, and unification comes from education, morality and ethics.
"Today in the Arab world we have a new and ambitious world and our work is to make our ambition and dreams grow.
"By sharing the love of countries and the Arab world and the ambition to do something, I hope and pray to God that we will be successful in the future, leading not only in sports but all creative spheres."
http://gulfnews.com/sport/uae/more-uae/princess-reema-wants-more-saudi-women-in-sport-1.2154965
--------
Indian Govt Mulls Ordinance on Triple Talaq
By Sagnik Dutta
Jan 11, 2018
On September 9, 1937, Muhammad Ali Jinnah made a passionate speech in the central legislative assembly during the enactment of the Muslim Personal Law (Shariat) Application Act. The Act sought to replace retrograde customs followed by Muslims in provinces where women were not allowed to inherit property with principles of the Shariat that granted absolute shares of property to women. Jinnah emphasised the significance of recognising women as absolute heirs of property who would not merely be dependent on maintenance within the framework of the patriarchal family and kinship structures. He said:
"If she gets half in her own right, she is the sole mistress and master of that share of hers; and in these days and even in earlier days and even today the economic position of woman is the foundation of her being recognized as equal of man and share the life of man to the fullest extent. Therefore, that being the principle, namely to avoid this uncertainty and to avoid the costly litigation that occurs for any of these customs not being defined or ascertained, it is desirable that at any rate we should secure to the female heirs their proper share according to Muslim law."
It is important to revisit this moment of law reform at a time when the conversation around the criminalisation of the regressive practice of oral, unilateral divorce and the broader agenda of reform of Muslim personal law has revolved around post-divorce maintenance. The construction of the Muslim woman in contemporary feminist discourse conceives of marriage as an institution that confers economic security on women. Feminist concerns concerning Muslim personal law reform in general and Muslim Women (Protection of Rights on Marriage) Bill, 2017 more recently have been around 'protection' of wives in the heterosexual institution of marriage , concerns about 'destitution' of the wife when the husband is jailed and 'economic security' to be provided by husbands following divorce.
This construction of the Muslim woman forecloses the possibility of addressing humiliation of her personhood and right to a life of dignity as a result of structural injustice perpetrated by a cultural practice. Renowned women's rights lawyer Flavia Agnes argues that a criminal conviction cannot ensure that an "aggrieved woman" has "food on her plate and the means to take care of her minor children".
It seems like a 'poor Muslim woman' can only speak about justice in terms of 'maintenance' or reparation for fear of not having 'food on her plate'. In contrast, the impulse to reform Muslim personal law in the 1930s was informed by a conception of the rights-bearing personhood of women even if they were placed within structures of hierarchy and the patriarchal family.
Jinnah recounted how the lack of absolute property rights of widows led to their destitution. As a result of prevailing customs, a widow was only entitled to meagre, irregular amounts of maintenance to be provided by male heirs. The Bill was premised on a notion of women as rights-bearing persons whose economic welfare could be secured by absolute ownership rather than meagre amounts of maintenance.
In 1939, the Dissolution of Muslim Marriages Act made a number of grounds for divorce available to Muslim women based on the Maliki doctrine. Qazi Muhammad Ahmad Kazmi, the proponent of the Bill and one of the primary interlocutors in pushing forward this legislation, argued against the automatic dissolution of the marriage of Muslim women as a result of apostasy. Though this move sought to forge a unified Muslim community, Kazmi's construction of the Muslim woman conflated a discourse of civil rights and rights to freedom and autonomy with questions of religious identity. He cited the Caste Disabilities Removal Act, 1850 to argue that a woman was being deprived of her civil rights as a wife if her marriage was automatically dissolved as a result of apostasy. He stressed the need to secure freedom and autonomy to women with 'liberal' minds.
Statutory legislation on Muslim personal law, which was enacted in the midst of enthusiasm for social reform legislation in the 1930s, illustrates that the personhood, autonomy and dignity of Muslim women need not be sacrificed at the altar of ensuring economic rights through marriage. Feminist work of the 1980s and subsequent decades has questioned the appropriation of Muslim women's cause by the Hindu Right. But we also need to unpack the construction of the Muslim woman as a hapless victim who needs the economic security of post-divorce maintenance as the only avenue for addressing gender justice.
Article 15 of the Indian constitution dwells on prohibition of discrimination on the grounds of religion, race, caste, sex, or place of birth. Article 15(3) states: "Nothing shall prevent the State from making any special provision for women and children." Article 38 says that the state shall "strive to promote the welfare of the people by securing and protecting as effectively as it may a social order in which justice, social, economic and political, shall inform all the institutions of the national life."
Does the state fulfil its obligations to make special provisions for women merely by securing maintenance? Is it not the duty of the state to respond to articulations of claims that seek redressal for a violation of personhood by systemic structural violence condoned by sites of patriarchy within cultures? Is the Muslim woman as a bearer of her religious identity so firmly located in the structures of family and kinship that she cannot articulate a notion of personhood and dignity besides her role as a passive recipient of economic goods within the family?
After independence, the preservation of personal law systems as a form of securing minority rights meant that a discourse of protectionism that reified culture as well as women's location within culture informed the post-colonial state's approach to questions of minority personal law reform. Narendra Subramanian has noted in his book Nation and Family: Personal Law, Cultural Pluralism, and Gendered Citizenship in India how the momentum to reform Muslim personal law slowed down post-independence.
Feminist scholarship of the 1970s imagined all personal laws as inimical to women's rights and advocated the enactment of a Uniform Civil Code by the state as a means for ensuring gender justice. The Shah Bano debate further intensified this tendency to think of Muslim women's rights in terms of marital obligations of a husband to provide economic security. In the post-Shah Bano years, a progressive reading of the Muslim Women's (Protection of Rights to Divorce Act) led high courts to reward substantial maintenance payments to Muslim women, yet the discourse of legal reform continued to revolve around maintenance.
Feminist scholarship of the 1970s imagined all personal laws as inimical to women's rights and advocated the enactment of a Uniform Civil Code by the state as a means for ensuring gender justice. The Shah Bano debate further intensified this tendency to think of Muslim women's rights in terms of marital obligations of a husband to provide economic security. In the post-Shah Bano years, a progressive reading of the Muslim Women's (Protection of Rights to Divorce Act) led high courts to reward substantial maintenance payments to Muslim women, yet the discourse of legal reform continued to revolve around maintenance.
This construction of the Muslim woman elides what the legal historian Rohit De calls the 'multiple lives of the law' that have shaped the legal consciousness of Muslim women in women's networks outside the courts over the last decade. These spaces are not parallel structures located outside the law. Rather they intersect with state apparatuses, especially those with coercive authority, in important ways.
The informal Shariat courts run by women of the Bharatiya Muslim Mahila Andolan (BMMA), a prominent voice in the movement for Muslim law reform over the last decade, amply bear out this phenomenon. In these informal fora of adjudication, the claims made by Muslim women are couched in a language of 'justice' that seek an end to abusive relationships and to structural violence of community and cultural practices. In Logics of Empowerment: Development, Gender, and Governance in Neo-liberal India, Aradhana Sharma has illustrated how feminist organisations have begun to negotiate the coercive apparatuses of the state.
A demand for criminalisation of a regressive cultural practice therefore needs to be read in conjunction with the multiple lives of the law in community spaces and the changing configurations of women's claims on the law. While there can be a debate on the modalities of the legislation and the quantum of punishment, an outright rejection of a demand for criminalisation as 'fascist' and 'anti-minority' does not address the varied ways in which women access and use the legal system outside law courts.
I will use the example of one recent case of a woman victim of triple talaq that came up in the Shariat court run by BMMA in Mumbai. Afza (name changed to protect identity), a 20-year-old who had approached the court on December 11, had been divorced by her husband two weeks ago. The pronouncement for triple talaq was preceded by serial domestic violence and abuse by her in-laws and her husband for two years. This illustrates that triple talaq isn't just 'three meaningless words' that have no legal force as is being argued by some lawyers. The unilateral divorce was initiated by her husband in a fit of rage when she left for her mother's house unable to put up with the continuing torture. In Afza's and her family's formulations, a sense of justice entails an end to this regressive practice through legislation. Afza wishes an end to her marriage as she perceives it as inimical to her individual autonomy, dignity and freedom.
There are several such narratives of Muslim women firmly grounded in community spaces making claims of individual autonomy, dignity and personhood to end abusive marriages. The end of an unjust social order by the coercive force of law is privileged over the need for maintenance in their claims on informal courts. Informal courts intersect with state institutions and coercive apparatuses to legitimise their authority within communities. For example, invoking the fear of the provision of section 498A of the IPC to address domestic violence cases, references to the latest Supreme Court judgment and the possibility of legislation on triple talaq to instil sensitisation about the same in community spaces, constitute important rhetorical strategies for the women qazis in these courts.
Any commitment to the constitutional vision of a just social order for women cannot afford to ignore these varied itineraries of the law that constitute sites of justice. A vision of gender justice where the state merely 'protects' Muslim women from destitution does not constitute transformative politics. A feminist politics which unproblematically aligns itself with a protectionist narrative of ensuring economic security for Muslim women without engaging the structural violence of the family and communities needs to rethink its ethics.
(The writer is a Gates Cambridge scholar and doctoral candidate at the University of Cambridge. He is currently conducting fieldwork in local Shariat courts in Mumbai.)
https://www.kashmirmonitor.in/Details/140860/muslim-women-are-not-hapless-victims
--------
Reports says everyday 11 children face sexual abuse in Pakistan
Jan 11, 2018
KARACHI: Many of the incidents of child abuse fail to get highlights in the media, as, according to an NGO report, as many as 11 cases of child sexual abuse are reported from across Pakistan on a daily basis.
According to the latest numbers released by Sahil, an NGO that works on child protection with a special focus on sexual abuse, a total of 1,764 cases of child abuse were reported from across the country in the first six months of 2017 alone.
In the previous year, the total number of reported child abuse cases stood at a staggering 4,139, bringing the total number of children being abused in Pakistan per day to 11.
According to data from Sahil, out of the total cases of child abuse from January to June 2017, 62 percent were reported from Punjab; 27 percent of cases reported were from Sindh province, while 76, 58, 42, and nine cases reported from Balochistan, FATA, Khyber Pakhtunkhwa, and Azad Jammu and Kashmir, respectively.
The number of cases reported from rural areas amounted to 74 percent, while the number of cases reported from urban areas increased by 10 percent as compared to the comparable period in 2016.
Last year, a 17 percent decrease was reported in child abuse cases as compared to the previous year. From January to June, a total of 1,764 cases of child abuse were reported as compared to the 2,127 cases for the same period in 2016.
Even in Kasur—which became the centre of a massive child abuse case in 2014 and 2015—the rape and murders of 12 minor girls, all aged between five to eight years, have been reported in the past twelve months.
https://www.pakistantoday.com.pk/2018/01/11/reports-says-everyday-11-children-face-sexual-abuse-in-pakistan/
--------
Women above 25 can now travel to Saudi Arabia alone
January 11, 2018
However, women under 25 must be accompanied by a family member.
Now, women aged 25 and above, wishing to travel to Saudi Arabia alone, can be granted a tourist visa, stated a spokesman for the Saudi Commission for Tourism and National Heritage (SCTH). This move signifies that it will not be necessary for women over 25 to travel with any family member or companion.
However, women under 25 must be accompanied by a family member.
Commenting on the initiative, Director General of the commission's licensing department, Omar Al-Mubarak, said, "The tourist visa will be a single-entry visa valid for a maximum of 30 days. This visa is added to those currently available in the Kingdom. It is independent of work, visit, Hajj and Umrah visas."
The SCTH added that the issuance of the tourist visas will be announced during the first quarter of 2018. "Regulations for tourist visas have been finalized and an electronic system is being built in coordination with the National Information Center and the Foreign Ministry," Al-Mubarak was quoted in Arab News.
Moreover, while the tourist visa system was being implemented between 2008 and 2010, over 32,000 tourists visited the Kingdom during this period. The visa procedures for these tourists were facilitated several tour operators licensed by the SCTH. The move is aimed to revive the previous tourist visa system and attract more visitors to the Kingdom, besides, creating more job opportunities.
https://www.khaleejtimes.com/region/saudi-arabia/women-above-25-can-now-travel-to-saudi-arabia-alone
--------
Pakistani woman's plight catches attention of UAE embassy
January 11, 2018
DUBAI: A Pakistani woman's plight recently caught the attention of UAE embassy when a man, who goes by the Twitter handle @jalalsherazi, decided to reach out to the UAE diplomatic mission via a tweet to highlight the struggles that the woman was facing.
"She is Yasmeen. She has three daughters and a son studying in class two, and her husband has died," wrote @jalalsherazi.
"As she had no option, she herself is struggling to feed her kids, though this struggle is not easy. She has a small amount from which she gets everyday fruits, which she sells [to] make some profit," he added.
On seeing the tweet, the UAE Ambassador to Pakistan, Hamad Obaid Ebrahim Salem Al Zaabi, decided to visit Yasmeen at her fruit stall.
The UAE Embassy in a tweet, while speaking about the ambassador's visit, said: "@ALZAABI82, Reacts to a tweet posted by @jalalsherazi, visits and supports the Pakistani woman Yasmin, who struggles and supports four school going children as her husband died, the lady sells fruits and struggles to feed her family."
"A great example of Pakistani women," the tweet concluded.
https://www.pakistantoday.com.pk/2018/01/11/pakistani-womans-plight-catches-attention-of-uae-embassy/
--------
URL: https://www.newageislam.com/islam-women-feminism/women-above-25-be-allowed/d/113898
New Age Islam, Islam Online, Islamic Website, African Muslim News, Arab World News, South Asia News, Indian Muslim News, World Muslim News, Women in Islam, Islamic Feminism, Arab Women, Women In Arab, Islamophobia in America, Muslim Women in West, Islam Women and Feminism