New Age Islam News Bureau
3 Jun 2018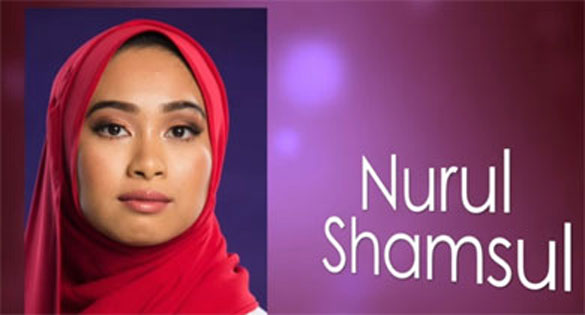 First Malay Girl To Get Into The Finals Of Miss Universe New Zealand - Hype Malaysia
------
• Saudi Girl Sneaks into India from Nepal to Be With Lover, Spurns Dad
• Indian NGOs Ensure Needy Women Get Their Share of Zakat This Ramzan
• Activist: Tens of Izadi Children, Women Held in ISIL's Underground Jails in Syria
• Thousands Take Part in Funeral Held for Female Paramedic Killed By Israelis
• 'Justice for All': How Saudi Arabia's Sexual Harassment Law Will Work
• 'Medals Are Not Enough To Encourage Women Sportspersons'
• It's Action Time for Female Entrepreneurs in the UAE
• The Taliban's Legacy in Afghanistan Has Plundered Women's Basic Human Rights
Compiled by New Age Islam News Bureau
URL: https://www.newageislam.com/islam-women-feminism/woman-with-malaysian-roots-wearing/d/115433
-------
Woman with Malaysian Roots Wearing Hijab Is Miss Universe New Zealand Finalist
3 Jun 2018
PETALING JAYA: A 20-year-old of Malaysian and Indonesian heritage wearing a "tudung" or hijab has broken records by being a Top 20 finalist in Miss Universe New Zealand 2018.
On Instagram, Nurul Shamsul said that as a woman who wears the hijab, she will be the first in New Zealand to make it to the finals and one of the first in the world to achieve such a feat.
"I hope that this opportunity will help break boundaries and stereotypes. I also hope that together we can redefine the meaning of what beauty is," she said.
In another post, Nurul said that being a Muslim remains at the forefront of her beliefs even though she is participating in a beauty pageant.
"I prayed that if this opportunity is good for me and my religion, then I wanted God to let it happen. If it wasn't, then I wanted Him to turn me away from it," she said.
Nurul said in a reply to an Instagram commenter that her mother is Indonesian while her father is Malaysian.
She also said that she is currently studying at the University of Waikato, majoring in psychology with a minor in social policy.
"I would love to help communities thrive and liberate and empower individuals in the future," she said.
Nurul is not the first Muslim woman who has donned the hijab in a Miss Universe pageant.
Previously, Somali-British Muna Jama and Somali-American Halima Aden did so when they participated in the Miss Universe Great Britain and Miss Minnesota USA respectively.
The finals of the Miss Universe New Zealand 2018 will be held on August 4.
The Star has attempted to contact Nurul but was unsuccessful as of press time.
https://www.thestar.com.my/news/nation/2018/06/03/woman-with-malaysian-roots-wearing-hijab-is-miss-universe-new-zealand-finalist/
-------
Saudi Girl Sneaks into India from Nepal to Be With Lover, Spurns Dad
Srinath Vudali
Jun 3, 2018
HYDERABAD: This is no oft-repeated story of Indians stranded and tortured by Saudi kafils. Here's a woman from an affluent Saudi family in love with a 30-year-old migrant from Nizamabad, who was employed as a driver with her father. And, the 27-year-old broke shackles of a conservative Saudi household to travel all the way to Nepal and then sneak into India to meet her love and tie the knot with him in Nizamabad.
Her boyfriend returned to India in February.
When the father flew to Hyderabad in search of her a few days ago and lodged a complaint against the boy, the daughter, on Saturday, gave a statement to the Hyderabad Central Crime Station that she wants to stay in India with her husband.
After the boy returned to his native Nizamabad in February, the girl informed her boyfriend that she cannot stand their separation any more and would reach him soon.
"The girl slipped out of Saudi Arabia in May and entered India illegally through the Indo-Nepal border. Then, she reached New Delhi from where she was picked up by the boy. The couple reached Nizamabad and got married," deputy commissioner of police (CCS) Avinash Mohanty told STOI.
A few days ago, her father came to Hyderabad along with Saudi Arabia embassy officials. Unaware that his daughter had already married, he lodged a complaint alleging that his daughter was abducted by his former driver and, accordingly, a case was registered at CCS.
Sleuths went to Nizamabad and traced the girl on Friday, but she refused to return . On Saturday, her statement was recorded .Since the girl entered India illegally, she approached the Indian government to help her in regularising her stay by granting permission. "She told us that she came to India voluntarily, so the charge of abduction cannot sustain and the case will be closed,'' sources in CCS said.
https://timesofindia.indiatimes.com/city/hyderabad/saudi-girl-sneaks-into-india-from-nepal-to-be-with-lover-spurns-dad/articleshow/64433603.cms
-------
Indian NGOs Ensure Needy Women Get Their Share of Zakat This Ramzan
Mohammed Wajihuddin
Jun 3, 2018
If you currently visit Muslim pockets in the city, you will not miss the groups of kurta-pyjama clad, bearded maulvis, clutching small bags under their arms. They approach affluent Muslims with a common purpose. They collect zakat, the 2.5% of annual savings Muslims must give to charity.
These zakat collectors, representatives of religious institutions from across the country, may not practice gender bias themselves but many women activists say the lion's share in the huge zakat fund in India (approximately Rs 1000) goes to male beneficiaries. Now some women empowerment groups have taken it upon themselves to ensure that women deserving zakat are not denied it.
To highlight the issue, Iqra International Women Alliance (IIWA), an NGO working to empower the underprivileged women, held a meeting at Islam Gymkhana on Saturday. "As long as we had Baitul Maal (House of Wealth, a financial institution to administer taxes) in early Islam, women were taken care of well from zakat funds. We want to reiterate that ignoring the needy women who are neither very vocal nor visible among the zakat seekers will not fulfil the purpose of zakat," explains IIWA president and noted social activist Uzma Naheed. One of the five pillars of Islam (the other four are kalima, namaz, roza and haj), zakat is obligatory for anyone who owns 52 tolas silver or 7.5 tolas gold. Normally, the value of silver is counted so zakat is obligated on everyone who has annual saving of Rs 27,000.
The Quran prescribes eight categories of people eligible to receive zakat. The Zakat Foundation of India's website explains these categories as the poor (al-fuqarâ), the needy, zakat administrators, those whose hearts are to be reconciled, or newly converted Muslims, slaves and captives,the debt-ridden, those in the cause of God and the wayfarer or those who are stranded or traveling with few resources.
Widows and divorcees certainly deserve zakat. There are groups who reach out to many such women. Razia Chashmawala, deputy chairperson of All India Memon Jamat Federation (women's wing) and chairperson of the Federation's matrimonial wing, travels to some of the poorest Muslim pockets in the city and beyond with the zakat help. She has seen the desperation of the destitute women from close quarters. At the Butchers' Colony in Kurla, she says, she found several former zakat givers now receiving zakat. "Many said their beef business got adversely affected due to beef ban. Demonetisation and GST too led many men to joblessness. Since their men don't earn enough to run the family, these women seek zakat," explains Chashmawala. She adds that she refused to go for umrah (minihaj) this Ramzan and is using the money to help the needy women.
Fabiha Shadaab Patel, deputy chairperson of the All India Memon Jamat Federation (matriomonial wing), strongly supports increase in women's share in the zakat fund. "In our maledominated society women feel marginalized but some of us try to empower them with our initiatives," says Patel. "After proper verification, we have bought many needy women sewing machines and other tools with zakat money help them be self-reliant."
However, director of Jogeshwaribased Markazul Maarif Research Centre (MMRC) Maulana Burhanuddin Qasmi disagrees that women are denied their share in the zakat fund. "The majority of collectors may be men as they have to travel and live alone from home for a month or so, but the beneficiaries of zakat include poor widows, divorcees, orphans and children," Qasmi said.
https://timesofindia.indiatimes.com/city/mumbai/ngos-ensure-needy-women-get-their-share-of-zakat-this-ramzan/articleshow/64433481.cms
-------
Activist: Tens of Izadi Children, Women Held in ISIL's Underground Jails in Syria
Jun 02, 2018
The Arabic-language website of Sputnik quoted Hossein Ali al-Khansouri, a human rights activist on Iraqi Ezedi case as saying that ISIL has jailed over 2,000 civilians, including Izadi children and women, at border regions in Syria near Iraq, where ISIL came under attack by the Kurds.
He further told Sputnik that the ISIL has incarcerated Izadi children in underground jails in Souseh, Hafin, Sha'afeh and Baqouz regions in Deir Ezzur province and in Dashisheh region near Syria's border with Iraq.
He said the underground jails are in areas under attack by the Kurdish-majority Syrian Democractic Forces (SDF).
The Arabic Sputnik said that a sum of 300 Izadi boys and girls were captured by ISIL in Dashysheh only in August 2014.
Head of Ezedi affairs in Dohouk province said that a sum of 3,259 captives has thus far been freed from ISIL, including 2,076 girls and women.
On Monday, the Syrian Army forwarded more forces and military equipment, including several cannons, to its positions in Eastern Damascus, to launch a fresh round of large-scale attacks on ISIL that stormed the government forces' position in al-Mayadeen desert recently.
In the meantime, the army forces engaged in a tough battle with ISIL in Eastern Badiyeh (desert) between Western Deir Ezzur and Eastern Homs, killing or wounding a number of terrorists.
Also, the army aircraft pounded several times ISIL's positions South of Humeimeh region, imposing heavy casualties on the militants.
http://en.farsnews.com/newstext.aspx?nn=13970312001052
-------
Thousands Take Part in Funeral Held for Female Paramedic Killed By Israelis
Jun 2, 2018
Thousands of Palestinians have gathered in the besieged Gaza Strip to take part in the funeral of a female paramedic who was gunned down by Israeli soldiers.
21-year-old Razan Ashraf al-Najjar was attending to wounded Palestinian demonstrators east of Khan Yunis, located about 25 kilometers (15 miles) south of Gaza City, when she was shot by Israeli troopers on Friday.
Najjar was critically wounded as a result, and succumbed to her grave gunshot wounds shortly afterwards.
On Saturday, Ambulances and medical crews attended Najjar's funeral, with her father holding the white blood-stained medics' jacket she wore when she was shot.
Following the funeral, mourners gathered for a protest, in which five people were injured by Israeli forces.
"I told her it was dangerous to approach [the fence] but she answered that she was not afraid to die and wanted to help the young man," said a fellow medic.
According to the Palestinian Medical Relief Society (PMRC)said Najjar was shot "as she was attempting to provide first aid to an injured protester."
"Shooting at medical personnel is a war crime under the Geneva conventions," read a PMRC statement, which called for "an immediate international response to Israeli humanitarian law violations in Gaza."
The UN's envoy for the Middle East, Nickolay Mladenov, responded to the incident in a tweet that read "Medical workers are #NotATarget!"
During a last month interview with the New York Times, Najjar had talked about her role as a medic in the Gaza Strip.
"Being a medic is not only a job for a man. It's for women, too," she said.
"We have one goal. To save lives and evacuate people. And to send a message to the world: Without weapons, we can do anything," she added.
"The strength that I showed the first day of the protests, I dare you to find it in anyone else," she also said.
The Israeli military on Saturday said that an investigation has been opened into the incident which resulted in Najjar's death.
At least 120 Palestinians have been killed by Israeli forces since the "Great March of Return" began in Gaza Strip on March 30. Fourteen children are among the fallen Palestinians.
About 13,300 Palestinians also sustained injuries, of whom 300 are in a critical condition.
The occupied territories have witnessed new tensions ever since US President Donald Trump on December 6, 2017 announced Washington's recognition of Jerusalem al-Quds as Israel's "capital" and said the US would move its embassy to the city.
The dramatic decision triggered demonstrations in the occupied Palestinian territories and elsewhere in the world.
The status of Jerusalem al-Quds is the thorniest issue in the decades-long Israeli-Palestinian conflict.
The Palestinians see East Jerusalem as the capital of their future state.
http://www.presstv.com/Detail/2018/06/02/563708/palestine-gaza-strip-medic-najjar
-------
'Justice for all': How Saudi Arabia's sexual harassment law will work
June 03, 2018
RIYADH: Saudi Arabia's new anti-harassment law will help all individuals live a normal life free of fear, the Interior Ministry's security spokesman, Maj. Gen. Mansour Al-Turki, has said.
With the new law coming into effect within a couple of days, following its publication in the Official Gazette, Al-Turki explained how it would be implemented in a press conference on Thursday.
The new law, approved by a Council of Ministers meeting last Tuesday, will combat sexual harassment in the Kingdom, which is considered a crime according to Islamic law.
"We expect that this law will lower sexual harassment crimes," Al-Turki said. "We are working towards not having these crimes in any place in the Kingdom."
No statistics are available on the incidence of sexual harassment, because of past reluctance to report violations. "These crimes were under the morale law, and because there was little reporting, that is why this law has been provided to protect the identity of the harassed and help them come forward and report incidents," Al-Turki said.
The Kingdom has recently witnessed a wide-ranging series of reforms. The ambitious Vision 2030 aims to have women more involved and less segregated than before. While the new law reaffirms women's role in society, it is not related to women in Saudi Arabia being allowed to drive from June 24, Al-Turki said. In fact, the law applies to both genders.
"This law is to help all individuals live a normal life without any incidents of harassment," he said. "Any person who has been subjected to harassment or has been a witness to it should inform the competent authorities."
The most severe punishments will be given to those who harass people with special needs and children under the age of 18, with an awareness campaign to be introduced in schools.
"Many people are reluctant to have their children participate in certain activities for fear of being harassed. This law helps put the guardians at ease," he said.
The most severe cases will face prison terms of up to five years and/or a maximum penalty of SR300,000 ($80,000). Incidents that have been reported more than once will be subject to the maximum punishment.
Lesser cases will face a prison term of up to two years and/or a maximum penalty of SR100,000.
"The Public Prosecution will give out the punishment, depending on the crime committed." Al-Turki said.
Fines paid by the harasser will not go to the harassed. "The most important aspect is that justice has been witnessed by the harassed," he said.
Under the law, sexual harassment is defined as words or actions that hint at sexuality towards one person from another, or that harms the body, honor or modesty of a person in any way.
"The law is clear: Anything that is sexually related or within a sexual context will be taken into consideration. Everyone understands what sexual harassment is. We are all Muslims and have been raised with Islamic values," Al-Turki said.
The law will apply to modern technology, including social media. "Many people believe if they use fake names, we won't be able to identify them or track them down," Al-Turki said. However, "if there are documents and evidence, we will take action."
Explicit emojis could be considered harassment, Al-Turki said, but a rose emoji should not be cause for concern. "The investigation between the two individuals will be built on evidence, and the Public Prosecution will conclude if there is or isn't harassment," he said.
Reports will protect the privacy of those involved. "We have information that there are a lot of people who are hesitant to report harassments because of the consequences to privacy," Al-Turki said. "The system provides confidentiality to protect the harassed."
http://www.arabnews.com/node/1314546/saudi-arabia
-------
'Medals Are Not Enough To Encourage Women Sportspersons'
June 03, 2018
SHARJAH: Sharjah Government Media Bureau, a leading women's association associated with various UAE sports bodies, called for greater public and private support, on June 2, for further encouraging women's sports in the country in order to help women compete with the best of the best in regional and international championships.
Taking part in the Sharjah Ramadan Majlis debate on 'Arab Women in Sports and Global Aspirations' (May 30) at Al Majaz Amphitheatre, leading figures associated with women's sports called for a whole new approach to give impetus to female sports in the country, enabling UAE women to compete at the global level and bring laurels to the nation.
Sheikha Shamsa Bint Hashar Al Maktoum, Chairperson of the Women's Committee and Board Member of the UAE Volleyball Association, underlined the need for offering women sportspersons incentive and training to help bring out the best in them and make best possible use of their immense potential.
Sharing her considerable experience of dealing with various women's sports, Sheikha Shamsa Bint Hashar Al Maktoum said that medals are not enough for women to encourage them to compete with the best of the best from around the world. "Women players also need incentive and enough training to create true winners," she emphasised, calling for government support to promote women's sports in the country. She pointed out that although in some individual sports women have excelled at the international level, group sports have not been able to go beyond the Gulf level.
Nada Askar, Director General of Sharjah Women's Sports Foundation, said when UAE women have demonstrated their potential in every walk of life including in the decision making process of sports bodies, there is no reason why they cannot excel in the field. She said the rise of women to the decision-making level in sports bodies shows women's confidence and trust in these forums.
She called for greater participation of women in sports and creating women leaders to take charge of sports bodies. Calling for distinguishing between sports associations and clubs and both supporting and complementing each other, she said everyone ought to give support to women's sports in order to give them greater opportunities to excel and bring laurels to the country.
Sahar Al Obad, Chairperson of the Emirates Volunteer Society and Member of UAE Athletics Federation, called for recognising women's potential in sports and giving them the same kind of support as men's sports have been receiving in the country. She emphasised the need for the General Sports Authority and various sports associations in the country to cooperate with each other and join hands in the interest of women's sports in the UAE.
Striking a more positive note, Dr Mai Ahmed Al Jaber, Board Member of the General Sport Authority and Member of the Executive Office of the UAE National Olympics Committee, said the fact that there are more women leading sports bodies today shows that a brighter future awaits women's sports in the UAE. She pointed out that women's presence in leading positions in various sports bodies and associations gives women players greater confidence and support.
Dr Al Jaber said that material support and training are critical to women's sports and associations. She said many associations do train players and some players have even gone to the level of Olympics. She assured her co-panellists and the audience that there would be many positive changes soon as there is a new board of directors and several measures are being taken to improve things. She also hinted at increasing the number of women members in sports association to offer them greater support.
The Sharjah Ramadan Majlis is being hosted by the Sharjah Press Club of Sharjah Government Media Bureau in partnership with Sharjah Media Corporation.
http://www.gulftoday.ae/portal/a69a38b7-2f9c-4e44-98ec-d2c46df9763f.aspx
-------
It's Action Time for Female Entrepreneurs in the UAE
June 2, 2018
It is impossible not to acknowledge and appreciate that the UAE is home to a wide and vibrant mix of professional, creative and entrepreneurial talent. Globally, the country is held in high regard for making people from all over the world and all walks of life feel at home.
Further strengthening the sentiment of positivity and security offered by the UAE is the announcement of the 10-year visa rule, which is likely to encourage more people, women, in particular, to commence and pursue business in the UAE. As an entrepreneur, I am keenly awaiting further clarification on the process and other features associated with the ruling.
According to a study titled 'United Arab Emirates female entrepreneurs: Motivations and Frustrations' by Hanifa Itani, Yusuf Sidani and Imad Baalbaki, "The UAE represents a region that is witnessing an increasing trend of women's participation in business and entrepreneurial activities." But, in fact, the UAE represents much more than that; it offers equal opportunities for men and women and the fact that this young nation's Cabinet has more women in ministerial positions than some of the most developed countries in the world is nothing short of incredible and encouraging. The country certainly offers a promising business landscape for women entrepreneurs to explore and flourish in, and the ability to own 100 per cent of the business will further motivate them by addressing the safety and security concerns when starting a new business.
According to another study, globally women control about $20 trillion in annual consumer spending, and that figure could climb as high as $28 trillion by 2023. Women's yearly earnings could reach $18 trillion from $13 trillion in total in the same period. In fact, in today's fast changing business environment, no one can afford to ignore or underestimate the female consumers. A recent United Nation study has mentioned that advancing women's equality could boost global gross domestic product (GDP) by $12 trillion by 2025.
Women in the UAE now have a favourable circumstance to set their dream projects in motion and fully own the sense of personal and professional satisfaction that comes with it. Life does give you more than a few opportunities. Why waste any that come your way? Women are increasingly gaining influence in the corporate world and the UAE is no exception. Thanks to a number of initiatives introduced by the visionary leadership of the UAE, the number of working women in the UAE is on the rise. Time is not far away when female entrepreneurs and workforce worldwide will surpass the number of working men globally. Women need to be investors of their future and an essential part of the workforce.
The findings in the Women's Entrepreneurship 2016-17 Report by GEM indicate that "there is no longer a question regarding the role that women play in contributing to global economic development. The phenomenon of women's entrepreneurship, both women business owners and their businesses, is viewed as a potential source of economic and social development."
The report also highlights that "women entrepreneurs are more likely to contribute to their children's education, health and nutrition compared to male entrepreneurs". The new visa regulations will hopefully bring about a healthy influx of women entrepreneurs in the UAE which will, in turn, fuel the country's vision to become one of the world's top 25 countries for gender equality by 2021. However, this is not an easy challenge. Achieving equality in the workplace will require an expansion of decent work and employment opportunities, involving governments' targeted efforts to promote women's participation in economic life, and the voices of women themselves in framing solutions to overcome current barriers to women's participation in every walk of life.
There are no rewards without risks. There is some amount of uncertainty in everything and aspiring women entrepreneurs have to find the will to overcome their fears and believe in their vision truly and passionately, regardless of what anyone else has to say about it.
In my professional and personal opinion, there couldn't be a better time for female entrepreneurs to action their business plan in the UAE. So, ladies, aim high, go for it and give it your all. Those mental blocks may seem daunting now, but on the other side is a sense of accomplishment that is unlike anything else that you have experienced before.
https://www.khaleejtimes.com/business/local/its-action-time-for-female-entrepreneurs-in-the-uae
-------
The Taliban's Legacy in Afghanistan Has Plundered Women's Basic Human Rights
Jun 03 2018
Fresh speculation erupted in Kabul this week when general John Nicholson, US commander in Afghanistan, claimed that secret peace talks are being held between the Afghan government and the Taliban. This assertion was promptly rejected by Taliban leadership, who have steadfastly insisted upon negotiating directly with the United States. With the launch of the Taliban's annual spring offensive, it appears to be business as usual in the region, as the Taliban has largely ignored president Ashraf Ghani's unprecedented peace offer – a move that appears to be a tacit acknowledgement of a growing consensus that there is no military solution to Afghanistan's long war.
The Taliban – which makes billions of dollars each year producing and trafficking heroin – refers to its members as the "representatives of the will of Afghan nation" who are "revered by the Afghan masses as heroes". These lofty claims do not reconcile with the experience of the local Afghan women, however, who continue to be abused by the modern-day Taliban.
Earlier this year, I travelled through the northern Afghan provinces of Takhar and Kunduz to conduct field research for Women's Regional Network (WRN) on the women in IDP (internally displaced persons) camps. Two in particular stood out: the first was a group of UNHCR tents located in an open, desolate field; the second, a camp near Kokcha River which consists of a smattering of crumbling buildings and rubble close to the Tajik border.
It is immediately obvious that the women in these camps harbour intense resentment for the Taliban, tracing back to the Islamists' brutal rule over the country from 1996 to 2001. Even where they have been forced from their homes due to other factors – by airstrikes, quite often – these women continue to blame the Taliban, intimating that the mere presence of the militants rendered their villages targets. It is safe to say that women, who account for more than half of Afghanistan's estimated population of nearly 35 million, have no wish to return to the Taliban's dark rule.
Of the nearly 150 women I interviewed during my two-week tour, many complained that the Taliban routinely steal food. In a country mired in poverty and desolation, this insult cuts deep, particularly during the depths of the harsh northern winter. One woman described Taliban militants going door to door in her village, demanding food at each house and beating any women who dared to refuse.
Article 43 of the Afghan constitution guarantees a woman's right to access education, but for many in rural areas, such a luxury is unaffordable. Many of those I spoke to explained that girls are still banned from going to school under threat of death, much as it was back in the old days before the defeat of Taliban in 2001. A number of schools have been destroyed to make sure. More than a dozen girls' schools have been shut for the past four years in Zurmat district of Paktia province. Nothing has changed.
The Taliban's leaders and propagandists are eager to shed the brutal image of the past, when they would cut off fingers of women for wearing nail varnish or stone women to death for perceived adultery. Now they are the servants of a benevolent god who wants to bring an end to decades of war, poverty and misery. While there are sections of the population that do support the Taliban, it is difficult to know if they do so under threat of violence or are rather opportunists or ideologues. The disembowelled body of a bicycle thief or a farmer who has switched out of poppy for wheat, hanging from a tree in a village square, sends a powerful message to poverty-stricken, disenfranchised people about where the local power lies.
Last week, the Taliban warned Kabul residents to avoid "military centres", indicating that more attacks will be forthcoming as part of the annual spring offensive. Due to the population density of the city and the centricity of these locations to daily life in Kabul, it is unlikely that this warning will have any practical impact. But that's not really the point – these moves are part of a broader public relations campaign intended to reshape the image of the group and distance itself from its barbarous past.
For the women forced from their homes and now living in camps in Takhar, Kunduz and elsewhere in Afghanistan, the Taliban is already a political force, one which operates with impunity as it administers its own warped brand of power. The Taliban murders its political opponents, destroy grassroots power structures that have held Afghan society together for centuries, denies women and girls the right to education, work or even a voice. It hides behind religion as a veil for its brutality. By offering to bring it in from the cold without any preconditions, Ghani is at risk of legitimising its draconian methods.
If the Taliban truly aspires to move out of the shadows to become a legitimate political movement – the "hero" of the people it believes itself to be – it must move past its extremist tactics and rigid fundamentalism and embrace the more moderate version of Islam that most Afghans practice. It must prove in those areas where it already holds sway that it supports the rights of women to participate freely and openly in society. It must renounce its brutality with proof, not with words. Based on my recent conversations with women in the IDP camps, there is deep doubt it can or will do any of this.
In early May, Kabul was hit by two simultaneous attacks, one claimed by the Taliban and the other by Isis Khorasan. While media and other stakeholders are keen to make the distinction of attribution, most Afghans consider the Taliban and Isis Khorasan to be of the same ilk. Besides, when a loved one is dead, it doesn't much matter which group is responsible. To Afghans, this violence is the real legacy of the Taliban, and one that is at odds with the government's offer to meet the militant group at the bargaining table.
https://www.independent.co.uk/voices/taliban-afghanistan-latest-womens-human-rights-unhcr-ashraf-ghani-kabul-asia-a8380396.html
-------
URL: https://www.newageislam.com/islam-women-feminism/woman-with-malaysian-roots-wearing/d/115433
New Age Islam, Islam Online, Islamic Website, African Muslim News, Arab World News, South Asia News, Indian Muslim News, World Muslim News, Women in Islam, Islamic Feminism, Arab Women, Women In Arab, Islamophobia in America, Muslim Women in West, Islam Women and Feminism