New Age Islam News Bureau
20 Apr 2018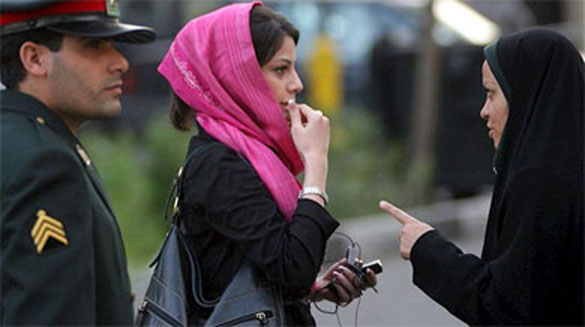 File photo, Arresting women with loose Hijab
------
• Muslim Woman Who Refused Handshake Denied French Citizenship
• Arab News KSA Female Staff Ratio Up To 32% In 2017
• More Women Wearing Colourful Abayas In Saudi Arabia
• Acid Attack on 3 Girls in Pakistan by Uncle for Rejecting Marriage Proposal
• 'Islamisation' Of Women's Movement in Indonesia
• Jatha Woman, Who Married Pak Man, a Widow with 3 Kids
Compiled by New Age Islam News Bureau
URL: https://www.newageislam.com/islam-women-feminism/woman-violently-arrested-adhering-dress/d/114993
--------
Woman Violently Arrested For Not Adhering To Dress Code in Iran
19 April 2018
Iran has ordered an investigation after a video surfaced showing police pushing and pulling a young woman who was resisting arrest for not adhering to imposed dress code.
The semi-official ISNA news agency reported Thursday that Interior Minister Abdolreza Rahmani Fazli has requested a "comprehensive investigation and report" into the police's handling of the matter.
The video, circulated on social media, shows several police, including policewomen, trying to escort the woman from a public park. Another young woman shouts at the police to go easy on her, saying she has a heart condition.
Masoumeh Ebtekar, vice president for women's affairs, condemned the police's "violent" approach to the situation.
Under Iranian law, women must wear long, loose garments and cover their hair in public.
https://english.alarabiya.net/en/News/middle-east/2018/04/19/WATCH-Woman-violently-arrested-for-not-adhering-dress-code-in-Iran.html
--------
Muslim woman who refused handshake denied French citizenship
Apr 20, 2018
PARIS: France's highest administrative court on Thursday upheld the decision to deny French passport to an Algerian Muslim who refused to shake hands with officials during her citizenship ceremony.
The woman argued that her "religious beliefs" prevented her from shaking hands with a senior official presiding over the citizenship ceremony in the southeastern Isere region in June 2016, as well as with a local politician.
The government said that her behaviour showed she was "not assimilated into the French community", one of the reasons it could invoke under the civil code to deny citizenship for the spouse of a French national.
The woman, who had been married to a Frenchman since 2010, appealed the April 2017 decision, calling it an "abuse of power" but the Council of State, the court of the last appeal in such matters, ruled that the government "had not improperly applied" the law.
https://www.pakistantoday.com.pk/2018/04/20/muslim-woman-who-refused-handshake-denied-french-citizenship/
--------
Arab News KSA female staff ratio up to 32% in 2017
April 20, 2018
RIYADH: Arab News, the Saudi Arabia-based newspaper, boosted the ratio of female staff and contributors working in the Kingdom in 2017 to almost a third — compared to just 13 percent the previous year.
The results of Arab News' "Gender equality meter" are published today as part of the newspaper's stated aim to become the first Saudi "gender-balanced" newspaper by 2020.
In 2016, 87 percent of the newspaper's staff and contributors in Saudi Arabia were men. Last year the number of women working for the paper within the Kingdom hit 32 percent.
The ratio of women working across the newspaper's global editorial operations — including editorial staff in the Saudi, London and Dubai bureaus, regular Opinion writers, foreign correspondents and freelancers — stood at 31 percent in 2017.
There is no global comparison for 2016 because the London and Dubai operations did not exist, and the Opinion section included much syndicated content. Overall comparative figures, and numbers for Arab News' Southeast Asia bureau, will be published next year.
Arab News earlier this month outlined its aim to become the first newspaper in Saudi Arabia to have a gender-balanced newsroom — and it intends to achieve this goal in less than two years. The drive — referred to internally as the "50:50 by 2020" initiative — will aim to cover all the newspaper's bureaus and areas of operation. It will involve active recruitment, training and career guidance which the paper will provide.
http://www.arabnews.com/node/1288056/media
--------
More women wearing colourful abayas in Saudi Arabia
April 19, 2018
Jeddah: More women are donning colourful abayas in Saudi Arabia.
The change has come after Crown Prince Mohammad Bin Salman said recently that the abaya is not mandatory in Islam.
"The laws are very clear and stipulated in the laws of Sharia: that women wear decent, respectful clothing, like men," Prince Mohammad told CBS Television last month.
"This, however, does not particularly specify a black abaya. (It) is entirely left for women to decide what type of decent and respectful attire to wear."
Until a formal edict comes however, designers such as Eman Joharjy are cashing in on the growing popularity of colourful "sports abayas" as they have been called.
"There is a big demand," Joharjy told AFP at her fashion studio in Jeddah.
"Having them in different colours is empowering."
Akin to a zippered jumpsuit, sports abayas envelop a woman's body but offer greater mobility for sporting activities, in contrast to the classic baggy version where tripping on the hem of the flowing garment is a common risk.
The 43-year-old's designs come in colours like pistachio green, beige and white - more tolerable in the kingdom's scorching heat - and she uses natural fabrics, including French poplin, that do not cling to a sweating body.
One of the early pioneers of the trend, Joharjy said she began designing - and donning - sports abayas publicly in 2007.
"I designed it for myself, because it's practical," she said.
"You zip up and are ready to go."
Abayas have evolved over the years, with new patterns, fabrics and embellishments, and they are sometimes worn in the kingdom with baseball-style caps over headscarves.
The latest fad is an eye-catching ensemble of "soccer-themed abayas" - in the colours of the local teams, a new way for female sporting fans to cheer for their favourite players.
Such fashion trends are gaining momentum amid the kingdom's liberalisation drive, including a historic royal decree allowing women to drive from June and enter sports stadiums for the first time.
The government is also seeking to jump-start women's sports and is moving toward compulsory physical education classes for girls, after a ban was lifted in 2014.
Saudi officials recently announced that women would be able to participate next year in the Riyadh international marathon, previously a male-only event.
Muslim cleric Shaikh Ahmad Bin Qassim Al Ghamdi added a new wrinkle to the debate when he dismissed the long-held view that black was the only colour for abayas permissible in Islam.
"The cloak is meant for maintaining a modest look and it does not have to be black," the former chief of the religious police in the holy city of Makkah, told Saudi-owned Al-Arabiya television last month.
Back at Joharjy's studio, a longtime client Marwa Al Hadi walked in wearing one of her designs with magenta sneakers.
"Abaya is like the Indian saree, it is part of our identity," Joharjy told her, as they weighed in on the future evolution of the garment.
https://gulfnews.com/news/gulf/saudi-arabia/more-women-wearing-colourful-abayas-in-saudi-arabia-1.2208196
--------
Acid attack on 3 girls in Pakistan by uncle for rejecting marriage proposal
Apr 19, 2018
ISLAMABAD: Three girls, including a sister duo, in Pakistan's Punjab province suffered burn injuries in an acid attack today when they were allegedly attacked by the sisters' uncle for rejecting a marriage proposal, according to media reports.
The sisters and their friend -- all said to be university students -- were standing at a bus stop in Dang district of Gujrat in the morning when the men arrived on a motorcycle and hurled acid on the girls, DawnNewsTV reported.
The girls suffered burns on their face and arms and were admitted to a hospital, according to police.
"The primary suspect was the uncle of the two sisters who were attacked. Another accused was identified as the uncle's friend," Dang police station SHO Ameer Abbas was quoted as saying in the report.
The SHO's statements were seconded by one of the victims, it added.
One of the girls had refused a marriage proposal which was the reason behind the attack, the police said, adding that the uncle and his friend are still absconding while the third accused has been arrested.
Punjab Chief Minister Shahbaz Sharif and Inspector General of Police Arif Nawaz have sought a detailed report of the case.
They have also instructed senior police officials to ensure the arrest of the accused within 24 hours, the report said.
https://timesofindia.indiatimes.com/world/pakistan/acid-attack-on-3-girls-in-pakistan-by-uncle-for-rejecting-marriage-proposal/articleshow/63830359.cms
--------
'Islamisation' Of Women's Movement in Indonesia
Farid Muttaqin
April 20, 2018
We are witnessing overwhelming efforts to Islamize the nation's feminist movement. To what does this Islamization refer, and how does it intersect with the aims of political Islam?
On May 2, 1964, president Sukarno declared RA Kartini a heroine of independence and her birthday, April 21, was named Kartini Day, the national day of women's liberation. The declaration laid claim to the women's movement as an authentic, indigenously Indonesian idea, rather than one brought to the country by outsiders, including the Dutch colonizers.
This action contributed significantly to nation-building efforts; to show Indonesians and the world that the fledgling country had both the "inherent" resources and "domestic" capacity to liberate, emancipate and empower its women.
Second president Soeharto used Kartini Day as a symbol of women's empowerment to encourage Indonesian women to participate actively of in national development programs.
These women were showcased as the "ideal Indonesian woman" that stood behind the government's programs while happily maintaining their traditional roles of womanhood.
Throughout the post-Soeharto era, public debate increased over who had contributed the most to improving women's rights and empowerment.
Along with the rise of political Islam and their intent to adopt their interpretation of sharia in state laws and in daily practice, groups such as Hizbut Tahrir Indonesia, supporters of the Islam-oriented Prosperous Justice Party and others have been campaigning for official recognition of Islam's strong contribution to the women's rights movement.
"Islamization" here refers to part of the political Islamist agenda which attempts to replace more dominant "secular" and "liberal" ideas of women's rights and gender equality with norms and ideals believed to be "Islamic".
Such groups view the declaration of Kartini as the heroine of both the nationalist movement and women's emancipation as a political maneuver to highlight the secular nationalism that had abandoned "Islamic nationalism".
Kartini came from a non-religious Javanese aristocratic family, while her ideas on women's liberation were thought to be greatly influenced by her close friendship with Dutch figures like J.H. Abendanon. Kartini was considered to be Westernized and secular, rather than Islamic and "authentically" Indonesian.
To replace the dominant image of Kartini as a symbol of the national emancipation movement, these Islamic groups have attempted to campaign for more "Islamic" figures such as Nyai Ahmad Dahlan, Rohana Kudus, Rasuna Said and Tjut Nyak Dien.
A historical reinterpretation even attempts to Islamize Kartini. She apparently studied Islam under Kyai Saleh Darat, a Muslim cleric of noble birth in her hometown, and even built a critical view on women's conditions under an Islamic framework from her Islamic studies.
The claims are inseparable from the ongoing struggle of Islamic groups to increase Muslim dominance in Indonesia's social and political life. They seek to ensure that gender norms and gender justice derive from a patriarchal interpretation of Islam.
Secular and Westernized gender norms are seen as contradictory to Islam and cannot be applied in Indonesia, the largest country with a Muslim-majority population.
In Aceh, for instance, some groups say Kartini should not be the role model for "a good Indonesian" and "a good Acehnese". Hence, a major issue in the Islamization of the national women's movement is its projection of "good" and "bad" citizens.
This categorization implies that only a very specific, conservative, patriarchal interpretation of gender is valid. Such campaigns also imply that only a particular Islamic group or groups have the authority to determine who is good and bad in terms of gender.
It is hard to find that diverse sexual identities are being accommodated under the conservative, Islamist gender regime.
As reflected in the attempts to criminalize consensual homosexual relations, such efforts challenge Indonesia's feminist movement on its never-ending agenda to liberate women from gender injustice and sexual oppression.
To respond to this "Islamization" of Indonesia's feminist movement, women's groups should continue to highlight how feminism is compatible with Islam's fundamental message of humanity. More studies are needed into female figures who are Muslim and their ideas on emancipation with reference to critical views on Islam. For example, the feminist interpretation of the Quranic verses on homosexuality leads to an understanding that Islam protects the rights of homosexuals.
Likewise, the feminist interpretation of polygamy also concludes that the verses do not encourage polygamy, as the practice tends to lead to violence against women. The struggle of the national women's movement cannot be merely part of the political ideology agenda.
http://www.thejakartapost.com/academia/2018/04/20/islamization-of-womens-movement-in-indonesia.html
--------
Jatha woman, who married Pak man, a widow with 3 kids
Yudhvir Rana
Apr 20, 2018
AMRITSAR: In perhaps the first instance of its kind, a Sikh woman who had gone to Pakistan on pilgrimage, ended up converting to Islam and marrying a man in Lahore. Kiran Bala, 31, is a widow from Garhshankar town in Hoshiarpur who has left behind three young children with her father-in-law. She has married Muhammad Azam, who she claims she has known for over a year and a half through social media.
While Indian authorities are wondering if she has been coerced into converting and marrying the Lahore resident, the Shiromani Gurdwara Management Committee (SGPC), has alleged that this is a failure of Indian intelligence officials. Every year before pilgrims are sent to Pakistan in a 'jatha', passports are inspected by Indian authorities and many of the applications are rejected. The present jatha has about 1,800 people.
While Kiran, who has been rechristened Amna Bibi, claims that she has married and converted to Islam of her own accord, her father-in-law Tarsem Singh, a former granthi , has sought foreign minister Sushma Swaraj's help.
'She has been ISIS indoctrinated'
Talking to TOI over phone from Lahore on Thursday, Kiran aka Amna Bibi said, "It was not Facebook (that we met), it was social media." She, however, refused to say which social media account she had used. "I did everything by myself, no one forced me to do anything," she insisted. She hurriedly hung up the phone saying, "Please don't disturb me, I am in court and I am very busy now."
Amna had left for Pakistan with an SGPC-led jatha to celebrate Baisakhi via the Attari land border on April
12. On April 16, she went to Lahore-based Dar-ul-Ulaoom Naeemia and embraced Islam after which she married Azam. On the same day she wrote a letter to Pakistan's interior ministry seeking extension of her visa and alleging a threat to her life in India.
Tarsem Singh fears that Kiran was persuaded by radical Muslims to wage Jihad against non-believers. "I fear she has been indoctrinated with ISIS ideology and converted to Islam but still I need her back home to take care of her three children," he said.
Amna was married to Tarsem's son Narinder Singh in 2005. Narinder worked in a gas agency and died in a road accident in 2013. "She called me from Pakistan a couple of times after April 12 to ask about the well-being of her children and everything seemed normal. That was until her last call when she said she had converted to Islam and married. I thought she was joking," he said Tarsem is now worried about bringing up his three grandchildren — two boys and a girl aged between 8 and
12. "I had gone to see her off when she went to celebrate Baisakhi in Pakistan and had told the jatha leader to bring her back safe," he said.
Additional secretary of SGPC, Diljit Singh Bedi, said they collect passports from people aspiring to undertake pilgrimage to Pakistan and send these to the government for verification. "Often, names of many pilgrims are struck off," he said, adding that the security agencies couldn't be absolved of their responsibility, especially when there were reports that she knew a Pakistani man for a long time.
SGPC has also demanded an inquest into the incident.
https://timesofindia.indiatimes.com/city/amritsar/jatha-woman-who-married-pak-man-a-widow-with-3-kids/articleshow/63838387.cms
--------
URL: https://www.newageislam.com/islam-women-feminism/woman-violently-arrested-adhering-dress/d/114993
New Age Islam, Islam Online, Islamic Website, African Muslim News, Arab World News, South Asia News, Indian Muslim News, World Muslim News, Women in Islam, Islamic Feminism, Arab Women, Women In Arab, Islamophobia in America, Muslim Women in West, Islam Women and Feminism