New Age Islam News Bureau
11 Nov 2015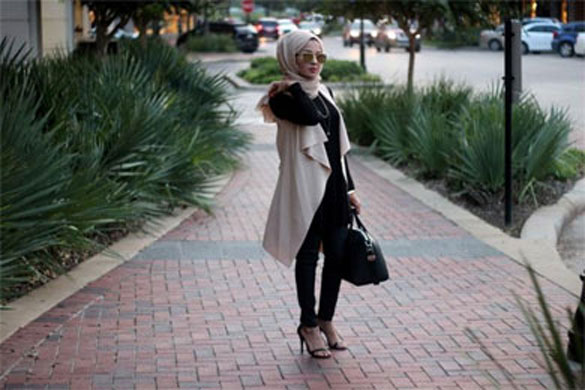 Maryam Asadullah has 100,000 followers on Instagram, where she shares fashion that fuses modesty with style. Maryam Asadullah
----------
• Woman Trapped in Islamic State Says Those Who Try to Leave Beheaded
• The Daughter of Saddam's Pilot Is the Oprah of the Arab World
• Pakistani Women Face Violent Persecution
• #Noallmalepanels: American Muslim Women Want Change
• Chic Muslim Women Share Their Modest Style on Social Media
Compiled By New Age Islam News Bureau
URL: https://newageislam.com/islam-women-feminism/woman-trapped-islamic-state-says/d/105242
---------
Woman Trapped in Islamic State Says Those Who Try to Leave Beheaded
By Bridget Johnson
November 10, 2015
An audio message posted online purports to feature a woman who went to the Islamic State and is now trapped there.
The voice seems to be altered on the French-language recording, and its authenticity could not be confirmed. It was being tweeted by some supporters of al-Qaeda and Jabhat al-Nusra, which have a propaganda campaign going against the Islamic State, and by some people who stated they were unaffiliated with any groups.
The message within contains some details that have been corroborated by ISIS guides for those wanting to come to the Islamic State, such as the segregation of women.
"Everything that happens in the videos, you will see brothers…well-run, they show you, the city is beautiful, all clean, everyone is happy, everyone smiles. While it is far from being the case," the woman says of ISIS propaganda videos.
"The [married] women when they come, they are seperated from their husbands. The first house for women at the border, is something horrible. During winter, it's worst. When you come, there is no water, no hot water, no cold water, no food, no nothing. It's a house where you are crammed together in rooms with the women, the children. Most of the time, there is nothing to eat, there is nothing to do. One can't shower, if one wants to shower, one has to take water from a tap outside, it's cold water of course," she continues.
"Then, if you're married, your husband will come and take you to another separate house. It's a house where you are all with women. There will be no heat, no food, you can't go out, you can't be on internet, [usually] can't contact your family. [But when you do get the opportunity], we can't say that we are in a house, in an apartment, we cannot show them pictures of ourselves, one can't explain anything, we can just say that it's going well, if one says that it's not going well, we will have problems."
The woman said she's been in Syria for a year and has "a lot of pain."
"If the woman already has a house, it goes well, she stays in her house but she can't go out. She is obliged to do everything [alone]. For most, if she has no house, she will stay all her life in a house for women. In a house for women, it is not livable…it's horrible, the conditions are horrible, there are no blankets or the blankets are dirty, there is no heat, it's very cold," she said.
"…If you want to leave, you will be suspected of being a spy. The spies, what do they do with them? Even if there is no concrete proof against you, if you are suspected, you will go in prison and they will chop off your head. If you try to leave secretly, the same thing."
The woman says she indeed got a husband, as women are lured with the promise of, after making the journey to the Islamic State — but was only married for three days before her divorce.
"One has to know that most men who come here…either they divorce their wives with whom they came with or they marry because they want to marry and take 2-3 as wives or take slaves," she said.
"Personally, I have done the most foolish thing in my life by coming here and I hope that many will not reproduce what I have done. We are very numerous in wanting to leave but they do not let us leave. We are not allowed to leave the State. If we want to leave the State we will have problems. They monitor the houses, the roads. If we want to leave, it will bring us problems."
http://pjmedia.com/tatler/2015/11/10/woman-trapped-in-islamic-state-says-those-who-try-to-leave-beheaded/
---------
The Daughter of Saddam's Pilot Is the Oprah of the Arab World
Wednesday 11 November 2015
She's best friends with Oprah and the Clintons, and has survived harrowing abuse and Saddam Hussein's malign influence. Can Zainab Salbi's candid talk show challenge conservative Muslim mores?
It has been a long, strange trip for Iraqi-born author/activist Zainab Salbi, who grew up in Saddam Hussein's inner circle, the daughter of the despot's personal pilot, and today—a quarter century later—is on the cusp of becoming the Arab world's Oprah Winfrey.
"I want to get people out of their comfort zone and encourage a more honest, uninhibited conversation," says the 46-year-old Salbi, who has just launched the first season of Nida'a ("The Calling"), an Oprah-like weekly talk show that is aimed at shaking up the womanly conventions of Arab society and, in partnership with Discovery/TLC Arabia, is beamed into 22 Muslim countries in the Middle East and North Africa.
"Culturally, we are very conservative and reserved, and when an Arab woman is talking in her own country she's afraid of judgment," Salbi explains, over the phone from Dubai—one of the locations, along with London, New York, and Istanbul (where her show is taped with a studio audience) that she treks to every month.
"I want people to speak freely in a television show and to look at issues from the heart rather than from a political perspective or from judgment," she says. "This is a show where you can speak about transgender issues or sexual issues in a way that has no judgment."
Other ordinarily taboo topics to be covered in Season One's 10 episodes (which feature appearances by Bill Clinton, actress Geena Davis and Oprah Winfrey herself) include Moroccan mothers who protected their daughters from the practice of female circumcision; an Iraqi father's heart-wrenching story of saving 21 members of his family from the brutality of the Islamic State while losing his four-year-old daughter when she fell off the back his fleeing pickup truck with ISIS thugs in pursuit; and sex slavery in the Middle East, among other serious subjects.
There will also be a generous dollop of Arab showbiz celebrities, fashion designers, pop music, and cooking segments that comprise the Oprah business model.
At a moment when large swaths of the Muslim world have descended into deadly conflict and chaos, partly generated by a brutal and bloodthirsty brand of supposedly Islamic fundamentalism, it would be difficult to imagine a more counterintuitive, and yet more hopeful, project than Nida'a.
Salbi—who was raised undogmatically in her late mother's Shia religious tradition and today considers herself more broadly spiritual than a practicing Muslim—says she's alarmed by Islam's caricatured image in the United States.
She's especially disturbed by various statements from leading Republican candidates Donald Trump and Ben Carson (who recently declared that a Muslim should never be president), and HBO star Bill Maher.
Women 'Hold The Only Hope In Syria'
"Oh my God—don't even!" Salbi exclaims at the mention of Maher, who has been relentless in criticizing Muslims for their alleged endorsement of violence to defend the Prophet. "It fuels the fire," she adds.
"Obviously, America is afraid of Islam," Salbi says, arguing that Americans tend to conflate the tiny percentage of extreme fundamentalists with the planet's peaceable 1.6 billion Muslims.
"I feel we're stuck in a very vicious cycle. If you are an American who is afraid of Islam because you have seen X, Y, and Z of things happening, then you act in a prejudiced way. And a prejudiced way hits the wrong person, who once upon a time was normal, and then may join extremism in response to the prejudice that happens.
"A prejudiced way hits the wrong person, who once upon a time was normal, and then may join extremism in response to the prejudice that happens."
"We have to break the cycle," she continues. "I understand the fear factor from Americans, and I understand the anger factor from Muslims—and we have to break away from that...Derogatory racist statements only increase fundamentalism and make people angry."
Tarring the whole of Islam with the actions of a small minority, Salbi says, is tantamount to conflating Christianity with the Ku Klux Klan.
Naturally, in this and other controversies, Salbi would love to wield even a fraction of Oprah's socio-cultural power, but she disavows any ambition to impersonate the influential media icon.
Winfrey not only sat for a long interview on the Oct. 24 debut (in which she shared her soul-crushing experience of being raped by a much-older male relative at age 9, and then giving birth at age 14 to a child that died), but also starred in a promotional spot for the Arabic-language program.
"I think he was like a poison gas leak into our home, and we breathed him in slowly and died slowly—and he did the same thing to our people."
"I haven't been this excited since the Oprah show premiered," Winfrey tells the Arab audience (via subtitles) while standing arm-in-arm with her protégé on her Montecito, Calif., estate, "because my friend, Zainab Salbi, is bringing a new show to TLC...Don't miss it."
Another close Oprah connection: Former Viacom chief and MTV co-founder Tom Freston, who has been helping Winfrey build the fledgling OWN cable network in the years since she gave up her top-rated syndicated daytime show, is also Salbi's advisor and friend.
"In many ways, she reminds me so much of Oprah Winfrey," Freston says about Salbi. "She's a winner. She's a woman who sees the problem, has lived through both sides of it and can be effective because she's traveled in both worlds.
"She's trying to gently bring emancipation to females in the Arab world, and she does it on her own terms. She's a force for change. She's a fighter. She's got a loveable personality and a wonderful heart."
Salbi surely has a knack for making friends and influencing people—famous friends, important people—with a high-powered circle that includes not just Winfrey and Freston, but also movie star/director Angelina Jolie, fashionista Donna Karan, Daily Beast founder Tina Brown, and Bill and Hillary Clinton—whose presidential campaign she passionately supports, having become a U.S. citizen in 1996.
"It would be a great thing for America and for the world—and definitely for women—if she wins," says Salbi, who is a fixture at Clinton Global Initiative meetings and was honored at the White House in 1995 after the first couple read about her humanitarian work helping women in warzones via Women for Women International.
Salbi co-founded this humanitarian organization at age 23 with her then-husband, Palestinian-American lawyer and current Al Jazeera America executive Amjad Atallah, traveling to Bosnia and other war-torn locales where women and their families were victimized and suffering.
Exhausted and emotionally drained after 18 years, she resigned as CEO in 2011, not long after their amicable divorce.
"It was a love divorce," Salbi says. "We went to divorce court holding hands. We exchanged gifts the night before. It wasn't like my first divorce. My first divorce was ugly."
As she recounted in her best-selling 2005 memoir, Between Two Worlds—Escape from Tyranny: Growing Up in the Shadow of Saddam, Salbi was only 19 when her mother tried to save her from her "uncle" Hussein's unwelcome attentions by sending her into an arranged marriage with a 32-year-old Iraqi man in Chicago.
It was hardly a stretch for Zainab's mother to believe that no one was safe from Saddam's lust, to say nothing of his psychopathic sons, Uday and Qusay.
Iraq's homicidal dictator, Salbi writes, would regularly hold audiences with distressed female citizens, donning a doctor's gown to listen to their troubles; if he found a woman attractive, Dr. Saddam would take her to a private room and have his way with her.
But Salbi's banishment to Chicago—the start of a nine-year separation from her parents and two brothers—was a cure worse than the disease.
Sexually inexperienced, Salbi recounts that she was raped on her wedding night, and escaped the nightmarish situation after three months of violent abuse; she blamed her mother for betraying her, and the two didn't reconcile until her mother's final year, 1999, when she died in the United States of Lou Gehrig's disease at age 52.
Nine years earlier, Salbi had to take odd jobs to support herself and ended up in Washington, D.C., where she found solace and friendship at All Souls Unitarian Church.
"I left that marriage with $400 in my pocket," she recalls. "I worked at a Hallmark store, temped as a secretary, worked at the Arab League, any number of odd jobs, and went back to school at George Mason University," Salbi says, mentioning the college in nearby Northern Virginia.
She discovered a self-sufficiency that she never needed to draw upon during her cossetted, privileged upbringing in Baghdad, where she lived in a house full of servants and spent every weekend during her teenage years in a gilded cage with her omnipotent "Amo" (the Arabic word for uncle).
Her family existed at the top of the Iraqi ziggurat—a position of high status and great peril, dependent on the whim of the monstrous Hussein.
They were always under his scrutiny; their house was bugged.
Zainab quickly learned to laugh when Amo laughed, cry when Amo cried, and never look into his eyes—Saddam could see too much, her mother warned her.
Indeed, her mother found the oppressive atmosphere so unbearable, Salbi says, that she once attempted suicide to escape.
"We dined with him, he liked us to go fishing with him, I called him uncle," Salbi says. "But he was brutal to his people, including to my family, but in a much milder form. I think he was like a poison gas leak into our home, and we breathed him in slowly and died slowly—and he did the same thing to our people. But I have very complex emotions on this issue."
For instance, she couldn't bring herself to feel joy when Saddam was finally captured—pulled out of a muddy hole in the ground by U.S. troops during the second Gulf War—and later executed by hanging.
In a deeply unsettling and intimate way, he was the ghost of her bizarre childhood.
"He represented the shadow side of myself," she says. "It's easier to demonize someone else when you don't know him. He was a dictator—there's no apology about that. But then, it's easy for all of us to think, "I would do this and this ,and I am good, and that person is bad.' Because of him, I was so afraid of power. I was in the heart of power, and saw its corruption at very close range."
As Salbi writes in her memoir, "I can still reach back and conjure up a few fond memories of him."
But now the power is hers—and Salbi is determined to use it for good, just as forcefully as Hussein used his for bad.
www.thedailybeast.com/articles/2015/11/11/the-daughter-of-saddam-s-pilot-is-the-oprah-of-the-arab-world.html
---------
Pakistani Women Face Violent Persecution
PUBLISHED ON 11 November, 2015 BY Reagan Hoezee
Pakistan (MNN) — Christians in the Middle East face extreme danger, but another group is even more vulnerable.
Women of minority religions in Pakistan are often kidnapped and brutally forced into marriage and religious conversion. This was exactly what happened to a 20-year-old Christian woman named Sonia Bibi.
"There was a man that she had some sort of relationship with," says Bruce Allen with Forgotten Missionaries International. "She had known this guy. He proposed to her many, many times, and she'd always turned him down. Eventually, he just lit her on fire out of frustration."
This is just one of the many atrocities women–especially those adhering to minority religions–experience on a consistent basis. And even though such treatment of women is illegal, more times than not, there is no justice.
"Right now there are about a thousand cases in Pakistan where you have women from religious minorities, like Christians, who are victim to kidnappings, forced marriages," Allen says. "When we say something like forced marriages, what comes along with that is a forced conversion to Islam.
"It's very difficult for these women to get justice, because often–in many of these cases–these are adolescent teenagers. And even if they've been kidnapped and their Christian family files a complaint with the police, number one: because they're Christian, the police may not act on it very quickly. But even if they do act on it, under the cultural norms in Pakistan the girls remain under the custody of their kidnappers until the court hearing, so they're suffering all kinds of trauma and violence."
FMI is working to change that. The problem is: it's not easy changing social norms, so progress is slow. But even though it's difficult impacting public thought, FMI is still making a difference where it can.
"The last time that I was in Pakistan, earlier this year, one of the things I really noticed was…women outnumbered men in the church, usually by a ratio of 6:1," Allen says. "In strategizing with our national leadership team, we came up with ideas for making sure that women are not overlooked in the church, that women are not overlooked in their families in order to disciple them and equip them to be disciplers of other women."
FMI is assisting women and equipping them spiritually, but they can't do it alone. Can you lend your support? For $50 a month, you can support one of these women and provide them with Bibles and other resources. Contact FMI to get started, or click here to learn more about its Pakistan ministry.
https://www.mnnonline.org/news/pakistani-women-face-violent-persecution/
---------
#NoAllMalePanels: American Muslim women want change
By Nabila Pathan
10 November 2015
A group of Muslim women in the U.S. have instigated a Tweetstorm calling for greater representation of women on speaking panels at Muslim conferences, seminars and events.
The Twitter hashtag #noallmalepanels, which started earlier this month, has already inspired a week long vigorous debate online and has also led to a group of prominent Muslim Men in the American community signing a pledge to never participate in any future panels which are composed exclusively of men.
The grassroots initiative originally started as an event on Facebook, calling upon the community at large to participate in calling leaders to accountability by utilizing the hashtag #NoAllMalePanels on Twitter. The campaign has been coordinated by MuslimGirl.net, Altmuslimah, Muslimah Montage, Love, InshAllah: The Secret Love Lives of American Muslim Women, "Coming Of Faith", Mipsterz – Muslim Hipsters and Side Entrance.
Another #allmalepanel. Sigh. Organizers claim they simply couldn't confirm a female this year. Mmk. #NoAllMalePanels pic.twitter.com/NecN48WNuj
— Wardah Khalid (@YAmericanMuslim) November 6, 2015
The poor representation of women on panels discussing important social, policy, and theological questions at Muslim centered events has "dire consequences for our communities" explains Samar Kaukab, who's Executive Director at Arete, University of Chicago.
She goes on to add that the Muslim communities in the U.S. lose out because "our collective thinking, ideation, and even group decision making suffers when we don't have diverse voices at the table."
Having actively participated in the #noallmalepanels hashtag conversations, Samar explains the importance of the hashtag:
"This hashtag conversation was a strategic mechanism to bring this topic of visible female representation on our panels, our conferences, and gatherings forward. People noticed, they discussed the topic, and most importantly, they asked questions about what it would actually mean to to implement something like this."
"Essentially, by giving people an easy way to increase women's participation (i.e., have a woman on every panel), organizations and panel hosts have a metric they can easily achieve and measure their efforts towards this essential goal."
Preach! @samarkaukab #noallmalepanels https://t.co/6R96rz6d1H pic.twitter.com/9FmKnWP53D
— MuslimGirl.net (@muslimgirl) November 5, 2015
Some of the prominent #MuslimMaleAllies who have already signed the pledge include Suhaib Webb (@ImamSuhaibWebb), Faisal Kutty (@faisalkutty) and Aman Ali (@amanali).
Shahed Amanullah (@shahed), who is the CEO of LaunchPosse & cofounder of Affinis Labs, spoke to Al Arabiya News explaining his motivation behind signing up to the pledge.
"I believe one of the reasons for the stagnation in our conference conversations is because we haven't made room for 50% of our communities to be represented," Amanullah said.
"If we create room for talented women to lead our communities in our public conversations, I am confident that they will surprise and impress many men who otherwise wouldn't listen.
"If you look at the advancement of communities around the world, you'll see a direct correlation between progress and the inclusiveness of women in leadership roles," she added.
@qrratugai @ctschroeder Yes. The use of humor to ease people in works well but then the uncompromising insistence: Step back. Make space.
— Kecia Ali (@kecia_ali) November 8, 2015
Earlier this year in February, a Tumblr blog was set up to shame all male panels named: "Congrats! You have an all male panel." Brainchild of a Finnish feminist researcher and artist Saar Sarma, the blog features photos submitted from all over the world to highlight all male panels and the unacceptability of the continuing trend.
The blog's creator has asked people from all over the world to send in photos of all-male panels at seminars and other events. The curator then stamps each image with a thumbs-up photo of actor David Hasselhoff.
As the hashtag #noallmalepanels follows in the footsteps of other online conversations that have demanded qualified women speakers from across all sectors, including the sciences, law, theology and policy work, the desire for a widespread shift in thinking remains the same. Samar hopes that this recent wave of online activity will spur on Muslim community organizations and institutions to see a pathway forward towards increasing the participation of women in public spaces:
"Through this, I hope our communities also learn about the wealth of resources we already have when it comes to female scholarship, leadership, and expertise. In addition, by allowing these women to have a more public presence, I also hope we see the need to support women's leadership and scholarship into the future."
http://english.alarabiya.net/en/life-style/art-and-culture/2015/11/10/-NoAllMalePanels-American-Muslim-women-want-change.html
---------
Chic Muslim Women Share Their Modest Style On Social Media
By Ismat Sarah Mangla
November 10 2015
Maryam Asadullah has 100,000 followers on Instagram, where she shares fashion that fuses modesty with style. Maryam Asadullah
When Maryam Asadullah first posted a picture of herself in one of her many stylish outfits on Instagram a few years ago, several people she didn't know started following her account. Unnerved by the unsolicited attention, she promptly set her account to private and moved on. But soon she realized that people wanted to follow her because she was offering something that mainstream fashion brands were not: a fusion of modesty and style that increasingly resonates with young Muslim women.
"I've always been a girl known to dress myself well and be a 'stylish hijabi,'" says Asadullah, who subsequently unlocked her account and started posting pictures of herself in various ensembles that are both elegant yet modest a few times a week. (While interpretations vary, Islam dictates that both men and women dress in clothing that is not revealing or immodest.)
maryam3 Maryam Asadullah's posts frequently garner thousands of likes, as well as questions about how she styled the outfits. She provides more details on her blog, sincerelymaryam.com. Maryam Asadullah
The 27-year-old IT project manager from Houston has always been into fashion. And the fact that she is a Muslim woman who wears a hijab, or head scarf, has never hindered her in creating chic looks that her friends want to emulate. Today, her account is one of the well-known popular sources of hijabi fashion on Instagram: She counts more than 100,000 followers from around the world, and each of her posts garners thousands of "likes," not to mention tons of comments from Instagram users inquiring about where she got her clothes.
Asadullah is just one of many fashion-forward hijab-clad Muslim women showcasing their personal style on the popular photo-sharing social media site. Their photos feature outfits of popular-trend clothing and accessories styled in a way to look less revealing -- think skinny jeans paired with long, flowing tunics or on-trend turbans coupled with daring accessories. These Instagrammers fill a void that mainstream media has yet to cover: inspiration and advice for women who want to maintain religious standards of modesty without sacrificing personal style.
keds Keds re-posted Sobia Masood's photo featuring the company's shoes. Courtesy Sobia Mahmood
"Fashion and dressing modestly are definitely not mutually exclusive," says Sobia Masood, a 20-year-old student at the Fashion Institute of Technology in New York who has her own fashion Instagram account. "Hijabis and modest fashion bloggers -- we're literally normal girls growing up in American culture, wearing American clothes."
And their popularity has exploded in recent years. One Instagram account that curates and re-posts hijabi style from around Instagram (fittingly called, simply, HijabFashion) has 1.3 million followers and is growing every day.
"There is something inordinately painful about being ignored by consumer culture," says Reina Lewis, author of "Muslim Fashion: Contemporary Style Cultures" and a professor of cultural studies at the London College of Fashion at the University of Arts London. "But the Internet allows for both commerce and commentary, and their presence on social media, which is visually led, is enormously influential."
ruma Ruma Begum often collaborates with her friends on her Instagram posts. Ruma Begum
Big Brands Take Notice
But is the trend influential enough for major brands to start featuring hijabi models in their ads, as H&M did to much buzz several months ago? Perhaps, says Shelina Janmohamed, vice president at Ogilvy Noor, a division of Ogilvy & Mather that bills itself as the world's first specialist consultancy for building brands with Muslim consumers. Janmohamed expects more brands to start offering similar communications in the years to come. And some brands are doing it more organically on social media sites, like Keds -- which shared a post that Masood made featuring the tennis shoes with the company's own followers.
But the women who serve as ambassadors for modest style on social media aren't waiting around to be discovered corporate fashion brands. Many of the women who share their style on Instagram get dozens of messages from other girls and women asking for advice on everything from how to style certain clothes to dealing with societal pressures.
"I get a lot of younger girls sending me messages with questions like, does the hijab hold you back from what you want to do?" says Ruma Begum, a 26-year-old modest fashion Instagrammer from Detroit. "I respond in the most honest way possible."
yaz Yasemin Kanar offers tutorials on styling scarves and outfits on her YouTube channel, in addition to posting looks on Instagram. Yasemin Kanar
Yumna Patel, a 21-year-old senior at New York University, says modest fashion bloggers on Instagram inspire her as a young Muslim woman.
"I don't wear a hijab, but I definitely try to dress modestly in the way they do," says Patel, who follows dozens of accounts like Masood's and others who post modest fashion. "It's refreshing to see these accounts get so popular -- because they represent me more so than what I see in the mainstream media. They bridge the gap between wanting to be stylish, keeping up with trends, while also adhering to your own morals and values."
Many of the Instagrammers with large followings get asked by modest clothing brands to promote their products -- either in exchange for free clothes or for a fee. Masood says she works with various boutiques "that fit her aesthetic" and features them in her photos -- but doesn't want to monetize her Instagram. Others do charge for the service -- because "it's a lot of work," explains Asadullah.
But the key, says Yasemin Kanar, a 26-year-old from Miami who has 149,000 followers on Instagram, is to "only select brands that I truly love, would totally buy for myself, and are of excellent quality.
"If the item is something I would never wear, I would not share it," she adds.
Ultimately, Kanar says, she wants to adhere to the purpose of her account when she created it five years ago: "To inspire and help Muslim girls gain that extra bit of confidence they might have been lacking to be able to start wearing modest clothing as well as the hijab."
http://www.ibtimes.com/meet-hijabi-fashionistas-instagram-chic-muslim-women-share-their-modest-style-social-2178021
---------
URL: https://newageislam.com/islam-women-feminism/woman-trapped-islamic-state-says/d/105242