New Age Islam News Bureau
5 Apr 2019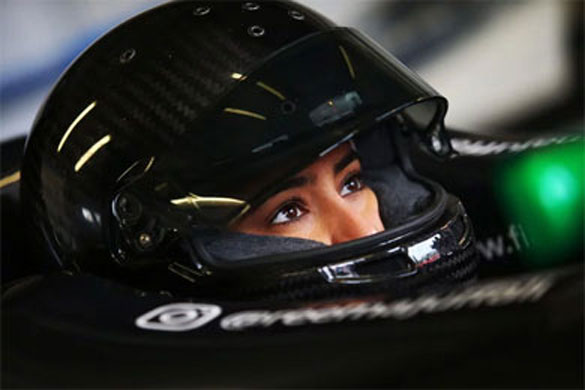 Trailblazing Saudi Arabian racing driver Reema Juffali is set to make her Formula 4 British Championship Debut at Brands Hatch in the UK at the weekend. (Jakob Ebrey Photography/Formula 4)
-----
• Muslim Fashion For Women Exhibition Stirs Controversy In Germany
• Saudi Female Racer Reema Juffali Set for F4 UK Championship Debut At Brands Hatch
• Saudi Arabia Said To Detain U.S.-Saudi Citizens In Latest Phase Of Crackdown
• Saudi Arabia's First Female Sushi Expert Is On A Roll
• Muslim School Girls' Camp Cancelled In Wake of Christchurch Terrorist Attack, So the Camp Came to Them
• Muslim American Girls Need Role Models, But They Are Hard To Find
• Irish Police to Allow Wearing Of Hijabs And Turbans
• Muslim Council Calls For More Muslim Women In Leadership Roles
• Aurat March posters ignite feminist firestorm in Pakistan
• Women's Sports In Iran Lack Sponsors
Compiled by New Age Islam News Bureau
URL: https://www.newageislam.com/islam-women-feminism/woman-threatened-bomb-hotel-hosting/d/118237
--------
Woman Threatened To Bomb Hotel Hosting US Muslim Rep. Omar: Report
04.04.2019
U.S. Muslim congresswoman Ilhan Omar had been the target of a bomb threat while she was at a conference in Los Angeles, according to the news site The Blast.
Omar spoke at a banquet for the Council on American-Islamic Relations' Los Angeles chapter last month. A few days before her speech, the hotel where the event would take place received a call in which a woman threatened to bomb the hotel for letting the congresswoman enter, according to court documents obtained by the news site.
"What would you do if I told you your hotel was going to be bombed. That is exactly what's going to happen if you allow the likes of Ilhan Omar into your hotel. She is a danger to American society and your hotel. You are not to allow her foot into there if you value your own safety. Do not allow her in there. Cancel the event," the woman said in a voicemail to the hotel, The Blast wrote Wednesday.
Police is investigating the incident and are planning to extract mobile phone information from the caller in order to find the suspect.
Despite the threat, the Minnesota lawmaker proceeded to speak at the event that had been also met by dozens of protesters outside, a part of the ongoing criticisms and attacks she has faced since she made comments criticizing Israel, which some saw as being anti-Semitic.
"I want to talk about the political influence in this country that says it is OK for people to push for allegiance to a foreign country," Omar said at a progressive town hall meeting earlier this month, referring to Israel.
The remarks received widespread and bipartisan backlash, with some in Congress labeling them as anti-Semitic.
Omar apologized for similar comments, but this time she doubled down, saying she has "not mischaracterized our relationship with Israel. I have questioned it, and that has been clear from my end.
"Two of my first acts as a Member of Congress were to cosponsor a bill elevating the position of Special Envoy to combat anti-Semitism—and my first op-ed after my election was on the rise of hate crimes," she tweeted.
"White supremacist violence is on the rise globally. Right-wing extremists killed more people in the US in 2018 than any year since 1995. Anti-Semitic violence accounted for 58% of religious hate crimes," she added.
https://www.dailysabah.com/americas/2019/04/04/woman-threatened-to-bomb-hotel-hosting-us-muslim-rep-omar-report
--------
Muslim Fashion For Women Exhibition Stirs Controversy In Germany
April 4, 2019
Muslim head coverings have always been a controversial topic, as they embody so many issues, whether women's rights worldwide or Western prejudice and discrimination against Muslims.
Now that the first exhibition dedicated to fashion consciousness of women in Islam is opening at Frankfurt's Museum Angwandte Kunst, the debate surrounding headscarves has been rekindled in Germany.
Titled "Contemporary Muslim Fashions" and first shown at the M.H. de Young Memorial Museum in San Francisco, the exhibition, however, does not aim to answer the numerous political and social questions related to hijabs or burkinis.
"The focus of the exhibition is really fashionable modest dress and what we're trying to show in the exhibition is that there is a lot of choice for the mass of Muslim women," said Jill D'Alessandro, curator of the "Contemporary Muslim Fashions" exhibition in San Francisco.
"Contemporary Muslim Fashions" is an opulent exhibition that showcases around 80 different styles and outfits. Many items are on loan from Middle Eastern and Asian designers. Caftans, headscarves and colorful designer dresses can be seen alongside the controversial burkini and the sports hijab made by Nike.
Hate mail leads to tightened security
The coordinators of the German exhibition have already started receiving racist hate mail ahead of the opening of the exhibition on Thursday, which is why the Angwandte Kunst museum is introducing bag checks and body searches for the duration of the show, "for the security of all visitors and employees," museum director Matthias Wagner K told German press agency DPA.
On the other end of the spectrum, weeks ahead of the show, activists who call themselves "Migrants for secularity and self-determination" have published an open letter in German feminist magazine Emma, in which they state that they are "appalled" by the fact that the exhibition is being shown in Frankfurt.
"This exhibition, which supposedly depicts religious dress requirements as fashion, is a slap in the face of domestic and foreign women's rights activists," the letter states. The group, composed of Iranian refugees, also reminds people that "Every year, thousands of women in Iran are punished for violating this dress code."
Yet even if the authors of the open letter say that "describing these dress requirements as 'modest fashion' is cynical," the term wasn't invented for the exhibition — and it is not about to disappear soon.
The expression "modest fashion" was developed by Muslim fashion designers — a reaction to the contradictory views within the religious community about women and modesty.
It is an industry that has been expanding over the last several years. "Muslim women spend $44 billion (€37 billion) on fashion annually," says Jill D'Alessandro, and the trend is rising.
The exhibition explores a zeitgeist spurred on by new fashion magazines such as Vogue Arabia, and also by influencers on social networks. There, a new Muslim coolness is being put on show by "hijabistas," the Muslim answer to "fashionistas," and so-called "mipsterz," Muslim hipsters.
Major brands and designers have long since adopted this trend. In 2015, clothing retailer H&M featured a model with a headscarf in an advertisement for the first time. In 2016, fashion company Dolce & Gabbana launched a collection for Muslim women. Japanese chain Uniqlo also has its own line for Muslims.
The exhibition also features designs by Oscar De La Renta and Dolce & Gabbana: Western designers who are also orienting themselves towards Muslim fashion.
New perspectives
The idea for the exhibition came from Austrian museum director Max Hollein, who formerly headed the San Francisco Museum of Fine Art and, before that, served as the director of the Städel Museum in Frankfurt am Main. Planning began in 2016, shortly before Donald Trump was elected US president. The show was held in the US during a period when anti-Islamic attitudes were becoming increasingly visible and voiced in America.
A similar polarization of attitudes is noticeable in Germany today, and all questions related to the integration of refugees remain a headline-grabbing topic.
But "Contemporary Muslim Fashions" does not want to be seen as a reaction to this. "We don't want to solve problems, but to offer new perspectives on a very exciting part of the fashion world that has long been ignored by the Western world," says curator D'Alessandro.
It remains impossible, however, to blindly believe this is an exhibition about fashion only.
On the one hand, without having seen the show, human rights experts in Germany feel that it is a "slap in the face of girls and women worldwide who don't want to wear the headscarf or want to take it off," as Inge Bell, director of the German branch of the organization Terre des Femmes told Vogue Germany.
On the other hand, Muslim women who saw the exhibition in San Francisco found it empowering, as CNET news reporter Abrar Al-Heeti wrote: "As a 25-year-old Muslim woman who loves fashion and wears the hijab, or headscarf, I've seen plenty of head coverings. But never anything like this. It's a statement of resistance, a rebuttal of the idea that Muslim women are weak and oppressed."
https://www.egyptindependent.com/muslim-fashion-for-women-exhibition-stirs-controversy-in-germany/
--------
Saudi Female Racer Reema Juffali Set for F4 UK Championship Debut At Brands Hatch
April 04, 2019
LONDON: Saudi Arabian racing driver Reema Juffali is set to make her Formula 4 British Championship debut at Brands Hatch at the weekend.
Juffali, 27, will be racing for defending champions Double R Racing with her teammates Louis Foster and Sebastian Alvarez.
Having made her debut in racing in October 2018, a few months after the Kingdom lifted the ban on women driving and started issuing licences in June of the same year, Jeddah-born Juffali said she was excited about the coming year ahead.
"In terms of being from Saudi Arabia, it's such a great thing for me to do and represent my country," she said, highlighting her pride at representing Saudi Arabia. She also thanked her family, friends and fans for their support thus far.
"It's a great honor for me. It's something I didn't really think about until quite late in life, I want to say maybe about three or four years ago that I started thinking about the idea of racing. To be here today is quite unbelievable and to have done it in such a short space of time, I'm very grateful and happy about that," she told the British F4 website.
"It's a good time in Saudi to be doing such a thing and all the support I've gotten from friends, family, people I don't even know, has been fantastic and it's only been pushing me to do better.
"Brands Hatch is the heart of motorsport. It's going to be a tough year in such a competitive championship, but I'm ready for the challenge," she added.
Juffali, who studied in the US before moving back to the Kingdom, was announced as Double R Racing's latest addition to the team in March – and having joined the UK-based set-up, she said: "I'm happy to be joining Double R Racing, a championship-winning team with such a great history, and to be competing in British F4 where many great drivers have started."
Juffali was one of only three women in the GCC to hold a race licence on her debut and the first Saudi female to compete in the TRD 86 Cup at the Yas Marina circuit in Abu Dhabi.
Team principal Anthony Hieatt said: "We're really looking forward to working with Reema in British F4 this year and delighted she's joined Double R for her first full season of racing at any level.
"I know there's a huge amount for her to learn – the car, the style of racing and all of the British tracks which are very unique – but Reema has shown a great deal of promise already.
"It's fantastic to be working with someone who is breaking down barriers as Reema is, and has been over the past few months, since she decided to start racing."
The F4 championship is a multi-event, open-wheel single seater championship held at various racetracks across the UK between April and October.
http://www.arabnews.com/node/1477686/sport
--------
Saudi Arabia Said To Detain U.S.-Saudi Citizens In Latest Phase Of Crackdown
By Kareem Fahim
April 5, 2019
ISTANBUL — Authorities in Saudi Arabia in recent days detained two dual U.S.-Saudi citizens during a roundup of at least half a dozen intellectuals and writers, some of whom had links to the Saudi feminist movement, according to three people briefed on the arrests.
The detentions appeared to be part of the clampdown by Crown Prince Mohammed bin Salman on activists, dissidents and prominent figures that accelerated in September 2017 and has put hundreds of people in prison.
Most of the latest arrests occurred on Thursday, according to people briefed on the detentions, all of whom spoke on the condition of anonymity because they feared retaliation by the Saudi authorities. Those detained included Salah al-Haidar, a dual U.S.-Saudi citizen and the son of prominent feminist Aziza al-Yousef.
Yousef — who is currently on trial with other Saudi women's rights advocates on charges related to their activism — was temporarily released from custody last week.
Another person detained, the writer Bader al-Ibrahim, also held dual U.S. and Saudi citizenship, according to the people briefed on the arrests.
The arrests and the citizenship status of the detainees could not be independently confirmed. A spokesman for the United States embassy in Saudi Arabia did not immediately respond to a request to confirm the arrests of U.S. citizens.
A Saudi government media office did not reply to an email requesting details about the detentions or the charges.
Mohammed, Saudi Arabia's day-to-day ruler, has loosened some social restrictions in the strictly conservative country, including lifting a female driving ban. At the same time, he has silenced virtually all dissenting voices in the kingdom, an absolute monarchy. He has sought also sought to enforce the crackdown beyond Saudi Arabia's borders. In October, Saudi agents killed journalist Jamal Khashoggi, a critic of Mohammed, in the Saudi Consulate in Istanbul, in what the Saudi government has insisted was a botched operation to repatriate Khashoggi.
The timing of the most recent arrests was puzzling to some, coming barely a week after the Saudi government had generated a degree of goodwill by temporarily releasing Yousef and two other women who are on trial. Saudi officials have also recently suggested that they were responding to criticism of the crackdown and working to ensure that the worst abuses — "mistakes," as officials refer to them — would not occur again. Several of the women's right's activists have said they were tortured while in custody, an accusation that the government has denied.
The family of yet another Saudi detainee, Walid Fitaihi, a Harvard-trained doctor who also holds dual U.S. and Saudi citizenship, has said he has been imprisoned for more than a year without trial and endured torture while in custody.
Haidar, Ibrahim and others arrested were part of a loose-knit group of writers and activists who were supportive of the women's rights movement and other progressive causes but not considered to be especially visible or outspoken.
After Yousef was released last week, her family shared cheerful pictures of her homecoming, showing her posing with Haidar and other relatives in photographs that were widely shared on social media.
https://www.washingtonpost.com/world/middle_east/saudi-arabia-said-to-detain-us-saudi-citizens-in-latest-phase-of-crackdown/2019/04/05/f0ca926e-5774-11e9-a047-748657a0a9d1_story.html?utm_term=.e1cd334751f6
--------
Saudi Arabia's first female sushi expert is on a roll
April 04, 2019
RIYADH: Sushi is renowned as one of the healthier food options but, still, it seems like a daunting leap to go from studying to become a health educator to becoming a celebrated entrepreneur and head chef at one's own restaurant specializing in the cuisine. But that is what Khulood Olaqi, the owner and cuisiniere at Oishii Sushi in Riyadh, decided to do almost a decade ago.
Since 2010, she has been offering a delectable array of sushi; delicious creations with unique flavors. Her brand, which started out as a home-based online store taking and delivering orders, has grown to the point where she has opened her first restaurant, which she owns, manages and even works preparing food in the kitchen. To top off her impressive list of achievements, Olaqi is the first Saudi woman to do so.
The 27-year-old launched Oishii Sushi as a side project while she was studying at university as a way to make good use of her free time.
"I have always loved cooking and wanted to be able to put the skills I've acquired over the years to good use, and I wanted to do something unique," she said. "So my mother suggested that I start making sushi and I just fell in love with the idea."
Olaqi taught herself to roll and wrap maki, slice sashimi, and even fillet and debone fish by watching video tutorials on YouTube.
At first she had concerns about whether sushi was popular enough in Riyadh to sustain a business, but her friends and family rallied round to offer support, placing orders and spreading word-of-mouth advertising, which she credits with giving her a strong start in the business.
"As student of applied medical sciences, I didn't really have a lot of experience with the business side of things, so of course at first I made a lot of mistakes and I wasn't making enough profit," she said. "But my friends persisted in asking me for orders and so I learned how to better manage things. I learned it the hard way — but I learned it."
After graduating from university Olaqi was accepted for a master's program and realized that she would have to choose between her two passions, as the workload involved in trying to juggle both of them had begun to weigh heavily on her.
"It wasn't feasible to keep both of them going at once, it was too exhausting," she said.
After consulting with her husband, and realizing how much she loved the culinary field and how successful the business was proving to be, she decided to take a gap year to focus on it. During that time, she realized she had found her calling and decided to pursue a full-time career in sushi making.
In preparation for going professional, Olaqi attended courses at the Tokyo Sushi Academy in Singapore with her husband, where she refined her skills and got specialist training from expert chefs to learn the things she could not pick up online.
To expand her repertoire she also attended courses at London's Cordon Bleu Academy.
The skills she acquired are clearly on display in the range of offerings at Oishii Sushi, which includes classics such as steamed edamame along with more unusual offerings such its signature Han Maki or the matcha creme brulee.
As much as she loved her medical science studies, Olaqi said that chapter of her life has closed and she would not have it any other way.
"Going down this path was one of the most difficult decisions I've ever had to make," she explained. "But I don't regret it at all. I feel like this is what I was meant to be doing."
Oishii Sushi, in As Sahafah district on King Fahad Branch Road, is open from 4 p.m. to midnight every day. Follow the restaurant on Instagram: @oishiisushi_sa
http://www.arabnews.com/node/1477866/saudi-arabia
--------
Muslim School Girls' Camp Cancelled In Wake of Christchurch Terrorist Attack, So the Camp Came to Them
April 5, 2019
School camp is a rite of passage for many Kiwi kids.
The senior girls at Al-Madinah, a Muslim school in Mangere, Auckland were due to head to Long Bay for three days of outdoor education.
But they had to cancel. amid safety concerns in the wake of the Christchurch terrorist attacks.
"While I was still pushing for the camp to go ahead, I had a call from the New Zealand police advising it would be good in these particular circumstances to postpone the camp," principal Asin Ali told TVNZ1's Seven Sharp.
The girls were understandably disappointed.
"We were pretty sad about it, we all really wanted to go," said one of the girls.
But then someone had an idea. If the girls couldn't get to camp, camp would come to them.
To everyone's surprise and delight, the Sir Peter Blake Marine Education centre stepped in and provided the whole camp for free, within the school grounds.
"We can't bring the whole camp to you, we can't bring the whole facility down but we can bring the most important part, which is our people," says Yuin Khai Foong who works for the education centre.
The girls were touched by the gesture.
"The amount of love everyone's shown us, it's amazing," one of the girls said.
"We are us, we are one and this is the feeling we are getting now," says Mr Ali.
"I think it's the right thing to do this for free, to be kind," says Mr Khai Foong.
https://www.tvnz.co.nz/one-news/new-zealand/muslim-school-girls-camp-cancelled-in-wake-christchurch-terrorist-attack-so-came-them
--------
Muslim American Girls Need Role Models, But They Are Hard To Find
By Saadia Faruqi
April 4, 2019
Muslim American children have always had a scarcity of role models, but this fact didn't really make an impression on me until recently. Back from a recent author trip to Chicago, where I'd visited the lovely Anderson's Bookstore, I handed my daughter her gift. It was an illustrated biography collection with 27 famous women — one for each letter of the alphabet. She squealed and quickly rifled through the pages, flipping to M for Malala and B for Benazir Bhutto. "Those are the only Muslim ones," she told me, smiling a little with sad eyes.
"We'll read this together at bedtime," I promised her. It's been a tradition in my house since the first such book was published around the 2016 election, when we discovered the original "Good Night Stories for Rebel Girls." That book signaled the start of a trend geared mostly toward girls: collected biographies with popping art, catering to a younger audience. It's been followed by a plethora of similar books based on race, field of study and even immigrant status. My personal favorite remains "First Generation: 36 Trailblazing Immigrants and Refugees Who Make America Great."
But for girls such as my daughter, who is still in elementary school, there aren't many role models with whom they can identify. There are so many boxes to check: first-generation immigrant child. Muslim. South Asian. Brown. Female. Finding a variety of people who check all those boxes has proven to be extremely difficult. Many women from my generation have a tremendous generational barrier that encompasses not just age but also culture: I and other women like me didn't grow up here, and it shows. My children have been known to make fun of my accent and the fact that I say footpath instead of sidewalk, lift instead of elevator — a remnant of my British post-colonial upbringing.
"You don't understand because you grew up in Pakistan," is the refrain I hear from both my children, almost constantly. It doesn't matter that I've lived more than 20 years in the United States, or that I'm an author who writes books in English about characters who are wholly American. I'm still lacking in their minds because of a cultural disconnect.
This reminds me that, for my daughter at least, a role model is something very specific. A while ago, I asked her and a group of friends what they thought the term meant. They were adamant: someone like them who has grown up to do something awesome. And not necessarily in response to a tragedy, such as getting shot by the Taliban (an obvious reference to Malala, beloved by many but not really relatable to the average American child).
What exactly does awesome mean? That's going to be different for every girl, so we need multiple women in multiple fields to be those role models. From sports to business to politics to homemakers and fashionistas. We need them all.
As a mother, this unfulfilled gap is always on my mind. Girls like my daughter are starved for positive examples of Muslim American women. Muslims make up just about 1 percent of the American population, so finding those examples is already a losing numbers game. How do we inspire and motivate our young girls who want to see brown women in positions of authority and influence?
There is some good news, though. With two Muslim women now in Congress — Reps. Ilhan Omar (D-Minn.) and Rashida Tlaib (D-Mich.) — my daughter and other Muslim American girls have two more women they can aspire to be like. There is also Ibtihaj Muhammad, the fencing champion who represented our country in the 2016 Summer Olympics.
But that's not enough for an entire generation of girls. I'm reminded of the Bonnie Tyler song "I Need a Hero." That's what we are looking for, all of us. Someone who will bring out the best in us because we want to be like them. Admittedly, Tyler wasn't talking about collective national or religious heroes, but I think the concept still applies. It's not a want or a desire as much as a need to have a human inspiration.
Three women. They are larger than life, but they're still only three. The number strikes me as dismal, but it's also acted as my own motivation to find more people for my daughter and her friends to look up to. Surely there are regional and local women, even if they don't have a national media spotlight trained on them. What about local journalists, working behind the scenes? What about women running shelters and volunteering in their communities? What about small-business owners? There is so much heart and courage and dedication in our communities at a micro level, if we look for it.
That's when the idea struck me, to introduce my daughter to women who are successful in their work, regardless of whether they are famous. I've taken her to meet a local Muslim American woman who started a hair salon in the area and now has a makeup line. I've taken her to visit a domestic-violence shelter started by another Muslim American woman I know. We watch videos of Ilhan and Rashida, who she knows on a first-name basis even though she's never met them. We go to local bookstores to meet Muslim American female authors, even if the book they wrote isn't meant for children.
It doesn't matter. She needs to see that people who look like her — in terms of gender or language or faith — are making a difference in their communities every day. And her eyes shine a little brighter, and she stands a little taller.
And for the time being, I am happy. As my daughter's generation grows older, they will take the mantle, and one day there will be many more Muslim American female role models for my granddaughter.
Saadia Faruqi is an interfaith activist and cultural sensitivity trainer who was featured in O Magazine. She is the author of the adult short-story collection "Brick Walls: Tales of Hope & Courage From Pakistan" and "Meet Yasmin!," a new early-reader series.
https://www.washingtonpost.com/lifestyle/2019/04/04/muslim-american-girls-need-role-models-they-are-hard-find/?noredirect=on
--------
Irish Police to Allow Wearing Of Hijabs And Turbans
Muhammad Mussa
04.04.2019
LONDON
Ireland's police (Gardai) will allow the wearing of hijabs and turbans as part of a drive to recruit more members from ethnic and minority communities.
Under a new recruitment campaign, members of Ireland's minority communities will be encouraged to join the police as changes to the uniform will take into account religious considerations and requirements.
"In order to encourage candidates from minority communities, An Garda Síochána will consider alterations to the Garda uniform to take account of religious and ethnic requirements subject to operational, and health and safety obligations" a statement by the police said.
"For example, An Garda Síochána is to allow the wearing of the turban for members of the Sikh community and the hijab for members of the Muslim community. An Garda Síochána has identified such matters as a major barrier to some people considering becoming a Garda member," it added.
This approach, according to the Gardai, is in line with those adopted by the police services of the U.K., Australia, New Zealand and Canada as well as the NYPD in New York, USA.
"I very much welcome the Commissioner's decision to facilitate alterations to the Garda uniform on request to accommodate religious and ethnic diversity" Irish broadcaster RTE quoted Justice Minister Charlie Flanagan as saying.
"An Garda Síochána is there to serve all members of our society so it is important for it to reflect the welcome and increasing diversity of Irish life. I would urge members of our minority and new communities to consider applying as Ireland needs increased workforce diversity in all our public services" he added.
Although the police force is predominantly white with most of its members from an Irish Catholic background, in recent years there has been an increase in diversification, with the rising numbers of recruits from different cultural and ethnic backgrounds. https://www.aa.com.tr/en/europe/irish-police-to-allow-wearing-of-hijabs-and-turbans-/1442481
--------
Muslim Council Calls For More Muslim Women In Leadership Roles
Apr 5, 2019
The Muslim Council of Britain (MCB) has urged for more Muslim women in leadership roles in Muslim-led organisations across the UK at its inaugural Women's Conference in London on 31 March 2019 under the theme #BalanceForBetter.
Keynote speaker, Yassmin Abdel-Magied, Sudanese-Australian writer and broadcaster, said, "Our identity as Muslim women has been politicised but it is a religious identity first and foremostly."
Samayya Afzal, Community Engagement Manager, said, "Muslim women have long been talked about, and talked over. This event was an opportunity to hear from a diversity of women from different backgrounds, to empower the voices of women in our communities and organisations, and allow a platform for Muslim women to be unapologetically themselves."
The conference also saw the launch of the 2019 Women in Mosques Development Programme (WIMDP) – a scheme designed to accelerate the development of talented upcoming female leaders to be the mosque trustees, committee members and centre manager of the future – and expanding upon last year's pilot programme.
Harun Khan, MCB Secretary General, said, "Many Muslim-led organisations still have little or no female representation on their management boards, and this must change. After last year's successful pilot, we are pleased to launch the Women in Mosques programme for 2019 in order to train even more talented sisters to take up these roles."
The conference, supported by Muslim Aid and the UCL Women's Network, also featured workshops and sessions from over 20 talented Muslim female leaders in their fields, covering Muslim women and higher education, sports, mental health, Islamophobia, politics & public life, international gender justice and more.
https://www.dailytrust.com.ng/muslim-council-calls-for-more-muslim-women-in-leadership-roles.html
--------
Aurat March posters ignite feminist firestorm in Pakistan
April 5, 2019
The posters at the Aurat March 2019 were just part of the colourful spectacle as tens of thousands of women took to the streets for the second year in major cities across Pakistan, marking International Women´s Day on March 8.
But this year the slogans caught the attention of the media, many of whom showcased them online, while a handful of the most provocative went viral -- igniting weeks of outrage, with shocked organisers reposting a slew of violent threats.
The uproar has provoked a rare and at times acrimonious debate on women's rights and cultural values in a conservative Muslim country that has, until now, been largely unconcerned with the global #MeToo movement.
Celebrities and television personalities have weighed in, and a retaliatory "Men´s March" was even organised in Karachi, though reports suggest just two showed up.
One Karachi cleric, offended by a poster that announced "My body, my choice", used twisted logic to claim that men, also, have agency over their bodies --"My body my choice ... your body your choice ... Then men´s body men´s choice," he argues in a video which swiftly went viral, with tens of thousands of views.
Many of the informal group of activists behind the march said they had expected a reaction, but were taken aback by its ferocity.
"The level to which they took offence, to the point of giving death threats to people who were the organisers ... is too much," says Lubaina Rajbhoy, a graphic designer whose posters evoking Communist revolutions became emblematic of the march.
The backlash against the slogans, Rajbhoy said, "shows a height of intolerance in our country, which again is one of the purposes of the march".
- ´Equal rights for all´ -
Women have long fought for basic rights in Pakistan, where activists say men commit "pervasive and intractable" violence against them.
Much of society lives under a patriarchal, outdated code of so-called "honour" that systemises the oppression of women who defy tradition by, for example, choosing their own husband or working outside the home.
Hundreds of women are killed by men in Pakistan each year for "honour".
As with women´s movements elsewhere, the uproar was partly fuelled by fears "feminism" means hatred of men -- "which is not true at all", says organiser Leena Ghani.
"We are asking for ... equal rights for all," she said. "To be honest, everyone is affected by patriarchy."
But the signs also invoked what many saw as the encroachment of elitist and Western cultural values on a conservative society.
Posters invoking menstruation provoked disgust with reproductive rights majorly lacking.
And signs promoting divorce and a woman´s rights in marriage were perceived as an attack on Pakistan´s social structure, in which traditional marriages play a central role.
Ride-sharing app Careem caught part of the backlash when it released a lighthearted ad two weeks later showing a runaway bride, the caption reading: "If you want to run away from your wedding, book a Careem bike!"
Critics filed a legal petition against the ad, calling it an "unethical promotional campaign".
Television host Madiha Masood was among those publicly criticising the march, suggesting it was a project driven by foreign powers.
"I will not encourage my daughter to depict inappropriate hand gestures, hold a cigarette in her fingers and say, ´My time has come´. I´m very sorry, I wouldn´t want such a daughter," she told AFP.
Another high-profile critic was Pakistani feminist icon and poet Kishwar Naheed, who reportedly said she believes feminists should keep their culture and traditions in mind so as not to go astray-- much to the surprise of many who had looked to her for inspiration.
For the marchers, criticism of the posters is a distraction -- though the designer Rajbhoy noted the controversy is now being broadcast to women all over the country.
"It´s important for them to see that ... there is this group of women that are actually coming out of their homes and marching, and perhaps they wish to participate in it in the future."
https://www.thenews.com.pk/latest/453835-aurat-march-posters-ignite-feminist-firestorm-in-pakistan
--------
Women's Sports In Iran Lack Sponsors
Apr 4, 2019
April 6 is recognized as International Day of Sport for Development and Peace. On this day in 1896, the first modern summer Olympics was hosted by Greece. By designating this day, the United Nations has recognized sport as a fundamental right for all people. The United Nations views sport as a powerful tool for strengthening ties among a nation and promoting the aspirations of peace, brotherhood, solidarity, nonviolence and justice in the world. However, this fundamental right is denied to women in Iran. The Iranian regime systematically and in various ways restricts women's sports. Women athletes in Iran are subject to the highest pressure and limitations.
Lack of public and private sponsors for women's sports
Women's sports teams and female athletes do not have any governmental or private support.
One of the reasons for the lack of sponsorship of women's sports teams is the prohibition of television broadcasts and producing photos and reports from their competitions.
Shahnaz Yari, the head coach of the female Sepidrood futsal team in Tehran said, "Sponsors want to be seen. Otherwise, they would not fund (any team), and this is one of the most basic problems that have made things difficult for women's futsal teams."
During the 2018 football league, 14 teams were supposed to participate, but the number of teams first reduced to 11 due to lack of sponsors who finance the teams. (The state-run ISNA news agency – August 8, 2018)
Economic problems and lack of government support prevented many futsal teams from competing in this year's league. As a result, the start of the league had to be postponed.
The head coach of the Sherkat Melli Haffari Futsal Club, Zivar Babaii said, " They call it the professional league, but nothing is professional. You can see this unprofessionalism in a wide range of issues including the stadiums where the games are held and the contracts. When we say professional, it means that this is my profession and this is how I earn my salary, but this is not what happens in Iran." (The state-run ISNA news agency – August 12, 2018)
Sometimes, the teams are dissolved all together, due to lack of sponsors. At other times, the teams do not have the funds to travel to another city to take part in the tournaments.
Professional female athletes do not receive salaries and gold medal winners are abandoned to earn their living by peddling in the streets, selling pickles, and farming.
Sports facilities for women's sports
The league of women's football teams in Iran faces sub-standard conditions for the winter games even in the capital, Tehran. This shortage has added to the problems and games cannot be held regularly and with good quality.
In one of the women's games in West Azerbaijan, the field was covered with snow causing several hours of delay in the game.
The game between two other teams in Tehran was delayed because the field had been covered with rain water and snow. The quality of field was very bad and the players were covered with mud and they had to change their official uniform after the first half-time.
Hajar Khorassani, supervisor of the women's football team of Isfahan's Steel Company had an interview with ISNA news agency. She said, "The quality of the field was not good at all. When my players stepped into the field, they plunged into mud and could hardly pull out their feet. Who would account if the ACL (Anterior Cruciate Ligament) of one of the players gets injured? I would have never imagined that we would face such a field in Tehran."
The women's national volleyball team of Iran practice with their own sportswear and do not receive any support from the Sports Federation. (The state-run ISNA news agency – April 25, 2018)
The Iranian women's rowing team exercises in black water. All around the exercise area is covered with sharp shells which injure the athletes. For group exercises, the athletes have to buy their own ores which should be provided by the rowing delegation. The boat given to the Iranian women's rowing team is one that was being used ten years ago in Tehran and has been repeatedly repaired.
Despite such deplorable conditions and lack of any government or any other form of support, the highly motivated Iranian women challenge all problems and gain champion titles in Asia despite obstructions of the misogynistic regime.
https://women.ncr-iran.org/2019/04/04/womens-sports-in-iran-lack-sponsors/
--------
URL: https://www.newageislam.com/islam-women-feminism/woman-threatened-bomb-hotel-hosting/d/118237
New Age Islam, Islam Online, Islamic Website, African Muslim News, Arab World News, South Asia News, Indian Muslim News, World Muslim News, Women in Islam, Islamic Feminism, Arab Women, Women In Arab, Islamophobia in America, Muslim Women in West, Islam Women and Feminism