New Age Islam News Bureau
27 April 2022
• Karachi University Blast: A Look At Few Of Most Notorious Female Suicide Bombers
• Veil In Any Colour Is Allowed For Women's ID Photo, Clarifies Saudi Interior Ministry
• 'Low IQ Woman With Expensive Eye Shades': Imran Khan Aide Insults Pakistan Minister Hina Rabbani Khar
• Hyderabad: Muslim Women Struggle To Find Proper PG Accommodation
• Somalia: Women struggle to make their voices heard in politics
Compiled by New Age Islam News Bureau
URL: https://newageislam.com/islam-women-feminism/woman-suicide-bomber-shari-baluch-bla/d/126881
--------
'Woman Suicide Bomber', Shari Baluch or Bramsh of Balochistan Liberation Army Kills 3 Chinese Citizens, Driver In Karachi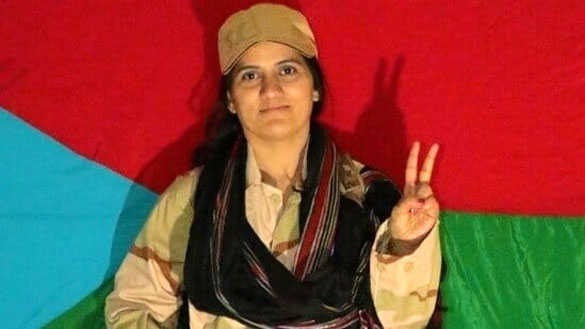 The Balochistan Liberation Army (BLA) statement that followed the attack identified the bomber as Shari Baloch or Bramsh,
-----
Apr 27, 2022
ISLAMABAD: Three Chinese citizens and their Pakistani driver were killed and four more people were wounded in an explosion that ripped through a van inside a university campus in Pakistan's southern port city of Karachi on Tuesday. Separatist group Baluchistan National Army (BLA) claimed responsibility for the attack, saying it was carried out by a woman suicide bomber.
Karachi University (KU) spokesperson Muhammad Farooq said the victims were identified as Huang Guiping, director of the Chinese-built Confucius Institute, Ding Mupeng, Chen Sai and Khalid, the driver. "A fourth Chinese national, Wang Yuqing, and Pakistani guard Hamid were among the wounded."
Television footage showed a white van in flames with plumes of smoke rising from it after the blast. The vehicle appeared to be turning towards Confucius Institute, a Chinese language teaching centre at KU located next to the commerce department, when the blast happened.
Karachi police chief Ghulam Nabi Memon said CCTV footage showed a person covered from head-to-toe in a burqa walking up to the van, followed by an explosion around 2.30pm.
According to police, about 3-4 kg of explosives were packed in a schoolbag with ball bearings. "The material does not seem to be made locally," said Raja Umar Khattab, chief of Karachi's counter-terrorism department.
The separatist BLA's statement identified the bomber as Shari Baluch or Bramsh, saying she was the group's first woman bomber. The attack marks "a new chapter in the history of Baluch resistance," it said.
Baluchistan has long been the scene of low-level insurgency by armed Baluch groups demanding more autonomy and a greater share in the region's natural resources if not outright independence from Pakistan. The separatists as well as Pakistani Taliban had frequently targeted Chinese interests across the country in the past.
Last July, the Tehreek-e-Taliban Pakistan (TTP) had claimed responsibility for an attack on a bus that killed nine Chinese nationals in the northwestern Khyber Pakhtunkhwa province.
Due to the threat to Chinese citizens, KU's security adviser Dr Muhammad Zubair recently wrote a letter to the slain director of the Confucius Institute requesting him to restrict movement of his faculty members. "The Chinese faculty members often go outside the campus without a security detail. In case of any mishap, KU security will not be responsible," Dr Zubair wrote on March 31.
In response, the institute's director had replied it was "important to realise that rather than shifting responsibility to another, standard operation procedures should be devised for the smooth and secure movement of Chinese faculty".
Source: Times Of India
https://timesofindia.indiatimes.com/world/pakistan/3-chinese-citizens-driver-killed-in-karachi-blast-by-woman-suicide-bomber/articleshow/91112005.cms
--------
Karachi University Blast: A Look At Few Of Most Notorious Female Suicide Bombers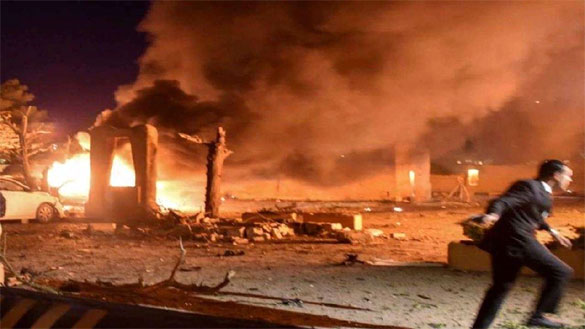 Representational image
-----
Apr 27, 2022
Orin Basu
New Delhi: Tuesday's suicide attack in Karachi, Pakistan that killed three Chinese nationals was claimed by the separatist Balochistan Liberation Army. CCTV visuals showed a woman in a burqa blowing herself up near the van carrying the victims, in what the BLA said was the first suicide bombing by a woman for the group.
The BLA identified the woman as Shari Baloch alias Bramsh, and said her sacrifice marked a "new chapter in Baloch resistance history". But with this, the BLA joined the select list of terror groups that have used woman suicide bombers – some of the others being Boko Haram, ISIS, Palestine-based al-Aqsa Martyrs' Brigades and Liberation Tigers of Tamil Eelam (LTTE).
In fact, Boko Haram, which controls large swathes of territories in Nigeria and neighbouring countries, uses women for most of their suicide attacks. Those women are viewed as a lesser threat in conflict zones, an element of surprise, hesitancy of security forces to search females and increased publicity for suicide bombings by women have pushed most dreaded terror groups to turn to female suicide bombers.
Let's have a look at some of the most notorious suicide bombings by women.
The first thing that comes to mind is obviously the assassination of former Indian Prime Minister Rajiv Gandhi. LTTE member Thenmozhi Rajaratnam alias Dhanu blew herself up while she was garlanding Gandhi at a public rally in Tamil Nadu's Sriperumbudur on May 21, 1991. The former PM and 16 others were killed in what was one of the worst suicide bombings by a woman suicide bomber.
The LTTE had executed numerous suicide attacks against Sri Lankan forces by female suicide bombers. In fact, it had a suicide squad called Black Tigers, comprising mostly women.
Maiduguri in Nigeria has witnessed repeated suicide bombings by women said to be affiliated with Boko Haram. On June 22, 2015, female suicide bombers struck a fish market, killing 20. On March 16, 2016, two women suicide bombers killed at least 22 worshippers at a mosque during dawn prayers.
Europe woke up to the horrors of radicalisation when Muriel Degauque, a Belgian convert to Islam, blew up a car bomb against a US convoy in Iraq on November 9, 2005. Raised as a Catholic in Belgium, Muriel is said to be Europe's first suicide bomber. She initially worked in a bakery and moved to Iraq after marrying a Muslim man.
Puji Kuswati became Indonesia's first female suicide bomber in May 2018, when she, along with her minor daughters, blew themselves up as part of coordinated attacks in churches in Surabaya. Police suspect, she had returned from Syria prior to the attack and was affiliated with ISIS.
Source: Zee News
https://zeenews.india.com/world/karachi-university-blast-a-look-at-few-of-most-notorious-female-suicide-bombers-2457834.html
--------
Veil In Any Colour Is Allowed For Women's ID Photo, Clarifies Saudi Interior Ministry
April 27, 2022
RIYADH — The Agency of the Ministry of Interior for Civil Status has resolved a controversy with regard to the colour of veil (hijab) worn by Saudi women while taking personal photos for their national identity card.
The agency emphasized that it is not mandatory for women to wear a certain color of veil in their personal photo to be used in their national ID. The Customer Care section at the Civil Status stated this through its Twitter account, in response to a query in this regard.
The agency left it to the choice of a Saudi woman to wear any colour that suits her while taking a personal photo to get her national identity card issued. The agency said that it takes a maximum of 14 days to issue the ID card.
The Civil Status Agency clarified that a text message will be sent to the customer when the ID card arrives at the office, and it takes a maximum of 14 days to issue it.
It said that the national identity is activated upon receipt from the office and the old card shall be surrendered upon receipt of the new one.
The agency pointed out that the personal photo would be changed in the event of a renewal of the national identity. The national identity can be renewed 180 days before the date of its expiry, the agency sources added.
Source: Saudi Gazette
https://saudigazette.com.sa/article/619845
--------
'Low IQ woman with expensive eye shades': Imran Khan aide insults Pakistan minister Hina Rabbani Khar
Apr 20, 2022
Pakistan's former minister, Fawad Hussain, launched a sexist assault on Hina Rabbani Khar on social media after she was appointed as a junior foreign affairs minister in the Shehbaz Sharif cabinet.
In an old interview, Fawad Hussain described Hina Rabbani Khar as a "low IQ" woman whose only claim to fame is "Berkin bags and fancy eye shades."
Hina Rabbani Khar confessed in an old interview that, as foreign minister, she had to deal with accusations from friends that Pakistan was aiding terrorists, and that there were "waves of truth" to those charges.
Hina Rabbani Khar, who received star treatment during her maiden official visit to India, will serve as Pakistan's junior foreign minister for the second time in Prime Minister Shehbaz Sharif's new 37-member cabinet, which was presented on Tuesday.
During her time as Pakistan's minister of state for foreign affairs, from February 2011 to March 2013, Khar was the country's youngest and first female minister. She has been re-appointed to the same job, but as a junior Minister of State this time.
Source: WIO News
https://www.wionews.com/south-asia/low-iq-woman-with-expensive-eye-shades-imran-khan-aide-insults-pakistan-minister-hina-rabbani-khar-472495
--------
Hyderabad: Muslim women struggle to find proper PG accommodation
Shaista Khan
27th April 2022
Hyderabad: Hundreds of Muslim girls and women pursuing their higher studies or working in private entities in the city are in a piquant situation as there are no hostels or Paying Guest (PG) accommodations exclusively meant for the community women.
In fact, the absence of such facilities is acting as a roadblock for many Muslim women who want to pursue their higher education in the city or work in multinational companies.
"Women from districts suffer a lot and face problems in finding good and safe accommodation. Initially, they opt for paying guest accommodations where the majority of boarders are Non-Muslims but drop out later due to cultural, social issues, and family issues," said a woman who previously worked with an MNC at Gachibowli.
In some instances, women are staying with their relatives as families are not keen on allowing them to stay alone in private accommodations.
"Due to the lack of facilities, many are dropping the idea of coming to the city and working. Either they have to wait till they get married or work somewhere in the neighborhood in the Mandal or towns," explained Fatima Begum, of Nizamabad, who works in a government department.
She recalled before getting a government job she got offers from different degree colleges in Hyderabad. "My parents did not want me to shift to the city as there was no proper and safe accommodation, so I stayed at my native place and prepared for a government job test," she said.
A ladies hostel owner from Kukatpally said in a year they get only one or two Muslim girls or women. "After staying for a few months they vacate and go away to stay with relatives or completely go back to their native places. But when they go out they wear burkhas and go and because it is a ladies hostel when inside they move around without it," she said.
In a few areas of Ameerpet, Santoshnagar, Dilsukhnagar, Narayanguda, Chikkadpally, Kukatpally, and Gachibowli many hostels don't even get enquiries from Muslim women.
"Our boarders are mostly Non-Muslim women who come and work in the city not only from different districts but also other states as well. Muslim women come to enquire directly and go or contact over phones. Only two to three percent of boarders are Muslim women in any hostel," points out Manoj a hostel owner at Madhapur, the IT Hub of State.
A boarder has to shell out around Rs. 11,000 for single PG accommodation while for sharing rooms it is around Rs. 9,000 for two sharing, Rs. 7,500 for three sharing and Rs. 5,400 for four sharing. Three times food, 24/7 power and water supply, washing machine, wifi and television facility is provided at the hostels.
Interestingly, the city has facilities for men to stay including accommodations provided at different mosques where a nominal rent is collected from them. In fact, many mosques in the city construct rooms keeping in mind that it will help students from districts pursuing their education and working in the city.
Women associations feel that the Minority Welfare Department should construct a couple of women's hostels in the city to help get good and safe accommodation at affordable rent.
"Several wakf properties are located in the city, one can be selected and with available funds, a hostel for women can be constructed. This way, we can help in women's empowerment," said Nusrath Khanum, a social activist from Karimnagar.
In fact, several NGOs and social organizations are working in the city and they can also pitch in and with community donations establish hostels by taking apartments for rent, she said.
Source: Siasat Daily
https://www.siasat.com/hyderabad-muslim-women-struggle-to-find-proper-pg-accommodation-2316477/
--------
Somalia: Women struggle to make their voices heard in politics
05.04.2022
Mohamed Odowa
It's not easy being a female politician in conflict-ridden Somalia.
Men have long dominated national and local leadership roles in the Horn of Africa nation, largely due to deeply ingrained traditional prejudices.
Somalia has established a 30% seat quota for female lawmakers. But the Somali Women Association has accused regional clan presidents of overlooking or turning down potential candidates, leaving the quota unfilled.
Amino Dhurow knows this struggle all too well. The Mogadishu-based politician is also disabled and says discrimination looms large in Somali society — even though the country's provisional constitution includes measures intended to protect women seeking roles within the government.
"I am one of many Somali women with disabilities and I advocate for the rights of people with disabilities," Dhurow told DW. "I tried my best to run for a seat in the ongoing parliamentary elections. I hoped to quality and get support from other Somali women."
But things didn't go to plan.
"Unfortunately, it did not happen because I was rejected by my clan elders who refused to allow me to represent them in parliament," she explained. "This means that women with disabilities have no political representation at all and we are not even part of the 30% quota. This is discrimination and inhuman."
Overcoming traditional barriers
Dhurow's experience isn't unique in Somalia, where the clan-dominated system makes it very difficult for women to succeed in politics.
And despite often being the primary income providers, women are typically marginalized from the decision-making processes of their communities. For many, these cultural and social barriers mean their political dreams end before they even have a chance to begin.
Some do forge ahead despite the odds: Amina Mohamed Abdi — one of the Somali government's most vocal critics — won her first seat in parliament in 2012 at the age of 24. She repeatedly defied clan elders throughout her political career and repeatedly accused authorities of trying to stop her from running.
Abdi was tragically killed on March 23 in a series of bomb attacks claimed by militant group al-Shabaab while campaigning in rural Somalia ahead of long-delayed parliamentary elections.
Women's participation a 'fundamental issue'
For young Somali women determined to make a difference, change begins with better representation in the executive branch of the government.
"Women's political participation is a fundamental issue," political science graduate Hamdi Adam told DW. "Our constitution protects women's direct engagement in public decision-making and maintaining equal rights in a positive way which shapes democracy and good governance. Women should be strongly motivated to [pursue] more political participation."
Only four women hold ministerial positions within Somalia's current federal government, while 14 women hold seats in the upper house and 51 in the lower house.
Somalia's Minister for Women and Human Rights Development, Hanifa Mohamed Ibrahim, says these numbers need to increase amid ongoing elections in the country.
"Previously we had 67 seats in the lower house and we know that 20 more seats in the house are yet to be elected, so we are looking to have our share," she told DW.
"As women in Somali politics, we have to move our agenda forward and get more political representation in all sectors of the government."
Source: DW
https://www.dw.com/en/somalia-women-struggle-to-make-their-voices-heard-in-politics/a-61356644
--------
URL: https://newageislam.com/islam-women-feminism/woman-suicide-bomber-shari-baluch-bla/d/126881
New Age Islam Islam Online, Islamic Website, African Muslim News, Arab World News, South Asia News, Indian Muslim News, World Muslim News, Women in Islam, Islamic Feminism, Arab Women, Women In Arab, Islamophobia in America, Muslim Women in West, Islam Women and Feminism